September, 5, 2013
9/05/13
9:02
AM ET
Ten items to track around Big Ten football in Week 2:

1. House party:
If the second night game at Michigan Stadium is anything like the first, we'll all be thrilled (well, except for those Notre Dame folks). Michigan and Notre Dame
delivered the drama two years ago under the lights
, and the spectacle Saturday night in Ann Arbor should once again be incredible. The teams' past four meetings have all been decided by seven points or fewer (19 points total). The series sadly disappears after the 2014 meeting in South Bend, so enjoy it while it lasts.
2. Rees vs. Gardner:
Notre Dame-Michigan features another appetizing quarterback matchup. While
Tommy Rees
remains a polarizing figure for some Notre Dame fans, it's hard to argue with what he has done against Michigan. Before last Saturday's opener against Temple, Rees' only 300-yard passing performance came against Michigan two years ago, and he led Notre Dame to victory last fall. Rees can stretch the field, as he had more passes of 20 yards or longer against Temple (7) than Everett Golson had in any game last season.
Devin Gardner
was Michigan's leading receiver last year against Notre Dame, but he's firmly entrenched as a quarterback. Gardner has been deadly in the red zone for the Wolverines, converting 19 touchdowns in 22 red zone trips as the starter.
3. Spartans looking for a spark:
Michigan State basically has two more weeks to get its offense right before facing one of the nation's top defenses on the road at Notre Dame. The unit's opening act was highly disappointing, as Michigan State averaged just 3.8 yards per play against a Western Michigan defense that ranked 61st nationally in 2012. Head coach Mark Dantonio has kept mostly quiet about his quarterback situation this week as
four players continue to get reps in practice
. The Spartans need a solution there and at other offensive spots against South Florida, which allowed 56 points to McNeese State in its opening loss.
4. Illini aim to continue big-play ways:
One of the nation's most feeble offenses in 2012 broke out last week against Southern Illinois, as Illinois recorded six plays of 30 yards or longer -- matching its total from all of last season! Senior quarterback
Nathan Scheelhaase
recorded a career-high 416 pass yards and featured weapons like
Josh Ferguson
and
Ryan Lankford
. The question is whether the Illini can come close to that type of production against a much, much tougher opponent in Cincinnati, which held Purdue to one short scoring drive and only 226 yards last week. We'll get a much better gauge about Illinois' offensive progress against Tommy Tuberville's defense.
5. Northwestern's health:
After a mostly injury-free season in 2012, Northwestern already has been bitten by that pesky bug early this fall. The Wildcats will be without starting cornerback
Daniel Jones
(knee) for the rest of the season, putting redshirt freshman
Dwight White
in the spotlight against Syracuse. Top quarterback
Kain Colter
(head) and running back
Venric Mark
(leg) both are questionable for the game. If Northwestern can survive again like it did last week against Cal, it has a chance to get healthy in the next two weeks against weaker opponents before a two-week prep for Ohio State.
[+] Enlarge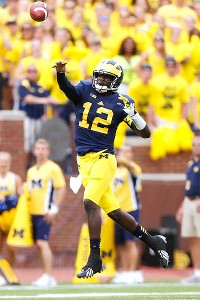 Gregory Shamus/Getty ImagesQuarterback Devin Gardner was 10-of-15 passing for 162 yards with one touchdown and two interceptions in Michigan's season-opening rout of Central Michigan.
6. Roby watch in Columbus:
After playing nine new defensive starters in last week's opener against Buffalo, Ohio State regains a very big piece in All-Big Ten cornerback
Bradley Roby
, who returns from suspension. Coach Urban Meyer wanted Roby to re-prove himself as a starter this week in practice, but it's only a matter of time before the junior distinguishes himself. Ohio State is looking for a cleaner performance in all three phases against struggling San Diego State, and it will be interesting to see how Roby performs.
7. Indiana's offensive efficiency:
Kevin Wilson's Hoosiers scored touchdowns on five of their first six offensive possessions in last week's opener against Indiana State, en route to a Memorial Stadium-record 73 points. If Indiana can come close to that type of efficiency Saturday against Navy, it will improve to 2-0. Possessions likely will be limited against the Midshipmen, as Indiana found out last year when it had only 10 offensive drives in a 31-30 loss. The Hoosiers had to settle for three field goals of 30 yards or less and need to be better about punching it in against Navy. "You don't get as many at-bats," Wilson said.
8. Second chances:
Purdue and Iowa didn't get off to the starts they wanted in Week 1, and neither did Nebraska's defense, which surrendered 35 first downs and 602 yards to Wyoming in the opener. Fortunately, all three teams should redeem themselves against weaker competition on Saturday. The Boilermakers need to boost quarterback
Rob Henry
's confidence and fix their communication problems on offense against Indiana State. Iowa quarterback
Jake Rudock
must rebound from his late interception against Missouri State. The Huskers defense, meanwhile, aims to clean things up against a Southern Miss team that has lost 13 straight and scored just 15 points against Texas State last week.
9. Wolverines' youth put to test:
Don't be surprised if Michigan-Notre Dame comes down to how well the Wolverines' young interior offensive line performs against an elite Fighting Irish defensive front led by nose guard
Louis Nix III
and end
Stephon Tuitt
, two potential first-round picks in next April's NFL draft. Michigan will start redshirt freshman
Kyle Kalis
at right guard, true sophomore
Jack Miller
at center and redshirt sophomore
Graham Glasgow
at left guard. They'll be challenged all night long (especially Miller) as they try to create running room for
Fitzgerald Toussaint
and protect Gardner.
10. Hack's home debut:
Penn State fans have been waiting more than a year and a half to watch quarterback
Christian Hackenberg
take snaps at Beaver Stadium. They'll finally get their chance Saturday as the Lions face Eastern Michigan in their home opener. Hackenberg had a few expected hiccups in his collegiate debut against Syracuse but also showed why he can be such a special player for Penn State's offense. Head coach Bill O'Brien vows to put Hackenberg in better positions to succeed this week. Hackenberg also will have top weapon
Allen Robinson
at his disposal from the start, which should make a big difference.
September, 3, 2013
9/03/13
2:00
PM ET
By
Matt Fortuna, Chantel Jennings & Brian Bennett
| ESPN.com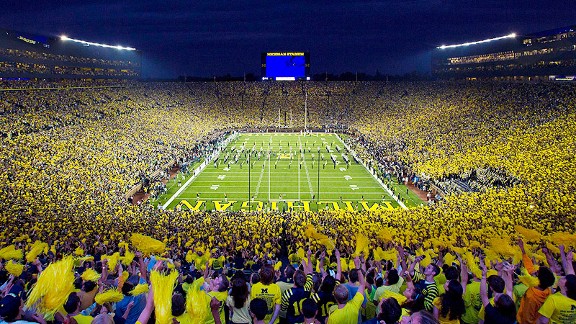 AP Photo/Tony DingCan anything top Michigan's 35-31 win in 2011, which was the first night game in the history of Michigan Stadium?
Under the lights ... and two of college football's oldest rivals in one of their last scheduled meetings … and College GameDay. Does it get any better than this? Only when Big Ten reporter Brian Bennett, Dame reporter Matt Fortuna and Michigan reporter Chantel Jennings get together to talk about it. Today, they discuss a few topics surrounding the highly anticipated matchup.
1. Over the past few years, this rivalry has seen its fair share of big stars excel during this game -- Denard Robinson's 502 yards in 2010, Roy Roundtree's game-winning catch in 2011, Manti Teo's defensive performance in 2012. Which player could you see having a mega game on Saturday?
Bennett:
How about
Jeremy Gallon
? The Michigan receiver had the huge 64-yard catch that set up Roundtree's game-winner in 2011. While he wasn't as active in last year's game, that's primarily because the Wolverines were busy throwing the ball to Notre Dame. Gallon has been more effective ever since
Devin Gardner
started running the show, and I could see him burning the Irish secondary for some big plays.
Jennings:
The heroes this game has helped create have kind of come out of nowhere in some instances. So I'm going to pick a guy who has been flying under the radar statistically, who I think has the ability to show up in big games, and that's Michigan tight end
Devin Funchess
. He had a fine freshman year and a better offseason. I think we could see him be a big difference maker on Saturday.
Fortuna:
If I'm Notre Dame, I'm gearing up for Gardner, since Michigan quarterback play has essentially decided these contests in one form or another in each of the past four years. From the Irish side, though, I think wide receiver
DaVaris Daniels
could break out. He was Notre Dame's best offensive player in the national title game loss to Alabama, hauling in six catches for 115 yards. On Saturday against Temple, the redshirt sophomore had three catches for 69 yards, including a pair of 32-yard touchdown receptions on the Irish's first two drives.
2. Which mismatch between these two teams are you most intrigued to watch?
Bennett:
On paper at least, it's the Michigan interior offensive line vs. Notre Dame nose guard
Louis Nix III
. Center
Jack Miller
and guards
Kyle Kalis
and
Graham Glasgow
are talented and played well together last week, but they have very little experience. Nix, meanwhile, is a 357-pound man-mountain who helped anchor a championship-level defense last season. He commands double teams, and it will be up to Michigan's young inside guys to keep him in check so
Stephon Tuitt
and others can't wreak even more havoc.
[+] Enlarge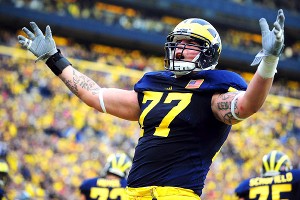 Andrew Weber/US PresswireMichigan tackle Taylor Lewan will have his hands full with Notre Dame's talented defensive line.
Jennings:
Left tackle
Taylor Lewan
on whomever or whatever Notre Dame tries to throw at him. He's so crucial to Michigan's offense, and I really don't see him not dominating any matchup this season. Lewan came back for games like this and matchups like what he'll have against Tuitt.
Fortuna:
I'll say Notre Dame's offensive line against Michigan's defensive line. The Irish have three starters back from last season, along with a very talented center in
Nick Martin
. One of the reasons they were able to jump out to a 17-point lead in Ann Arbor two years ago was because of their ability to run up the middle, as the Irish averaged six yards per rush on the night. Notre Dame is now in its third straight year of starting
Zack Martin
and
Chris Watt
together on the left side, and it has started using pistol packages in 2013 to tailor to the strengths of some of its young backs in hopes of establishing a downhill run game. This is far from a "mismatch," but with Michigan returning just three starters from last season's front seven, and with the teams so evenly matched across the board, I'd say this is where Notre Dame probably has the biggest edge. Conversely, I can't wait to see Tuitt and Lewan go head-to-head. Both will be a lot richer eight months from now.
3. Is there any way this game could one-up the last time these two teams met in the Big House?
Bennett:
It's possible that this could be an even better overall game than the one in 2011, just not as flashy. People remember the Michigan comeback and the crazy fourth quarter, but it was a pretty lopsided affair until then. That wild finish was made possible by major defensive breakdowns on both sides, and both teams are much more sound defensively now. I believe these are two legitimate top-15 teams, so we should expect a tight game. The atmosphere won't be quite as special because it won't be the first time under the lights at the Big House. But Notre Dame-Michigan usually finds a way to amaze us.
Jennings:
I was on the sideline for the final minutes of that matchup two years ago, and to call the atmosphere electric would still be selling it short. I don't know if the Wolverines have had a game as exciting since, so I'm going to go with no. I think it'll be a great game and the fact that it's the last in Michigan Stadium for the foreseeable future adds a lot. But as far as the plays themselves, jam packed into that short amount of time, I just don't see that being topped.
Fortuna:
I said no to this same question two years ago and was sadly mistaken, so I'll try not to be as definitive in my answer this time around. Whether it was Denard Robinson or Tate Forcier before him, magic seems to always happen in the late moments of this game. I'll just go ahead and make the bold prediction that if Notre Dame takes the lead with 30 seconds remaining this time, its secondary will hold up and secure an Irish win. Like I said, bold.
July, 25, 2013
7/25/13
3:00
PM ET
CHICAGO -- Michigan offensive tackle
Taylor Lewan
caused a stir this past spring when he announced that he and some Wolverines teammates had
bought a pig and named it Dr. Hamlet III
. The blogosphere, naturally, went nuts over this revelation.

On Thursday at Big Ten media days, Lewan went whole hog on the details of his short-lived swine time. Getting a pet pig was the brainchild of him and his roommates
Erik Gunderson
,
Michael Schofield
,
Jack Miller
and
Graham Glasgow
, who are all fellow offensive linemen.
"So we bought a pig," Lewan started off, and if there's a better way to begin a story, I haven't heard it. "Offensive linemen are hogs, and that's how that works."
Where do you find a pig? Craigslist, of course. The linemen pooled their money and spent $250 for a teacup pig. As for the robust name?
"I don't know," he said. "I just wanted my pig to have a Ph.D."
The Wolverines players weren't quite prepared for what they had gotten themselves into, however.
"It was fun for about two weeks," Lewan said. "Then the pig got kind of mean. We weren't neglecting it or anything. We were being sweet to it."
The little porker's sour disposition wasn't totally his fault. The house Lewan and his teammates are renting has a lot of hardwood floors and tile, which does not combine well with a pig's hooves. Lewan said Dr. Hamlet III ended up confined to a small rug area roughly the size of a ballroom round table.
"I thought it was going to be a good deal, but I didn't realize the hooves of a pig struggle so hard with the tile," Lewan said. "It got in the kitchen one time, and it was like watching Bambi on the ice, if you've ever seen that movie. It was so comical."
After about two weeks, the players decided that their pig experience needed to end. Lewan said Gunderson arranged for Dr. Hamlet III to find a more suitable home.
"A living animal can't be confined to a small space like that," he said. "So we decided that the best thing for the pig was to give it away, and now he's a happy pig. We sent it to a farm where it could do pig things."
As for the Wolverines linemen, Lewan said they've given up on the idea of having a pet this year. Not even a dog or a cat?
"Nah," he said. "That's too normal for us."
March, 13, 2013
3/13/13
9:00
AM ET
Michigan begins spring practice on Saturday with both some question marks and some major returning talent. Brady Hoke says of his team: "We're very young. But these guys have a lot of fight to them." There will also be a lot of fighting for starting jobs, beginning in a few days. I recently caught up with the third-year Wolverines coach for his thoughts on the approach of spring ball:
What are the main things you're looking for this spring?
Brady Hoke:
Well, you know, we've got a lot of open spaces. Some guys graduated, some guys aren't with the program anymore and we've got a lot of young guys. I think we only have 11 starters back on both sides of the ball, so there's going to be a lot of great competition, which is exciting. I think the leadership of our seniors, they've done a nice job of holding everybody accountable. But when you get out there with the pads on, it's a little different than just running around in shorts.
[+] Enlarge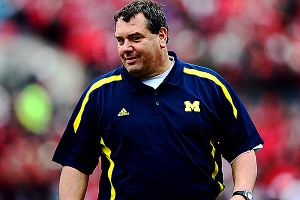 Andrew Weber/USA TODAY SportsWith only 11 returning starters, Michigan coach Brady Hoke said he's excited about the competition this spring.
Some of that competition will be on the offensive line, where you've got three open jobs on the interior. How do you see those battles right now?
BH:
Well, I think the interior of both lines, there's going to be a lot of competition. We've got to find a center, and that's between [
Jack] Miller
and [
Graham] Glasgow
, and
Joey Burzynski
will try to figure that out a little bit, too. At the guard positions,
Ben Braden
is going to move down inside and start out at the left guard, but he'll have a lot of competition because Burzynski is back and so is
Blake Bars
.
Kyle Kalis
will move into the right side, and it will be interesting again with [
Kyle] Bosch
and some of the guys who have been here a little bit. I think it will be a really good competition at all three of those inside positions.
Having
Taylor [Lewan
] back is huge. I think it's great for him and great for Michigan.
Mike Schofield
has had a really good winter. He had some real bright spots during the course of last season, and I think his development is going to be something special.
You mentioned the defensive line, where you also lost a couple of veterans. How does that shape up?
BH
: I think inside, we get
Jibreel Black
for another year and
Quinton Washington
. But once you get through that, there are a lot of young guys ...
Willie Henry
,
Ondre Pipkins
,
Ryan Glasgow
,
Richard Ash
and
Chris Wormley
are all guys who can either play the inside tackle or the strongside end. We'll find out the guys who are competitive.
Tommy Strobel
is another guy we think had a real good winter, and
Keith Heitzman
. So it's going to be fun to see them compete.
Does having so many young guys in key spots on the line make you nervous? Or do you have a lot of confidence in them because you recruited most of them?
BH:
I think it makes you nervous if you think you may have recruited the wrong guys. But we like the work ethic. We like how they've come in to learn and with a lot of enthusiasm. I think there's some competitiveness that we need to keep pushing as a program. You know, we lost five games on the road. We've played pretty well at home but we've got to do better on the road and that's a mindset, a mentality that you have to compete through everything, on every down.
Devin Gardner goes into spring practice as your starting quarterback. How has he developed as a leader?
BH:
I have been really excited about the progress he's made. I'm seeing that maturity that it takes and the leadership it takes and the competitiveness it takes to be the quarterback at Michigan. I think that's a real big part of how he's grown, and I think he's done a nice job with it. I'm liking the direction he's going, and hopefully he can just keep going and keep growing.
What about your running back position this spring, with Fitz Toussaint hurt and Derrick Green not there yet?
BH:
You know, Fitz has come along pretty well. I don't think he'll do a lot of contact or anything like that, but I think he'll be cleared for a lot more drill work. That's gone real well. We've moved [
Dennis] Norfleet
back to running back and we're going to give him an opportunity. Dennis, he's a smaller guy, but he's a very competitive, very tough young man.
Drake Johnson
is a guy we redshirted a year ago, and we really liked the way he competed in scout situations. In the bowl practices, we did some scrimmages and gave him a lot of carries, and we're very excited about what he has to offer.
Thomas Rawls
is coming back, and I think he learned a lot last year about the vision he needs to play with, and I like how he's competed through the [winter]. And
Justice Hayes
is a guy who gives you a little bit different look because of how he can get on the perimeter. He did some things in a couple of games last year, but now I think he'll have a big stage to prove himself more this spring. And he's a bigger guy now, he's 190-something pounds, so he's a little bigger.
[+] Enlarge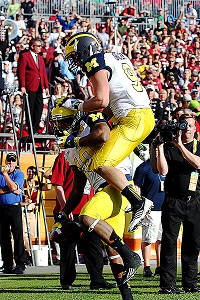 Kim Klement/USA TODAY SportsMichigan coach Brady Hoke said that he's pleased by more than just the on-field success of WRs Drew Dileo and Jeremy Gallon.
You have Jeremy Gallon back at receiver, but you lost Roy Roundtree. You sounded excited about some of the younger guys there during bowl prep. Is spring their time to step up now?
BH:
Yeah, I think so. First of all, I think the leadership with Gallon and
Drew Dileo
, they've done a really nice job being leaders at that position. They're not big guys, but they have a real spirit for the game and really do a nice job of working and leading. We have
Amara Darboh
, who played a little last year, and
Jehu Chesson
, who we redshirted a year ago. And I think
Jeremy Jackson
has had a very good winter; we're very excited about some of the progress he's made.
Joe Reynolds
is a guy who walked on here, and he's done a very nice job. And
Bo Dever
, his dad played here and he walked on. I think that during the course of the spring, we'll be in pretty good shape there. I think as we keep going, we'll keep improving at that position.
Linebacker was a strength for you last year and looks to be so again. Do you see some good competition there this spring, particularly at the weakside spot?
BH:
Yeah, I think with
Desmond Morgan
and
James Ross
, there's going to be great competition.
Joe Bolden
and
Royce Jenkins-Stone
and
Mike Jones
are all guys who are very competitive, and I think the three young guys coming in are going to be guys who will give us a lot of good competition and a lot of good depth.
Kaleb Ringer
is coming back from injury, so we'll see what he can give us. At the sam linebacker,
Jake [Ryan
] is coming back, and we really like what
Cam Gordon
has done during the winter. So I think we feel a little stronger at that position.
How do you replace what Jordan Kovacs gave you in the secondary?
BH:
I don't know if you ever replace that kind of leadership, but I really think
Thomas Gordon
, he's played a lot of football here, and it's time for him to demonstrate the leadership. And he's doing that. Because of the number of snaps and everything he's done, he's really fallen into his own a little bit.
Courtney Avery
has played a lot of football, and whether he's a corner a nickel or wherever, he's got to give us great leadership and great reps.
Blake Countess
is getting healthier; he'll do some things during the spring.
Josh Furman
, I think, has come on.
We've got to see where
Terry Richardson
is and where
Marvin Robinson
is. Both those guys have played a number of snaps. We've got
Raymon Taylor
back, who I think started every game for us last year, we're excited about his development.
Dymonte Thomas
is a guy who's going to compete, and he'll pressure some guys.
Jarrod Wilson
is another guy who played some last year for us. Ross Douglas is here early.
Jeremy Clark
is a 6-foot-4, 210-pound safety we redshirted a year ago, and it's going to be a big spring for him to make some moves.
So I think we may have more personnel back there. And even more in the fall when
Channing Stribling
gets in, and
Reon Dawson
gets in and
Jourdan Lewis
. I think it's going to add something to our secondary.
Finally, what has your message been to the team this offseason after last year's 8-5 season?
BH:
Well, our message has been, we haven't met the expectations at Michigan. That's something that as a football community… that we really feel that we have to do a much better job in all areas, from the coaching aspect of it, from learning and playing with the competitiveness we want to have, from every player at every position playing with the intensity we want to play with. It's about having a mindset and a mentality of how we want to play the game. We make no excuses, but at the same time, we know we have a lot we can do to play better football.
March, 22, 2012
3/22/12
2:30
PM ET
Michigan offensive coordinator Al Borges likes what he has to work with this spring. And who wouldn't be excited about
Denard Robinson
and
Fitz Toussaint
returning in the backfield as the offensive core?

But like every team, the Wolverines have some issues. One of the key concerns is building a solid two-deep along the offensive line.
"It's a position where we feel good about the kids who are playing," Borges said. "We just need to enhance our depth."
Michigan must replace Rimington Trophy winner
David Molk
at center, and
Ricky Barnum
will get the first crack at the gig. Barnum was injured most of last season, and has played left guard in the past.
"He's athletic," Borges said. "Ricky can move. He's really has the profile more of a center. He's smart, he understands who to block and he's played some guard, which should have some carry-over to center. So I think Ricky is going to be fine."
Making up for Molk's leadership might be the toughest task this spring. Borges said Barnum, left tackle
Taylor Lewan,
and senior guard
Patrick Omameh
should help pick up the slack in that area.
The starting group up front should be solid, with senior
Elliott Mealer
taking over at left guard, and
Michael Schofield
moving to right tackle to replace
Mark Huyge
. Behind them is a lot of inexperience. Borges said redshirt freshmen
Jack Miller
and
Chris Bryant
should contribute. And an incoming freshman like
Kyle Kalis
has a chance to crack the depth chart.
"We'll see how quick they can pick it up," Borges said.
Another area of concern is tight end, which loses departed seniors
Kevin Koger
and
Steve Watson
. Borges said senior
Brandon Moore
, who has played sparingly, and
Ricardo Miller
, who's more of a receiving tight end, will get the bulk of the work this spring. But it's a position that remains unsettled.
"We're looking at other kids, and the jury is still out," Borges said. "It's a position where, if a freshman came in and showed something, he could probably make a contribution."
Incoming recruit
Devin Funchess
could be that guy, though he'll likely need to put on some weight. The Wolverines also signed
A.J. Williams
as a tight end prospect.
"Seeing who's going to come to the forefront and be our starting tight end this spring, that's huge," Borges said.
February, 13, 2012
2/13/12
10:15
AM ET
Spring practice kicks off in March, and each Big Ten team will be looking for some key replacements in their depth charts. We're going to take a look at
two
players on each Big Ten squad who leave big shoes to fill and who might be ready to step in at those spots.
Let's start off with the
Michigan Wolverines
.
BIG SHOES TO FILL: Mike Martin, DT
[+] Enlarge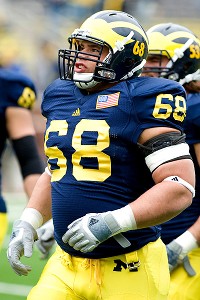 Lon Hordwedel/Icon SMIMike Martin has been a consistent presence in the middle of the defense for Michigan.
Why:
Three-year starter anchored the middle of the defensive line. He earned second-team All-Big Ten honors in both 2011 and 2010. Martin appeared in 49 games, starting 37 at nose tackle, and finished his career with 172 tackles, including 25 for loss and seven sacks. His value goes far beyond the numbers, as he consistently took on double-teams and topped the opponent's scouting report before games against the Wolverines.
Replacement candidates:
William Campbell
(6-5, 322, Jr.);
Quinton Washington
(6-4, 302, So.); Ondre Pipkins (6-3, 335, incoming freshman);
Richard Ash
(6-3, 301, Fr.)
Kenny Wilkins
(6-3, 280, Fr.)
The skinny:
Head coach Brady Hoke, who works directly with the nose tackles, has some work ahead this offseason in trying to replace Martin, the heart and soul of Michigan's defense. Is Campbell finally ready to take the next step? The former blue-chip recruit has the talent but hasn't quite blossomed. Pipkins arrives with a lot of buzz and could work his way into the rotation at a position with few proven players.
BIG SHOES TO FILL: David Molk, C
Why:
Four-year starter won the Rimington Trophy in 2011 as the nation's top center. Molk was a consensus first-team All-America selection in 2011. He earned first-team All-Big Ten honors from the league's coaches in each of his final two seasons. He started 41 games at center, and his absence was felt any time he wasn't on the field. Offensive coordinator Al Borges placed a great deal of responsibility on Molk last fall, and Molk delivered for a unit adjusting to a new system.
Replacement candidates:
Rocko Khoury
(6-4, 287, Jr.);
Ricky Barnum
(6-3, 292, Jr.);
Jack Miller
(6-4, 263, Fr.)
The skinny:
Khory has been the heir apparent to Molk for several years, but his snapping struggles early in the Sugar Bowl sounded a few alarms among Michigan fans. If Khoury isn't the answer, Barnum might be. He started three games at guard in 2011 before being slowed by ankle problems. Miller is an intriguing prospect who needs to bulk up a bit.