November, 23, 2013
11/23/13
9:25
PM ET
MINNEAPOLIS -- It's tradition in the Paul Bunyan's Axe series for the winning team to grab the axe and hunt down both goal posts for some pretend chopping.
That tradition hit a slight snag on Saturday night. After No. 19 Wisconsin downed No. 25 Minnesota 20-7, the Badgers rushed to the west end zone at TCF Bank Stadium and attacked one of the goal posts. When they carried the axe to the opposite end zone, however, they found the Gophers' players and coaches blocking their path.
Some heated words were exchanged. There was some shoving. Wisconsin coach Gary Andersen said a security officer pointed a finger in his face and told his team to leave. The Badgers never got to that goal post.
"It's happened for as long as I've been alive, going to both goal posts," Wisconsin senior linebacker
Chris Borland
said. "They kind of crashed our party."
[+] Enlarge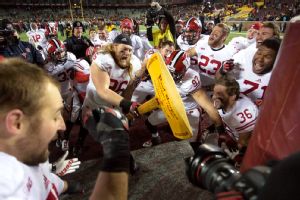 Jesse Johnson/USA TODAY SportsBeau Allen and Wisconsin chopped down Minnesota and the Badgers' BCS bowl hopes are looking up.
For the most part, though, the Badgers simply laughed off the Minnesota blockade. And why not? Nobody has stopped them when it has mattered in nearly two months.
Wisconsin (9-2) has won six straight games since a 31-24 loss at Ohio State on Sept. 28, with all of those wins coming by at least 10 points. If this keeps up, it might prove difficult to keep Andersen's team from crashing the BCS party.
After three straight Rose Bowl trips, the Badgers are left hoping for an at-large bid since Ohio State clinched the Leaders Division spot in the Big Ten championship game on Saturday. They still need a sizable bump in the BCS standings, but perhaps a road win over a ranked team will provide that boost. Oregon's loss on Saturday might have also helped, as the Pac-12 might not get a second bid now.
Andersen has declined to campaign for his team. But they are doing the important work for him.
"When you have nine wins, you're very close to being a great football team," Andersen said. "I'm not so sure we're not a great team right now. If the season were over, I'd probably say they were a great team. But I don't want to tell them that yet."
Saturday's win was more of an efficient bloodletting than a showcase. The Gophers, who had won four straight Big Ten games behind some inspired play, went toe-to-toe with Wisconsin in the trenches early. Borland said it took some time to adjust to Minnesota's physical style, and the sub-zero wind chill didn't make the shoulder-pad slamming any more pleasant.
But after Minnesota grabbed a second-quarter lead on
Aaron Hill
's pick-six and then threatened again in Badgers territory, the Wisconsin defense clamped down.
Brendan Kelly
forced a fumble from quarterback
Philip Nelson
that Borland recovered, leading to an eventual touchdown. Another quick three-and-out defensive series set up a field goal for a 13-7 halftime lead.
Wisconsin caused a season-high three turnovers and limited Minnesota to just 185 total yards and 3.4 yards per play. For the third straight Big Ten game and the sixth time in 11 games overall, the Badgers defense did not allow an offensive touchdown.
"It's been fun to see this defense develop into what it is," Borland said.
The offense didn't do a whole lot after
Joel Stave
's third-quarter touchdown throw to
Jared Abbrederis
for the game's final points. But it says a lot that Wisconsin seemed disappointed with a 197-yard rushing effort.
Minnesota coach Jerry Kill said earlier in the week that the Badgers had no weaknesses. That's not quite true, as special teams remain shaky. One of kicker
Jack Russell
's field goal tries took a dogleg left, and Andersen broke out a bizarre fourth-quarter fake-field goal play that lost 7 yards. He said he'd been holding on to that play for weeks, and that he would definitely scrap it now.
Everything else, however, has been going Wisconsin's way. Now it's a wait-and-see game with the BCS standings.
"I think this team has a lot of talent and deserves a little more recognition," defensive lineman
Ethan Hemer
said. "Hopefully, a win like this will put us in that spot."
On Saturday, the players were just happy to celebrate a 10th consecutive win over Minnesota, the longest by either side in the 123-year history of the rivalry. Borland hoisted freshman cornerback
Sojourn Shelton
on his shoulders, and Shelton held up a whiteboard that read "10 straight." The many Badgers fans who made the trip chanted, "10 more years."
"Ten's a great number," Borland told ESPN.com. "That's a decade of dominance."
The Badgers have been dominating everybody for nearly two months. It remains to be seen whether they can chop their way through the BCS road blocks.
November, 4, 2013
11/04/13
11:00
AM ET
We had our first, full six-game conference day on Saturday, and half of those games came down to the absolute wire.
If you're not at the top end of the Big Ten (hello, Ohio State, Wisconsin and Michigan State) or the bottom (sorry, Purdue), chances are you're going to find yourself in a very tight game in November. That's why execution at the end of halves and end of games is so big, and why some of what we saw Saturday was troubling.
[+] Enlarge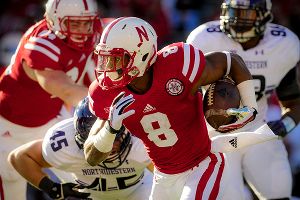 Eric Francis/Getty ImagesAmeer Abdullah rushed 24 times for 127 yards in Nebraska's thrilling win over Northwestern.
Take Illinois, for example. The Illini moved the ball almost at will at Penn State and had several chances to grab a lead. At the end of the first half, coach Tim Beckman's team displayed atrocious clock-management skills after getting a first-and-goal opportunity. Illinois would have gone to halftime with no points had Penn State not committed a personal-foul penalty with no time left that led to a field goal. The Illini would eventually lose when
Nathan Scheelhaase
threw an interception on the first play of their overtime possession.
Indiana's transgression was even worse. The Hoosiers had the ball on the Minnesota 9-yard line, trailing 42-39, in the final minute. They then called for a swing pass to running back
Tevin Coleman
that
Nate Sudfeld
appeared to deliver a little early. Coleman hadn't yet turned around for the ball and was still behind Sudfeld, making it a lateral. Coleman didn't catch the ball and didn't immediately realize it was live, while the Gophers scooped it up to save the win.
IU coach Kevin Wilson said the swing pass was "not an ideal call." Uh, yeah. It wasn't going to result in a touchdown, and the risk of a backward pass made it a curious choice. Wilson also made another questionable decision earlier, going for the two-point conversion after the Hoosiers had scored to take a 39-35 lead. He explained his reasoning later that Indiana would have a chance to remain tied by blocking a PAT in the event Minnesota scored a touchdown. But what are the odds of that? Had Wilson simply kicked the extra point for the 40-35 lead, the Hoosiers could have later kicked a short field goal for the win.
And then there was the ending of the Northwestern-Nebraska game. By now, you know what happened, with the Huskers winning on a play they call "Geronimo."
Ron Kellogg III
heaved the ball about 55 yards in the air, where it was tipped by a Northwestern defender into the waiting arms of
Jordan Westerkamp
.
A crazy fluke of a play? OK, maybe. But the Wildcats -- who say they practice against the Hail Mary every Thursday -- made the unpardonable mistake of not accounting for the deepest receiver in the end zone.
"You can never let someone get behind the pile," coach Pat Fitzgerald said. "That's pretty much it."
Northwestern could have avoided the pain of the play if, after reaching the Nebraska 1-yard line on second down in the final two minutes, it had scored a touchdown instead of settling for a field goal.
It's the little things at the end of halves and games that could decide the outcome of some more November Saturdays.
Take that and rewind it back:
Team of the week:
Michigan State. The Spartans
bullied, battered and bruised
Michigan in one of the most impressive defensive performances we've seen in a while. They should be favored in their final three games, even though the next two (at Nebraska and at Northwestern) are on the road. Michigan State fans might actually root for Michigan this week, because a Wolverines' victory over Nebraska this week would give Mark Dantonio's team a two-game lead over everybody in the Legends Division.
Worst hangover:
Michigan. This may be a literal, physical hangover for the Wolverines, who were beaten up all day in East Lansing.
Devin Gardner
looked shell-shocked as his
jersey was covered with mud
after taking so many hits. At least this week's game is at home. Brady Hoke is just 5-7 in true road games in three years.
Best play:
Nothing more needs to be said about Westerkamp's Hail Mary catch. Just
enjoy the video again
.
Biggest unsung play:
The Westerkamp catch would never have happened if not for
Ameer Abdullah
's heroics earlier on the final Nebraska drive. The Huskers faced fourth-and-15 when Kellogg scrambled and threw a dump-off pass to his running back. Abdullah caught the ball at the 34-yard line and needed to get just past the 39 for a first down. Two Northwestern defenders barreled in on him. But Abdullah shook off a tackle at the 36, got hit near the 38 and then lunged forward with the ball to just cross the first-down marker. Abdullah has left no doubt this season who Nebraska's best player is.
Big Man on Campus (Offense):
Penn State's
Bill Belton
ran for 201 yards and a touchdown on 36 carries versus Illinois. All that was nearly forgotten when he fumbled near the goal line late in the fourth quarter. But all was forgiven as the Nittany Lions came back to win in OT.
[+] Enlarge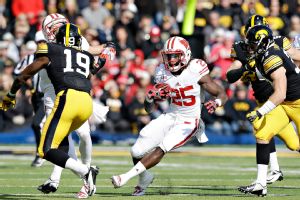 AP Photo/Charlie NeibergallRB Melvin Gordon was kept in check (17 rushes, 62 yards), but the Badgers rolled Iowa 28-9.
Big Man on Campus (Defense):
We could pick just about every Michigan State defender here. We'll single out linebacker
Denicos Allen
, who had nine tackles, two sacks and another tackle for loss. Allen is having a tremendous season and putting himself in the conversation for first-team All-Big Ten honors at the league's deepest position.
Big Men on Campus (Special teams):
Michigan State's
Michael Geiger
drilled all three of his field goal attempts in a game where offense was at a premium for three quarters, and punter
Mike Sadler
helped keep Michigan pinned in bad field position by averaging 40.8 yards on five kicks. The Wolverines started three of their drives from the 10-yard line or worse. No surprise there. Michigan State leads the country in punts downed inside the opponent 10, with 15.
A rule that needs review:
Wisconsin's
Jack Russell
appeared to make a 54-yard field goal at the end of the first half, but Iowa had called a timeout just before the snap. The Hawkeyes then proceeded to call two more timeouts in a row, and Russell would finally miss the attempt after several minutes of waiting. Credit Iowa coach Kirk Ferentz for using the ploy, since there is no sense in saving first-half timeouts. But can anyone argue this is good for the game? I don't think teams should be allowed to call more than two consecutive timeouts without a play happening. It disrupts the flow of the game and certainly doesn't embody the spirit of sportsmanship and collegiality the Big Ten claims to prioritize.
Again, that's not a criticism of Ferentz, just the rule. (And am I the only one who
thinks of this
when discussing whether to put Jack Russell in a timeout situation? Yeah, I probably am).
Fun with numbers (via ESPN Stats & Info):
After holding Michigan to minus-48 rushing yards on Saturday, Michigan State's defensive numbers have gone from outstanding to other-worldly. The Spartans are now allowing an average of just 43 rushing yards per game. The next best team in the FBS is Louisville at 82 yards per game. MSU is also giving up just 1.61 yards per rush attempt, which is a full yard lower than any other team in the country. Opponents are gaining zero or negative yardage on 36.5 percent of their attempts against the Spartans, also the highest number in the land, and only 22.7 percent of rushes versus that defense have gone for 5 yards or more. We could go on and on, but you get the point.

With its 56-0 win over Purdue following a 63-point effort versus Penn State, Ohio State registered its third back-to-back 50-plus point performance in two seasons under Urban Meyer. The program did that only four times total in the previous 122 seasons. The offense has been incredibly productive, as 38.4 percent of the Buckeyes' plays have gone for either a first down or a touchdown and 53.9 percent of those plays have gone for at least 5 yards. That latter figure is the highest in the FBS.

Do bye weeks help? Wisconsin would say yes. The Badgers have won last their past seven games following a bye week, including Saturday's win over Iowa. All of those victories have come by at least 19 points.

Penn State's Allen Robinson now ranks second in the nation in receiving yards per game, at 130.4. He trails only Oregon State's Brandin Cooks, who is averaging 149.3 yards per game. What might hurt Robinson come awards time is that he has only six touchdown catches. Cooks, by comparison, has 14. (And remember that Robinson missed half of the season opener because of a suspension).

Since October began, Michigan is averaging just 2.69 yards per rush attempt, which is 116th out of 123 teams in that span. (Purdue is dead last at 1.45 yards per attempt). In that same time period, the Wolverines have 63 rushes for zero or negative yards, more than any other FBS team.