August, 24, 2011
8/24/11
4:00
PM ET
The people spoke, and the Iowa Corn Growers Association listened. The
Cy-Hawk Trophy will be getting another new look
, and hopefully a better one.
A temporary trophy will be used for this year's Iowa-Iowa State game, while a permanent design will debut in 2012. The Iowa Corn Growers Association wisely is reaching out to fans for their input on the trophy.
We did the same, and the response, not surprisingly, was tremendous. Kudos to you folks.
[+] Enlarge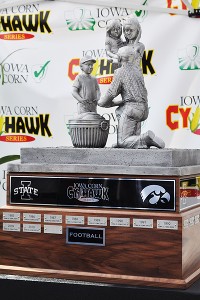 iowacorn.orgThe reviled new Cy-Hawk trophy, given to the winner of the annual Iowa-Iowa State football game, has been scrapped just four days after its unveiling.
Here are some of the best suggestions:
Mike from St. Louis:
Simple. Jack Trice in his Iowa State uniform shaking hands with Nile Kinnick in his Iowa uniform at mid-field.Captures Iowa/Iowa State, the two stadium names, two great icons, and the feeling of sportsmanship and state unity.
Gary from Houston:
How about making a bronze trophy of Chief White Cloud, the Chief of all Iowa, on a budding bronze field of corn on top of a walnut base. The total weight of the trophy should be 109 pounds equal to the distance in miles from Iowa City to Ames. Chief White Cloud's 1845 portrait appears to have scarlet, yellow and black in it. Of course he'll be holding a football to answer the "Hayden Fry" question.
Bob from South Elgin, Ill.:
The new trophy for the Iowa-Iowa State rivalry should have Jack Trice (Iowa States stadium namesake) and Nile Kinnick (Iowa's stadium namesake) facing each other on the gridiron. The slogan could be "we fight for our home turf". The symbolism of each man's heroic effort for freedom and equality goes WAY beyond the field of battle. It talks to the enduring qualities they both brought to each of us.
DZ from Waterloo, Iowa:
New Cy-Hawk Trophy Ideas-Go with the corn theme, have an oxidized copper ear of corn pulling down revealing a bronze football.Or have it be a football being peeled down like and ear of corn to reveal the corn beneath.
Derrick from Marion, Iowa:
My suggestion for a revised trophy would be to have a background with an agricultural setting (i.e. cornfields, barns, windmill, etc.) that transitions into the foreground which is representative of a football field. On that field have statues of Nile Kinnick and Jack Trice posing in prototypical poses used during their era in photographs. Locally the stories of each of these young men is well known; however, their story is less known outside the Midwest. I see their inclusion on the trophy an opportunity for their stories of equality and service to country to be told to those outside the Midwest. Each of these young men truly represented all that is good with sports and a trophy honoring them would be fitting and worthy of competing for.
Dave from Orange County, Calif.:
A big silver ear of corn, and each year the winners name is carved into a new kernel.. Think Stanley Cup of corn!! relevant and exciting.
Jason from Kansas City, Mo.:
Adam,I'm a Husker fan but thought of a great idea for the Cy-Hawk Trophy. Now picture this: On the base of the trophy is a field of corn in the shape of a Hawkeye, but where the eye of the Hawkeye logo would normally be, there is a twister (or cyclone) rising up from the field of corn, and either in or on top of the twister is the eye of the Hawkeye. Now, there's your trophy.
Brodie from Davenport, Iowa:
The trophy should be a giant thank you card from Iowa State saying "thank you for still putting us on your schedule"
Yvonne from California:
Keep it simple. The best college football trophies are a single symbol: a victory bell, a jug, a giant ax, a pig, the Axe. Take the basket of corn that's in the center of the current trophy and make a version of that the trophy. Then either put a base with the game scores under it, or have a plaque with the scores on the front of the basket.
A. McFadden from Cedar Falls, Iowa:
My suggestion for the annual Cy-Hawk Trophy:Showing the two mascots in a heated battle of "upper hand," with the usual stick being a stalk of corn with one of the visible ears of corn near the top of the stalk replaced with football with the usual corn husk surrounding it. This would embody the rivalry of "getting the upper hand" every year.
My take:
I absolutely love the suggestions that incorporate Jack Trice and Nile Kinnick. The legacies of both men should be celebrated as much as possible, and a rivalry trophy would be a great way to do so. My concern, as many of you point out, is that the trophy also likely needs a connection to corn because of the sponsor (Iowa Corn Growers Association). Would having a trophy with Kinnick, Trice and corn be too crowded? Perhaps. As Yvonne points out, the best rivalry trophies are simple symbols. I like the idea of a corn stalk being peeled to reveal a football. But if there's a way to display Trice, Kinnick and corn in a design both fan bases would enjoy -- as would the game sponsor -- it seems like the way to go.
February, 14, 2011
2/14/11
2:10
PM ET
We asked you to provide a few things you love about your team last week, and you answered in a big way. It was a little difficult to pare down all the responses, but here's why you guys love your respective teams.
Eathan in Manhattan, Kan., writes:
The one thing I love most about my Wildcats is the overwhelming feel of family. We are allowed the best seats for students. The school puts emphasis in alum and fan relations and makes sure they are happy. K-State is a family and you feel at home when you step on Wildcat soil.
Matt Kuhns in Lakewood, Ohio, writes:
Love about the Cyclones: Being "the cyclones." Lots of bulldogs, large cats and predatory birds in sports; not many tornadoes. So at least we've got that!
mhbtiger in KC, Mo., writes:
My favorite tradition is the MIZZOU to TIGERS during pregame. The band makes the transition during the Fight Song. And speaking of...I like how we have 2 songs that fit together so nicely..A close 2nd is the Missouri Waltz at the end of the 3rd Q. Go! Fight! Win! TIGERS!!!
Tanner D. in Huntsville, Ala., writes:
The things I love most about Oklahoma are Bob Stoops (not our first great coach), and seeing our players wear the Golden Hat Trophy after beating Texas.
Patrick Woo in State College, Penn., writes:
About my
Texas Longhorns
, I LOVE...the burnt orange, Bevo, the logo, the success, but most importantly how Mack Brown and others conduct themselves and the class they do with it. Those are the people in the world that you should admire.I am FIRED up for 2011 and I love absolutely love Bryan Harsin. TEXAS is my life, but I'll admit I was riding the Boise Bus in 2010 and now we have Harsin.
Matt in Texas writes:
I love the way oklahoma absolutely buries everybody at home, even top 5 teams! I just wish they could do it on the road...this is an abusive relationship.
Alex in Dallas writes:
I love that our school, Baylor, lets the freshmen on the field to celebrate with the team before the game! Nowhere else can say that!
Dan in Dallas writes:
What's my favorite thing about Iowa State: The story of Jack Trice, who Iowa State is named after. Amazing letter he wrote to himself the night before he died from injuries at the football game the next day.
Great story here
.
Tommy B in Stillwater, Okla., writes:
I think one of the best atmospheres is at Boone Pickens Stadium. Where else is the student section no more than a few feet away from the field with paddles banging on mats the whole game? As former Texas A&M coach Jackie Sherrill once said, "I always hated playing in Stillwater because the crowd is right on top of you. The fans sit right on top of the field. You turn around and there is a fan in your face." Better tell
Landry Jones
not to turn around this year....
Jesse in KC writes:
I love that we have a coach the whole school can get behind now, and have faith in, even if the first year was kind of tough: Turner Gill!
Josiah in Houston writes:
David, gotta say love the blog. i've been an Aggie fan since they day i was born and i gotta say the thing i love most about my team is waching the team saw varsity's horns off after a win.
Drew in Austin writes:
I love the burnt orange and white, the thundering roar of the crowd, the eyes of Texas, Texas fight, cannon shots after Texas touchdowns, old friends you see every football season, the overall aura of Saturdays at the DKR, it just doesn't get any better than that. I love the Red Out Around the World video Nebraska launched, and then proceeded to get beat yet again by a Texas team that history will show was inferior. What a beautiful way to send Nebraska out of the Big 12. 9-1 in Big 12 play against Nebraska.
Brian McCandless in Manhattan, Kan., writes:
My absolute favorite things about K-State are the two things that I believe are the most unique as well. First is the Wabash Cannonball. There's nothing like watching the student section perform this mind-boggling back-and-forth dance that harks back to a fire that burned down the music building. The only surviving piece of music was the Wabash Cannonball and the band played it a lot for the basketball game following the fire. Thus the dance.The other is Willie the Wildcat doing K-S-U. Not only is Willie very unique with only a head as part of his costume, but performing the letters to the chant of the crowd is one of the more spine-tingling moments for every game - especially when we beat KU or Nebraska and it feels so good.K! S! U! Wildcats! K! S! U! Wildcats! Kaaaaaay! Essssssssssss! Uuuuuuuuuu! Wildcats!Go Cats!
Patrick Jeter in College Station, Texas, writes:
What isn't there to love about Texas A&M, more-so now that our football team is on the verge of being truely great this season. From the Corps of Cadets marching in, Revielle on the sidelines, and who can forget the yells (along with Yell Practice)?!I believe that is what sets us apart from almost any other school in the country, win or lose we are there until the final minute yelling our heads off, when most fans would bail.
Adam Dalby in Louisville, Ky., writes:
Three thingsI love about Texas Tech: 1) Always have a winning record/in a bowl game...even during rebuilding years. 2) TTU's Under Armour deal. Unquestionably the coolest jersey's and I am definitely unsurpassed with my alma mater workout attire at the gym. 3) Gameday in the LBK.
Garrett Morgan in Austin writes:
I am a Red Raider who grew up in Austin and left for Lubbock to attend Texas Tech. I never thought that I would cheer for any team other than the Longhorns growing up here, but after a year in Lubbock I was bleeding red and black. I always loved our all black uniforms and the way that the city with a small town feel rallied behind their team during the high and low times. To this day I never get more pumped than on a Red Raider football Saturday.
Russell in Norwalk, Iowa, writes:
I love Paul Rhoads as head coach of the
Iowa State Cyclones
. I loved Mac, but Rhoads may take over as the greatest Cyclone football coach in my life.
Ben in San Antonio writes:
Harrell to Crabtree......TOUCHDOWN Red Raiders!
December, 30, 2009
12/30/09
11:44
PM ET
By
Tim Griffin
| ESPN.com


It might not be the most attractive of bowl matchups as 6-6 Iowa State hooks up with 6-6 Minnesota in the Insight Bowl.
But the game should prove interesting as the enthusiastic Cyclones play in their first bowl game since 2005.
Here's how the game should shake out.
WHO TO WATCH: Alexander Robinson, RB, Iowa State
If the Cyclones are going to be successful in their bowl game, their running game will be the key reason. And Robinson is the key weapon after rushing for 1,000 yards for the first time in his career as he finished with 1,058 yards to rank third in the Big 12. He rushed for three 100-yard games in non-conference play a career-high 152 yards against Kansas. His running will be critical in the Cyclones' upset hopes, as well as setting up the Cyclones' play-action passing attack with quarterback
Austen Arnaud
.
WHAT TO WATCH: Will the Cyclones be as enthusiastic to play as their fans are to watch?
Considering the snow that has socked the Midwest over the last week, it's understandable why Iowa State fans would consider their trip to the Insight Bowl as manna from heaven. ISU's fan support helped sway bowl organizers to offer them the bowl over a team like Missouri that had a better record and a head-to-head victory over the Cyclones. Iowa State should be similarly stoked for the game and a chance to finish the season with an improbable winning record in Coach Paul Rhoads' first season.
WHY TO WATCH: A rare matchup between two old rivals
Minnesota and Iowa State once played fairly often, meeting 20 times during a 21-season period from 1895-1915. The two teams met when iconic Iowa State running back Jack Trice was mortally injured in a 1923 game in Minneapolis. After that game, the two teams have met only four times in the ensuing seasons. The Gophers have dominated the series, claiming a 20-0-1 edge with Iowa State's last victory in the series coming in 1898. Despite that past history, Wednesday's game should be entertaining between two evenly matched teams.
PREDICTION:
This game might be decided on what team is more excited to be at Sun Devil Stadium. Iowa State is making its first trip to a bowl game since 2005. And Minnesota is making its third trip to the Insight Bowl in four seasons. It could be worse --the Gophers could be playing at the Motor City Bowl. But the Insight Bowl appears to have become a destination for Minnesota in late December, not exactly a strong show of growth for a developing program. Look for the Cyclones to be more enthusiastic to be here, which might boost them to an upset.
Iowa State 27, Minnesota 24.