August, 4, 2014
8/04/14
10:00
AM ET
BATON ROUGE, La. -- With Les Miles opening his 10th season as LSU's head coach today, we'll use each day this week to review the decade under the eccentric Miles. Today we look back at some of the wacky moments, gutsy decisions and memorable press conferences that helped define Les as the entertaining figure that he is today.
[+] Enlarge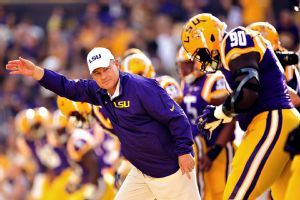 Stacy Revere/Getty ImagesLes Miles has been known to keep things interesting on the LSU sideline.
10. The Harlem Shake:
LSU wasn't left out of the "Harlem Shake" video craze that swept the nation last spring. In the Tigers' version, it first appears as if they are participating in their regular "Big Cat" drill before Miles breaks into an awkward solo dance while the players "argue" behind him.
Then the beat drops and mayhem ensues.
9. "It must have been the shoes:"
The Legend of Les was already fully developed even before he filmed a
2011 backyard basketball video
where he went from hapless to hero while playing against (and dunking on) two of his children. The secret weapon in Miles' turnaround was a pair of purple-and-gold high tops sent by ESPN's Scott Van Pelt following an on-air conversation where he made fun of Miles' all-white game shoes.
8. Les being Les:
Unlike many of his buttoned-up counterparts, Miles has never been afraid to show off his oddball side. It's not particularly unusual to see him
answer a reporter's phone during a press conference
, clap like a weirdo or fill everyone in on
the difference between Columbus Day and St. Patrick's Day
. Nor is it surprising to see him
kiss a pig
or
rappel off the side of a 24-story building
, all in the name of charity. Around Baton Rouge, that's simply known as Les being Les.
7. Crazy wins vs. Tennessee, Florida:
Another example of Les being Les is how his teams have found some wild ways to win (and occasionally lose) ballgames. Two perfect examples came in back-to-back weeks in 2010, when LSU beat Tennessee and Florida to miraculously improve to 6-0.
First, the Tigers were on the verge of a devastating home loss to Tennessee -- and it looked like that's exactly what happened when the Volunteers thwarted LSU's last-gasp effort to score at the goal line. However, the referees determined that on the chaotic final play, the Vols actually had 13 defenders on the field instead of the allowed limit of 11. The ensuing penalty gave LSU one final chance to score, and Stevan Ridley plowed into the end zone on that play to give
LSU a 16-14 victory
.
Miles caught plenty of grief over the next week about LSU's sloppy final moments in regulation before the Tennessee penalty bailed out the Tigers. It would have been understandable if he became a bit gun shy, but timidity is not in Miles' DNA. When the Tigers' final drive stalled late in the Florida game, Miles sent out Josh Jasper to attempt the game-tying field goal -- or so we all thought. Instead, holder Derek Helton flipped the ball over his head to Jasper on a fake field goal, and the kicker's 5-yard run achieved a first down that kept the drive alive.
The Tigers eventually scored the
game-winning touchdown
on a 3-yard pass from Jarrett Lee to Terrence Toliver with six seconds to play. It was yet another example of how you never know what to expect when Miles is making decisions on the sideline.
6. Fourth downs vs. Florida:
Miles already had an SEC West title on his résumé when his third team at LSU in 2007 became one of the most impressive college football squads of the 2000s. There are plenty of moments from that BCS championship season that helped cement Miles' risk-taking reputation, but among the most memorable were his decisions to go for it on fourth down against Florida over and over. In all, Miles and the Jacob Hester-led Tigers went for it on fourth down five times. They achieved a first down or a touchdown all five times in
knocking off the defending BCS-champion Gators 28-24
in one of the greatest games ever played at Tiger Stadium.
5. "Give them a big kiss on the mouth:"
It's difficult to say whether Miles is better known for the wacky things he says behind a microphone or for the gutsy -- and sometimes crazy -- calls he makes on the field.
We've already discussed a couple of the crazy calls. Now let's touch on one of the most memorable press conferences. Following a narrow 2012 win over Ole Miss, he launched into a
profane rant that evolved into a standup comedy routine
. In response to a story that characterized receiver (and former hotshot recruit) Russell Shepard's college career as a disappointment, Miles vehemently defended the contributions his seniors (including Shepard) had made to the program.
The rant ended with Miles instructing those within earshot, "You go find them, you throw your arms around them, you give them a big kiss on the mouth … if you're a girl," before breaking into a wacky grin as the reporters in attendance laughed.
4. Touchdown bomb against Auburn:
In yet another perfectly Les moment from the 2007 season, Miles' Tigers were in position to kick the game-winning field goal while trailing Auburn 24-23 in the final minute.
Tommy Tuberville's defense might have expected LSU to down the ball in the middle of the field to set up a more manageable kick, but Miles had other ideas -- and the unorthodox call caught Auburn off guard. LSU quarterback
Matt Flynn dropped back and hit Demetrius Byrd with a 22-yard touchdown pass with just 1 second showing on the clock
. The enormous risk had paid off, and two weeks after the amazing Florida win, the Tigers delivered some more
Miles magic
.
3. The Mad Hatter:
Miles has been given plenty of nicknames through the years -- some more family-friendly than others -- but the one that seems to resonate most is "The Mad Hatter." ESPN's Rece Davis apparently gave Miles that one, in part because of the white ball caps that awkwardly sit atop his head each fall Saturday and in part because of Miles' general craziness that we've already covered, even if he once told sideline reporter Holly Rowe, "Understand something, it's the hat I wear. There's nothing mad underneath it."
2. Eating grass:
Shortly after LSU scored the go-ahead touchdown in a 2010 win against Alabama – just before the Tigers attempted a two-point pass that would put them up 21-14 – CBS' TV cameras caught Miles in the middle of an
unusual ritual
that he said dates back to adolescence. He leaned down, pinched a blade or two of grass and put it in his mouth.
Miles has made hay out of his grass-eating ways since then, even participating in an
ESPN commercial that gleefully ridiculed the practice
.
1. "Have a great day:"
One of the most unorthodox moments from Miles' first nine seasons at LSU came when he participated in an impromptu press conference BEFORE the 2007 SEC championship game in order to shoot down a report that he was preparing to leave to coach at his alma mater, Michigan.
Miles told those in attendance that, "I've got a championship game to play, and I'm excited about the opportunity of my damn strong football team to play in it. … Please ask me [about Michigan] after. I'm busy."
His smirking line to close, "Have a great day," was so memorable that LSU added those words to the rear door of the football team's equipment hauler.
January, 20, 2010
1/20/10
11:33
AM ET
What makes a great game? What makes a memorable game?

Most of the time, that depends on where you sit.

Again, though, picking just 10 games that stick out in the SEC over the last decade is a thankless task.

My question: Can I pick 10 over the last two seasons?

While realizing some memorable contests are going to be left out, here's our stab at the 10 best games the decade had to offer in the SEC:

1. Florida 31, Alabama 20, 2008 SEC championship game: The No. 1 and No. 2 teams in the country went toe-to-toe for three classic quarters in a game that lived up to every bit of its hype. But in those final 15 minutes, Tim Tebow took over with one clutch play after another, and the Gators -- playing without injured star Percy Harvin -- turned in a flawless quarter to earn a spot in the BCS National Championship Game.

2. Arkansas 50, LSU 48 (3 OT), 2007: Easily one of the more shocking games of the decade. Darren McFadden rushed for 206 yards and three touchdowns and threw for another score, as unranked Arkansas knocked off No. 1 LSU at home on the final weekend of the regular season. Arkansas' Matterral Richardson intercepted Matt Flynn's two-point conversion pass in the end zone to clinch the win for the Hogs. It was Houston Nutt's final game at Arkansas, and LSU limped away thinking it had blown its chance to play for a national title. But the right teams lost, and the Tigers climbed back into position in the final BCS standings and whipped Ohio State for their second national title of the decade.

3. Florida 17, South Carolina 16, 2006: Talk about a surreal setting. Steve Spurrier was back at the Swamp ... but wearing different colors and standing on the opposing sideline. His Gamecocks outplayed the No. 6 Gators most of the day. South Carolina had a chance to win it at the end, but Jarvis Moss blocked Ryan Succop's 48-yard field goal attempt as time expired to save the Gators. It was his second blocked kick of the game and the third by Florida. The Gators would go on to win their first of two national titles under Urban Meyer.

4. Tennessee 34, Florida 32, 2001: The game was pushed back to the end of the season because of the 9/11 terrorist attacks. Florida was No. 2 and Tennessee No. 5. The Vols, who hadn't won in the Swamp since the 1970s, got a career-high 226 yards rushing from Travis Stephens and survived a two-point conversion pass attempt in the end zone at the end of the game to put themselves in prime position to play for the national championship. They couldn't make it stand up, though, and were upset the next week by LSU in the SEC championship game.

5. LSU 28, Florida 24, 2007: The black-and-blue game of the decade, for sure. The Tigers and Gators went at it in one of the hardest-hitting, most physical games you'll ever see. Three different times, Tim Tebow led the Gators to 10-point leads over the No. 1-ranked Tigers. But LSU coach Les Miles kept gambling on fourth down, and the Tigers -- namely Jacob Hester -- kept converting. Hester had two fourth-down conversions on the game-winning drive and scored the go-ahead touchdown on a third-and-goal play.

6. Arkansas 71, Kentucky 63 (7 OT), 2003: It was the longest game in NCAA history, taking nearly five hours to play. The Hogs prevailed in the seventh overtime when DeCori Birmingham scored on a 25-yard touchdown run. They then stopped the Wildcats on fourth down.

7. Ole Miss 31, Florida 30, 2008: It's the game that led to "The Promise" from Tim Tebow, and it's also the last game the Gators lost before reeling off 22 straight victories. The Rebels shocked the No. 4 Gators in the Swamp. Jevan Snead passed for two touchdowns and ran for another, and Kentrell Lockett blocked an extra point attempt late in the fourth quarter. But the clincher came with 40 seconds to play when the Rebels stopped Tebow on fourth down and less than a yard from the Ole Miss 32. Tebow was hit in the backfield and never made it back to the line of scrimmage.

8. Georgia 24, Auburn 21, 2002: Auburn and Georgia have specialized in playing thrilling games over the years, but the 2002 contest was one of the best. The Bulldogs won it with 1:25 left to play when David Greene hit a leaping Michael Johnson with a 19-yard touchdown pass on a fourth-and-15 play to clinch the Eastern Division title. The Bulldogs went on to win their first SEC title in 20 years.

9. Kentucky 43, LSU 37 (3 OT), 2007: In one of the biggest wins in Kentucky history, the Wildcats took down the No. 1 Tigers in Lexington, settling off a wild celebration in the Bluegrass. Quarterback Andre Woodson threw a 7-yard touchdown pass to Steve Johnson in the third overtime, and LSU couldn't answer on its possession. Charles Scott was stopped on fourth-and-2 by Kentucky's Braxton Kelley, sealing the Wildcats' first victory over a No. 1 team since 1964.

10. Alabama 12, Tennessee 10, 2009: Terrence Cody made more than a few big plays during his two seasons at Alabama, but nothing compares to his blocked field goal as time expired to save the Crimson Tide against the Vols. It was Cody's second blocked field goal of the day, and he ripped off his helmet and went racing across the field in celebration afterward. Alabama seemingly had the game under control, but Tennessee drove for a late touchdown and then recovered an onsides kick to move into position. The Crimson Tide prevailed without scoring a touchdown. Leigh Tiffin kicked four field goals, including a 50-yarder and 49-yarder.
February, 5, 2009
2/05/09
8:00
AM ET
Posted by ESPN.com's Chris Low
It's the essence of the recruiting craze in the SEC. It's what everybody does come national signing day and beyond.
Fans scour the All-America lists to see how many of the "can't-miss" prospects signed with their school. They salivate over the five-star players, hope for four-star players and frown at the thought of signing anybody that hasn't already become a star during the recruiting process.
| | |
| --- | --- |
| | |
| | Joe Robbins/US Presswire |
| | Jay Cutler was recruited to play defensive back out of high school. |
Here's a tip, though. Don't sweat it if your class includes a few prospects who weren't rated particularly high, prospects who were two- and three-star players and prospects who haven't already gone Hollywood before they show up on campus.
The dirty little secret in recruiting is that some of the best players in the SEC over the last few years were guys who flew under the radar in the recruiting process for various reasons.
In keeping with that spirit, we've come up with our own All-SEC team of recruiting nobodies, guys who weren't rated very highly coming out of high school, but went onto have stellar careers in the SEC and many of them are now playing in the NFL.
The players comprising this team had to play in the SEC in the past four years (2005-08):
We'll look at the offensive team first and the defensive team a little bit later Thursday morning:
QB Jay Cutler, Vanderbilt: Any interest Cutler received from Big Ten schools such as Purdue, Indiana and Illinois was as a safety. Finally, about a month before signing day, Vanderbilt offered him as a quarterback, and Cutler wound up being the 11th overall pick in the 2006 NFL draft.
RB Jacob Hester, LSU: Played nose guard his first two years at Evangel Christian Academy in Shreveport, La. He was a two-star prospect coming out of high school, but still got some good offers as a fullback or linebacker. LSU promised him he could play running back. He rushed for 1,103 yards as a senior in leading the Tigers to the 2007 BCS national championship. The San Diego Chargers traded up in the NFL draft to be able to get Hester in the third round.
RB BenJarvus Green-Ellis, Ole Miss: Signed in 2003 with Indiana after playing high school football in New Orleans and not receiving a sniff from SEC schools. Green-Ellis transferred to Ole Miss following the 2004 season and became only the second running back in Ole Miss history to record back-to-back 1,000-yard rushing seasons. He was a first-team All-SEC selection in 2006 and started some games at running back this past season for the New England Patriots.
WR Earl Bennett, Vanderbilt: One of those players from the state of Alabama the big boys didn't want. Bennett was unranked nationally as a receiver when he came out of West End High School in Birmingham, Ala. His only other official visits were to Kentucky and Southern Miss. All he did at Vanderbilt was set the SEC record with 236 career catches, becoming the only player in league history to reach the 75-catch plateau in three different seasons. He turned pro early and was drafted by the Chicago Bears in the third round.
WR Sidney Rice, South Carolina: Deemed a step slow coming out of high school in Gaffney, S.C., Rice wasn't ranked among the top 50 receiver prospects nationally. He redshirted his first season at South Carolina, but caught 23 touchdown passes the next two seasons and turned pro. He was drafted in the second round by the Minnesota Vikings.
OL Antoine Caldwell, Alabama: Other than Auburn, his main suitors coming out of Montgomery, Ala., were Louisville, Southern Miss and Vanderbilt. Caldwell capped a stellar career at Alabama by being selected first-team All-America this season at center by the Associated Press.
OL Jonathan Luigs, Arkansas: Luigs was a two-star player from Little Rock and wasn't even listed as one of the top 10 prospects in Arkansas his senior year of high school. Similar to Caldwell, he developed into one of the best centers in the country and won the Rimington Trophy in 2007 as the nation's most outstanding center.
OL Tyronne Green, Auburn: Rated by many as a defensive tackle when he came out of Pensacola, Fla., in 2004, Green picked Auburn over Southern Miss and Florida A&M after missing half of his senior season in high school with an injury. He started in 25 straight games at Auburn and was voted the Tigers' best blocker as a junior.
OL Chris Williams, Vanderbilt: Weighed just 245 pounds coming out of high school in Baton Rouge, La., and wasn't recruited by LSU. Williams blossomed in Vanderbilt's strength program and wound up being the 14th pick overall in the 2008 NFL draft. He's the highest SEC offensive lineman to be drafted since Alabama's Chris Samuels in 2000.
OL Clint Boling, Georgia: When he came out of Alpharetta, Ga., in 2007, Boling was the 112th-ranked defensive end prospect nationally by Scouts Inc. and was nowhere to be found among the top 20 prospects in the state of Georgia. The Bulldogs' main competition for Boling was from Kentucky, Vanderbilt, Duke and Wake Forest. Boling wound up starting as a true freshman and was Georgia's most versatile offensive lineman last season.
TE Jared Cook, South Carolina: A 205-pound receiver when he came out of high school in the Atlanta area and missed his junior season at North Gwinnett High after breaking his ankle. His other offers were from Mississippi State, Tulane and Missouri. Cook developed into one of the more athletic tight ends in the SEC and decided to turn pro following last season.