March, 21, 2012
3/21/12
12:00
PM ET
EUGENE, Ore. --
John Boyett
is still smiling. Everything seems fine. Up to the halfway point in a 15-minute interview, Oregon's free safety has been insightful and pleasant, even when a certain sportswriter started blathering about this or that.
But that smile hints at something else. It's a happy smile, yes, but happy in the way a lion looks just before he takes a huge chomp out of a gazelle.
Me
: I just made a
list of the top-25 of players in the Pac-12
.
Boyett
: [Big laugh] I heard.
Me
: You were left off.
Boyett
: [More laughing] I heard.
Me
: [Nervous laugh] Are you competitive with the other guys?
Boyett
: Very competitive.
If you've watched Boyett play, that shouldn't be a surprise. A soon-to-be four-year starter for the Ducks, the 5-foot-10, 202-pound senior from Napa, Calif., is child of a football family, and he's obsessed with the game, whether that's about conditioning or watching film or playing with an intensity that easily endures the filtering presentation of a TV camera.
[+] Enlarge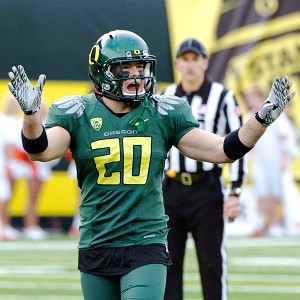 Jim Z. Rider/US PresswireJohn Boyett could be the best in a recent line of successful Oregon defensive backs.
"Football is in my blood," he said.
How competitive is he? Competitive enough to be, yes, just a bit irked not only at that ole top-25 list but also that he ended up second-team All-Pac-12.
"I'm not just going to say I feel like I'm the best safety because it's me. I'm a realist," he said. "But I really do feel I'm the best safety in the country. I probably wouldn't believe that if [secondary coach John Neal and defensive coordinator Nick Aliotti] hadn't told me the same thing."
But Boyett, who's led the Ducks in tackles two of the past three season and finished second in 2010, didn't come to this discussion unarmed. He's completely aware of who his rival is for best safety in the Pac-12: USC's
T.J. McDonald
. McDonald was first-team All-Pac-12, first-team All-American with The Sporting News, ended up ranked
19th on the top-25 list
and is widely considered the
best senior safety in college football
.

"I know T.J. McDonald's stats," Boyett said. "I know all the safeties I am competing with in the draft. I know all their stuff. But I'm not stupid competitive. I don't get into all the politics. I'm here to help my team win. If we get into another BCS championship game, I don't care if you give me first team or 20th team, I just want to help the team win."
But...
Boyett continues, "But it is crazy when you look at it. I look at my stats compared to everyone else. And I'm not a big stats guy, I just want to win games."
But...
"But of course you've got to look at it every once and a while. I've got 276 tackles, nine picks and like 29 pass breakups. And the other guy's [McDonald] got like [163] tackles, six picks and nine pass breakups. I've got him by [113] tackles, three picks and 20 pass breakups! And they are still getting...
But...
"That's why I don't get caught up in all that stuff."
Not completely, at least.
What Boyett really does get caught up in is winning. Oregon has done that during his career like it never has before with a 34-6 record over the past three seasons. He was recruited to a 2007 team that fell out of the national title hunt when quarterback Dennis Dixon blew out his knee. In 2008, his redshirt season, the Ducks went 10-3 and won the Holiday Bowl. Yet those were the down years. He became a starter in 2009 when T.J. Ward got hurt, and since then the Ducks have won three consecutive Pac-12 titles and played in two Rose Bowls -- winning one -- as well as the national title game after the 2010 season.
Boyett believes the Ducks will again be in the hunt in 2012. And he believes this defense might be the best unit with which he's played.
"We lose three or four guys, but all the guys coming in for them are just as good as them," he said. "[Aliotti] asks me how the defense is doing, and I seriously tell him, 'This defense is going to be the best since I've been here.'"
Boyett is part of an impressive recent legacy of Oregon defensive backs. When he arrived, the Ducks' secondary included Ward, Jairus Byrd, Patrick Chung and Walter Thurmond. The first three were second-round NFL draft picks, while Thurmond went in Round 4.
Those are the guys who first taught him how to play, but they aren't exempt from Boyett's competitive streak either. He's got big plans for this year, and part of that plan is leaving no doubt in the eyes of NFL scouts.
Said Boyett, "Coach Neal says if I have another great year I'm going to get drafted as high if not higher than them."
May, 5, 2009
5/05/09
2:30
PM ET
Posted by ESPN.com's Ted Miller
But I reckon I got to light out for the Territory ahead of the rest, because Aunt Sally she's going to adopt me and sivilize me and I can't stand it. I been there before.
January, 20, 2009
1/20/09
2:30
PM ET
Posted by ESPN.com's Ted Miller
Don't link between meals.
January, 16, 2009
1/16/09
2:30
PM ET
Posted by ESPN.com's Ted Miller
I'm a soft commitment to these links, meaning I may be visiting other links.
November, 25, 2008
11/25/08
11:14
AM ET
Posted by ESPN.com's Ted Miller
Getting deep into this week's games.


Stop the run, get the quarterback -- times two: Oregon and Oregon State play different defensive schemes but both are predicated on stopping the run first and then aggressively pressuring the quarterback. That might sound like every team's basic recipe, but the Ducks and Beavers have the numbers to back it up. They rank second (OSU) and third in the Pac-10 in run defense and second (UO) and third in quarterback sacks. The Civil War will feature four of the top seven quarterback sackers in the conference. The difference in the defenses this year is the Ducks have struggled against the pass (254 yards per game, 10th in conference) -- particularly play-action passes -- while the Beavers' defense is all-around suffocating (178 yards, fourth). Moreover, Oregon State, despite using two quarterbacks the latter third of the season, is a far better at passing -- No. 1 in the Pac-10 -- than the Ducks (7th). On the other hand, only USC has been able to stop the Ducks' run game. What do all of these numbers seem to indicate? That if it comes down the quarterbacks, Oregon State has an advantage, even though we don't know yet who will be the starter between Lyle Moevao and Sean Canfield.

A reappearance of Sanchez 07 vs. Notre Dame would work nicely: Last year, USC whipped Notre Dame 38-0, the Trojans' first shutout in South Bend and their most decisive victory in the 79-game series. Mark Sanchez, making just his second career start for the injured John David Booty, threw for 235 yards and four touchdown passes. The Trojans' offense has played it fairly close to the vest of late, with Sanchez throwing for 238 or fewer yards in each of the last four games, and twice throwing for less than 170 yards. That makes sense when the nation's best defense has your back. Maintaining that plan this week also makes sense, considering Notre Dame is far better vs. the pass -- the Irish rank 14th in the nation in pass efficiency defense and have yielded only 10 touchdown passes -- than the run. And the Trojans did rush for 227 yards in 2007. Still, with an extra week to prepare, it wouldn't be surprising if the Trojans opened things up for Sanchez in the interest of posting an impressive all-around performance, not that Pete Carroll would ever -- EVER! -- think about BCS positioning.

Kevin Craft vs. Kevin Craft (and a peeved Rick Neuheisel): UCLA quarterback Kevin Craft "leads" the Pac-10 with 16 interceptions, much to the consternation of his animated coach. He even threw three vs. Washington, which had collected just three interceptions in its previous nine games. Craft's tendency to lock on to his intended receiver and still throw into a naturally reacting coverage will be of interest to Arizona State, particularly linebacker Mike Nixon and safety Troy Nolan, who have combined for seven interceptions. The Bruins and Sun Devils own identical records, and the winner of their matchup Friday keeps their bowl hopes alive. The biggest difference between the teams is at quarterback. While Rudy Carpenter hasn't dominated this season, his 15 TD passes vs. seven picks is far better than Craft's 7 and 16, which largely accounts for the Bruins' stark minus-eight turnover margin -- vs. plus-two for ASU.

Is the Cougs' visit to Hawaii a vacation or a business trip? Escaping Eastern Washington this time of the year for a trip to Hawaii sounds like a great plan (though, honestly, it was beautiful -- crisp and mostly sunny -- last week in Pullman). Of course, there is this little matter of a football game. It is not inconceivable that if the Cougars put together an inspired effort they could win -- even as a 29 1/2-point underdog. Hawaii (6-5) did lose to 2-9 Utah State, 30-14, on Nov. 1. And this is certainly not the offensive juggernaut of the June Jones Era -- see 25 points and 344 yards per game. Still, despite the win over Washington, the Cougars are severely undermanned on both sides of the ball. Moreover, it's hard to imagine them being able to wipe away the euphoria of their double-overtime win and focus on a new game plan. But if they do, it could signal some substantial traction for first-year coach Paul Wulff as he heads into the offseason trying to sell recruits on his rebuilding project.


Special teams come to the fore in special games: Let's just say that Oregon and Oregon State both get their licks in, with the usual suspects making plays on both sides of the ball. What, then, might tip the scales? Special teams, right? In last year's game -- a 38-31 Beavers win in double overtime -- both teams missed field goals to win in regulation, and OSU kicker Alexis Serna missed two other field goals. Last week at Arizona, Beavers kicker Justin Kahut was first the goat -- missing a potential game-tying, fourth-quarter PAT -- and then the hero when he booted the game-winning field goal as time expired. Kahut actually has an edge on Ducks veteran Matt Evensen, who's only hit on 11 of 18 field goals this year. Moreover, Oregon's Jairus Byrd and Oregon State's Sammie Stroughter are two of the Pac-10's more dangerous punt returners, and the Beavers' James Rodgers is the only player in the conference to return a kickoff for a touchdown this season. Oregon has a 4-yard advantage in net punting, with Josh Syria far more consistent that Johnny Hekker. In hard-fought rivalry games, it's often miscues and play-making on special teams that swing the final margin.
September, 13, 2008
9/13/08
6:29
PM ET
Posted by ESPN.com's Adam Rittenberg
WEST LAFAYETTE, Ind. -- It was only a matter of time before Oregon broke through.
The Ducks consistently moved the ball throughout the first half but couldn't get the big play to spark them against a resolute Purdue defense. They got one on special teams and appear ready to rally back for a road win.
Speed had been a major concern for Purdue coming into the game, and cornerback Jairus Byrd showed why with an 87-yard punt return for a touchdown. Byrd's dash seemed to lift the Oregon offense, which drove 96 yards for a score and got a huge run from backup running back LeGarrette Blount.
If the Boilermakers fall, they'll look back on some wasted opportunities. The offense has stalled since the first quarter and failed to take advantage of solid field position. And big games continue to be Curtis Painter's bugaboo. The senior quarterback has thrown two interceptions and seems uncomfortable passing in the gusty winds and against an aggressive Oregon secondary. If Purdue wins this game, Painter has got to make better decisions and a few big plays. The Ducks held a 418-289 edge in total yards after three quarters. Purdue has only 114 yards after the first quarter.
September, 13, 2008
9/13/08
5:35
PM ET
Posted by ESPN.com's Adam Rittenberg
WEST LAFAYETTE, Ind. -- Joe Tiller always will been known for bringing the spread offense to the Big Ten and turning Purdue into a point-producing machine.
But Tiller is 30 minutes away from becoming Purdue's all-time coaching wins leader because of the Boilermakers defense. Oregon's speed and offensive creativity is as advertised, but the Ducks have repeatedly hurt themselves in Purdue territory throughout the first half. The Ducks have outgained Purdue 254-195 but went 2-for-4 in the red zone.

Part of the problems stem from quarterback Justin Roper, who showed his youth on two poor decisions that led to interceptions in Purdue's end of the field. But the Boilermakers' defensive line has shut down the run and put Roper under pressure. Roper isn't getting much help from his receivers, who have dropped several passes, but the Boilermakers secondary continues to fly around and make things hard for the Ducks. Purdue defensive tackle Ryan Baker and safeties Torri Williams and Frank Duong have been particularly disruptive. Give a ton of credit to defensive coordinator Brock Spack.
Purdue should be slightly concerned about its offense, which did next to nothing in the second quarter after Kory Sheets rushed for his second touchdown. Despite three possessions with favorable field position, the Boilers couldn't convert. The strong northeasterly wind might be bothering quarterback Curtis Painter, who completed just 6 of 16 passes in the half and made a very un-senior-like decision in the final minute, forcing a throw that Jairus Byrd picked off. But once again, the defense came up big in the red zone, holding Oregon to a field goal.
I'll give it to the Ducks. They play it bold. Going for a fourth-and-10 at Purdue's 41-yard line with a 17-point deficit might signal desperation to some, but coordinator Chip Kelly is confident in his offense. There's still plenty of time left for an explosive unit, but Oregon must be sharper in every aspect of the game.
August, 31, 2008
8/31/08
1:10
AM ET
Posted by ESPN.com's Ted Miller
EUGENE, Ore. -- From the Autzen Stadium press box:
Remember how I said Oregon should give the ball to RB Jeremiah Johnson more?
Well, who knew that Ducks offensive coordinator Chip Kelly reads this blog?!
Johnson's 13-yard TD run with 10:55 left in the third put the Ducks up more comfortably at 21-10. The run gave Johnson 112 yards -- a career-high -- on 12 carries and his second TD of the evening.
With QB Justin Roper injured, Jeremiah Masoli took over primary QB duties but true freshman Chris Harper also saw spot action, primarily as a runner. Neither got much done after the first drive, though.
Two letters: JJ.
The Huskies also couldn't be terribly happy with punter Jared Ballman, who added a 16-yard punt to the six-yard one he had in the first quarter. Of course, punting from his own endzone, Ballman boomed a 57 yarder that got the Huskies out of a field-position bind. It was feast or famine for him.
The Ducks defense did a nice job of manning up after getting jobbed by a bad pass interference call against CB Walter Thurmond. A Spencer Paysinger sack ended the Huskies penetration into Duck territory.
That set up a 51-yard Jairus Byrd punt return -- which might end up leading to points -- as the third quarter bell rings.
August, 26, 2008
8/26/08
10:40
AM ET
Posted by ESPN.com's Ted Miller
I really labored over some of these.
Offense
QB: Rudy Carpenter, Sr., Arizona State
RB: Jahvid Best, So., California
RB: Jeremiah Johnson, Sr., Oregon
TE: Rob Gronkowski, So., Arizona
OL: Alex Mack, Sr., California
OL: Jeff Byers, Sr., USC
OL: Juan Garcia, Sr., Washington
OL: Max Unger, Sr., Oregon
OL: Andy Levitre, Sr., Oregon State
WR: Mike Thomas, Sr., Arizona
WR: Brandon Gibson, Sr., Washington State
K: Thomas Weber, So., Arizona State
Defense
DE: Nick Reed, Sr., Oregon
DT: Fili Moala, Sr., USC
DT: Brian Price, So., UCLA
DE: Dexter Davis, Jr., Arizona State
LB: Rey Maualuga, Sr., USC
LB: Brian Cushing, Sr., USC
LB: Zach Follett, Sr., California
CB: Jairus Byrd, Jr., Oregon
CB: Alterraun Verner, Jr., UCLA
FS: Taylor Mays, Jr., USC
SS: Patrick Chung, Sr., Oregon
P: Keenyn Crier, So., Arizona
KR: Ronald Johnson, So., USC
PR: Sammie Stroughter, Sr., Oregon State