May, 30, 2011
5/30/11
12:07
PM ET
As you'd expect, Twitter is buzzing with reaction to the
resignation of Jim Tressel
as Ohio State's coach earlier Monday.

Ohio State held a team meeting Monday morning to announce the change, but several current and former players have tweeted about Tressel's departure. Most of the reaction is very positive.
Here's a look at some of the comments:
There are also these notable tweets:
Michigan defensive tackle Mike Martin: The head of the scarlet and grey Demon has been cut off!
Michigan cornerback Troy Woolfolk: Tressel resigned, well I guess it got too hot in the kitchen. Lol
Former Iowa tackle Bryan Bulaga: @OfficialAJHawk are you going to help select the new coach at OSU. I am sure they will be askig for your professional opinion.
Former Michigan running back Mike Hart: Great day for America! Sad day 4 Big 10, Hate OSU but tressel was a great coach! Would rather beat them when he's the coach than some1 else
Former Ohio State receiver Ray Small: Lol what y'all gone do 2 me that man resigned his self if u don't like me [bleep] u!!
Again, much more to come on Tressel's resignation.
August, 20, 2010
8/20/10
9:01
AM ET
Who will be Ohio State's No. 3 wide receiver this season?
The question has been asked for months, even before Duron Carter's departure from the school in mid June. Ohio State boasts two proven receivers in
DeVier Posey
and
Dane Sanzenbacher
, but the team has no other returning wideouts who caught a pass in 2009.
Interested parties wondered if senior
Taurian Washington
would take charge. Others watched redshirt freshman
Chris Fields
, who drew strong reviews from the coaching staff after spring ball. And don't forget about guys like
Grant Schwartz
,
James Jackson
or even true freshmen like James Louis or Verlon Reed.
[+] Enlarge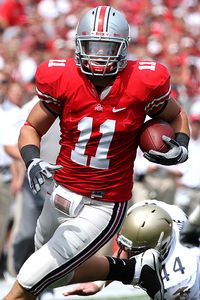 Matthew Emmons/US PresswireOhio State tight end Jake Stoneburner only had two catches last sesaon, but figures to play a bigger part in the offense in 2010.
My take: forget all those names for a second. Quarterback
Terrelle Pryor
's third option in the passing game this fall doesn't even play wide receiver but ... wait for it ... tight end.
"Oh, yeah,"
Jake Stoneburner
said when asked about filling the No. 3 role. "During camp, they've had some instances where they'll split me out and they'll have a two-back set with three receivers, and I'm the third receiver out there with Dane and DeVier."
Some people out there must be thinking I can't be serious. An Ohio State tight end being an integral part of the passing game? Jim Tressel would go for fourth-and-8 in his own red zone before featuring a tight end as a pass catcher.
Stoneburner had a grand total of two receptions in 2009, while starting tight end Jake Ballard had only 13. In 2008, Ballard and Rory Nicol combined for 11 receptions all year.
Nicol used to joke about how rarely the ball came his way. Ohio State tight ends used their hands for blocking and not much else.
It's why Stoneburner initially wasn't thrilled about switching from receiver to tight end before last season.
"I knew they didn't get the ball," he said.
What might change in 2010? For starters, Stoneburner is admittedly a pass-first tight end who has made blocking his top offseason priority.
He's a big target at 6-foot-5 and 245 pounds, and he boasts good speed in the middle of the field. Perhaps most important, Pryor likes to throw him the ball.
"The spring is when I really saw it," Stoneburner said. "We would have plays we normally hadn't run with the tight end running routes, and he's looking at me, like, 'Hey, get open on this. I'll try and get you the ball.' With Terrelle knowing the offense more and being more comfortable out there, he's looking for more targets. With me being able to run good routes and get open, he's looking at me to be one of his primary targets."
A year ago, we heard similar talk about Stoneburner being a bigger part of the passing game, and it never happened. But Pryor spread the ball around a bit better in the Rose Bowl and has continued to do so in practice.
Plus, Stoneburner has developed his game.
"I want to be an every-down tight end, and you've got to be able to block and catch the ball," he said. "I felt like with my speed and athleticism, I'll always be able to get open and catch the ball, but I really had to work on my strength, knowing the defense, knowing who to block when and footwork and that kind of stuff."
Stoneburner agrees that Ohio State needs more than two reliable receivers this fall. But Pryor should have more options, regardless of the position they play.
"We've got a lot more weapons," Stoneburner said. "The running backs can catch the ball just as good as the receivers and tight ends, so having all that come together at once, it's going to lead us to being able to do more things with our offense."
April, 1, 2010
4/01/10
9:00
AM ET
The Rose Bowl shed new light on
Terrelle Pryor
and the Ohio State offense -- a glow that Buckeyes fans hope doesn't go anywhere.
[+] Enlarge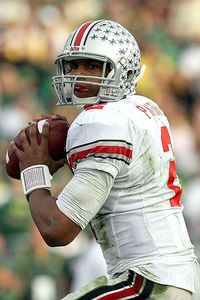 Stephen Dunn/Getty Images Pryor completed 23 of 37 passes for 266 yards with two touchdowns in Ohio State's win over Oregon.
Ohio State's offense was mediocre at best during the regular season, and Pryor hadn't shown enough consistency in the passing game to complement his unique athletic talent. But in Pasadena, Pryor and his teammates put forth the
balanced, efficient and effective product
everyone had been waiting for.
The game marked a potential turning point for Pryor and the offense, a place where the Buckeyes could build. Ohio State offensive coordinator Jim Bollman certainly hopes so.
But Bollman also knows it's not that easy.
"You're not going to walk on the field [Thursday] and all of a sudden, be at that point," Bollman said. "How hard we all have to work, how focused we have to be to get back to that point, that's what's in front of us. That's the challenge, that's how you try to improve.
"You're not working toward an unseen performance level. We've been to that point. But everybody's got to understand what it takes."
Getting back to that point -- and beyond it -- is the challenge for Ohio State's offense, which begins spring practice Thursday afternoon. Bollman said Pryor won't be limited after offseason knee surgery, and the hope is that the third-year quarterback takes another step after his giant leap between the 2009 regular-season finale and the Rose Bowl.
So can Ohio State open up the playbook, particularly with the pass, for Pryor?
"If we show [progress] along those lines, certainly that would be a logical way for us to head in," Bollman said. "Plus, having the weapon of him being able to run, should we choose to do those kinds of things. But for him in the realm of the passing game, that's got to be a full team deal. Our protection has got to improve. His own performance has to be more consistent. We've got to get more of those outs going to the tight ends and the running backs.
"All of that has got to come together, and that's going to be a fun part of this spring."
Ohio State returns nine starters on offense, including four of five linemen and two capable receivers in
DeVier Posey
and
Dane Sanzenbacher
. But to truly spark the passing attack, the Buckeyes must identify more options this spring.
They need a No. 3 wideout, as
Ray Small
departs and no returning players besides Posey and Sanzenbacher recorded more than 20 receptions last fall. Running back
Brandon Saine
, who had 17 catches for 224 yards last year, should help a bit, but Ohio State wants more depth at receiver.
Bollman said
Taurian Washington
has the best chance to step in, but the senior had no catches last year and boasts only three in his college career.
Duron Carter
also returns, and Bollman thinks
Chris Fields
and
James Jackson
, as well as some incoming recruits, could factor into the mix.
"Washington's probably the leading candidate," Bollman said. "He really finished up the year strong, did a good job coming through in the bowl game. He'd be a guy that we're counting on to give us a hand in there."
A bigger boost could come from the tight end position, which Ohio State typically uses for run blocking. Former Buckeyes tight end Rory Nicol used to joke about how little the tight ends were used in the passing attack, and while
Jake Ballard
made a memorable catch in the Rose Bowl, he finished the season with only 14 receptions.
Things could change with
Jake Stoneburner
stepping into a featured role. The 6-5, 245-pound Stoneburner had only two receptions as a freshman last year, but his production should increase.
"His speed certainly can have more of an effect on the game than some other guys we've had in the past," Bollman said. "That's going to cause openings for someone, if not him. That can have a different effect on things, for sure."
January, 11, 2010
1/11/10
1:00
PM ET
After a successful Big Ten bowl season, let's take a look back:
Team of the postseason:
Ohio State. The team everyone loves to hate silenced its critics with a terrific performance on both sides of the ball against a favored Oregon team in the Rose Bowl Game presented by Citi. Ohio State snapped the Big Ten's six-game slide in BCS games and the league's six-game slide in the Rose Bowl.
Best game:
The Outback Bowl. It didn't result in a Big Ten win, but arguably no bowl game had more plot twists as Northwestern made a furious comeback against Auburn. Wildcats quarterback
Mike Kafka
set an NCAA record for most plays by one player (98 -- 78 pass, 20 rush), and Auburn had to win the game three times in overtime before finally prevailing 38-35 after Northwestern's trick play on fourth down didn't reach the end zone.
[+] Enlarge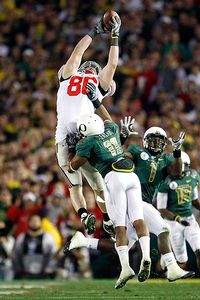 Jeff Gross/Getty Images Jake Ballard's catch on third-and-13 helped keep Oregon's offense off the field.
Biggest play:
Terrelle Pryor
's 24-yard pass to a leaping
Jake Ballard
on third-and-13 in the fourth quarter of the Rose Bowl. Ohio State led by only two points at the time, and Ballard's catch kept the drive alive, as Ohio State eventually went in for a touchdown.
Best drive:
Two really stand out to me. Ohio State marched 81 yards in 13 plays and burned 6:01 off of the clock in the fourth quarter against Oregon Pryor hit
DeVier Posey
for a 17-yard score to cap it all off. Penn State trailed 17-16 in the fourth quarter when
Daryll Clark
led a 12-play, 65-yard drive that ended with the game-winning field goal and burned 5:57 off of the clock.
Offensive Player of the Postseason:
Ohio State's Pryor. He finally turned in the complete performance we've all been waiting for, and he did it on a huge stage. Pryor set career highs in both completions (23) and passing yards (266) as he fired two touchdowns against Oregon. He also had a game-high 72 rushing yards. Pryor earned Offensive Player of the Game honors.
Defensive Player of the Postseason:
Iowa defensive end Adrian Clayborn. As we mentioned countless times during Virtual Pressbox, Clayborn was a beast against Georgia Tech. Clayborn recorded nine tackles and two sacks in Iowa's FedEx Orange Bowl victory and helped derail Georgia Tech's triple option offense. He was named Orange Bowl MVP.
Special Teams Player of the Postseason:
Penn State kicker Collin Wagner. The horrible field conditions at the Capital One Bowl were a major story, but they didn't bother Wagner, who went 4-for-4 on field-goal attempts in Penn State's victory.
Coach of the postseason:
Iowa defensive coordinator Norm Parker. The veteran defensive guru rendered the triple option offense totally ineffective for most of the game. Parker had his players prepared for Georgia Tech, and it showed in a dominant defensive performance. Honorable mentions go to Ohio State defensive coordinators Jim Heacock and Luke Fickell and Wisconsin defensive coordinator Dave Doeren.
Surprise performance:
Everybody knew about
Garrett Graham
, but it was another Wisconsin tight end,
Lance Kendricks
, who stole the show in the Champs Sports Bowl. Kendricks became
Scott Tolzien
's go-to receiver, recording a career-high 128 receiving yards on seven receptions. He had the second most receptions by a Wisconsin player in a bowl game, behind only Pat Richter's 11 in the 1963 Rose Bowl.
Bowled over:
Fortunately, Minnesota quarterback
MarQueis Gray
and Northwestern kicker Stefan Demos will have other opportunities to step up for their teams. But the postseason will sting both men for a while. Gray fumbled deep in Iowa State territory as Minnesota was driving for the potential game-winning field goal late in the fourth quarter of the Insight Bowl. Speaking of field goals, Demos missed three, including the potential game-winner, plus an extra-point attempt in the Outback Bowl.
Best calls:
They didn't result in victories, but I loved Michigan State's fake field goal and Minnesota's fake punt call. Michigan State's fake to
Charlie Gantt
went for 18 yards and set up the go-ahead touchdown on the next play. Minnesota punter Blake Haudan passed to safety Kyle Theret, who had a monster performance in the Insight Bowl. The play went for 40 yards and Minnesota scored its first touchdown moments later.
Second guessing:
I'm still somewhat in shock about Iowa's decision to run a fake field goal midway through the fourth quarter when it led Georgia Tech by only three points. The decision didn't end up hurting the Hawkeyes, who forced a turnover on the ensuing possession, but it could have been disastrous. Also, Michigan State seemed to lose the momentum in the fourth quarter against Texas Tech when it ran the ball on third-and-long to set up a field-goal try. Yes, quarterback
Kirk Cousins
had struggled and left tackle Rocco Cironi was out, but field goals weren't going to beat the Red Raiders.
Craziest stat line:
Northwestern's Kafka completed 47 of 78 passes for 532 yards with four touchdowns and five interceptions. He added 30 rush yards and a touchdown on 20 carries. He had thrown 117 consecutive passes without an interception until his first pick in the opening quarter.
Memorable post-game quote:
After an odd question about Iowa representing the heartland, quarterback
Ricky Stanzi
, standing on the victory podium, replied, "Of course. There's nothing better than being American. So, this is the greatest feeling. If you don't love it, leave it! USA, No. 1!"
Fresh faces:
Two freshmen running backs stood out in their postseason debuts. Iowa's
Brandon Wegher
had 113 rush yards and a touchdown on 16 carries in the Orange Bowl, while Michigan State's
Edwin Baker
went for 97 rush yards and a score on just 12 carries in the Valero Alamo Bowl.
January, 1, 2010
1/01/10
11:40
PM ET
[+] Enlarge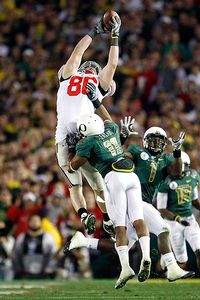 Jeff Gross/Getty Images Tight end Jake Ballard's senior class finishes with 44 wins and four Big Ten championships.
PASADENA, Calif. -- They form one of the most decorated classes in Ohio State history, but their accomplishments always seemed to come with an asterisk.
A 43-8 record. Four Big Ten championships (three outright, one shared). Four wins against archrival Michigan. Four trips to BCS bowl games, including two national title games.
But without a bowl victory, Ohio State's seniors had an incomplete legacy.
Problem solved.
Ohio State's 19 seniors went out as winners following Friday's
26-17 win
against No. 7 Oregon in the Rose Bowl Game presented by Citi. They helped to end the Buckeyes' three-game losing streak in BCS bowls and the Big Ten's six-game losing streak at the Rose.
The Buckeyes' seniors end their careers with 44 wins, one more than the previous high for a class set by three groups (1995-98, 2002-05, 2005-08).
"It makes up for a lot of misfortune and shortcomings," tight end
Jake Ballard
said.
"We needed to come out and win for these seniors," sophomore quarterback
Terrelle Pryor
said.
Ballard made the biggest catch of his career in his final game, a leaping 24-yarder on third-and-13 that set up Ohio State's decisive touchdown.
The Buckeyes also received contributions from seniors like kicker Aaron Pettrey (45-yard field goal), defensive tackle Doug Worthington (tackle for loss, tipped pass that led to interception), punter
Jon Thoma
(43.7-yard average), left tackle Jim Cordle and safeties Anderson Russell (six tackles) and Kurt Coleman (four tackles).
"Every loss that we've had at the end of every bowl has been a learning experience," said Coleman, who turned down the NFL draft after his junior season in large part to win a bowl game. "Last year [against Texas], we were so close to winning, and that was one of our biggest motivation factors going into the offseason.
"We put in the hard work, and it paid off."
January, 1, 2010
1/01/10
10:11
PM ET
PASADENA, Calif. -- The play was weeks in the making.
Ohio State quarterback
Terrelle Pryor
and his close friend, sophomore wide receiver
DeVier Posey
, hadn't yet hooked up on a deep out into the end zone against single coverage. But they knew their time was coming.
[+] Enlarge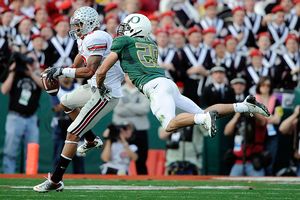 Kevork Djansezian/Getty ImagesDeVier Posey caught eight passes for 101 yards and the game-sealing touchdown.
"We've been practicing this throw for a while," Pryor said. "We knew if [the defenders] stayed off a little bit, the back-shoulder throw [would be there]. I finally got it. I was watching tapes of Peyton Manning and stuff like that, trying to get the footwork down."
Posey did the catching part, leaping to snare a 17-yard touchdown to put Ohio State up
26-17
with 7:02 left in the Rose Bowl Game presented by Citi. The connection capped the game's decisive drive, a 13-play, 81-yard march that gave Ohio State a two-score cushion.
"DeVier made a great catch," Pryor said
As good as Pryor performed Friday against No. 7 Oregon, he got plenty of help from an often overlooked group of wide receivers and tight ends. Wideouts Posey and
Dane Sanzenbacher
combined for 17 receptions, eclipsing their previous combined total by six catches.
Tight end
Jake Ballard
had arguably the game's biggest reception, leaping to haul in a 24-yard pass on third-and-13 that set up Posey's touchdown.
"This game, we felt like we needed to come in really flinging it around," Ohio State head coach Jim Tressel said.
Sure, but 37 pass attempts? Ohio State had no more than 32 in any game this season and attempted just 17 throws in each of its final three games.
"We knew that as a passing offense, we could do something like this," Sanzenbacher said. "We just weren't able to put it together in a game yet. ... I didn't expect it to that extent, but when you get the passing game started early and you get that chemistry going, you're going to go with it."
Ballard entered the game with just 13 receptions all season, none for more than 19 yards. Ohio State's tight ends often joke about how rarely a pass comes their way, but when it did Friday, Ballard was ready.
"I was improvising a little bit," Ballard said. "My guy didn't come off the edge, so I went to the flat and saw TP moving around back there. I went upfield, he saw me, threw it up, and I went up and got it.
"I'll remember that forever."
January, 1, 2010
1/01/10
8:13
PM ET
PASADENA, Calif. --
Terrelle Pryor
just led the drive of his life.
And it could be the drive that ends Ohio State's BCS bowl losing streak and the Big Ten's losing streak in the Rose Bowl Game presented by Citi.
Pryor was extremely sharp on a 13-play, 81-yard scoring drive that ended with a diving touchdown reception by
DeVier Posey
, one of Pryor's best friends. Ohio State now leads 26-17, and it's up to the defense to hold the advantage.
Pryor was 4-for-5 passing on the drive, including a 24-yard rainbow to a leaping
Jake Ballard
on third-and-13. He also had two first-down runs on the drive.
October, 14, 2009
10/14/09
9:02
AM ET

Posted by ESPN.com's Adam Rittenberg
As Ohio State's defense continues its superb play this season, Buckeyes fans have turned their attention toward
Terrelle Pryor
and the offense.
| | |
| --- | --- |
| | |
| | Gregory Shamus/Getty Images |
| | Jim Tressel's offense remains a work in progress. |
Despite the loss to USC, the Buckeyes are playing like a BCS bowl champion in two of the three phases. But the third phase has been inconsistent for much of the season, as Ohio State ranks last in the Big Ten in passing and 10th in total offense.
What must the offense improve on during the second half of the season? I asked this of head coach Jim Tressel on Tuesday, and he cited two areas.
The first was no surprise, given Tressel's pillars for success. He wants Ohio State to cut down its turnovers. Though the Buckeyes have committed a league-low nine giveaways this year, they're already approaching their total for all of last season (13).
Tressel's second area for improvement was much more intriguing.
"We've got to do a little bit better job of adjusting to whatever it is our opponent's going to [use] that perhaps isn't exactly the way they played it on the film," he said. "Sometimes when you have a younger group and you're trying to train them off the film and then people don't come out and do exactly that, we have to learn on the run a little bit better so that we can have a little bit more consistency."
In other words, adjustments have been a challenge for an offense led by a sophomore quarterback and featuring only one senior starter (tight end
Jake Ballard
) and only two seniors (Ballard and wideout
Ray Small
) in the regular rotation.
It's not that Pryor and the offense aren't prepared for what an opponent has done in previous games. But when opponents shake things up, the Buckeyes haven't caught on fast enough.
"One of the sciences of learning how to use your film study is to not get set in your mind that, 'Hey, they're going to play it just this way and the things we've designed are going to be just like they were drawn on the chalk board. In fact, they can come out and play us this way or that way,'" Tressel said. "We've got to do a good job on the sideline in between series, saying, 'OK, here's what they've done so far. That doesn't mean they're going to keep doing it. ... They're allowed to have the next step and the next step as well.'
"It's not simply a quarterback issue. It's an issue for everyone involved."
Tressel's response speaks to the fact that the offense remains a work in progress, and getting the feel for the game isn't always there. But better adjustments from Pryor and the offense need to come quickly.
With this defense, Ohio State could have a special second half. But most teams don't win BCS bowl games without more consistency from the offensive side.
July, 29, 2009
7/29/09
2:05
PM ET
Posted by ESPN.com's Adam Rittenberg
CHICAGO -- Many like to blame Ohio State for all of the Big Ten's recent shortcomings, which is pretty unfair.
Granted, the Buckeyes have lost three consecutive BCS bowls, including two national championship games, and were blown out last September at USC. Ohio State has been the Big Ten's most dominant and visible team, and the league's most noticeable failure on the big stage.
But other teams haven't helped the league, either. Penn State, Illinois and Michigan have lost the last three Rose Bowls by a combined score of 119-59. Wisconsin hasn't been able to match its success from the 1990s. Iowa fell off after an impressive run from 2002-04. Purdue never got over the hump in big games.
The question of how to fix the Big Ten likely will linger until January, and the league's players and coaches seem more united in trying to turn things around. Several theories have been presented, but things always seem to trickle back to Ohio State.
Whether or not the Buckeyes got the Big Ten in this mess, it's up to them to get the league back on track.
"A lot of people look to us as the flag bearer," Ohio State safety Kurt Coleman said. "There's a great expectations for Ohio State to succeed. Whenever we go to the bowl games, if every [Big Ten] team would have won except us, the perception would have been a lot better than what it is now.
"There is a little more weight carried our way, and we expect that."
Other Big Ten teams can help out the league in September.
Wins by Illinois against Missouri, Minnesota against Cal, Purdue against Oregon and three Big Ten teams against Notre Dame could slightly enhance the league's rep. But Penn State's soft schedule prevents the Nittany Lions from making their mark nationally until November and, most likely, January.
Ohio State, meanwhile, can provide a major boost by beating USC on Sept. 12.
"We have a great deal on our shoulders," Buckeyes tight end Jake Ballard said. "You look at Ohio State and Penn State, two of the top teams the last couple of years, we've been falling short in bowl games. Us, personally, we've lost the last three, and there's not one day we don't think about that.
"It has to start with us."
January, 6, 2009
1/06/09
2:18
AM ET
Posted by ESPN.com's Adam Rittenberg
| | |
| --- | --- |
| | |
| | Mark J. Rebilas/US Presswire |
| | Ohio State nearly pulled off the upset behind Todd Boeckman, above, and Terrelle Pryor. |
GLENDALE, Ariz. -- Perhaps more than any other player, Todd Boeckman has served as a symbol for Ohio State's senior class.
He celebrated Big Ten titles and struggled in big games. He earned local and national recognition and endured the pain of subpar performances. He handled both the highs and the lows with class.
Despite losing the starting quarterback job to true freshman Terrelle Pryor in Week 4, Boeckman still joined fellow captains James Laurinaitis, Malcolm Jenkins and Brian Robiskie to meet the media after every game. He remained a leader in the locker room, on the practice field and on the sideline, even if he could no longer be one on Saturdays.
For those reasons, no player on the field at University of Phoenix Stadium had more support than Boeckman as he reclaimed a critical role in the Tostitos Fiesta Bowl against Texas. The senior helped Ohio State rally in the fourth quarter and was seconds away from a perfect end to his career when Texas scored the game-winning touchdown to win 24-21.
"To see him go in there, it proves the old adage that good things happen to good people," Ohio State tight end Rory Nicol said. "He stayed the course all year. Yeah, he was pissed off in his mind all year long. Who wouldn't be? He did the right thing, he did what was best for the team. He forgot himself."
But Ohio State didn't forget about Boeckman, even though Pryor made strides as the starter. The Buckeyes shook things up in bowl practice, pairing Boeckman and Pryor on the field together.
The combination worked Monday as Boeckman completed five passes for 110 yards, including a 5-yard scoring fade to Pryor, who recorded his first touchdown reception. Boeckman helped set up Ohio State's go-ahead score with 2:05 left with a 21-yard strike to tight end Jake Ballard on second-and-17.
"I had no idea how much I was going to play," Boeckman said. "They just told me to be ready at all times. I'm always looking forward to getting out there and playing with these guys. I had some fun out there today, but unfortunately, we couldn't get the job done.
"It felt pretty good to get out there and throw the ball around a little bit. I haven't done that in quite a while."
Ohio State's coaches downplayed the two-quarterback scheme leading up to the game, suggesting it would only be used sparingly. But Boeckman took the game's first snap and found Robiskie for a 14-yard gain.
He seemed to spark the offense in the first half, and after the unit went silent in the third quarter, his 48-yard completion to Robiskie on third-and-13 changed the game's complexion.
"Todd is a special guy," head coach Jim Tressel said. "Every one of us wanted to do all we could to make him a part of the plan. He stepped in and did a good job."
The game signaled the start of a major personnel transition for Ohio State, as the 28-member senior class departs following four Big Ten titles but a 1-3 record in bowl games. Running back Chris "Beanie" Wells and wideout Brian Hartline, both juniors, also could also be departing. Both said they had not reached a decision about the NFL draft.
"The seniors have 43 wins throughout their career here," Boeckman said. "That's one of the best records in Ohio State's history. The hard part about that is the last three bowl victories, we didn't get a win. That's probably what people are going to remember the most. That's tough to take."
The near miss resonated with Pryor, who performed admirably under pressure and will face an even greater burden in 2009.
"We made a statement, but losing to a team, it's not good enough," Pryor said. "You've got to win. We hung onto 'em, but it doesn't sound great. It's not right.
"We had an OK season. We needed to finish that game off."

December, 17, 2008
12/17/08
12:00
PM ET
Posted by ESPN.com's Adam Rittenberg
Happy hump day to all. Bowl season is right around the corner -- the first Big Ten bowl doesn't arrive until Dec. 27 -- and several teams are conducting media days this week. Exciting times.
Let's see what's happening around the league.
"[Jim] Tressel said that six underclassmen had filed paperwork with the NFL to get a report of their likely draft status. The list: receiver Brian Hartline, safeties Kurt Coleman and Anderson Russell, tight end Jake Ballard, guard Jim Cordle and cornerback Donald Washington.

And Wells?

'Beanie didn't need to fill out the paperwork,' Tressel said. 'I told him to save the transcript, save the paper.'"
"The bottom line is that Joe Paterno was Penn State football, Joe Paterno is Penn State football and Joe Paterno will be Penn State football until he gets tired of it."
October, 15, 2008
10/15/08
12:07
PM ET
Posted by ESPN.com's Adam Rittenberg
Time for our weekly look inside five Big Ten teams.

Michigan State -- The Spartans went deep into their roster against Northwestern, as 59 of the 70 players in uniform for the game saw action in a 37-20 victory. Freshmen Glenn Winston and Keshawn Martin made big contributions on kickoff returns and in the passing game, and Jeremy Ware sparked a banged-up secondary with five pass break-ups. Michigan State could be a bit healthier for Saturday's clash against No. 12 Ohio State, as top cover corner Chris L. Rucker might return from an elbow injury. Wideout Mark Dell remains the starter on the depth chart despite being limited against Northwestern with an undisclosed injury.

Ohio State -- Head coach Jim Tressel reaffirmed his support Tuesday for starting quarterback Terrelle Pryor despite struggles on offense the last few weeks. Tight end Jake Ballard stumped for senior Todd Boeckman and a two-quarterback system that could better balance the offense. The Buckeyes rank 108th nationally in pass offense and 70th in scoring, but Tressel is satisfied with the direction. Pryor's individual yardage totals have dropped in each of the last three weeks, but Ohio State continues to win and didn't fare much better with Boeckman at the helm.

Wisconsin -- In addition to having no definitive starting quarterback at this point in game week, Wisconsin could have a new look on the offensive line Saturday at Iowa. Right guard Kraig Urbik, who has made 45 consecutive starts on the line, likely will miss the game after sustaining a knee injury last Saturday against Penn State. Sophomore Bill Nagy would start in Urbik's place. The Badgers are a bit more hopeful about getting left tackle Gabe Carimi back for Iowa, though Carimi also has a knee injury and is questionable. Redshirt freshman Josh Oglesby could get his second straight start and would protect the quarterback's blind side if right-hander Dustin Sherer replaces Allan Evridge.

Purdue -- The Boilermakers' offensive line had another setback with the season-ending loss of tackle Garrett Miller to a foot injury. Miller, a fifth-year senior, will undergo surgery in the coming weeks. Purdue's other tackle, Sean Sester, has been battling back problems this season. Starting center Cory Benton hurt his elbow against Ohio State and reserve center Jared Zwilling recently had an ankle injury. Purdue is tied for 52nd nationally in sacks allowed (1.67 per game) and on Saturday faces a Northwestern defense that is tied for the Big Ten lead in sacks (19).

Illinois -- Juice Williams' importance to the Illini offense has become even greater after the weekend arrest of backup quarterback Eddie McGee. The sophomore was arrested for allegedly shoving a woman, and his status for Saturday's game against Indiana is unclear. McGee has appeared in only one game this season, completing one of two passes, but he's the only other Illinois quarterback with collegiate game experience. Williams leads the Big Ten in passing (279.5 ypg) and ranks fourth nationally in total offense (353.7 ypg).