March, 31, 2014
3/31/14
5:30
PM ET
UCLA opens spring football on Tuesday with high hopes and a good chance to be ranked in the preseason top 10. This is the third spring for UCLA coach Jim Mora, who has led the Bruins to a 19-8 mark in two seasons. He took a couple of minutes to chat with the Pac-12 blog before spring kicks off.
This is your third spring. What have you learned during those first two, and are you going to be doing anything different this time around?
[+] Enlarge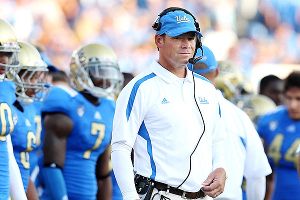 Stephen Dunn/Getty ImagesJim Mora believes spring is a great time to go hard and be physical.
Jim Mora:
Nope. Pretty much the same thing. It's a great time to develop your younger players and start to get a feel for what your team is going to look like in the fall and start to develop that bond you need to have success. We won't change anything. We go hard in the spring. It's physical. It's demanding. I think it's a great time to get physical work in.
After the 2012 season, you closed with the back-to-back losses to Stanford and the bowl loss. Last year you closed with a win over USC and a bowl win. Do you buy into the idea of offseason momentum?
JM
: No. To me, that first year, everyone says, "Oh, you lost three games in a row." But those were three pretty different games. It wasn't like we lost our last three regular season games. We lost our last regular season game, we lost in the Pac-12 championship game and we lost our bowl. It's not like we had this huge slump or something. Every season is a new season. You have to develop the identity of your team. You have to commit to a certain work ethic, and our guys have done that. To me, spring ball signifies the start of a new season.
As a coach, what position battle are you most interested in?
JM
: Outside linebacker, the guy who is going to replace
Anthony Barr
. I think that will be a good battle with
Kenny Orjioke
and
Aaron Wallace
and
Deon Hollins
. I'm excited to see how our defense adapts. We've got a new defensive coordinator. And as a staff we've learned a little bit more about our players and how to play in this conference and how to play college football with what teams are doing. We're going to have to adapt a little bit, but it's going to be fun to see.
With defensive coordinator Lou Spanos heading back to the NFL and Jeff Ulbrich being promoted from within, what kind of impact, if any, will that have on the defense?
JM
: Not a lot. Just like every year, you tweak some things. It's not going to impact it a lot. We've certainly made some changes. But we're going to make changes next year, too. You continue to adapt. You try to grow. You try to add things that will make you better. You try to improve upon things you didn't do well and you try to cut the fat so you're not teaching things you're not going to use throughout the year.
Was that a tough adjustment coming to the college game from the NFL? Every year in college there is going to be a lot of turnover and each season is a different team and a different personality.
JM
: It's interesting because it's very different than the NFL. You're right, there is more turnover. But at the same time, there is a little more certainty as well because unlike the NFL, where there is free agency so you're adding guys, and there's a draft where you're adding guys who should be ready to play right away, in college you know there is going to be a natural attrition and you have a pretty good idea of who you can count on and who still needs to develop going into a season. Hopefully some of the freshmen develop, but you can't always count on that. In some ways, as strange as it seems, it might be a little bit easier because you know what your team makeup is going to be a year in advance.
[+] Enlarge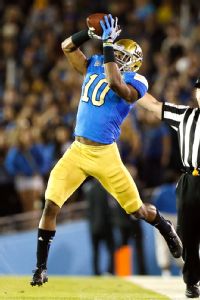 Ric Tapia/Icon SMIRising junior corner Fabian Moreau has earned positive reviews from Jim Mora.
Heading into spring, who is a player we haven't heard of yet, but you think we're going to hear his name a lot in 2014?
JM
: I don't know if you've heard his name a lot. Hopefully you don't hear it a lot because he's a cornerback and when you hear a cornerback's name a lot, that means he's making a lot of tackles because the ball is getting caught on him or he's giving up touchdowns. But I think we have a really fine player in
Fabian Moreau
. Defensive backs are where I've worked most of my career and I think this guy has some real special traits. I think he has a chance to be a great player.
You're big on leadership, as all coaches are. And you like to see players naturally develop into team leaders. Who are you eyeballing this year?
JM
: That's a great question. That's the point of most uncertainty for me is -- who is going to assert themselves on the team. Four of our six team captains return, which is a real positive because they were voted captains by their teammates. You've got
Brett Hundley
. You've got
Eric Kendricks
,
Jake Brendel
our starting center and Ryan Hoffmeister, a linebacker and special teams guy.
Xavier [Su'a-Filo]
and Anthony [Barr] leaving, those are huge voids. It will be fun to see who steps up. Guys like Fabian, even though
Myles Jack
is only a sophomore, I think he's got some leadership qualities to him. I don't want to point too many guys out because there are a whole lot of guys on our team who are capable of stepping into that role.
September, 6, 2012
9/06/12
1:00
PM ET
It's no secret that UCLA is young on the offensive line.
As UCLA's always-charismatic offensive coordinator, Noel Mazzone, playfully pointed out: "We needed permission slips from their mothers just so they could get on a plane last week."
Despite the obvious hyperbole, his point is well taken -- especially since last week was the first time the Bruins had ever started three freshmen on the offensive line in a season opener.
Torian White
,
Jake Brendel
and
Simon Goines
are all still pretty new to this college football thing. Factor in sophomore
Xavier Su'a-Filo
, who had been out of football for two years on a Mormon mission, and you have a pretty green group protecting a redshirt quarterback ready to make his second career start.
There's a reason Mazzone calls them pups. Still, they played well enough to help carry the Bruins to a
49-24 victory
at Rice in Week 1.
"I was really happy," Mazzone said. "They took some big strides in the first game. You just hope during the season you grow offensively and as a team exponentially. You hope each week you get a little bit better and a little bit better and hopefully the finished product is good enough to win some football games."
[+] Enlarge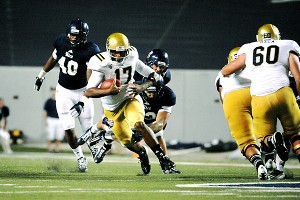 Brendan Maloney/US PresswireUCLA's young line helped QB Brett Hundley and the offense churn out 343 rushing yards against Rice.
On Saturday, the line faces a stiffer challenge when No. 16 Nebraska comes to town. And so does starting quarterback
Brett Hundley
.
Naturally, Mazzone is looking for more consistency out of Hundley, who ran hot and cold in his first collegiate start. But during the times he was hot, Hundley was scorching. He took his first collegiate offensive play and scrambled 72 yards for a touchdown. He completed 21 of 28 passes for 202 yards and two touchdowns.
"I think he did some really good things," Mazzone said. "At times he looked like he was a redshirt freshman quarterback. Last game he'd played had been Chandler versus Hamilton or something back in Phoenix, Ariz. Now he gets a chance to play against traditionally one of the top 10 football programs in the country. As long as he just keeps progressing. He's got some moments he's flashing and some moments you wonder what he's thinking. But if we can keep him progressing and learning from game to game I think he can be a really solid Pac-12 quarterback."
It's pretty safe to assume that the Cornhuskers will present more problems for UCLA's offense than Rice did. They'll likely key in on running back
Johnathan Franklin
, who opened with a 214-yard, three-touchdown performance against Rice, including scoring runs of 78 and 74 yards.
"Nebraska is a powerful, explosive defensive front," said UCLA head coach Jim Mora. "They can put pressure on the quarterback. That's with four, that's with five, that's with six rushers. [Nebraska coach] Bo [Pelini] will come with some exotic blitzes at times. It will really be a challenge for us. We are starting three freshmen and this will be their second time at the collegiate level. They just have to buckle up and do their best and we just have to help them with good protection calls and getting the ball out quick and running the ball."
UCLA's Week 1 performance was far from perfect. And though the competition level increases, Mazzone said he's still hoping to see improvements in Week 2.
"Like every offense in the country right after its first week, you want more consistency," he said. "You try to minimize the lulls you have offensively. Any offense does. ... We're a tempo team so that's one of the things you fight against is you hit those lulls during a game and try to minimize those.
"Nebraska is a great defense and we're young on offense. We're playing about nine kids that had never played in a college football game before last week. Right now we're trying to walk a little bit before we start running."