October, 16, 2014
10/16/14
11:00
AM ET
The introduction of Chris Petersen to the Washington-Oregon rivalry comes as quite a relief to the ink-stained wretches who write about college football. Redundancy and predictability are the sworn enemies of the scribbling class, and the Huskies-Ducks rivalry has been a model of redundancy and predictability for a decade, with the boys in green -- or, you know, whatever -- owning the purple team by at least 17 points in the last 10 matchups.
With Petersen now fronting the Huskies, that's an item of interest that a journalist can wrap a lead around. He or she doesn't have to immediately recycle the droning, "Is this the year Washington breaks through?" One can observe that Petersen not only was once a Ducks assistant -- from 1995-2000 under Mike Bellotti -- when he started a longstanding friendship with second-year Oregon coach Mark Helfrich, but he also was 2-0 against Oregon while heading Boise State, where he was 92-12 and was universally esteemed for his Huge Football Brain.
[+] Enlarge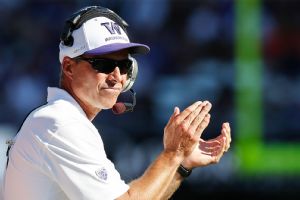 Otto Greule Jr/Getty Images"I know about the Oregon-Washington stuff," Huskies coach Chris Petersen said, "but that's not my focus, getting them fired up. To me, this needs to be about us."
"Huge Football Brain"? That hints at Chip Kelly, which means Huskies fans have stopped reading and now have thrown themselves on their prayer rugs and begun wailing to the college football gods that Washington really, really would like Petersen to become Washington's version of Kelly. Or, even better, Don James, Take 2.
With Huskies fans duly distracted by their invocations, we'll note to the tittering Oregon fans that the Ducks will be celebrating the 20-year anniversary of an obscure moment in their team's history on Saturday. While video of Kenny Wheaton's pick-six interception against Washington in 1994 is as difficult to find as a white peacock, it does exist, and there's a quiet minority of Ducks fans who believe it was a meaningful moment in the transformation of the program.
Those Oregon fans obsessed with such esoterica will be glad to know the Duck will don throwback uniforms to honor the occasion, of which at least one Oregon administrative Twitter feed observed this week: "Prior to 'The Pick' Oregon all-time had a .495 Win% (359-366-34). Since that game, Oregon is .731 (177-65)."
So, yes, call us a wee bit sarcastic when we poke fun by minimizing the impact of "The Pick," unquestionably the Ur-moment in Oregon football history, a highlight that plays immediately before every Ducks home game.
And the reason it is the definitive before-after line for the program's rise to West Coast and national prominence is not only that it was the key play in a run to the program's first Rose Bowl since 1958, it was that it happened so dramatically against the Huskies, the established Northwest power that Ducks fans most hated.
Which brings us back the rivalry and the two head coaches. Both know the rivalry well. That means they will at least acknowledge its biliousness, unlike Kelly, who seemed to enjoy telling reporters how much he liked former Washington coach Steve Sarkisian, knowing it would inspire forehead slaps among the Ducks faithful.
"Do I understand the rivalry as a native Oregonian? Absolutely," Helfrich said. "I know the history of that very well and what it means to our fans."
And yet, it's all about an established winning process with the Ducks, and that centers on preparing the same every week for a "nameless faceless opponent."
Echoed Petersen, "I know about the Oregon-Washington stuff, but that's not my focus, getting them fired up. To me, this needs to be about us."
That carries over to Helfrich's and Petersen's friendship. Both insisted in the preseason it would overcome them being at professional loggerheads in the Pac-12's North Division, though they admitted this week they hadn't talked thus far this season. Both also insisted this week that it has no impact on their emotions or preparation for the game. Which, you know, is as it should be.
Petersen, while at Boise State, handed the Ducks their last nonconference loss at home in 2008, and then spoiled Kelly's head coaching debut in 2009. While that's an interesting factoid, it's also far less relevant than how well the Ducks offensive line, which recovered nicely in a win at UCLA with offensive tackle
Jake Fisher
back in the lineup, will play against the Huskies stout front-7, led by nose guard
Danny Shelton
, defensive end
Hau'oli Kikaha
and linebacker
Shaq Thompson
.
What Oregon showed last week while redeeming itself after flubbing around in a home loss to Arizona is that when the offensive line is playing well, the offense hums along like in days of old. Petersen knows his team can't allow QB
Marcus Mariota
to feel comfortable.
"He might be the best player in college football, so that's a problem right there," he said.
Another interesting factoid: Neither QB has thrown an interception this year. Because
Cyler Miles
isn't the playmaker that Mariota is, it's probably more critical for him to maintain his clean sheet Saturday.
So here we are, back at the redundancy: Is this the Huskies year? Maybe. Stranger things have happened this season. A lot stranger. But all the history and emotions don't hold a lot of weight with either coach. Whether the Huskies break through or the Ducks make like Spinal Tap's amplifiers and go up to 11, the coaches just view the game as X's and O's either doing what they want them to do or not.
Noted Petersen dryly, "So it doesn't necessarily have to do with anything in the past. It comes down to playing good football."
October, 13, 2014
10/13/14
11:00
AM ET
We live in a world that values entertainment over excellence, so why should the Pac-12 cater to a minority who like their football magisterial and coldly dominant? We call those folks snobs. Antiquated snobs at that. The Pac-12 is of the people, where each team is as likely to go rear-end-over-tea-kettle as it is to win with dramatic and inspired verve.
Heck, the rest of college football is providing a less vivacious version of the Pac-12's entertainment over excellence, in any event. Alabama and all those five-star recruits? It lost to Ole Miss and barely survived against Arkansas. Florida State? Last year, it was
Muhammad Ali -- brash, svelte and lethal. This year it's Buster Douglas, distracted and indolent and ripe for the picking, if still holding the championship belt.
There are just six unbeaten teams left -- two reside in the state of Mississippi -- and one unbeaten team will go down Saturday when Notre Dame visits Florida State, with the winner still not likely to be called "perfect" in anything but record. Last year at this point in the season, there were 14 teams without a loss. In 2012, there were 12.
And none of those six play in the Pac-12 after Arizona pulled defeat from the jaws of victory against USC, despite those jaws of victory upchucking opportunity after opportunity on the no-longer-10th-ranked Wildcats.
[+] Enlarge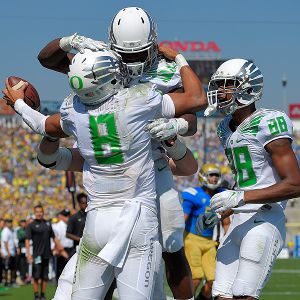 AP Photo/Mark J. TerrillIt was way too early to write off Oregon, as UCLA found out Saturday.
Oregon? Remember how the Ducks were summarily dismissed last week after their home loss to the Wildcats? No? Well, it happened. Google it. Those weakling Ducks, however, welcomed back tackle Jake Fisher to their offensive line against UCLA, and the unit transformed from the "Little Rascals" to the "Super Friends." It was as though Fisher walked into the huddle and, just like Adrian provided a perfect inspirational plot segue from her hospital bed after giving birth in "Rocky II," told the other O-lineman, "There's one thing I want you to do for me... block," and offensive line coach Steve Greatwood, playing the role of Mickey, erupted with,"What are we waiting for!" as the adrenaline-churning workout montage music started to play.
The "Rocky" reference is admittedly tortured, but Fisher did get socked by Bruins defensive end Eddie Vanderdoes, who was unhappy Fisher had road-graded him. So, yeah, boxing.
And so the Ducks are back in the top 10, well within striking distance of the College Football Playoff. Just like everyone was saying.
Fisher's next project? Perhaps Middle East peace? Or maybe he needs to get in between Jim Mora and defensive coordinator Jeff Ulbrich, whose sideline spat made Twitter go all aflutter.
The Bruins are the latest team to be written off, cast off from the national rankings and dismissed as this season's cautionary tale, filed under "overrated." They have issues everywhere: Fighting coaches, struggling offensive line, underachieving defense and an inconsistent star quarterback in Brett Hundley. And, yet, we'd still probably rank the Bruins as the favorites to win the Pac-12's South Division. As good a choice as any, really. For what that's worth.
UCLA, after all, did beat Arizona State on the road. And Arizona State beat USC on the road. And USC beat Arizona on the road. Ah, but Utah beat UCLA on the road, and Washington State, owner of the conference's worst record, beat Utah on the road. Oh, whatever.
Maybe all this parity -- parody? -- is the fans' fault. Nobody can win at home. Home teams are 4-14 in Pac-12 play. Last year, they were 31-21. In 2012, the record was 29-25. Whatever happened to home cooking?
We've only hit the midseason mark and the "what-ifs" are piling up all over the Pac-12. What if Stanford were just semi-competent in the red zone? What if UCLA and/or Arizona could make a game-winning field goal? What if successful Hail Mary passes were as rare as an Asian crested ibis or a Madagascar pochard? What if Washington State could magically eliminate four plays this season? What if Utah didn't -- apologies, Cougars -- "Coug it" in the fourth against Washington State?
Colorado coach Mike MacIntyre is running into this column screaming, "
Hey, the Buffs are outraged, too
!" And, to throw out a forward-looking "what if," what if Washington wins at Oregon next weekend, ending a 10-game losing streak?
At this point in Pac-12 play, the sports cliche "on any give day..." has become a statement of fact. No team is invincible and no team is milquetoast. This midseason realization suggests that the team that crawls out of the dust on Dec. 5 after the Pac-12 championship game is more likely to have three losses than one, more likely to be a national afterthought rather than a favorite for a spot in the College Football Playoff.
And yet it's ridiculous to believe we suddenly see things clearly, at home in the Pac-12 or abroad in the MIGHTY SEC WEST (all-caps required, per edict from SEC Dark Lord Mike Slive). Oregon might get healthy and become the contender many foresaw in the preseason. What if Stanford's offense gets out of its own way and pairs with its elite defense? And what if UCLA distills its seeming chaos into an elixir that provokes it to play to its on-paper potential?
Chances are it will be messy, though. There will be fits and starts of great football, but it won't be sustained.
What seems certain is it will be entertaining, if often painful for the emotionally invested. Pac-12 football in 2014 is likely to end up becoming something like that 1980s movie that critics hated but you feel compelled to watch until its conclusion every time you cross it while doing a late-night channel surf.
January, 9, 2014
1/09/14
9:00
AM ET
Who were the Pac-12 standouts this bowl season? Here are our picks.
OFFENSE
[+] Enlarge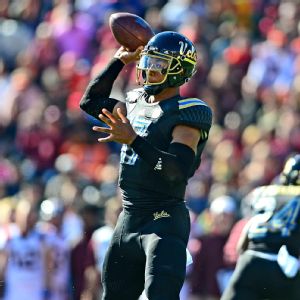 Andrew Weber/USA TODAY SportsBrett Hundley finished the season with a strong performance in the Bruins' bowl win.
QB Brett Hundley, UCLA
: Hundley accounted for four touchdowns in the Bruins' 42-12 win over Virginia Tech in the Sun Bowl. He rushed for 161 yards on 10 carries -- 16.1 yards per run -- with two touchdowns and he also completed 16 of 29 passes for 226 yards and two scores. Other QBs had nice games, but Hundley put up big numbers against an outstanding defense.
RB Ka'Deem Carey, Arizona
: In the AdvoCare V100 Bowl win over Boston College, Carey rushed for 169 yards on 27 carries and two scores, averaging 6.3 yards per rush. He decisively outplayed Boston College RB
Andre Williams
, who won the Doak Walker Award and was a Heisman Trophy finalist.
RB D.J. Foster, Arizona State:
Despite being banged up, Foster rushed for 132 yards on 20 carries -- 6.6 yards per carry -- in the Sun Devils' 37-23 loss to Texas Tech in the Holiday Bowl. He also caught five passes for 23 yards.
WR Marqise Lee, USC
: In his career finale, Lee caught seven passes for 118 yards with two touchdowns in USC's win over Fresno State in the Las Vegas Bowl.
WR Nate Phillips, Arizona
: Phillips, a true freshman, caught nine passes for 193 yards in the Wildcats' win over Boston College.
WR Josh Huff, Oregon
: Huff caught five passes for 104 yards and a touchdown in Oregon's 30-7 win over Texas in the Valero Alamo Bowl.
OL Xavier Su'a-Filo, UCLA
: Su'a-Filo led the Bruins' offensive line against a tough Virginia Tech defense. UCLA rushed for 197 yards against a top-10 rushing defense and yielded only two sacks.
OL Abe Markowitz, USC
: The sixth-year walk-on stepped in at center for an injured
Marcus Martin
-- the Trojans' best offensive lineman this season -- and played well in the 45-20 win over Fresno State. The Trojans yielded only one sack and rushed for 154 yards. He was named the "Offensive Outperformer of the Game" by his coaches.
OL Jake Fisher, Oregon
: Fisher led a strong effort from the Ducks' offensive line in the win over Texas. Oregon rushed for 216 yards and yielded only two sacks. Fisher did a good job against Texas' top defender, end
Jackson Jeffcoat
.
OL Micah Hatchie, Washington
: Hatchie, the Huskies' left tackle, was the biggest reason BYU didn't record a sack in the Fight Hunger Bowl, a 31-16 Huskies victory. Washington also rushed for 190 yards.
OL Isaac Seumalo, Oregon State
: Seumalo led perhaps the Beavers O-line's best effort of the season. Oregon State rushed for 195 yards and yielded no sacks.
K Travis Coons, Washington
: Coons made a 45-yard field goal against BYU -- the longest Pac-12 postseason field goal -- and was good on all four of his PATs.
DEFENSE
DL Scott Crichton, Oregon State
: Crichton had three tackles for a loss, a sack, a forced fumble and pass breakup in the win over Boise State.
DL Taylor Hart, Oregon
: Hart had a game-high 11 tackles, with half a sack and a forced fumble in the Ducks' win over Texas.
DL Hau'oli Kikaha, Washington
: Kikaha had nine tackles with three sacks and a forced fumble in the Huskies' win over BYU.
LB Shayne Skov, Stanford
: Skov had nine tackles, three tackles for a loss, a sack and a forced fumble in Stanford's 24-20 loss to Michigan State in the Rose Bowl.
LB Jake Fischer, Arizona
: Fischer had a game-high 14 tackles in the Wildcats' win over Boston College. He also had a sack and 1.5 tackles for a loss. Arizona held Williams to only 75 yards on 26 carries.
LB John Timu, Washington
: Timu had a game-high 14 tackles, a sack and an interception in the Huskies' win over BYU.
LB Jabral Johnson, Oregon State
: Johnson had a game-high 12 tackles, a sack and a quarterback hurry in the Beavers' win over Boise State.
DB Rashaad Reynolds, Oregon State
: Reynolds had 10 tackles and returned two fumbles for touchdowns in the Beavers' win over Boise State. The fumble returns went for 70 and 3 yards.
DB Avery Patterson, Oregon
: Patterson had nine tackles and returned an interception 37 yards for a touchdown in the win over Texas.
DB Josh Shaw, USC
: Shaw held Fresno State receiver
Davante Adams
to nine receptions for 73 yards in the Trojans' win over the Bulldogs. He finished with six tackles and had an interception in the end zone.
DB Anthony Jefferson, UCLA
: Jefferson had seven tackles, shared a tackle for a loss and had a pass breakup in the Bruins' win over Virginia Tech. The Hokies completed only 15 of 36 throws for 176 yards.
P Ben Rhyne, Stanford
: With five punts, Rhyne averaged 49.8 yards per boot in the Rose Bowl.
December, 29, 2011
12/29/11
11:30
AM ET
Let's play a quick game of fill in the blank: Oregon fans are ... What comes to mind? Keep it clean, folks. Behave!
Yes, it is fair to say that Oregon fans have eagerly, zealously and vociferously embraced the recent success of their team. The seed that was planted when Kenny Wheaton went the other way against Washington in 1994 is now a full-grown oak, and Oregon fans enjoy pointing out that their oak is more stately and beautiful than yours.
[+] Enlarge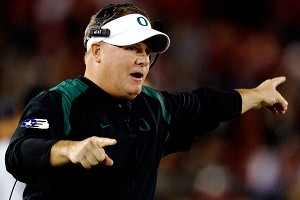 Jason O. Watson/US PRESSWIRENCAA sanctions appear to be the only thing that could derail Chip Kelly's Oregon juggernaut in the near future.
Eleven other Pac-12 teams want Oregon to go away. We have bad news for those 11. Not happening.
With the Rose Bowl on Jan. 2 against Wisconsin, the Ducks are playing in their third consecutive BCS bowl game. No other team in the country has played in three consecutive BCS bowl games. But this rise to the nation's elite started before this run of conference success. Oregon's first taste of national title contention was in 2000 and 2001. After a middling, post-Joey Harrington, pre-Chip Kelly interim, it was ranked No. 2 and a national title contender in 2007 before quarterback Dennis Dixon blew out his knee. Oregon finished the 2008 season ranked 10th. It finished 11th in 2009 after losing the Rose Bowl to Ohio State. It finished third in 2010 after losing to Auburn in the national title game.
While opposing fans can still pull out the "They haven't won a BCS bowl game under Kelly" card, that tweak comes from beneath the Ducks in the Pac-12 pecking order, so as ripostes go, it's rather pyrrhic.
And the Ducks, even if they lose to Wisconsin, will be a preseason top-10 team in 2012, probably top-five if they win the Granddaddy. There certainly is a lot to like about the depth chart.
Not including junior running back
LaMichael James
, who is likely off to the NFL, the Ducks should welcome back six starters on offense, six on defense and both specialists in 2012. But that doesn't tell the entire story.
For one, the Ducks will have a two-year starter returning at quarterback in
Darron Thomas
. While Thomas has had runs of inconsistent accuracy, there are two bottom lines: He's 22-3 as a starter and has thrown 63 touchdown passes with just 16 interceptions.
But what's notable about the Ducks' depth chart is not just returning starters.
Oregon only lists a two-deep. That means 44 players on offense and defense. Of the 22 names on offense, just four are departing seniors, not including James. Of the 22 names on defense, just six are seniors.
And most of the players who are leaving -- or are expected to leave, as in James' case -- are presently backed up by intriguing young talents who already have significant game experience. James leaving? Well, you all know who
Kenjon Barner
is. Tight end
David Paulson
? Freshman
Colt Lyerla
caught five touchdown passes this season. Lose two offensive linemen? Junior Ryan Clanton and freshman Jake Fisher have seen plenty of action. Lose two linebackers? Kiko Alonso has started five games and Boseko Lokombo has played a lot. Cornerback Anthony Gildon out the door? Redshirt freshman Troy Hill has started five games while Gildon has been hurt (and is doubtful for the Rose Bowl).
Further, the Ducks have some redshirt freshmen on both sides of the ball -- particularly at linebacker and receiver -- who figure to make an impact next year. Receivers
Devon Blackmon
,
Tacoi Sumler
and
B.J. Kelley
were highly touted 2011 signees, who could bolster the Ducks passing game.
If you were connecting the dots, you'd actually project the Ducks to be better in 2012 than their 2011, 11-2, Pac-12 champion selves.
And, even with the loss of Thomas after next season, the Ducks appear to set up nicely for 2013. And beyond.
I know. I know. Fans of those 11 other Pac-12 teams are jumping up and down and waving their arms, bellowing, "What about Willie Lyles and the NCAA?"
True, major NCAA sanctions would seem the mostly likely way the Ducks get knocked from their ascent to the nation's elite. And it could happen. You never know with the NCAA.
But the more I talk to people who make educated guesses on NCAA investigations, not to mention a few who have specific knowledge of the NCAA's inquiry into the Ducks, the more I'm leaning toward the position that the NCAA will not pound Oregon. I suspect sanctions will fall short of what Ohio State
recently received
.
Of course, I thought USC would receive less severe penalties than Alabama
received in 2002
, so I've also learned to not expect the NCAA to be logical and fair.
The point is this: If you are wondering what Oregon is likely to be doing in, say, 2014, my projection is they still will be annoying 11 other teams.
The Ducks aren't going to go away.
July, 9, 2010
7/09/10
10:00
AM ET
We ranked the
three-headed monsters on offense
Thursday, but it seemed unfair that the skill guys get to have all the fun. What about the defensive guys?
So this is a ranking of the top-five troikas of defensive players at all three levels: line, linebacker and secondary.
5.
Arizona
: DE Ricky Elmore, LB Jake Fisher, CB Trevin Wade
This was a difficult one, but Elmore and Wade carried the Wildcats into the top five, even though Fisher only had seven tackles last year. Elmore had 10.5 sacks, while Wade grabbed five interceptions, with both numbers ranking second in the Pac-10 in 2009. Elmore was No. 12 and Wade 10th on our list of the
conference's top-25 players
.
4.
Arizona State
: DT Lawrence Guy, LB Vontaze Burfict, CB Omar Bolden
Guy ranked 20th in our top-25 and Burfict 17th. Both are All-American candidates, particularly Burfict. Bolden, a former freshman All-American, missed most of the 2009 season with a knee injury but he played well during spring practices.
3.
Oregon
: DE Kenny Rowe, LB Casey Matthews, S John Boyett
Rowe led the conference with 11.5 sacks and ranked 13th on our top-25 list. Matthews earned second-team All-Pac-10 honors in 2009 and ranked 24th on our list. Boyett was the first freshman to lead the Ducks in tackles since they started keeping defensive statistics in 1969.
2.
California
: DE Cameron Jordan, LB Mike Mohamed, S Sean Cattouse
Jordan ranked 15th on our top-25 list, while Mohamed ranked ninth. Jordan had six sacks in 2009, and Mohamed ,who earned first-team All Pac-10 honors, led the conference with 112 tackles. Cattouse earned honorable mention all-conference honors.
1.
UCLA
: DE Datone Jones, LB Akeem Ayers, FS Rahim Moore
Moore and Ayers ranked seventh and eighth respectively on our top-25 list and are the best players at their positions in the conference. Ayers had 14.5 tackles for a loss with four interceptions, four forced fumbles and two fumble recoveries. Moore, who will be a consensus first-team preseason All-American, led the nation with 10 interceptions. In other words, those two combined to create 20 turnovers. Jones had 11 tackles for a loss as a sophomore starter and was dominant at times this spring.