November, 20, 2014
Nov 20
10:30
AM ET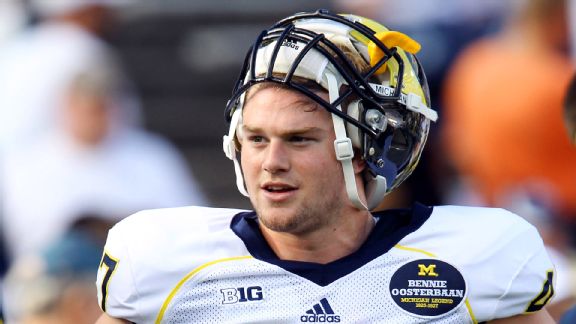 Matthew O'Haren/USA TODAY SportsMichigan's Jake Ryan has grown into a leadership role since suffering a torn ACL in his left knee.
Jake Ryan
has been looking forward to this weekend for a long time.
Playing his final game at the Big House as a Michigan linebacker will be a moment to remember, as will the pregame curtain call in front of his family and more than 100,000 other onlookers. The chance to clinch bowl eligibility by beating Maryland for the team's sixth win this season is nice, too. But that is not what Ryan has been waiting for. No, this weekend he's finally getting a new suit.
Since turning a few heads at Big Ten media days in Chicago this summer, Ryan has been beseeching his father to help him upgrade his wardrobe.
"He's asked me to call my suit person like six times in the last two months. It's nonstop," said Tim Ryan, who lent Jake the plaid, maize-ish and blue sport coat and matching gold tie that he wore to represent the Wolverines in Chicago.
Jake stuffed the jacket's pocket with a silk blue handkerchief, pinned a Block M to his lapel and then canvassed the gathered media to see if he was the sharpest-dressed player in town. He held his own. At the very least, this GQ-styled, well-coiffed version of Ryan was a far cry from the long-haired sophomore who emerged as one of the conference's most promising young defenders two years earlier.
"I like dressing nice," Ryan said months later. "I do, I'll admit that. I've always thought I've gotta have some style."
Ryan's style took a sharp turn 19 months ago, shortly after the lowest point of his football career. Eight days removed from surgery to repair a torn ACL, Ryan chopped off and donated 10 inches of the shoulder-length blond hair that had been his calling card during the first half of his Michigan career.
This was a fresh start, he told his family, a symbolic reminder that he would have to remake himself to get where he wanted to go. It was the first step in a tumultuous year and a half -- one that included a painful and patience-testing rehab, a position change and a senior season besmirched by disappointing losses and distractions. As it draws to a close, that path has transformed Ryan into a more polished professional, in football and fashion.
A family affair
The Ryans are a football family. Tim played wide receiver at Wake Forest. Jake's cousin John was a defensive end at Notre Dame, and Jake's older brother, Connor, was a receiver at Ball State. Their younger brother, Zack, is a starting linebacker at Ball State, and the youngest of the four Ryan boys seems destined to follow them when he finishes high school. It's what the Ryans do. They play for Chuck Kyle's St. Ignatius football powerhouse in Cleveland and then find a college to continue their career.
In high school, Jake needed to forge an identity he could call his own. He picked a surfer's wardrobe and adopted the laid-back personality to match. His inspiration was his West Coast cousin Mikey. Ten years older, Mikey was the epitome of cool in the eyes of his younger cousins.
Mikey used product to slick back his hair as a teenager, so 7-year-old Jake slapped globs of gel in his hair until his father nixed that idea. Mikey wore Vans, so Jake searched Cleveland for whatever psychedelic-colored, floral-patterned shoes he could find. Mikey was a surfer. There were no waves anywhere near Ohio, so Jake learned to snowboard.
When Jake injured his hand during a playoff run in his senior year at St. Ignatius, he opted to wrap it in a neon pink cast. He visited Ball State a few weeks later on a recruiting trip, which meant Connor had to explain to his teammates that the goofball prospect with the pink cast was actually his little brother.
"He always wanted to be different," Connor said. "He's starting to [learn] a little bit more from me I would say. He's getting a little bit better fashion sense, definitely starting to get the hang of it."
Jake's style on the football field was equally unique.
"Unorthodox," he said. "That's what they're calling it now, I guess."
He finds the ball by instinct, he says, more than following a premeditated path or assignment. His coaches at St. Ignatius stuck him at safety during his first week with the varsity team, but Ryan had trouble understanding why they wanted him to move backward when the ball was in front of him. Midway through double sessions they moved him to linebacker, and his coaches say he "just started wrecking guys."
[+] Enlarge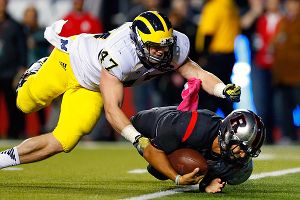 AP Photo/Rich SchultzLinebacker Jake Ryan (90 tackles) has had six games this season with at least 10 stops.
His unorthodox style, combined with a lack of size he wouldn't overcome until a last growth spurt as a senior, put Ryan behind schedule on the typical recruiting process. Brady Hoke, who had recruited Connor to Ball State before moving on to coach at San Diego State, had one of his Aztecs assistants call the Ryans to say he wasn't interested in offering Jake a spot on the team.
"I still tell him that when he messes up," Hoke said. "I probably should have done a little more homework on him."
It worked out for Hoke, who inherited Ryan when he took the Michigan job and played him as an outside linebacker and defensive end during their first two years together. As a redshirt sophomore, Ryan led the Wolverines' defense in tackles (88), tackles for loss (16) and sacks (4.5).
The following winter Hoke and defensive coordinator Greg Mattison told Ryan they wanted to move him to inside linebacker so opposing offenses couldn't run away from him. Ryan, a budding star on the edge, was skeptical. Mattison, the former linebackers coach for the Baltimore Ravens, handed him a stack of Ray Lewis film to explain the new role, and Ryan was sold. He would soon be the new centerpiece of the Michigan defense. A few weeks later, he tore his ACL.
Surviving rehab
Rehab was miserable. Patience was a virtue Ryan had not yet acquired. He vowed to get through the process as quickly as possible. If NFL star Adrian Peterson could get back on the field six months after ACL surgery, so could he. Ryan cut every distraction that might slow him down, including his hair.
Ryan became a fixture in the Michigan training room and tried to help his teammates with their assignments during practice. He learned he could never be a coach. It turns out telling someone to do something over and over is a lot more frustrating than trying to do something over and over.
He sought advice from teammates past and present who had gone through a similar injury, including Michigan fullback
Joe Kerridge
, who tore his ACL as a high school senior. Kerridge told him surgery wasn't a death sentence. Stay with your recovery program and you'll be back, he said.
"He attacked everything with the workouts and the rehab," said Kerridge, who has lived with Ryan for the past three years. "I think the knee really tested him. He excelled through it and he really matured. He learned what he had to do to be a great football player."
Teammates recognized Ryan's diligence and selected him to be a team captain even though he spent all of training camp on the sideline. The new leadership position made Ryan more conscious of all the eyes that were on him and pushed him to continue to evolve into the more professional version of his free-spirited self. He started speaking up more often when needed. He became a regular volunteer at the university's children's hospital. And of course, he made sure he looked sharp whenever he knew he would be going in front of a camera.
"He knows that he can be one of the faces of the team," said his brother Connor. "I think he wants to resemble that 'Michigan man.' When you're asking to grab some nice suits or dress a little nicer or watch your language, whatever it may be, I think that's him growing up."
Ryan reached his goal of making it back on the field in six months, but the eight games he played during the 2013 season were humbling. He didn't fully trust his knee yet, and he didn't have the speed to keep up with his instincts. The coaching staff kept him at outside linebacker for the rest of the season so as not to overload him with adjusting to a new position while trying to get healthy.
The hurdles came in quick succession from there.
When Ryan felt comfortable with his knee, he set about learning to fend off lineman and see the game from a new angle as an inside linebacker. His first game in the middle, a blowout win against Appalachian State to open the 2014 season, allowed him to settle in.
As Ryan got better at his new job, the program around him seemed to get worse. Michigan lost four of its next five, and off-the-field turmoil spiraled out of control. Ryan continued to hone his image while learning how to ignore the negative public feedback.
"You always learn more from losing than winning," he said. "You learn how to stick together. You learn how to mold a team. I think you do need to go through some situations that put you down to learn a lot of things. It prepares you to be a man."
A resilient leader
This is not the senior season Ryan imagined. It has, though, helped him grow into the resilient face of a team that, if nothing else, continues to show up no matter what punches fate throws its way.
Michigan has won three of its past four during a more forgiving stretch in its schedule. A victory on Senior Day would keep the Wolverines from a losing record and salvage a bowl trip.
Ryan is the team's top defender again. He is 10 tackles shy of reaching 100 on the season. He has had six games this season with at least 10 stops. Only nine players in the history of Michigan football have had more double-digit performances in a single season. He is one of 15 linebackers in the country still in the running for this year's Butkus Award, and most experts expect Ryan will be picked in the third or fourth round of the NFL draft in the spring.
Before the team's most recent game, a 10-9 win at Northwestern, Ryan made a deal with his father. If he made 13 tackles and intercepted a pass against the Wildcats, he would earn a trip to the tailor for a new suit. Ryan had never picked off a pass before in his career, but he finished with an interception and 11 tackles. Close enough.