NCF Nation:

Jalen Fitzpatrick
August, 29, 2013
8/29/13
9:02
AM ET
Notre Dame's long offseason comes to an end Saturday, as the Irish play host to Temple at 3:30 p.m. ET. What can they expect against the Owls?
When Temple has the ball:
Under former coach Steve Addazio, the Owls were a ground-and-pound team. Now they are without their top two backs from last season in Montel Harris and
Matt Brown
. They have a new coach in Matt Rhule, who has implemented a pro spread offense, which allowed quarterback
Connor Reilly
to ascend from the fourth team to starter since the start of this past spring. Leading receiver
Jalen Fitzpatrick
(30 catches, 363 yards, 2 TDs) is back. But
Cody Booth
, who led the Owls last season with four touchdown catches, has moved from tight end to left tackle. Former signal-caller
Chris Coyer
added 30 pounds this offseason as he moved to H-back. Notre Dame will likely look to pressure Reilly in his first career start and force him into some early mistakes, especially now that the Irish have a secondary that is better equipped to seize opportunities than it was last season.
When Notre Dame has the ball:
Tommy Rees
is Notre Dame's quarterback, again. So what changes? For one, Rees is two years older than he was the last time he started extensively for the Irish. He's a bit bigger, too. He has two proven receivers in captain
TJ Jones
and
DaVaris Daniels
, and some unproven talent behind them. Notre Dame's pistol package in camp has caused some buzz in South Bend, and it figures to help a crowded but mostly green backfield. Those tailbacks, by the way, should try to avoid linebacker
Tyler Matakevich
at all costs, as he is the reigning Big East rookie of the year and already one of the leaders of the defense as a sophomore captain.
Intangible:
This is 38-year-old Rhule's first game as a head coach. The former New York Giants assistant returned to the Owls after serving as an assistant under Al Golden. You never know how a new coach and his players will come out early, especially when entering a place with as much history as Notre Dame Stadium. The Irish, meanwhile, should know better than to look ahead to Michigan, as they had their 2011 opener ruined by what turned out to be a 3-9 Big East team (South Florida).
Prediction:
Notre Dame 31, Temple 6. The Owls may be the worst team the Irish face this season. Some early first-game hiccups will keep it from eventually getting too far out of hand.
March, 22, 2013
3/22/13
9:00
AM ET
Temple opens spring practice today with a new coach and questions at some key positions on offense. I had a chance to catch up with coach Matt Rhule to get his thoughts on his first spring as head coach. We focus on the offense in Part I.
We know finding a quarterback is the No. 1 priority. What are some others going into the spring?
MR:
Finding an offensive line. When I was here two years ago, every guy that beat Wyoming in the bowl game, every guy that was on the offensive line is now gone, and all of them are in some form of professional football. We just have to figure out who can play up front. Then defensively, in the secondary we have a lot of people who played. If you asked who's played, 10 guys would put their hands up. At linebacker, we have a bunch of guys who have played. Now we have to identify who the starters are, who can play championship-level football, not just get on the field. There are very few spots where I would tell you this is our guy, this is the starter. For the most part, there's open competition.
[+] Enlarge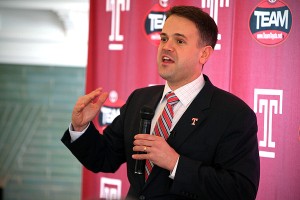 Patrick Rosenbaum, Temple UniversityTemple coach Matt Rhule says developing the offensive line will be important this season.
Let's start with offense. Will you run a similar style to your predecessor or have a new offensive philosophy?
MR:
We're labeling ourselves more a pro-spread. It's going to be pro-style passing game. We'll use some spread and power-run principles, so we'll take advantage of both those things, but in terms of the passing game, it will be completely different. It will be what we're bringing in from New York and what (offensive coordinator) Marcus (Satterfield) is bringing in.
The passing game is an area where Temple struggled last year. Where do you need to see improvement so it can be more effective than it was last year?
MR:
It's a complete cultural shift mind-set wise for everybody. Go back and watch the film from the offensive line protecting to the quarterback throwing to the receivers even catching the ball, they have to do it at a very high level to have a good passing game, and so that will start right from Day 1. We'll come out throwing. We'll always want to run the ball, but to be a good passing team you have to throw it day in and day out in practice. That's everybody. That's the offensive line protecting, that's the backs helping in protection. If they don't do that, then you can't be cohesive. You'll only be average. So we have to get everyone to buy into that just to give your quarterbacks even a chance, and then the quarterback will have to show who can make a play above the Xs and Os. There's a lot of room for improvement.
How are you going to work on depth at running back?
MR:
I think we'll want to rely on a freshman. Freshmen running back -- that's one of the easier positions to come in and play. If they're not good enough, they're not good enough. We're not going to play a guy before he's ready. We're going to give them an opportunity. I'm excited to see what the backs can do this spring. Now it's their time. They have a chance to learn the plays and see if anybody can do some special things. The freshmen coming in will have every opportunity to come in here and play, because we want depth and we want playmakers at that position. Even if you're not a starter, you can come in and play 15 plays.
What about at receiver? Are you looking at Jalen Fitzpatrick as a guy who has the potential to emerge in your pass game?
MR:
Absolutely. Marcus and I were watching film the other night. There were two times we saw him catch a ball clean with both feet on the ground the whole year -- he turned both into touchdowns. He has talent, he has ability and he's a gamer. We're going to rely on him.
Deon Miller
is a guy, when I was here as the coordinator, as a freshman, we were playing Deon and he had, to me, the chance to maybe breakout. He's had injuries, he's had some issues, concussions things like that. He looks to me, based on what I've seen so far, 'it's my last go around, OK here we go.' As a coach you're always looking for those seniors that have that look in their eye, that say, 'OK I'm ready to go now be a player.' That's what I think I see from Deon right now.
Ryan Alderman
is another guy who's played a lot of football for us. He's a Wes Welker type guy who hasn't necessarily been utilized in that type of scheme, but I think he has an opportunity to make some plays for us. The young kids will hopefully follow suit.
Will the quarterback position stay open going into fall?
MR:
Absolutely. I might name a starter coming out of the spring if I feel like we have one, but the one thing for us is there's always competition. In any elite program. Look at the 49ers this year. If they'll do it and it gets them to the Super Bowl, we'll do it. The best player will play. We're going to always give those kids a chance. No. 1, I said it in recruiting, and I want to be a man of my word. No. 2 we played Bernard Piece as a freshman and that worked out for us. I want to know what those guys can do. I want every kid, whether you're walk-on, scholarship freshman or senior, you walk on the field and you feel like you get an opportunity in this program. That's to me what helps you find diamonds in the rough. Matt Brown was a walk-on. He would have fallen thru the cracks at a lot of places, but not here. I hope to bring that mentality back.
Eds. note: Stay tuned for Part II, focusing on the defense.
October, 13, 2012
10/13/12
4:47
PM ET
Well, the Big East has rolled out the red carpet for Temple.


The Owls pulled the come-from-behind overtime win over Connecticut
17-14
on the road Saturday afternoon. Temple posted 17 unanswered points for the victory. This marks the first time in school history Temple (3-2, 2-0) has won back-to-back Big East games. Temple pulled another stunner last week, beating USF in its first Big East game since 2004.
At the beginning of the game, there were not many indications this would go Temple's way. UConn (3-4, 0-2) jumped out to a quick 14-0 first-quarter lead as quarterback
Chandler Whitmer
picked apart the Temple defense. In fact, he had 159 yards passing in the first quarter alone. Temple, meanwhile, could not get anything going against the No. 1 run defense in the Big East.
It looked as if the Huskies would have no trouble.
But Temple started chipping away once it got its running game going midway through the second quarter.
Montel Harris
got the Owls on the board late in the quarter, running for 62 of Temple's 80 yards on the scoring drive. UConn could not get going on offense, and the offensive line in particular did this group no favors. The Huskies also played without leading rusher
Lyle McCombs
, though replacement
Max DeLorenzo
held his own with 90 yards rushing.
UConn blew several opportunities to build on its lead. Kicker
Chad Christen
missed three field goals in regulation. Temple, meanwhile, came up short on several opportunities of its own, fumbling at the UConn 25 just before halftime. Then later in the fourth quarter, with opportunities to kick field goals, coach Steve Addazio went for it on fourth down but came up short.
Temple got one final chance with 2:56 remaining. The Owls were able to convert twice on fourth down, and then
Chris Coyer
made two incredible throws -- the first a 33-yarder to
Deon Miller
on third-and-13, and then the last to
Jalen Fitzpatrick
for a 14-yard touchdown with 19 seconds remaining. That sent the game into overtime.
Once again, UConn could not move the ball and sent out Christen. He missed his fourth field goal of the day, this one a 28-yarder. Temple kicker
Brandon McManus
made his 29-yarder when he got his chance, and the Owls came out with the victory. Harris ended up with his second straight 100-yard game, carrying the ball 30 times for 142 yards with a touchdown. He got the majority of the carries with
Matt Brown
on the sideline because of a sprained ankle.
As Steve Addazio celebrates the win over his former mentor, questions about whether UConn coach Paul Pasqualoni is on the hot seat are only growing stronger. UConn has a defense that can keep the Huskies in games, but it has been futile on offense. UConn has now lost to Temple and Western Michigan this season, raising serious questions about whether UConn is headed in the right direction.
May, 10, 2012
5/10/12
1:00
PM ET
With the season coming into view, let's take a look at what we learned in the Big East this spring.

1. Running backs have to prove themselves.
Isaiah Pead is gone. Antwon Bailey is gone.
Ray Graham
is coming off a serious knee injury. There are some major question marks at virtually every Big East school at this position headed into the fall. Chief among them -- how does Graham do a year removed from ACL surgery? How do Cincinnati, Syracuse and Louisville spread the ball to their various running backs? How does Temple replace the production of Bernard Pierce? Does
Savon Huggins
improve on his injury-shortened freshman season at Rutgers? How is
Lindsey Lamar
used in the backfield at USF? Can
Lyle McCombs
repeat as a 1,000-yard rusher for UConn?
2. Next sack leader?
The Big East generally has some of the top leaders in sacks in the country. Last year, it was
Trevardo Williams
and
Aaron Donald
who emerged to finish in the Top 10. The year before, it was first-year Big East player Bruce Irvin. So who is the next Big East player to lead the charge? USF defensive end
Ryne Giddins
, Cincinnati defensive end
Walter Stewart
and UConn tackle
Ryan Wirth
all had terrific springs so keep those names in mind as the season begins.
3. Earth to offense.
We had an inkling that the Big East defenses would be way ahead of the offenses this spring, and that all came to fruition once the spring games were played. Defenses essentially dominated at nearly every school. Syracuse did not score a point on offense; UConn had two total offensive touchdowns; USF quarterback
B.J. Daniels
went 9-of-26 for 88 yards in the Bulls' spring game;
Chris Coyer
and his receivers struggled in the Temple spring game; and the Pitt passing game was just so-so in its final scrimmage. While it is true defenses are usually ahead of the offenses in the early going of practices, it is obvious most every offensive unit needs to get much better this offseason.
4. Bridgewater: Rising star.
It was apparent that Louisville had a special player in
Teddy Bridgewater
last season. But worries about a potential "sophomore slump" have been temporarily put to rest after the spring he had. Bridgewater was stellar in the spring game, going 19-of-21 for 257 yards and three touchdowns. Afterward, offensive coordinator Shawn Watson said that Bridgewater completed about 70 percent of his passes in the spring. "I know he's been lights out," Watson said. "He's really played very well. I challenged him with the things he needed to get better with and use all the tools he has available to him. As a young player, he didn't quite get it. Now he's getting it. You're seeing a lot more completions now. He's worked hard. He's doing a lot of good things with his eyes and playing well."
5. Athletes (almost) everywhere.
One trend to watch is the conversion of quarterbacks to running backs/receivers. Cincinnati moved
Jordan Luallen
to receiver, and he is expected to see time as a Wildcat quarterback as well. Ashton Broyld has been moved to running back, though he also played receiver in the spring game. Louisville converted quarterback
Dominique Brown
to running back last fall, and he is in contention to win the starting job. Temple running back
Jalen Fitzpatrick
was recruited as a quarterback out of high school. Those four players have the potential to be huge assets to their team. There were a few other notable position switches as well -- Lindsey Lamar is now at running back at USF; and
Jeremy Deering
is now a receiver at Rutgers.
April, 26, 2012
4/26/12
3:30
PM ET
PHILADELPHIA -- Temple coach Steve Addazio has always had a vision for his offense: a perfect blend of the power-run game and the spread, a way to keep defenses totally guessing.
He never quite got there during his time as offensive coordinator at Florida. But he thinks he is there now with Temple, thanks to a dual-threat/power-run quarterback in
Chris Coyer
, and some hybrid players at the tailback, receiver, fullback and tight end.
[+] Enlarge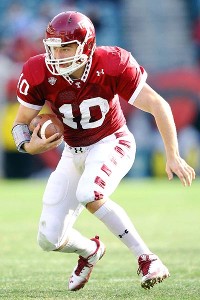 Danny Wild/US PresswireTemple coach Steve Addazio said quarterback Chris Coyer reminds him of another QB that he once coached -- Tim Tebow.
"I always thought cutting edge was the ability to not only be in a spread component, but then to have the ability to line up under center and come right at you," Addazio said. "We never quite got that done at Florida. We stayed in the shotgun with Tim (Tebow) and we had a lot of success with Tim doing that. ... But in my heart, I always knew, when I get a chance I'm going to run this thing. I want a defense to feel the power aspect, defend the run-power game, and then have the ability in that same grouping to spread the field and put in a spread-option component. That's where we are now."
It has taken time. Addazio's first order of business when he arrived at Temple was to mold a physical football team. That meant focusing heavily on the power-run game, something he could do with two established runners in
Bernard Pierce
and
Matt Brown
and a veteran offensive line.
When he turned to Coyer as his starter deep into the season, he was able to evolve the spread aspect of the offense. Coyer has the ability to line up under center or in the shotgun, something Temple did plenty of in its bowl win against Wyoming.
"I think we've got that blend now I've wanted the last couple of years," Addazio said. "When you play us, you're going to get a power attack in the running game, a two-back, two-tight end, fullback, downhill-run game at you. And then you're going to get a shotgun spread-option game coming right at you as well. That's a way that's going to be unique as we move forward. That's my vision. It was a great feeling being able to get that done up here because I wanted to get that done for a long time."
Keeping defenses off guard is a huge goal in Year 1 in the Big East. Addazio and offensive coordinator Ryan Day hopes this gives the Owls an advantage in a new conference environment, because they may be at a disadvantage in other areas, like depth and size up front.
"A defense only has so much time on a week to week basis to prepare for what you are doing," Day said. "Lining up under center, having a power run game creates its own issues for a defense. Attacking a defense with that, then having the spread offense component to it, now it creates a lot of stress to say: 'Now this is what we have to stop but wait a minute, we also have to stop this and we also have to stop this.'"
So who are the key players to watch in 2012 at some of these hybrid positions? Addazio breaks a few down:
QB: Coyer.
"He gives us a chance to be more multi-dimensional." On the comparisons between Coyer and Tebow, he said, "We are headed that way now. I see some of the similarity there. The difference for us is, we are still going to have a lot of under center offense."
IR/TB: Jalen Fitzpatrick.
"He was a spread-option quarterback in high school. We brought him here, and moved him to inside receiver and then to tailback. Since (former Florida receiver) Percy Harvin, he is a guy to me that is a true hybrid. He really can do that."
TB/FB: Kenny Harper.
"Kenny is a 230-pound back. He is tough so you can put him in as a tailback or fullback. So that gives you another hybrid deal."
TE/FB. Alex Jackson.
"He's a guy that can play on the point and block you, he can stretch the field vertically with his speed but he is now learning how to have power on the attack. He's a hybrid tight end. What's a hybrid tight end? It's a guy who can line up in the backfield and move around, line up and block you, or you can flex him out and he can beat a safety in man coverage."