May, 1, 2011
5/01/11
12:26
PM ET
The Pac-12 provided 37 players to the NFL draft over the weekend, one fewer than the SEC, which led all conferences.
If the six combined picks from Colorado and Utah are taken away from the conference, the old Pac-10 provided NFL teams 3.1 draft picks per team, also just behind the SEC at 3.17.
Here's where the Pac-12 players went:
First round
No. 8
Jake Locker
, QB, Washington: Tennessee
No. 9
Tyron Smith
., OT, USC: Dallas
No. 17
Nate Solder
, OT, Colorado: New England
No. 24
Cameron Jordan
, DE, California: New Orleans
No. 27
Jimmy Smith
, CB, Colorado: Baltimore
Second round

7.
Akeem Ayers
, LB, UCLA: Tennessee
10.
Brooks Reed
, DE, Arizona: Houston
13.
Rahim Moore
, FS, UCLA: Denver
21.
Stephen Paea
, DT, Oregon State: Chicago
24.
Shane Vereen
, RB, California: New England
Third round

13.
Jurrell Casey
, DT, USC: Tennessee
20.
Mason Foster
, LB, Washington: Tampa Bay
25.
Shareece Wright
, CB, USC: San Diego
29.
Christopher Conte
, S, California: Chicago
33.
Sione Fua
, DT, Stanford: Carolina
Fourth round

5.
Jordan Cameron
, TE, USC: Cleveland
19.
Casey Matthews
, LB, Oregon: Philadelphia
21.
Jalil Brown
, CB, Colorado: Kansas City
27.
Owen Marecic
, FB, Stanford: Cleveland
Fifth round

8.
Brandon Burton
, CB, Utah: Minnesota
9.
Gabe Miller
, DE, Oregon State: Kansas City
14.
Jacquizz Rodgers
, RB, Oregon State: Atlanta
23.
Richard Sherman
, CB, Stanford: Seattle
Sixth round

2.
Ryan Whalen
, WR, Stanford: Cincinnati
14.
Caleb Schlauderaff
, OG, Utah: Green Bay
17.
Ronald Johnson
, WR, USC: San Francisco
19.
David Carter
, DT, UCLA: Arizona
22.
Allen Bradford
, RB, USC: Tampa Bay
24.
Mike Mohamed
, LB, California: Denver
32. Ricky Elmore, DE, Arizona: Green Bay
38. Zach Williams, C, Washington State: Carolina
Seventh round

12.
D'Aundre Reed
, DE, Arizona: Minnesota
24.
Scotty McKnight
, WR, Colorado:
New York Jets
30.
Lawrence Guy
, DT, Arizona State: Green Bay
37.
Stanley Havili
, FB, USC: Philadelphia
38.
David Ausberry
, WR, USC: Oakland
39.
Malcolm Smith
, LB, USC: Seattle
By Pac-12 school:

Arizona (3)
Arizona State (1)
California (4)
Colorado (4)
Oregon (1)
Oregon State (3)
Stanford (4)
UCLA (3)
USC (9)
Utah (2)
Washington (2)
Washington State (1)
The final tally by automatic qualifying conferences
:
SEC... 38
Pac-12... 37
Big Ten... 36
ACC... 35
Big East 22
Big 12...19
Nebraska was a big swing to the Big Ten from the Big 12 with seven picks. With Colorado and Nebraska, the Big 12 provided 30 selections.
This was the tally through three rounds
:
SEC: 20
ACC: 19
Pac-12: 15
Big Ten: 13
Big 12: 9
Big East: 4
April, 6, 2011
4/06/11
11:00
AM ET
Defensive coordinator Greg Brown thinks Colorado is in for an "eye-opening" experience when the Buffaloes begin Pac-12 play. Or he might be playing a little possum.
Brown, who's beginning his third stint in Boulder after spending the 2010 season as Arizona's co-defensive coordinator, said this when asked about the Buffaloes move into the new conference.
[+] Enlarge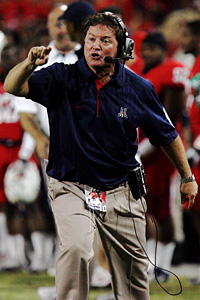 Liam Foley/Icon SMIAfter a season in Arizona, Greg Brown is back in Boulder and will be the Buffs defensive coordinator.
"It's going to be an eye-opener," he said. "Colorado had a small taste of it playing one team: Cal-Berkeley, up there [a 52-7 California win]. Everybody saw the final score from that one. The thing that was just striking going into the Pac-10 that I had no idea of, was just how good the league is. Two things hit you between the eyes in the Pac-10 as a defensive coach. No. 1 is how innovated the offensive coaches are, how innovative those schemes are. Coming from the Big 12, I thought in the Big 12 we had all those quarterbacks that one year, with great teams across the board. So I said, 'OK, what else can the Pac-10 show you that I haven't seen in the Big 12?' Believe me: It was a lot. It was an eye-opener because the schemes and the quarterbacks. The second part would be how fast it is. There is a lot of speed in that league."
For example, Brown said this about the Wildcats 48-29 loss at Oregon, which came after both teams had a bye week.
"They did more with their bye week and came up with more innovative schemes that we had not seen," he said. "My hat is off to Chip Kelly and Mark Helfrich, their offensive coordinator. They put in things we hadn't seen. It was a hard go playing those guys up there."
This seems to be a common rhetorical path among the Colorado folks -- coaches and players -- by the way: Lots of praise for the new conference, sometimes at the expense of the old one. As linebacker Jon Major said, the Pac-12 has no "cupcakes." This may be tweaking the Big 12 on the way out or celebrating the Pac-12 on the way in. Perhaps a bit of both.
As for Brown's decision to bolt Tucson after only one season, his answer is fairly straight-forward.
This is is home. He was born in Denver and his father, Irv, a long-time Denver radio personality, is a a former baseball coach and football coach at Colorado. Being back in Boulder means his two young daughters get to see their grandparents regularly. He loves the town and knows new coach Jon Embree well.
"I knew what he would bring to the table as a head coach and I wanted to be a part of it," Brown said.
Oh, and there's no "co" at Colorado. This will be his defense. At Arizona, he not only shared the job with Tim Kish but he coached the secondary, which is coach Mike Stoops' specialty. And Stoops, you may know, is not a laid-back, hands-off head coach.
Considering Brown was the Buffaloes' secondary coach from 2006-09 under Dan Hawkins, he's fairly familiar with his talent. While he uses terms like "hungry" to describe his players, it's clear that there are some areas that concern him, starting with the departure of cornerbacks Jimmy Smith and Jalil Brown, who will be early-round NFL draft picks.
"That's going to be tough to replace," Brown said. "There is nobody on the horizon that looks like they are going to be able to step into those shoes immediately. We've got young guys who need to develop. It's going to take some time to do that."
And Brown suspects his defense is going to have to take some chances to pressure opposing quarterbacks, which often means a high-risk, high-reward scheme.
"If you don't have the automatic four guys who can rush the passer without help, then you obviously need to be creative and bring some extra guys and pick and choose your poison," he said. "Because the more guys you bring, the more you're exposed out there. And as I just stated, we've got a lot of young guys back there feeling their way."
Or to be more succinct, Brown said: "Somebody's band is going to play, either their band or our band."
Still, don't see this as Brown fretting about his players ability to compete. While he acknowledges that Oregon and Stanford have separated from the conference a bit -- at least based on 2010 and the 2011 preseason perception -- he sees 10 other teams with legitimate hopes to move up the pecking order.
Said Brown, "After the those two, the rest of the league is so balanced. Anybody can beat anybody."
March, 2, 2011
3/02/11
11:30
AM ET
The NFL combine is over. Here are some notes & observations on Pac-12 players from the final day.
Bucky Brooks of
NFL.com
on Colorado cornerback
Jimmy Smith
:
He entered the combine as the third corner on most boards and needed a great workout to solidify his status as a mid-first round selection. Smith showed athleticism, speed and burst in drills. He is smooth and fluid in movements, showing surprising body control for his lanky frame (6-foot-2, 211 pounds). He displayed sound footwork making turns and transitions in the pedal drills. His fluidity executing those movements is impressive considering his lack of experience in zone coverage.
And UCLA safety
Rahim Moore
:
Locked in as the top safety in the draft coming in, his solid workout did nothing to dissuade that opinion. Moore put up solid numbers in the athletic drills while showing excellent footwork and fluidity in defensive back drills. He caught the ball exceptionally well and is one of the more natural centerfielder-type safeties in this year's class.
Another positive take on Moore, who appears to have cemented his position as the draft's top safety.
UCLA S Rahim Moore looked good in position drills, showing quick feet and more fluid hips than expected. He was technically sound when turning and running, and just like on film Moore tracked the ball very well.
Smith didn't impress everybody -- he made Clark Judge's list of "
guys he didn't like
":
Jimmy Smith, CB, Colorado: It's one thing to be confident; it's another to be cocky -- and Smith was so cocky that when he was asked about comparisons to Asomugha he said, "I think I have better ball skills than he does." Please. One guy's an All-Pro; the other hasn't played a down of pro ball. Whom would you trust?
Smith's fellow corner at Colorado,
Jalil Brown
, got busted.
Every year prospects try to cheat drills in an effort to mask their weaknesses. Colorado DC Jalil Brown looked like he tried to hide the tightness in his hips, backpedaling slower than a lot of the corners to make it easier for him to open and run. This rarely works for two reasons. First, teams already know about his tight hips based on film study. Secondly, scouts will take a second look at the film of these workouts and pick up on any attempts at cheating.
Some sympathy
for Oregon LB
Casey Matthews
:
You've got to feel for Oregon linebacker Casey Matthews. First of all, he has to follow his brother, Clay, who was the runner-up in this year's Defensive Player of the Year voting. Second, he had to withdraw from the combine after re-injuring his shoulder during the bench press. Apparently, it's an injury similar to one he suffered his freshman season. "Unfortunate" is how Matthews described it. I'll say. Clubs might be scared off if they think Matthews is an injury waiting to happen.
USC OT
Tyron Smith
was a
big winner
:
Look for USC's Tyron Smith to vault up draft boards in the coming weeks. The guy has all the measurables (he's 6-5, 307) and might be the best tackle in the draft. He's young (20), tested well and has a wingspan so wide that he conceded "it was tough to buy shirts with long-enough sleeves." Smith played the right side in college but is projected as a left tackle in the pros.
Three other Pac-12 players made the
list of winners
:
Cameron Jordan, DE, Cal. He was a star of the Senior Bowl and then ran the 40-yard dash in the low 4.7-second range. In other drills, he displayed rare explosiveness, quickness, agility and speed for a big defensive end. He showed excellent body control and fluidity when changing directions. Jordan proved he is a top-level athlete and now will be a top-15 pick by a team that plays a 3-4 defense.

Brooks Reed, DE/OLB, Arizona. This hard-nosed overachiever displayed good athleticism and now projects as a future NFL starter at outside linebacker. Throughout his workout, he displayed the quickness and agility to change directions smoothly and play well in the open field. He also displayed the hand usage and technique to be a consistent pass rusher. He now has a legit chance to be a second-round pick, surpassing Purdue's Ryan Kerrigan on some team's draft boards.

Jordan Cameron, TE, Southern Cal. He is a raw prospect who was not very productive at USC, but he has the size and athleticism to excite NFL coaches. He was the most fluid and smooth route-runner of the tight ends and showed good hands. He now is a mid-round pick who could go much higher with a great on-campus workout March 30.
Some other links and notes:
February, 11, 2011
2/11/11
9:00
AM ET
Colorado is new to the Pac-12 but old to the Big 12, so it makes sense to check in with Big 12 blogger David Ubben to get his take on the state of the Buffaloes as they welcome new coach Jon Embree.
Just who are these Buffaloes? What are their strengths and weaknesses and how will they fit into the Pac-12, specifically the Pac-12 South?
We went looking for insights and Ubben obliged.
Ted Miller
: Well, David you -- and the Big 12 -- have to say goodbye to Colorado, with the Buffaloes looking to their future out West in the Pac-12. First of all, give Pac-12 fans a CliffsNotes description of the state of the program. Things haven't gone so well in Boulder lately. Why?
David Ubben
: Colorado is certainly in rebuilding mode as they kick off a new start under coach Jon Embree after firing Dan Hawkins in the middle of the 2010 season. They bring back two stars in quarterback
Tyler Hansen
and running back
Rodney Stewart
. But fitting those guys into Embree's new system and greatly improving from their 5-7 record seems like asking a lot.
Hawkins came to Boulder promising big things but never delivered. As for why it didn't go well? Any number of reasons. One that angered fans is Hawkins' tendency to play less talented players who knew the system well over more talented players that maybe didn't have as solid of a grasp of what they wanted to do on the field. Embree has said he'll do essentially the opposite, so I guess that's a start in the eyes of fans.
TM
: OK, let's look forward then. Tell Pac-12 folks about Embree, his new staff and the talent the Buffaloes have returning. What are strengths and what are question marks heading into the 2011 season?
DU
: He's stocked his coaching staff with quite a few Buffaloes, but most of the names would be more recognizable as players. The biggest name is his offensive coordinator, former Buffs great
Eric Bieniemy
, who spent the past few years coaching
Adrian Peterson
as the running backs coach at the
Minnesota Vikings
. They also swiped Bobby Kennedy, a Boulder native, from Texas to coach receivers.
Last year, they ran the ball pretty well, and Stewart is back. He's a small, shifty back that seems way, way underrated. He rushed for more than 1,300 yards last year, and the only Big 12 backs who had more were
Daniel Thomas
and
Kendall Hunter
, who should be drafted this year. They lose tackle Nate Solder, another first-round pick, but Ryan Miller is back, and he's an all-conference level guard.
The big question for them next season will be if their defense can stop the pass -- which my sources tell me, is pretty important in the Pac-12. Maybe not as important as in the Big 12, but still necessary for big success. Both corners from last year, Jalil Brown and Jimmy Smith, should be drafted. They weren't great at stopping the pass last year (9th in the Big 12) so it's hard to see them being better at it next year.
TM
: OK. Good stuff. Let's wind it up. How would you have projected them in the Big 12 next fall? And do you have any feeling for how they might do in the new Pac-12 South?
DU
: They definitely looked like a team in the bottom third of the Big 12 next year, and it seems like it'll be tough for them to finish in the top half of the Pac-12 South in 2011.
Right now, it's just about being competitive and maybe stealing a game or two that people didn't think they'd win. If that happens enough, a bowl game isn't out of the question. We don't have any idea what to expect out of an Embree-coached team, and that could be a good or a bad thing. We won't know for sure until next year, but if Embree can bottle up whatever Colorado had inside of them the way they played down the stretch last season after Hawkins was fired, it could be a real surprise 2011 for the Buffs.
January, 26, 2011
1/26/11
9:00
AM ET
Signing day is exactly a week from today, and it's time to take a look at who needs what in its 2011 class.
Some schools have addressed these with their current class. Some haven't. Others are still trying.
We'll kick things off with the artists formerly known as the Big 12 North and examine the South later today.

COLORADO
Cornerback:
Jalil Brown and Jimmy Smith were pretty reliable for the Buffaloes, but both are headed to the NFL, and the Buffaloes could definitely use some depth behind their first-year starters. It's not quite as pressing of an issue considering their move to the less pass-happy Pac-12, but they still like to sling it out west.
Receiver
: Colorado isn't exactly starving anywhere on offense, but receiver sticks out a bit.
Toney Clemons
was good, but maybe not quite what the Buffaloes hoped he'd be in 2010, but they caught a break in getting
Paul Richardson
back after a great freshman season. The Buffaloes need some complementary pieces around Clemons and Richardson to replace departed pass-catchers
Scotty McKnight
and
Travon Patterson
. Next year, that should be tight end
Ryan Deehan
and receiver
Will Jefferson
.

IOWA STATE
Receiver:
It's been a struggle for Iowa State in recent years, but they have to get better outside to help out their quarterback.
Sedrick Johnson
's transfer only worsens the Cyclones depth at the position, but
Jake Williams
and tight end
Collin Franklin
, the team's leading receiver, are gone.
Shontrelle Johnson
looks ready to become a big factor in the offense, but the Cyclones filling the space at receiver will make it easier for Johnson to replace running back
Alexander Robinson
.
Safety:
Both starters, David Sims and Zac Sandvig, are gone. So is the Cyclones top reserve at the position, Michael O'Connell. Sims was a top-notch talent that will be tough to replace, but Iowa State needs more depth here. They should be solid at corner with Leonard Johnson, Ter'ran Benton, Jeremy Reeves and Anthony Young, which could make the new safeties' jobs easier.

KANSAS
Defensive line:
KU is losing three of four starters on the line, including the team's only All-Big 12 talent, defensive end Jake Laptad. Turner Gill wants more speed, and this is a place to install it. Tackles that tip the scales at 320 pounds aren't too necessary in this league, but speed on the edge can go a long way in stopping the pass.
Quarterback:
Neither
Jordan Webb
or
Quinn Mecham
look like long-term answers at quarterback for the Jayhawks. Mecham will be a senior, and Webb might develop into a better player as a sophomore next year, but Kansas needs other options. The Jayhawks hope Brock Berglund, the top-rated recruit in Colorado, is the solution to the problem.

KANSAS STATE
Running back:
I hear your cries for
Bryce Brown
, Wildcats fans, but K-State can't expect to hitch their wagon to the former blue-chip recruit turned Tennessee transfer in the same way it did for
Daniel Thomas
. Thomas and his backup,
William Powell
, are gone, and the Wildcats need some depth at running back to show up.
Interior offensive linemen:
K-State loses both guards and its center from an offense that produced the Big 12's leading rusher in 2010. Don't expect them to do it again in 2011 without Wade Weibert, Kenneth Mayfield and Zach Kendall, as well as Thomas and Powell, but finding some new talent behind them will help them come close.
Cornerback:
David Garrett emerged as a budding star in 2010 ready for a breakout senior year in 2011, but the Wildcats lose Terrance Sweeney and Stephen Harrison, as well as safety Troy Butler. Like we've mentioned earlier, good secondaries are a must for success in the Big 12, and K-State had one of the league's worst in 2010.

MISSOURI
Receiver:
Missouri has some good ones ready to suit up in 2011, namely
Wes Kemp
,
Jerrell Jackson
and
T.J. Moe
, but the Tigers don't have a true gamebreaker. They have some younger players in
Marcus Lucas
and
Jimmie Hunt
who they hope will develop into big-time, All-American caliber receivers, a la Jeremy Maclin and Danario Alexander. In Missouri's system, though, adding a few receivers is always a good idea. They certainly don't need any more running backs.
Defensive backs:
Mizzou doesn't have any huge holes that need to be filled with recruiting, but the Tigers lose both corners, Carl Gettis and Kevin Rutland from their 2010 team. Kip Edwards and E.J. Gaines look likely to fill those roles, but the Tigers could use some depth and keep recruiting in the secondary to help add some talent around Tavon Bolden and Matt White, safeties who will replace departed Jarrell Harrison, who actually had to play some linebacker in 2010 because of injuries.

NEBRASKA
Every kind of kicker:
Alex Henery, the team's punter and kicker is gone. So is kickoff specialist and lover/producer of touchbacks, Adi Kunalic. Fan favorite Henery was hardly underappreciated by the Nebraska faithful, but they'll miss him even more if the Huskers can't find a suitable placekicker and punter. Bo Pelini was reportedly after Wake Forest commit Mauro Bondi this week.
Receiver:
Niles Paul
and
Mike McNeill
are gone. The Huskers need
Brandon Kinnie
to come through with another good year and it'd be nice if
Quincy Enunwa
broke through in 2011, but
Taylor Martinez
needs some more help at wide out, and a couple new recruits could provide it as Martinez's passing prowess matures.
October, 7, 2010
10/07/10
9:06
AM ET
»
Predictions
:
ACC
|
Big 12
|
Big East
|
Big Ten
|
Pac-10
|
SEC
|
Non-AQ
I'm making my way to Manhattan, Kan. today for tonight's game between the Wildcats and Huskers, but I'll be back in Dallas in time to see the Aggies and Hogs go at it in The House That Jerry (or some guys he paid) Built.
Last week was a rough one for the Big 12 Blog, with my missed picks equaling my total from the previous four weeks. You knew the breakdown had to come sometime.
I missed my upset pick of Texas A&M over Oklahoma State and whiffed on a couple of swing games in Ames and Boulder.
Here's how I stand:
Last week:
2-3 (.400)
Overall:
41-6 (.872)
Let's get to this week's picks:
THURSDAY
No. 7 Nebraska 31, Kansas State 21:
This thing smells like another possible upset, and Kansas State should be able to move the ball pretty well with
Daniel Thomas
, but the Wildcats don't have the talent or speed in the front seven to slow
Taylor Martinez
's legs. Look for defensive backs Emmanuel Lamur, Troy Butler and Tysyn Hartman to make a lot of tackles, on Martinez and receivers
Brandon Kinnie
and
Mike McNeill
. That's not a good thing. Martinez wasn't rattled in the passing game in his first road start, and him throwing a couple of costly interceptions is the only thing that turns this in Kansas State's favor.
FRIDAY
No. 22 Oklahoma State 51, Louisiana-Lafayette 20:
The Sun Belt has some good teams. The Ragin' Cajuns are not one of them. Georgia lost at Colorado on Saturday night, but beat these guys 55-7 in Athens for its only win of the season. Puntos, puntos, golly.
SATURDAY
Baylor 27, Texas Tech 24:
This is definitely the toughest pick of the week. Comparing the depth charts, Texas Tech looks like the better team, but Baylor is getting it done and has all the momentum and confidence. Texas Tech looks lost on defense and inconsistent on offense. In 2008, the Bears almost took down the best Tech team in recent history, losing 35-28 after taking a lead into the fourth quarter. They almost did it again in 2009 in Cowboys Stadium. With Robert Griffin back, they get it done this time. Enjoy the corny dogs, Bears.
No. 11 Arkansas 38, Texas A&M 28:
Come back later today for a video of me explaining my pick of the week.
No. 24 Missouri 41, Colorado 17:
Colorado says it's sick of getting blown out by the Tigers. They'll still be sick on Saturday night after hitting the road for the first time since a 52-7 loss at Cal. All of the Buffaloes' wins have come over mediocre teams. Missouri's running backs have carried the load so far this year, but
Blaine Gabbert
has his first big game, staying away from big-time corners Jimmy Smith and Jalil Brown in favor of more bubble screens to the flats and underneath routes to
T.J. Moe
and
Michael Egnew
. The Buffaloes can stop
Wes Kemp
and
Jerrell Jackson
. Good luck with the rest of the Tigers' offense.
No. 10 Utah 24, Iowa State 21:
I really do think Iowa State
has a great chance to upset the Utes
. I just don't have the guts to pick it. Iowa State's offense is better, but it's not "hang 52 points every week" better. Two of the Cyclones' touchdown drives were less than 40 yards, and another score came on an onside kick return. One other scoring drive was a one-play, 61-yard run by
Shontrelle Johnson
. Can't count on those every week.
Idle:
Oklahoma, Texas, Kansas.
September, 8, 2010
9/08/10
5:21
PM ET
While fans tend to swing with toward wild extremes -- we're awesome! we stink! -- you get a sense that California fans are trying to be measured about what happened last weekend.
Keenan Allen
.
[+] Enlarge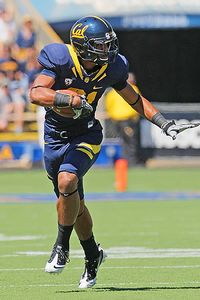 Dave Stephenson/Icon SMICal wide receiver Keenan Allen had a huge game last week against UC Davis.
Sure, any 52-3 win feels good, but UC Davis didn't offer much of a test.
Keenan Allen.
And the Bears have been here before with a fast start. They were an impressive 3-0 last year and ranked sixth in the country before consecutive blowout losses to Oregon and USC stuck a needle in high hopes.
Keenan Allen.
They were 2-0 in 2008 before an inexplicable flop at Maryland. And they were 5-0 and ranked No. 2 in 2007 before a home loss to Oregon State triggered a swoon that included six losses in seven games.
Keenan Allen.
Would you stop it with the Keenan Allen stuff!
No.
"He's pretty special with the ball in his hands," Cal coach Jeff Tedford said.
Allen is the 6-foot-3, 195-pound true freshman receiver who caught four passes for 120 yards, including a 48-yard touchdown against UC Davis. He also rushed three times for 38 yards, including an 18-yard touchdown. It doesn't matter who the competition was, Allen's performance was impossible to ignore.
When you consider that most bits of preseason punditry centered on whether quarterback
Kevin Riley
would break through his senior year, a question that on a deeper level hung on the apparent lack of quality among Cal's receivers, you then can start to see dots connecting that lead toward... what?
Well, hope. And the possibility the Bears are better than the seventh-place spot they were relegated to in the preseason Pac-10 media poll.
Allen's presence means defenses can't gang up on junior
Marvin Jones
-- and vice versa -- as well as tight end
Anthony Miller
, so suddenly there are passing game weapons that will stop defenses from solely focusing their attention on running back
Shane Vereen
. That could be a game-changer for Riley and the Bears offense, which has been wildly inconsistent the past few seasons.
"You've got to be very aware of where they are at all times," Riley said of Allen and Jones.
Colorado, fresh off a surprisingly easy whipping of rival Colorado State, will offer a far stiffer test Saturday than UC Davis, particularly for Allen and Jones. Buffaloes cornerbacks Jimmy Smith and Jalil Brown are both returning senior starters who are over 6-feet.
In fact, with 17 returning starters, more than a few folks -- including Phil Steele -- are projecting a Buffaloes turnaround in embattled coach Dan Hawkins fifth year in Boulder.
An added level of intrigue: Either next year or in 2012, Colorado will leave the Big 12 and join the Pac-12. This is a preview of a future conference game.
Riley said Cal has no plans to be terribly welcoming in Strawberry Canyon.
"You definitely want to show them what they're going to come to in the Pac-10, show them what type of conference we are, how we play football," he said. "I feel the Pac-10 gets a bad rap every single year, West Coast football in general. We've just got to show them what Cal football is all about and what the Pac-10's all about. That's all you can really do, and it's exciting because it's kind of a preview."
Hawkins doesn't see things the same way. Coaches often adopt tunnel vision, and what the Buffaloes do this season likely determines whether Hawkins ever coaches a game in the Pac-12.
"I think we just look at it as a game against Cal," he said. "We're not in that league now. We're still in the Big 12, so for us it's not so much that we're trying to make a big statement in the Big 12. It's that we're trying to make a statement this weekend in this game."
Cal fans are hoping for a statement, however. It goes something like this: "There's a new sheriff in town. And his name is Keenan Allen. So y'all be cool. Right on."
July, 14, 2010
7/14/10
11:57
AM ET
Big 12 Media Days in Irving, Texas are only a couple weeks away, and the schedule for the three-day gabfest has been released.
First thing I noticed: Nebraska (first) and Texas (last) are as far away as possible. Though I don't think the week is going to be as conducive to fireworks
as some believe
, it should still be plenty entertaining.
Media Days run July 26-28, and here's when to look for who on your team. (all times ET)
Monday, July 26
2:00
Nebraska
: Coach Bo Pelini, WR
Niles Paul
, DE Pierre Allen, CB Prince Amukamara
2:45
Baylor
: Coach Art Briles, LB Antonio Johnson, OT Danny Watkins
3:30
Iowa State
: Coach Paul Rhoads, QB
Austen Arnaud
, RB
Alexander Robinson
, DE Rashawn Parker
4:15
Texas A&M:
Coach Mike Sherman, QB
Jerrod Johnson
, LB Von Miller, DT Lucas Patterson
Tuesday, July 27
10:00
Missouri
: Coach Gary Pinkel, QB
Blaine Gabbert
, RB
Derrick Washington
, CB Kevin Rutland
10:45
Oklahoma State
: Coach Mike Gundy, QB
Brandon Weeden
, LB Orie Lemon, DE Jamie Blatnick
11:30
Kansas State
: Coach Bill Snyder, RB
Daniel Thomas
, S Tysyn Hartman, OL Zach Kendall
12:15
Texas Tech
: Coach Tommy Tuberville, QB
Taylor Potts
, QB
Steven Sheffield
, DL Colby Whitlock
Wednesday, July 28
10:00
Kansas
: Coach Turner Gill, DE Jake Laptad, CB
Chris Harris
, OL Brad Thorson
10:45
Oklahoma
: Coach Bob Stoops, DE Jeremy Beal, LB Travis Lewis, WR
Ryan Broyles
11:30
Colorado
: Coach Dan Hawkins, CB Jalil Brown, WR
Scotty McKnight
, OL Nate Solder
12:15
Texas
: Coach Mack Brown, QB
Garrett Gilbert
, OT Kyle Hix, DE Sam Acho, DT Kheeston Randall
A few quick thoughts:
Definitely surprised that Texas' Garrett Gilbert will be making the trip. I saw firsthand how well-spoken he was this spring on my visit to Austin, but I'm still surprised Brown would trot out his first-year starting quarterback for the media horde outside Dallas. Although his presence guarantees there should be plenty to talk about with the Longhorns.
Tommy Tuberville probably had to bring two or none of his quarterbacks, lest he tip his undecided hand at his starter and get people talking about a nonexistent decision. He chose the former. Interesting to note that Colorado's Dan Hawkins went with the latter.
Not sure why DE Jamie Blatnick will be one of Oklahoma's State's representatives instead of DE Ugo Chinasa or S Markelle Martin. Chinasa is a senior two-year starter heading into his third, while Blatnick is a junior who started only part-time last season. Martin is one of the conference's rising stars.
Baylor is the only team in the league bringing just a three-man contingent, and in Waco, they're the closest team to Media Days. A little surprised that Robert Griffin III won't be making the short drive, but at least that forces everyone to ask questions not about Griffin's knee. For that, I thank you, Art. But throwing WR Kendall Wright in the car at the last minute wouldn't be a terrible idea.
Meanwhile, Texas is the only team with a five-man crew. Everything's bigger.
Pretty good representation elsewhere, no real complaints. What do you think?