NCF Nation:

Jalin Marshall
April, 23, 2014
Apr 23
9:00
AM ET
COLUMBUS, Ohio -- Urban Meyer is always trying to find new ways to motivate his players.
Last spring, he had a banner put up in the Ohio State field house reading "The Chase …" in reference to the Buckeyes' championship pursuits. Meyer said he thought about changing the display for the 2014 offseason. In the end, though, he stuck with the same one.
"We didn't accomplish it," Meyer told ESPN.com. "We chased it but didn't catch it. So the chase is still on."
Ohio State, of course, nearly made it to its desired finish line. After going 12-0 for the second straight season under Meyer, the Buckeyes just needed to beat Michigan State in the Big Ten championship game to clinch a date with Florida State for the BCS national title. Instead, they fell 34-24 to the Spartans and closed the year on a two-game losing streak with a 40-35 setback against Clemson in the Discover Orange Bowl.
[+] Enlarge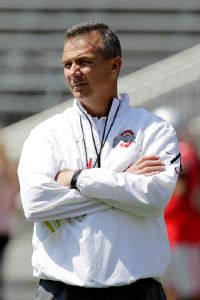 AP Photo/Jay LaPreteUrban Meyer says Ohio State is still trying to finish "The Chase."
So the chase continues, albeit with a much different-looking team in the 2014 starting gate. Gone is four-fifths of the offensive line that formed the backbone of the Big Ten's top-scoring offense the past two seasons. Also gone are reigning Big Ten running back of the year
Carlos Hyde
and top receiver
Corey "Philly" Brown
, as well as the two biggest stars on defense -- linebacker
Ryan Shazier
and cornerback
Bradley Roby
-- who opted to enter the NFL draft.
Experience is lacking in many key areas, but Meyer is ready to let some talented youngsters loose, including true freshmen. In retrospect, he wishes he had done so last year, when defensive end
Joey Bosa
and receiver
Dontre Wilson
were the only first-year players to make a big impact until safety
Vonn Bell
started in the Orange Bowl.
"We redshirted too many last year, and that was our fault," he said. "There was a misunderstanding, and we just didn't do a good job, especially on defense. When they show up on campus, we need to get them ready to play."
This spring, early enrollees
Raekwon McMillan
(linebacker),
Curtis Samuel
(tailback) and
Johnnie Dixon
(receiver) were all heavily involved and have secured roles in the fall. Redshirt freshman are also at or near the top of the depth chart at strongside linebacker (
Darron Lee
and
Chris Worley
) and cornerback (
Gareon Conley
and
Eli Apple
), while true sophomores like safety
Cam Burrows
and tailback
Ezekiel Elliott
could force their way into the starting lineup.
"When you talk about inexperience, that's a good thing right now," said Chris Ash, who was hired from Arkansas as co-defensive coordinator to help fix Ohio State's pass defense. "There aren't a lot of habits that we have to change to fit what we're trying to do. We don't have older guys that are comfortable with where they're at in their careers."
An already young offense became even greener this spring because of injuries to three senior leaders: tight end
Jeff Heuerman
, receiver
Evan Spencer
and quarterback
Braxton Miller
. The Buckeyes will no doubt look a lot different when Miller returns from shoulder surgery. During the 15 spring practices, the two-time defending Big Ten player of the year often stood behind the offense and wore a camera on his head so coaches could go over what he was seeing on the field.
"We're exhausting every avenue and even inventing different avenues to make sure he's engaged and getting mental reps," offensive coordinator Tom Herman said. "We're doing the best we can with a bad situation. He has embraced it and is working his tail off, making sure he's getting the most out of it."
Herman says the Buckeyes should be more explosive on the perimeter this season, with guys like Wilson, Dixon, junior college transfer
Corey Smith
, sophomore
Michael Thomas
and freshman
Jalin Marshall
at receiver and a stable of athletic tailbacks. The
safeties are longer and quicker
than they have been in the past, and the defensive line -- which could be one of the nation's best -- will have four starters who all used to be defensive ends.
The objective is clear: more speed. To that end, Meyer has hammered a new mantra in the players' heads: "4 to 6, A to B." That means play hard for four to six seconds and get from point A to point B as quickly as possible. It's hard to interview an Ohio State player these days without hearing the phrase.
"That's all he's been preaching this spring." defensive tackle
Adolphus Washington
said. "He said he's not really worried about technique and all that stuff. It's just about playing hard, because if you play hard, effort makes up for mistakes."
Washington said the defense was greatly simplified this spring, with only about four or five different calls to learn. Aggressiveness trumped scheme.
"The culture of Ohio State is to go hard, not trick you," Meyer said. "I just felt like there was too much stuff last year, instead of just going hard."
By moving faster and playing harder, the Buckeyes hope to overcome their youth and track down what they've been hunting. They have been tantalizingly close.
"We're still on a chase," Washington said. "We've just got to finish it."
June, 19, 2013
6/19/13
11:15
AM ET
Jordan Hall
watched most of Ohio State's 12-0 season from the sideline with mixed emotions.
"It was tough to watch and miss," Hall told ESPN.com. "I played in two and a half games or something. I was happy for my team, but I just wanted to be out there so bad."
[+] Enlarge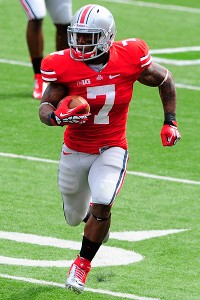 David Dermer/Diamond Images/Getty ImagesHealthy again, RB Jordan Hall is giving Ohio State options within its offense.
The running back figured to be out there a lot for Ohio State after the team completed spring practice last April. New head coach Urban Meyer singled out Hall as one of few bright spots for an offense he called a "clown show." But Hall's fortunes turned in late June, when
he cut his foot on a broken glass bottle
strewn in the front yard of his residence.
The "freak accident" set off a series of setbacks for Hall, the Buckeyes' likely starting running back before his injury. After undergoing surgery, missing preseason camp and the first two games, Hall returned in Week 3 against Cal but
suffered a partial tear of his PCL two weeks later
at Michigan State. He sat out the rest of the season and
received a medical hardship
. This spring, the coaches moved Hall to the slotback role where Percy Harvin had shined in Meyer's spread offense, and Hall had a strong start to the session before being slowed by a hamstring injury.
"I just want to get out there," Hall said. "I had to miss a lot of time."
Hall is back to full strength this summer and looks forward to going through a full preseason in the offense. The slotback role is similar to what Hall played in high school, when he teamed with former Ohio State quarterback Terrelle Pryor in Jeannette, Pa.
Hall also has slimmed down 10-12 pounds from his 2012 playing weight and checks in at 191 pounds, the lightest he has been since high school.
"I feel a lot better in and out of my cuts," said Hall, who had 653 rush yards, 197 receiving yards and 1,494 return yards in the 2010 and 2011 seasons. "Top-end and everything, it just feels better. I feel like I'm hitting a gear I never really hit before. I'm 100 percent healthy, so I feel like I'm ready to go."
Ohio State took no chances with Hall after the hamstring injury this spring, and Hall admits he wasn't completely ready when he returned to the field last season.
"I didn't really get to do the summer conditioning, none of the summer training, none of that," he said. "I was just lifting upper body, running on the underwater treadmill a little bit and then I practiced Tuesday, Wednesday and Thursday of the Cal week and then I played. I feel my leg just wasn't ready for competition, and that's what made me have my knee [injury]."
Hall looks forward to his first full preseason in the Meyer-led offense and recognizes the competition at his position will heat up.
Chris Fields
had a strong spring, and incoming freshmen Dontre Wilson and Jalin Marshall could fill the slotback role.
As a fifth-year senior who served as a co-captain before last season, Hall isn't concerned about re-proving himself to the coaches, especially Meyer.
"He's just always on me, [asking] if I'm catching, am I with the quarterbacks, am I doing my rehab," Hall said. "He's just making sure I'm ready to go. He has seen what I can do, and he says I can be a great player if I can stay healthy and do all the right things.
"Everyone's excited."
Hall's
Twitter page
contains the following words below his avatar: "This year I said it's all business." He has been through a lot Ohio State -- from
off-field issues
to moderate success to injuries -- and he wants to complete his comeback and be a part of another special season.
"I've just got tunnel vision," he said. "I'm not going to have any distractions. My only focus is football, really, and school. This is my last go-round, so I'm putting everything into it."
April, 26, 2013
4/26/13
2:58
PM ET
Remember two years ago, when Michigan created a lot of big plays by having
Denard Robinson
basically throw a jump ball that his receivers would somehow go up and grab? Well, by the looks of things, that might become a staple of the offense in the future. Only those receivers won't have to jump too high.
The Wolverines' strategy when it comes to recruiting receivers these days could be summed up in three words: super size me. On Thursday, Detroit wideout
Maurice Ways
became the latest player to commit to Brady Hoke. Ways is 6-foot-3.

He joins current Class of 2014 commits
Drake Harris
, a 6-foot-4 receiver, and
Ian Bunting
, a tight end who's been listed as tall as 6-foot-7. Meanwhile, Michigan's celebrated 2013 class included three skyscraper receivers: 6-foot-4
Jaron Dukes
, 6-foot-3
Csont'e York
and 6-foot-2
Da'Mario Jones
. They'll join current redshirt freshman
Jehu Chesson
(6-foot-3) and sophomore
Amara Darboh
(6-2) in Ann Arbor.
There's no secret to what's going on here. Michigan is moving on from its spread offense days and diving full bore back into the pro style system. Offensive coordinator Al Borges wants rangy, lanky athletes on the outside, both for the mismatches they create and their ability to block for the running game.
The Wolverines got great production out of the 6-2 Junior Hemingway the last two years, but their top returning receiver this year is
Jeremy Gallon
, who's only 5-foot-8. Gallon is an excellent player, but future Michigan receivers will likely look less like him and more like former great Braylon Edwards (6-3). Unlike the days of Rich Rodriguez's spread, the Wolverines appear to be valuing size over speed.
"Speed is overrated," receivers coach Jeff Hecklinski told reporters in February. "All of our guys, if you watch them on high-school film, they have great hands, they adjust to the ball, they track the ball very well in the air and they go up and they catch it. We can judge that on film, so let's get the best hand-eye coordination guys, guys that can catch the football, let's bring them in here and let's develop them in other areas."
Michigan's chief rival, and the other Big Ten team that's been cleaning up on the recruiting trail of late, is taking a different approach. Sure, Ohio State coach Urban Meyer wants guys with great hand-eye coordinator and catching ability, too. But he really wants blazing speed for his system. Just look at the receivers the Buckeyes landed in the 2013 class: Jalin Marshall (5-11), Dontre Wilson (5-10), James Clark (5-11) and
Corey Smith
(6-1). Receiver seems to be one position where Michigan and Ohio State are not in direct competition for the same players.
It will be interesting to see what kind of matchup problems the Wolverines' height at receiver poses for Big Ten defenses. Just take a look at the listed sizes of some of the top cornerbacks in the league the past two seasons:
Michigan State's
Johnny Adams
: 5-11
Purdue's
Ricardo Allen
: 5-9
Michigan State's
Darqueze Dennard
: 5-11
Ohio State's
Bradley Roby
: 5-11
Iowa's
Micah Hyde
: 6-1
Nebraska's Alfonzo Dennard: 5-10
Iowa's Shaun Prater: 5-11
Size, of course, doesn't always matter. There's also leverage, separation, route running, catching ability and several other factors that go into being great receivers. Former Michigan stars Desmond Howard (5-10) and Anthony Carter (5-11) did just fine without towering over people.
But Michigan is clearly taking its receiver position to new, um, heights. It will be fun to see how the strategy pays off in the near future.
April, 9, 2013
4/09/13
9:00
AM ET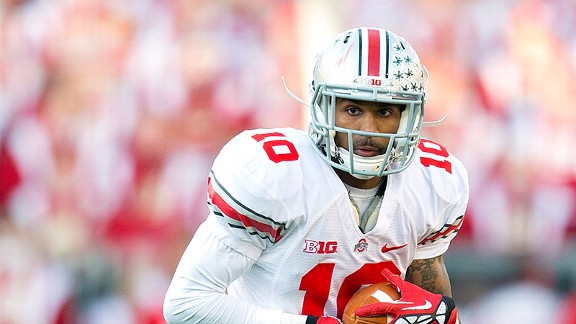 Jeff HanischThe Buckeyes are counting on WR Philly Brown to make the offense a more dynamic one in 2013.
COLUMBUS, Ohio -- Last year, Ohio State led the Big Ten in scoring at 37.2 points per game. Great, right?
Not in the minds of the Buckeyes, who thought they could have fielded a much better all-around attack.
"I feel like last year we didn't play a complete game as an offense," running back
Carlos Hyde
said. "Some games it was all running, while others it was just passing."
Head coach Urban Meyer rarely seemed happy with the offensive production last year, outside of the running skills of Hyde and quarterback
Braxton Miller
. He often expressed his dissatisfaction over a lack of speedy playmakers and an inconsistent passing game.
"I'd get frustrated," Meyer told ESPN.com. "But the bottom line is, name an offense that doesn't have guys who make people miss and are dynamic with the ball in their hands, and that's not a great offense. We don't have enough."
The names on offense haven't really changed much this spring. But the hope is that with another year of understanding the system, some improved throwing and catching and maybe some reinforcements from the recruiting class, the Buckeyes will come closer to fulfilling Meyer's vision of a truly great offense.
It all starts, of course, with Miller, whose efforts to become a more accurate passer this offseason have been well documented. Ohio State also needs continued development from its receivers, which is not a very deep group right now. Meyer singled out
Corey "Philly" Brown
, who led the team with 60 catches for 669 yards, as someone who's becoming one of those dynamic playmakers he's seeking.
"I've tried to work on my open-field running and body control so I could cut faster," Brown said. "It's really paying off for me right now."
Brown is the clear No. 1 receiver, but he needs more help. The team has only six scholarship receivers this spring, and offensive coordinator Tom Herman said he'd only feel comfortable playing four of them for a whole game.
Devin Smith
made some highlight-reel catches on deep balls early last year but was less effective down the stretch, as he had only 13 receptions in the final eight games.
"People, for lack of a better term, figured him out," Herman said. "He wasn't a very versatile guy. He did a couple of things really well, but the other things that he tried to do, he was very below average. He's starting to improve some of his weaknesses to be a more complete receiver, and he has a lot of physical tools and a great attitude."
Herman said
Chris Fields
has had a really good spring, and
Evan Spencer
is a reliable target. Sophomore
Michael Thomas
, the star of last year's spring game, has shown flashes of his talent but needs to progress in a lot of areas. Herman called the receiver depth "a bit scary right now." But the Buckeyes recruited several receivers in this year's class, including
Jalin Marshall
,
Dontre Wilson
,
James Clark
and Corey Smith. They're hoping at least one or two contributes right away.
"You hate to count on [recruits] because they're usually overrated," Meyer said. "But that's why we went out and recruited them."
"We're not asking them to come in and be Jerry Rice," Herman said. "We just hope they can provide some depth and maybe add some skills that we don't currently have in that room right now."
One area certainly not lacking in depth is at running back, where Hyde returns after rushing for 970 yards and 16 touchdowns last year.
Rod Smith
is having a good spring,
Warren Ball
appears to be coming on and if sixth-year senior
Jordan Hall
can ever stay healthy, he'll provide lots of versatility. There was a buzz last week in practice when the Buckeyes lined up with Hyde, Smith and Ball in the same backfield with Miller in a formation Meyer cribbed from the San Francisco 49ers.
"That can give a bunch of trouble to defenses," Hyde said. "They just see three big backs in the backfield and a quarterback who can also run the ball. They don't know who's getting the ball or who's going where."
Ohio State's offensive players do know where they're going, which is different than last spring. Now in the second year of the system, Herman says he can teach his guys not just what to do but why they're doing it.
"It's not just the memorization of, 'OK, I have to line up on the left here,'" he said. "I could train a monkey to do that. What separates really good offenses from average to below-average offenses is all 11 guys understanding the big picture, the entire concept and scheme we're trying to accomplish. It's been nice to kind of dive into that with all of our players this spring."
Knowing how to change a route against a certain defensive look, for instance, should help the Buckeyes play faster this year. The coaches have challenged the players to be a Top 5 offense in the nation this year. That's a lofty goal, but remember that this team is starting from an already high level despite its flaws.
"I definitely think we can be one of the top offenses in the country if everybody takes care of business and is mistake free," Brown said.
February, 27, 2013
2/27/13
9:00
AM ET
It was just a coincidence that our Big Ten
postseason Top 25 player rankings
wrapped up the same week when players were showing off their skills at the NFL combine.
But the convergence of the two raised one pressing question: Where are all the star Big Ten wide receivers?
Only one Big Ten product was invited to the NFL combine to work out as a wide receiver, and that was Michigan's
Denard Robinson
. He, of course, spent almost all of his career at quarterback, finishing with three catches during his four years as a Wolverine. Maybe he'll turn into a productive receiver at the next level, but he doesn't really count.
[+] Enlarge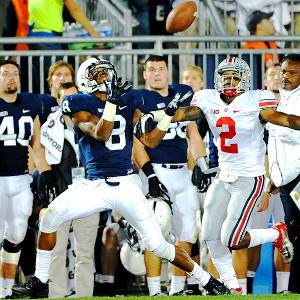 Rich Barnes/US PresswirePenn State's Allen Robinson was the lone wideout from the Big Ten to reach the 1,000-yard mark in receiving yards last season.
Meanwhile, our Big Ten player rankings contained only one receiver: Penn State's
Allen Robinson
, who
checked in at No. 11.
That shouldn't come as a surprise to those who watched the league this year. While Robinson had a huge breakout year with 1,018 receiving yards and 11 touchdowns, no other Big Ten player ranked among the top 71 FBS performers in
receiving yards per game
, the top 58 in
total receiving yards
or the top 50 in
receptions per game
.
In some ways, it was a transitional year for Big Ten receivers. The 2011 season saw four players top 1,000 receiving yards and two others go for at least 925. The NFL drafted six Big Ten receivers last April, including Illinois' A.J. Jenkins in the first round. Iowa's Marvin McNutt and Michigan State's B.J. Cunningham finished their careers as the most productive pass-catchers in school history.
So 2012 was just a blip after a bumper crop, right? Maybe, maybe not. While players from the 2011 group still have time to develop, none of them made much of an impact in the pros last year. Jenkins didn't catch a single pass for the San Francisco 49ers. McNutt spent most of the year on the Philadelphia Eagles' practice squad. The Miami Dolphins cut Cunningham a few months after drafting him. Michigan State's Keshawn Martin had the most successful rookie year of the bunch, catching 10 passes for 85 yards and a score for the Houston Texans. But we weren't exactly witnessing the second coming of Lee Evans, David Boston, Terry Glenn, Plaxico Burress or Braylon Edwards. Not yet anyway.
There are some promising young talents at receiver in the Big Ten. Robinson and Nebraska's
Kenny Bell
are both entering their junior years and could break most of their school records by the time they're finished. Indiana has a terrific trio in
Cody Latimer
,
Shane Wynn
and
Kofi Hughes
. Wisconsin's
Jared Abbrederis
has a chance to end his career with more than 3,000 yards despite arriving as a walk-on.
League wideouts were also no doubt hampered at least in part by a lack of prolific pocket passers in the conference. The two top quarterbacks in our rankings were Ohio State's
Braxton Miller
and Nebraska's
Taylor Martinez
, who are more athletes right now than precision throwers. Michigan's receivers were nearly invisible until
Devin Gardner
took over for Denard Robinson. And Allen Robinson was able to put up big numbers thanks in large measure to the pro-style passing offense Bill O'Brien installed at Penn State.
Still, while the Big Ten is never going to be the Big 12 when it comes to producing eye-popping passing stats, the league appears to be trailing other conferences in developing superstar receivers. That's a little troubling at a time when football at every level is becoming more and more reliant on the passing game.
Ohio State coach Urban Meyer talked about his program's lack of difference-makers at receiver last year, so it was good to see the Buckeyes land what ESPN.com ranked as the
top receiver/athlete haul in the 2013 signing class
. Recruits like
Dontre Wilson
,
Jalin Marshall
and
Corey Smith
could make an immediate impact. It was also encouraging to see Michigan, which has a great tradition at the position, bring in some big-bodied receivers in this class (though it was a bit odd to hear Wolverines receivers coach Jeff Hecklinski say "
speed is overrated"
for wideouts).
Michigan, Nebraska and Minnesota saw what a difference having stud receivers can make in their bowl games. Unfortunately, those star wideouts were on the other sideline. To beat the best teams in the country, it's essential that Big Ten teams recruit and develop standout players at the receiver position.
February, 25, 2013
2/25/13
4:00
PM ET
Both Ohio State (No. 3) and Michigan (No. 6) finished in the top 10 of ESPN Recruiting's
overall class rankings

for 2013. When it comes to specific position groups, however, both the Buckeyes and Wolverines top the chart.
ESPN Recruiting recently completed its team rankings for position groups in the 2013 class.
Not surprisingly, Ohio State finished
No. 1 in the defensive back category
. The Buckeyes signed five defensive backs ranked in the ESPN 300, including cornerback
Eli Apple
-- the Big Ten's highest-rated recruit overall at No. 11 -- and safety
Vonn Bell
. Ohio State's secondary haul is even more important as the Big Ten recently has slipped a bit in recruiting elite defensive backs.
In another clear choice, Michigan finished
No. 1 in offensive line recruiting
for 2013. Four of the six offensive linemen Michigan signed rank in the ESPN 150, including guards
David Dawson
and
Patrick Kugler
. This could be the class that solidifies Michigan's offensive line depth for years to come.
Ohio State also finished
No. 1 in the wide receiver/athlete category
. The late addition of
Dontre Wilson
, who originally committed to Oregon, along with wideout
Jalin Marshall
and junior college receiver
Corey Smith
put Ohio State over the top. This is another critical area to upgrade as the Big Ten has seen a significant drop-off in elite receivers the past year or so. Ohio State is positioning itself to have a major edge on the perimeter.
Michigan received honorable mention for its
running back haul
, headlined by
Derrick Green
. Ohio State earned honorable mention for its
defensive line
class.
No other Big Ten teams were recognized in the position group rankings.
February, 7, 2013
2/07/13
9:00
AM ET
The letters have all been signed and the faxes sent in. Signing day is officially over. So how did each Big Ten team do in fulfilling its most pressing needs?
Of course, the real answer to that question won't come for another one, two or even three years. But we'll take a stab now at figuring out how league teams addressed some glaring concerns, beginning with the Leaders Division. Adam will look at the Legends teams a little bit later in the blog.

INDIANA
Needs met:
It's no secret that the Hoosiers desperately needed reinforcements on defense. They focused on that in this class with 13 of their 22 signees on that side of the ball, plus four players labeled for now as "athletes." That includes six defensive linemen and four linebackers for a team that must improve its front seven.
Holes remaining:
After finishing with one of the worst rushing attacks in the Big Ten, Indiana signed only one true running back --
Daryl Chestnut
-- in this class.

ILLINOIS
Needs met:
After a disastrous 2-10 season where nothing went right, the Illini needed help everywhere, especially at the offensive skill spots. They signed five juco transfers for some immediate assistance and some speed to run the spread offense, including future starting quarterback
Aaron Bailey
.
Holes remaining:
Illinois lost linebacker recruit
Reggie Spearman
to Iowa and didn't sign anyone at that position, though it had two freshmen starters there last year.

OHIO STATE
Needs met:
Speed, speed, speed. Urban Meyer wanted a whole lot more of it, especially at the offensive skill positions. And that's exactly what he got in receivers
Jalin Marshall
,
Dontre Wilson
,
James Clark
and
Corey Smith
. The Buckeyes should also be able to stop the pass with defensive backs
Eli Apple
,
Gareon Conley
,
Vonn Bell
and
Cam Burrows
among the standouts in this class.
Holes remaining
: Very few, as you'd expect with one of the nation's top classes. Ohio State signed only two offensive linemen, but the Buckeyes addressed that position group in the 2012 class.

PENN STATE
Needs met:
The Nittany Lions had to get two quarterbacks in this class, and they managed to land the top-rated quarterback in the land in
Christian Hackenberg
as well as junior college transfer
Tyler Ferguson
. The team also needed to add some talent to the secondary and brought in four defensive backs.
Holes remaining:
The Lions are bringing in only one running back, though they have last year's signee Akeel Lynch, along with Bill Belton and Zach Zwinak returning. With severe scholarship limitations, Penn State's holes will revolve around depth. The team has to be selective and hope its run-on program produces some gems.

PURDUE
Needs met:
The Boilermakers needed reinforcements in the backfield after losing two senior quarterbacks and with a thin tailback corps. Their two top recruits in this class are pro-style QB
Danny Etling
and running back
Keyante Green
. The Boilers also added running backs
Keith Byars II
,
David Yancey
and
Dalyn Dawkins
.
Holes remaining:
Purdue signed just one offensive lineman in this class (
Jason Tretter
). That's an area new coach Darrell Hazell will have to address in next year's class.

WISCONSIN
Needs met:
The Badgers needed to restock the secondary after losing three starters from the 2012 team. They signed five defensive backs, including early enrollees
Keelon Brookins
and
Sojourn Shelton
. Wisconsin also got a potential impact defensive end in
Alec James
and possibly the latest in a long line of star running backs in
Corey Clement
.
Holes remaining:
Wisconsin could still use a bit more playmaking at the wide receiver position after struggling to find complements to Jared Abbrederis last season. The Badgers will hope
Robert Wheelwright
and
Jazz Peavy
provide some help. Neither was a highly rated recruit -- but then again, the highly productive Abbrederis was a walk-on. And although you wouldn't expect Wisconsin to need more offensive linemen, new coach Gary Andersen said the team is a couple of linemen short of the ideal number after signing three in this class.
February, 6, 2013
2/06/13
7:00
AM ET
ESPN RecruitingNation
has signing day covered. Follow ESPNU's coverage, chat with analysts and get breaking news on our
Signing Day Live
page beginning at 7:30 a.m. ET through 7 p.m. ET. For more on what to expect on signing day, check out the
Big Ten conference breakdown

.
Bold prediction:
Penn State will hang on to a top-25 class, even if just by the slimmest of margins. Bill O'Brien and his staff deserve all the credit in the world for having to originally put together a class after the scandal and then reshaping it after NCAA sanctions were levied in July.
Illinois
Biggest need:
The Illini's offense was arguably the worst in the Big Ten in 2012, and Illinois needs help just about everywhere on offense, especially at the skill positions.
Biggest recruit:
Four-star athlete
Aaron Bailey
is the future at quarterback for Illinois, and the coaches will expect him to be ready to take the reins once
Nathan Scheelhaase
moves on.
Indiana
Biggest need:
To just put up a fence around Indianapolis and the state of Indiana. Kevin Wilson did that, assuaging defensive line concerns in the process by adding Indianapolis linemen
David Kenney III
and
Darius Latham
.
Biggest recruit:
The Hoosiers are not accustomed to landing ESPN 150 prospects, but not only did they get
Rashard Fant
, but they got him all the way out of Georgia.
Iowa
Biggest need:
After having several productive running backs over the past decade, the Hawkeyes are hurting in the backfield due to injuries and off-the-field issues.
Biggest recruit:
The Hawkeyes were after
Berkley Edwards
for a while, but once that fell through they put the screws to former Boston College running back commit
LeShun Daniels
. He flipped shortly after an official visit to Iowa.
Michigan
Biggest need:
Brady Hoke is transitioning to a pro-style offense, and he needed a pocket passer and a running back who makes his living in between the tackles.
Biggest recruit:
ESPN 150 quarterback
Shane Morris
is that pro-style quarterback, but he is also the unquestioned leader of Team 134 and helped put together one of the nation's top classes.
Michigan State
Biggest need:
The Spartans will lose their top two rushers from 2012, including Big Ten rushing leader
Le'Veon Bell
, so running back is a priority. They are bringing in two.
Biggest recruit:
ESPN 300 dual-threat quarterback
Damion Terry
is a capable thrower and runner, and he led his high school to a state title as a senior.
Andrew Maxwell
did not exactly lock down the starting quarterback job with his performance last season.
Minnesota
Biggest need:
Donnell Kirkwood
is a promising player at running back, but he struggled against some of the league's better defenses and wore down late in the season. A complement is sorely needed.
Biggest recruit:
Three-star running back
Berkley Edwards
is the younger brother of former Michigan receiver Braylon Edwards. Berkley is one of the Gophers' highest-rated commitments, and running back is a position that lends itself to an easy transition.
Nebraska
Biggest need:
Nebraska needs to return to its days of the Blackshirts, as the Huskers' defense was gashed on the ground all season. The Huskers need help along the defensive line.
Biggest recruit:
Elite 11 finalist
Johnny Stanton
is a dual-threat quarterback, but he's a much more polished passer than Taylor Martinez, who has taken his share of lumps since his flashy start in Lincoln.
Northwestern
Biggest need:
Now that the Wildcats are a legitimate threat in the Big Ten under Pat Fitzgerald, the next step is to get better athletes to compete with Michigan and Ohio State. Fitzgerald is doing that with
Ifeadi Odenigbo
in 2012 and
Godwin Igwebuike
in 2013.
Biggest recruit:
ESPN 300 dual-threat quarterback
Matt Alviti
had offers from some big programs including Notre Dame, but he chose nearby Northwestern. The Wildcats have an unsettled situation at quarterback, and as a local product Alviti could be called for by the fans if the quarterback play does not improve.
Ohio State
Biggest need:
Linebacker was the biggest need for the Buckeyes, and after a shaky start Urban Meyer wrapped up a nice haul at the position with ESPN 150 products
Trey Johnson
and
Mike Mitchell
.
Biggest recruit:
It's a tie between
Jalin Marshall
and
Dontre Wilson
, who are separated by just a few spots in the ESPN 150. Both have game-breaking ability as a receiver or out of the backfield.
Penn State
Biggest need:
Despite significantly improved play from Matt McGloin in 2012, the Nittany Lions have not been blessed with quarterbacks the past decade, with the exception of a few good seasons from Michael Robinson and Daryll Clark.
Biggest recruit:
While the class did field its share of decommitments, the damage would have been irreparable if No. 1 QB
Christian Hackenberg
bolted. By staying on, he instilled confidence in several other recruits to stay or join him in State College.
Purdue
Biggest need:
The quarterback situation at Purdue has been unsettled the past few seasons, which is not good when it comes to the most important position on the field.
Biggest recruit:
An Elite 11 finalist,
Danny Etling
stuck with the Boilermakers through the coaching change. He will be looked at as the future of the program.
Wisconsin
Biggest need:
While the Badgers always have a strong stable of backs, losing Montee Ball is going to hurt, especially in the red zone. Wisconsin addressed it with top commitment
Corey Clement
.
Biggest recruit:
The loss of Russell Wilson left a major void at quarterback, but the Badgers landed quarterback
Tanner McEvoy
on Monday. McEvoy is ranked No. 44 among juco prospects nationally and the expectation is he will contend for a starting job immediately.
January, 4, 2013
1/04/13
1:00
PM ET
Recruitniks have had today marked on their calendars for quite a while, but for those in the dark, the Under Armour All-America Game takes place tonight at 5 p.m. ET in St. Petersburg, Fla.
There's definitely a Big Ten flavor to the
starting lineups for the game

, unveiled Thursday afternoon. Nine players who have verbally committed to Big Ten teams will start in the game, led by Black team quarterback
Christian Hackenberg
, the Penn State pledge rated as the nation's top pocket passer by ESPN Recruiting.
Hackenberg and long-snapper
Tyler Kluver
, an Iowa commit, are the only Big Ten recruits on the Black squad. The White team includes even future Big Tenners.
Here's the full list ...
BLACK TEAM
QB Christian Hackenberg, committed to Penn State
LS Tyler Kluver, committed to Iowa
WHITE TEAM
Kugler also is serving as one of four captains for the White team. Conley is a one-time Michigan recruit who decommitted in November and switched his pledge to Ohio State in early December. After playing on the same team as Kugler, Dawson and Poggi on Friday, Conley definitely will be the enemy when they hit the college ranks.
April, 17, 2012
4/17/12
3:00
PM ET
The 2013 ESPN 150 -- our list of the top high school rising seniors in the country (now with less U!) -- was unveiled this afternoon. And the Big Ten's hand prints are all over the list, which you can find in its entirety
here
. (You can read more about the class, including spotlights on Penn State commit
Christian Hackenberg
and Ohio State recruit
Cam Burrows
,
here
).
Twenty players from the list have already committed to Big Ten schools. So of the 77 players who have committed, the Big Ten claims more than a quarter of them. The Big Ten only signed 12 players from the 2012 ESPN 150 list.
Michigan is responsible for the biggest portion of that haul. The Wolverines -- who have 17 total commitments for the '13 class -- boast 11 ESPN 150 prospects in their corner so far.
That's easily the most of any school in the country. Texas and Florida are next with seven ESPN 150 commits each, followed by Alabama and Georgia with six. Alabama had the top class in the country this year with 13 ESPN 150 signees. Michigan has a chance to compete for the top class ranking next year if this current group holds together and gets a few more notable additions. Brady Hoke and his staff have done an excellent job of locking up early pledges.
Ohio State is doing well, too. The Buckeyes currently have five ESPN 150 commits for Urban Meyer, including three in the top 55 of the list.
But the league school with the highest-ranked prospect so far is Penn State. Let's take a look at the players from the list who are currently committed to a Big Ten team:
No. 11:
Christian Hackenberg, QB, Penn State
No. 12:
Eli Woodard
, CB, Ohio State
No. 21:
Cam Burrows, CB, Ohio State
No. 37:
Shane Morris
, QB, Michigan
No. 39:
Adam Breneman
, TE, Penn State
No. 55:
Jalin Marshall
, ATH, Ohio State
No. 63:
Gareon Conley
, CB, Michigan
No. 75:
Mike McCray II
, OLB, Michigan
No. 92:
David Dawson
, OG, Michigan
No. 97:
Logan Tuley-Tillman
, OT, Michigan
No. 98:
Dymonte Thomas
, ATH, Michigan
No. 105:
Chris Fox
, OT, Michigan
No. 107:
Jourdan Lewis
, CB, Michigan
No. 112:
Kyle Bosch
, OG, Michigan
No. 113:
Matt Alviti
, QB, Northwestern
No. 115:
Taco Charlton
, DE, Michigan
No. 121:
Patrick Kugler
, OG, Michigan
No. 123:
Greg Webb
, DT, Penn State
No. 127:
Marcus Baugh
, TE, Ohio State
No. 142:
Evan Lisle
, OT, Ohio State
Here is where we issue the requisite word of caution, as these are only verbal commitments and it's a long way until signing day next February. Things can change a lot between now and then, and star rankings do not always predict college success. But clearly the Big Ten is doing a good job competing for the nation's highest-ranked prospects during this recruiting cycle.