NCF Nation:

Jamaal Charles
January, 21, 2010
1/21/10
11:54
AM ET
By
Tim Griffin
| ESPN.com
Mack Brown revived the glory at Texas in the last decade, claiming at least 10 victories in each of the last nine seasons, including a 25-2 record in the last two seasons. The Longhorns have finished in the top 10 in five of the last six seasons.

Darrell K. Royal/Texas Memorial Stadium now has more than 100,00 seats. The Longhorns have a designated successor for Brown in place with rising star Will Muschamp. And that pesky problem with Bob Stoops has been alleviated recently with four victories in the last five seasons over the Sooners.

Times are good for Brown.

Here's a look at the Longhorns' all-decade team during that time.

OFFENSE

QB: Vince Young

RB: Jamaal Charles

RB: Cedric Benson

WR: Jordan Shipley

WR: Roy Williams

TE: David Thomas

OL: Justin Blalock

OL: Jonathan Scott

OL: Derrick Dockery

OL: Leonard Davis

C: Lyle Sendlein

DEFENSE

DL: Brian Orakpo

DL: Cory Redding

DL: Shaun Rogers

DL: Casey Hampton

LB: Sergio Kindle

LB: Derrick Johnson

LB: Roddrick Muckelroy

DB: Earl Thomas

DB: Michael Huff

DB: Nathan Vasher

DB: Aaron Ross

P: Richmond McGee

K: Hunter Lawrence

KR: Quan Cosby

Offensive player of the decade: QB Vince Young. The most electrifying player of the decade capped his career by scoring the game-winning touchdown to lead his team to the national championship in his final drive. Brown finished with a 30-2 record, 6.040 passing yards and 3,127 rushing yards.

Defensive player of the decade: LB Derrick Johnson. He wasn't around when the Longhorns won the national championship, but was perhaps the best player at his position at the school since Tommy Nobis. He capped his career with the Nagurski and Butkus Awards after earning All-America honors in each of his last two seasons.

Coach of the decade: Mack Brown. Remember when people used to joke about his inability to win big games or how he coddled his players. That all changed as the decade progressed. Brown got tougher and made some astute moves at defensive coordinator to help his program take the next step with the addition of coaches like Gene Chizik and Will Muschamp.

Moment of the decade: Vince Young's run leads comeback victory to the 2005 national championship. Young's game-winning 8-yard TD run with 19 seconds left boosted the Longhorns to a 41-38 victory over USC in the 2006 Rose Bowl, providing the margin of victory in one of the greatest college football games in history. Michael Huff's fourth-down stop of LenDale White on the preceding drive set up Young's heroics to snap the Trojans' 34-game winning streak.
December, 3, 2009
12/03/09
11:57
AM ET
By
Tim Griffin
| ESPN.com
If Nebraska has any hopes of stunning Texas Saturday night in the Big 12 championship game, the Cornhuskers' defense will be the major key.
The Cornhuskers have developed into one of the nation's stingiest defenses after allowing only one opponent to score more than 21 points against them so far this season. But they will have to play one of their best games of the season to boost them to their first Big 12 title since 1999.
[+] Enlarge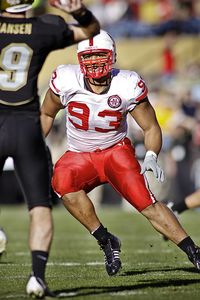 Marc Piscotty/Icon SMINdamukong Suh and the Nebraska defense will need to contain Colt McCoy in Saturday's game.
"You hope when you have a challenge that is so great that it brings out the best in your team," Nebraska coach Bo Pelini said. "I think our kids have an edge to them that should help them out. They have things to prove and this gives you the next opportunity. It's a tremendous challenge and one that we look forward to."
The Longhorn offense is third in the country in scoring (43.0 points) and 11th in total offense (451.6 yards). Texas is one of the most balanced offenses in the country after running the ball 447 times and passing it 462 times this season.
"They do everything well," Nebraska defensive tackle Ndamukong Suh said. "They have balance and great receivers. I don't see a problem in their offense. They have a mobile quarterback who can hurt you with his arm and his feet. It will be a big challenge that we'll be up for."
Nebraska is third in the country in scoring defense (11.1 points) and 11th in total defense (291.4 yards). The Cornhuskers rank among the top 25 teams nationally in six major defensive statistical categories -- rush defense, pass efficiency defense, scoring defense, total defense, sacks and pass defense.
Their star-studded defensive cast is headed by their strength inside with Suh and Jared Crick, who are the best pair of defensive tackles in the Big 12. Suh undoubtedly is the best defensive player in the conference and maybe in the nation. Crick is a solid producer who set a school single-game record for sacks earlier this season with five against Baylor.
The secondary also is dotted with playmakers, including All-Big 12 first-team selections Larry Asante at safety and cornerback Prince Amukamara.
The Nebraska talent has caught the attention of Texas quarterback
Colt McCoy
, who says it could be the toughest defense he has faced this season.
"They're really physical," McCoy said. "They're really well coached. You see that on the film. They're not going to make mistakes. They're just really good at what they do. It's going to be a huge challenge for us."
The team that has been the most successful against the Longhorns this season was Oklahoma, which brought a variety of new blitz packages against McCoy. It caused him to fumble and throw an interception in his worst game of the season.
[+] Enlarge
Manny Flores/Icon SMIJared Crick recorded a school-record five sacks earlier this season against Baylor.
Pelini was a former member of the Oklahoma staff and has several close friends still there, including defensive coordinator Brent Venables and coach Bob Stoops. It wouldn't be a surprise if Pelini had contacted the Oklahoma coaches to find out what they thought was successful against McCoy.
Former Nebraska defensive coordinator Kevin Cosgrove elected to utilize a similar strategy against McCoy and Texas in 2007. While they blitzed on virtually every down, the gambling strategy paid off for a 17-9 Nebraska lead after three quarters.
The Longhorns adjusted in the fourth quarter with a heavy use of a zone-read play with Jamaal Charles, who rushed for 216 of his 290 yards in the fourth quarter alone. The result was a wild 28-25 comeback victory for the Longhorns.
McCoy, then a sophomore, struggled in that game by completing only 12 of 28 passes for 181 yards.
But that Texas offense and McCoy's sputtering performance is a marked contrast from this season, when he's developed into the conference's best offensive player and a likely finalist for the Heisman Trophy.
"He can do it all," Asante said. "He can look you off, come back the other way. He can scramble. He's a better runner now. ... He's a better passer, more accurate. He's just an overall good quarterback."
In order to combat McCoy, Nebraska defensive coordinator Carl Pelini has said that his team can't afford to rush four down linemen and send seven players back in pass coverages.
One key might be gleaned from a defensive alignment that was used regularly against Colorado. The Cornhuskers used a five-man front with six defensive backs. It was the defense that was employed when safety Matt O'Hanlon produced a 20-yard interception return for a touchdown.
"I believe we have to play mistake free defense," Asante said. "We have to put it together and play the best football we've played all year to beat these guys. It's as simple as that."
November, 10, 2009
11/10/09
12:34
PM ET
Posted by ESPN.com's Tim Griffin
As Texas streaks to its second 9-0 start since 1983, it's understandable that some are already comparing this year's team to the other team that started that fast.
Texas' 2005 national championship team is the benchmark for all of the other Texas teams coached by Mack Brown. And this team appears to be the closest to the national championship squad in many respects.
While Brown says such comparisons are premature, he does say his current team's fast start makes for some inevitable comparisons.
| | |
| --- | --- |
| | |
| | Brendan Maloney/US Presswire |
| | Colt McCoy and the Longhorns have drawn comparisons to the 2005 national championship team. |
"I would think you could compare them because there's been only one close game for this team and for that team in 2005," Brown said. "It was the Ohio State game in 2005 and the Oklahoma game this year that was in question late in the ballgame."
But in order to meet the challenge of matching the 2005 team,
Colt McCoy
's team will have to match the finishing kick of Vince Young's team.
"At this time, they've earned the right to be in conversation with the 2005 team," Brown said. "But they haven't earned the right to be considered as good because they have to finish like that bunch did."
The 2005 national championship led the conference in 11 statistical categories; the current team leads it in five. The 2005 team was the nation's leading scoring team and led the nation in pass efficiency. The current team is more defensively oriented as it leads the nation in rushing defense and scoring defense and ranks second in kickoff returns.
The 2005 title team ranked 10th or better in 10 of the 17 team statistical categories tracked by the NCAA. The 2009 team ranked 10th or better in eight of those team statistical groups.
Here's a position-by-position comparison of the two teams:
Quarterbacks:
Both teams featured quarterbacks who were involved in the Heisman Trophy race. The 2005 team had Vince Young, a multi-purpose player who accounted for 3,036 passing yards and 26 touchdown passes. Most importantly, he provided leadership for a team that had never won a Big 12 title under Brown. McCoy redshirted on that team, earning the opportunity to soak up lessons watching Young's leadership. He's capping the most productive statistical career for a Texas quarterback by passing for 2,447 yards and 17 touchdowns with at least three games remaining -- not counting a potential Big 12 championship game and a bowl. And his leadership skills are comparable with Young's in guiding his team to an undefeated season so far.
Edge: Even
Rushing game:
The 2005 team relied on Young, who rushed for a team-high 1,050 yards and scored 12 touchdowns and also had a strong starter in Jamaal Charles and an outstanding change-of-pace player in Ramonce Taylor. That team produced 55 rushing touchdowns and had five different backs with eight rushing touchdowns or more. The current team's rushing game might be its major weakness without a featured rushing threat, as no current back has rushed for more than 275 yards. Depending on game situations, the team has utilized any of three starters, but its most consistent producer has been
Cody Johnson
, who will become its fourth starter this week against Baylor.
| | |
| --- | --- |
| | |
| | Mark J. Rebilas/US Presswire |
| | Vince Young quarterbacked the 2005 Texas team to the national title. |
Edge: 2005 Texas
Receivers/Tight end:
The 2005 team had a stacked collection of receivers led by top deep threat Billy Pittman and Limas Sweed. But the most consistent receiving threat for Young was tight end David Thomas, who produced 50 receptions, including a career-best 10 in the BCS title game victory over USC. But that team had no receiving threat to match
Jordan Shipley
, who has already produced 75 catches, four double-figure reception games and broken the school single-game receiving yardage record.
Dan Buckner
developed early into a receiving threat at flex end and
Malcolm Williams
,
James Kirkendoll
and
John Chiles
all have been strong in an offense that has lived by short passes. But Shipley has been the focal point of a passing game that features short, quick passes as its primary offensive weapon.
Edge: 2009 Texas
Offensive line:
The 2005 team featured three-first team All-Big 12 picks in Justin Blalock, Jonathan Scott and Will Allen. Because of Young's mobility, that team allowed only 14 sacks and produced 5.9 yards per carry and 55 rushing touchdowns. The current team is nearly as strong with key players like Adam Ulatoski, Charlie Tanner and Chris Hall, who have currently combined for 99 career starts and should be peaking as the season continues. The current team is producing 3.9 yards per carry, 16 sacks and 20 rushing touchdowns.
Edge: 2005 Texas
Defensive line:

The 2005 team featured first-team All-Big 12 players like Rodrique Wright and Tim Crowder and pass-rushing specialist Brian Robison, a converted linebacker who led the team with sacks. But that team didn't feature anybody as proficient as Sergio Kindle or a run-stuffing tackle like Lamarr Houston. It's the main reason the current Texas team leads the nation in rush defense (55.33 yards per game), total defense (230.78 yards per game) and ranks in the top 20 in both sacks and tackles for losses. The 2005 team was 39th nationally in sacks and 29th in tackles for losses.
Edge: 2009 Texas
Linebackers:
The 2005 unit was at its weakest at linebacker where no players earned All-Big 12 first-team or second-team designation. Robert Killebrew was that team's only player to earn honorable mention. The current team features an anchor in the middle in senior linebacker Roddrick Muckelroy, flanked by Keenan Robinson and Emmanuel Acho. Will Muschamp's unit seldom uses three linebackers except in run-stuffing situations, preferring to use a nickel formation. But his current group still has the edge at linebacker over the championship team.
Edge: 2009 Texas
Secondary:
The 2005 team might be one of the great college units of all time. That team featured the Thorpe Award winner in Michael Huff and another all-league player in Cedric Griffin. Huff, Cedric Griffin, Michael Griffin, Aaron Ross and Tarell Brown all were drafted in the NFL and had eventual pro careers. The unit was nearly impermeable as it broke up 85 passes and permitted only two teams to pass for more than 200 yards against them. The current group is young and skilled and might develop into as strong of a group with experience.
Earl Thomas has played like the best defensive back in the country this season with six interceptions, including two touchdown returns. Curtis Brown, Chykie Brown, Aaron Williams and Blake Gideon have already helped the defense combine for 16 interceptions. And the group is playing with swagger as the season continues.
The current group could match the eventual production of the 2005 team, but it still has to get there.
Edge: 2005 Texas
Special teams:
Neither team had to punt very often, but Hunter Lawrence has a narrow edge over David Pino at kicker for his consistency and range. The biggest difference is in the return game. The current team features two threats with D.J. Monroe (two TDs, 36.5 yards kick return average) and Shipley (14.5 punt return average, two TDs), giving it an edge over Ramonce Taylor and Aaron Ross (14.7 punt return average, two TDs).
Edge: 2009 Texas
Coaching:
With largely the same cast of coaches, the 2009 team appears to be better coached. In 2005, Brown was trying for his first Big 12 title and utilized defensive co-coordinators with Gene Chizik and Duane Akina. It often seemed that the individual talents of Young took over the game during that championship season. But this team features a better job by Greg Davis as he compensates for his team's lack of a consistent running game by developing a crafty passing game utilizing quick short passes. And the defense has taken big steps this season in its second season under Muschamp.
Edge:2009 Texas
Intangibles:
The 2005 team was trying to become Brown's first Big 12 title team and played well throughout. It started with a dramatic comeback victory over Ohio State and continued with a run through the Big 12 that featured no victory less than 19 points. The 2005 team needed a comeback over Oklahoma State, but Young helped the team peak as the Longhorns scored at least 40 points in 12 games. The team rolled to victories of 62, 52 and 11 points in November before notching a record-breaking 70-3 triumph over Colorado in the Big 12 title game and the 41-38 BCS title game victory over USC.
This team hasn't faced many tests, although it did handle Oklahoma in a 16-13 triumph that ranks as its closest margin. Other than that game, the 2009 Longhorns have rolled up at least 34 points in every game and allowed more than 20 points on only two occasions. But it still has its chance to finish strongly in November like the 2005 team did.
Edge: 2005 Texas
If they met:
The 2005 team still would merit a slight edge, mainly because this team doesn't have a transcendent talent like Young. But the current team is developing and could have a chance to match the championship with a strong finish.
Edge: 2005 Texas
October, 23, 2008
10/23/08
1:55
PM ET
Posted by ESPN.com's Tim Griffin
When Jamaal Charles declared for the NFL draft after last season, most thought the Texas running game left with him.
An untested group of young and seldom-used running backs was perceived as Texas' biggest offensive weakness coming into the season. But that collective lack of identity has helped forge a running attack that has been an underrated secret in the Longhorns' charge to top spot in the BCS standings.
| | |
| --- | --- |
| | |
| | Dustin Bradford/Icon SMI |
| | Chris Ogbonnaya has bounced around several different positions before finally settling into the starting job as tailback. |
Chris Ogbonnaya, Vondrell McGee and Cody Johnson have shared carries and playing time throughout the season. Texas coach Mack Brown calls his collection of running backs the most unselfish group he's ever coached.
"It's been unbelievable," Brown said. "You hear nothing from them about who's playing enough, who's carrying the ball. In fact, it hasn't been mentioned this year. Maybe for the first time in my coaching career, somebody hasn't said, 'Why aren't I getting it more? Why aren't I getting more touches?'"
Some of that attitude stems from Ogbonnaya, who has bounced around several different positions before finally settling into the starting job as tailback the last two games.
"What I've tried to do is just remain consistent and be a good example for all of the other backs and the other guys on the team," Ogbonnaya said. "If you continue to work hard and rededicate yourself, you'll be successful."
And maybe re-invent yourself as well.
Ogbonnaya came to Texas as a projected wide receiver after playing quarterback at Strake Jesuit High School in Houston. He moved to tailback after arriving at college and then switched to fullback to go with Charles in the backfield. A stint as a third-down back followed because of his prowess as a receiver.
But after Charles left, coaches came to him with the idea of moving back to tailback. Ogbonnaya lost weight and has emerged as a surprising force in Texas' backfield as a runner and receiver.
"I've just wanted to help us out as much as I could, whether in rushing, pass receiving or blocking," said Ogbonnaya, who made his first career start earlier this season against UTEP in his 34th career game. "Every part is intricate. I've just tried to do what they've asked me, whatever the role."
Before the season, Fozzy Whittaker was expected to emerge as the starter because of his speed and explosiveness. He's struggled with a knee injury sustained late in training camp and has been limited to 14 carries this season.
McGee was considered to be a better move-the-pile runner, Ogbonnaya a best receiving threat and pass blocker and Johnson as a bruising goal-line specialist.
The individual talents of any of those three backs weren't expected to send shivers through too many defensive coordinators. But collectively, they've been than Brown ever could have imagined heading into Saturday's game against No. 6 Oklahoma State.
The trio of Johnson, Ogbonnaya and McGee has combined to rush for 742 yards and 14 touchdowns. All three backs are ranked among the Big 12's top 25 rushers. And if their contributions were combined, they would rank second in the conference and among the top 20 rushers nationally in rushing.
"The thing has been that we've all given good consistent effort and just tried to do the game plan," Ogbonnaya said. "When any of us have had the opportunity to play, we've tried to do it. Consistency has been the thing that all of us have strived for."
Whittaker returned to the lineup last week, rushing for 72 yards on 12 carries after missing the previous four games. His comeback will only boost the strength of the group whose blue-collar mindset mirrors that of the Longhorns.
The unselfish attitude of the running backs was clear to Brown after watching his team practice earlier this week.
"These guys came out and practiced like it was OU week," Brown said. "I think it's a compliment to their character more than anything else. They want to play. A lot of these guys have waited their turn and it's their turn now."