May, 28, 2014
May 28
1:00
PM ET
BATON ROUGE, La. -- Les Miles has never been afraid to play a true freshman --
LSU
's sports information department reports that the Tigers have played 87 first-year freshmen in Miles' nine seasons -- but it has become one of the program's trademarks only in recent years.
The Tigers ranked among the nation's top-five programs at playing freshmen in each of the last two seasons -- 14 freshmen in 2013 (third) and 15 in 2012 (fifth) -- and Miles has all but guaranteed at least 15 more will see the field this fall once a
star-studded recruiting class arrives on campus
.
It has quickly become a calling card for Miles' staff on the recruiting trail.
[+] Enlarge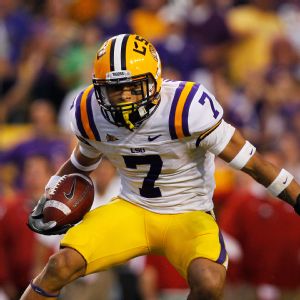 AP Photo/Aaron M. SprecherTyrann Mathieu is one of many LSU players in recent years who've had a chance to contribute as true freshmen.
"I think kids like that about LSU," offensive coordinator Cam Cameron said. "They like our style, they like Coach Miles' philosophy that young guys are going to play early, which we do. I think we've averaged maybe ... at least 15 freshmen a year playing. And so all that plays into recruiting.
"You can't guarantee a guy he's going to play, but if he knows he's given the opportunity and he's got confidence in his ability, the track record speaks for itself. Come in and help us win and here's the key thing, I think, that I've learned since being here is our veteran players -- our juniors and sophomores and redshirt sophomores and so forth -- they expect young guys to come help them play. They're not afraid of young guys coming in and playing with them."
Considering its recent history at the position group, it should come as no surprise that LSU recruiting coordinator Frank Wilson traces the development of this trend back to the arrival of key players in the secondary. The wheels were set in motion when cornerbacks
Patrick Peterson
and
Morris Claiborne
contributed as true freshmen in
2008
and
2009
, respectively, but the freshman movement truly took off with the
2010 class
that featured
Tyrann Mathieu
,
Eric Reid
and
Tharold Simon
.
Those players -- and several others who played bigger roles the next season when LSU won an SEC championship -- started to show what they could do in the second half of their freshman seasons, capped by an
impressive win against Texas A&M in the Cotton Bowl
where Mathieu, Reid and Simon all intercepted passes.
"It really hit because we had three guys in the secondary because so many spread defenses came (along), so we played a lot of nickel and a lot of dime with five and six defensive backs there," Wilson recalled. "So Tyrann Mathieu took to the field, Tharold Simon took to the field as well as Eric Reid, and then offensively
Spencer Ware
began to emerge, et cetera. So probably in that class, the class of [2010], it kind of hit a high point from that point on. These guys have relished and looked forward to the opportunity to contribute as freshmen, and we like it."
Mathieu went on to become the 2011 SEC Defensive Player of the Year, a first-team All-American and a Heisman Trophy finalist thanks to his dynamic playmaking ability. Reid also became an All-American and first-round NFL draft pick. Simon didn't earn the same level of acclaim in college, but he was still able to jump to the NFL after his junior season and become a draft pick himself.
All three players had eligibility remaining when they left LSU, which exemplifies the greatest contributing factor in the program's recent trend of playing youngsters. No program has had more players enter the draft early in the last couple seasons than LSU, and those departures created holes that talented freshmen could fill.
LSU recruited toward that end for this year's class and cashed in on signing day when it landed the
nation's No. 2 recruiting class
, one that featured the top overall prospect in tailback
Leonard Fournette
, the No. 1 receiver (
Malachi Dupre
), top guard (
Garrett Brumfield
) and 16 players who made the
2014 ESPN 300
.
"We knew our needs, we knew what we wanted to get," Wilson said of signing day. "We targeted certain guys, so there was never a panic on our part. We kind of knew early on by way of communication and feedback who we're in good shape with and who we're not and have a plan on people to place and sign in those positions."
Tailback and receiver will certainly be manned at least in part by freshmen this season, and many other freshmen such as quarterback
Brandon Harris
, safety
Jamal Adams
and linebacker
Clifton Garrett
also might follow Mathieu, Reid and Simon's lead by playing key roles this fall.
LSU isn't the only school that relies heavily on young players, but it has quickly gained a reputation as a trendsetter in that regard.
"I think that's a little unique," Cameron said. "Sometimes guys are afraid of young players coming in and taking their position, but here I don't sense that. I sense guys like the competition and they know we're going to need everybody to win a championship."
March, 28, 2014
Mar 28
9:00
AM ET
BATON ROUGE, La. -- Les Miles' official title is head football coach at
LSU
, but he might as well add "fortune teller" to the list of roles he fills in his job.
On some level, every big-time college football coaching staff deals with the dilemma that Miles currently faces, but a spate of NFL early entries in recent seasons has made predicting the future an even more vital element in LSU's success. Specifically, Miles and his staff must lead an incomplete 2014 squad through 15 spring practices while also attempting to project whether players who aren't yet on campus will be ready to play key roles this fall.
[+] Enlarge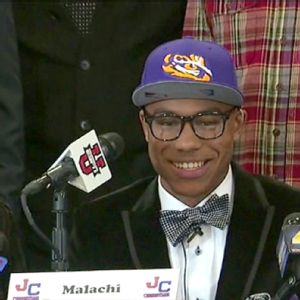 ESPNMalachi Dupre won't be on campus until this summer, but he's one of several LSU freshmen who could vie for playing time immediately.
"We absolutely have to," Miles said after last Saturday's scrimmage. "I think we're trying make a determination as we design the summer plans that, 'This is where this guy's going to be, this is where this guy's going to be' and how to operate it.
"I think the skill players on offense are going to be musts and I think the skill players on defense, with the safeties stepping in there and being able to play -- I just think the recruiting class will hit us just where we need to be hit."
At some positions, LSU's needs are great. At others, it's simply that the caliber of athlete is high enough that Miles' staff knows to include him in its 2014 plans. In some cases, both scenarios are in play.
Take receiver and running back, for example.
When 2014 signees
Malachi Dupre
-- the nation's No. 1 receiver prospect -- and tailback
Darrel Williams
showed up to observe the Tigers' first spring practice, Miles joked afterward that he wished the two players could have participated in the team's workout.
The Tigers are short on proven performers at receiver -- and thanks to several recent injuries at the position, they've been short on warm bodies to even run through drills -- and have only two scholarship tailbacks available this spring.
Those depth shortages are a direct result of several NFL draft early entries in the last couple of seasons. LSU lost two tailbacks to the draft after the 2012 season and two more this year when
Jeremy Hill
and
Alfred Blue
both turned pro. It's a similar story at wideout, where the only two accomplished players on the roster,
Odell Beckham
and
Jarvis Landry
, opted to skip their senior seasons.
Miles' staff addressed those issues in phenomenal fashion on signing day, adding Williams and the nation's No. 1 overall prospect,
Leonard Fournette
, at tailback, plus arguably the top collection of receivers that any program signed in 2014 -- a group that also includes No. 3 wideout
Trey Quinn
and two more ESPN 300 recruits in
D.J. Chark
and
Tony Upchurch
.
The problem is that no member of that group is on campus yet, forcing LSU's coaches to both evaluate what they have at present and how the signees' summer arrival will affect the group dynamic.
"I just think that some of those guys are going to get first-[team] snaps," Miles said of the receiver signees. "They're going to be advantages for us and we've got to use them well."
As Miles mentioned, a high-quality group of safety signees could dent the depth chart in similar fashion. The Tigers have a few returning veterans and have moved
Jalen Mills
over from cornerback to shore up their needs at safety, but signees such as No. 2 safety
Jamal Adams
, ESPN 300 prospect
Devin Voorhies
and
John Battle
could shake up the competition in August.
It's not that those players' absences have made this spring useless for LSU. But Miles and his staff must function this spring with the knowledge that they're coaching an incomplete roster.
That's not much different from Alabama or Texas A&M or Auburn, which also lost players to the draft and have key signees who haven't arrived, but the situation is more extreme in Baton Rouge. If Miles balances the magician part of his job correctly, perhaps he can pull a rabbit out of his famous hat by the end of August, when the Tigers open the season against Wisconsin in Houston.
"Here's what you get out of 15 practices in the spring of the year: You practice the team that you have with you and you advance them and get them taught and get them improved. You teach technique and whatever you can get to, you get to with that team," Miles said recently.
"Before the next team, that next part of your team, shows up, you anticipate where your direction goes. You anticipate that, 'That guy goes here and that guy goes here' and you fit it. Then in the first game, you hope that you prepared them well enough to win and play well in the first game. If you win and play well in the first game, you're all on track."
September, 12, 2013
9/12/13
11:00
AM ET
AUSTIN, Texas -- Their paths don't cross much on the recruiting trail, and what they're selling isn't all that similar.


Texas offers tradition and the 16-year track record Mack Brown has built, the national titles he's won and played for, the titles he expects to play for again soon. Ole Miss has traditions, too, but it's now a younger program led by second-year coach Hugh Freeze that's trying to rise up in the SEC.
Old School vs. New School? Not quite, but not far off in the eyes of some recruits.
The matchup this Saturday of No. 25 Ole Miss and Texas is no doubt an intriguing one when viewed through the lens of recruiting. Both schools are among the nation's best on that front.
Texas has had top 10-ranked recruiting classes in seven of the past eight years. Being a power in those rankings is nothing new for the Longhorns. But in Freeze's first year, Ole Miss stunned the recruiting world by signing the No. 5 class in the country, highlighted by No. 1 overall recruit
Robert Nkemdiche
, five-star receiver
Laquon Treadwell
and several other four-stars who will take the field Saturday night.
"He's done a great job," Texas coach Mack Brown said of Freeze. "I can't remember what they did after our game, but they finished very strong, had the best recruiting year in the country and now they've got a great start. It's great timing for us to bring a really good SEC team in here and challenge us before we get started in conference play. I'm excited about the challenge."
Ole Miss went 7-6, but Freeze still capitalized on the annual phenomenon of coaches having first-year recruiting success. The relentless efforts he and his assistants make in recruiting are drawing attention.
There was also good fortune. Nkemdiche's brother played for Ole Miss. Treadwell's best friend did, too. Freeze proudly said on signing day that those ins were "God's favor to us," though the popular (and unproven) assumption among skeptics was that the Rebels had cheated.
[+] Enlarge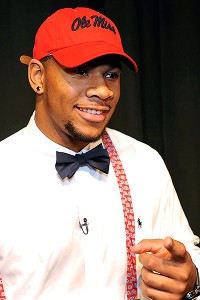 AP Photo/David TulisThe nation's No. 1 overall recruit, Robert Nkemdiche, led Ole Miss' recruiting success.
One thing was certain: Ole Miss sent a message on Feb. 6 when Nkemdiche, No. 1 tackle
Laremy Tunsil
and No. 2 safety
Tony Conner
all made signing-day decisions for the Rebels on national TV.
Jamal Adams was watching. The ESPN 300 safety from Lewisville (Texas) Hebron called that Ole Miss class "the best yet" and is convinced the Rebels are on the rise.
"They have the potential to go far in the next few years," Adams said.
Adams has both Ole Miss and Texas in his top six and will take official visits to Oxford next month and Texas in November. He said most schools recruit him the same, but there is one thing Freeze's staff does that caught him by surprise.
"They stay on you, giving you Bible verses every morning," Adams said. "It's cool at times."
Ole Miss has offered more than 25 recruits from the state of Texas in this class and signed three Texans last year. Landing a big fish like Adams would do wonders for Freeze's goal of making his program a national recruiting power.
"Recruiting in Texas has been big to us," Freeze said Monday. "We've certainly picked up some momentum there. Going over there and doing well would provide dividends."
Adams is as critical a target as any for Texas right now, a kid Mack Brown and his coaching staff has been recruiting for years. The approach they've taken -- not just with Adams, but all targets -- has undergone impressive changes in the past six months.
The hiring of Patrick Suddes in March to lead a new player personnel department has been a boon for the Longhorns' recruiting efforts. They're working hard to shed that "old school" label and modernize how Texas evaluates and pursues prospects.
Three-star Longview (Texas) defensive tackle Zaycoven Henderson is keeping a close eye on both schools. He recently decommitted from TCU and has Texas and Ole Miss in his new top six. The moment he received an offer from the Rebels was a special one.
"I was like, dang. Nkemdiche, the No. 1 defensive end in the nation, is going to Ole Miss. And then when I got the offer, I was pumped up about it," Henderson said. "I was like, 'Man, I can go play with the No. 1 player in the nation.' Not everybody can say that."
He was raised by diehard Texas fans with Longhorn emblems on all their cars. Mom and dad love Texas, and his best friend Dorian Leonard has already committed to UT. He'll visit Austin next weekend and has a feeling both schools can be atop the college football world someday soon.
"Texas is very similar to Ole Miss in their recruiting style," Henderson said. "Either you want to go to Texas or you don't. They want to know that from the start, if you have any interest in them. If you do, they want to talk to you."
Like the Twitter-savvy Freeze, Suddes has helped refresh Texas' recruiting methods on social media. On the first day they were permitted, he and Mack Brown were up late into the night sending Twitter and Facebook messages to 2015 recruits on Sept. 1.
They've held new recruiting events and ramped up their efforts with that 2015 class to the point that they're in the lead for most of the state's best. The point isn't to put together one great class. It's to stay ahead and work on two or three at a time, advancing your message and brand in as many ways as possible.
Freeze undoubtedly subscribes to that philosophy. He admitted on signing day it takes two or three elite classes to build a title contender. He proved in Year 1 he'll compete with anyone.
Now that includes Texas. The Rebels and Longhorns will square off Saturday night at DKR, but that won't be the last time they battle.