July, 5, 2013
7/05/13
11:00
AM ET
Six ACC players were selected Friday to the watch list for the Paul Hornung Award, given annually to the most versatile player in major college football.
They are:
The ACC ranks second behind the SEC in players selected for the watch list. Last season, Diggs and Johnson ranked in the Top 10 in the nation among all-purpose runners. Golden was the only player to rank in the top 10 nationally in both kickoff and punt return average last season.
March, 28, 2013
3/28/13
5:00
PM ET
An amazing stat for you: Last year, Georgia Tech sophomore
Jamal Golden
racked up 952 all-purpose yards -- and he didn't play
one single snap
on offense.
The versatile defensive back made a name for himself in the Jackets' return game, as he was the only player in college football to rank in the top 10 nationally in punt returns (6th, 14.59) and kickoff returns (10th, 28.35).
What could he possibly do for an encore in 2013? Anything that helps add up to points.
[+] Enlarge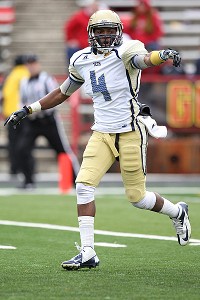 Mitch Stringer/USA TODAY SportsGeorgia Tech kick returner Jamal Golden expects teams to scheme against him more this season.
Golden is a humble player who is quick to give credit to his teammates and special teams coach, and his only goal for 2013 is to either score more himself, or help put the offense in better position to do the same.
"It's just about the schemes and the other 10 guys on the field wanting to help me do it," he said. "Once they do their job, they make my job easy. They do the dirty work, and I try to reward the team with some points.
"There's no point in being back there returning if you don't want to score," he said. "I was looking to score pretty much every time I caught a kick or a punt. I just want to thank coach [Dave] Walkosky."
There's no question Walkosky made a difference last season as the first special teams-only coach that Paul Johnson has hired during his tenure in Atlanta. Prior to 2012, Georgia Tech had not returned a kickoff for a touchdown since Oct. 31, 1998. Last year, in Walkosky's first season, Golden did it twice. On Oct. 27 against BYU, he returned a kickoff 97 yards for a touchdown and finished with 174 yards total off five kickoff returns. He topped that performance two weeks later at North Carolina when he returned a kick 100 yards for a touchdown and finished with 261 all-purpose yards.
Golden's electric returns overshadowed the fact that he was second on the team with three interceptions and returned them a team-high 52 yards.
"It's no big deal to me," he said of being recognized more in the return game than in the secondary. "I don't care about praise, I just care about getting the 'W.'"
It should come as no surprise that Golden likes to have the ball in his hands. He was a talented dual-threat quarterback at Wetumpka (Ala.) High School -- the same school of former quarterback
Tevin Washington
. He also loves baseball (it's actually his favorite sport), and briefly joined Georgia Tech's team as a centerfielder in 2012.
This spring has been the first time he has focused on only one sport -- and he said he's made a difference.
"It was kind of a shock to me, but it gave me time to do the work in the weight room that I needed," he said. "It gives me time to focus on my classes, I can watch film when needed, I can stay in the weight room consistently instead of having to leave early to go to another practice or something like that. It's benefited me, but I do miss it."
Golden knows it's going to be hard to duplicate last season's numbers, because he's not a secret anymore, but that certainly won't stop him from trying.
"Anytime you make a play at any position, not just kick returner, people are going to notice you and probably scheme against you," he said. "I expect it to be kicked away from me or kicked around me. I just have to play it by ear and take it as it comes."
December, 31, 2012
12/31/12
6:26
PM ET
Georgia Tech scored a
21-7 upset victory
over the
USC Trojans
in the Hyundai Sun Bowl. The Yellow Jackets got good production from the quarterback spot --
Tevin Washington
and
Vad Lee
both threw touchdown passes and Washington added a scoring run -- and a strong defense to get the win.


Game was over when:
Jamal Golden
intercepted a
Max Wittek
pass at the goal line with just over a minute left. The score was 21-7 in favor of Georgia Tech, but the Trojans had driven the ball for a late scoring attempt before the Wittek pass was tipped by
Quayshawn Nealy
into the arms of Golden. Golden also had a key punt return in the third quarter while Nealy had an end-zone interception of his own earlier in the fourth quarter.
Game ball goes to:
Georgia Tech's defense, a unit that gave up 30 points per game and was facing a USC offense that came in averaging over 34 points per game. The Yellow Jackets held the Trojans to a touchdown, and the only opponent to score fewer points this year against Georgia Tech was the
Presbyterian Blue Hose
, who scored a field goal. USC came into game averaging over 450 total yards per game and was held to 205. The Yellow Jackets limited 2012 Biletnikoff Award winner
Marqise Lee
to six catches for 41 yards.
Stat of the game:
USC's inability to convert. The Trojans were 3-of-16 on third- and fourth-down conversion attempts. That includes a stretch of six consecutive drives to begin the second half that were either three-and-out or turned over on downs.
What Georgia Tech learned:
What it feels like to win a bowl game for the first time in eight years. The Yellow Jackets had lost seven straight bowl games prior to Monday's win.
What USC learned:
That the 2012 season was disappointing to the end.
November, 29, 2012
11/29/12
5:00
PM ET
Florida State is in. The Jackets are in. How they got here is a moot point. One of them will be crowned ACC champ on Saturday. Here's a primer for those of you who need to get caught up:
Who:
No. 13 Florida State (10-2, 7-1 ACC) vs. Georgia Tech (6-6, 5-3 ACC)
What:
Dr Pepper ACC Championship game
When:
Saturday at 8 p.m. ET


Where:
Bank of America Stadium, Charlotte, N.C.
TV/Radio:
ESPN
Twitter:
#ACCFCG
The coaches:
Jimbo Fisher:
29-10 (third year) at Florida State and overall
Paul Johnson
: 39-25 (fifth year) at Georgia Tech; 146-64 (16th year) overall
The series:
All games:
Florida State leads 12-9-1;
In bowls and at neutral sites:
First meeting
In ACC play:
Florida State leads 12-2
Last meeting:
Georgia Tech 49, Florida State 44 (Oct. 10, 2009 at FSU)
FSU title game history:
Florida State will be seeking its 13th ACC championship. The Seminoles won or shared the title for the first nine seasons after they joined the conference (1992-2000), and went on to capture the national championship in 1993 and 1999. The Seminoles were also ACC champions in 2002, 2003 and 2005. FSU is making its third appearance in the ACC championship game. The Seminoles defeated Virginia Tech 27-22 in the inaugural event in 2005 in Jacksonville, Fla., and suffered a 44-33 loss to the Hokies in 2010 in Charlotte.
GT title game history
: The Yellow Jackets captured their first of two ACC titles in 1990, when they went on to claim the national championship. Georgia Tech shared the title with Florida State in 1998. The Yellow Jackets are making their third appearance in the ACC championship game since its inception in 2005. Georgia Tech suffered a 9-6 loss to Wake Forest in the 2006 championship game in Jacksonville, Fla. The Yellow Jackets defeated Clemson 39-34 in 2009 in Tampa, Fla., but later vacated the win and the ACC title because of NCAA sanctions.
FSU stat stars
DE Bjoern Werner:
He ranks third nationally and leads the ACC in QB sacks per game with 1.08 and is tied for 15th in total tackles for lost yardage per game (1.50). Werner's 18 TFL this season have accounted for 134 yards in lost yardage. Werner now has 13 sacks this season.
QB EJ Manuel:
He ranks eighth nationally in passing efficiency with a 160.01 rating and leads an offense that averages 41.5 points per game and has scored at least 51 points in four regular-season games.
PK Dustin Hopkins:
He now ranks third on the all-time NCAA FBS scoring list with 456 points. Hopkins trails Travis Prentice of Miami (Ohio) by 12 points for second place all-time. He enters Saturday's game tied for the all-time lead in field goals among NCAA FBS kickers with 87.
WR Rodney Smith:
He has caught a pass in 37 consecutive games, one shy of the school record. E.G. Green (1994-97) holds the school record for most consecutive games with a reception at 38.
Georgia Tech stat stars
RB Orwin Smith:
His 9.43 career yards per carry is the best for any ACC running back who has gained 1,000 or more yards. Smith has 1,830 yards on 194 carries and 20 touchdowns. His 61.2 yards per game leads the team.
QB Tevin Washington:
His 36 career rushing touchdowns are an ACC and school record by a quarterback. Washington leads all active conference players in rushing touchdowns, and his 216 points scored rank seventh. He has improved his completion percentage by more than 12 percentage points (47.1 in 2011 to 59.6 in 2012).
KR Jamal Golden:
He ranks second in the ACC and 10th nationally in kickoff returns with 29.0 yards per runback, including two returns for touchdowns.
LB Jeremiah Attaochu:
He leads the team and ranks third in the ACC with eight sacks in 11 games (.73 per game).
November, 15, 2012
11/15/12
10:15
AM ET
Here are the top storylines to watch in the ACC heading into Week 12.
1. Can Virginia keep up its momentum?
Week 12 begins tonight when the Hoos host Coastal Division rival North Carolina in the 117th meeting between the schools. After losing six in a row this season, Virginia has won two straight. Why? First, more production out of the offense. UVa has 928 total yards over the past two games with 10 offensive touchdowns. Second, the Hoos are doing much better taking care of the football. For the first time all season, they have gone consecutive games without losing the turnover battle. North Carolina has won two straight in the series. But the last time ESPN came to Charlottesville for a Thursday night game was back in 2006. The opponent? North Carolina. Virginia won 23-0.
2. Duke faces big test.
Folks, the biggest ACC game this weekend is in Atlanta, where Duke has a chance to take control of the Coastal Division against Georgia Tech. If the Blue Devils win out, they go to the ACC championship game. The last time the stakes were this high? Back in 1989, when Duke beat NC State and North Carolina to close out the season and win a share of the league title. That was the Blue Devils' final season under Steve Spurrier.
[+] Enlarge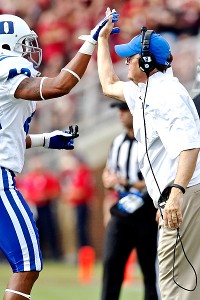 Cal Sport Media via AP ImagesDuke and coach David Cutcliffe control their own destiny in the ACC's Coastal Division.
3. Georgia Tech is hot.
The Jackets have a shot at the Coastal Division with a victory, making this game a virtual must-win for both teams. Georgia Tech has won three of its past four games to get itself in position to compete for the division after being written off. At the very least, Georgia Tech has assured itself an 18th straight non-losing season in conference play -- the longest active streak in FBS. A win also would make the Jackets bowl-eligible for the 16th straight year -- the nation's fourth-longest streak.
4. Meanwhile, in the Atlantic ...
Ho hum, no drama on the other side of the division race, where Florida State gets into the championship game with a win over severely depleted Maryland. Though the Terps have lost four straight, there is no such thing as a "slam-dunk Florida State road win." The Noles have survived a scare in each of their away games this season. The latest happened in Blacksburg last Thursday night, when
EJ Manuel
threw his first career game-winning touchdown pass on the team's final possession.
5. Can NC State slow down Clemson?
After scoring 45 points against Maryland last week, Clemson became the only team in ACC history to score 37 or more points in nine consecutive games. Clemson has averaged 44.8 points a game during the streak. Florida State opened the 1995 season with seven straight games of 42 or more points and averaged 56.1 points per game during that span.
6. Can the Hokies win their first road game?
The ACC has three of the four longest active bowl streaks in the nation with Florida State (31), Virginia Tech (19) and Georgia Tech (15). But the Hokies and Jackets are not bowl-eligible just yet. The last time Virginia Tech missed a bowl was in 1992, when most -- if not all -- of the team's freshman class was not born yet. The Hokies travel to Boston College hoping for better road results. Virginia Tech is 0-5 away from home this year.
7. Duke Johnson, encore?
Johnson had the best day for a freshman in ACC history last week, with 368 all-purpose yards against Virginia. The previous mark of 345 yards was set by
Sammy Watkins
last year. So what will Johnson do against a USF defense that has been inconsistent for the entire season? Miami clinches bowl eligibility with a victory.
8. Hello again, Notre Dame.
For the second straight week, an ACC team gets a chance to knock off the No. 3 Irish. This time, the task falls to Wake Forest, which played the Irish close in a loss last year. The last time the Deacs beat a team with zero or one loss in November was back on Nov. 4, 2006, in a 21-14 win over Boston College. Wake Forest was ranked at the time and ended up in the ACC title game. But before that win, the last time the Deacs accomplished that feat was in 1967 with a 31-24 victory over Tulsa, which came into the game 5-1.
9. More special teams?
For the first time in league history, the ACC had three kickoff returns of 90 yards or more on the same day last Saturday. Georgia Tech's
Jamal Golden
returned a kickoff 100 yards for a touchdown against North Carolina; NC State's
Tobais Palmer
also returned one 100 yards against Wake Forest; and Miami's Duke Johnson ran a kickoff back 95 yards for a score against Virginia. The previous high of two returns was 11 years to the day -- Nov. 10, 2001 -- when Clemson's Derrick Hamilton (against Maryland) and Virginia's Tavon Mason (against Georgia Tech) each had 100-yard kickoff returns for scores.
10. Third downs at Clemson.
When the Tigers have the ball against NC State on third down, it will be a battle of team strengths. Clemson is third in the nation in converting on third down at 53.21 percent (83-156), while NC State is third in the nation on defense when it comes to third down, allowing opponents to convert just 25.33 percent (38-150) of the time.
October, 29, 2012
10/29/12
10:00
AM ET
Here's a look back at the week that was in the ACC …
The good:
Boston College's first ACC win. The Eagles ended a five-game losing streak with a 20-17 win over Maryland on Saturday. It was also the first win over an FBS opponent this year.
The bad:
Wake Forest's defense. The Deacs allowed Clemson 534 total yards and to convert on 10 of 17 third downs.
The ugly:
Georgia Tech's offense on third downs. Oh-fer-10.
The great:
Quarterbacks. NC State quarterback
Mike Glennon
threw for a career-high 467 yards and tied a school record with five touchdowns. Clemson quarterback
Tajh Boyd
threw for a school-record 428 yards with five touchdown passes. FSU quarterback
EJ Manuel
threw for 282 yards and two touchdowns against Duke. UNC quarterback
Bryn Renner
completed 30 of 47 passes for 358 yards, one touchdown and one interception.
[+] Enlarge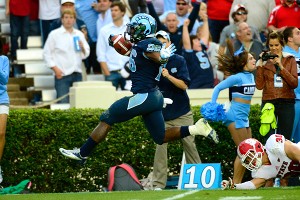 Bob Donnan/US PresswireGiovani Bernard capped off a day in which he gained 230 yards from scrimmage with a 74-yard game-winning punt return.
The spectacular:
Returns for TDs. UNC running back
Giovani Bernard
returned a punt 74 yards for a touchdown to beat NC State with 13 seconds left in the fourth quarter. On only his third punt return ever, FSU sophomore
Tyler Hunter
returned it 75 yards for a touchdown against Duke, the Noles' longest punt return of the season. And Georgia Tech sophomore
Jamal Golden
had a 97-yard kickoff return for touchdown Saturday against BYU, and finished with 174 yards on his five kick returns. The kick return for a touchdown broke a streak of 177 games without one for Georgia Tech.
The quote:
"It feels great, just getting a win it feels so good. You can feel the atmosphere in the locker room. Everyone's just so excited about it. It doesn't fix everything, but it just feels awesome. We're 1-0 today, that's how I think about it." -- Boston College WR
Alex Amidon
.
The quote II:
"We feel like we're ready to prove everybody wrong, that we had that one loss but we let that go and we're ready to move on," FSU cornerback
Xavier Rhodes
told NoleNation's David Hale. "To prove to everybody this is the team they thought it would be."
The record:
FSU kicker Dustin Hopkins' 56-yard field goal in the fourth quarter was a career-best and also set a new ACC record for career field goals with 81, breaking former Maryland kicker Nick Novak's mark of 80 set from 2001-04. The 56-yard field goal also tied for the second-longest in FSU history with Sebastian Janikowski, who made a 56-yarder against Wake Forest in 1997.
The milestone
: Clemson became the second ACC team in history to score at least 37 points in seven straight games.
The stat:
UNC and NC State combined for 1,104 yards, the most in a UNC game since 2002, when the Tar Heels and Arizona State combined for 1,135 yards in a 38-35 Carolina victory.
The streaks:
BC's losing streak has ended, Duke's losing streak against FSU was extended to 18 games. UNC ended a five-game losing streak to rival NC State.
October, 28, 2012
10/28/12
9:00
AM ET
Here are your top five performers for Week 9:

UNC RB Giovani Bernard:
His 74-yard punt return for a touchdown with 13 seconds left in the game gave the Tar Heels a
43-35
win over rival NC State. The punt return was Bernard's second of the season, tying the school record for punt return touchdowns in a season. Bernard finished with a game-high 135 rushing yards on 23 carries and two rushing touchdowns. He also had eight catches for a career-high 95 yards and led the Tar Heels in both rushing and receiving on the day. Bernard had 89 yards rushing, a 19-yard reception and a 74-yard punt return in the fourth quarter for a total of 182 all-purpose yards in the final 15 minutes.
Clemson's offense:
With the
42-13 win
over Wake Forest, Clemson tied an ACC record when it became the seventh straight game the Tigers have scored at least 37 points. Clemson scored 28 points in the second quarter. Receiver
Sammy Watkins
set a Clemson record for reception yards in a game with 202 on eight receptions. Quarterback
Tajh Boyd
broke two school records. His 428 passing yards were the most in Clemson history. He also set a Clemson record for touchdown passes in a half with five in the first half. His five touchdown passes tied the Clemson single-game record. He had five last year against North Carolina. Boyd threw five touchdown passes to five different receivers in the first half, and his passing efficiency in the first half was 273.9. He finished with a 208 passing efficiency rating for the game.
Boston College:
Quarterback
Chase Rettig
threw for 287 yards, two touchdowns and no interceptions in the
20-17
win over Maryland, leading the Eagles to their first ACC and FBS win of the season. Rettig's 14-yard touchdown pass to
Johnathan Coleman
with 52 seconds remaining was the game winner and helped snap a five-game losing streak.
Florida State's running backs:
One of the big questions facing FSU this week was how the Noles would respond to the injury to leading rusher
Chris Thompson
. In the
48-7
drubbing of Duke,
James Wilder Jr.
and
Devonta Freeman
combined for 174 yards on 25 carries and scored three rushing touchdowns. Since Thompson's injury, Wilder and Freeman have averaged 6.8 yards per carry.
Georgia Tech defensive back Jamal Golden:
He had a 97-yard kickoff return for a touchdown in Saturday's
41-17 loss
to BYU and finished with 174 yards on his five kick returns. The kick return for touchdown broke a streak of
177 games
without one for Georgia Tech. The Jackets' last was a 100-yarder by Dez White on Oct. 31, 1998 against Maryland in Baltimore. It also marked Tech's first kickoff return for a touchdown at Bobby Dodd Stadium since 1990 against Duke. Golden is averaging 28.1 yards on his 11 kick returns this season and 16.0 on his six punt returns.
December, 19, 2011
12/19/11
7:49
PM ET

Georgia Tech sophomore cornerback Louis Young will not play in the Hyundai Sun Bowl for disciplinary reasons, according to a school spokesman.
It's a significant loss, as Young started all 12 games this year for the Jackets and is tied for fourth on the team in tackles with 52. He also has three tackles for loss, five pass breakups, one interception and a forced fumble. Young seemed to be playing his best at the end of the season. He had his first career interception last month against rival Georgia, and he had a career-high seven tackles and a quarterback hurry the previous week at Duke.
Jemea Thomas could get the starting nod in place of Young. Despite not being a starter, Thomas is a talented defensive back and one Clemson fans might remember. In what was his first career start, Thomas had two interceptions — both in the fourth quarter — one tackle for loss, a forced fumble, two pass breakups and his first career punt return. He was named the ACC's Defensive Back of the Week. Michael Peterson and Jamal Golden will likely be Thomas' backups.
August, 15, 2011
8/15/11
9:00
AM ET
It was a busy weekend in the ACC. Here's a look back at the highlights from the scrimmages, according to the sports information departments of the teams that provided reports:

BOSTON COLLEGE
Coach Frank Spaziani told reporters after the 70-minute scrimmage that there were some good things, but "it's like a jigsaw puzzle with all the pieces in the box; they're not connected yet."
Offensive highlights:
Defensive highlights:
Linebacker Nick Clancy and defensive back Sean Sylvia led the team with four tackles each.
Sophomore linebacker Jake Sinkovec had one interception and one fumble recovery.

CLEMSON
Quarterback
Tajh Boyd
had an impressive performance, as he completed 10 of 12 passes for 168 yards and a touchdown to highlight the new offense in Clemson's 75-play scrimmage in Memorial Stadium on Saturday morning.
Offensive highlights:
Defensive highlights
:
The first-team defense did not allow a scoring drive.
Martin Jenkins led the team with seven tackles, including a tackle for loss.
Corico Hawkins had five tackles and a fumble recovery, while freshman defensive end Corey Crawford had five stops, including a sack.
Special teams highlights:
Clemson's three kickers, Chandler Catanzaro, Ammon Lakip and Brian Symmes were a combined 16-of-16 on the day in field goal attempts and extra points against a live rush.
Notable:
Three Tigers missed the scrimmage because they were going through graduation exercises across the street from Memorial Stadium in Littlejohn Coliseum. Starting offensive tackle Landon Walker, starting safety Rashard Hall and reserve defensive end Kourtnei Brown all graduated from Clemson on Saturday. It was especially noteworthy for Hall, who has been at Clemson just three years. He joins Nick Eason (now in the NFL with the Arizona Cardinals) as the only scholarship football players to graduate with two years of athletic eligibility remaining.
Four players missed the scrimmage due to injury. Those players were defensive back Xavier Brewer (sprained foot), defensive back Garry Peters (bruised calf), Andre Branch (head injury), DeShawn Williams (sprained ankle).

GEORGIA TECH
Georgia Tech coach Paul Johnson had mixed reviews after the Yellow Jackets' first scrimmage, which ran 90 minutes inside Bobby Dodd Stadium on Saturday morning.
"It was like a lot of first scrimmages, there were way too many balls on the ground and way too many penalties," Johnson said. "But we hit some big plays. When you play against each other there's positives and negatives on both sides. It's a starting place and we'll look at it and try to make some improvements."
Offensive highlights:
While no official statistics were kept, quarterback Tevin Washington passed for well over 100 yards, including a 63-yarder to senior A-back Roddy Jones. Redshirt freshman quarterback Synjyn Days threw the only touchdown of the day, to true freshman Jeff Greene.
Greene ran with the first unit Saturday as most of the veterans -- junior Stephen Hill, senior Tyler Melton, sophomore Jeremy Moore and junior Daniel McKayhan -- all sat out with injuries.
Washington scored the only other touchdown Saturday on a 1-yard QB keeper.
Defensive highlights:
Defensive end Emmanuel Dieke had a sack, true freshman Jamal Golden intercepted a Vad Lee pass, and Steven Sylvester and Isaiah Johnson both recovered fumbles.
Special teams highlights:
Sophomore Justin Moore booted a 45-yard field goal on his only attempt.
David Scully's 52-yard attempt was long enough, but just wide left.

MIAMI
The most important news out of Miami's first scrimmage was that quarterbacks
Jacory Harris
and
Stephen Morris
combined for five touchdown passes and only one interception. That sounds like improvement. Miami's quarterbacks combined for 407 passing yards on 38-of-52 passing for six touchdowns and only one interception.
Offensive highlights:
Receiver Tommy Streeter had the best offensive day for the Canes, catching five passes for 71 yards and three touchdowns, two of which came from Harris.
Lamar Miller had runs of 16 and 31 yards on the opening drive.
Defensive highlights:
Senior defensive back JoJo Nicolas led all defenders with eight tackles (six solo), with two tackles for loss.
Ramon Buchanan and freshman Gionni Paul and each had six total tackles, with Paul also recording a tackle for loss.
The defense totaled eight tackles behind the line of scrimmage for a total loss of 29 yards

VIRGINIA TECH
The Hokies' offense was the highlight, but what does that mean for the defense? Coach Frank Beamer pointed out that there were some long plays allowed, as the offense racked up 398 yards of total offense in the 78-play scrimmage at Lane Stadium on Saturday afternoon. The touchdowns came against Tech's second- or third-team defense, though, so the jury is still out.
"I thought it was a good first scrimmage -- better than most," Beamer said, according to the team's scrimmage report. "You take into consideration that you're trying to get everyone some work, people who don't know quite what they're doing, and that makes things a little ragged. I thought overall, though, it was a sharp scrimmage. The quarterbacks made some nice plays and Wilson got a couple of long plays against the defense, and we need to see what's going on there. Overall, the effort was good and the play was good."
Offensive highlights:
Backup quarterback Mark Leal led the quarterbacks with 116 yards passing, completing 6 of 13. He also threw an interception. Beamer said Leal is No. 2 on the depth chart behind Logan Thomas. Ju-Ju Clayton, who has dropped to No. 3 on the depth chart, completed 6 of 10 for 51 yards, while starter Thomas completed 4 of 8 for 79 yards, with an interception, in limited action.
Tailback David Wilson scored against the Hokies' second-team defense on a 22-yard run. Wilson led all rushers with 57 yards on five carries. Freshman Michael Holmes added 54 yards rushing on a game-high 11 carries.
Defensive highlights:
Freshman tackle Luther Maddy led the team with eight tackles, including two for a loss, and a sack. Freshman Michael Cole added six tackles, while Telvion Clark and Jack Tyler each finished with four.
Barquell Rivers had three tackles and an interception.
Jayron Hosley and freshman Ronny Vandyke also had interceptions. Hosley intercepted a Logan Thomas pass, while Vandyke intercepted a Trey Gresh attempt.
Special teams highlights:
The kickers connected on 5-of-6 attempts. Cody Journell hit from 35, 22 and 35 yards, while Justin Myer drilled a 52-yarder and a 28-yarder. "Cody's kicking extremely well," Beamer said. "Myer has a load of potential, and he needs to win some of the kicking contests during the week. That shows consistency, and that's where he is right now. Cody is usually winning it or right in the running at the end."