NCF Nation:

Jamal Merrell
August, 14, 2013
8/14/13
10:15
AM ET
By
Isabelle Khurshudyan
| Special to ESPN.com
Rutgers Scarlet Knights
Coach
: Kyle Flood (9-4 career, 9-4 at Rutgers)
2012 record
: 9-4
Key losses
: RB Jawan Jamison, CB Logan Ryan, LB Khaseem Greene
Key returnees
: QB
Gary Nova
, WR
Brandon Coleman
, OL
Kaleb Johnson
Newcomer to watch
: DL
Darius Hamilton
Biggest games in 2013
: Arkansas (Sept. 21), Louisville (Oct. 10)
[+] Enlarge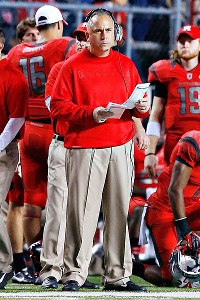 Jim O'Connor/US PresswireCoach Kyle Flood's 2013 challenge at Rutgers: replacing a significant loss of talent from last season's squad.
Biggest question mark heading into 2013
: Rutgers earned a share of the Big East title in Flood's first year, but is looking to replace 11 players either drafted or signed by NFL teams at the end of the year. This season will be Flood's first real test as a head coach. He leaned on the talent Tampa Bay Buccaneers coach Greg Schiano recruited while he was at Rutgers, but with his first full recruiting season as a head coach under his belt, Flood will have to replace last season's veteran team with players he's brought in and developed.
Forecast
: Offensively, Rutgers has an identity and experience with Nova, Coleman and an offensive line that returns two all-conference selections. The Scarlet Knights' defense is a different story. Leading the Big East in scoring defense and holding nine opponents to 15 points or fewer last season, the defense returns just four starters, especially missing the presence of Greene (136 tackles) and Ryan (94 tackles and four interceptions). Linebacker
Jamal Merrell
and defensive end
Jamil Merrell
will be called on to lead the defense as they ranked third on the team in tackles and second on the team in sacks, respectively. Defensive lineman
Isaac Holmes
returns from a season-ending injury he suffered against Arkansas to provide even more experience up front.
Though Nova will be without last year's 1,000-yard rusher Jawan Jamison, Flood expects him to improve on a season where he started every game, throwing 22 touchdown passes and 2,695 yards. Coleman, Nova's top target, tied the Big East lead with 10 touchdown receptions last season.
"I think any time your quarterback starts an entire season and has an opportunity not to just go through the winter program or spring practice, or your summer program, but all of those things in a calendar year, he has a chance to come out of it a significantly higher-level player," Flood said. "I think Gary has taken advantage of all those things. He's as anxious as we are to see him out on the field and see him perform."
Picked to finish third in the American Athletic, the Scarlet Knights will host Arkansas, a team they upset on the road last season. But Rutgers will have to steal at least one of its conference road games against Louisville and Central Florida if it wants to finish near the top of the league again.
March, 28, 2013
3/28/13
9:00
AM ET
Rutgers was the last Big East team to open spring practice, kicking things off on Tuesday.
Kyle Flood is back in Piscataway, N.J., for his second season at the helm of the program, and his ninth overall with the school. We caught up with the head coach Wednesday, with one practice in the books and the Scarlet Knights looking to leave a lasting impression as they ready for their final season in the Big East.
What are you looking for Gary Nova to improve upon this spring? What do you want to see from the guys behind him?
Kyle Flood
: I think Gary's got a unique advantage coming into this spring that we haven't had a quarterback have in a long time around here, in that he got a chance to play in 13 football games last year as a starting quarterback and essentially played in the entirety of every one of them. So I think there's an experience advantage that he has that hopefully we can capitalize on. I think the fastest ways we can capitalize on it is if we can keep the highs and make them consistent, and then take some of the low points and take some of the games where maybe he wasn't as pleased with his performance and move him up a little bit, so you don't see the big swings between the really positive games and the games he wasn't happy with. So I think that in and of itself, if we can get to that point -- and I don't know if that happens in just 15 practices in the spring; I think that's the combination of everything he's done since the bowl game, spring practice and then what's going to come afterwards -- but going into next season that's hopefully what we can do.
You guys obviously have a challenge without Brandon Coleman this spring. What are you looking for from the receiving corps during these practices, and is there anyone you're looking to see rise to the occasion?
KF
: I think they're all fighting to find out what their role is going to be. Guys like
Miles Shuler
, who has got a tremendous skill set and really has come a long way in terms of being a receiver the last year. I'm excited to see what kind of spring Miles is going to have. A guy like
Quron Pratt
, who has been an excellent player here — statistically maybe that hasn't shown up, but he really has done a lot of things for us over the last two years. He can now have a much bigger role. When guys like
Timmy Wright
and
Mark Harrison
graduate, it provides opportunity, and with Brandon Coleman not there this spring it'll be even more opportunity for him to showcase himself. And then you've got some younger guys also, guys like
Ruhann Peele
and
Carlton Agudosi
, who are fighting right now to show the coaching staff how big of a role they should have next year.
There's no Coleman, and we know about Savon [Huggins]. Who are some of the other playmakers you are hoping to emerge from spring?
[+] Enlarge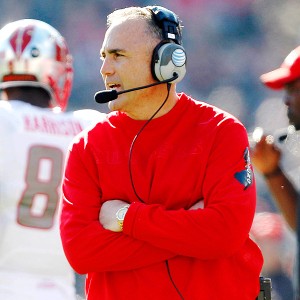 Frank Victores/USA TODAY SportsCoach Kyle Flood said spring drills at Rutgers have been a bit choppy so far -- though that's normal as younger players see more time on the field.
KF
: I have seen so much of Savon through his career right now in terms of practice and then in games -- I'm very confident Savon's going to do an excellent job for us at running back. I think everybody else right now at that position is doing exactly what those young receivers are doing; they're fighting to show us as players how big of a role they should have, and I think that competition is going to be exciting for everybody, including Savon. I didn't get a chance to get to it, but I would feel the same way really about the quarterbacks. I think all these quarterbacks right now, they're lined up behind Gary. And
Chas [Dodd]
is a little bit of a unique commodity in that he's won football games for us at Rutgers. Those guys create a very competitive environment. Every player in our program right now this spring could see opportunity, and that kind of competitiveness in the rooms, and the opportunity that spring provides, it really gives everybody a chance as we go through the spring.
You guys are breaking in two new coordinators this spring. Offensively with Ron Prince, do you expect this spring to be a little bit of a feeling-out period, or do you think things will go over relatively smoothly with him in charge of the offense?
KF
: It'll go over smoothly from coach Prince's perspective and from mine. I think that the bumps in the road are going to be some of the young players who now are going to have a lot more on their plate than they've ever had, and that'll create -- even yesterday in our first practice, some of the young receivers and running backs not having been in the fire, so to speak, are out there and they're struggling to get lined up. They're not as quick as maybe you would like them to be or maybe the group of receivers would have been last year because they were used to doing it. Those are all going to be things that are part of the learning curve as we go forward. I think there are going to be some rougher patches this spring at every position, but generally when those things happen it's much more about the younger players being allowed and given more opportunities than anything else. When you get to the season you're really only repping your starters and your ones and one-and-a-halves, as we call them. So right now everybody's getting reps, and at times that can make it a little bit slower or a little bit more choppy than you'd like it to be, but it's a necessity because you've got to find out what they know.
Defensively, you lose an all-timer in Khaseem Greene and another really good linebacker in Steve Beauharnais. Are those players really replaceable, or do you look for a collective effort from the group?
KF
: I don't think you replace players really at any position. Football is the ultimate team game, and to think that you're going to replace a Khaseem Greene or a Steve Beauharnais, that's really not the way we think about it. We've played defense at a high level here for a long time and we've done it with a lot of different pieces. And I think now what the staff is looking to see is who are the pieces going to be. And at linebacker we've got two guys in
Jamal Merrell
and
Kevin Snyder
, who, in my opinion, have already established themselves as players in our defense. We're trying to figure out who the third piece of that puzzle's going to be. Is that going to be a new Mike? Is that going to be a new Will? I'm not sure I can answer that question just yet. But I'm confident with what we have coming back that we'll be able to continue our tradition here of playing defense at a high level.
Three new starters in the secondary. Jeremy Deering is back there full-time. What do you see from him and that position group as a whole? What makes you feel more comfortable with him back there?
KF
: As coaches I think we'd better always be trying to get our best athletes on the field. And if there is a guy on your team you think can be a starter on defense but he's on offense, and he has a significant role on offense but maybe it won't be showcased the way he could be on defense, I think it's our responsibility to see if that player would have an interest in it. And I approached Jeremy with that decision and he was really excited about it. And it was certainly something that we tinkered with a little bit last year trying to build some depth in our sub packages, and we weren't really able to really put it in as far as we wanted to, but now with having an offseason and needing a guy with the departures of
Duron Harmon
,
Wayne Warren
and some of the other defensive backs, it's really a position on our team that will have more new faces than any other. And we really thought that Jeremy Deering, even though he is going into his senior year, he's got the right skill set to do that. He's got the right frame of mind to do it and he has the desire to do it, and I think Jeremy's going to do very well back there for us.
Big-picture, the Big East has been going through a lot of changes. The conference welcomes in four new teams this fall. I was just curious from your standpoint if there's anything different that you have to prepare for when you're seeing fresh staffs and fresh players on your schedule this season?
KF
: I think with the way the Big East was constituted in the past, we've seen a good variety of pro-style offenses, spread offenses. We have played the academies, so we've seen the option. We had West Virginia in the conference for a long time, so we played against the 3-3 defense. I don't know that there will be anything in this new collection of teams that will be significantly unique. Now I do know that each one will bring very specific challenges and they'll have strengths and weaknesses to their teams just like we do. But those will be things we'll address after spring practice. Right now we're trying to figure out what we are. We're trying to figure out who are going to be the playmakers on our team that are going to be out there. Who are going to be the people in the sub packages, and really what is our football team going to look like? And that's what I'm most concerned about, and I think that's what spring practice is for. We have the schedule, so we know who the first four games are going to be now. We'll get a little bit involved into doing some early game-planning for them, but we won't do that until after spring practice is over.
October, 14, 2012
10/14/12
10:00
AM ET
What did we learn in the Big East in Week 7? Glad you asked.
1. Going bowling.
Louisville and Rutgers increased their records to 6-0 and are among the first teams in the nation to become bowl eligible. Congrats to both teams. At this point, Louisville has a great offense and an average defense. Rutgers has a great defense but an average offense. And it is still incredibly difficult to find ways to separate the teams at the top of the Big East. Both looked vulnerable at times Saturday -- Louisville trailed at halftime to Pitt; Rutgers was tied at 7 with Syracuse. Both had impressive performances in the second half -- the Cardinals from their offense, the Scarlet Knights from their defense -- to pull out the victories. But it still feels as if both teams need to make major improvements to truly be considered elite teams this season.
[+] Enlarge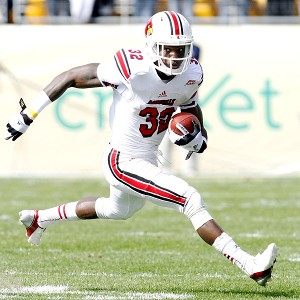 Charles LeClaire/US PRESSWIRESenorise Perry and the Louisville offense have the Cardinals unbeaten at 6-0.
2. Hot seat watch, Part 1.
I think we can officially add two more coaches to the hot seat watch. There were questions about Doug Marrone at Syracuse and Paul Pasqualoni at UConn going into the weekend, but those have grown after their respective losses. Let us start with Marrone. The Orange could not get out of their own way against Rutgers, continuing their alarming trend of turning over the football. Syracuse had four turnovers, giving the Orange 15 on the season with only five total takeaways. You are not going to win many games with that type of turnover margin. Red zone performance was terrible again. On four trips inside the Rutgers 20, Syracuse scored one touchdown. And then there was the blocked field goal that resulted in a Rutgers touchdown.
Jamal Merrell
had the block -- the same player who blocked a field goal attempt and extra-point attempt in Rutgers' win over Syracuse last year.
3. Hot seat watch, Part 2.
As for UConn, the Huskies had plenty of success passing on Temple early, but then reverted to their usual form and managed zero points after scoring 14 in the first quarter. In fact, the Huskies had 192 yards in that opening quarter. They then managed 189 yards of offense for the rest of the game. Still, UConn had more first downs, more total yards, held the ball longer, had fewer turnovers and lost in overtime. Place-kicking, which had been a strength the past several years with Dave Teggart, was a disaster.
Chad Christen
missed four field goals for UConn, including the potential game winner in overtime. A team that loses to Western Michigan and Temple in the same season has major questions to answer.
4. Temple is on a roll.
Nobody gave the Owls much of a chance to do anything in their first year in Big East play, but lo and behold they are 2-0 in the Big East. It is the first time that Temple has started 2-0 in Big East play AND has won consecutive league games. How is that for a statement? Steve Addazio has brought his "Temple Tough" brand of physical football to the Big East, and it has worked in the past two games. It may not have looked pretty at times, but the Owls can win games when they play physical, run consistently and limit the mistakes.
Montel Harris
has shown why he was such a huge get from Boston College, with his two straight 100-yard games. There is no quit in this team. In both its Big East wins, the chips were down at times, but the Owls showed a resiliency that should keep them in every game the rest of the way. Now here is one thing to keep in mind: Temple plays only 11 games this year, and that could hurt when it comes to bowl eligibility. The Owls did not have multiple gimme nonconference games like every other Big East team.
5. Cincinnati gets fired up after halftime.
Well, at least against inferior competition. Against Fordham, Cincinnati scored on all five of its second-half possessions to outscore the Rams 35-11. Last week against Miami (Ohio), Cincinnati outscored the RedHawks 28-0 after the break. This is quite the uninspiring stretch before the Bearcats face longtime rival Louisville in two weeks. But against Toledo next week, Cincinnati is going to have to work on starting faster. If this team wants to beat Louisville, it cannot afford to go through the motions for an entire half. The Rockets are 6-1 and will present a tougher challenge than Miami and Fordham, so Cincinnati has to be ready.
September, 9, 2012
9/09/12
9:00
AM ET
How about a few helmet stickers for a job well done?

Teddy Bridgewater, Louisville.
I know Cardinals fans are not tired of seeing Bridgewater getting accolades. He continued his hot start to the season in
a 35-7 victory
over Missouri State, going 30-for-39 for 344 yards with two touchdowns and zero interceptions. It was the first career 300-yard passing day for Bridgewater, who has been as close to perfect as you can get to start the year.
B.J. Daniels, USF.
I am going to double up the helmet stickers for a few teams because of some impressive performances. Daniels was a bit shaky to start out against Nevada, but he closed the game with some of the best football he has ever played. It was Daniels who keyed an incredible comeback, leading USF from an 11-point deficit with under three minutes remaining to the
32-31 win
. Daniels threw a 52-yard touchdown pass to
Chris Dunkley
to start the comeback and a 56-yarder to
Andre Davis
for the game winner. Daniels had 363 yards passing, and just as nice -- zero turnovers.
Andre Davis, USF
. What a monster game for Davis, who had one of the best days of any receiver in college football in Week 2. Davis showed some flashes last season when he played as a true freshmen, and he had an outstanding spring. I thought he had a chance for a breakout season this year, as I put him on my ESPN.com preseason All-Big East team. Sure enough, Davis had his coming-out party against Nevada. He caught 12 passes for a USF single-game record 191 yards and had the game-winning 56-yard touchdown catch with 38 seconds left and a defender draped all over him. It was his second touchdown catch of the game, and it came at the perfect time.
Munchie Legaux, Cincinnati.
The Bearcats get two helmet stickers this week too. Legaux accounted for a career-high 322 yards of total offense against Pitt -- running six times for a career-high 117 yards and completing 14 of 28 passes for 205 yards and two touchdowns with zero interceptions. Legaux is the first Cincinnati quarterback in the modern era to pass for 200 yards and run for 100 yards.
Walter Stewart, Cincinnati.
Stewart was a force from Cincinnati's defensive line in an impressive
34-10 win
over Pitt. Coach Butch Jones has told us about his high expectations for Stewart, and we saw exactly why Thursday night. Stewart had nine total tackles and a career-high four tackles for loss to go with two sacks and a forced fumble, as he harassed the Pitt offensive line all night.
Others of note:
Jamal Merrell, Rutgers.
Had career-highs in tackles (14) and tackles for loss (3.5) in a
26-0 win
over Howard.
UConn defense.
Had six sacks, 10.5 tackles for loss and held NC State to 12 first downs, 54 yards rushing and 258 yards of total offense in a
10-7 loss
.
February, 22, 2012
2/22/12
4:00
PM ET
We continue with our final 2011 position rankings by moving to linebacker. There were plenty of exemplary individual performances in this group, as six teams were represented on the Big East first and second teams. But this evaluation is of the unit as a whole, so I am factoring in the performance of every starter, along with depth and stats.
[+] Enlarge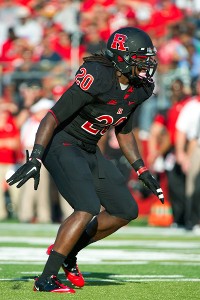 Rich Kane/Icon SMIKhaseem Greene's position switch went better than anyone could have expected, as he ended up leading the conference in tackles.
1. Rutgers.
Khaseem Greene
's move to linebacker was the smartest position change of the year, pushing the Scarlet Knights into the top spot in this category. Greene led the league with 140 tackles en route to Big East Co-Defensive Player of the Year honors. He was essentially all over the field. Greene and
Steve Beauharnais
were the only linebacker tandem to finish in the top 10 in the Big East in tackles for loss. Add in the much-improved
Jamal Merrell
and it's easy to see why this group is No. 1.
Preseason ranking
: No. 4.
2. Cincinnati.
J.K. Schaffer
had yet another outstanding season for the Bearcats, racking up 100 tackles once again. But quietly,
Maalik Bomar
put together a nice year as well, and that helped make up for some serious question marks that surrounded this unit going into the season. True freshmen
Dwight Jackson
and
Nick Temple
made contributions, but on the whole it was the Schaffer show again and that was enough to boost this group.
Preseason ranking:
8.
3. Louisville.
Dexter Heyman
and
Preston Brown
had career seasons for the Cardinals, elevating the position and helping Louisville post another outstanding season on defense. Heyman and Brown finished in the top 15 in the Big East in tackles, and Heyman ranked fourth in the league with 16 tackles for loss. His play earned him second-team honors, and he leaves a big hole to fill for 2012.
Preseason ranking:
3.
4. UConn.
The Huskies were one of two teams without a linebacker on the Big East first or second team. But I thought this position group was vastly underrated for most of the year.
Sio Moore
came up with some big plays, and
Yawin Smallwood
and
Jory Johnson
developed nicely throughout the season. To illustrate how active Moore was, he was the top linebacker in tackles for loss with 16. This unit should be even better in 2012.
Preseason ranking:
2.
5. USF.
The Bulls were the other team without a linebacker named to the Big East first or second team but that shouldn't diminish the season
DeDe Lattimore
had. He had seven sacks, 13 tackles for loss and led the team in tackles. In fact, all three linebackers led the team, in
Mike Lanaris
and
Sam Barrington
. But the group as a whole underachieved, as the Bulls struggled to get teams off the field and were often times out of position to make a play.
Preseason ranking:
1.
6. West Virginia.
Middle linebacker
Najee Goode
had a terrific season, earning first team Big East honors. But beyond him, there were few significant contributions. Injuries hurt and so did inexperience. Plus, the expected emergence of junior college transfer
Josh Francis
never materialized. Between
Jared Barber
,
Jewone Snow
and
Doug Rigg
, there was not much doing in this group.
Preseason ranking:
5.
7. Pitt.
The problem in evaluating Pitt is this --
Brandon Lindsey
played both end and linebacker in the hybrid Panther role. Does he get evaluated with the line group or the linebacker group? He started eight games on the line, so I gave more weight to his contributions at end. However, I did take him into account for this unit, though it was not enough to life this group up much as a whole.
Max Gruder
was solid, but otherwise this was a lackluster bunch.
Todd Thomas
showed some spark but injuries slowed him down. Between
Shane Gordon
,
Greg Williams
and
Tristan Roberts
, there were problems all year.
Preseason ranking:
6.
8. Syracuse.
It was a struggle for the Orange on defense this season, and linebacker was no exception.
Marquis Spruill
had to make the transition to middle linebacker and struggled at times.
Dyshawn Davis
showed glimpses as a true freshman.
Dan Vaughan
actually was the leading linebacker in tackles. You generally want your linebackers to lead the team in that category, and that was not the case this season. But there is talent here. Another year of development for Spruill and Davis could yield big things in 2012.
Preseason ranking:
7.
November, 15, 2011
11/15/11
4:00
PM ET
Every football coach in America talks about the importance of special teams. But only a few coaches in America have special-teams units that are truly special.
Rutgers coach Greg Schiano is one of them.
Throughout his tenure, Rutgers has produced one solid unit after another. This season is no exception. Rutgers has seven blocks in 2011, tied for second nationally. Only Fresno State (10) has more. Since 2002, Rutgers has 54 blocks to tie for second in the nation as well.
The importance of special teams is emphasized to every player at Rutgers from the day they set foot on campus. Not only is it a way for players to get extra playing time, special teams also is a way to make a huge impact in a game. Just ask starting cornerback Brandon Jones.
[+] Enlarge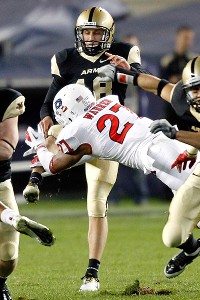 AP Photo/Paul J. BereswillBlocking punts and field goals has become a common occurrence for Rutgers' special-teams units.
It was Jones who blocked the go-ahead field goal against Navy late in the fourth quarter, a play that allowed Rutgers to win 21-20.
"It was probably one of the greatest experiences I had playing football in my whole career," Jones said in a phone interview. "I knew the timing of it, and it was a game that was on the line. I knew somebody was going to block it. The fact that I was able to come through for my brothers, it meant a whole lot to me."
Rutgers has had special-teams wizards in the past, guys like Devin McCourty and Joe Lefeged. But Schiano says this year has been more of a group effort. Five different players have blocked a field goal, punt or extra point this season. Jamal Merrell leads the team with three.
"A culture has developed here," Schiano said. "We spend a lot of time on it. It's emphasized, and we really do play a lot of starters on our special teams."
Jones estimates the special-teams units are made of 75 percent starters. One of the big points of emphasis for Rutgers' special teams is speed. So there are some younger players who get an opportunity because they can be difference makers. Rutgers works on punt and field goal blocks during practice every day, so it gets to the point where Rutgers does not just hope for a big play to happen. Players go into the game expecting a big play on special teams to happen.
"We make our luck," said Jones, who is on the punt block, kickoff return and kickoff coverage teams. "The preparation throughout the week is you're going to get a block, we're going to get it done. If everybody does the details and technique correctly, it will happen."
As for the message Schiano sells on playing special teams, Jones said, "Coach puts a big emphasis on it because it's a way you can win a game. Every guy that's on the team wants to play on special teams. It's not a punishment, it's something everybody wants to do because it's another way we can go about winning a football game."
Indeed, when you look at some of the blocks this season, they came at opportune times. Jones saved the day against Navy. Merrell had a blocked extra point and a blocked field goal against Syracuse, a game Rutgers won in overtime. Without those plays, the Scarlet Knights might have lost. Rutgers ended up scoring a touchdown off the blocked field goal, so that was a huge turning point in the game.
The most recent was a blocked punt by Wayne Warren last week against Army, with Rutgers holding a slim 13-12 lead. Jordan Thomas picked up the ball and returned it for a touchdown to swing momentum.
Aside from the blocks,
Jeremy Deering
has returned a kickoff for a touchdown and Rutgers has scored off a fumbled punt. The Scarlet Knights rank 11th nationally and lead the Big East in kickoff returns (25.5 yards per return). About the only part of the unit that has struggled has been kicker San San Te, who has missed 10 field goals this season.
"Sometimes it's kind of like a golfer in the middle of a round," Schiano said. "You can't fix it, but if you get on the range and you work the kinks out he knows what the problem is, he's just got to get it grooved out."