September, 6, 2010
9/06/10
12:42
PM ET
Even as most people were praising Cincinnati's receiving corps as one of the best in the nation this preseason, head coach Butch Jones was quietly nervous about the depth.
Sure, the starters were great, but Jones' up-tempo system demands that a lot of players rotate in at receiver to stay fresh. The depth started taking hits when junior college import
Kenbrell Thompkins
was ruled ineligible, when highly touted freshman Dyjuan Lewis wasn't cleared and when
Jamar Howard
got hurt in the spring.
All of those developments, however, pale in comparison to the loss of
Vidal Hazelton
.
[+] Enlarge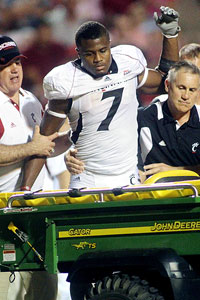 Cary Edmondson/US PresswireVidal Hazelton was lost for the season when he tore his ACL on a kickoff return in Saturday's game.
The USC transfer, who was arguably the most talked-about newcomer in the Big East this season, is already done for the year after tearing his ACL on a kickoff return in the Fresno State game. Hazelton had six catches for 63 yards before the injury. You've got to feel terrible for a guy who sat out all of last year under transfer rules only to get less than one game his senior season.
Hazelton did not redshirt at USC, so there's a possibility that he could gain another year of eligibility. That's something that won't be determined until after the year, however, and who knows with the NCAA?
Hazelton brought size, strength and big-play ability to the wide receiver group. Now there's even more pressure on
Armon Binns
to be the Bearcats' No. 1 wideout.
D.J. Woods
had a strong first half against Fresno State and is one of the better slot receivers in the league.
Marcus Barnett
will assume Hazelton's role on the outside opposite Binns.
Barnett was a star his freshman year before finding himself in Brian Kelly's doghouse as a sophomore and junior. He has a lot of experience and ability, but his skinny frame -- his nickname is "Bones" -- means he will not be the same physical target that Hazelton was. He seems better suited as a slot guy.
"I don't think it will affect [us] that much in terms of what we do offensively and in terms of personnel groupings," Jones said. "But any time you take a person like Vidal out of the offense, obviously it concerns you a little bit because of his talent and playmaking ability.
"I'm excited for Marcus Barnett. ... Now is his opportunity to come in and make amends for the last couple of years, so we'll see how that goes."
Cincinnati, surprisingly, already has some offensive question marks after scoring just 14 points against Fresno State -- its lowest total in almost two years.
Zach Collaros
was sacked eight times and hurried even more. While Jones said not all of the sacks could be blamed on the offensive line -- Collaros clearly held onto the ball too long on several plays -- he's considering some personnel changes up front.
We all thought the Bearcats would have an explosive offense in 2010. Now that's not as certain. And with games coming up this month at NC State and against Oklahoma, Jones and his team could find themselves in an early hole if they don't make the right adjustments.
June, 3, 2010
6/03/10
11:36
AM ET
If
Dion Lewis
were to go down, Pitt could still run the ball well with
Ray Graham
,
Chris Burns
and
Jason Douglas
, plus battering ram fullback
Henry Hynoski
.
But the Panthers aren't the only team in the Big East that's prepared for injuries and other scenarios at key spots.
There are few players as dynamic as
Noel Devine
, but West Virginia believes it may have the next divine runner in
Tavon Austin
.
Jock Sanders
has also ably filled in at tailback for Devine over the years, and
Ryan Clarke
is physical, bruising ball carrier.
Cincinnati and Connecticut are blessed with rare quarterback depth. While
Zach Collaros
should be a star, his backup --
Chazz Anderson
-- has already won important games. Same goes with UConn, which will start
Zach Frazer
but feels comfortable with
Cody Endres
leading the team. And both teams have third-stringers who can play.
The Bearcats are loaded at wide receiver with
Armon Binns
,
D.J. Woods
and
Vidal Hazelton
. Take one out, and it would hurt but not cripple the offense, as
Marcus Barnett
and two players who excelled in junior college --
Jamar Howard
and Kenbrell Thompkins -- could pick up some slack.
UConn has the league's deepest cast at offensive line, which showed this spring when Adam Masters and Kevin Friend stepped in to compensate for injuries and excelled. The Huskies seem to just plug in and play on their O-line with little dropoff.
Rutgers might have its deepest defensive line ever under Greg Schiano, so deep that the Scarlet Knights didn't mind moving former top-rated recruit Antwan Lowery over to offense. South Florida lost George Selvie and Jason Pierre-Paul off its defensive line but could still go 8-to-10 deep there if youngsters develop as expected.
Depth isn't a word thrown around Syracuse much lately, but the Orange enter 2010 with a full stable of defensive backs, including five players who started a year ago and several others who earned valuable experience in 2009.
Overall, I'd say UConn, Pittsburgh and West Virginia are the deepest teams in the Big East. But depending on the position, some teams are better off than others.
December, 17, 2009
12/17/09
1:10
PM ET
I meant to get to this last week but never did because there was so much news going on. But with the regular season over and bowls approaching, it's time to look back at some of the preseason predictions I made for the Big East and laugh at how dumb I was. (I'll also be revisiting my best case/worst case scenarios for each team starting later today).
Yes, I picked Rutgers to win the league, which should subject me to ridicule in the public square. Here are some other wonderfully naive
preseason prognostications
from yours truly:
Offensive player of the year: Cincinnati quarterback Tony Pike. "... I just get the sense that Pike is dialed in and ready for a monster year."
Well, Pike almost certainly would have won this award had he stayed healthy. And he did have a huge year when healthy. Nothing wrong with this pick.
Defensive player of the year: South Florida defensive end George Selvie. "This year, the Bulls have a deeper, more talented defensive line that should take some pressure off their senior pass-rusher ..."
Well, that sentence was true, as Jason Pierre-Paul added a lot to the defensive line. But Selvie was never able to really put up monster numbers even with that help. I went with the safe pick and got burned.
Newcomer of the year: Cincinnati receiver Jamar Howard. " ... This 6-foot-4 junior-college transfer has the size and speed to provide a compelling target for Pike."
Oy, vey. Howard had three catches on the year. My reasoning was that somebody would step in for Dominick Goodman and provide big stats. I was right about that. It's just that
Armon Binns
was the tall guy who did it, not Howard.
Comeback player of the year: Syracuse receiver Mike Williams. "After missing all of last year because of academic problems, the Orange's top playmaker from 2007 returns and will be the go-to guy in the passing game."
Can't blame me for this one. Until mid-October, Williams was clearly fulfilling every possible expectation. Until he went and, you know, quit the team. I guess that makes him the Go-away player of the year.
Freshman of the year: Pittsburgh running back Ray Graham. "Clearly, a freshman is going to have a huge opportunity to run behind the Panthers' offensive line, as true frosh Dion Lewis is battling Graham for the top spot on the depth chart right now."
This is the classic case of out-thinking yourself. I saw in person in the spring how good Lewis was, but I had heard reports of Graham's big-play ability coming out of fall camp. I projected Graham would take over instead of going with the safer pick in Lewis. So close.
Breakout player of the year: West Virginia quarterback Jarrett Brown. "Mountaineers fans already know what Brown is capable of doing, but the rest of the league and the country will finally see ... "
Brown had a few ups and downs, but he was pretty solid for the most part. With a do-over, I'd probably award this to
Dorin Dickerson
.
Most exciting player: Noel Devine. "The West Virginia running back can seemingly turn any play into a home run and is a threat to reverse field and run by 11 defenders at any time."
Arguments could be made for Lewis,
Jonathan Baldwin
,
Mardy Gilyard
and others. But nothing wrong with this pick.
Coach of the year: Greg Schiano. "If Cincinnati's [Brian] Kelly wins this award a third straight time, they should just rename it after him."
And they should.
Game of the year: West Virginia at Rutgers, Dec. 5. "This could turn into the de facto Big East championship game that league officials try to set up every year."
Well, at least I had the date right. Sigh.
Surprise team of the year: Connecticut. "Simply because no one is talking about the Huskies, and Randy Edsall always fields a solid team."
I count this one as a win.
Team that will disappoint: South Florida. "This is a program that, while loaded with athletes, still has to prove it can compete beyond September."
At least I can correctly peg disappointments. Like my own predictions.
June, 10, 2009
6/10/09
1:13
PM ET
Posted by ESPN.com's Brian Bennett
I was all ready to trademark the nickname "Vidal So-Soon."
But Vidal Hazelton will not be immediately eligible to play for Cincinnati this season after transferring from USC, as Josh Katzowitz first reported and ESPN.com later confirmed through school officials. Hazelton's case to the NCAA -- that he transferred to Cincinnati to be closer to his sick grandfather in Georgia -- always seemed to me to be a little shaky, just giving the sheer geography of the argument.
And who knows? Maybe the NCAA was sick of hearing from Bearcats players after last year's seemingly endless round of appeals from Ben Mauk.
Either way, this is a setback but not a crushing defeat for Cincinnati in 2009. Hazelton would have been a nice addition, for sure. He's a big body at 6-foot-2, 210 pounds. He looked to me in the spring as a guy who could go over the middle and make tough catches in traffic, kind of like Dominick Goodman with maybe a little less speed.
But Brian Kelly still has plenty of offensive weapons to work with. He's got No. 1 receiver Mardy Gilyard, who is a breakaway threat every time he touches the ball. D.J. Woods looks ready to emerge as a force after a solid freshman campaign. Armon Binns played well in the spring, and junior college transfer Jamar Howard is expected to make an immediate impact.
Don't look for Marcus Barnett to move back to receiver, as he seems to have established himself at cornerback after the spring switch to defense. If Kelly were truly worried about his receiving corps, he probably would have kept Barnett on offense, because he had to know Hazelton's appeal was a 50-50 proposition at best.
If there's a plus side, Hazelton will be ready to go in 2010, when Cincinnati will need a ready-made replacement for Gilyard. With Woods and Howard still around, the wideout position will remain strong.
Quarterback Tony Pike will still have a plethora of receivers to find in '09. The group is just a little less deep than it might have been.