NCF Nation:

JaMarcus Russell
September, 27, 2013
9/27/13
7:00
AM ET
ATHENS, Ga. – As an SEC West school, LSU is hardly a fixture on Georgia's annual football schedule. But when the Tigers and Bulldogs do get together, the results are almost always memorable.
Just think back over the past decade. Two meetings in the SEC championship game – one won by each school. The phantom celebration penalty against Georgia receiver A.J. Green in 2009, helping pave the way for LSU's comeback victory. Georgia putting huge point totals on LSU's defending BCS champion teams in 2004 and 2008.
There's a lot to remember – and just like in Saturday's meeting between No. 6 LSU (4-0, 1-0 SEC) and No. 9 Georgia (2-1, 1-0) – there are often major SEC and BCS implications in play.
"[I told the younger players] any game can go down to the last second, but what kind of fight that they're going to have to be ready for," said Georgia fifth-year senior receiver
Rantavious Wooten
, one of the few Bulldogs who were on the team when LSU last visited Athens in 2009. "They've got aspirations just like we do. They want a championship and we want a championship and this game right here, this is the game for it. So I just let them know what to expect and how it's going to be and just to get ready for it."
Georgia coach Mark Richt is 3-4 against LSU since arriving at UGA in 2001 and Tigers coach Les Miles is 2-2 against the Bulldogs. Let's take a look at the last five times their programs squared off:
[+] Enlarge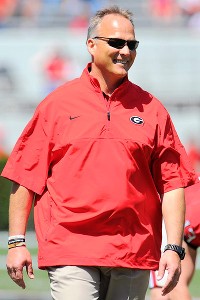 Dale Zanine/USA TODAY Sports Mark Richt and the Bulldogs hope to give LSU its first loss of the season on Saturday.
2011 SEC Championship Game (Atlanta): No. 1 LSU 42, No. 16 Georgia 10
In one of the most bizarre games of Richt's tenure, Georgia's defense thoroughly dominated the first half. LSU didn't muster a single first down and was in danger of falling down by a big margin, but Georgia receivers dropped a pair of potential first-half touchdown passes and LSU punt returner Tyrann "Honey Badger" Mathieu took a kick back for a touchdown to make it 10-7 Georgia at halftime. The second half was a completely different story, as the Bulldogs committed a couple of turnovers, LSU's pounding rushing attack began to have its intended effect and Todd Grantham's defense seemed helpless as the Tigers rushed for 202 yards and three touchdowns after intermission, turning the game into a rout.
Oct. 3, 2009 (Athens): No. 4 LSU 20, No. 18 Georgia 13
This one will forever be remembered among Georgia fans for a referee's questionable decision to penalize Georgia superstar Green for excessive celebration following his leaping, go-ahead touchdown catch with 1:09 to play, giving Georgia its first lead at 13-12. The penalty forced the Bulldogs to kick off from their own 15 and LSU return specialist Trindon Holliday made them pay by returning the kickoff to the Georgia 43, with a 5-yard penalty against the Bulldogs on the kickoff moving LSU even closer to the UGA end zone. Two plays later, Charles Scott rushed for his second touchdown of the fourth quarter, a 33-yard run with 46 seconds to play allowing LSU to improve to 5-0.
Oct. 25, 2008 (Baton Rouge): No. 7 Georgia 52, No. 13 LSU 38
As wild as the ending of the 2009 game was, this one was crazy from the very beginning. Georgia linebacker Darryl Gamble returned an interception for a 40-yard touchdown on the first play from scrimmage and added a 53-yard pick six in the game's closing minutes as the Bulldogs hung half-a-hundred on LSU's porous defense. The Tigers surrendered 50-plus twice that season – the first time in school history that had happened – leading Miles to dump co-defensive coordinators Doug Mallory and Bradley Dale Peveto after the season in favor of former Tennessee coordinator John Chavis, who has been in Baton Rouge ever since.
2005 SEC Championship Game (Atlanta): No. 13 Georgia 34, No. 3 LSU 14
Although fellow receiver Sean Bailey caught a pair of first-quarter touchdowns from D.J. Shockley that got Georgia off on the right foot, Bulldogs senior Bryan McClendon – now the team's running backs coach – might have delivered the play of the game when he blocked a punt midway through the second quarter deep in LSU territory. That helped Georgia score to take a commanding 21-7 halftime lead which LSU never threatened. The Bulldogs' defense also did its job that day, limiting an LSU rushing attack that dominated in their 2003 meeting in Atlanta to just 74 rushing yards.
Oct. 2, 2004 (Athens): No. 3 Georgia 45, No. 13 LSU 16
Nick Saban's final game against Georgia while at LSU ended with a humiliating loss, as the Tigers surrendered the most points allowed by an LSU defense since Florida hung 56 on them in 1996. Georgia quarterback David Greene threw only 19 passes, but set a school record by completing five of them for touchdowns. The Bulldogs had lost twice to Saban's Tigers in 2003 – 17-10 in Baton Rouge and 34-13 in the SEC Championship Game – but they quickly exacted a degree of revenge by jumping out to a 24-0 lead before LSU could answer. The Bulldogs also generated three turnovers and sacked LSU quarterbacks Marcus Randall and JaMarcus Russell five times.
Both teams have been ranked in the top-20 in all seven of their meetings in the Richt era, and this will be the second time they've both been in the top-10. While not every meeting between the two has produced a close contest, they've all been memorable – and almost always impacted their respective championship chases.
"They've been great games. ... Just about every one of them, both teams are ranked teams and at least in the Top 25," Richt said. "It is a cross-conference rival, so it doesn't hold quite the weight of an Eastern Division [game] when it comes to who plays in Atlanta. We could lose the game and still control our destiny, and they could lose the game and still control their destiny, so it's not do-or-die as far as league play, but it's very important for any national title hopes."
January, 4, 2012
1/04/12
10:45
AM ET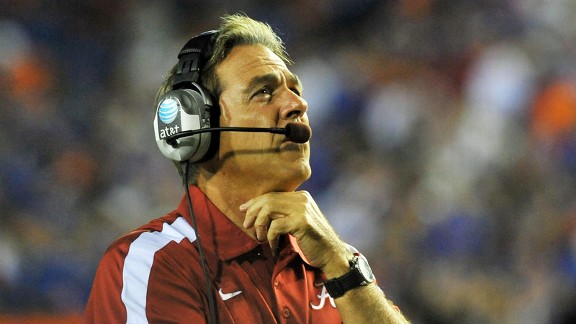 Al Messerschmidt/Getty ImagesNick Saban changed the recruiting culture in Baton Rouge when he led the LSU Tigers.
All it took was a little screen time for Nick Saban to officially say goodbye to LSU.
With his Alabama team surrounding him inside a movie theater and the popular movie "The Blind Side" playing, Crimson Tide players hooted, hollered and laughed when Saban appeared on screen, dressed as his former LSU self.
Saban played the old him, who recruited future Ole Miss star offensive lineman Michael Oher to LSU. The problem was that Saban was a few years removed from his LSU days and was coaching Alabama.
He was so uneasy about how his new players might react to his acting debut in the wrong colors that he asked Alabama's leadership group whether it was OK for him to do the cameo.
Without hesitation, his players allowed it, but only if they could poke a little fun at his expense.
Senior center William Vlachos said he and his teammates razzed the very matter-of-fact coach, letting him know that acting wasn't his thing, but they also informed them this was his new team and he could put his LSU thoughts behind him.
"If that had bothered us, he wouldn't have done it," Vlachos said. "His heart is with us."
And Saban makes sure people know that. He sidesteps most questions dealing with him and LSU, and it's pretty much a nonissue in Tuscaloosa.
The Saban-LSU storyline has been beaten to death, and even with Saban now facing his former school in the national championship, few have taken much time to pick his brain about the situation he'll be in.
But it will be hard for Saban not to take a peek at the past when his second-ranked Crimson Tide (11-1, 7-1) take on No. 1 LSU (13-0, 8-0) in the Allstate BCS National Championship Game on Monday night.
He can't ignore the monster he helped create in Baton Rouge, La. Before Saban got his hands on LSU, the Tigers were a mere afterthought in the SEC.
LSU had suffered through two straight losing season under previous coach Gerry DiNardo and had recorded seven losing seasons in the 1990s.
Saban swooped in and conducted a complete transformation. His first objective was to instill more discipline within the program and hammer home academics. He led the way for a $15 million fundraising effort for a new academic center for LSU student-athletes and made sure he and his players were tremendously active in the community.
Facilities were upgraded; a new attitude was created; and LSU quickly became a true force in the SEC. Saban won 48 games in his five-year stint with the Tigers that included a national championship (2003), two SEC championships, three SEC Western Division championships and three bowl wins, including two Sugar Bowl victories.
To get those wins, Saban also became a bulldog in recruiting. For years, LSU had struggled to keep top Louisiana prospects in state. In the 1990s, Baton Rouge athletes Warrick Dunn and Travis Minor left to become stars at Florida State, and New Orleans high school stars Reggie Wayne and Ed Reed left and eventually became key components of Miami's 2001 national championship squad.
But with Saban camped out in Cajun country, those kinds of players rarely stepped away from LSU's campus.
"It didn't happen overnight, but Nick Saban turned LSU into a recruiting powerhouse by gradually winning over the state's top prospects," ESPN recruiting analyst Corey Long said.
Saban's 2001 SEC championship team made a real breakthrough for the program, but Long said that his 2003 recruiting class served as a major breakthrough for LSU recruiting.
Saban was able to keep most of Louisiana's top high school prospects in state, including running backs Alley Broussard and Justin Vincent and athlete LaRon Landry. Quarterbacks JaMarcus Russell and Matt Flynn were a part of that class, as was Miami-area wide receiver Dwayne Bowe.
Saban controlled Louisiana, snagged recruits from other schools' comfort zones and even developed a knack for finding underrated talent, such as running back Jacob Hester.
Now, LSU is a winning and recruiting machine. Miles has picked up beautifully from where Saban left off, but he certainly owes a little of his own success to Saban's work. Miles hasn't relinquished LSU's stranglehold on the state of Louisiana and prides himself on building his team off of local talent.
"Before Saban arrived at LSU, the talent in Louisiana was a virtual grab bag for the top programs in surrounding states," Long said. "These days, it's rare that a top player in the state goes anywhere but Baton Rouge."
On Monday, Saban will meet the beast he created years ago. He doesn't like to pump his LSU ties, but this one is different.
This one is for all the sugar, and once Saban sets foot on the Superdome field and stares at that purple-and-gold monster, he'll have to take some pride in his work that helped create LSU's masterpiece.
July, 7, 2010
7/07/10
2:50
PM ET
Interesting look at
Jake Locker
's
NFL draft prospects here
, for all of you who are ESPN.com "Insiders."
The article compares Locker with former Florida QB Tim Tebow. They share an impressive physical profile but little else. Tebow piled up wins in college. Locker hasn't. Tebow put up jaw-dropping numbers. Locker hasn't.
[+] Enlarge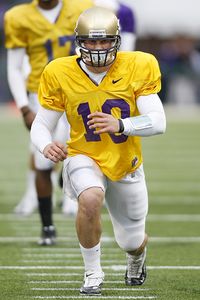 AP Photo/John FroschauerJake Locker will lead an offense returning eight other starters.
And yet Tebow was -- and remains -- a questionable NFL prospect. Locker is a likely top-10 pick and may go No. 1 overall next spring.
The story ultimately concludes that Locker must improve his accuracy this season in order to be picked at the top of the draft.
But eventually, the tools need to work, and the accuracy question is the big one surrounding Locker. "He's got to get that number up," said one NFL evaluator, in reference to Locker's completion percentage. "[Sam] Bradford was playing catch a lot of the time in that offense, but his accuracy was never a question."

The magic number for evaluators is 60 percent. As a note on the resume, it's vital. And Locker knows he'll be judged by it. Consider that JaMarcus Russell completed 67.8 percent of his passes as a junior, far superior to Locker's 58.2 as a junior.
Get out your pen and paper. My reply is an iron-clad guarantee:
Locker will complete more than 60 percent of his passes in 2010. Period. If I were naming a number, I'd say 65 percent.
And his overall passing numbers will be much better. He'll almost certainly throw for more than 3,000 yards. My guess is he'll be close to 3,750 yards of total offense.
Why? Let me count the ways.
His completion percentage has improved an average of 5.5 percent annually over his previous three seasons.

He'll be over 60 percent just because he's an experienced senior who will be more comfortable in his second year with Steve Sarkisian's pro-style offense.

The 2010 Huskies will be by far the best team Locker has led.

Locker will be surrounded by eight other returning offensive starters, including an outstanding crop of skill position players. His top seven receivers from 2009 are all back as are four linemen to protect him in the pocket and 1,000-yard rusher Chris Polk to keep defenses honest.

Locker started as a true freshman. He played only four games in 2008 for a terrible team before getting hurt. That's a big reason his career numbers are tepid.

The Huskies play 11 BCS teams and BYU. That means no games in which Locker will be on the bench with a 50-0 lead heading into the fourth quarter.

The Huskies' defense is questionable. It's unlikely Locker and the offense will often play conservatively trying to sit on a lead.

Sarkisian is a good offensive coach -- see Carson Palmer, Matt Leinart and Mark Sanchez -- as is quarterbacks coach Doug Nussmeier. Last year, they gave Locker introductory lessons. This year, Locker is taking graduate classes. Said Sarkisian this spring: "In my opinion, the real strides, the real improvement, occur from Year 1 to Year 2. That's historically what we've seen."

Did you see the California game? In fact, in the final two games of the 2009 season -- both UW wins -- Locker completed 35 of 51 passes (69 percent) for 444 yards with three touchdowns and one interception while rushing for 171 yards and three TDs.

Did you see Locker during spring practices? Three words: sharp, comfortable, confident.
There are plenty of questions with the Huskies. The biggest one: With such a brutal schedule, can they win six or seven games and earn bowl eligibility?
But the Pac-10 blog doesn't view Locker fulfilling his potential and producing a statistical breakthrough in 2010 as much of a mystery. You can count on it.