September, 21, 2014
Sep 21
12:56
AM ET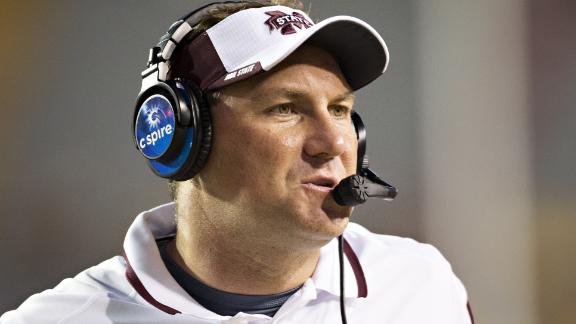 BATON ROUGE, La. -- Five of the most intimidating words in college football are "Saturday night in Tiger Stadium." Unless you're
Dak Prescott
.
You chalk up a loss when your team is playing against LSU under such circumstances. Always, always, always.
Only twice in Les Miles' nine-plus seasons at LSU -- at least before Prescott and Mississippi State dominated most of Saturday's
34-29
win before the No. 8 Tigers' frantic comeback -- had a visitor come to Death Valley on a Saturday night and walked away a winner: Florida in 2009 and Alabama in 2012. Two teams that came in ranked No. 1 in the nation. One that eventually won a BCS title and one that easily could have.
In other words, this simply doesn't happen. Especially in the fashion that the Bulldogs made it happen on Saturday night. They controlled the line of scrimmage on defense, limiting LSU to 89 rushing yards. They ran around and through an LSU defense that had not allowed a single point in 31 possessions and nine quarters, rolling up 570 yards of total offense -- the most ever allowed by a Miles-coached LSU team.
[+] Enlarge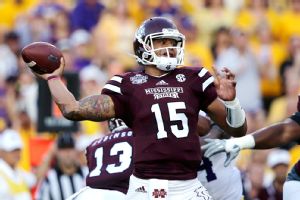 AP Photo/Gerald HerbertDak Prescott likely entered the early Heisman discussion with his performance against No. 8 LSU.
And they expected it all along.
"Our guys were very, very confident coming in here and really expected to win. I don't know, to the guys in the locker room, that this is a big upset for us," Mississippi State coach Dan Mullen said. "I think it obviously is on more of a national stage, but I think our guys really believed that we could come in and if we did our job, took care of plays and made plays, we could win the game, and we were able to do that."
Louisiana native Prescott was the leading figure in the upset, using his running and passing skills to embarrass LSU's previously dominant defense. The Bulldogs' quarterback was a Heisman Trophy dark horse prior to Saturday night, but he's sure to get more serious attention after carving up the Tigers' defense for 268 passing yards, 105 rushing yards and three total touchdowns.
"I think this game was really big for him, coming here," Mullen said. "He wanted to have a big game."
Prescott had plenty of help.
Josh Robinson
rushed for 197 yards and a score and
Jameon Lewis
had 116 receiving yards, including a 74-yard touchdown catch in the third quarter that gave the Bulldogs a shocking 31-10 lead. Mississippi State's defense overwhelmed an LSU offensive front that came in as a question mark and a quarterback --
Anthony Jennings
-- who has yet to prove himself as a consistent passer.
As a result, the Tigers' offense was often stagnant and unable to counter punch until freshman
Brandon Harris
provided a late spark and actually had a chance to toss a game-winning touchdown on the game's final play before
Will Redmond
intercepted it at the Bulldogs 1-yard line.
So where does this leave us now? One of these teams exits Tiger Stadium as a legitimate contender in the SEC West, and it's not the team that came in as a Top-10 club. Mullen was 2-23 against ranked opponents and had never beaten a Top-10 team as State's coach before Saturday, but as Miles indicated earlier this week, this might be Mullen's best team since he arrived in Starkville in 2009.
The Bulldogs certainly played like it on Saturday.
"They've definitely gotten better every year -- every year I've played them," LSU senior linebacker
D.J. Welter
said. "They always come in here and give a tough fight and compete well against us. They definitely had the upper hand tonight. They did a great job of executing and we didn't do so well."
Mississippi State gets a week off and then will host Texas A&M and Auburn in its next two games. Winning in Baton Rouge for the first time since 1991 was a major hurdle to clear, but we might know by mid-October whether the Bulldogs have staying power in the Western Division race.
"We're 1-0 in the SEC West this year with a lot of football [to go]," Mullen said. "I think the next two games we play are against teams ranked higher than LSU was, which is hard when you have that much depth and talent in our side of the league, and then Alabama's I think even higher than those two. So there's so much to play for in this league. You're going to have to bring your A-game every week."
The Tigers, meanwhile, look like a young team that will experience the growing pains that most of us expected prior to the season. Their season-opening comeback win against Wisconsin and ensuing blowout wins against Sam Houston State and Louisiana-Monroe provided LSU fans with hope that maybe they were ahead of schedule while breaking in a host of new players in key roles. State provided a wake-up call on Saturday night that the SEC West is the wrong division in which to rely on a host of youngsters.
There are bright days ahead for Miles' team, but Prescott's Bulldogs are perhaps the team of right now. Can they play with the A&Ms and Auburns and Alabamas that remain on the schedule? We'll find out soon enough.
But the team that dominated LSU in Tiger Stadium for most of Saturday night looked like it can play with just about anybody -- even the heavyweights in the toughest division in college football.
September, 15, 2014
Sep 15
10:00
AM ET
BATON ROUGE, La. -- Les Miles asked attendees at his postgame news conference Saturday whether anyone in the room was alive the last time LSU posted back-to-back shutouts at Tiger Stadium.
While some of those media members were firmly in middle age, nobody there had been alive since October 1941, a couple of months before the Pearl Harbor invasion pulled the United States into World War II, when the Tigers tied Mississippi State 0-0 and beat Rice 27-0 on consecutive weekends.
[+] Enlarge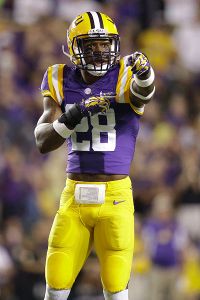 Gerald Herbert/AP PhotoCan Jalen Mills and LSU's defense shut out their third straight opponent when the Tigers take on Mississippi State in Week 4?
Junior safety
Jalen Mills
is one of the veterans on the Tigers' roster, but joked that he "wasn't even thought of" yet by his parents in 1985, the last time LSU notched consecutive shutouts of any sort, when the Tigers won 10-0 against Kentucky at home and beat Ole Miss 14-0 in Jackson, Mississippi. In fact, that piece of history came a full nine years before Mills was born.
Both of those streaks are history thanks to what Mills and the other members of LSU's defense accomplished over the past two Saturdays at Tiger Stadium, first shutting out Sam Houston State 56-0 and then taking down Louisiana-Monroe
31-0
.
"They were not getting yards," Miles said after Saturday's win against ULM. "They handed the ball off, they weren't getting yards, and [LSU's defensive backs] were covering. In short throws, they were covering. So I think the defense is playing dominant football."
Both shutouts were impressive. Even when it's an FCS squad such as Sam Houston State or a lower-division team such as ULM, preventing an opponent from scoring a single point is an accomplishment -- and in ULM's case, the Warhawks didn't even generate 100 yards of total offense (they had 93 yards, the fewest by an LSU opponent since 2007).
Now we'll see whether these achievements mean something or whether they'll become historical footnotes that in a few years will interest only those who dig stats out of old media guides.
We'll probably learn which option it's going to be over the next couple of weeks, beginning with Saturday's game against Mississippi State. LSU was supposed to dominate its past two opponents and it did. Neither of those offenses had a player like
Dak Prescott
at quarterback or weapons like
De'Runnya Wilson
,
Jameon Lewis
or
Josh Robinson
at his disposal.
Prescott (91 rushing yards per game, 232 ypg passing, 12 total touchdowns) is not a legitimate Heisman Trophy contender at this point, but that would change quickly if he runs wild next weekend and the Bulldogs improve to 4-0 in the SEC opener for both teams.
"He's a very mobile guy," Mills said. "He's at best when he is being mobile -- so [LSU's defense must] just try to contain the pocket, try to contain him, try to get the timing on him and his receivers' routes off a little bit."
Prescott and State were giving LSU fits last season until the Tigers got it together late in the third quarter and closed the game on a 31-0 run to earn a
59-26 victory
. The defense ignited that win-clinching run by forcing two turnovers and a turnover on downs in State's final three possessions -- mirroring a trend in the Tigers' recent run of defensive success.
They have been finishers. Finishing drives with third-down stops to force punts (ULM had seven three-and-outs in 12 possessions Saturday). Finishing possessions by forcing turnovers (LSU has six takeaways and two turnovers on downs since the start of the fourth quarter in the opener against Wisconsin). Finishing plays with hard hits on quarterbacks and gang tackles on opposing ball carriers.
LSU's defense needs to keep playing that way or its SEC West chances might quickly be finished.
Like some of Les Miles' best Tiger teams, this is not a team built to win shootouts against prolific offenses such as Auburn's or Texas A&M's. Last season's LSU club was more comfortable playing that style of game because of its wealth of NFL-ready skill talent, but this team seems to be cut more from the traditional LSU cloth. Challenge the opponent's manhood with a physical brand of offense. Limit risks and mistakes. Then let John Chavis' defense put away wins by overwhelming opponents with aggression and athleticism.
We're about to discover whether the Tigers have the pieces to duplicate the massive success that previous Miles teams enjoyed while abiding by that basic philosophy.
Will the interior defensive line be good enough to slow down the power running games ahead on the schedule? Will the pass rush be effective enough to force some mistakes? Are the linebackers going to be effective against high-level skill talent? It's too early to respond with a definitive "yes" to any of those questions, but aside from a rocky first half against Wisconsin, things look good for Chavis' bunch so far.
If they stifle Mississippi State's offense on Saturday the way they suffocated two overmatched nonconference opponents the past two weekends, LSU fans will have good reason to ratchet up their excitement level another few notches.
August, 13, 2014
Aug 13
4:00
PM ET
Now that we've checked out the quarterbacks I think
could reach 3,000 passing yards
and the guys who
could hit 1,000 yards rushing
, it's time to see what this season's crop of receivers is all about.
Who can reach the 1,000-yard club?
Last season, four receivers made it to the 1,000-yard club -- Vanderbilt's
Jordan Matthews
(1,477 yards), Texas A&M's
Mike Evans
(1,394 yards) and LSU's
Jarvis Landry
(1,193 yards) and
Odell Beckham Jr
. (1,152 yards). All four of those guys are gone. Actually, the SEC lost eight of its top 10 receivers from a year ago.
[+] Enlarge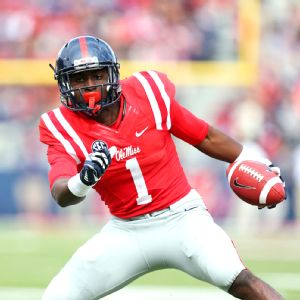 Spruce Derden/USA TODAY SportsLaquon Treadwell scored five receiving touchdowns in his freshman season at Ole Miss.
There are still some talented pass-catchers lurking in the league, so I'm going to go with three 1,000-yard receivers. Here are the guys I think have the best chance of getting to that number (in order):
1. Amari Cooper, Alabama:
One of the nation's best receivers, Cooper wasn't at his best and wasn't 100 percent healthy last season, but he still managed 736 receiving yards. He's playing at a faster level now and is tougher, which means he'll have no trouble crossing the 1,000-yard mark this fall.
2. Laquon Treadwell, Ole Miss:
He learned a ton from
Donte Moncrief
and still caught more passes than him in 2013. Treadwell is a physical specimen and is already the most athletic person when he steps out on the field. As the No. 1 guy in Oxford, he'll easily surpass the 608 yards he had last season.
3. Jameon Lewis, Mississippi State:
He was so close to 1,000 yards and probably would have made it into triple digits if he didn't have to work with multiple quarterbacks all season. Lewis is still developing his game, but he's the perfect playmaker for Mississippi State's spread offense.
4. Sammie Coates, Auburn:
Talk about coming out of nowhere. Coates was a real unknown before last season and somehow wound up with 902 yards. He's a deep threat and someone who isn't afraid to make plays over the middle. Getting pushed more by other players might cut into his numbers, though.
5. Malcolm Mitchell, Georgia:
If Mitchell is healthy, he's one of the most athletic and talented receivers that this league has to offer. A knee injury cost him just about all of his 2013 season, and he's already have complications with his knee this fall. But if he's out there and ready to go, he'll be fun to watch.
6. Marquez North, Tennessee:
In a struggling passing game, North finished the 2013 season with 496 yards. He's so much better than that, and he's playing like it this fall. He's added some needed weight and is understanding his role more and running his routes better.
7. Ricky Seals-Jones, Texas A&M:
Another player who basically saw the 2013 season from the sideline, don't sleep on Seals-Jones. He was one of the nation's best recruits a couple of years ago and when he's at full speed, Seals-Jones can really fly. He'll make tons of plays inside and out.
8. D'haquille Williams, Auburn:
The junior college transfer could be really special. He has all the talent to make a ton of plays in such a wide open offense. Williams will push Coates all season for the role as the Tigers' No. 1 target.
9. Shaq Roland, South Carolina:
Dealing with the hype that came with him out of high school hasn't been easy, but the thought out of Columbia is that this could be a big season for Roland. He can stretch the field and is great in space.
August, 13, 2014
Aug 13
10:30
AM ET
»
More team previews:
ACC
|
Big 12
|
Big Ten
|
Pac-12
|
SEC
Previewing the 2014 season for the
Mississippi State Bulldogs
:
2013 record: 7-6 (3-5 SEC). Beat Rice 44-7 in the AutoZone Liberty Bowl.
Final grade for 2013 season:
The Bulldogs had a very subpar start to the season and looked out of bowl contention after beginning November 0-3, getting outscored 105-64 in the process. But after finishing the regular season 2-0, including an overtime win over archrival Ole Miss, the Bulldogs trounced Rice in their bowl game, giving them a C for the season.
Key losses:
QB Tyler Russell, RB
LaDarius Perkins
, OL
Gabe Jackson
, OL Charles Siddoway, DT
Denico Autry
, LB
Deontae Skinner
, S Nickoe Whitley, P Baker Swedenburg
[+] Enlarge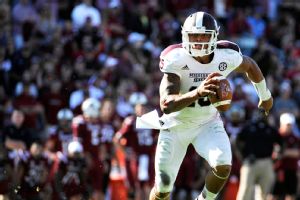 AP Photo/Rainier EhrhardtDak Prescott ended 2013 with a bang and could emerge as one of the top signal-callers in the SEC.
Key returnees:
QB
Dak Prescott
, RB
Josh Robinson
, WR
Jameon Lewis
, WR
Robert Johnson
, TE
Malcolm Johnson
, OL
Blaine Clausell
, C
Dillon Day
, DT
Chris Jones
, DT
Kaleb Eulls
, DE
Preston Smith
, LB
Benardrick McKinney
, CB
Jamerson Love
, CB
Taveze Calhoun
Instant impact newcomers:
LB
Gerri Green
, DT
Cory Thomas
Breakout player:
Receiver
De'Runnya Wilson
has a chance to really make a name for himself this fall, but I'm going to go with Robinson. The compact, 5-foot-9, 215-pound wrecking ball of a player could be very, very fun to watch this fall. He's spent two years learning from
Vick Ballard
and Perkins and is primed to have a big year for the Bulldogs. He can grind out yards between the tackles and has excellent speed to get to the outside and make plays in space.
Key position battle:
The Bulldogs will have quite the fight on their hands at right tackle. Senior
Damien Robinson
arrived as a highly-billed recruit, but has yet to live up to that label. It's now or never for him, but he'll have to compete with sophomore
Justin Senior
, who the coaches are pretty excited about. However, if neither works out veteran
Justin Malone
, who is coming back from a season-ending foot injury, could move from right guard to right tackle. That wouldn't be ideal for the Bulldogs.
Most important game:
If Mississippi State is really going to turn the corner and actually compete for the SEC Western Division title, the Bulldogs have to get a win in Baton Rouge against LSU on Sept. 20. The Bulldogs return 18 starters, have better depth than coach Dan Mullen knows what to do with, and won't be afraid of a trip to Tiger Stadium. With that said, this is a must-win if this team is going to have a chance at making it to Atlanta for the SEC championship game. The Tigers are an enigma this season, but could be dangerous down the stretch. Getting them early is huge, and the Bulldogs have to take full advantage of that.
Biggest question mark:
While right tackle is a concern for the Bulldogs, finding some consistency in field-goal kicking would be nice.
Devon Bell
and
Evan Sobiesk
combined to go an unflattering 9-for-20 on field-goal attempts last season. They were a combined 1-for-6 from 40-plus yards out and each had a kicked blocked in 2013. Transfer J.J. McGrath will compete for the starting job, but he's a ways behind Sobiesk at this point. Still, Sobiesk still has a long way to go in the consistency department.
Upset special:
Again, in order for Mississippi State to take the next step as a program, the Bulldogs need to beat one of the league's best. After Texas A&M comes to town on Oct. 4, the Bulldogs host reigning SEC champion Auburn. And the Tigers could be pretty fatigued after a game against LSU. Talk about the perfect time to take one from Auburn. The Bulldogs lost a heartbreaker to Auburn last season after
Nick Marshall
orchestrated a late, game-winning touchdown drive. You better believe revenge will be on the Bulldogs' minds.
Key stat:
What Mullen has done in five seasons at Mississippi State has been impressive, but he has struggled against ranked opponents. In the last three seasons, the Bulldogs have gone 0-15 against teams that finished the season ranked in one of the final polls.
They said it:
"I've had a good year here and there at Mississippi State, but never consistency. I'm proud that that's what we've been able to do. Yeah, at some point we'll win a championship here. Maybe this year." -- Mullen
Preseason predictions
ESPN Stats & Information:
8.45 wins
Bovada over-under:
7.5 wins
Our take:
This is the deepest team Mullen has had at Mississippi State. The offense can run and pass for days with the weapons and experience coming back, while the defense is loaded with underrated talent. The schedule isn't too daunting with an incredibly easy nonconference slate and Auburn and Texas A&M at home. Having to go to Alabama, LSU and Ole Miss isn't ideal, but if the Bulldogs can take two from that road trio, they'll be in contention for the West title. The Bulldogs will challenge for the division and finish the regular season 9-3.
April, 2, 2014
Apr 2
9:00
AM ET
STARKVILLE, Miss. -- When Dan Mullen first took over as Mississippi State's head coach before the 2009 season, the goal was very simple: Make it to bowl games.
For a program that lacked the historical success of the SEC's big boys, a bowl game here and there was something Mississippi State was more than happy with.
But those were simpler times in Starkville.
Now, as Mullen enters his sixth season with the Bulldogs, just becoming bowl eligible isn't good enough. When you make it to four straight, it's time to take the next step, and the overwhelming feeling around the program is that the time is now for Mississippi State.
"When we got here, we talked about winning a championship," Mullen told ESPN.com last week. "And guys thought that was good talk and was something they wanted to do, but they weren't sure that it could [happen]. There's still that hesitation of 'Well, it sounds great, but how real is it?'
"You look at this team, and our guys expect to compete for the SEC West championship this year."
And this isn't just an up-and-coming team puffing smoke about the place. This is a team that returns 20 of 22 defenders who were on last season's bowl roster. It has a potential All-SEC quarterback and lost five total starters from a 2013 team that finished on a three-game winning streak that included an overtime victory over archrival Ole Miss and a bowl blowout of Rice.
When Mullen approached his team shortly after the Bulldogs' 44-7 drubbing of Rice in the AutoZone Liberty Bowl, he found an anxious group. Players wanted back on the field. The months before spring practice were too long, and they couldn't even comprehend the thought of not smashing into someone not dressed in maroon for another nine months.
The momentum this team got from the tail end of the 2013 season has fueled players like no other season has, veteran linebacker
Benardrick McKinney
said. Center
Dillon Day
said there's a lot more trust throughout the roster with the improved depth at just about every position.
[+] Enlarge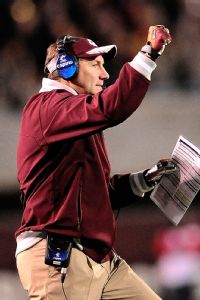 Stacy Revere/Getty ImagesDan Mullen says Mississippi State has big goals this season: "Our guys expect to compete for the SEC West championship this year."
There's a familiarity within this team that has players salivating over improving on a 7-6 season that brought Mullen one win away from tying for second all-time at Mississippi State. The theme of this spring is gaining even more ground on the perceived SEC front-runners.
"We aren't really given a shot with those types of teams, but this year I definitely feel like we're going to be a factor to deal with," Day said. "We definitely can beat those teams.
"This year, we have all the factors; we have every position filled up."
Mullen understands that confidence alone won't take the Bulldogs to their second SEC title game. Games have to be played and wins have to appear. Mullen might own the program's highest winning percentage for a coach (36-28, .563) since the late Darrell Royal in 1954-55 (.600), but he has yet to even sniff the SEC West crown.
During his impressive 9-4 season in his second year, he finished just 4-4 in SEC play. He hasn't eclipsed that many conference wins in a season since and has had losing conference records three times.
Mullen has had four straight winning seasons but hasn't hit the double-digit mark for wins. On paper, the Bulldogs are a blip on the SEC's radar, but to Mullen, he's seen growth, development and an incredibly inspired team.
For a program littered with former two- and three-star high school prospects, the Bulldogs could prove to be a formidable opponent this season with so much experience coming back. Mullen sees it, players see it and fans are expecting more wins in the treacherous SEC West.
"I want those expectations," Mullen said. "I want our fans to have those expectations; I want our people to have those expectations. I like it on the national level, having those expectations."
It's hard not to blame the Bulldogs' for being confident. Quarterback
Dak Prescott
, who has already earned the dark-horse Heisman moniker from national pundits, ended last year with two very gutty performances against Ole Miss and Rice and returns his top-five receiving targets, including senior
Jameon Lewis
, who registered 923 receiving yards last year.
Running back
LaDarius Perkins
is gone, but Mullen said he's pleased with the talent and depth he has at running back, which starts with potential breakout candidate
Josh Robinson
.
Then there's that defense that finished 2013 fourth in the SEC and 18
th
nationally in total defense. The Bulldogs, which lost just two defensive starters from last year, held their final four opponents to 20 or fewer points and allowed an average of 296.3 yards during that span.
Mississippi State won't get much real national championship talk, but the SEC title isn't out of the question. With the unknowns surging throughout the league, the Bulldogs are set up to rub shoulders with and maybe push around the SEC's elite.
"I've had a good year here and there at Mississippi State, but never consistency," Mullen said. "I'm proud that that's what we've been able to do. Yeah, at some point we'll win a championship here. Maybe this year."
January, 9, 2014
Jan 9
9:00
AM ET
Catch your breath yet?
What a bowl season, starting really with Texas A&M's heart-stopping comeback to beat Duke 52-48 in the Chick-fil-A Bowl and carrying all the way through the VIZIO BCS National Championship with Florida State's last-minute drive to beat Auburn 34-31.
The SEC finished 7-3 in the postseason, and we're honoring some of the best individual performances with our all-bowl team:
OFFENSE
[+] Enlarge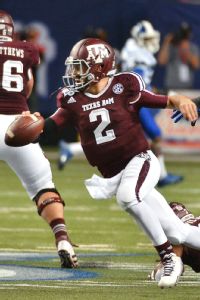 Chuck Liddy/Raleigh News & Observer/Getty ImagesJohnny Manziel's final game at Texas A&M was a memorable one as he threw four TDs and rallied the Aggies from a 21-point deficit.
QB: Johnny Manziel, Texas A&M:
Yes,
Connor Shaw
was sensational, too, but Manziel brought the Aggies back from a 21-point halftime deficit. He threw four touchdown passes and ran for another in a memorable farewell for Johnny Football.
RB: Tre Mason, Auburn:
Until Florida State's late touchdown drive, it looked as if Mason's 37-yard touchdown run would be what everyone was talking about from the BCS title game. He finished with 195 rushing yards against one of the top defenses in the country.
RB: Jeremy Hill, LSU:
LSU fans got a nice surprise this week when reports surfaced that Hill planned to return for his junior season. A few days earlier, he gave them a memorable performance in the Outback Bowl with 216 rushing yards and two touchdowns.
WR: Jameon Lewis, Mississippi State:
The Rice secondary had no answers for the speedy Lewis, who finished with nine catches for a school-record 220 yards. He had a 28-yard catch to set up the Bulldogs' first touchdown, a 35-yard catch to set up their second touchdown and a 65-yard catch to set up their fourth touchdown, all in first half.
WR: Bruce Ellington, South Carolina:
Ellington is leaving early for the NFL and made some NFL-like catches in his farewell. His one-handed, bobbling catch on the fourth-and-7 play was huge. He finished with six catches for 140 yards and two touchdowns and also threw a touchdown pass.
TE: Arthur Lynch, Georgia:
Lynch would love to have that last pass back, but he still hauled in six catches for 69 yards, including receptions to help set up a couple of field goals.
All-purpose: Derrick Henry, Alabama:
Get ready to see a lot of Henry next season for the Tide. The freshman running back rushed for 100 yards on eight carries, including a 43-yard touchdown run, and also had a 61-yard touchdown catch.
OL: Jake Matthews, Texas A&M:
As left tackles go, Matthews set the standard this season. He was pretty close to flawless in the bowl game, as the Aggies rolled up 541 total yards in their stirring comeback against Duke.
OL: Greg Robinson, Auburn:
The BCS title game turned out to be Robinson's final game for Auburn. The junior left tackle is turning pro and heads to the next level on the heels of the kind of performance that became the norm for him this season.
OL: Gabe Jackson, Mississippi State:
The Bulldogs racked up 533 yards of total offense in their 44-7 rout of Rice in the AutoZone Liberty Bowl, and Jackson was his usual dominant self at left guard.
OL: Wesley Johnson, Vanderbilt:
The veteran of that Vanderbilt offensive line asserted himself in the fourth quarter when Houston climbed back into it, and the Commodores made a living running behind him.
C: Reese Dismukes, Auburn:
There aren't many centers in America better than Dismukes, and he can hold his head high over the way he played against a talented Florida State interior on defense.
DEFENSE
[+] Enlarge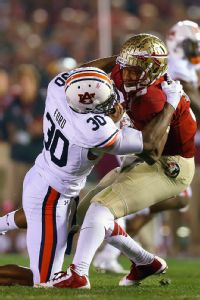 Jeff Gross/Getty ImagesAuburn's Dee Ford showed why he is one of the nation's best when he recorded two sacks against FSU in the national title game.
DL: Dee Ford, Auburn:
Ford had already established himself as one of the top pass-rushers in the SEC this season and then went out and showed it on the biggest stage with two sacks in BCS title game.
DL: D.T. Shackelford, Ole Miss:
The Rebels' resilient senior defensive end went out in style with seven total tackles, including a sack, and also had two quarterback hurries.
DL: Kony Ealy, Missouri:
Michael Sam
received most of the publicity this season for the Tigers, but Ealy was equally productive. He closed out his career with two sacks in the AT&T Cotton Bowl, giving him 9.5 on the season.
DL: Preston Smith, Mississippi State:
Smith spearheaded a suffocating defensive effort by the Bulldogs with six total tackles and a quarterback hurry. Rice, after scoring a touchdown on its second possession, was held to 66 total yards the rest of the way.
LB: Serderius Bryant, Ole Miss:
Bryant tied for the team lead with eight tackles, including two for loss, and also forced a fumble that led to a safety. The Rebels limited Georgia Tech's option offense to 17 points and 151 rushing yards.
LB: Andrew Wilson, Missouri:
The Tigers' senior middle linebacker was everywhere against the Cowboys with 15 total tackles to earn Cotton Bowl Defensive MVP honors.
LB: Skai Moore, South Carolina:
Only a freshman, Moore had two interceptions in the Capital One Bowl, the last one coming in the end zone in the fourth quarter with Wisconsin driving.
CB: E.J. Gaines, Missouri:
Gaines was one of the most complete cornerbacks in the SEC this season. He capped his career with seven tackles against the Cowboys and an interception at midfield that helped set up a touchdown.
CB: Andre Hal, Vanderbilt:
Despite playing with a brace on his elbow, Hal led Vanderbilt with nine total tackles, including an interception to seal the game, and also broke up three passes.
S: Craig Loston, LSU:
Loston finished with six total tackles, including three for loss. He also had a key interception in the fourth quarter with Iowa threatening on fourth-and-1 at the LSU 16.
S: Toney Hurd, Jr., Texas A&M:
Even though Texas A&M was torched on defense, Hurd's 55-yard interception return for a touchdown with 3:33 to play was the decisive blow for the Aggies.
SPECIAL TEAMS
K: Marshall Morgan, Georgia:
Morgan kept the Bulldogs in the Taxslayer.com Gator Bowl by making all four of his field-goal attempts.
P: Steven Clark, Auburn:
Clark kept Florida State pinned deep most of the night with perfectly placed punts that looked like pitching wedges. He dropped five of his six punts inside the 20, including one at the 6, one at the 4 and one at the 2.
RS: Marcus Murphy, Missouri:
One of the top return specialists in the conference, Murphy combined for 136 yards on kickoff and punt returns against Oklahoma State. He had a long of 38 yards on a first-quarter punt return.
December, 31, 2013
12/31/13
7:13
PM ET
Mississippi State's bowl hopes were hanging by a thread in late November, but the Bulldogs closed the regular season with a pair of overtime wins to earn their fourth straight bowl appearance and made good on that postseason trip with a resounding 44-7 victory Tuesday over Conference USA champion Rice in the AutoZone Liberty Bowl.
Here's a quick recap:


It was over when:
After losing a fumble and falling behind 7-0 early, Mississippi State reeled off 44 unanswered points to win going away over a Rice team that was manhandled at the line of scrimmage. The Bulldogs were dominant in every phase and racked up 454 total yards to the Owls' 130 total yards by the end of the third quarter.
Game ball:
Mississippi State quarterback
Dak Prescott
, coming off his clutch performance in the win over Ole Miss, was nothing short of brilliant. Looking healthy and in total command, Prescott passed for 283 yards and three touchdowns and rushed for 78 yards and two touchdowns -- all in just three quarters. He'll head into the 2014 season as one of the SEC's marquee quarterbacks and primed for a huge year.
Turning point:
On a third-and-9 play, Prescott connected with
Jameon Lewis
for 35 yards down to the Rice 2-yard line, setting up
Ashton Shumpert
's 1-yard touchdown run to put Mississippi State ahead to stay at 14-7 with 9:49 to play in the second quarter.
Unsung hero:
Lewis was a nightmare for the Rice secondary. The Bulldogs' speedy receiver hauled in nine catches for a school-record 220 yards. He had six catches for 181 yards in the first half, including a 65-yard catch and run in the final seconds of the half to set up a late touchdown that all but sealed the game, staking Mississippi State to a 27-7 lead.
Stat of the game:
Mississippi State held Rice, ranked 16th nationally in rushing offense, to 61 rushing yards. The Owls' leading rusher,
Charles Ross
, was limited to 28 yards on 10 carries. Ross came into the game with 1,252 rushing yards.
What it means:
Mississippi State carved out its fourth straight winning season, the first time that has happened in Starkville since Jackie Sherrill guided the Bulldogs to four straight winning seasons from 1997 to 2000. It was Dan Mullen's third bowl victory at Mississippi State, which is the most in school history.
To watch the trophy presentation,
click here
.
November, 28, 2013
11/28/13
11:00
AM ET
College football has a funny way of turning the tables in an instant. Tonight, the SEC could see that firsthand when Mississippi State (5-6 overall, 2-5 SEC) hosts arch-rival Ole Miss (7-4, 3-4) just after Thanksgiving supper is served in a game that will make or break the Bulldogs' postseason chances.
A year ago, the Rebels were in the same boat with the Bulldogs' exact record, while Mississippi State entered with eight wins and a bowl in hand. The result was an Ole Miss thumping that set in motion a massive amount of momentum that carried the Rebels into the 2013 season and slowly started pushing Mississippi State behind its instate rival.
But that was last season, and we all know the saying about history and repeating. That's what the Bulldogs, who are coming off of a season-saving 24-17 overtime win over Arkansas, are hoping for as they look to become bowl eligible for a record fourth straight year.
[+] Enlarge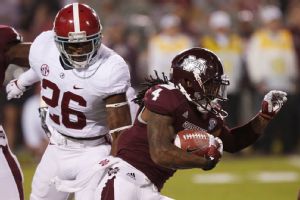 AP Photo/Rogelio SolisJameon Lewis and Mississippi State are not only playing for bragging rights Thursday -- they're playing for a record fourth straight bowl appearance.
"As long as we win this Egg Bowl and then go to a bowl, it'll be a good season," said wide receiver
Jameon Lewis
, who leads the Bulldogs with 49 catches, 635 yards and five touchdowns. "We'll go out there and do whatever it takes to win that game."
The Bulldogs know they're in a must-win situation, but tonight will go beyond making it to the postseason. This one is about bringing the Egg Bowl trophy back to Starkville, where Mississippi State owned it for three consecutive years before Ole Miss coach Hugh Freeze took over the Rebels in 2012.
For anyone living in the state of Mississippi, this is a huge game. It divides families and friendships. It's just as ruthless on the field as it is outside stadiums and inside homes. Its return to Thanksgiving night will only add to the excitement this game has produced over the years.
And like all good rivalries, the nastiness between the lines fuels emotions throughout the sidelines. For Lewis, he experienced that head-on last year when he says an Ole Miss player shouted some salty language at him as he was walking back to the huddle after a play. Lewis said he took it so personally that he almost lashed out before remembering that he was actually in a game.
Lewis said he'll "never forget" what was said to him and said he hopes to make a few plays in order to exact his revenge.
"That's what makes the game so fun," Lewis said. "It makes you forget about everything. It makes you forget that it's cold outside. It makes you forget about the time. It makes you want to play. I'm taking it personally and I gotta get my revenge."
Freshman defensive end
Chris Jones
felt the vitriol of this rivalry well before he stepped on the field. His recruitment was already wild from his constant travel between the two schools before he signed with Mississippi State in February, but it exploded with the senseless badgering he got from fans on both sides.
He received ridiculously disconcerting phone calls and death threats from rabid fans with nothing better to do, but that didn't stop him from joining the nuthouse that is the Egg Bowl rivalry.
"These two teams right here, they really hate each other," Jones said. "To be a part of something like this so exciting just feels good, man. And to play a team that we don't like the most is exciting."
Added Lewis about the game's intensity: "We are not the best of friends. Let's just put it like that. As soon as that ball kicks off, we're worst enemies. If they want to fight on the field, we can do that, but other than that we have to get our trophy back."
With Mississippi State coming off a clutch road win and Ole Miss falling in frustrating fashion at home to Missouri, the Bulldogs own a little more momentum heading into tonight's game. They also have history and bragging rights on the line.
"We're trying to do something here that's never been done before," MSU coach Dan Mullen said. "We've been playing football here for a long, long time -- over 100 years -- and we've never made it to four consecutive bowl games. That'd be something special for us to do and a great bonus on top of winning the Egg Bowl trophy back.
"I know our guys, they'd rather win this game than go to a bowl game."
The Bulldogs could do both tonight.
September, 23, 2013
9/23/13
9:00
AM ET
Another week means another set of Power Rankings in college football's top conference:

1. Alabama (3-0, 1-0 SEC; last week: 1):
The Crimson Tide looked a little sluggish at times in a 31-6 win over Colorado State, but did you really think Nick Saban was going to have his guys hammer a former assistant? Yeah, neither did I. People are getting a little concerned with this team, especially with the shaky play in the secondary, but Saban has never been one for truly mashing cupcakes.
2. LSU (4-0, 1-0 SEC; LW: 2):
The Bayou Bengals just keep rolling, but Auburn certainly gave LSU its best test so far. Gus Malzahn's up-tempo spread registered 437 yards on LSU's defense, including 213 on the ground. But LSU spent another day in the 200-200 club when it came to passing and rushing.
Jeremy Hill
had a monster game with 183 yards and three touchdowns on 25 carries.
3. Texas A&M (3-1, 0-1 SEC; LW: 3):
We wanted to see improvement from the Aggies' defense and we got it on Saturday. While the defense did surrender 434 yards, it allowed only 13 points. That's 20 points fewer than the average allowed going into the game!
Johnny Manziel
had another big outing and the offense churned out nearly 600 yards.
4. Georgia (2-1, 1-0 SEC; LW: 4):
If not for some major special teams blunders, the Dawgs would have had a much larger margin of victory over North Texas. Special teams has been a problem for Georgia over the last few years, and that's dangerous heading into the meat of conference play. The offense is still red-hot, while the defense allowed just one score and finally kept an opponent under 450 yards of offense (245).
5. South Carolina (2-1, 1-1 SEC; LW: 5):
The Gamecocks were off this week, which should have given the defense more time to prep and study what it did against Vanderbilt. That was an impressive showing by this group, and it has to keep going with a tricky road trip to face unbeaten Central Florida this weekend.
6. Ole Miss (3-0, 1-0 SEC; LW: 6):
The Rebels were off, which meant guys could get healthy, but it did slow down some of the momentum from that huge win at Texas. No problem. All Ole Miss has to do is get up for a trip to Tuscaloosa to take on No. 1 Alabama. With an offense that's averaging a little less than 500 yards per game and is scoring almost 40 points a contest, Saturday's showdown should be pretty fun.
7. Florida (2-1, 1-0 SEC; LW: 7):
The Gators were dealt a tough blow when starting quarterback
Jeff Driskel
went down with a broken fibula in the first quarter in their 31-17 win over Tennessee. He's out for the season and now fourth-year junior backup
Tyler Murphy
is in. While he looked good against Tennessee, you can't measure too much against a defense with as many holes as the Vols have. Even with an elite defense, Florida is still quite the enigma in the East.
8. Missouri (3-0, 0-0 SEC; LW: 10):
All of a sudden, the Tigers' offense looks pretty exciting as it's averaging 47 points and almost 600 yards a game. Say what you will about the competition it's had to face; this team is on fire when it has the ball and that's something we didn't see at all last year. Going on the road to blow out Indiana was a nice victory for Mizzou as it prepares for its last nonconference foe (Arkansas State) before conference play begins.
9. Auburn (3-1, 1-1 SEC; LW: 8):
The Tigers' offense was able to move the ball against LSU, but turning it over three times and going 6-for-17 on third downs won't win you many games in this conference. Also, giving up nearly 7 yards per play to LSU won't help you out, either. It's still a work in progress on the Plains, but you can see the development continue across the board for Malzahn's team.
10. Vanderbilt (2-2, 0-2 SEC; LW: 9):
It was a win, but it wasn't the most glamorous win for the Commodores this weekend. Credit the UMass defense, which held Vandy to just 239 yards and 10 points through the first three quarters. Then the Dores wore down UMass to score 14 more points and generate 167 yards in the fourth quarter.
11. Arkansas (3-1, 0-0 SEC; LW: 11):
The Razorbacks really gave up a golden opportunity on the road against Rutgers. After leading 24-7 late in the third quarter, the Scarlet Knights rallied to score 21 unanswered points in their 28-24 win. The Hogs' ground game, which was averaging a little less than 300 yards per game, managed just 101 yards against Rutgers. That was a bad loss for a team in rebuilding mode.
12. Mississippi State (2-2, 0-1 SEC; LW: 13):
Quietly, Mississippi State ran Troy out of the state Saturday with an impressive 62-7 win over the Trojans. With
Dak Prescott
still handling quarterback duties, the Bulldogs gained 551 yards of offense and both Prescott and receiver
Jameon Lewis
rushed for, threw for and caught touchdowns Saturday night. The defense also held Troy to only 186 yards of total offense.
13. Tennessee (2-2, 0-1 SEC; LW: 12):
When the Vols went up 7-0 in the first quarter against Florida, people in the press box joked that Butch Jones should just take a knee every down before punting in order to keep the ball away from Florida's defense. Well, he didn't, and his team turned it over six times, including four interceptions between
Nathan Peterman
and
Justin Worley
. The offense is in desperate need of playmakers and a consistent quarterback, while the defense allowed a quarterback with no true game experience to lead the Gators to a season-high 31 points and 218 total yards with two touchdowns.
14. Kentucky (1-2, 0-1 SEC; LW: 14):
The Wildcats were off after a tough loss to Louisville the previous week. The defense played better against the Cardinals and now has to face a Florida team with a new, very inexperienced quarterback. The question is whether the Wildcats' situation at quarterback is any better.
September, 4, 2013
9/04/13
9:00
AM ET
Take heart Mississippi State, your Bulldogs played well on defense this past weekend. Holding a historically prolific offense like Oklahoma State's to 21 points should be measured as an accomplishment, especially with a secondary that replaced three of four starters. The Cowboys usually hit that mark by halftime. Instead,
Jay Hughes
& Co. never let Mike Gundy's tempo get going and held Oklahoma State to less than 150 yards passing.
But Hughes, despite his best efforts, wouldn't survive the game as Mississippi State lost one of its most experienced defensive backs for the rest of the season with a torn Achilles.
And that was only the beginning of the bad news for a program that ended last season on a bitter note, losing five of its final six games after starting off 7-0.
[+] Enlarge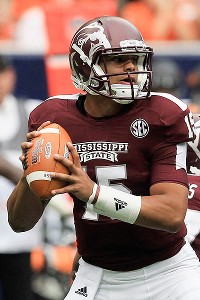 Bob Levey/Getty ImagesWith Tyler Russell out of commission, it will be up to Dak Prescott to provide a spark for Mississippi State's struggling offense.
Injuries might be the least of coach Dan Mullen's worries after a disappointing season-opening loss to Oklahoma State. His offense, the one promised to improve with each season since his arrival five years ago, was stagnant, ineffective and, to put it more plainly, bad. The Bulldogs mustered only three points and converted on just two of 16 third-down attempts.
Tyler Russell
's 10-of-16 passing performance wasn't horrendous, but 133 yards, no touchdowns and an interception were not what you would have expected from a fifth-year senior going up against a defense that finished 110th out of 120 in passing defense last season.
Mississippi State's offense couldn't do anything right in Arlington, Texas. The Bulldogs rushed for a paltry 111 yards and threw for only 6.7 yards per pass.
Jameon Lewis
returned a kickoff 66 yards to the OSU 34-yard line just before halftime, but a holding penalty and a sack stopped the drive in its tracks.
Even when the Bulldogs did put together a solid drive, they couldn't finish. Their only lead of the game came off a 40-yard field goal when a six-minute, 57-yard drive was cut off short of the red zone.
"I always take responsibility for all the play calling on offense," Mullen told reporters Monday. "'I'm an offensive-oriented coach. To me that all falls on my shoulders. I have a lot of input on the offense. As the head coach that kind of goes on me. I do think in looking back on it, I do think there were times we could've taken some more shots down the field and we had some good one-on-one matchups and didn't take as many shots."
Taking the blame was honorable, but it won't do anything to relieve the growing sense of heat under the head coach's seat at the helm of the football program. There's a buzz growing in Starkville, Miss., and it doesn't favor the current regime.
And to make matters worse, Russell was knocked out of Saturday's game in the third quarter. The concussion he sustained would lead Mullen to announce that Russell would not play in Mississippi State's upcoming game against Alcorn State.
Now, Mississippi State offensive coordinator Les Koenning must go back to the drawing board with a new quarterback,
Dak Prescott
, who doesn't have a single start under his belt. Sure, Prescott is a weapon with his ability to run and throw the football, but there's no substitute for experience.
In that respect, the Alcorn State game comes at the perfect time for Mississippi State to regroup. Prescott should be able to move the offense with his feet and get points on the board. A blowout win would give Mullen cover as his team prepares for Auburn the following week.
But therein lies the rub. Alcorn State will serve as a nice diversion, but if Mississippi State looks like it did against Oklahoma State against an SEC opponent such as Auburn, things could get really interesting in a hurry.
November, 24, 2012
11/24/12
10:38
PM ET
There's probably no better way for Ole Miss to claim bowl eligibility than with a win against its arch-rival in the 109th edition of the Egg Bowl. The Rebels reached the magical number of six wins Saturday night in a
41-24
pasting of Mississippi State -- Ole Miss' first win in the series since 2008.


Simply put, the Bulldogs had no answer for an explosive Ole Miss offense that picked up right where it left off in last week's explosive performance in the loss to LSU. Sophomore quarterback
Bo Wallace
had an impressive performance, but the story of the game has to be sophomore receiver
Donte Moncrief
, who abused the Mississippi State secondary on seven receptions for 173 yards and three touchdowns. The gaudy yardage total is a new career high for Moncrief, who had set a personal best just last week with 161 yards.
Mississippi State kept pace in the first half with help from its defense and special teams. Bulldogs kick returner
Jameon Lewis
notched the longest play in Egg Bowl history when he returned Ole Miss' first kickoff of the night 100 yards for a touchdown. The defense got in on the act when Mississippi State picked off two Wallace passes in its red zone to kill two Ole Miss scoring opportunities.
Bulldogs wide receiver
Chad Bumphis
had plenty of production himself, as he tallied six receptions for 146 yards and two scores. But after forcing a 17-17 halftime tie, Mississippi State fell behind. The Rebels outrushed the Bulldogs 234-30 en route to 24 unanswered points after the intermission. Bumphis eventually added a consolation touchdown to end the onslaught in the game's waning seconds to set the final margin.
With the win, Ole Miss put the skids on a three-game losing streak, allowing the Rebels to advance to the postseason for the first time since 2009. The Bulldogs finished the regular season 1-4 after a 7-0 start.