NCF Nation:

Jamere Holland
March, 12, 2010
3/12/10
8:44
PM ET
It was announced on March 13, 2009, that Chip Kelly would replace Mike Bellotti as Oregon's football coach. So, Saturday morning will be Kelly's one-year anniversary.
Happy anniversary coach.
[+] Enlarge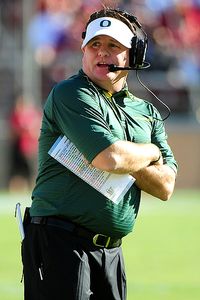 Kyle Terada/US PresswireOn the field, Oregon coach Chip Kelly led his team to the Rose Bowl, but a string of off-the-field incidents tainted his first season.
It's certainly been an eventful year. The
LeGarrette Blount
meltdown after the dismal performance at Boise State. The Pac-10 championship, conference Coach of the Year honors and the Rose Bowl berth.
Then, since late January, Kelly's Ducks decided to dominate the police blotter and become a national sensation as a team supposedly full of out-of-control delinquents.
And, now, on his 364th day as Oregon's coach, Kelly announced that his star quarterback
Jeremiah Masoli
-- a potential Heisman Trophy candidate -- has been suspended for the entire 2010 season after he pleaded guilty to a second-degree burglary charge stemming from the theft of two laptops and a guitar from a campus fraternity house in late January.
And that his star running back
LaMichael James
-- the Pac-10 offensive Freshman of the Year -- has been suspended for the 2010 opener vs. New Mexico after he pleaded guilty to a misdemeanor harassment charge and was sentenced to 24 months on probation and 10 days in jail.
And that his kicker
Rob Beard
also was suspended for the opener after he pleaded guilty to a harassment charge for his part in a Jan. 24 brawl.
Kelly refused to answer any questions Friday. He spoke only for a few minutes and said, "I want to eliminate any uncertainly that our level of expectations are the same for all our student-athletes regardless of the role they play on this team."
You can review the entire
rap sheet here
. In summary, Masoli is the biggest name atop a list of incidents involving nine players, three of whom were kicked off the team and two others were suspended for the 2010 season.
It surely represents one of the most embarrassing periods for the program in decades. Kelly should have talked to reporters. He'll likely get skewered for not doing so. But he probably just wanted to go lie down in a dark room and listen to soft music. Chopin, perhaps.
Is Kelly to blame for the recent run of incidents? No. And Yes.
He's only been the head coach for one year after serving for two as offensive coordinator. He's participated in creating a team culture, but it's also accurate to say that the program doesn't yet entirely belong to him. These will be Chip Kelly's Ducks when the vast majority of players in the locker room were recruited by him as head coach. That's presently not the case.
But, yes, Kelly deserves blame. He's the head coach. He's paid a lot of money to run a successful program, and that includes fielding a team that doesn't embarrass the university off the field. It's the ole "buck stops here" rule.
Has Kelly handled this run of off-field incidents well? Yes. And no.
Kelly took a measured, case-by-case approach. He sent a message to his locker room that he's not going to bow to outside pressure and quickly hand out harsh punishments just to look like he's a disciplinarian. Meanwhile, he did hand out several harsh punishments.
Did he send a mixed message? Some people felt that way. But I was never confused about his message -- felt like I knew where Kelly stood all along.
Kelly believed Masoli and James both had credible positions in regard to their incidents. Turns out James
did
. And Masoli did not.
What particularly stands out about the Masoli case is that he lied --
to Kelly and to police
-- about his initial involvement. Even though charges against Masoli were
reduced to a misdemeanor
, the lying is likely a big part of why he won't suit up in 2010.
But Kelly also handled this terribly. Why? Because, for one, it happened, one incident after the other (recall where the buck stops). Second, because it was impossible to handle well.
It was embarrassing that the day after he laid down the law in front of reporters with an, "I'm in charge speech," linebacker Kiko Alonso got a DUI. And that receiver
Jamere Holland
decided to launch a Facebook tirade about his perception of Kelly's reaction shortly thereafter.
And that just a week ago, as things seemed to get quiet for a few days, linebacker Josh Kaddu was busted for minor in possession of alcohol.
Still, it's hard to believe that, short of putting his players on lock-down, Kelly could have prevented them from acting like knuckleheads. They've had 18-to-22 years -- pre-Kelly -- to develop such traits.
Going forward, however, is where things need to be different.
It's one thing for a first-year head coach to suffer through a run like this. It's a far different thing for it to happen in year three or four.
Kelly's a smart, organized guy, though. While his considerable ego likely will prevent him from publicly admitting mistakes -- probably one of the reasons he decided not to take questions Friday -- know that he most certainly is formulating a plan to ensure the program doesn't suffer through another run like this anytime soon.
Will he go Martin Luther and hang "The Ninety-Five Theses" in the Ducks locker room? That wouldn't shock me.
In fact, the guess here is he'll spend most of his coaching anniversary thinking about that very thing.
So, again, happy anniversary coach.
February, 22, 2010
2/22/10
9:55
AM ET
When will the bleeding end for Oregon?
The latest
is Oregon coach Chip Kelly announcing Sunday he had booted
Jamere Holland
from the team, in all likelihood because of the receiver's expletive-filled posts on his Facebook page.
That was just the final act of another bad weekend for the Ducks. Hours after coach Kelly met with reporters Friday to reassure Ducks fans he had control of the team, linebacker Kiko Alonso was arrested early Saturday for DUI.
Running back
LaMichael James
, 20, was arrested last week on a domestic violence charge.
Kicker Rob Beard has been cited with investigation of misdemeanor assault in a Jan. 24 brawl that left him seriously injured and involved other players, one of whom, walk-on Matt Simms, was booted from the team.
It's been a rough month for the program.
Holland was a talented but often troubled receiver with great speed who transferred from USC but never broke through. He was academically ineligible for the Rose Bowl after catching 17 passes for 252 yards and two touchdowns in two seasons.
Here's
The Oregonian
story, which includes information about Holland's unwise Facebook posts.
December, 3, 2009
12/03/09
8:00
AM ET
Three games will consume your attention, starting with the big Thursday night throwdown for the Rose Bowl.
1.
Oregon State needs to play sound run defense
: Oregon's spread-option running game does three things to stress a defense. It tries to fool you. Then it tries to block you. Then it tries to make you miss. It will be first things first for the Beavers defenders: Do your job. That means play within the scheme. Defend your gap. Don't freelance. The rest is just a physical question. Defeat the block. Don't miss the tackle. Expect your teammate to do the same.
2.
The poised team is going to the Rose Bowl
: In last year's Civil War, Oregon swaggered into Reser Stadium and played fast and loose. And dominated. The Beavers were tight, knowing that a win earned them their first Rose Bowl invitation since the 1964 season. For the Ducks, the Civil War was the thing. For the Beavers, the focus was the Rose Bowl. That's a mistake that coach Mike Riley and his players talked about repeatedly this week. While it could sound counterintuitive, it might help the Beavers to be on the road. Autzen Stadium won't intimidate the Beavers, and it may help them focus. The Ducks, meanwhile, could tighten up at home -- like the Beavers did -- if things don't start well.
3.
Arizona needs to rediscover its running game to beat USC
: What has made the Wildcats' offense so tough the past two seasons is balance. Sure, they spread out a defense, but Arizona has been perfectly comfortable going mano-a-mano with the power running game. But with injury issues at tailback -- starter
Nic Grigsby
won't play against the Trojans -- the running game has been inconsistent, at best. Quarterback
Nick Foles
will need some help against the Trojans defense, which probably will be perfectly comfortable if Foles throws 40 times. Moreover, Foles is nursing a broken bone in his non-throwing hand. Being able to hand the ball off and gain 4 yards will be a big boon to him.
4.
Is California or Washington more focused and hungry?
Surging Cal is coming off a bye week. It should be rested, but sometimes bye weeks hurt teams that are playing well. Washington is coming off the emotions of a big Apple Cup win, but for the Huskies, this should feel like their bowl game, only in front of their home fans. It's possible one or both teams will be flat. It's also possible this will be a spirited battle, with
Jake Locker
trying to keep the Bears from improving their standing in the Pac-10 bowl pecking order.
5.
Ducks stars vs. Beavers stars -- or someone else?
Either Oregon's
Jeremiah Masoli
or Oregon State's
Sean Canfield
is going to be the first-team All-Pac-10 quarterback. It's also possible that either
LaMichael James
or
Jacquizz Rodgers
will be first-team tailback (though both seem like locks for a tripartite backfield with Stanford's
Toby Gerhart
). Toss in Canfield's favorite target,
James Rodgers
, and Masoli's top man, tight end
Ed Dickson
, and you have a crew of impact offensive stars hoping for their close-up. On the other hand, big games often produce unlikely heroes. Who might that be? Two names to think about: For the Beavers, tight end
Joe Halahuni
. For the Ducks, receiver
Jamere Holland
.
Posted by ESPN.com's Ted Miller
Optimism is a powerful thing. And spring is a time for renewal. So this is a "Best of" list, without any of the "Negative Nellie" stuff.
Best spring game performance by a quarterback: Stanford redshirt freshman Andrew Luck all but won the starting quarterback job over incumbent Tavita Pritchard after completing 18 of 25 passes for 352 yards and five touchdowns to lead the White team to a 42-17 victory over the Cardinal.
Best spring game performance by a quarterback II: Washington quarterback Jake Locker seemed fine working in a pro-style offense after completing 16 of 18 passes for 200 yards and two touchdowns. The two incompletions, by the way, were drops.
Best spring game performance by two quarterbacks: Oregon's Jeremiah Masoli and Justin Roper combined to complete 37 of 56 passes for 516 yards and five touchdowns and neither threw an interception in the Ducks' spring game. Perhaps it was the rainy weather only fit for a Duck?
Best spring, overall, by a quarterback: Under intense, national scrutiny ,USC's Aaron Corp threw only one interception throughout spring practices and was consistently solid throughout the session, which earned him the nod as the Trojans No. 1 quarterback over spectacular freshman Matt Barkley entering the offseason. Under coach Pete Carroll, every previous Trojan quarterback who had been tapped No. 1 out of spring started the season opener.
Best performance by a true freshman: Barkley made the recruiting gurus who ranked him No. 1 look smart.
Best spring game on defense: Talk about a penetrating performance. USC's backup defensive end Nick Perry had six tackles for loss, including four sacks, among his seven tackles. Yeah, USC's defense is going to be hurting in 2009.
Best spring on defense: Six guys stood out: Oregon cornerback Walter Thurmond III, UCLA's tackle Brian Price, Oregon State tackle Stephen Paea, Arizona State defensive tackle Lawrence Guy, Arizona linebacker Vuna Tuihalamaka and USC linebacker Malcolm Smith.
Best surprise: USC transfer and notorious underachiever Jamere Holland suddenly decided to become Oregon's best deep threat and turned in an outstanding spring. Golly, sometimes listening to your coaches helps.
Best breakout: While California has questions at receiver, the general feeling is sophomore Marvin Jones is almost certainly one of the answers.
Best 'it's about time' breakout: USC's Everson Griffen might be the nation's most talented pass-rusher, but his high-performance engine has also been a high-maintenance engine. Yet his effort and intensity were consistentthis spring, which meant no one could block him.
Best comeback: California offensive tackle Mike Tepper has been through a lot, but he's hoping his sixth year will just be about anchoring a line with a lot of upside. Read Tepper's story here.
Best comeback II: Got a funny -- mean, but funny -- note during the 2008 season that instructed the Pac-10 blog to refer to Oregon State receiver Darrell Catchings as Darrell Droppings. Can't do that now because Catchings lived up to his name -- the real one -- this spring.
Best position change: Arizona sophomore Robert Golden, a marquee 2008 recruit, switched from cornerback to strong safety this spring, and early word is he could become an All-Conference player at his new position. The move further allowed the Wildcats to switch Cam Nelson to free safety from strong and get Trevin Wade on the field to complement Devin Ross at corner.
Best coaching decision: Stanford coach Jim Harbaugh wants his best 11 on the field at any given time, and he's willing to get creative to do it. That's why he's got a handful of guys playing both ways, including Owen Marecic (fullback and middle linebacker), Michael Thomas (cornerback and receiver), Richard Sherman (cornerback and receiver) and Alex Debniak (linebacker and running back). Will it work? We'll see. But it's undoubtedly interesting.
Best candidate for a karmic change: No team had worse injury issues this spring than Washington State, which is clearly in the midst of a major rebuilding project. Then promising defensive end Cory Mackay, who'd impressed this spring, suffered a serious back injury after he fell asleep at the wheel of his car. The Cougars are overdue for some luck. Perhaps it arrives this fall?
Best catch of the spring: You may have already watched this grab. Watch Arizona State receiver Kerry Taylor one more time. It's worth it.
Best position in conference: The Pac-10 might have the nation's best collection of talent in the secondary, with USC and California boasting units that should rank among the nation's best. Consider: FS Taylor Mays (USC), SS T.J. Ward (Oregon), SS Josh Pinkard (USC), CB Walter Thurmond III (Oregon), CB Alterraun Verner (UCLA), CB Syd'Quan Thompson (California), CB Devin Ross (Arizona), CB Omar Bolden (Arizona State), FS Rahim Moore (UCLA), CB Shareece Wright (USC), among others.
Best position in conference II: Five running backs who eclipsed 1,000 yards in 2008 are back, led by California's Jahvid Best and Oregon State's Jacquizz Rodgers.
Best potentially surprising position: If you talked about good Pac-10 defensive linemen in recent years, you were basically talking about USC. Not in 2009. Nine of the Pac-10's top 30 players, at least by, er, one person's accounting, are defensive linemen, and that list included only one player from USC (Griffen, at No. 30) and didn't include Cal's Cameron Jordan.
Best quote: "How do we go from nine to one?" said Chip Kelly on what he believes are his marching orders as Oregon's new coach. "Nine" is where the Ducks finished last y
ear in the final coaches' poll.
April, 23, 2009
4/23/09
2:30
PM ET
Posted by ESPN.com's Ted Miller
It really don't matter if I lose this fight. It really don't matter if this guy opens my head, either. 'Cause all I wanna do is go the distance. Nobody's ever gone the distance with Creed, and if I can go that distance, you see, and that bell rings and I'm still standin', I'm gonna know for the first time in my life, see, that I weren't just another bum from the neighborhood.
April, 7, 2009
4/07/09
2:30
PM ET
Posted by ESPN.com's Ted Miller
Spring is nature's way of saying, "Let's party!"
August, 7, 2008
8/07/08
11:22
AM ET
Posted by ESPN.com's Ted Miller
It's a little-known fact that links are a good source of Vitamin C.
Arizona might have found its next Antoine Cason in a Golden freshman cornerback, say Greg Hansen and John Moredich. Up front, the pressure is on players like end Ricky Elmore to help the Wildcats inexperienced defense hold its own.
Arizona State WR Mike Jones hit .184 in the Yankees farm system this summer, so he's obviously saved some juice as he tries to improve on his 10 TD receptions from a year ago. It's never good when your starting tailback is having shoulder issues before full-contact starts. On the other side of the ball, the primary concern is the interior defensive line, where some young guys might see action. Dan Zeiger's notebook also included this about freshmen who could see action:
"Conventional wisdom is that three true freshmen -- Bass, receiver Gerell Robinson and defensive lineman Lawrence Guy -- are expected to play this season. But a number of others are getting every chance to make an impression. Such newcomers as linebackers Shelly Lyons and Brandon Magee and offensive linemen Zach Schlink and Patrick Jamison have received practice action with the second team.