June, 20, 2012
6/20/12
12:00
PM ET
Over on the Big 12 blog, David Ubben decided to go through all the teams in the conference and see how they've done against the Top 25 since 2008.
That sounded like a ton of fun, so here's a look at the Pac-12 results. For seasoning, I added a best/worst category against Top 25 teams, which is very subjective and, as always, open to debate.
Since 2008 the Pac-12 is 52-105 against Top 25 teams. Utah and Colorado records prior to 2011 are not factored in, but we'll still look at them in the team-by-team breakdown.
Oregon carries the flag for the conference with a robust .705 winning percentage while Washington State has a Blutarsky.
Here's how the entire conference shapes up:

Oregon
Record vs. Top 25
: 12-5 (.705)
Best win
: The Stanford victories in consecutive years put the Cardinal back in their place (and last year, signified the clear leader in the North), but the 45-38 win over No. 10 Wisconsin in the Rose Bowl last season was a breakthrough for the program. It put an end to the "can they win the big one" questions and was critical for the legitimacy of the league. Oregon to the rest of the conference: You're welcome.
Toughest loss
: The Boise State loss in 2009 was a stinger. But anytime you lose in the National Championship game to the No. 1 team -- and the way it went down in those obscure final two minutes -- it's tough. That loss brought about some of the questions the Ducks were able to answer with the Rose Bowl win.

USC
Record vs. Top 25
: 9-5 (.642)
Best win
: The 35-3 win over Ohio State in 2008 stands out. But the victory at No. 4 Oregon last year bloodies the water for this year's much-anticipated showdown.
Worst loss
: Also from last year, the triple-overtime loss to No. 6 Stanford shouldn't have ended the way it did. Maybe Stanford still would have won -- but that game was too epic to end on a fumble.

Stanford
Record vs. Top
25: 7-6 (.538)
Best win
: The '09 win over Oregon stands out because the Ducks were a Top 10 team on a seven-game winning streak. Toby Gerhart ran wild -- picking up 223 yards and three scores. It was really Stanford's declaration that they'd arrived in the conference under Jim Harbaugh.
Worst loss
: Many will think it's the Fiesta Bowl last year because the wound is still fresh and the manner in which it went down. But losing the Big Game 34-28 to No. 25 Cal in 2009 -- especially after notching back-to-back wins over Oregon and No. 9 USC -- is simply deflating. If the Oregon game was a declaration of arrival, the Cal game was a reminder of how deep the conference can be.

Utah
Record vs. Top 25
: 4-5 (.444)
Best win
: The 2008 Sugar Bowl. Big, bad 'Bama gets bounced by a tiny little non-AQ, leaving most West of the Mississippi with a great-big smile.
Worst loss
: An overtime loss hurts. An overtime loss to a rival hurts more. An overtime loss when the opposing quarterback
gives you a verbal smack down
following the loss is just brutal. The 2009 Holy War loss to No. 19 BYU will always sting.

Arizona
Record vs. Top 25
: 4-10 (.285)
Best win
: Willie Tuitama was simply prolific in carving up No. 16 BYU in the 2008 Las Vegas Bowl, throwing for 325 yards, two touchdowns and running for another in a 31-21 win. It was Arizona's first bowl win in a decade.
Worst loss
: The double-overtime loss to Oregon in 2009 was tough, but the 33-0 beat down by No. 22 Nebraska in the Holiday Bowl that same year was a real stinker.

Oregon State
Record vs. Top 25
: 5-15 (.250)
Best win
: Jacquizz Rodgers busted out 186 yards and two touchdowns on the ground in a 27-21 stunner of No. 1 USC in 2008. Doesn't get much sweeter than an unranked knocking off a No. 1. Though the 3-0 win over No. 20 Pitt in the 2008 Sun Bowl gets a tip of the cap simply for the novelty.
Worst loss
: The Beavers were shutout 38-0 by No. 6 Stanford in '10. That came a week after a 36-7 win over No. 20 USC. Talk about highs and lows.

Washington
Record vs. Top 25
: 5-15 (.250)
Best win
: Because of the record the previous year and because it was Steve Sarkisian against Pete Carroll, the 16-13 stunner over No. 3 USC in 2009 is one worth re-living over and over if you're a Washington fan.
Erik Folk
was so clutch.
Worst loss
: Anything from 2008 will do.

UCLA
Record vs. Top 25
: 4-12 (.250)
Best win
: Maybe No. 7 Texas was looking ahead to the showdown with Oklahoma. Oh well, don't turn the ball over four times in the first 30 minutes. Great performance from
Johnathan Franklin
in the 34-12 win in 2010.
Worst loss
: Toss up between the 35-0 loss to No. 25 Stanford at home in 2010 or the 59-0 loss to No. 18 BYU in 2008. Both were brutal -- but the BYU one probably stung more since the Bruins had clipped No. 18 Tennessee in overtime just 12 days earlier in the season opener.

Cal
Record vs. Top 25
: 3-10 (.230)
Best win
: What's bad for the Cardinal is generally good for the Bears. The 2009 Big Game win at No. 17 Stanford was extra tasty -- especially when a late Andrew Luck interception in the red zone sealed the deal. Shane Vereen was on fire with 193 yards on the ground and three touchdowns.
Worst loss
: The No. 6 Cardinal reclaimed the Axe the following year with a 48-14 thrashing in Berkeley.
Stepfan Taylor
produced three touchdowns and Luck produced a Stanford fan's dream highlight with his forearm deflection of Sean Cattouse.

Arizona State
Record vs. Top 25
: 3-11 (.214)
Best win
: The USC and Missouri wins last year were pretty big, but there is nothing sweeter than beating a rival, in double-overtime, on the road, when they are ranked and you aren't. That was the case in 2010 with a 30-29 win over No. 23 Arizona. James Brooks will always be remembered for blocking an extra point near the end of regulation to force overtime. And then blocking a second extra point -- seriously -- to lock up the win. As bizarre as it was magnificent for the Sun Devils.
Worst loss
: The loss to No. 7 Boise State in the Las Vegas Bowl last year was completely uninspired and capped a horrific end to the season. The Sun Devils went into a tailspin and Todd Graham has to pull them out.

Colorado
Record vs. Top 25
: 2-12
Best win
: In his first career start in 2009, Tyler Hansen threw for 175 yards, a touchdown and ran for another to spark an upset win over No. 17 Kansas. That was Colorado's last win against a Top 25 team. The Buffs are 0-7 since.
Worst loss
: Back in the day before they joined the Pac-12, Colorado had a little rivalry with a midwest school named Nebraska. The No. 15 Cornhuskers sent Colorado into the Pac-12 with an ugly 45-17 loss in 2010.

Washington State
Record vs. Top 25
: 0-12
Best win
: You have to think the streak ends under Mike Leach -- and sooner rather than later.
Worst loss
: Tragically, there are so many choices. But we'll go with the 69-0 loss to No. 6 USC in 2008 because at the time, WSU was riding the nation's second-longest streak without being shutout (280 games). That came to an end in a very embarrassing fashion. While Mark Sanchez threw for five touchdowns, the Cougars managed just 116 yards of total offense.
August, 15, 2011
8/15/11
10:15
AM ET
Injuries are part of the game, coaches will tell you. That doesn't make them any less of a drag.
And no team is dragging more with injuries than Arizona State, which lost senior linebacker Brandon Magee for the season Saturday due to a
ruptured Achilles tendon
.
Magee is not only a returning starter, there's also this from the Arizona Republic:
Defensive coordinator Craig Bray recently told The Republic that Magee was the team's best defensive player last season.

Over the past week, Magee had seemed to take a greater leadership role on the field, barking at the first-team defense to get to the ball and to work through fatigue.
Magee also is one of the "
Centennial Threesome
" with fellow LBs Vontaze Burfict and Shelly Lyons. He and Lyons keep pretty busy helping the volatile Burfict maintain an even keel.
Perhaps no team in the county expected to contend for a national ranking has suffered as much roster attrition as the Sun Devils since the end of 2010. QB
Steven Threet
(retired due to recurrent concussions), QB
Samson Szakacsy
(left team), DT Lawrence Guy (entered NFL draft), CB Omar Bolden (knee), WR
T.J. Simpson
(knee), DE James Brooks (left team) and RB
Deantre Lewis
(gunshot wound). And since the beginning of camp, linebacker Oliver Aaron suffered a high-ankle sprain, backup defensive tackle Joita Te'i suffered a foot injury that will sideline him for seven weeks and cornerback Devan Spann dislocated his left shoulder two times in the first week of practice.
And now Magee.
Despite all this, the Sun Devils
still
have the makings of a good team. Just not as good of a team as they had when they walked off the field Dec. 2 after beating rival Arizona.
August, 12, 2011
8/12/11
9:00
AM ET
In 2008,
the then-Pac-10 blog noted
that "If you Google 'Arizona State' and 'sleeping giant,' 3,400 articles come up."

If you did it this week, you get 85,900 results (in 0.23 seconds! Technology rocks! Though it doesn't seem as if all the matches are relevant, Google).
In 2008, we wrote, "If a Pac-10 team has a chance to break USC's choke-hold on the conference title -- or at least to regularly challenge the Trojans for the top spot -- it's the Sun Devils."
Drrrrrr.
We were wrong. Somehow I want to blame Chip Kelly.
We are considering programs that are "teases" in the Pac-12, which my new boss,
Ruthless Reynolds
, described as "teams that always look great in the preseason only to underwhelm when play starts."
Sun Devils, why can't we quit you?
Well, lots of reasons.
You have the only coach in the conference who's won a national title in Dennis Erickson. As a resident of north Scottsdale living in the shadow of Black Mountain, I can confirm that the weather -- though a bit toasty in the summer -- is just about perfect eight months of the year. Tempe is just a short flight from the recruiting hotbed of Southern California. The, er, scene at Arizona State strikes this codger as something that might appeal to an average 18- or 19-year-old male. Academic standards don't typically limit recruiting options.
And the program has been there before, becoming a national power in the 1970s under Frank Kush and then again in the 1996 season, when it lost a national title in a thrilling Rose Bowl defeat to Ohio State.
Still, it's one of the great questions in college football: Why doesn't Arizona State win more consistently?
Of late, the Sun Devils have typically underperform compared to expectations. In four of the past six years, they've finished below where they were picked in the Pac-10 preseason media poll, most notably in 2008 -- that year! -- when they were picked second in the conference but finished sixth with a 5-7 record.
To be fair, though, they've eclipsed their preseason prediction in two of the four years -- 2007 and 2010 -- under Erickson.
And so we have 2011.
The Pac-12 blog started touting Arizona State as a 2011 contender before last season was done. Why? It wasn't just that the Sun Devils went nose-to-nose with some of the best teams in the country -- Oregon, Wisconsin, Stanford -- it was coaches from other teams specifically noting how talented the Sun Devils were.
Then you looked at the 2010 depth chart: Everyone was coming back. Seriously: The only senior starters last year were receiver Kerry Taylor and defensive tackle Saia Falahola.
Wow. To be honest, my thought process immediately saw 6-6 in 2010 and thought Rose Bowl shot in 2011.
But after a nice finish to the 2010 season, little has gone right for the Sun Devils. Defensive tackle Lawrence Guy made a poor decision and entered the NFL draft. Quarterback Steven Threet was forced to retire due to concussions. Fellow quarterback Samson Szakacsy left the team. Unanimous All-Pac-10 cornerback Omar Bolden blew out his knee at the beginning of spring practices, followed shortly thereafter by top returning receiver T.J. Simpson. Starting defensive end James Brooks quit, and the status of talented running back Deantre Lewis (gunshot wound) remains up in the air as he might redshirt this season.
That's five starters, a co-starter (Lewis) and an experienced backup quarterback. So, Sun Devils fans, you have a ready-made excuse if the season falls short of expectations and you end up only wondering what might have been.
That said, Arizona State, despite these major personnel losses, is still good enough to win the South Division. It also helps, by the way, that USC's ineligibility means it's only a five-team race among squads that each have significant holes.
But every time you start to think they'll be OK, something else happens, such as All-American linebacker Vontaze Burfict
fighting a receiver
he outweighs by 50 pounds in the locker room last week, or linebacker Oliver Aaron suffering a high ankle sprain, or backup defensive tackle Joita Te'i suffering a foot injury that will sideline him for seven weeks.
Still, 28 seniors back in the locker room, five starters back on the offensive line, Burfict leading impressive talent in the front seven, an underrated running back in Cameron Marshall and a quarterback in Brock Osweiler who looks ready to lead.
Sun Devils, why can't we quit you?
August, 10, 2011
8/10/11
11:00
AM ET
Every season true freshman make an impact and underclassmen become stars. Who might those guys be in the Pac-12 in 2011?
(Note: With "underclassmen to watch," we mostly stayed away from guys who made a significant impact in 2010, such as Arizona State defensive end Junior Onyeali, Colorado receiver
Paul Richardson
or California receiver
Keenan Allen
).
Underclassmen to watch
[+] Enlarge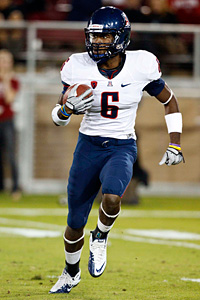 Jason O. Watson/US PresswireArizona cornerback Jonathan McKnight has a bright future.
Jonathan McKnight, CB, So, Arizona
: McKnight, younger brother of former USC running back Joe McKnight, might already be the best cover guy in an already good secondary.
Davon Coleman, DE, So, Arizona State
: The junior college transfer -- a late signing for the 2011 recruiting class -- might already be the Sun Devils' No. 3 defensive end, and ASU needs him to step up after returning starter James Brooks quit the team.
David Wilkerson, OLB, RFr., California
: While fellow outside linebacker Cecil Whiteside might be more heralded, Wilkerson was listed as a starter on on the post-spring depth chart.
Parker Orms, CB, So., Colorado
: Orms was the starting nickel back in 2010 before he blew out his knee on the third play of the season-opener against Colorado State. He's now No. 1 at cornerback -- the Buffs more worrisome position -- despite sitting out spring practices.
Scott Crichton, DE, RFr., Oregon State
: The Beavers have major questions at defensive end -- a traditionally strong position for their defense. While he didn't come from nowhere, it was a bit of a surprise to see Crichton atop the depth chart after spring practices.
Dietrich Riley, So, SS, UCLA
: By the end of the season Riley and Tony Dye might be widely viewed as the best safety combo in the conference. Heck, they might already be.
Dres Anderson, RFr, WR, Utah
: Anderson already looks like the Utes' No. 2 option after junior
DeVonte Christopher
.
Josh Shirley, RFr., LB, Washington
: Shirley was such a force as a pass-rusher this past spring, they created a position for him: "Rush" linebacker.
Rickey Galvin, RFr, RB, Washington State
: Galvin broke his arm at Oklahoma State on the first play of his college career, which ended his debut season. He's speedy and shifty and the Cougars really need him to provide a running threat to help out quarterback
Jeff Tuel
.
Impact freshmen
Hank Hobson, LB, Arizona
: The Wildcats have major depth issues at linebacker. Hobson looks like the most ready-made guy in the incoming class. He might not start, but he's a good bet to be the No. 4 guy behind the starting three.
Stefan McClure, CB, California
: While many Cal fans are more eager to see 325-pound nose tackle Viliami Moala, the Bears have depth issues at cornerback, and McClure is almost certain to be in the mix.
Colt Lyerla, TE, Oregon
: While Oregon needs help at receiver, and at least one one of the incoming guys is almost certain to climb into a prime spot in the rotation, we don't know who that will be. We feel pretty good projecting Lyerla as the Ducks' No. 2 tight end behind
David Paulson
.
James Vaughters, ILB, Stanford
: The word most often used to describe Vaughters? "Beast." Stanford is solid at linebacker, but this guy is going to play, and and might well end up suggesting a second-coming of Vontaze Burfict by season's end.
George Farmer, WR, USC
: There might be somebody who doesn't believe Farmer is a budding star but I have yet to speak with him. Even USC super-soph
Robert Woods
talks about Farmer's freakish skills.
Austin Seferian-Jenkins, TE, Washington
: Seferian-Jenkins showed this past spring that he's ready for prime time. He's likely to be the Huskies' starting tight end. A runner-up for the Huskies, by the way, is receiver Kasen Williams, but he will join a deep, veteran crew of receivers.
February, 14, 2011
2/14/11
2:12
PM ET
For every love won, there is love lost. For every thrill of victory, there is an agony of defeat.
While we only wish you happiness on Valentines Day, here are six top heartbreaks from the Pac-12.
[+] Enlarge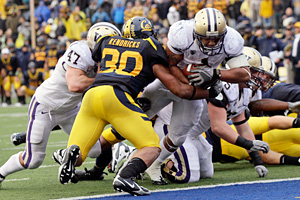 AP Photo/Marcio Jose SanchezWashington's Chris Polk lunges past California's Mychal Kendricks for the game-winning TD.
6.
Cal gets Polked
: Jeff Tedford had never had a losing season since he took over at California in 2002. And all his Bears had to do to maintain that impressive run was stop Washington on a fourth-and-goal from the 1-yard line with two seconds left, which would then earn them a bowl berth. Nope. Chris Polk scores a TD for a 16-13 Huskies win. The Memorial Stadium crowd, with no postseason to look forward to, goes home grumbling. The Huskies ride the win to their first bowl game since 2002.
5.
Thomas spurns USC for Oregon
:
DeAnthony Thomas
, widely considered one of the most dynamic athletes in the 2011 recruiting class, was a long-time USC commitment. He was expected to be one of the jewels of the Trojans' top-five class. But he took a late visit to Oregon just before signing day, when he broke USC hearts by signing with the Ducks.
4.
Trojans get kicked
: USC lost consecutive games the first two weekends of October -- 32-31 to Washington and 37-35 to Stanford -- on last-second field goals. And there was much gnashing of teeth.
3.
Buffalo slaughter
: Colorado led Kansas 45-17 with 14:52 left. Stick a fork in this one, right? Hey, maybe there was some life in Dan Hawkins' Colorado team. And Kansas, after all, was a bad team in turmoil under first-year coach Turner Gill, having lost 11 consecutive conference games. But no. Kansas scored the final 35 points in the fourth quarter and won 52-45. Epic collapse or epic comeback? Either way, it was stunning.
2.
James Brooks swats Alex Zendejas twice
: A blocked extra-point attempt is rare. Two in one game -- by the same guy -- is even more rare. And two PATs blocked by the same guy in game-deciding situations in a rivalry game? Well, that's great theater. But the thrill for Arizona State's James Brooks -- the mad swatter -- was pure agony for Arizona kicker Alex Zendejas. Brooks rejected Zendejas' PAT late in the fourth quarter, which forced overtime. He then turned away a Zendejas PAT in the second overtime, giving the Sun Devils an improbable upset win, 30-29.
1.
Dyer circumstances
: Auburn's freshman running back Michael Dyer looked down, tackled by Oregon rover Eddie Pleasant. If you watch the replay, you can interpret it any way you want, as many have. But the bottom line is Dyer's apparent short run late in the national title game turned into a controversial 37-yard scamper, which set up the Tigers' winning field goal as the clock expired in a 22-19 victory. One word: Ouch.
January, 18, 2011
1/18/11
10:19
AM ET
How can a football season be reduce to top 10 moments? It certainly isn't easy.
You might have your own ideas. There certainly are a few that were difficult to leave out.
We tried for diversity here: Games, performances, teams and plays. We came up with a list of 18 and then whittled things down.
Feel free to disagree.
1. Dyer circumstances
: Was
Michael Dyer
down? Oregon fans say yes, but the game -- and replay -- officials said no in the Tostitos BCS National Championship Game. The end result was a 37-yard run for the Auburn running back to Oregon's 23-yard line late in the fourth quarter, which set up the Tigers game-winning field goal in a 22-19 Ducks defeat.
2. The tying drive
: What was the biggest moment that led to Oregon tying the national title game at 19-19? First came Ducks linebacker Casey Matthews forcing a fumble from Auburn quarterback
Cam Newton
on a first-down run. Then came a 29-yard pass from
Darron Thomas
to
D.J. Davis
on a fourth-and-5 play. Or maybe it was the third-down shovel pass to
LaMichael James
that gave the Ducks a 2-yard TD. And don't forget
Jeff Maehl
's leaping catch for the 2-point conversion. It was a magnificent moment of almost.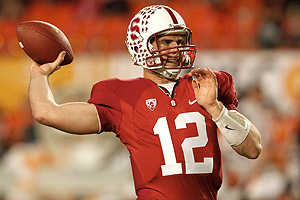 Joel Auerbach/Getty ImagesAndrew Luck threw for 3,338 yards and 32 touchdowns this season.
3. Pleasant fumble return
: Oregon safety Eddie Pleasant's 51-yard fumble return against Stanford was the turning point of the Ducks' Pac-10 game of the year win over Stanford. It was tied 31-31 in the third quarter, but Stanford was driving into Oregon territory after an
Andrew Luck
pass to
Chris Owusu
converted a third down. But Owusu fumbled on a hit from Javes Lewis and Pleasant rumbled to the Cardinal 3-yard line. A James run later and the Ducks took control.
4. It's better to be Luck than merely good
: Luck was masterful in the Discover Orange Bowl, completing 18 of 23 passes for 287 yards with four touchdowns in a 40-12 win over Virginia Tech. So that's what all those NFL scouts were talking about.
5. Polk's plunge
: You don't get much more basic than this: Fourth-and-goal from the 1 with just two seconds left, the game -- and bowl eligibility -- on the line. When Washington running back
Chris Polk
scored a TD as time expired to give the Huskies a 16-13 win at California, it became the centerpiece of a late-season surge that got Washington to its first bowl game since 2002. And it knocked the Bears out of the postseason.
6. Locker hurts Nebraska:
Washington quarterback
Jake Locker
's 25-yard TD run against Nebraska on the first possession of the third quarter of the Bridgepoint Education Holiday, which came immediately after he completed a 26-yard passing to wide receiver
D'Andre Goodwin
on third-and-8, gave the Huskies a 17-7 lead. It was the moment when everyone went, "Wow, the Huskies might beat a team that stomped them 56-21 on Sept. 18."
7. UCLA pounds Texas
: While it ended up not meaning a thing -- Texas wasn't that good; UCLA finished 4-8 -- don't forget how shocking UCLA's dominant 34-12 win at Texas was. No one -- no one! -- saw it coming.
8. For the defense
: Stanford's defense held Locker and Washington to just 107 total yards in a 41-0 shutout win in Husky Stadium, the Huskies' first shutout home loss since 1976. It was one of three shutouts for the Cardinal, whose transformation on defense was (almost) as big a story this year as Luck.
9. Five at the half
: USC quarterback
Matt Barkley
passed for a school-record-tying five touchdowns ... in the first half ... in USC's 48-14 blowout win over California. Barkley finished with 352 yards passing, but the Trojans, who led 42-zip at the half, opted not to run the score up.
10. Blowing PATs in the desert:
Arizona State beat rival Arizona 30-29 in double-overtime because James Brooks blocked two extra point attempts from Wildcats kicker Alex Zendejas. The first PAT probably would have won the game for Arizona in regulation. The second ended the game in the second OT. While the Sun Devils didn't earn bowl eligibility, the win sent them into the offseason with momentum for what figures to be a promising 2011 campaign. For the Wildcats, it was the fourth of what would become five consecutive defeats to end the season.
December, 3, 2010
12/03/10
12:52
AM ET
You can't ever take the PAT for granted. If you don't believe that, check in with an Arizona fan.
Kicker Alex Zendejas' extra-point attempt, which would have given the Wildcats the lead with 30 seconds left in the Territorial Cup against Arizona State, was blocked. Then another PAT was blocked that would have tied the game in the second overtime.


The end result is Arizona State upset No. 23 Arizona
30-29
in a thriller on Thursday.
It appeared James Brooks blocked both kicks, which were low.
The entire game took place after halftime. In the first half, both offenses were completely ineffective, and the Sun Devils led 6-0 at the break. But from then on, things went back and forth, with big plays and big mistakes changing momentum multiple times.
The statistics were almost identical: Both teams had 19 first downs. Arizona had 391 total yards; Arizona State had 389.
But the kickers were a mismatch. Sun Devils kicker Thomas Weber, a former Lou Groza Award winner who has struggled this year, was 5-for-5 on field goals with a long of 52 yards and made his one extra point. Zendejas made a 19-yard field goal and missed the aforementioned PATs.
Both quarterbacks turned in strong performances -- at least after bad first halves. Wildcats QB
Nick Foles
completed 22-of-36 for 262 yards with three TDs and no interceptions. It appeared he had led his third game-winning drive of the season before the missed PAT late in the fourth quarter.
Arizona State's
Brock Osweiler
, who got the start because of a concussion suffered by starter
Steven Threet
against UCLA last weekend, began just 3-for-15, but he settled down and ended up completing 22-of-49 for 267 yards with a TD. He also rushed for 56 yards and frequently eluded tough pressure from the Wildcats.
It is worth noting that, particularly early in the game, the Wildcats dropped at least three fairly easy interceptions, which probably allowed Osweiler to get his feet under him in his first start this season.
What does the result mean?
It means that Arizona (7-5) will ride a four-game losing streak into the postseason. That likely will cost them a berth in the Valero Alamo Bowl if Washington beats Washington State on Saturday, which means they figure to make a return trip to the Bridgepoint Education Holiday Bowl.
Arizona State improves to 6-6. It has applied to the NCAA for a bowl waiver, despite needing seven wins, per NCAA rules, because it played two FCS teams. The reasoning is the Sun Devils only played a second FCS team because San Jose State dropped out of a scheduled game late in the offseason, leaving the Sun Devils stranded and without options.
A further justification: The Sun Devils are probably the best 6-6 team in the nation.
With just two senior starters, you will hear from them in 2011.
October, 1, 2009
10/01/09
8:02
AM ET

Posted by ESPN.com's Ted Miller
The Bay Area is the center of the Pac-10 universe on Saturday, though Oregon State's visit to Arizona State feels underrated to me. Oh, and Washington heads east to take on Notre Dame and the cardiac Fighting Irish.
1.
Will the real Cal please stand up?
California can't possibly be as bad as it looked at Oregon. You look up and down the roster and check off guys with NFL futures and just shake your head. So, do the Bears put it together and play to their potential against USC? Or will they look out of sync again? It's possible that Cal could put forth a strong effort and still lose, but at least that might leave some sparks for a strong run through the rest of the conference slate.
2.
Toby Gerhart vs. Reggie Carter & Brian Price
: Obviously, there are 11 guys on both sides of the ball, but the 237-pound Gerhart is the irresistible force and Carter and Price are the immovable objects. If Gerhart prevails and gets his 100-plus yards, he should jump onto the short list of Heisman Trophy candidates. But Carter and Price are bad men -- maybe two of the nation's most underrated players. There will be some pads popping here.
3.
Danny Sullivan must play better
: Arizona State proved at Georgia that its defense is good enough to get the Sun Devils to a bowl game, but the offense needs to step up, particularly Sullivan. Only problem for him is his already questionable offensive line is banged up -- two or three starters could be out. Still, playing in front of the home crowd, Sullivan needs to make plays in the passing game or coach Dennis Erickson might decide to give talented true freshman
Brock Osweiler
a serious look.
4.
Will Irish run or pass vs. the Huskies' defense
?
Or both
? Washington's primary worry in the preseason was its outmanned secondary, but after Stanford ran all over the Huskies, the run defense now seems like a bigger problem. Notre Dame has been successful both throwing (297 yards per game) and running the ball (158 ypg). Against A-list programs, the Huskies have flashed decent run defense (LSU) and pass defense (USC). What will they have for Charlie Weis and the Irish?
5.
Welcome to Autzen Stadium, Jeff Tuel
: Sure, Washington State's true freshman quarterback got his first career action in the Coliseum against the fearsome Trojans, but it's much different coming off the bench without thinking time compared to having a first-career start hanging over a youngster for an entire week. Not to mention that Tuel won't be able to hear himself think inside Autzen Stadium -- it's not nearly as loud inside the Coliseum. And the Ducks' defense gives a QB lots of looks -- it certainly confused a veteran Cal offense.
6.
The Trojans' offense can't possibly be this bad
: The overall statistics don't look terrible, but the Trojans are averaging just 19.3 points over their last three games and only one of those defenses -- Ohio State -- is a first-tier unit. Moreover, the offense is only converting on 25 percent of its third downs, which ranks last in the conference. All of this is happening with an outstanding offensive line and a strong crew of skill players. So, even with young quarterbacks, it's not a lack of talent or experience. The pressure is on Jeremy Bates to earn his substantial paycheck and call better plays. Or, perhaps, Pete Carroll needs to free up Bates to call the game as he sees fit. Either way, this shortcoming falls on the coaches.
7.
Is it better to be Crafty or Lucky
? UCLA's and Stanford's quarterbacks come at Saturday's game from far different angles. The Bruins'
Kevin Craft
is the senior backup who lost his job to a now-injured redshirt freshman because he threw 20 interceptions in 2008. The Cardinal's
Andrew Luck
is a super-talented redshirt freshman who unseated a senior starter and who appears destined for an NFL career. Funny thing is: Craft probably will be more responsible for his team's fortunes. Luck has a powerful running game to rely on. Craft won't have that luxury. Of course, Craft did beat Stanford with a pressure-packed TD drive last year.
8.
Bringing the heat in Tempe
: Arizona State's defense has been dominant. Oregon State's defense has been disappointing. But here's a number that might shock you: Which two teams are tied for last in the conference with just two sacks? That would be the Sun Devils and Beavers, though the Sun Devils have played one less game. Both offensive lines have struggled, and the Sun Devils are digging deep into their depth chart because of injuries. Neither QB is terribly mobile. And Arizona State gets back suspended defensive end James Brooks, which will allow pass-rush specialist Dexter Davis to return to his preferred weak side. Guess here is one -- or maybe both -- of these teams is going to get to the quarterback.
9.
Jahvid Best needs a big day in a big game
: Last year against USC, Best had just 30 yards on 13 carries. Last week against Oregon, he had just 55 yards on 16 carries. While it's
unfair and untrue
to say that Best has not produced good numbers in big games, the Bears need him to step up and make some plays against a rugged Trojans defense that is going to gang up on him. Sure, quarterback
Kevin Riley
needs to create a passing threat so the Trojans can't crowd the line to stop Best, but if Best makes a few plays early, things probably will be a lot more open for Riley downfield.
10.
Locker vs. Clausen
: Washington's
Jake Locker
is 21st in the nation in total offense, but most will see him as the second-best quarterback on the field Saturday. Notre Dame's
Jimmy Clausen
is finally living up to his talent and recruiting pedigree, and the nation's fourth-rated passer is a legitimate Heisman Trophy candidate. But he also has a bum toe. Locker is a team player and a good citizen, but he's incredibly competitive. Bring up
Tim Tebow
, and Locker's reticence clearly suggests he thinks he's just as good. Locker would love to steal the big stage in front of Touchdown Jesus and turn in a blockbuster performance.
September, 29, 2009
9/29/09
8:14
PM ET

Posted by ESPN.com's Ted Miller
Arizona State went
looking for itself
at Georgia last weekend and it found half a team.
Actually, the Sun Devils might have found more than that after losing a 20-17 heartbreaker on a last-second field goal, but coach Dennis Erickson still isn't sure what he's got this season.
| | |
| --- | --- |
| | |
| | Matt Kartozian/US Presswire |
| | Danny Sullivan, who's completed less than 50 percent of his passes, has had his share of criticism. |
The defense, now ranked third in the nation, proved itself a salty crew. The offense hinted at a run game. The passing game was
thisclose
to making enough plays to win.
But, in the end, the offense only managed to produce 204 yards and score 10 points -- the other touchdown came on an interception return -- against a defense that would be
below average
in the Pac-10.
"I've got to see how this thing carries out -- we've got nine games left in the Pac-10," coach Dennis Erickson said. "It's really hard to tell where we're at, to be honest."
Erickson said that in response to a question about whether talented true freshman quarterback
Brock Osweiler
is pushing for playing time behind senior starter
Danny Sullivan
. He said it immediately after defending Sullivan from some grumbles of criticism among Sun Devils fans.
"He's playing decent," Erickson said of Sullivan.
Sullivan completed 10 of 32 passes for 116 yards with a touchdown and an interception against the Bulldogs. He missed some open receivers. And some good passes were dropped.
The struggles in the passing game -- the opportunities were there, just not converted -- certainly covered the long road trip with a what-could-have-been blanket.
"We dropped some [against Georgia], but we made some good catches, too," Erickson said. "We're not throwing like we want to, but up until then we've been throwing it pretty well. We just have to become accountable."
Quarterback may not be the chief concern as the Sun Devils prepare for a visit from Oregon State. The offensive line, which had taken some baby steps forward, has been ravaged by injuries. Guard Matt Hustad won't play against the Beavers because of a knee injury and the top two centers, Garth Gerhart (toe) and Thomas Altieri (knee), are questionable. Guard Jon Hargis is fine as long as he can withstand having his shoulder forced back into joint a few times a game, as was done at Georgia.
Oregon State's defense has struggled against the pass. It's yielded 272 yards per game and eight touchdown passes and has recorded just two sacks. But it's been fairly stout against the run (92 yards per game).
So if the Beavers crowd the line to stop the Sun Devils' running game, which only ranks seventh in the conference in any event, then Sullivan is going to have to make plays.
Or face more criticism.
Erickson doesn't think Sullivan will start pressing because of fan gripes.
"I don't think that will bother him because he knows that I don't worry about it," he said. "You can't play that position and worry about what people say. If you do, you've got a problem.
Erickson might not ask his offense to do too much, considering how well his defense is playing. The Sun Devils also get back suspended end James Brooks, which will allow Dexter Davis to move back to the weak side, where he's a better pass-rushing threat -- no tight end to double-team him. While the defense has been strong overall, it's only recorded two sacks so far.
The ASU D has earned a few admirers.
"They have a great-looking defense," Beavers coach Mike Riley said. "They gave Georgia fits in every way. Running the ball, short-yardage situations, many times they just stuffed them."
But that's only half a team.
The Sun Devils will face much better defenses than they've seen thus far in the weeks ahead. If they want to push into the top-half of the wide-open conference race, the offense must improve.