December, 1, 2009
12/01/09
11:55
AM ET
Colt McCoy
has to go way back to the dusty playing fields of West Texas to remember the last time he accomplished the ultimate in team goals for a season.
Sure, there have been a slew of individual accomplishments over the years and enough personal records to keep the Texas quarterback satisfied long after his playing career is over.
But McCoy has to revert to his days at tiny Jim Ned High School when his Class 2A team was beating up on the likes of the Bangs Dragons, Ballinger Bearcats, San Saba Armadillos and Coleman Bluecats for District 3 supremacy to remember his last true on-the-field team championship.
[+] Enlarge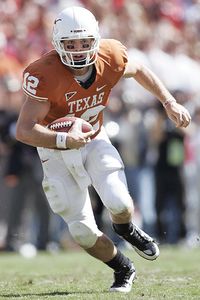 Tim Heitman/US PresswireColt McCoy has his sights set on winning a Big 12 title Saturday.
His next chance will come Saturday night at Cowboys Stadium in Arlington, Texas, when the Longhorns meet Nebraska.
"It's right there in front of us," McCoy said. "It's a goal we've worked for all year long and it's finally here. This is the most important game. We know there are big things after the game if we go out and handle our business. But right now, Nebraska is our focus."
Only a year ago, McCoy and the Longhorns dealt with the bitter disappointment of failing to make the Big 12 championship game. Earlier, they had defeated eventual champion Oklahoma in a dramatic comeback. But their South Division championship hopes were dashed by a last-second loss at Texas Tech that caused a three-way tie for division title. The split championship affected the computer polls and kept Texas out when the final numbers were tallied at the end of the regular season.
That snub resonated through all of the Longhorns' offseason practices and workouts before leading to their success this season.
Texas coach Mack Brown reminded them of that past disappointment as they began work for Nebraska earlier this week.
"They were disappointed as any group of kids I've ever seen," Brown said. "But [they] committed themselves to be in this game and win it. And now they have it all in front of them."
McCoy battled through a mid-season crisis of confidence to direct the Longhorns to a 12-0 record. Only a 16-13 victory over Oklahoma has been by a margin of less than 10 points.
Throughout the season, McCoy has talked about his personal need to play in the Big 12 championship game -- the biggest of all stages in his conference. Such a goal, he said, is bigger than an individual award like winning the Heisman Trophy.
He's never been there before, watching Paul Thompson and
Sam Bradford
claim titles for Oklahoma during his career at Texas.
He'll go down in history as the winningest quarterback in NCAA history. His 44-7 record likely will never be broken -- at least until the NCAA starts mandating 13-game or 14-game regular seasons.
In order to claim his place among the pantheon of great Texas quarterbacks like Vince Young, James Street, Bobby Layne and James Brown, McCoy needs to earn a title.
Texas offensive coordinator Greg Davis remembers hearing from McCoy only minutes after he learned that Vince Young was leaving school early for the NFL.
"Colt told me not to worry, that he was ready," Davis said.
Such a pronouncement might have been construed as a tad bold coming from a redshirt freshman who had never played before. But McCoy has been proving it ever since.
There was his first wild road victory when he beat Nebraska in a raging snowstorm in 2006.
And the way he's beaten old rivals Texas A&M and Oklahoma in back-to-back seasons. Nobody has done that since the Longhorns' salad days of late 1960s and early 1970s when Darrell Royal was roaming the sideline.
But the Big 12 title has been elusive for McCoy.
McCoy's quest has even infused Brown, who said Saturday's title game will be more meaningful for him for players like his senior quarterback than any sense of personal accomplishment in claiming his second Big 12 title and qualifying for his second BCS title game.
"I would like is for Colt and these seniors to have a championship," Brown said. "They deserve it. They have given us so much. It's a thing that's not on their résumé.
"And that's what Saturday night is about for me. I want Colt to finish getting the acclaim he should for this program and for college football. He'll have a lot more by winning Saturday."
November, 30, 2009
11/30/09
10:40
AM ET
By
Tim Griffin
| ESPN.com
Texas and Nebraska are two programs inexorably linked in the Big 12's young history.
Saturday's championship game in Arlington, Texas, will represent the third time the two traditional superpowers have played for the Big 12 title. Those rivals have played against each other for the title more than any other two teams in Big 12 history with each team winning one of the championship games.
Texas is a heavy favorite this year after a 12-0 regular season that has placed it on the cusp of a second national championship game berth in five seasons. Nebraska claimed the North title this season, but is a huge early underdog against the Longhorns.
[+] Enlarge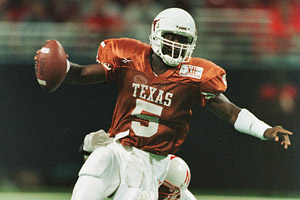 Jed Jacobsohn/Getty ImagesQuarterback James Brown predicted a Texas win in the first Big 12 championship game in 1996.
It's a complete role reversal from the first championship game in the conference's history. The Cornhuskers were ranked No. 3 and seemingly on their way to a national championship during that first Big 12 title game in St. Louis in 1996. Texas had come along late to earn the Big 12 South title, but was presumed by most prognosticators to have little chance with the mighty Cornhuskers.
"It kind of struck me a little unusual because of the matchup and how it's playing out," former Texas wide receiver Wane McGarity said. "It's almost the exact opposite of what happened that first time around."
That game became even more storied after Texas quarterback James Brown predicted a huge victory for the Longhorns and then backed it up with a stunning 37-27 upset that knocked the Cornhuskers out of the national title hunt.
The first Big 12 championship represented much more than merely a football game that would decide the conference's first representative into the old Bowl Coalition.
Nebraska was the dominant power in the old Big Eight Conference. Texas was considered to be one of the strongest among the four teams that joined the reconstituted Big 12 from the Southwest Conference.
The two schools battled on practically every item in the formative stages of the Big 12. Nebraska wanted the conference offices to remain in Kansas City. Texas wanted them moved to Dallas. Texas won that argument.
Nebraska wanted each team in the conference to be able to keep a certain number of partial qualifiers on the roster. Texas was against that. Texas won that argument.
Nebraska wanted former Kansas athletic director Bob Frederick as the conference's first commissioner. Texas wanted Southwest Conference commissioner Steve Hatchell. Texas won that argument.
Those off-the-field skirmishes made the first actual game between the two schools in the conference seem that much bigger.
Nebraska came into the game the two-time defending national champion. After losing early in the season at Arizona State, the Cornhuskers reeled off nine straight victories. Coming into the championship game, Nebraska had won 46 of its last 48 games.
Texas struggled with nonconference losses to Notre Dame and Virginia early in the season. John Mackovic's team fell into an early hole in the conference race after back-to-back losses to Oklahoma and Colorado left it at 3-4.
But Texas rebounded to win its final four regular-season games to finish strongly, including a 51-15 beatdown of Texas A&M. Still, most observers didn't give it much hope.
Nebraska was a three-touchdown favorite coming into the game. That status galled Brown, who predicted several days before the game that the Longhorns would win the game by three touchdowns.
"We weren't intimidated by them," McGarity said. "James made the comment we might win by 21 points. It just started it off and we all rallied behind him."
Like Nebraska heading into Saturday's game, that Texas team was hot after playing well down the stretch.
"We were the underdogs and people didn't think we had a chance," McGarity said. "But we weren't intimidated in the least by them. We thought we had a good chance to win once the game started. And we played like it."
That game is remembered by the stunning fourth-and-inches gamble made by Mackovic late in the game with his team nursing a slim 30-27 lead. Brown faked a handoff and then hit reserve tight end Derek Lewis on a 61-yard pass to the Nebraska 11. Priest Holmes scored his third touchdown on the next play to wrap up the victory and account for the only rushing touchdowns scored on Nebraska's first-team defense all season.
It's gone down in history as one of the biggest upsets in recent college football history.
Most observers aren't giving Nebraska much hope against Texas in this year's conference championship.
But if the Cornhuskers can duplicate the Longhorns' stunning triumph on Saturday, it will be every bit as large as the earlier Texas victory in the first conference championship game.
July, 18, 2008
7/18/08
6:53
PM ET
Posted by ESPN.com's Tim Griffin
James Brown is more than a decade removed from the biggest triumphs of his college football career. But he still hasn't lost the touch of leading his team to big victories.
The former Texas quarterback helped bridge two eras at his school. He helped the Longhorns win their final game in Southwest Conference history with a stunning upset victory at Texas A&M in 1995. And he notched an even bigger upset the following season when he directed Texas to the Big 12 title over Nebraska.
| | |
| --- | --- |
| | |
| | Jamie Squire /Allsport |
| | Former Texas Longhorns quarterback James Brown, seen here in the 1996 conference title game against Nebraska, is still throwing touchdowns in Texas. |
Brown, 33, is still accomplishing big things in football -- albeit on a much smaller scale. After joining the club earlier this season, he's directed the CenTex Barracudas to a playoff berth in the Intense Football League. Brown's team will meet Corpus Christi Hammerheads Saturday night in a game that might have a little less notoriety than his biggest college games.
The excitement of competition still charges him. And he said he kept himself in shape when the indoor team called after playing competitive flag football in Austin last year.
"It's nothing to do this," Brown said. "I came up here merely for the exercise. But I ended up on a good football team who had won in the past. And we've all picked it up from there."
His biggest football memories came at Texas, where he led the Longhorns to the Big 12 championship in the conference's first title game in 1996, helping his team knock off two-time defending national champion Nebraska in the title game.
The Longhorns were three-touchdown underdogs in that game, but Brown flatly predicted the week before the game that his team would win.
They lived up to his boast in dramatic fashion. With 2:16 remaining and his team clinging to a three-point lead, Brown completed a 61-yard pass to tight end Derek Lewis for a critical first down. Priest Holmes scored on an 11-yard TD run on the next play to clinch a 37-27 victory.
Brown said he could have run for a first down on the play or also connected to another receiver before opting to take a deeper route.
"I could have thrown that ball behind my back and hit him," said Brown, who finished with 353 yards passing in the game. "The play was so wide open. I looked up and Derek was open deep. I just had to get him the ball."
That game still haunts former Nebraska defensive lineman Jason Peter, who recalls it as one of the most disappointing of his career. The Longhorns gashed the Cornhuskers for 503 yards of total offense in a convincing performance orchestrated by Brown.
"Oh God. The losses stick with me more than the wins. And that game was disappointing to say the least," Peter said. "We were more talented with that team than the 1997 team that won the national championship."
The Longhorns weren't as successful the following season. A devastating 66-3 loss to UCLA started the downslide from which the Longhorns never recovered. They finished with a 4-7 record and coach John Mackovic was fired after the season.
That turmoil caused Brown get overlooked by NFL teams, as well as his 6-foot height.
"I go to the university and now Mack Brown and those guys always have the players who have gone on to the NFL around them. Everybody is now," Brown said. "Mackovic had a fear of the NCAA getting involved with our program under the guise with the NFL guys coming around. We never talked about playing in the NFL. It was never a question back then."
The coaching change also hurt him building his awareness among NFL teams, he said.
"It was just a bad time," he said. "We didn't have weight room or facilities. The other coaches were moving out and coach Brown's staff was coming in. We didn't have a weight room or facilities. It was just messed up. Maybe I should have the year before."
Brown left school with 30 Texas school records, including career passing yards (7,638), total offense (8,049) and touchdown passes (53). But he went undrafted on draft day.
After stints in several arena leagues and leading the Frankfurt Galaxy to the 2003 NFL Europe title, Brown wanted one more shot in the NFL. No calls came and he eventually settled back in Austin, where he ran a tax and real-estate appraisal business.
When the tax season ended earlier this year, Brown found himself still wondering if he could play. When CenTex coach Chris Duliban called after two other quarterbacks left his team in late April, he decided to join the Barracudas. He hasn't lost the touch, passing for 1,597 yards and 41 touchdown passes.
"I had gotten in shape to play in the All-American Football League earlier this year," Brown said. "But when that didn't get off the ground, I went back to my business. But this is a lot of fun. We're playing for the love of the game. And it's fun to be in a familiar position of playing again."