March, 6, 2014
Mar 6
9:00
AM ET
Virginia Tech quarterback
Mark Leal
looked around his position meeting room this winter and realized just how empty it was. True freshman
Andrew Ford
, who enrolled early, and redshirt freshman
Brenden Motley
were his only company.
None of them has ever started a game.
"This is probably the most slim it's been since I've been here," said Leal, a fifth-year senior. "We've always had at least five or six guys, but right now it's only three."
[+] Enlarge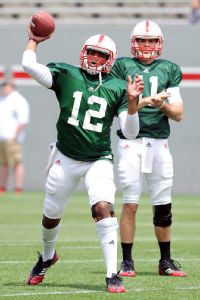 Lance King/Getty ImagesJacoby Brissett (12) is one of several transfers who could move into starting roles in the ACC in 2014.
Sounds like the entire ACC, where six schools have absolutely zero quarterbacks returning with any starting experience, and four schools brought in transfers to help.
As spring practices begin throughout the conference, the ACC kicks off its 2014 season with a complete overhaul at the quarterback position. It was only a year ago that Florida State's
Jameis Winston
was an unproven rookie who had yet to start a game. Now, the 20-year-old reigning Heisman Trophy winner is the veteran of the league, as nine of the 14 schools will have a first-year starting quarterback, and the competition is open at 11 programs. Florida State, Duke and NC State are the only programs that have definitively named starters, and even NC State doesn't know what to expect out of first-year starter and Florida transfer
Jacoby Brissett
.
Brissett, though, knows what's expected.
"Go make sure it was earned," he said, "not given."
Count on that to be a trend in the conference this spring.
Clemson, Georgia Tech, Louisville, Pittsburgh, Virginia Tech and Wake Forest are all starting from scratch, without any starting experience at the quarterback position. Some of the league's most recognizable names have to be replaced, including
Tajh Boyd
,
Logan Thomas
and
Teddy Bridgewater
. Coaches at North Carolina, Syracuse and Virginia have deemed their competitions open, in spite of experienced starters returning.
"I looked at that and was kind of surprised," said Georgia Tech quarterback
Justin Thomas
, the frontrunner to take over the job after
Vad Lee
's decision to transfer. "It should even the playing field out a little bit, but at the same time, we all have to go through our parts."
Not to mention spring and summer auditions.
Clemson coach Dabo Swinney said it's likely the competition between
Chad Kelly
,
Cole Stoudt
and
Deshaun Watson
will extend beyond this spring -- and possibly into the season.
"Going in, Cole starts out as No. 1 simply because of where we finished the season -- basically by default, if you will," Swinney said. "He's the senior. It's basically his to lose going in, but it's incredibly close. You're talking about -- in my opinion -- three guys who are going to play in the NFL. I believe with all my heart that Cole Stoudt is going to play in the NFL. And the same thing with Chad Kelly, and the same thing with Deshaun Watson, if they stay healthy. So you've got three NFL players competing to be the guy, and there's nothing wrong with that. Some people say, well, if you don't have one quarterback then you have none. But that's not the case here."
It could be the case elsewhere, though.
Virginia Tech (Michael Brewer), Boston College (
Tyler Murphy
), Miami (
Ryan Williams
) and NC State (Brissett) are all hoping that transfers can give the position an immediate boost, but former Texas Tech quarterback Brewer won't join the Hokies until this summer. While none of them has started a game at their current schools, all but Brewer have started at least three games at their previous programs.
Williams started 10 games while he was at Memphis, and he's the leading candidate to replace
Stephen Morris
, but "it is wide open," according to offensive coordinator James Coley. And Williams knows it.
"You have to earn it, you have to earn everything," Williams told the South Florida Sun-Sentinel. "I don't want anything given to me. If it's given to me, I didn't work hard enough."
Brissett started three games at Florida, and Murphy started six games for the Gators after starter
Jeff Driskel
was lost for the season. Murphy went 2-4 with 1,216 yards, six touchdowns and five interceptions before missing the final three games of the season with a shoulder injury.
Nothing is guaranteed in Chestnut Hill this spring, either, as the Eagles also have
Darius Wade
, a true freshman who enrolled early, and
James Walsh
, who will be a redshirt freshman.
[+] Enlarge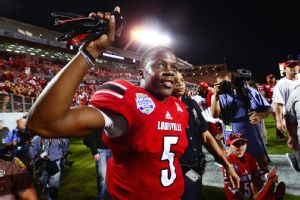 David Manning/USA TODAY SportsThe Cardinals are about to embark on life without Teddy Bridgewater.
"They're all real green," offensive coordinator Ryan Day said of the Eagles' quarterbacks. "It's obviously an open competition. I'm looking forward to getting out there and seeing them throw and run the offense. We'll see. All three of these guys are mobile, they can run. They're dual threats. We're going to use that as a weapon for us. We're not going to totally change what we do, but we'll add that component to it."
All eyes will be on Louisville's quarterback competition, as the Cardinals enter their first season in the ACC without Bridgewater, who left early to enter the NFL draft.
Will Gardner
and
Kyle Bolin
will be the top two candidates this spring, and they'll be joined by incoming freshman
Reggie Bonnafon
this summer.
"It's wide open," first-year coach Bobby Petrino said. "We'll go through spring and see who comes out 1-2-3 and then obviously we'll give Reggie an opportunity in the fall to compete with those guys."
With the addition of Louisville, the ACC enters this season perceived by many to be the strongest it has ever been.
Now it just needs to find a few quarterbacks to help prove it.
October, 31, 2013
10/31/13
1:00
PM ET
Miami quarterback
Stephen Morris
came into the season on the verge of taking his game to the next level.
He ended 2012 with 11 touchdowns and zero interceptions in his last four games. He had a great summer and
impressed NFL scouts
with his performances at various camps. A senior going into his final season, he had firm command of his team with expectations higher than they had been in some 10 years.
[+] Enlarge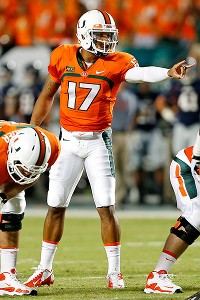 Joel Auerbach/Getty ImagesMiami QB Stephen Morris got NFL scouts' attention with his strong arm and deep-ball accuracy.
But Morris has not played at an elite level yet. Rather than take his place as the top quarterback in the state, he has had to watch
Jameis Winston
dazzle the nation in Tallahassee, and even UCF quarterback
Blake Bortles
turn heads in Orlando.
When Miami and Florida State play Saturday, Winston will be on center stage.
Morris will be an afterthought.
None of that concerns Morris, though. He recognizes he has work to do to get better, and he shrugs off his stat line and the notion that the quarterback matchup this weekend is titled heavily to the other side.
"I'm not concerned about having 3,000 yards, 4,000 yards. I'm all about my team. I could care less if my stats are bad at the end of the games as long as we got the win," Morris said in a recent interview. "I want to improve in so many aspects of the game, but overall we've been OK. We need to do a lot better."
That starts with Morris. Rather than use a lingering ankle injury as an excuse, he only talks about how he is feeling when directly asked. Morris was initially hurt against Savannah State on Sept. 21, then aggravated the injury the following week against USF. In the wake of that win against the Bulls, Morris accused USF players of being "dirty" for trying to pull at his ankle at the bottom of piles.
Morris has not been 100 percent since, and says the ankle is something he has to "mentally get over. I'm feeling stronger and stronger every day, so that's always a positive."
"He never really had a chance to put up numbers," offensive coordinator James Coley said. "He's been playing hurt every week. As a quarterback, your right foot is your plant foot. You end up developing habits because you're not going full speed in practice, and now finally he's full speed, so I'm very excited for him. I'm excited to see him go out there and really take advantage of his athleticism, and his ability to plant and step and throw because he's got a big arm."
The big arm is what had scouts buzzing over the summer. Morris does have some nice touch on his deep balls, and throws great fades, too. But he has struggled with shorter and intermediate routes. The low point this year came in the come-from-behind win against North Carolina, when he had zero touchdown passes and four interceptions because he tried to do too much.
On the season, Morris has just 10 touchdown passes to eight interceptions -- more than he had the entire 2012 season. He is completing 59.9 percent of his passes, just a tick better than last year, and is on pace to throw for fewer than the 3,345 yards he posted a year ago.
Support for Morris has never wavered, though. Teammates texted him words of encouragement after the North Carolina game, and coach Al Golden has defended him at every turn.
Last week in a win over Wake Forest, Morris did not have an interception.
"I think he looked better this past game than he has looked," Golden told reporters in Miami. "He moved better. In the pocket, he moved better in terms of when we moved the pocket on him. He looks different. His personality is coming back, he's not worried about it. There is no anguish over anything. He's starting to feel good and get back, and we're excited about it."
This would be the perfect week for Morris to get healthy. Miami needs him to play well to have any shot at pulling the upset.
"The game's not about me, or what I'm trying to do or the next level," Morris said. "I'm focusing right now on my team, and doing all the little things right to help us win."
That means a near-flawless game.
ACC reporter Heather Dinich contributed to this report.
October, 30, 2013
10/30/13
1:00
PM ET
The routine task of breaking down game film of an opponent was "different" this week for Miami offensive coordinator James Coley.
As Coley studied No. 3-ranked Florida State's defense in preparation for what is arguably the biggest game on the Hurricanes' schedule, Coley caught himself thinking about the days he recruited so many of those players as an assistant on the Seminoles' staff.


"It's different from when you watch other teams," said Coley, a 1997 graduate of Florida State. "You know the history behind every player. Some of the guys as seniors, you remember them as freshmen, or guys that I recruited, like
Lamarcus Joyner
, you watch him and at the same time there's a thought process of, 'OK, what does he do well?' and then in the back of my mind it goes back to, 'Oh, man, I remember recruiting this kid.' There's a pride factor. I'm happy for them."
(He'd also like to win on Saturday -- nothing personal.)
With the exception of the relationships he built with his former players, Coley said there hasn't been any time this week to get emotional about returning to his alma mater, where he coached for five years before being hired by Al Golden as the rival Canes' offensive coordinator. Two of the biggest selling points in leaving Florida State were the opportunity to call plays, which he didn't do for the Noles in three seasons as the offensive coordinator, and returning to his hometown of Miami, where he grew up near the Orange Bowl cheering for the Canes.
"I think it's all business," Miami quarterback
Stephen Morris
said. "When you get to this point, you understand coaching at this level is business. Coach Coley saw a great opportunity to come down here, call his plays and do everything he wanted to do as an offensive coordinator and quarterbacks coach and he took it. Coach Golden did a great job of finding him."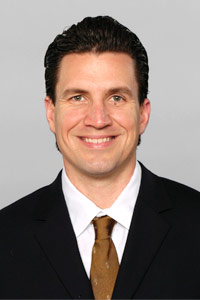 Getty ImagesJames Coley knows all about the Miami-FSU rivalry, but will be seeing it for the first time from the Hurricanes' vantage point Saturday.
Given Coley's ties to both Florida State and Miami, he has a unique perspective of the storied rivalry. Just a year ago, he was sitting in staff meetings with FSU coach Jimbo Fisher. He spent two years on Bobby Bowden's staff. Yet Coley said there's never been a moment this week where he's shared any insider trading secrets with other assistants -- because he doesn't have any. Florida State has since replaced six assistants on staff, including Coley.
"Everybody thinks Coley is giving out the goods," he said with a laugh. "You know the players, but they're not running the same stuff, so it's not the same deal.
"If they still had Mark Stoops, and Eddie Gran was on special teams, and stuff like that, I would've had a lot of input," Coley said. "But they have a brand-new defensive staff. I'm sitting there and I'm watching the defense, and I'm trying to figure out, 'OK, what are they trying to do with this?' It's different from what I saw last year being in the program. And the offense, they're not running the same stuff they ran last year. They've got a different quarterback. With a different quarterback there's always a different dynamic."
This will be Coley's first trip to Tallahassee since he moved his family to his hometown in March. He and Fisher have only exchanged a text message since Coley left, but the two of them remain friends.
"Coley's done a great job," Fisher said. "I've always said Coley's a great offensive mind. He's a very good coach, a great recruiter, and he's got a great future in this business."
So far, Miami's offensive numbers have only improved under Coley's watch. The Canes have increased their averages in scoring offense, rushing offense, passing offense and total offense from a year ago. The most dramatic increase was in rushing offense, where Miami improved from 144.75 yards per game to 214.7 this year. The Canes have rushed for over 200 yards in all but two games this year -- Florida and South Florida. Miami has also boosted its scoring average from 31.42 points to 39.6.
Miami coach Al Golden said both of his coordinators have full autonomy of the play-calling.
"I always want my coordinators to feel the game, and James does a great job of really preparing, especially in the final 48 [hours] of just seeing the game, being able to conduct the game, being able to set up what he wants to set up -- run to pass or pass to run," Golden said. "I don't like to disrupt that. What I like to do is have a lot of input early in the week, especially from a defensive standpoint, trying to share with the offensive staff what the team's philosophy is and what they're trying to do to us."
Golden can relate to Coley's situation this week. He left a job as linebackers coach at his alma mater, Penn State, to become defensive coordinator at Virginia, and had to coach against the Nittany Lions.
"I did the same thing," Golden said. "James is operating with class. He's just worried about coaching the quarterbacks and orchestrating the offense. He's not talking about anything else, not worried about anything else. I'm sure there's a lot of young people up there he made a difference in their lives, he gave them their all. I'm sure they were disappointed when he left, but that's the sign of a good coach."
Coley has already left Tallahassee once. This time, when Coley heads back south, he's hoping to leave with a win.
April, 23, 2013
4/23/13
10:30
AM ET
Florida State was not the only program to introduce new assistants during the offseason. Though the
Seminoles led the way
with the most changes for a program with a returning head coach, 13 of the 14 league schools had staff changes. Only Maryland returns all its assistants from a year ago.
There were some pretty big hires for some of those positions. With that in mind, whom do you think was the best assistant coaching hire in the ACC? I have narrowed the list down to five.

James Coley, offensive coordinator, Miami.
This has to qualify as one of the assistant coaching coups in all of college football, as Miami coach Al Golden worked at warp speed to replace Jedd Fisch, stealing away one of the best recruiters in the South Florida area from arch rival Florida State. Coley has had the coordinator title with the Seminoles, but it was in name only as Jimbo Fisher still called the plays. This is a huge chance for him not only to help Miami on the field and in recruiting, but to show Florida State what it's missing.
Scot Loeffler, offensive coordinator, Virginia Tech.
Loeffler did not exactly have a great season last year at Auburn, but nobody on that staff did. He was hired, in part, because of his past work in developing quarterbacks at previous stops. And we all know
Logan Thomas
has got to take the next step this season if the Hokies are going to get back atop the ACC. The results of the spring game
weren't exactly ideal
, but coaches have said Thomas has definitely made strides this spring.
Tom O'Brien, associate head coach/tight ends coach, Virginia.
Coach Mike London made the decision to completely revamp his coaching staff this past offseason, and one coach he knew he wanted to hire immediately was O'Brien, recently fired at NC State. London previously worked under O'Brien; O'Brien spent 15 years working at UVa under former coach George Welsh. Adding a coach with as much experience and knowledge as O'Brien should definitely help a team looking for a turnaround in 2013.
Jeremy Pruitt, defensive coordinator, Florida State.
This is what Florida State assistant Sal Sunseri had to say about Pruitt, with whom he worked last season at Alabama. "When I got to University of Alabama, I sat in the press box with that young man through that whole year and we won a national championship, and he was as good as anybody I've been in the press box. He knows what's going on out there. He knew how to make adjustments." Pretty high praise from a veteran who has worked both in the NFL and college football.
Ted Roof, defensive coordinator, Georgia Tech.
Roof has wandered around a bit of late but he now returns to his alma mater intent on improving a defense that showed gains in the second half of last season. Last season at Penn State, his defense ranked second in the Big Ten in scoring defense (19.1 ppg), first in sacks (34), first in red-zone defense and third in turnover margin. Before that, he won a national championship at Auburn, which his defense held high-scoring Oregon to 19 points -- 28 below the Ducks' average.
My vote goes to Coley. What say you?
April, 22, 2013
4/22/13
9:00
AM ET
TALLAHASSEE, Fla. -- Over the past four months, Florida State won an ACC championship, a BCS game, reeled in another top-10 recruiting class and sent a handful of players into the NFL draft with first-round promise.
Given the recent spate of unsightly 7-6 seasons, Florida State seems to be in pretty fantastic shape. That, of course, is not the storyline that has taken shape since December. No, the convenient storyline has focused mainly on the coaching turnover that has left the Seminoles with six new assistants heading into the 2013 season.
What does the unusually large turnover say about coach Jimbo Fisher? What does it say about the program itself?
At this point, the storyline has become rote. Fisher already has his answers before the questions are asked, prepared to bat down the notion that this very strange offseason has been, well, strange.
He begins.
"You know," he says, "we were one of four teams in the entire country that did not lose a single assistant in my first two years here."
Pretty astounding, when you consider just how frequently assistants change jobs year to year. But what is more astounding is hiring seven different assistants in a two-month span. One of those assistants, Billy Napier, lasted a handful of weeks before moving on to Alabama.
As Fisher tried to defend the staff turnover, he proved the point others have made. Coaching change is common in this profession, especially at winning programs. But the type of coaching change Florida State just experienced is as rare as scoring a safety on consecutive plays.
[+] Enlarge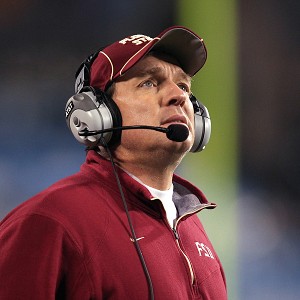 Streeter Lecka/Getty ImagesFSU coach Jimbo Fisher says he wasn't surprised by the amount of staff turnover this offseason.
Among programs that did not have a head coaching change, only Marshall had to replace more assistants than Florida State this past offseason. Point this out to Fisher and he shrugs.
"We took the attrition of three years and put it in one," Fisher says simply.
Was he surprised that he lost so many assistants?
"Not really. Last year was a big year," Fisher begins. "You go back and look at all the major jobs. When's the last time you saw four major SEC schools open?"
Not since 2004. His defensive coordinator, Mark Stoops, got the head coaching job at Kentucky and took assistant D.J. Eliot with him. Another assistant, Dameyune Craig, left for a co-offensive coordinator job at Auburn. Counting Napier, four assistants left for the SEC.
Fisher continues.
"The NFL has nowhere else to draw coaches from," he says. "And we had a lot of success. We're graduating players. Guys aren't getting in trouble. People want to know how you're having success. We had to have a proven commodity.
"We're the eighth-winningest team in the last three years. We were 30th the previous three years. We've jumped more than any team in the country. So people say, 'Wait a minute.' We all do research and look at who's doing good and ask, 'Why are they doing good? Are they doing something we're not doing?' People are saying, 'Let's get some of those guys and see why they're having success and are able to change the culture and change a program."
The other three coaches who left -- Eddie Gran (Cincinnati), Greg Hudson (Purdue) and James Coley (Miami) -- took coordinator jobs as well. Fisher points this out, too, and makes it clear he has never stood in the way of an assistant getting another job. After all, he allowed Stoops to interview at Kentucky in the middle of the season.
While all of the change may not look so great on the surface, the staff Fisher has assembled may in fact be better than the one he had his first two seasons with the Seminoles. When asked what he likes most about this staff, Fisher says, "No. 1, the experience. No. 2, their undaunting ability to work and put in hours. A lot of staffs you get recruiters or coaches. I think everybody on our staff can do both. We have a staff that's very solid recruiting and very solid coaching. It's hard to find nine guys capable that way."
Perhaps that is a slight dig at his past staff. But there is no questioning the credentials of the men tasked with elevating Florida State from ACC champ into yearly national title contender. All of them have won conference titles; three have won national titles.
Fisher keeps a running list of potential candidates with him, so he knew exactly whom to call when all these jobs came open. How they arrived in Tallahassee plays like a game of Six Degrees of Jimbo Fisher.
You have quarterbacks coach Randy Sanders, who crossed paths with Fisher when both were assistants in the SEC some years ago. He also coached new running backs coach Jay Graham at Tennessee in the 1990s. The two have known each other since Graham was 17.

You have defensive ends coach Sal Sunseri and defensive coordinator Jeremy Pruitt, who come from the Nick Saban tree that also produced Fisher. Sunseri and Fisher were on the same staff at LSU in 2000.

You have recruiting coordinator/tight ends coach Tim Brewster, who never worked with Fisher but recruited against him when he was at Texas and Fisher was at LSU.

Then you have special teams coordinator, linebackers coach Charles Kelly, who was a graduate assistant at Auburn in 1993 when Fisher was there. Kelly also played against Fisher the past several seasons while working at Georgia Tech. When Kelly was with the Jackets, and Pruitt with the Tide, the two shared ideas.
"Florida State has always been one of the schools I've always wanted to work at," Sanders said. "When I first got married and was first coaching, my wife asked me. I said this was one of the four schools in the country I'd love to work at some day. When the opportunity came along, I was excited to come to Tallahassee."
He echoed what all the other assistants said during their only media availability this spring: the desire to win a national title. Indeed, the intensity during spring practice seemed to be turned up a notch. Both Sunseri and Pruitt are quite boisterous and have no qualms about getting up close and personal with their players -- face to face mask.
On one particular afternoon last month, Sunseri kept getting after defensive end
Giorgio Newberry
. At one point, Newberry just slung his big arm around Sunseri's shoulder and chuckled.
"I give him a hug every once in a while," Newberry said. "I love Coach Sal. I love how he coaches me. He doesn't let us take plays off. We have to go hard every time, and we've got to do it his way. I like that. He'll chew me out and I'll be like, 'Yes sir' and I try to fix it."
Graham is not as in-your-face, but he demands excellence. That was not so easy to get adjusted to for some of the backs.
"He wants you to be great, so he has very high expectations,"
James Wilder Jr
. said. "It was hard getting used to it at first. He wants everything perfect."
Fisher has described the staff transition as seamless. He has veteran coaches that share his same philosophies and players who have embraced the changes. But the questions will linger on until kickoff in Pittsburgh on Sept. 2.
Perhaps even longer.
March, 25, 2013
3/25/13
10:00
AM ET
CORAL GABLES, Fla. -- The move from Florida State to Miami wasn't much of a move at all for offensive coordinator James Coley.
He never truly left Miami.
Coley grew up on Northwest 4th Street and 18th Avenue, about two blocks from the old Orange Bowl. He spent six years as a high school football coach in Miami from 1997-2002. He kept his home in South Florida from his days as an offensive assistant with the Miami Dolphins -- a "cottage" he called it, that he bought with his wife, Kenia, before they had their two children.
Coley, a Florida State alum and Miami native, made a name for himself while on Jimbo Fisher's staff at FSU, but his home -- literally -- is still in Miami. There's no question his hire was a kick in the shins to the rival Seminoles. Coley is one of the top recruiters in the state. But the underlying reasons for the move were twofold: a chance to call plays and go home was simply too good to pass up.
"I think that when I sat down with my wife and saw the opportunity to come back home, and come to the University of Miami, it wasn't a difficult decision at all," Coley said. "It was eye-opening. It was a decision that was very encouraging and exciting."
[+] Enlarge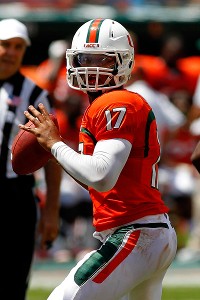 Robert Mayer/US PresswireMiami's offense will be led by Stephen Morris, who could be one of the best quarterbacks in the ACC.
Coley has fit right in at Miami, and he has inherited an offense that returns nine starters -- including every offensive lineman, 2012 Rookie of the Year
Duke Johnson
, and veteran quarterback
Stephen Morris
, who could be the best quarterback in the ACC in 2013. All of the pieces are in place for Coley to succeed calling plays for the first time since 2007, when he was at FIU.
While on Fisher's staff, Coley was responsible for preparing the offense during the week, but on game day, it was in Fisher's hands.
This fall, Coley will be calling the shots.
"It means a lot," he said. "You work hard during the week and at the end of the week, after game-planning, you want to have your exclamation mark. You want to be able to finish the job. It means a lot and the opportunity to do it means a lot. I'm excited about it."
Coley is an energetic, gregarious coach the players have responded to quickly this spring, and he made one very important decision that has helped smooth the transition of his hire: Coley hasn't changed the entire playbook, and he has kept much of the terminology the same.
"It made my job a lot easier not having to learn new concepts, new plays and new terminology and everything like that," said Morris. "As an offense, we're really grateful Coach Coley was able to do that. On top of that, he's still adding his own stuff, some stuff he likes, and stuff he didn't like he's taking out. That helps me learn and see how different plays work better for different coaches. I think it worked out great for the whole team, especially the offensive line. We've got some new runs in there, we've got some new protections for them. Everyone has adjusted well to it, especially Coach Coley himself."
Coley's story will undoubtedly resurface when Miami and Florida State play on Nov. 2 in Tallahassee, but Miami coach Al Golden said the hire wasn't about the rivalry.
"I've always admired James from afar in the way they conducted their offense up there, and his ability to communicate and develop student-athletes, but also a number of mutual friends we have in the business thought highly of him," Golden said. "It's really not about Florida State and Miami. I know everybody likes to make it about that, but both of their families are from down here. He had an opportunity to come home to Miami and be an offensive coordinator where he grew up. Obviously he's inherited a very mature offense, so I know he's excited about it."
Coley agreed.
"That's huge," he said. "You're coming to a program that has really good players. It's a team I've watched grow the last couple of years, and an organization that I've watched grow, from going against them on the field, to going against them in homes in recruiting. You're saying to yourself, 'Wow, this has now become the real deal. It's back.' That's what kept on going through my mind. For me to have the opportunity to come here, wow, it's on the rise again."
And once again, it's in his backyard.
February, 20, 2013
2/20/13
11:00
AM ET
DUKE
Spring start:
March 4

Spring game:
April 13
What to watch:
1. Boone is up.
Duke loses three-year starter
Sean Renfree
, who threw for 3,113 yards and 19 touchdowns last season.
Anthony Boone
is the next man up, and has plenty of game experience. But coming in for spot duty is vastly different from taking over the starting quarterback job. He has to get a jump on becoming the leader of this offense in the spring.
2. Receiver spots open.
The Blue Devils lose the most prolific receiver in ACC history in
Conner Vernon
, plus the versatile and athletic
Desmond Scott
.
Jamison Crowder
is back, but Duke is going to need to find two more starters and several more to step up and help with depth.
3. Handling success.
This is the first time since 1994 that Duke goes into a spring with 15 bowl practices already under its belt and a taste of success. That should presumably give the Blue Devils an advantage. But it is much harder maintaining, as many coach will tell you. How does this new success impact the mind-set in spring practice?
GEORGIA TECH
Spring start:
March 25

Spring game:
April 19
What to watch:
1. Ted Roof takes over.
What is the Georgia Tech defense going to look like with Ted Roof in charge? He has not really given out specifics about the type of scheme he wants to use as his base, so it will be interesting to see how he fits his personnel to what he likes to do best. The Jackets do return eight starters to a unit that improved in the second half of the season.
2. Vad Lee time.
We saw glimpse of what Lee could do as he began to share quarterback duties with
Tevin Washington
last season. Now, the show is all his, so we get to see how he develops as a full-time starter.
3. So long, Orwin.
The Jackets lose one of their most dynamic playmakers in
Orwin Smith
, who finished his career ranked among Georgia Tech's all-time leaders in kickoff returns (76), kickoff return yards (1,624) and career all-purpose yards (4,278). Georgia Tech has to find somebody to replace that productivity.
MIAMI
Spring start:
March 2

Spring game:
April 13
What to watch:
1. D in Defense?
The No. 1 spring priority has got to be improving a defense that was one of the worst in the nation in every NCAA statistical category (No. 112 rushing defense, No. 102 passing defense, No. 116 total defense, No. 82 scoring defense). If Miami is going to be a favorite to win the Coastal, it needs better play out of this group.
2. New OC.
James Coley takes over as offensive coordinator, replacing Jedd Fisch. Coley served as offensive coordinator at Florida State before arriving at Miami, but did not call the plays. So he has much more responsibility here, and is charged with taking
Stephen Morris
from great to next-level great.
3. D-Line improvement.
If Miami is going to be better on defense, it has to start up front, where the Hurricanes were extremely young and mostly ineffective for 2012. The Hurricanes had to deal with their share of injuries, but they also were not great at stopping the run or putting pressure on the passer -- with only 13 sacks all year. That is the lowest total since at least 2005, the first year NCAA stats began listing team sack totals.
NORTH CAROLINA
Spring start:
March 6

Spring game:
April 13
What to watch:
1. Bye bye, Gio.
Life begins without All-ACC running back
Giovani Bernard
, who left school early for the NFL draft. The cupboard is not completely bare, though, as
A.J. Blue
and
Romar Morris
both return. Blue and Morris combined for 819 yards rushing and 11 touchdowns last season.
2. Replacing Williams, Reddick.
North Carolina returns nine starters on defense. That is the good news. The bad news is the Tar Heels lose their two best players in linebacker
Kevin Reddick
and defensive tackle
Sylvester Williams
, two first-team All-ACC selections. We'll see if
Ethan Farmer
at tackle and
P.J. Clyburn
at linebacker emerge to win the starting jobs.
3. Replacing Coop.
The Tar Heels have a major hole to fill on their offensive line as they say goodbye to unanimous All-America guard Jonathan Cooper, a stalwart who made 47 career starts. Cooper was the unheralded leader of the offense, so filling his spot is a major priority this spring.
PITTSBURGH
Spring start:
March 5

Spring game:
April 12
What to watch:
1. QB situation.
Tino Sunseri
is gone, leaving Arizona transfer
Tom Savage
, redshirt freshman
Chad Voytik
and junior
Trey Anderson
to compete for the starting job. Inconsistent quarterback play has been a major issue for the Panthers, so upgrading this position is an absolute must.
2. Adjusting to DC.
Pitt is going into the season with its fourth new coordinator in as many years, as Dave Huxtable left for NC State after only one year on the job. Secondary coach Matt House was promoted to coordinator, so at least there will be some familiarity. But he has to get to work on improving this unit's consistency.
3. Offensive line improvements.
Is this the year we finally see a vastly improved Pitt offensive line? The Panthers have to replace center
Ryan Turnley
and guard
Chris Jacobson
, two key positions to watch during spring practice.
VIRGINIA
Spring start:
March 18

Spring game:
April 6
What to watch:
1. New coaches.
How will the three most high-profile hires Mike London made mesh with the staff and returning players? How will the offense deal with a new scheme under Steve Fairchild? How will the defense deal with a new scheme under Jon Tenuta? How big will Tom O'Brien's role be with the offense? Inquiring minds want to know.
2. QB competition.
Fairchild has already said he will open up the quarterback job to a "very spirited competition" this spring. The two front-runners figure to be
Phillip Sims
and
David Watford
, who both have game experience. But there will be no shortage of quarterbacks in Charlottesville this year, so there are no guarantees that either of them will win the job.
3. Replacing Greer.
The Hoos have some big shoes to fill in the middle of their defense with the departure of linebacker
Steve Greer
, who ended his career with 376 tackles -- ranking No. 6 in school history.
Kwontie Moore
, one of nine true freshmen to play in 2012, backed up Greer last season. Will he win the starting job?
VIRGINIA TECH
Spring start:
March 27

Spring game:
April 20
What to watch:
1. Logan Thomas.
All eyes will be on Thomas as he heads into his senior season, especially with new offensive coordinator in Scot Loeffler in charge. How will the two work together, and what will Loeffler do to get Thomas to cut down on his mistakes and capitalize on the immense potential he has?
2. Rushing attack.
Item No. 2 on the agenda for Loeffler is to figure out a way to jump start the Virginia Tech rushing game, which struggled in 2012. The offensive line was inconsistent, and so were the running backs. The Hokies could never really settle on a starter or a clear rotation in the backfield, either. Somebody has to emerge as THE guy.
3. Filling in for Exum.
Virginia Tech took a serious hit to its defensive backfield last month when emerging cornerback
Antone Exum
tore his ACL in a pickup basketball game. The Hokies will look to several young players to try and fill his void, including
Donovan Riley
,
Donaldven Manning
and
Davion Tookes
. Fans will have to wait on highly touted cornerback Kendall Fuller, who joins in the summer.
February, 20, 2013
2/20/13
9:00
AM ET
When you start talking spring football every year, you start talking change.
New coaches.
New players.
New starting quarterbacks.
New teams.
Wait, what?
Yes indeed, life is about to change for the soon-to-be supersized ACC, as Pitt and Syracuse begin spring practice this year with an eye toward Year 1 as new league members. While changes come in many forms, there is no denying that this year more than most, the ACC will see radical changes across the board.
Not only will the league grow to 14 teams, three new coaching staffs are taking charge (Boston College, NC State, Syracuse); nine teams have either a new offensive or defensive coordinator; and 13 teams have at least one new assistant on staff. You know it is an offseason of change when two of the two most stable programs in the league -- Florida State and Virginia Tech -- have undergone staff overhauls.
Jimbo Fisher lost assistants for the first time under his watch, having to replace six in all, including a yet-to-be-hired offensive coordinator and new defensive coordinator Jeremy Pruitt. Perhaps the most galling loss of all came at the hands of longtime rival Miami, which hired away James Coley to serve as offensive coordinator.
As if that wasn't enough, Florida State must also begin the process of replacing departed stars
EJ Manuel
,
Bjoern Werner
,
Xavier Rhodes
and
Tank Carradine
this spring.
The Noles, however, are in a better spot than the Hokies, coming off their worst season in two decades.
After offensive ineptitude hampered his team for a majority of the season, Frank Beamer changed out his offensive coaching staff, hiring Scot Loeffler as offensive coordinator in place of Bryan Stinespring. This all adds to the prevailing theme in Blacksburg this spring: How will Loeffler get the most out of quarterback
Logan Thomas
?
Virginia also has made major staff changes. Coach Mike London made the boldest moves in the league this offseason following a 4-8 season, hiring former Colorado State coach Steve Fairchild as offensive coordinator, former NC State coach Tom O'Brien as associate head coach/tight ends, and Jon Tenuta as defensive coordinator. Fairchild, O'Brien and Tenuta bring 115 years of coaching experience to the staff, so you have to believe the pressure is on to turn things around immediately.
Pressure is there for the new faces in the league, too. Boston College coach Steve Addazio has to find a way to turn around a 2-10 team in a hurry. NC State coach Dave Doeren has to know that 7-5 seasons with upsets over Florida State are not good enough in Raleigh, so he's got to find a way to improve with only 11 starters returning. And Syracuse coach Scott Shafer has to find a way to build upon the momentum Syracuse created in its final Big East season, in a division with Florida State and Clemson.
Doeren and Shafer have to meet their goals with a new starting quarterback. Each lost excellent leaders in
Mike Glennon
and
Ryan Nassib
, both expected to be drafted in April. Both competitions are wide-open going into the spring, as are the competitions at Florida State, Pittsburgh, Duke and Virginia.
Of these schools, there is perhaps most excitement at Pitt over a new starter, now that the Panthers have said goodbye to the streaky and often-maddening
Tino Sunseri
. Former Rutgers quarterback
Tom Savage
and redshirt freshman
Chad Voytik
figure to be the top two candidates.
But even a school such as Clemson has to deal with change. Yes, the Tigers do return their All-American quarterback
Tajh Boyd
, coach Dabo Swinney and both coordinators -- holding onto hot commodity Chad Morris for one more season. But they also lose leading receiver
DeAndre Hopkins
, who declared himself eligible for the NFL draft. And just as important, they have to replace center
Dalton Freeman
, who made 49 starts in his Tigers career.
So you see, change is everywhere, both big and small. Spring is our first introduction to a new-look ACC come the fall.
January, 24, 2013
1/24/13
4:19
PM ET
Al Golden just beat Jimbo Fisher at his best game -- recruiting.
Golden
hired one of the country's best recruiters
-- and he plucked him right off of Fisher's staff. Golden somehow managed to lure Florida State's top remaining assistant, Miami native James Coley, in what was hands down the ACC's best hire of the offseason.

Golden, who lost offensive coordinator Jedd Fisch last week to the Jacksonville Jaguars, was put in a tough spot, having to make such a critical hire just weeks before signing day. Not only did Golden dodge a bullet, but he fired it right back at Miami's biggest rival. Miami has been beaten and overshadowed by Florida State's recent success, but this is the kind of move that can tilt that scale back in favor of the Canes -- and quickly. Coley will also benefit tremendously from it, assuming Golden will allow him to call the plays -- something he didn't do on Fisher's staff.
As much as this move helps Miami, it hurts Florida State. And, to be quite honest, it looks bad for Fisher. Coley is a 1997 Florida State graduate. He just finished his fifth season at his alma mater. He worked with Fisher as a graduate assistant when they were at LSU. They've got history. The chance to call plays, though, and move back to his hometown easily explains what was probably a difficult decision.
Would calling the plays have changed Coley's mind? Would he have stayed if Fisher would have relinquished that authority to him?
Coley wasn't immediately available for comment, but it's hard not to wonder.
The Noles have now lost six assistants since winning the ACC championship game, including their top two in former defensive coordinator Mark Stoops and now Coley. Because of the impact this will have in recruiting -- both for Miami and against Florida State -- Coley's departure is arguably the program's most significant loss. Staff turnover is nothing new, but now Fisher is the one in a bind with signing day rapidly approaching on Feb. 6. Fisher's desire to continue to call the plays could complicate his hire of the next offensive coordinator. How many top-notch recruiters and coordinators are out there still looking for a job who will be willing to do everything but call the plays?
Miami, meanwhile, just got an outgoing recruiter who grew up next to the Orange Bowl, one who knows the high schools and area as well as his own living room. He also spent two years as an assistant with the Miami Dolphins under Nick Saban.
As the recruiting coordinator at Florida State in 2008 and 2009, Coley helped the Noles bring in back-to-back top-10 signing classes, which have helped restock FSU's talent pool. He was named the top recruiter in the ACC in 2010 by ESPN.com.
He still is one of the ACC's best recruiters.
Only now, he's bringing the talent home to Miami.
January, 24, 2013
1/24/13
2:10
PM ET
Florida State quarterbacks coach James Coley
has accepted a job
as Miami offensive coordinator, sources told ESPN.com.
The move is stunning on two fronts: Coley becomes the sixth Florida State assistant to leave Jimbo Fisher's staff; and he joins the Seminoles' most bitter league rival. Coley, known as an outstanding recruiter in the South Florida area, could make his presence immediately felt.
We will have more reaction when the news becomes official. Stay tuned.
January, 15, 2013
1/15/13
1:18
PM ET
Florida State has hired former Clemson offensive coordinator Billy Napier as its tight ends coach and recruiting coordinator, and former Kentucky offensive coordinator Randy Sanders to coach the running backs. Offensive coordinator James Coley is now the quarterbacks coach.

"We're very excited to welcome Randy on board," coach Jimbo Fisher said in a prepared statement. "I've known him for a very long time. He's been one of the best coaches in the country for a while now. He's a tremendous running backs coach and also brings coordinator experience. He's a great recruiter and a great person and will be a tremendous addition to our staff.
"Billy is one of the bright young coaches in the game. He's coached some excellent tight ends. He's a big-time recruiter who also has some coordinator experience. He has great understanding of the big picture of the game. We're very excited to have him on staff as well."
From the release:
Sanders comes to Florida State from the University of Kentucky where he served as the Wildcats' offensive coordinator and quarterbacks coach since 2009. The Morristown, Tenn. Native has spent his entire coaching career in the SEC where he began as a volunteer assistant with the Volunteers in 1989. Sanders has served as the offensive coordinator at both Tennessee and Kentucky and has been a part of coaching staffs that have been to 21 bowl games in his coaching career, including the 1999 National Championship game at Tennessee where he served as the offensive coordinator for the Fiesta Bowl win that year.
"I am very excited to be at Florida State," said Sanders. "I have been coaching since 1989, the same year I got married. Right around that time I had a discussion with my wife on where I would like to coach and there were four schools on my list and Florida State was one of those schools. That was one of the first things she reminded me of when the opportunity came along. I have always wanted to coach here.
"I am getting the opportunity to coach with a group of guys, for the most part, that I have known a lot of them and that I have a lot of respect for. I get to work with some of the best players in the country at a school that has some of college football's greatest traditions. There's not a whole lot not to like."
Sanders joins another former offensive coordinator on Fisher's staff with the addition of Napier. The Chatsworth, GA native spent last season as Colorado State's Assistant Head Coach and quarterbacks coach after serving as Clemson's offensive coordinator from 2009-10. In just one year working with the Rams' quarterbacks, Napier helped bolster the CSU offense as the team ranked 17th in the nation in red zone scoring, cut the team's sacks allowed by nearly four per game over the second half of the season and saw the running game improve by 65 yards per game over the second half of 2012 as well. While running the Clemson Tiger's offense in 2009, Clemson established a school record for the most points scored in a season.
"When you get an opportunity to come to a program with the tradition and history of Florida State, you can't pass that up," said Napier. "Coaching for coach Fisher is really going to be a great opportunity for me to work with a great coach. The timing was right in terms of where this program is headed and it is a great opportunity. I am excited to be a part of the process of working with these players and continuing to build on the championships this group was a part of in 2012."
August, 23, 2010
8/23/10
9:27
AM ET
Here's a quick look back at the weekend scrimmages, thanks to reports from the schools' sports information offices:
BOSTON COLLEGE
Sophomore quarterback
Mike Marscovetra
was perfect, going 12-for-12 for 90 yards and a touchdown.
Dave Shinskie
went 14-for-19 for 116 yards, but threw an interception. True freshman
Chase Rettig
was 2-for-4 for 13 yards.
Sophomore
Clyde Lee
and true freshman
Bobby Swigert
led the receivers with five catches each. Lee had a game-high 43 yards, and Swigert went for 29 yards and a touchdown.
Redshirt freshman kicker Nate Freese made a 51-yard attempt that hit the crossbar and went through, and he made another from 39 yards. He missed a 47-yarder that hit high off the left upright.
Sophomore linebacker Luke Kuechly led the defense with six tackles, and junior safety Dominick LeGrande recorded five tackles and an interception.
FLORIDA STATE
The Seminoles went through what amounted to a full-scale dress rehearsal, as they did their pre-game routine, returned to the locker room, then returned to the field for a three-hour scrimmage. Offensive coordinator James Coley and quarterbacks coach
Dameyune Craig
were in the press box, along with defensive ends coach D.J. Eliot and a graduate assistant. They helped call the plays on headphones, and there weren't any personnel or clock-management issues.
Junior college transfer
Mike Harris
earned some high praise from coach Jimbo Fisher:
"Mike's a good player; he's a real good player," said Fisher. "He breaks on the ball. He's almost like a quiet assassin. You never hear him out there, but he's always in the right place."
Statistics weren't included in the team's
scrimmage report
, but sophomore
Willie Haulstead
played well, and Fisher used a tailback-by-committee approach with
Jermaine Thomas
,
Ty Jones
and
Chris Thompson
. Defensively, former cornerback Ochuko Jenije started at safety.
VIRGINIA TECH
First, the injury report: Backup receiver
Xavier Boyce
sprained his left MCL and will have an MRI, backup linebacker Lorenzo Williams sprained his right foot and will have an MRI, and punter Brian Saunders bruised his right ankle. According to the Richmond Times-Dispatch, linebacker Barquell Rivers
will not play
against Boise State, and Bruce Taylor will start in his place. Starting field corner Jayron Hosley is still out with a hamstring injury.
Offensively,
Tyrod Taylor
completed 7 of 9 passes for 95 yards, a touchdown and an interception.
Ryan Williams
was the leading rusher with 46 yards on nine carries, including a 2-yard touchdown run.
David Wilson
added 38 yards on six carries and scored on a 12-yard run. Defensively, Eddie Whitley led the way with seven tackles and a pass break-up. Kicker Chris Hazley made field goals of 43 and 47 yards, but missed his first field goal in a preseason scrimmage when he was wide left on a 48-yard attempt. Cris Hill blocked two punts.
You can find more on the Hokies'
scrimmage here
.