NCF Nation:

James Dockery
December, 2, 2010
12/02/10
1:22
PM ET
On the one hand, it's pretty cool for Oregon State that ESPN's "College GameDay" is going to be in Corvallis for the first time on Saturday. On the other, Chris, Kirk, Lee and Desmond figure to be hanging out with the Duck, not the Beaver, during the show.
That's because, however you want to spin it, the Ducks are the show, the only reason "GameDay" will set up outside Reser Stadium. They are No. 2 in the BCS standings. They are a Civil War victory away from playing for the national title. They are undefeated and fancy-pants cool with the point-a-minute offense and funky uniforms.
Oregon State? It's supposed to play the Washington Generals to Meadowlark Kelly and the Eugene Globetrotters.
[+] Enlarge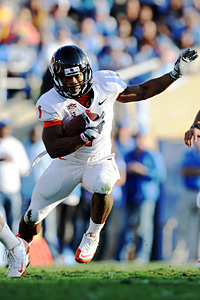 Harry How/Getty ImagesOregon State will need a big game from Jacquizz Rodgers if it hopes to spring an upset on Saturday.
The Beavers get it. So what if Oregon cornerback Cliff Harris called them "
little brother
" this week? When one team is 11-0 and the other is 5-6, that's sort of the way things go.
"It's easy to talk when you're the No. 1 team in the country," cornerback James Dockery said.
Surely, though, it must be difficult for the Beavers and their fans to hear all the crowing coming out of Eugene. Isn't there just a bit of jealousy?
"It doesn't make me jealous," running back
Jacquizz Rodgers
said. "They are doing what is right. Any time a team is undefeated and No. 1 in the nation, you've got to give them their respect. They earned it. Playing this game is hard. To have a perfect season like that -- week in and week out -- they did their job. There's no hatred for me."
Oh, but fans are a different story. Beavers fans are not terribly happy about things in general, both with their team's fortunes in 2010 and Oregon's rise under Chip Kelly.
The Ducks won the past two Civil Wars, each time knocking the Beavers out of the Rose Bowl. In 2008, the Ducks delivered a shocking 65-38 beatdown in Corvallis that turned celebratory roses into trash scattered all over the stadium and the parking lot. Last year, the Beavers nearly notched the upset in the "Civil War for the Roses," but the typically uptempo Ducks were able to burn the final six minutes off the clock in a 37-33 win.
So, yeah, delivering a little bit of heartbreak to the Ducks would be great fun for the Beavers.
"It would be nice to knock them out of that [national championship] game," Dockery said. "Of course."
The Beavers know their chief concern -- an upset win would earn them bowl eligibility -- isn't front and center nationally. But that's their primary motivation. They are perfectly aware that few give them a chance. And more than a few confess to being baffled why they've been, to use coach Mike Riley's phrase, "horribly inconsistent" this season. They've won at Arizona and stomped California. Impressive. Yet they got shocked by UCLA and lost at home to Washington State. Embarrassing. They showed pride while blowing out USC. Impressive. And a lack of it while getting blanked 38-0 at Stanford a week ago. Embarrassing.
"It's been quite a roller coaster for the Beavers," Riley said. "We've had some really good wins and we've had some clunkers."
The Beavers, who will be playing their fifth top-10 opponent this season on Saturday, have struggled on both lines, and the offense lost All-American receiver
James Rodgers
on Oct. 9 to a season-ending knee injury. The running game has never been consistent. The defense ranks ninth in the Pac-10 in passing efficiency.
"At times, we're really good. At times, we're really bad," Jacquizz Rodgers said. "It seems like on every play, somebody makes a mistake."
If the Beavers are to have any chance, their two biggest stars must produce special performances. That's Rodgers and defensive tackle Stephen Paea. And, of course, when major upsets happen, there's usually somebody you don't see coming -- perhaps quarterback
Ryan Katz
will duplicate his 393-yard and two touchdowns performance at Arizona?
Oregon is the big show. It's why "GameDay" is on hand. But the Beavers will lead "SportsCenter" if they pull the upset. And "little brother" is clearly aware of that.
"Obviously, we know about the extravagant nature of Oregon and their university and everything they have to offer," Dockery said. "Until someone can beat them and make them stop talking, they can keep on talking."
September, 29, 2010
9/29/10
8:37
PM ET
There are cold hard facts. And grounds for optimism. There's frustration. And there's a silver lining that suggests hope and possibility.
Best of all: There are still many games ahead in which Oregon State and/or Arizona State can rewrite the season's script.
Still, the cold hard facts are the records: 2-2 for the Sun Devils and 1-2 for the Beavers. No matter that all four defeats came in competitive performances against teams ranked in the nation's top-11. The end-result is what-could-have-been-but-wasn't.
[+] Enlarge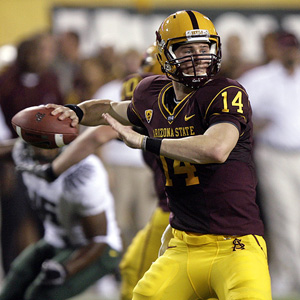 AP Photo/Paul ConnorsSteven Threet's four interceptions were part of a seven-turnover night for Arizona State against Oregon.
"I think it's frustrating and exiting," ASU QB
Steven Threet
said. "[It's frustrating] in terms of driving the field and not finishing off drives and getting points when we should. It is exciting, though, because we are very close. If we correct these mistakes then we are right there."
And the team that doesn't? It isn't right there. Though bowl requirements
might be eased out of necessity by the NCAA
, the Sun Devils, because only one of their two wins over FCS foes can count toward bowl eligibility, need to win five of their final eight games. Five of their final seven might be too much to expect.
So Saturday's game at Oregon State is a must-win for ASU.
As for Oregon State, it's built its reputation on an uncanny ability to overcome slow starts: They started 2-3 three straight seasons from 2006-2008 until starting 2-2 last year, but ended up winning 36 games over those four seasons. Still, past performance doesn't guarantee future results.
"You know from experience and your knowledge of the past, it can be done, but it's certainly not given to you by right of passage," coach Mike Riley said. "You have to earn it. Those teams improved. That's my message -- those teams persevered. They recognized where they needed to go, what they need to do better."
Arizona State has been pretty productive on both sides of the ball, but turnovers and penalties are killing the Sun Devils. They also haven't been very good in the red zone, which is partly due to turnovers. They had seven against Oregon.
"We can't turn it over seven times in the football game and expect to win," Sun Devils coach Dennis Erickson said. "People can ask you anything about that football game but that's it right there. We were down in the red zone nine times. We turned it over three times down there. We fumbled and had two picks down there."
Oregon State's chief problem might be playing two top-five teams, but if you ignore the competition level, there are a lot of worrisome issues. For one, the Beavers can't stay on or get off the field -- they are bad on third down on both sides of the ball -- and they are struggling to get pressure on the opposing quarterback. The offense has been mostly anemic, averaging 270 yards per game game, which ranks last in the Pac-10.
There also are personnel issues: All-American receiver
James Rodgers
suffered a concussion against Boise State and is questionable for Saturday, while linebacker and leading tackler Dwight Roberson is out with a sprained knee.
Still, cornerback James Dockery said he and his teammates aren't worried and haven't lost confidence.
"I feel that everyone outside of the building is a lot more worried about the Beavers right now," he said. "That is kind of tough to say because we have to have wins, so we can be perceived more positively. Inside of the locker room, we still have a high level of confidence. We know that the schedule we had was going to be a challenge coming into this season."
Both teams have been hardened by tough games. Neither will be shocked by the competition level. The Beavers were projected to finish third in the preseason media poll. Both believe they are bowl teams.
In other words, these are two pretty good teams with mediocre records that are wounded and hungry. And they really need a win.
One victory might be enough to start a momentum swing toward hope and optimism.
"We have to find a way to win the football game; that's the bottom line," Erickson said. "Once you start winning games, it becomes contagious."
September, 23, 2010
9/23/10
2:51
PM ET
The blue turf is always a story. It's, er, different. But how much would anyone care if Boise State hadn't won 56 consecutive regular-season games on it? "College GameDay" wouldn't be setting up shop in front of Bronco Stadium on Saturday unless the team that plays on so-called Smurf Turf was really, really good. As in "No. 3 in the nation and might play for the national title" good.
A home-field advantage? Absolutely. Bronco Stadium ain't big -- capacity is officially 33,500 -- but it's darn loud. Still, Boise State beat Oklahoma in the 2007 Fiesta Bowl on green turf, and it beat TCU in the Fiesta Bowl in January on green turf, and the Broncos got the same positive result a few weeks back against Virginia Tech on green turf. Those last two victories were part of a 16-game winning streak, nine of which came on boring, ol' green grass.
The turf is blue, but the
team
is what leaves nearly every opponent green with envy. Or is it seeing red?
[+] Enlarge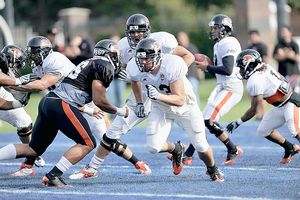 AP Photo/Corvallis Gazette-Times/Scobel WigginsThe Beavers practiced on a blue field to prepare for playing at Bronco Stadium.
"They're darn good," said Oregon State coach Mike Riley, whose 24th-ranked squad will try to end the Broncos' home winning streak on Saturday. "They've got good players and they are extremely well coached. That's the biggest factor."
Nonetheless, Oregon State this week went to great lengths to give its players a feel for seeing blue underfoot. The school painted a practice field "reflex" blue and then dressed its scout team in the same color.
Riley said the decision was based as much on "fun" as strategy. And the Beavers' players don't seem to be too taken by the notion of a blue-turf mystique.
"The turf is blue and their jerseys are blue, but there's 11 guys over there," linebacker Dwight Roberson said. "I don't feel like the blue turf has to do with anything. It's a field; you play football on it. For me, it's nothing different than playing any other football game."
More than a few coaches whose teams have struggled inside Bronco Stadium, however, have observed that the blue-on-blue effect does provide a competitive advantage, a notion Riley shares. His team was a victim during the winning streak, falling 42-14 in 2006 after jumping to an early 14-0 lead.
"I think it is an advantage for sure," he said. "Even watching them on film, it's hard to get numbers. It all blends together."
Boise State, a veteran group that welcomed back 22 of 24 starters from last year's unbeaten team, plays with such precision opponents can't afford to lose track of players morphing into the playing surface. So there's method to the madness of a blue practice field.
But the bigger issue is slowing down junior quarterback
Kellen Moore
, whose extraordinary efficiency has transformed him from lightly regarded recruit ignored by the Pac-10 into a leading Heisman Trophy candidate. His offensive line has yielded just one sack, and the Beavers' pass rush has been limp in the early going, recording just two sacks in two games.
Moore has shown little inclination to get rattled by pressure. The three-year starter has thrown just 14 interceptions in three seasons, 10 of which came as a freshman.
"This guy is the best at extending the play a little bit by moving in the pocket," Riley said. "He doesn't get sacked. It's beautiful quarterbacking."
Said cornerback James Dockery, "He just seems to make all the right decisions. He knows how to manage the game and win. He's a winner."
[+] Enlarge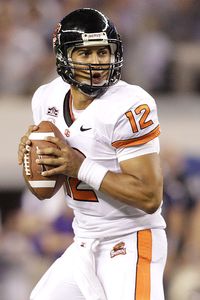 Tim Heitman/US PresswireOSU quarterback Ryan Katz will be making his first true road start against the Broncos.
The Beavers will counter with sophomore
Ryan Katz
, who will be making his first "true" road start, considering the TCU game in Cowboys Stadium was considered a neutral field -- and, to be honest, was half-full and not terribly loud.
Katz has mostly avoided major mistakes (see four touchdown passes, no interceptions) but he's completing under 50 percent of his throws and is averaging just 151 yards passing per game. Yet Broncos coach Chris Petersen, who's 26-0 at home since taking over for Dan Hawkins in 2006, said he's been impressed with Katz on film.
"He's got some tremendous physical tools," he said. "He's going to be really, really good."
Katz's main assignment: Get the ball to the Rodgers brothers, running back Jacquizz and receiver James, and hope they find space in which to maneuver.
Boise State's defense held Virginia Tech to just 314 yards in its 33-30 victory. Meanwhile, its offense is averaging 516 per game, though much of that came in Game 2 against hapless Wyoming.
The Broncos are proficient and experienced on both sides of the ball. While some might dismiss them as a well-coached "system" team that thrives in a weak conference, Riley said he sees plenty of talent on game tape.
"Maybe they weren't five-star guys going in, but they're five-star guys going out," Riley said of Boise State's recruiting and development.
A college football nation will be divided on this one. Haters of the BCS system and fans of non-automatic qualifying programs -- though probably not TCU or Utah -- will be rooting hard for the Broncos. Fans from AQ conferences who want one fewer obstacle to the national title game or even a BCS bowl game will be rooting hard for the Beavers.
The Beavers absorbed the blue all week. To a man, they seem to think that the least of their worries is the color of the turf.
Said safety Lance Mitchell: "I think that's more for 'GameDay' and the fans. We will practice on it, so if it helps us get prepared for it, that's all good."
June, 2, 2010
6/02/10
6:07
PM ET
At what position is the Pac-10 deep? At what position in the Pac-10 thin? Here's the second of three parts taking a look at just that.
(By the way, some of you wondered about QB. The Pac-10 is, without question, the nation's deepest conference in terms of quarterbacks -- and it would have been deeper if not for
a certain Duck
making a very, very poor decision. But that's so obvious and been
written about so much
that we're not including it in this three-part package).
Deep: Running back
[+] Enlarge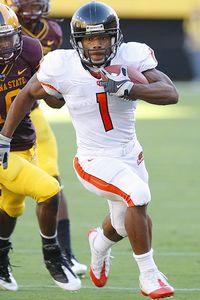 Rick Scuteri/US PresswireJacquizz Rodgers is one of several talented running backs returning to the Pac-10 this season.
Why is it deep
? Six of the top-10 running backs from 2009 are back, and four of them rushed for more than 950 yards. Eight teams welcome back a player who qualifies as a starter or at least an experienced veteran. Only Arizona State and Stanford, which is replacing Heisman Trophy runnerup Toby Gerhart, are uncertain at the position. But it's not just about starters. There's depth. Most teams can point to one or more solid backups, not to mention there are a number of elite incoming freshmen recruits expected to immediately contribute.
The big names
: Start with Oregon State's
Jacquizz Rodgers
, the conference's top Heisman Trophy candidate, and Oregon's
LaMichael James
, who has All-American potential. They combined for just under 3,000 yards and 35 TDs in 2009. Then there's Washington's
Chris Polk
(1,113 yards rushing), California's
Shane Vereen
(952 yards, 12 TDs) and Arizona's
Nic Grigsby
, who rushed for 1,153 yards in 2008. The Wildcats, in fact, have their top four rushers back, including
Keola Antolin
, who's rushed for over 1,100 yards and 14 TDs over the past two seasons. USC and UCLA are both experienced in the backfield and have highly rated freshmen recruits who figure to be in the mix, particularly USC's
Dillon Baxter
, who was spectacular this spring. Washington State has three of its top four rushers back.
Thin: Cornerback
Why is it thin?
Three of the four All-Pac-10 cornerbacks are gone: UCLA's Alterraun Verner, California's Syd'Quan Thompson and USC's Kevin Thomas. Each of them were NFL draft picks. Only second-teamer Trevin Wade of Arizona returns. In fact, only one returning CB even earned honorable mention all-conference recognition (Washington's Desmond Trufant). Only Oregon, Stanford and Washington welcome back both starting CBs from 2009, and each of them is hardly settled at the position after spring practices. Arizona State and USC are replacing both corners, though the return of Omar Bolden from injury and Shareece Wright from academic ineligibility should bolster the Sun Devils and Trojans, respectively.
Fill the void
? Wright might turn out to be the conference's best cover corner and a top NFL draft pick. Wade had five interceptions last year and could earn national attention. Bolden had a great spring after missing last season with an injury and suffering through a disappointing sophomore year. Trufant, UCLA's Sheldon Price, USC's Torin Harris and Oregon's Cliff Harris are youngsters who might break through. Oregon's Talmadge Jackson and Oregon State's James Dockery are veterans who could take the next step.