January, 15, 2013
1/15/13
9:00
AM ET
I have all the answers, but you knew that already. It's why you're here.
Here they are -- your five bold predictions for 2013.
[+] Enlarge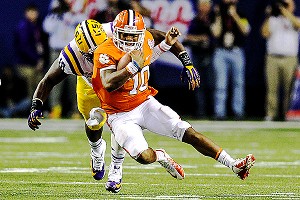 Daniel Shirey/USA TODAY SportsTajh Boyd and Clemson ended 2012 with a win over SEC foe LSU. Can the Tigers open 2013 by beating another SEC power?
1. Clemson will win the ACC title; Miami will win the Coastal Division.
The Tigers return the ACC's best quarterback in
Tajh Boyd
, four starters on the offensive line, and the defense should be much better in the second season under coordinator Brent Venables. Miami might have the best offensive line in the ACC, and it will have one of the best quarterbacks in
Stephen Morris
. The Canes have to improve dramatically on defense, though, in order for this to come to fruition.
2. Clemson quarterback Tajh Boyd will be a finalist for the Heisman Trophy.
While he didn't make it to New York this past season, he was certainly good enough. Boyd's performance in the Chick-fil-A Bowl win against LSU should make him a legitimate contender heading into 2013. It's not going to be easy because Clemson opens with Georgia, closes with South Carolina and plays FSU in between. But if the Tigers can go undefeated or finish with only one loss, Boyd should be in New York.
3. Jameis Winston will be Florida State's new starting quarterback.
The competition is on, and
Clint Trickett
enters the spring as the leading candidate to replace starter
EJ Manuel
. Trickett will be pushed, though, by
Jacob Coker
and Winston. Winston, who was regarded by many as the nation's top quarterback prospect in 2012, also was a standout baseball player. He gets the nod from ESPN.com as the Noles' starter in 2013.
4. Virginia Tech will have the best defense in the ACC.
Move over, Noles, it's the Hokies' time to shine again. Virginia Tech returns nine starters to a defense that improved significantly in the second half of the season. While the Noles have to replace three of their top defensive ends in
Brandon Jenkins
,
Tank Carradine
and
Bjoern Werner
, Virginia Tech returns
James Gayle
at end, and standout corner
Antone Exum
. Bud Foster's group "is back."
5. Wake Forest will go bowling, Duke will not.
Tanner Price
returns,
Sean Renfree
and
Conner Vernon
do not. That's not to say that the Blue Devils don't have enough pieces in place to continue the momentum from 2012, but they've got big shoes to fill. Meanwhile, Wake Forest returns standout receiver
Michael Campanaro
, who should be one of the best in the ACC if he stays healthy.
July, 25, 2012
7/25/12
3:05
PM ET
The ACC today
announced its preseason all-conference team
, which was chosen by media members this week at the ACC Football Kickoff on Sunday and Monday at the Grandover Resort in Greensboro, N.C. Florida State, Clemson and North Carolina led all schools with four players each.
Clemson wide receiver
Sammy Watkins
, who was named by the media as the ACC preseason Player of the Year on Monday, was the only unanimous selection on the team, being named on all 68 ballots.
January, 1, 2012
1/01/12
9:00
AM ET
Early in the regular season, Virginia Tech's defense had already lost starting outside linebacker Jeron Gouveia-Winslow and starting defensive tackle Antoine Hopkins to season-ending knee injuries. Starting defensive end James Gayle had missed a couple of games, along with starting cornerback Jayron Hosley.
Just when it seemed it couldn't get much worse, Virginia Tech lost linebacker Bruce Taylor – arguably the leader of the defense and the unit's best player - to a season-ending mid-foot sprain. In a span of four games, the Hokies had lost three starters.
"That's when you said, 'Man, enough is enough,'" defensive coordinator Bud Foster said. "We haven't had as many injuries on the defensive side in, I don't know, forever, the 25 years I've been here."
[+] Enlarge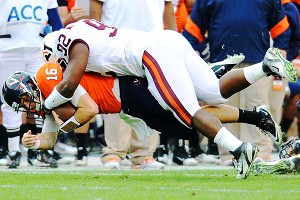 James Lang/US PresswireLuther Maddy, here bringing down Virginia QB Michael Rocco, is among the true freshmen contributing to Virginia Tech's improved defense.
And yet in spite of it all, with two true freshmen in the two-deep at defensive tackle, Virginia Tech enters the Allstate Sugar Bowl against Michigan with one of the nation's top defenses. And the Hokies are going to need it. Those who have paid close attention to Virginia Tech's defense under Foster would probably agree that this has been one of the best coaching jobs of his career. Not only did the Hokies make dramatic improvements from 2010, but they also did it with a young, inexperienced lineup forced into action because of injuries. Now they have to maintain that success against one of the nation's top quarterbacks in
Denard Robinson
.
"The most recent guy we've probably faced like him was Pat White a few years ago at West Virginia," Foster said. "I think he's very similar to that guy. He's a game-breaker. He's a big-time athlete. He can beat you running the ball, he can beat you throwing the football. He's just a dynamic football player, a dynamic athlete. And then he's got some good skill guys around him to take the pressure off of him.
"He makes people miss in the hole. He jukes him and he's off for a 40-yard touchdown. Those are things he does … and they're using him the right way – quarterback sweeps, quarterback powers, quarterback zone play, quarterback draws. They're doing everything. They've adapted to what they have and he's done it very, very well."
Then again, so is Foster's defense.
Last year, Virginia Tech's defense finished No. 52 in the country in total defense, allowing 361.5 yards per game. This year, the Hokies are No. 13 in total defense, allowing almost 50 fewer yards per game. Last year they were No. 26 in scoring defense. This year they're No. 8, holding opponents to 17.2 points per game. After putting the No. 64 rushing defense on the field in 2010, the Hokies improved to No. 17 this year, allowing just 107.8 yards per game.
"There's no question it was a heck of a job," coach Frank Beamer said. "I think the people we lost, and then the people replacing them – you've got two true freshmen defensive tackles – that's not the place you want a true freshman in there. You want some experience in there. And then I think (cornerback) Kyle Fuller had a tremendous year, but him being able to move around and play some different positions and come through, that made a difference. I think the guys we lost, who we lost, and then to play as well as we have defensively, the championship game was a tough game for us, but up until that point, we really played some fantastic football for what we've been through and the injuries we had on our defense."
For almost the entire Wake Forest game Oct. 15, the Hokies were playing without four opening-day starters, including Hosley (hamstring), and Gayle (ankle), in addition to Hopkins and Gouveia-Winslow.
By the third quarter against Boston College a week later, Virginia Tech was missing those four, plus Taylor and Gouveia-Winslow's backup, Alonzo Tweedy, who sprained his ankle. Two true freshmen — Luther Maddy and Corey Marshall — have taken over one of the defensive tackle positions on the two-deep. Two redshirt sophomores — Tariq Edwards and Telvion Clark — are holding down a linebacker spot.
"It all goes back to our players and our coaches," Foster said. "We were a young group, and I'm proud of them. We had an expectation, we talked about how we wanted to get back and play the kind of defense we're used to around here. We started that back in January. I'm proud of our kids that they stepped up and bought into that and knew that's what we needed to get back to. I still think we've got a lot of room to grow, which is exciting, but then to have the injuries on top of that, and some key players, and to have some young guys step up at various times, it's been fun to watch."
October, 13, 2011
10/13/11
10:15
AM ET
There are only five games in the ACC this week as Boston College and NC State are off, and it's an all-conference lineup. Here are two things worth watching in each game, in no particular order:
1. Quarterbacks in College Park.
Maryland starter
Danny O'Brien
was benched in favor of backup
C.J. Brown
last week at Georgia Tech. Neither of them passed very well, but Brown gave the offense the spark coach Randy Edsall was looking for with his 77-yard touchdown run. Who will start for the Terps? For Clemson, quarterback
Tajh Boyd
is expected to play after a hip injury knocked him out of last week's Boston College game. Will his hip be a factor against the Terps?
2. Maryland defensive tackle Joe Vellano.
If you haven't seen him yet, now is a good time to tune in. He had 20 tackles last week in the loss to Georgia Tech. That's almost unheard of for a defensive tackle. It was the most by a defensive lineman in the FBS since 2005. The Terps will need him to continue to be disruptive against Clemson's offense.
3. Miami's red zone defense.
The Hurricanes' defense has been a weak link this season, but they've been pretty stingy in the red zone, holding opponents to just 10 touchdowns in 23 drives. North Carolina, though, has flourished inside the 20-yard line and has scored 16 touchdowns in 19 red zone possessions.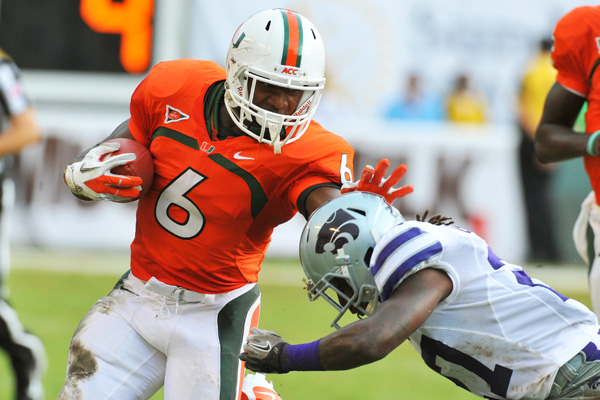 Al Messerschmidt/Getty ImagesLamar Miller has racked up 677 rushing yards and a 7.2 yards-per-carry average this season.
4. Running backs in Chapel Hill.
This game will feature two of the ACC's best in Miami's
Lamar Miller
and UNC's
Giovani Bernard
. Miller has had 100 yards or more in all five games, and Bernard leads all FBS freshmen in rushing yards (109.50 a game) and rushing touchdowns (eight). Miller leads the ACC in rushing (135.4/game) and Bernard is third.
5. Wake Forest running back Josh Harris.
Will he play? If he does, will he have another record-setting performance like he did last year against the Hokies with 241 rushing yards and two touchdowns? Harris has been bothered by a hamstring injury this week, but his chances of playing look good.
6. Virginia Tech's replacements.
This defense is banged up. Last week, true freshman Corey Marshall started for the first time in place of defensive tackle Antoine Hopkins and he had trouble lining up properly. Defensive end James Gayle's status is still uncertain (sprained left ankle). The defensive line has been hit the hardest, but the Hokies also have concerns about linebacker Jeron Gouveia-Winslow (sprained left foot). How will their backups and depleted rotation fare against the nation's No. 18 passing game?
7. Time of possession at Virginia
. You would think that Georgia Tech's offense has had an overwhelming advantage in time of possession, but the Jackets have scored quickly this year, so it's a bit deceiving. There is only a 22-second difference between Georgia Tech and Virginia's time of possession this year -- with the advantage going to the Hoos. Virginia's best defense will be to continue that trend and keep the offense on the field as long as possible.
8. Third downs in Charlottesville:
Georgia Tech leads the nation in third-down conversions (62.2 percent). Virginia is tied for third in the ACC in third-down defense (33.3 percent). Can the Hoos make the stops?
9. Turnovers in Durham.
Florida State turned it over five times in its loss to Wake Forest last week, with four interceptions and one fumble. The Seminoles are 114th in the country in turnover margin (-1.40). Duke did not have a turnover in its road win over FIU. The Blue Devils have lost six turnovers this year. FSU has lost 11.
10. Pass defenses in Durham.
Neither of these teams is running the ball very well this year, but both Duke and Florida State have passing games that rank among the top 16 in the country. How well the defenses fare against quarterbacks
EJ Manuel
and
Sean Renfree
will go a long way in determining the winner.
June, 13, 2011
6/13/11
9:00
AM ET
Virginia Tech has been a model of consistency over the past seven seasons, and coordinator Bud Foster's defense has been at the heart of it.
Last year, though, it took a noticeable dive.

From 2004-2009, Foster's defense ranked no worse than 12th in the nation in total defense, and ranked among the top five in the nation four times. Last season, the Hokies fell to No. 52 in the country, allowing a total of 5,061 yards (361.5 per game). No other ACC defense allowed more plays of more than 20 yards than Virginia Tech, which had 68 last season.
With three new starters on the defensive line and the graduation of two veterans from the secondary in Rashad Carmichael and Davon Morgan, Virginia Tech's defense will either mature quickly this fall or have another average season.
Prediction:
Virginia Tech will rejoin the nation's elite defenses in 2011. Here are three reasons why:
1. Bud Foster.
He is the one who set the standard, and his players are well-aware of Virginia Tech's defensive tradition and have said they feel a responsibility to uphold it. This spring, in order to find a little bit of extra motivation and leadership, Foster awarded the storied "lunch pail" to the defender who earned it every practice.
2. The defensive line.
While depth up front remains both a question and a concern, the starting four have earned the trust and praise of assistant coach Charley Wiles. Defensive tackle Antoine Hopkins, his brother Derrick Hopkins, defensive end James Gayle, and defensive end J.R. Collins have the potential to bring Virginia Tech's defense back to the standard fans have come to know and expect. They key is for all of them to stay healthy.
3.
Cornerback
Jayron Hosley is one of the best players in the country
. It never hurts to have an All-American in your defensive backfield. He led the nation last season in interceptions per game (nine in 13 games, or .69) and finished fifth in passes defended with 17, or 1.31 per game. He's also one of the top punt returners in the nation.
April, 21, 2011
4/21/11
10:05
AM ET
One of the biggest question marks facing defending ACC champ Virginia Tech this year is the revamped defensive line, which has to replace three starters. I caught up with defensive line coach Charlie Wiles on Wednesday afternoon to see what kind of progress the group has made.
Overall, he said he was pleased with the starting four, which, if they played today, would be: tackles Antoine Hopkins and his brother, Derrick Hopkins, and defensive ends J.R. Collins and James Gayle. The backup positions are where he has the most concerns, and depth remains an issue as the Hokies wrap up spring ball on Saturday and prepare for summer camp.
The Hopkins brothers are two players to watch this fall. Antoine Hopkins is nicknamed "Hop," and his little brother, Derrick, is "Skip." They've got a younger brother who … you guessed it, is "Jump."
If Virginia Tech lined up today, Hop and Skip would be in the starting lineup, much like the brother-tandem of Kevin Lewis and Jonathan Lewis once did for the Hokies.
"I love the way our first group has been playing," Wiles said.
Here's a closer look at the starters:
[+] Enlarge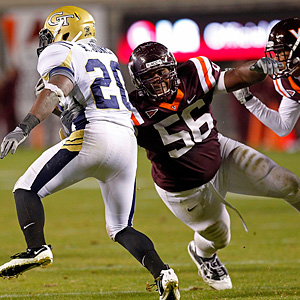 Geoff Burke/Getty ImagesThe Hokies are expecting big things out of Antoine Hopkins in 2011.
DT ANTOINE HOPKINS:
Wiles said Hopkins has really elevated his game this spring. Hopkins started 12 games last year and had 45 tackles, including 6.5 for losses.
DT DERRICK HOPKINS:
He was in the two-deep as a true freshman last year, but Wiles said he "kind of leveled off a little bit" at the end of the year. Not this spring. "Derrick came out and really has had a superb spring. He's a playmaker. He has all those things I saw in camp that have been elevated through a year of growth and a year of maturity not only in the weight room, but he's mentally grown up a little bit. He's made a lot of plays -- a lot of plays this spring."
DE JAMES GAYLE:
He showed flashes last year, but was a better practice player than he was a gamer. Wiles guessed it was a matter of confidence, but he brought a new attitude into the offseason and won the Hokies' prestigious Excalibur Award for his work in the weight room. He's now playing with a purpose. "He made his mind up after the year was over that he was going to be a difference-maker," Wiles said. "He had a phenomenal offseason. ... The transition rolled right over into spring ball. He's been a special cat out there."
DE J.R. COLLINS:
He started the spring a little bit slow, but continued to show progress with each practice and scrimmage. Last Friday night in one of the Hokies' scrimmages, Collins earned the highest points on the team and was awarded the famed lunch pail. "He really got on an upward trend," Wiles said.
Wiles knows he can't play the whole season with just those four players, so developing the depth between now and the season opener will be critical. Right now, Tyrel Wilson is a No. 2 defensive end and Duan Perez-Means is the other backup end. They're being pushed, though, by former linebacker Quillie Odom and Zack McCray.
At 6-foot-5, 260 pounds, McCray is still learning the position as a redshirt freshman. He could still be a year away from a strength standpoint, Wiles said.
"He's got to become more physical," Wiles said. "He thinks he's playing hard when he's not all the time. It's my job to get him over the hump and to get him to that point where he can be real productive for us, but he does have the tools."
Inside, Wiles is looking for five defensive tackles he can count on, and Kwamaine Battle, who tore his ACL, came back this spring about 15 pounds overweight and out of shape.
"I trust the kid," Wiles said. "I know what I'm going to get out of him, but we have to have a great summer with him."
Dwight Tucker had a high-ankle sprain and missed all of the spring, but he could be in the mix, and Isaiah Hamlette got a lot of reps this spring. Wiles said redshirt freshman Nick Acree isn't ready to go yet. Because they're looking for another playmaker inside, Wiles said there won't be any hesitation to audition some of the true freshmen who will join the team this summer, starting with Kris Harley.
"We've got to bring along some guys," Wiles said. "People are going to get nicked up. We're not going to play guys just to play guys. We want production. We're not going to change our expectations. You've got to come up to where we are and the level of defense we have to play. We've got some guys who need to get better."
February, 15, 2011
2/15/11
10:00
AM ET
We've already looked at who and what to watch in the Atlantic Division this spring. Here's a breakdown of three issues facing each program in the Coastal Division:

DUKE
Spring practice starts:
Feb. 16
Spring game:
March 26
What to watch:
Jim Knowles taking over as defensive coordinator. After coaching the safeties last season, Knowles was promoted in late January following the departure of Marion Hobby to coach Clemson's defensive line. It's not a complete overhaul on defense, but for the third time in as many seasons, a different person will be calling the plays. Knowles has also assumed the lead role with Duke's practice scheduling and weekly preparation.
New faces at linebacker. Duke graduated its leading tackler from 2010, Abraham Kromah, and freshman All-American Kelby Brown is out while recovering from knee surgery. Those two slots will be wide open this spring and the competition will be among Austin Gamble, C.J. France, Tyree Glover and Kevin Rojas.
Offensive line shuffling. The Blue Devils return four starters up front, but they'll be missing the glue of the line in Bryan Morgan, who graduated. Brian Moore, who has started the past two seasons at right guard, will make the transition to center. John Coleman and Laken Tomlinson are expected to compete for the right guard spot.

GEORGIA TECH
Spring practice starts:
March 28 (tentative)
Spring game:
April 23
What to watch:
Starting quarterback competition. Tevin Washington enters the spring at No. 1 on the depth chart, and it's his job to lose, as he has the most experience after taking over for injured starter Joshua Nesbitt in 2010. Synjyn Days will give him legitimate competition this spring, though, and it will increase this summer with the addition of standout recruit Vad Lee to the roster. For now, though, it's between Washington and Days, as David Sims is expected to move to B-back.
Offensive line reshuffling. Georgia Tech will have to replace three starters in all-conference center Sean Bedford, right tackle Austin Barrick and left tackle Nick Claytor, who decided to leave early for the NFL draft. Phil Smith, Barrick's backup last year, is the only one with any experience at tackle. The staff will likely have to move a player or two from guard to tackle, and only it knows who those candidates might be right now.
Revamped secondary. Jerrard Tarrant's decision to leave school early and enter the NFL draft left the Jackets without any returning starters in the secondary. Junior cornerback Rod Sweeting, sophomore cornerback Louis Young, redshirt freshman cornerback Ryan Ayers and sophomore safety Fred Holton are front-runners, but they all have a lot to prove this spring. Holton and Young played sparingly as true freshmen and combined for 21 tackles. Sweeting played in all 13 games and had one fumble recovery and eight passes defended, including one interception. Senior cornerback Michael Peterson may help, and safety Jemea Thomas played as a true freshman in 2009 but redshirted last year. There's some talent, but the inexperience makes it a question mark.

MIAMI
Spring practice starts:
March 5
Spring game:
April 9 or 16
What to watch:
New staff, new schemes. Defensively, first-year coordinator Mark D'Onofrio will work with two other assistants who were with him and first-year coach Al Golden at Temple, so there is familiarity there. Linebackers coach Michael Barrow has to learn D'Onofrio's system, but the players tend to pick it up faster if the majority of the staff is already acclimated to it. Offensively, everyone will be working together for the first time. Jedd Fisch wants to run a pure pro-style offense based on matchups, and the good news is that several of the assistants, because of their respective backgrounds, are already schooled in at least a version of it.
Quarterback battle. Golden has said he would like to name a starter by the end of the spring, making these practices critical auditions for both Jacory Harris and Stephen Morris. Harris has both flourished and flopped as a starter for the Canes, and his injury last year gave Morris the opportunity he needed to win the people's choice award. Has a new era of quarterback begun, or will Harris finally have the breakout season Miami fans have waited for in his final year as a Cane?
Corner competition. Following the departures of Ryan Hill, DeMarcus Van Dyke and Brandon Harris, Brandon McGee is the only corner remaining on the roster with any significant experience. He played in 11 games, started one, and had 15 tackles. Redshirt freshman Devont'a Davis, sophomore Kacey Rodgers, and redshirt sophomore Jamal Reid will also compete for playing time. There are also several incoming freshmen who could be immediate contributors.

NORTH CAROLINA
Spring practice starts:
March 16
Spring game:
April 9
What to watch:
The rookie quarterbacks. There's no guarantee that Bryn Renner will be the Tar Heels' starter in 2011, but he enters the spring slightly ahead of the race, as he was No. 2 on the depth chart last season and was pushing T.J. Yates for the starting job at this time a year ago. The staff would also like to see what true freshman Marquise Williams, who enrolled in January, has to offer. Braden Hanson and A.J. Blue will also compete for playing time. Blue was injured two years ago and redshirted last season.
Running backs race. The Tar Heels graduated three key players from 2010: Johnny White, Anthony Elzy and Shaun Draughn. Ryan Houston is back for his fifth year after redshirting last year and is the most experienced of the returnees. Giovani Bernard was a true freshman last year and had been expected to get some playing time, but he tore his ACL on the third day of training camp. It's not clear yet how much he'll be able to participate this spring. Hunter Furr played sparingly last year and true freshman Travis Riley, who enrolled in January, are also in the mix.
Another strong defensive line. If Quinton Coples was an all-conference selection as a defensive tackle, he could be scary good at his natural position, defensive end. Coples played there as a freshman and sophomore, but switched to tackle out of necessity last season. The defensive line should once again be the strength of the team, but it will be reconfigured again, as Coples' move will leave a defensive tackle spot up for grabs. Junior college transfer Sylvester Williams, who enrolled in January, could fill that role.

VIRGINIA
Spring practice starts:
March 16
Spring game:
April 2
What to watch:
The search for a new starting quarterback. With Marc Verica graduated, the lead contenders to replace him are the ones who saw the field last year -- Michael Rocco and Ross Metheny. Neither of them started, but Rocco played in six games and Metheny five. Nobody has thrown the ball more than Rocco's 25 times. The staff will also look at Michael Strauss, who redshirted last year, Miles Gooch, and David Watford, who enrolled in January.
Competition at running back. With leading rusher Keith Payne graduated, the question becomes what can Kevin Parks do after redshirting last year? There's a lot of depth at the running back position, but Parks, the No. 56 running back in his class by ESPN.com and national prep record-setter out of the state of North Carolina, came to Charlottesville facing high expectations. With Payne gone, this could open the door for him to meet them, but returning starter Perry Jones will also be competing for carries.
Development of the receivers. In January, Jared Green Tweeted that he had decided to transfer after finishing his degree in Charlottesville this spring, according to a school spokesman. His departure, coupled with the graduation of Dontrelle Inman, leaves the Cavaliers without two of their top wideouts from 2010. With Tim Smith coming off an injury, the development of other receivers will be critical -- especially with a new starting quarterback.

VIRGINIA TECH
Spring practice starts:
March 30
Spring game:
April 23
What to watch:
Quarterback Logan Thomas. The Tyrod Taylor era is over, and Thomas is the front-runner to succeed the winningest quarterback in school history. Ju-Ju Clayton is the only other quarterback on the roster who's ever taken a snap, and he'll push Thomas this spring. It's Thomas' job to lose, but the staff is looking for him to improve his accuracy. He played quarterback in only his final two high school seasons and was projected as a tight end. He's still raw and learning the position, but physically, he's a clone of Cam Newton. If he develops some poise in the pocket, look out.
Competition on the defensive line. The Hokies have to replace starters John Graves (defensive tackle) and Steven Friday (defensive end), who both graduated. They've got Antoine Hopkins and Chris Drager back, but it's possible Drager could move back to tight end after starting 10 games at defensive end last year. Tackle Kwamaine Battle, who started the first two games before he tore his ACL and Hopkins took over, is another front-runner. Hopkins' younger brother, Derrick, will also be in the mix, along with James Gayle and J.R. Collins. Redshirt freshman defensive end Zack McCray, the cousin of Logan Thomas, has also impressed the staff so far.
Tight end auditions. The graduation of Andre Smith leaves the Hokies with only one returning tight end who's caught a pass in a game, Randall Dunn (one). Redshirt freshman Eric Martin was the second tight end when the Hokies used two-tight end sets, but he missed three games mid-season with an injury.
November, 13, 2010
11/13/10
6:06
PM ET
CHAPEL HILL, N.C. -- Few defenses in the country have been as consistently good as Virginia Tech's has under coordinator Bud Foster, but this season, the Hokies are just good enough.
They've earned a bend-but-don't-break reputation, but in typical Foster fashion still find ways to make game-changing plays. They did it last week in the win against Georgia Tech, intercepting
Tevin Washington
in the end zone on the Jackets' final play of the game, and they're
doing it again here tonight
against UNC quarterback
T.J. Yates
. The Hokies have two interceptions tonight,
Anthony Elzy
hasn't gone anywhere in the second half, and James Gayle, who is filling in for injured starting defensive end Chris Drager, sacked Yates. It's those kinds of plays that are still trademarks of the Hokies' defense.
February, 15, 2010
2/15/10
10:00
AM ET
Here's a breakdown of three issues facing each program heading into the spring:
BOSTON COLLEGE
Spring practice starts:
March 18
Spring game
: April 24
What to watch:

• How linebacker Mark Herzlich progresses. Herzlich, who was diagnosed with Ewing's Sarcoma cancer last May, has been going through winter conditioning with his teammates, and he plans on participating in spring drills. How quickly he regains his form will be worth watching, as he and sophomore Luke Kuechly could give the Eagles one of the most formidable linebacking corps.
• The quarterback battle. After one season,
Dave Shinskie
has the most experience on the roster, but he'll get some competition from
Josh Bordner
and
Chase Rettig
, two early enrollees. There were times last season when Shinskie looked like the future of the position and there were others when he looked like any other freshman.
• Defensive linemen. For the second straight year, BC is looking for some stability up front. The Eagles have to replace left tackle Austin Giles and defensive end Jim Ramella. They return Kaleb Ramsey, Giles' backup, and Brad Newman, Ramella's reserve, but some young faces are likely to be seen in the rotation.
CLEMSON
Spring practice starts:
March 7
Spring game:
April 10
What to watch:

• Life without
C.J. Spiller
officially begins. The backs behind him had a pretty good year, so there's no need for full panic mode.
Jamie Harper
and
Andre Ellington
actually combined for a higher yards per carry average (6.1 to 5.6 yards). Clemson will also be looking to replace Spiller's lost kickoff return yardage. The Tigers had a 13-yard advantage in average starting field position, as their start was their own 37-yard line compared to opponents' 24-yard line. Ellington is a candidate in the return game.
• Kyle Parker's batting average. No, really. How well Parker does this spring with the baseball team will help determine whether he remains Clemson's quarterback or turns to the MLB draft. He didn't have a great 2009 season, but he was still the fastest player to 25 home runs in school history. It remains to be seen this spring if he'll become a high enough draft choice to give up college football.
• Secondary shuffling. It seems like eons ago since Crezdon Butler and Chris Chancellor weren't the Tigers' starting corners, as Butler started 40 straight games and Chancellor started 42. Butler finished his career second in school history in interception return yards. Now it's time for a new duo. Will Marcus Gilchrist move to corner, which he's capable of doing? Might Rashard Hall move to safety with DeAndre McDaniel?
DUKE
Spring practice starts
: Feb. 14
Spring game:
March 27
What to watch:

• Quarterback competition. Somebody has to take over for the graduated
Thaddeus Lewis
, but his backup –
Sean Renfree
– will miss the spring with a torn ACL. Redshirt freshman
Sean Schroeder
should be heavily in the mix to be the starter, pending Renfree's recovery.
• Defensive line makeover. It's wide open. Charlie Hatcher is entrenched at nose guard, but it's really anyone's game. The staff might move redshirt senior Wesley Oglesby, who played the majority of his career at defensive end, inside. Other options are defensive tackle Sydney Sarmiento, a redshirt freshman, and Curtis Hazelton, who played sparingly last season.
•
Johnny Williams
' move from wide receiver to cornerback. He had 31 catches in 2009 – the fourth-best on the team. Now they need his help in the defensive backfield. Duke will lose starter Leon Wright and his 10 career interceptions, and the pass defense, which allowed 215.75 yards per game, could use a boost.
FLORIDA STATE
Spring practice starts
: March 16
Spring game
: April 10
What to watch:

• Christian Ponder's return from shoulder surgery. Ponder is expected to practice this spring, though it could be on a limited basis, at least early. He's ahead of schedule, but the coaches won't subject him to any risks now. Yes,
E.J. Manuel
is talented and played well at the end of the season, but make no mistake – Ponder is FSU's starter and a potential Heisman Trophy candidate.
• The defense under first-year coordinator Mark Stoops. His secondary, in particular, will be interesting to watch, as will how quickly he can help the front seven generate a pass rush and plug the middle. Stoops has been a secondary coach, and the Noles lost three starters there. The fourth, Ochuko Jenije, could be pushed to retain his job.
• New faces, new opportunities. In addition to the fab freshmen who are coming in, FSU has a handful of unfamiliar players already on the roster who played sparingly or not at all. We'll see how they fit in this spring. RS-So DT Anthony McCloud and RS-So RB Debrale Smiley are both junior college transfers and former teammates. Physically, freshman linebacker
Jeff Luc
is already a man, but how quickly can he mature on the field? Two young wide receivers worth watching are
Rodney Smith
and
Willie Haulstead
.
GEORGIA TECH
Spring practice starts:
March 29
Spring game:
April 24
What to watch:

• The defensive transformation. The Jackets will switch from the 4-3 to the 3-4 under first-year coordinator Al Groh. In addition to learning the new scheme, the staff has to figure out who goes where. Linebackers might play defensive end and vice versa, safeties might play outside linebacker. It's anyone's guess as to how this team lines up in the spring.
• The replacements. From Georgia Tech's coaching staff to the new faces who will be tasked with filling in for the Fab Four --
Jonathan Dwyer
, Derrick Morgan, Morgan Burnett and
Demaryius Thomas
-- the Jackets will need some "Hello My Name Is" tags this spring.
• The offensive line. Three offensive linemen redshirted who could start, and Georgia Tech might need them to, especially if guard Joseph Gilbert decides to transfer to pursue his MBA. The Jackets lose two starters on the offensive line, and Gilbert, who graduates this spring, would be a third if he leaves. Center Sean Bedford and tackle Austin Barrick return as seniors.
MARYLAND
Spring practice starts
: March 23
Spring game
: April 24
What to watch:

• The quarterback competition.
Chris Turner
has graduated, leaving
Jamarr Robinson
the top option going into the spring, but he has limited experience. The staff liked what he did when Turner was injured, but
Danny O'Brien
, Miami (Ohio) transfer Clay Belton and
C.J. Brown
will all be given an opportunity. Look for O'Brien to start the spring at No. 2 on the depth chart.
• Cornerback: Cameron Chism is the only returning starter in the secondary, but right now the staff has fewer concerns about the safeties. Maryland will have to find some bodies at corner, and Dexter McDougle, who redshirted as a true freshman last year, is one option. Michael Carter and Trenton Hughes, who was the third corner last year, are also among a handful of candidates.
• The offensive line. Losing Bruce Campbell to the NFL hurt, but the Terps also lost starter Phil Costa. Justin Gilbert, a redshirt sophomore, could inherit Campbell's job. And there's always Mr. Versatility -- Paul Pinegar. He has helped the Terps at both tackle spots and left guard, and this spring he'll likely be given a shot at center.
MIAMI
Spring practice starts
: Feb. 23
Spring game:
March 27 (tentative)
What to watch:

• Tight end/offensive line:
Jimmy Graham
is gone, and the Canes don't return any tight ends with any experience other than
Richard Gordon
, who was injured the majority of last season. Miami signed four tight ends in this recruiting class, but none of them were early enrollees. Miami has to replace three starters up front, including both tackles and the center.
• How the two young quarterbacks perform: The health of
Jacory Harris
was precious last year, as he had nobody behind him with any experience after the transfers of Taylor Cook and
Cannon Smith
. The depth has improved a bit with
A.J. Highsmith
, who played sparingly last year, and
Stephen Morris
, one of the early enrollees.
• Upgrade on the d-line? Progress up front began with the hire of Rick Petri as defensive line coach, and it's up to Petri to help the Canes become better pass rushers. Miami will depend upon its two mainstays -- Allen Bailey and Josh Holmes. The right end position was a group effort last year, and Miami has to replace Joe Joseph and Eric Moncur.
NORTH CAROLINA
Spring practice starts:
March 15
Spring game:
April 10
What to watch:

• Quarterback
T.J. Yates
. It's his job to lose, and the coaching staff still has confidence in him, but
Bryn Renner
is waiting in the wings, and
Braden Hanson
will also be given an opportunity. The staff is looking for the offense to improve its passing efficiency and cut down on turnovers.
• The offensive line. It was a patchwork effort in 2009, thanks to injuries and inexperience, and will be a major key in how much UNC improves offensively this year. The Heels have to replace two starters, and Jonathan Cooper is likely to move from guard to center, and right guard Alan Pelc will miss spring drills while recovering from shoulder surgery.
• Defensive line tweaks. There aren't many questions on a defense that should be one of the best in the country, but somebody has to replace Cam Thomas and defensive end E.J. Wilson. Tydreke Powell is the frontrunner to take over at defensive tackle and Quinton Coples at defensive end. Both were backups last year at their respective positions.
NC STATE
Spring practice starts
: March 9
Spring game:
April 17
What to watch:

• Backup quarterback
Mike Glennon
.
Russell Wilson
is the starter, but he's going to be playing baseball all spring. Keep an eye on his backup to see if Glennon can make it any more of a competition in Wilson's absence.
• Chris Ward at punter. No, it's not usually, the highlight of the spring, but in this case, it's necessary. Ward is it -- he's their only option right now, and it's a position the Pack struggled with last year. Ward was expected to be the starter last season, but he was inconsistent. He's definitely got the talent to be the guy.
• The recovery of linebacker Nate Irving. After being severely injured in a one-car crash last summer, Irving is hopeful he can go through spring drills. He has been lifting with the team and running with the sports medicine staff, but it's still uncertain how limited his contact will be.
VIRGINIA
Spring practice starts:
March 15
Spring game:
April 10
What to watch:

• Quarterback competition.
Marc Verica
is the only one with any experience, and first-year offensive coordinator/quarterbacks coach Bill Lazor hasn't been in Charlottesville long enough to evaluate any of the candidates. That's what the spring is for, and true freshman
Michael Strauss
is the lone incoming quarterback on campus, so he'll have a head start on the playbook. Of the four quarterbacks Virginia signed in this year's class, Strauss is the only one listed as a true quarterback. The Cavs also have
Ross Metheny
, who redshirted last year, and
Riko Smalls
, who redshirted in '08 and was No. 2 on the depth chart when Verica was out with a concussion.
• Coaching transition. First-year coach Mike London has hired almost an entirely new staff, and they'll bring changes in philosophy and scheme. London has said he wants to get the defense back to the traditional 4-3, and revert to the tradition of featuring the tight ends, offensive linemen and running backs.
• Running back. The Cavs will have the help up front, but they need to replace their four leading rushers in
Mikell Simpson
,
Rashawn Jackson
,
Vic Hall
and
Jameel Sewell
. The staff will look at true freshman
Kevin Parks
, but also have
Torrey Mack
and
Dominique Wallace
, who had just seemed to be coming on at Southern Miss when he was injured and missed the rest of the season.
VIRGINIA TECH
Spring practice starts:
March 31
Spring game:
April 24
What to watch:

• Revamped defensive line. The Hokies have to replace three of four starters up front. The only defensive ends with significant playing time are Chris Drager, who the staff wanted to move back to tight end, and Steven Friday. Redshirt freshmen will be given a chance – Duan Perez-Means, Tyrel Wilson, James Gayle and J.R. Collins – but they've never played. Isaiah Hamlette is the only other end who's played and that was a skinny minute. At defensive tackle, Antoine Hopkins will be the frontrunner to replace Cordarrow Thompson.
• Darren Evans' comeback. Evans, the team's leading rusher in 2008, is working his way back from a season-ending ACL injury, and one of the biggest questions in Blacksburg is how the staff will divide the carries in such a talented backfield that includes
Ryan Williams
. With two returning 1,000-yard rushers, will
David Wilson
decide to redshirt? The spring will help him in that decision.
• The evolution of
Tyrod Taylor
. He's going to be a senior, and with so many questions on defense heading into the season, the offense will be leading the way. This should be a breakout year for Taylor, who by now should have mastered the offense and should consistently be a passing threat to compliment his running abilities.
WAKE FOREST
Spring practice starts:
March 16
Spring game:
April 17
What to watch:

• The quarterback competition. It's the most glaring hole the Deacs have to fill this spring, as they're tasked with replacing the winningest quarterback in school history,
Riley Skinner
, and his backup,
Ryan McManus
. Redshirt sophomores
Ted Stachitas
and
Skylar Jones
, and sophomore
Brendan Cross
, will compete with rookie
Tanner Price
for the top spot.
• Offensive line. The Deacs will take a huge hit here, as seven players in the two-deep depth chart were redshirt seniors, including all four tackles. Three starters have to be replaced.
• The interior defensive line. Nose guard Boo Robinson and John Russell have graduated, and Russell's backup, Michael Lockett, was also a redshirt senior. The Deacs are in good shape at the ends, but will need some help inside.
February, 12, 2010
2/12/10
2:30
PM ET
Each team has plenty of questions to answer heading into spring practice, so let the competition begin. Here are five position battles worth watching in the ACC this spring:
1. Wake Forest quarterback --
Replacing
Riley Skinner
, the winningest quarterback in school history won't be easy. The job is wide open, and the candidates include
Ted Stachitas
,
Skylar Jones
,
Brendan Cross
, walk-on
Turner Faulk
, and true freshman Tanner Price.
2. Virginia Tech defensive ends --
Experience is at a premium here after the early departure of Jason Worilds to the NFL. Chris Drager and Steven Friday are now the veterans of the group, but there are also several redshirt freshmen in the mix. The staff has high hopes for Duan Perez-Means, Tyrel Wilson, James Gayle and J.R. Collins, but could also make some position changes to fill the need.
3. Virginia's quarterback --
The Cavaliers are also starting from scratch after the departure of
Jameel Sewell
, and
Marc Verica
is the most experienced of the bunch. There were four quarterbacks in this year's recruiting class, but only Michael Strauss enrolled early. The Cavs also have
Ross Metheny
and
Riko Smalls
.
4. BC defensive line --
The Eagles have to replace left tackle Austin Giles and defensive end Jim Ramella, who was one of the top leaders. They return Kaleb Ramsey, Giles' backup, and Brad Newman, Ramella's reserve, but several newcomers should work their way into the mix.
5. Miami tight ends/offensive line --
The Canes have to replace three starters up front, and tight end
Jimmy Graham
has graduated. Miami brought in four tight ends in this recruiting class, but none of them were early enrollees.
Richard Gordon
, who was injured the majority of last season, is the only returning tight end with experience.
February, 11, 2010
2/11/10
9:20
AM ET
The Hokies' defense will be one of the biggest questions in the ACC this preseason, as Virginia Tech has to replace six starters. Still, expectations are high heading into 2010 that Virginia Tech will be one of the best teams in the country. Much of that confidence comes from defensive coordinator Bud Foster's proven ability to reload.
Can he do it again?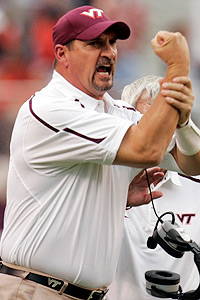 AP Photo/Steve HelberBud Foster will have some new pieces to work with this season.
Here's a closer look at exactly what Virginia Tech's situation is on defense heading into spring practice, and how much work the Hokies have to do:
Overall, Virginia Tech needs to replace three of four starters up front, outside linebacker, cornerback and free safety.
The only defensive ends with any significant playing time are Chris Drager, who the staff wanted to move back to tight end, and Steven Friday. There are a few redshirt freshmen you might get to know: Duan Perez-Means, Tyrel Wilson, James Gayle and J.R. Collins. Of course, the only problem with redshirt freshmen is that they haven't played yet. Isaiah Hamlette is the only other defensive end who has played, but that was extremely sparingly. It's possible the staff could move tackle John Graves back to end, where he practiced last spring, or possibly look at moving other players.
At defensive tackle, Antoine Hopkins will be the front-runner to replace Cordarrow Thompson, and he has experience so that shouldn't be too much of a concern.
At outside linebacker, Cody Grimm and Cam Martin have to be replaced, leaving a wide open competition.
At cornerback, Jayron Hosley or Cris Hill will likely take over for Stephan Virgil. No worries there.
At free safety, Eddie Whitley was Kam Chancellor's backup, and the staff is confident in him. Antone Exum will also be given an opportunity.
The good news? Virginia Tech returns cornerback Rashad Carmichael, rover Davon Morgan, Graves at defensive tackle, and Lyndell Gibson at inside linebacker.
It's a lot to ask for a team that faces Boise State's offense on Labor Day, but the Hokies wouldn't be so highly ranked this preseason if people didn't think they could do it.