NCF Nation:

James McGillicuddy
January, 3, 2011
1/03/11
8:04
PM ET
MIAMI -- There are no lineup changes for Virginia Tech, other than the ones you already know about --
Darren Evans
starting at tailback, and former walk-on Jack Tyler will get his first start at mike linebacker with Bruce Taylor sliding over to the backer spot.
It will be an unusual rotation at linebacker, as Taylor started all 13 games this year at the mike spot and will replace Lyndell Gibson, who started all 13 games at the backer spot, but was injured in the ACC championship game. Tariq Edwards will play backer as well, allowing Taylor to move back to the mike spot during the game. Taylor had said earlier this week he couldn't ever remember another time he had played two positions, but he was eager to try it.
Stanford had no lineup changes, but offensive guard James McGillicuddy, who likes to switch jerseys to keep things interesting, could be wearing No. 11 Monday night. Just look for the 307-pound guy moving around back there.
January, 2, 2011
1/02/11
9:00
AM ET
FT. LAUDERDALE, Fla. -- Hulking Stanford offensive guard James McGillicuddy isn't exactly easy to disguise, but that hasn't stopped the staff from trying to line him up incognito.
McGillicuddy's position is as nondescript as his jersey number. He's a "kracken," a.k.a a fullback-tight end-halfback hybrid. He can be found wearing jersey No. 74, No. 80, No. 41 or "whatever number he is for the week."
[+] Enlarge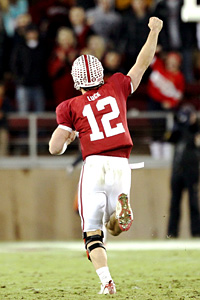 Ezra Shaw/Getty ImagesAndrew Luck leads a Cardinal team that uses 350 plays and has averaged more than 40 points per game this season.
"He's pretty conspicuous on the field," Stanford center Chase Beeler said. "He's 305 pounds, 6-4, trying to hide himself out there. I don't think it's really fooling anyone."
Maybe not. But Stanford's offense has duped plenty of defenses this year with its ever-evolving creativity. The Cardinal might line up with one, two or three tight ends, seven or eight offensive linemen. Two backs or no back. They'll use the Wildcat formation. They'll run the option, the single wing. They're a spread offense. A pistol offense. And they're constantly trying to come up with the next scheme.
"We try to hit every decade since about the 1940s," said associate head coach Greg Roman.
It's an encyclopedia of schemes, shifts and formations, and it's all on quarterback
Andrew Luck
's wristband -- all 350 plays.
"He's the maestro," said Roman.
Boy, does that offense sing.
Stanford enters Monday's Discover Orange Bowl against Virginia Tech having scored a school-record 484 points in 12 games, and has averaged 40.3 points per game, which ranks second in the Pac-10 and eighth nationally. The variety in the playbook requires a lot from the athletes, but there's no concern about information overload.
"Well, we're Stanford guys," receiver
Ryan Whalen
said with a grin. "We're supposed to be smart, right?"
This offense, which once this season featured as many as 27 players on the first team, doesn't leave them much choice but to study.
"We do things that have never been done before in college football," said senior receiver
Doug Baldwin
. "Maybe in Little League, somewhere down the road, but we get matchups, create matchups that enable us to have a positive outcome. We like to win the numbers games. It's all about angles and math and outnumbering the defense."
All but one time this year, Stanford has won the numbers game.
The Cardinal has won a school-record 11 games and eight conference games. Ten of those wins have come by an average of 26.4 points, and the Cardinal is averaging 24.75 first downs per game, which ranks ninth nationally.
So how does a defense clear across the country begin to prepare for such an unpredictable offense? By countering with an equally unpredictable defense, of course.
Virginia Tech defensive coordinator Bud Foster said the Hokies will be "loose" in their game-calling.
"We've got the ability to do a lot of blitzes and do a lot of different things and show a lot of different looks," he said, "and I think they've got to prepare for that, as well."
Not even Stanford's players know what to expect each week.
"It's always interesting coming into the Monday meeting and getting the install for this week or for the weeks during the season to see what the coaches have come up with for us for whatever game plan it is," Luck said. "The coaches do a great job of mixing things up and putting us in a good position to succeed, and we buy into their philosophy and try to go and execute to our advantage."
Regardless of what jersey number they're wearing.
November, 6, 2009
11/06/09
12:34
PM ET
Posted by ESPN.com's Ted Miller
If you think Stanford plans to just give it the ol' college try Saturday against Oregon, you don't know coach Jim Harbaugh and the mindset he's installed at Stanford.
| | |
| --- | --- |
| | |
| | AP Photo/Marcio Jose Sanchez |
| | Coach Jim Harbaugh has his team focusing beyond just securing bowl eligibility. |
Notch an upset against the nation's No. 8 team? Settle for finding a sixth win at some point during a brutal home stretch against four ranked teams and obtain bowl eligibility for the first time since 2001? That's not what Harbaugh and his team are pondering.
The Cardinal (5-3, 4-2) are still thinking Pac-10 championship. They plan to beat the Ducks. Then they plan to win at USC (again!). Then beat rival California. Then Notre Dame.
It may not happen, but Harbaugh clearly has high expectations for his program, now and into the future.
He stopped by for a quick chat.
Got a note from a Stanford fan about your experiment with two-way players during spring and preseason practices: How many guys have seen action on both sides of the ball this season?
Jim Harbaugh
:
Owen Marecic
(at fullback and linebacker), James McGillicuddy (offensive and defensive lines) and Richard Sherman (cornerback and receiver). So, three guys.
Did you guys back off that a little bit?
JH
: It's the way it's always been -- you try to get the best players on the field. Some of them are contingency plans. If someone gets hurt, then you have someone prepared and trained at that position who might be your best player.
So, Oregon: What did you see from the USC game tape?
JH
: A high level of execution. Fast tempo offensively. Physical defensively -- across the board. Special teams are outstanding. They're second in the country in kickoff returns. A secondary that tackles very well in space. No weak link. A very formidable team.
Any chance your guys will be intimidated by the Ducks?
JH
: That question keeps getting asked but, no, I've never seen our guys intimidated.
You guys have established a reputation for physical football. Is the next step getting faster?
JH
: You always want to get more physical, more athletic and faster. Stronger. Those are always things you are striving for.
That leads into my next question: How do you sell Stanford in recruiting?
JH
: It really comes down to identifying what the youngster is looking for from his college experience. For someone to come to Stanford, they have to achieve as much as they possibly can academically and achieve as much as they can athletically. That's the perfect guy. If a guy just wants to achieve athletically and just kind of work his way through the academics -- not have to work as hard for that degree -- there are better places to go than Stanford. It's the idea of, 'You work hard now, you won't have to work as hard later in life.'
Quarterback Andrew Luck has impressed everyone thus far. What does he need to get better at?
JH
: It's just playing the position. The experience. In terms of coaching him, he's one of those special guys who come along. Like [defensive back] Delano Howell, for instance. Delano was a freshman last year playing running back and receiver. I told the coaches, "Don't overcoach him. Don't ruin this guy. This guy is a football player and he is going to do things that are going to really amaze you.We don't want to coach that out of him." Similar but different with (Luck). The quarterback has to be coached. He has to be trained on the football side, the game plan side each week. But mechanically, physically, we're letting him play the position and learn as he plays. Does that makes sense? I don't want him to be a victim of over-coaching. Some guys with special talent, you've got to let them play. Therefore they learn how to play their game. That's where Andrew is making the most strides right now -- learning to play his game. He's a special talent.
You guys have four games remaining against ranked teams. You have to win one to become bowl-eligible. Do you use a bowl game as motivation? Do you sell that to your team?
JH
: No. We're all about this is like an NFL playoff. That's the closest you can compare it to what we're going through. We're entering the wild-card weekend. You win, you stay eligible for the Rose Bowl. The championship. If we lose, then we're out of that. We know we've got games after this one, but that's our mentality. You win and you keep going, you stay eligible for the conference championship.
Big picture: No question Stanford has become a formidable team. How close are you guys to being a championship-quality team, that team that's going to be atop the Pac-10?
JH
: I don't think there's been an opportunity like this in the last 10 years, like Stanford football has now, what we have this week. We have a chance to express what this team is and what it is all about.