May, 20, 2013
5/20/13
9:00
AM ET
Ohio State already had started paying more competitive salaries for assistant coaches before Urban Meyer arrived in November 2011.
But when Meyer and athletic director Gene Smith sat down to discuss staff pay, Smith soon realized he needed to do more.
"I think Michigan had stepped up with their coordinators," Smith recalled last week during Big Ten spring meetings in Chicago. "So we were already going to that before Urban Meyer came, but we bumped it up a little more. Any time there's change, you have that opportunity."
[+] Enlarge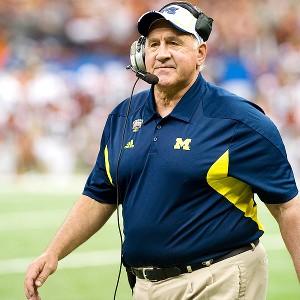 Lon Horwedel/Icon SMIMichigan DC Greg Mattison ranks as the highest-paid assistant coach in the Big Ten for the 2013 season.
"Everyone's always focused on head coaches' salaries," Smith continued. "That's always the thing. But really when you look at the changes, it's really been assistants' salaries across the country -- not just in the SEC, but the Big 12, Pac-12, all across the country."
The Big Ten is part of the change, too, as the league is allocating more money toward football assistants than ever before. The Detroit Free Press has an
excellent look at Big Ten assistants' salaries
, complete with a
database
that includes 10 of the 12 current members (Northwestern doesn't submit salaries as a private institution, and Penn State doesn't have to because of state laws).
The Free Press found that eight of the 10 schools are paying more for assistants in 2013 than they did in 2012 (only Indiana and Illinois are not). There are some significant total increases, such as Wisconsin (up $558,000), Nebraska (up $518,500), Purdue ($400,000) and Minnesota ($355,000). Staff pay had been an issue at Wisconsin, which lost six assistant coaches following the 2012 Rose Bowl, and at Purdue, which paid less for its staff during the Danny Hope era than any Big Ten school.
The total trend among the 10 schools is an increase of $1,720,852.24 for 2013.
Ohio State and Michigan remain No. 1 and No. 2 in Big Ten staff salary, as the Buckeyes allocate $3.416 million and the Wolverines allocate $2.805 million. Nebraska and Wisconsin make the biggest moves in the league for 2013, as the Huskers rise from sixth to third and the Badgers rise from seventh to fourth.
Illinois, which replaced five assistants from the 2012 team, including co-offensive coordinators Chris Beatty and Billy Gonzales, dropped from third in staff pay ($2.314 million) to eighth ($2.065 million).
The database shows that nearly every Big Ten assistant with "coordinator" in his title -- whether he's the sole coordinator or a co-coordinator -- will earn north of $300,000 for 2013. Only 18 assistants listed will make less than $200,000 in 2013 -- 15 work for Minnesota, Illinois, Purdue and Indiana.
Some notes:
Although Wisconsin paid former offensive coordinator Paul Chryst good coin, the school has increased its commitment for Gary Andersen's staff, not only with the coordinators but with some coveted position coaches like running backs coach Thomas Hammock ($300,000).

All of Nebraska's assistants are earning $200,000 or more for 2013, but there's a huge drop-off between Beck and the next highest-paid assistant (defensive coordinator John Papuchis at $310,000).

Michigan State has a similar drop off between Narduzzi and co-offensive coordinators Dave Warner ($270,000) and Jim Bollman ($260,000). Warner will be the primary offensive play-caller and has been on Mark Dantonio's staff since 2006, while Bollman is a newcomer.

Although Michigan is paying top dollar for its coordinators, the school gets its assistants for a relative bargain. Receivers coach/recruiting coordinator Jeff Hecklinski will earn $225,000 in 2013, while the others all will earn $205,000. Ohio State, meanwhile, pays all but one of its assistants $286,000 or more.

The Big Ten's three lowest-paid assistants all are in their first years: Illinois wide receivers coach Mike Bellamy ($125,000) and Purdue linebackers coach Marcus Freeman and running backs coach Jafar Williams (both at $120,000).

Although schools like Illinois, Wisconsin and Iowa ($325,000) pay their coordinators the exact same amount, others have slight differences in salary. Purdue's Shoop makes $5,000 more than defensive coordinator Greg Hudson. Minnesota defensive coordinator Tracy Claeys ($340,000) makes $5,000 more than offensive coordinator Matt Limegrover. Wonder if that leads to any underlying jealousy?

Most Big Ten schools have assistant salaries in round numbers, but there are some interesting totals from Indiana, which pays co-offensive coordinators Seth Littrell and Kevin Johns $255,500.04 and new recruiting coordinator/assistant defensive line coach James Patton $173,740.08. Never know when that change can come in handy.
The Big Ten still lacks some of the OMG totals seen in the SEC -- LSU is
paying new offensive coordinator Cam Cameron $3.4 million
in the next three years -- but the overall trend puts the league more on par with what we're seeing nationally.
March, 28, 2013
3/28/13
9:00
AM ET
Roughly 90 percent of college football programs would be thrilled to win 10 games in a season. Oklahoma is not one of those programs.
Sharing a Big 12 title? That trophy is a whole lot less satisfying when there are seven others waiting in the trophy case since 2000 that weren't shared with anybody.
"Our expectations are different than everybody else. Everybody's not Oklahoma," defensive coordinator Mike Stoops said. "When you have Oklahoma across your chest, you expect to win championships, and that's never going to change here."
He knows firsthand. Stoops helped his brother, coach Bob Stoops, win Oklahoma's seventh national title back in 2000, and the Sooners came up short two more times, once losing in the title game with Mike Stoops in 2003 and again a year later with Stoops coaching at Arizona. Without him coordinating the defense, the Sooners gave up 55 points to USC, more points than any team has ever scored in the BCS National Championship Game.
Arizona fired Mike Stoops six games into the 2011 season, and the Sooners' struggling defense needed an offseason jolt, despite winning 10 games that same season. Mike Stoops returned and brought assistant Tim Kish with him to coach linebackers and help coordinate the defense.
"Sometimes change is good, new ideas are good always, and change is good sometimes," Mike Stoops said. "That happens for whatever reason, and whether it's complacency or just being stagnant, those things occur. Just trying to reinvent ourselves is something we need to do."
In 2012, there were more late-season defensive struggles after a strong start, but yet again, a 10-win season and a shared Big 12 title weren't enough. Losing three games isn't good enough, and nobody wants to hear that all three losses came to teams that spent time in the top five last season. The Sooners want to get back to competing for national titles, and Bob Stoops went the route of coaching changes to help get Oklahoma back there.
Assistant coaches Jackie Shipp and Bruce Kittle were shown the door, along with offensive line coach James Patton. The Sooners scooped up Bill Bedenbaugh from West Virginia to replace Patton and brought in Jerry Montgomery from Michigan to coach the defensive line. Jay Boulware filled Kittle's spot on the staff after coaching tight ends at Auburn. The Sooners' reboot was complete, and they're working toward results in the spring.
"[They bring] a new perspective in some areas, new ideas. They're not drastic changes," Mike Stoops said. "Obviously, the coaches we had in here were involved and knew our systems well, but there's always little changes in technique and little things schematically that can help you, so we're always looking for fresh ideas."
Ten wins tastes bitter when you're used to winning 11 or 12, which can be the difference between proving yourself as a very good team and a great team. Oklahoma won at least 12 games six times since 2000 and 11 games on three more occasions. Ten wins isn't good enough, and a few former players and one famed coach were more than willing to speak up about it, echoing fan concerns.
Barry Switzer started it in September when he told one local paper that the Sooners "just don't have the talent."
"We're not as good as we have been," Switzer said. "We don't have the Tommie Harrises or Gerald McCoys squatting down there in the middle [of the defensive line]."
Offensive lineman Jammal Brown, an All-American who played in Norman from 2000 to '04, said he was "mad as hell" about the Sooners' 28-point Cotton Bowl loss to Texas A&M to cap the 10-win season, calling the Sooners "soft." CBS analyst Spencer Tillman, a Sooners running back in the '80s, said Oklahoma lost concentration on what made the program great in the first place.
Considering the Sooners let Shipp go at the end of the season, it's hard to believe Bob Stoops didn't agree in part with what Switzer had to say. As for the rest of it?
"We may not be as skilled at some of the positions as we want to be, but our toughness and pride is what made Oklahoma what it is, whether it was Bud Wilkinson or Barry Switzer or Bob Stoops, I think that's the common thread that goes to being a great team," Mike Stoops said.
"Some of those, from the outside, may have felt like we didn't have that common thread between us. I never felt that; I always thought our teams played hard and together. They're certainly entitled to their opinions, you know. We've got to look at ourselves, and if it's true, we need to change it. The things we needed to change, we're working on changing, and nobody knows our program like we do.
"There's areas we certainly need to get better at, and we're aware of those. Some of those take time. Some of those take adjustments each day to get better."
The Sooners lose a four-year starter at quarterback in
Landry Jones
from last year's team, along with seven starters from Mike Stoops' defense. The task of winning more than 10 games seems difficult in a Big 12 that's deeper than it has ever been.
"We just need to get better, again, individually and schematically and play better across the board and come up with better ideas and a better scheme. We're not far off when you look at the big picture," Mike Stoops said. "We had a chance to win 12 games, we lost them all late in the game and down the stretch and didn't make the plays we needed to, but again, we're not that far off."
February, 12, 2013
2/12/13
5:00
AM ET
1. Former U.S. Attorney Richard Thornburgh, commissioned by the family of late Penn State football coach Joe Paterno, poked enough holes in the Freeh Report to let the air out of it. Thornburgh's report, released Sunday, illustrated that the Freeh Report was not the last word on the Penn State scandal -- merely the first. The NCAA built its case against Penn State on the Freeh Report because the Board of Trustees vouched for it. That's not much of a defense now that the Freeh Report appears to be a rush to judgment. Instead, it's one more blow against what credibility the NCAA has left.

2. By accepting Kyle Whittingham's offer to become Utah co-offensive coordinator, Dennis Erickson did more than return to the sideline one year after being fired at Arizona State. He delayed his candidacy for the College Football Hall of Fame. Erickson's record of 179-96-1 (.650) and two national titles (Miami, 1989-91) means his entry into the Hall is a question of when, not if. And his acceptance of the job confirms him as a guy less interested in the trappings of a million-dollar job than in coaching ball -- and kids.

3. Oklahoma head coach Bob Stoops pushed offensive line coach James Patton out the door (to Indiana) after seven seasons because the Sooners' running game has been mediocre for four years. In that time, Oklahoma hasn't averaged more than 163 yards per game or finished higher than seventh in the Big 12. It may be a recruiting issue. The Sooners have had one All-American (tackle Trent Williams) in the last four years. Stoops will tell us the new direction of his running game by revealing Patton's replacement.

February, 11, 2013
2/11/13
1:00
PM ET
Indiana coach Kevin Wilson has added an assistant coach to his staff, and it's a guy with a strong track record.

James Patton, who has spent the past seven years as Oklahoma's offensive line coach, will become the Hoosiers' new recruiting coordinator, special teams coordinator and assistant defensive line coach. Patton has worked with Wilson before, including six years at Miami of Ohio (1990-94, 98), three at Northwestern (1999-2001) and five at Oklahoma (2006-10).
"I have a lot of trust and confidence in James Patton," Wilson said in a statement released by the school. "I coached him and worked with him as a graduate assistant and an assistant coach. James was one of the toughest players that I've ever coached, and he is an enthusiastic, hard-working football coach. He has been in the big time arena, is a Midwest guy and brings some balance to our staff."
The move allows current IU assistant Jon Fabris, who served as defensive ends coach last year and oversaw punt return and block in 2011, to become defensive line coach with no special-teams duties.
"We are excited about Jon Fabris coaching the front four," Wilson said. "It gives us the consistency of one voice in the meeting room and on the field. Our players won't have to shuffle back and forth between coaches, and James will be a great complement to Jon."
Patton fills the vacancy created when defensive line coach Mark Hagen left for Texas A&M. Patton has spent his entire career coaching on the offensive side of the ball, including working with the offensive line and tight ends at Northwestern, so it's interesting to see him move to defense and special teams for Indiana. But he has proven that he can coach, and defense is the Hoosiers' biggest area for growth.
"I will bring energy and enthusiasm to help take our defense to greater heights," Patton said in a statement. "I am also looking forward to overseeing special teams and recruiting. I am very familiar with the league and the region and will continue to build off of the positive momentum Kevin and his staff have created. It is an exciting time to join the Hoosiers."
October, 14, 2009
10/14/09
3:36
PM ET

Posted by ESPN.com's Tim Griffin
Here are some of the tidbits that people are talking about across the Big 12 heading into games this week.
After his receivers struggled to get acclimated in rainy conditions at Missouri, Nebraska receivers coach Ted Gilmore told his team to ditch the gloves and hand warmers and catch bare-handed. The biggest beneficiary was Niles Paul, who bounced back after two earlier drops to snag a pair of touchdown passes in the fourth quarter to key Nebraska's rally.
Iowa State coaches are enthused despite their 0-2 conference start. The biggest reason is the recent play of quarterback Austen Arnaud after the Cyclones have utilized a ground-heavy attack from the spread for most of the season. If Arnaud can continue to boost his passing, don't be surprised if the Cyclones notch an upset or two that might be considered a surprise now.
Robert Griffin's knee surgery earlier this week ended any hopes he might have had of playing this season. What will be more important will be how Baylor coach Art Briles handles his starting quarterback job during the rest of the season. Blake Szymanski should get the nod as soon as he's healthy to play. But it will be interesting to see if there's a point later this season where Briles figures it's more advantageous to get freshman Nick Florence the majority of the work to build for his future, rather than playing Szymanski, who is a senior.
Colorado coaches believe that Tyler Hansen will be a different quarterback this season than the one who briefly claimed the starting position for the Buffaloes late last season. Hansen, they believe, won't be quite as prone to run after progressing through his checks on offense. That maturity should help the Buffaloes become more productive offensively.
The secret to Todd Reesing's early success this season is the lack of hits he's taken from opposing defensive linemen. Reesing's diminutive size always makes that a concern -- particularly when the meat of the Big 12 schedule kicks in. After this week's game against Colorado, the Jayhawks will play Oklahoma, Texas Tech and Kansas State to start a punishing finish that also will include games against Texas, Nebraska and Missouri. If he can remains well protected and upright during that time, Mark Mangino's pitch for postseason honors for his senior quarterback won't be out of line.
One reason why Missouri's ground game has struggled so much this season has been the Tigers' struggles with penalties. It's been difficult for the Tigers to thrive in unfavorable down-and-distance situations. The Tigers were penalized for offensive holding four times last week against Nebraska. In 2008, the Tigers were flagged for 10 offensive holding penalties in a 14-game season.
The key to success in the Texas-Oklahoma game Saturday -- as it almost always seems to be -- will be running the ball. Since the Big 12 was formed in 1996, the team that rushed for the most yardage has won 11 of the 13 games, including every game but once since 1997. Both teams will struggle against fearsome run defenses, but the team that is the most patient should have the most success.
With the injury to starting guard Brian Simmons for the Texas game, look for Oklahoma offensive line coach James Patton to go with a player-by-committee rotation to fill in. Don't be surprised if Tyler Evans, Stephen Good and Tavaris Jefferies all get a shot at snaps at Simmons' position.
Keith Toston's role as the most valuable backup running back in the conference was re-emphasized with his big game against Texas A&M. He produced 204 yards of total offense and helped take the pressure off a young group of receivers with two critical big gains on screen passes early in the game.
The experiment of moving Texas A&M tight end Jamie McCoy into the backfield as a running threat worked well enough that Aggies coaches plan to keep tinkering with the alignment. McCoy showed strong running as he picked up 24 yards on four carries in his first work as a ball carrier since playing briefly in the 2006 season as a quarterback.
July, 1, 2009
7/01/09
11:15
AM ET
Posted by ESPN.com's Tim Griffin
Being in the middle of Oklahoma's biggest question mark isn't something that Ben Habern shies away from.
In fact, the Sooners' freshman center is excited about the opportunity to prove something to the doubters who are wondering about Oklahoma's young offensive line heading into the upcoming season with four new starters.
| | |
| --- | --- |
| | |
| | J.P. Wilson/Icon SMI |
| | Oklahoma's Ben Habern has some big shoes to fill as he replaces Jon Cooper at center. |
It's made Habern wish his team's Sept. 5 opener against BYU was only a couple of weeks away.
"There are a lot of people who don't think we have enough talent to make it through the Big 12 or to a big bowl game," Habern said. "But a lot of people aren't here during our practices. We've seen how athletic we are."
Some of the doubt started earlier when Oklahoma coach Bob Stoops called out the unit before spring practice even began. Stoops was disappointed in the group's lack of dedication during preseason conditioning drills and didn't hesitate to make his comments known.
The words stung, particularly for a group that was looking to build some confidence before heading into practice. But Stoops' point got across and helped the group coalesce.
"We lost a lot of senior leadership and have a lot of guys to replace," Habern said. "It was a big step and a challenge to get everything settled. But I feel like we handled it pretty well."
One of the biggest reasons for the group's fast growth has been the development of Habern, who has claimed the starting job after strong work during the spring to replace Jon Cooper.

Jason Hannan, who was once considered the nation's No. 1 center prospect and Cooper's eventual replacement, couldn't beat out Habern for the job, leading Hannan to transfer earlier this spring.
"Habern has been doing a wonderful job," Oklahoma offensive line coach James Patton told the Fort Worth Star-Telegram. "He's got a chance to be a really good one. Jon was a great leader and Ben" is from "that same kind of mold."