August, 25, 2014
Aug 25
10:30
AM ET
Miami and Louisville already are quite familiar with each other, but that familiarity will probably mean nothing heading into their opener on Labor Day.
Already, their matchup has quite a different feel than it did just one week ago after two major news stories broke this past weekend. Louisville receiver
DeVante Parker
will have
surgery on his foot
and is out six to eight weeks; Miami, meanwhile, named true freshman
Brad Kaaya
its starting quarterback
.
That begs the question -- how will both offenses be impacted?
[+] Enlarge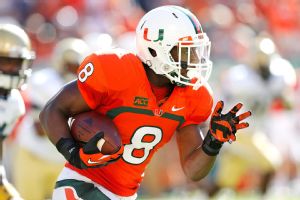 Joel Auerbach/Getty ImagesLouisville and Miami meet in the season opener, a rematch of the Russell Athletic Bowl, and Hurricanes tailback Duke Johnson will be among the many new faces who didn't play in the December game.
We already knew both units would look far different than the groups we saw the last time they played, a 36-9 Louisville romp in the Russell Athletic Bowl in December. Louisville lost star quarterback Teddy Bridgewater, who torched the Canes for 447 yards passing. Miami gained a healthy
Duke Johnson
, who missed the bowl game with an ankle injury.
Johnson brings a new dynamic to the matchup at running back. But so does new Louisville coach Bobby Petrino, who runs a completely different offense than the one Miami could not stop last season. Parker was set to be the focal point of that offense, a 6-foot-3, 211-pound freak of an athlete with the
capability of having a 1,500-yard season
.
Without him, Louisville does have other options. The Cards are fortunate to have one of the deeper receiver groups in the ACC.
Eli Rogers
,
Kai De La Cruz
, and
Michaelee Harris
all return. Tennessee transfer
Matt Milton
and sophomore
James Quick
are players to watch. So is tight end
Gerald Christian
, expected to have a bigger role in the offense.
But with a new starting quarterback in
Will Gardner
, there is little doubt Parker would have been a security blanket of sorts and the immediate go-to player among the receivers. The other players are solid, but Parker is the one with first-round NFL draft potential thanks to
his size and speed
(he runs a 4.34 in the 40-yard dash).
Miami gets the benefit of having a stronger Johnson back on the field. His impact on this team
is undeniable
. With him, Miami was ranked No. 7 in the nation last year. Without him, the Canes dropped four of their final six games. In the Russell Athletic Bowl, Johnson stood on the sideline and watched Miami running backs muster 73 total yards on the ground.
It is obviously huge that he is back. But with a true freshman under center, one has to assume the Cards' defense will be geared toward stopping Johnson and making Kaaya beat them. Kaaya has the skill players around him to help, but the pressure will rest squarely on him to make the right reads and the right decisions in the face of all the pressure.
How will he handle that? Maybe even bigger -- how will he handle the spotlight, making his first start on the road in front of a nationally televised audience? Miami coaches have praised Kaaya for his unflappable demeanor, and say they have run him through pressure situations in practice.
But no practice simulation can prepare a freshman for the bright lights that await, especially as the Miami quarterback. Though Louisville lost some of its best players on defense and will be employing a new scheme, the Cards do return
Lorenzo Mauldin
(9.5 sacks), linebacker
James Burgess
(72 tackles) and top cover corner
Charles Gaines
to make life difficult for Kaaya.
It is plain to see the differences are everywhere. Kaaya and Parker just add to that theme, making this matchup perhaps the most difficult to predict heading into Week 1.
October, 19, 2013
10/19/13
2:27
AM ET
LOUISVILLE, Ky. --
Lorenzo Mauldin
trudged off the Papa John's Cardinal Stadium field on Friday night, his head down and with teammate
Keith Towbridge
's arm draped around him. Before he reached the team's locker room, Mauldin looked up and screamed a four-letter word into the night.
Louisville's players later tried their best to say everything could still work out this season, even after a 38-35 home loss to Central Florida. But Mauldin's primal yell more accurately summed up the feelings of Cardinals fans everywhere.
As a 21-point second-half lead evaporated, so too did all of No. 8 Louisville's dreams of an undefeated season and any outside shot at a national title. Stark reality: the supposed best team in school history isn't even the best team in the American Athletic Conference.
"When you're undefeated, you think about the big game and all that stuff," senior middle linebacker
Preston Brown
said. "But all that's out the window now with the conference we play in. Now, we've just got to win the conference and hopefully get to a BCS game."
The big questions surrounding the Cardinals this season revolved around their schedule, and that such a soft slate should be reflected in their national ranking. UCF -- a team that has also won at Penn State and lost by three points at home to South Carolina -- proved a perfectly powerful opponent and looks like a deserving Top 25 team in its own right.
[+] Enlarge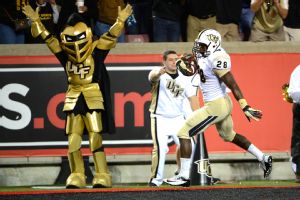 Jamie Rhodes/USA TODAY SportsLouisville's defense was nowhere to be found in the second half, especially on this William Stanback touchdown run.
"A lot of people don't recognize us as being a team that can compete on this level," UCF offensive lineman
Joey Grant
said. "I believe we just proved to everyone that we can."
Louisville will now need the Knights to lose twice just to have a chance to win the AAC and its automatic BCS bid. Last season, the Cardinals dropped back-to-back games in the old Big East -- including a home loss to UConn -- but still got enough help to make it to the Sugar Bowl, where they stunned Florida. Several players talked about repeating that path.
"We've been down this road before," Louisville coach Charlie Strong said.
Yet expectations for this team far exceeded simply fighting for an AAC title, and Louisville might end up wondering what might have been if not for a third-quarter collapse.
Freshman
James Quick
's one-handed scoop of a fumbled punt attempt and 30-yard touchdown dash put the Cardinals up 28-7 with 7:52 left in the quarter. The sellout homecoming crowd hopped. And then watched in horror as everything unraveled.
UCF's
Blake Bortles
completed a 32-yard third-down pass on the following drive to set up a Knights' touchdown. A Louisville fumble then led to another quick score. Then, a defensive stop and yet another score. The Knights had erased a three-touchdown deficit in a little more than seven minutes.
"Never, ever, ever give up," Knights head coach George O'Leary said afterward. "That's what we live on, and they knew that was coming. When they started jumping to [Louisville's] music, I knew we were in good shape."
A fourth-quarter field goal put Louisville behind in the second half for the first time this season. That's when
Teddy Bridgewater
showed his greatness, leading the offense on an 88-yard drive that was capped by
Dominique Brown
's 15-yard touchdown rumble. Bridgewater could hardly have played better; he completed 20 of his first 23 passes and finished 29-of-38 for 341 yards and two touchdowns.
For most of the season, though, Bridgewater hasn't gotten a lot of help from his running game, and that was the case again Friday. Dominique Brown ran for 54 yards on the Cardinals' touchdown drive to open the second half and later had that 15-yard score. Other than that, though, Louisville managed only 35 rushing yards. And Strong's strategy to rotate backs every series backfired, as he subbed in
Senorise Perry
after Brown had dominated that first third-quarter possession. Perry's fumble on his own 17 set up a Knights touchdown one play later.
But Strong was more upset with his defense than anything else. Bortles played every bit as well as Bridgewater, throwing for 250 yards and two touchdowns. He had time to scan the field, too, as Louisville failed to record a sack.
"We never got any pressure," Strong said. "You've got to create disruption and pressure. We had our blitzes called, we just didn't execute."
The defense saved the day last week in a slugfest against Rutgers but couldn't hold onto a 35-31 lead with three minutes to go. Bortles spearheaded a 75-yard march that ended on his game-winning 2-yard touchdown pass to
Jeff Godfrey
with 23 seconds left. Bortles faced no pressure on the throw, and Godfrey was wide open.
Preston Brown said Louisville played its base Cover-2 on that drive, hoping to force UCF into short passes and perhaps create a turnover. Instead, the Knights took what was there, all the way down the field.
"We changed our scheme a little bit, and we missed a lot of shots," Louisville safety
Hakeem Smith
said. "Pursuit was key, and we missed a lot of tackles."
Strong has tried to block out all the criticism surrounding the Cardinals' schedule this season and has repeatedly told his team that they are the best in the nation. He said that will continue to be the message going forward. Louisville only plays two more teams with winning records (Houston and Cincinnati) and should still finish with a sparkling record. Bridgewater insisted the team would move on and get ready for South Florida next week.
"You can't live in misery," he said. "You can't live in a loss. One loss doesn't determine the whole season."
There wasn't much else a team leader like Bridgewater could say on this night. Mauldin had already summed up the feeling of Cardinals fans everywhere.
April, 10, 2013
4/10/13
4:00
PM ET
Tommy Tuberville closed out his first spring with Cincinnati on Wednesday morning. Shortly afterward, he made his biggest move as the Bearcats' new head coach.

Tuberville
landed former Notre Dame star
quarterback
Gunner Kiel
, a former four-star prospect who, yes, has raised several red flags despite never stepping foot in a college game yet.
He has gone from the Big Ten (Indiana) to the SEC (LSU) to Notre Dame, drawing the public ire of Les Miles and three different fan bases along the way.
But getting past the (hopefully) subsided drama, there is a reason Kiel drew so much attention in the first place.
He is good. At 6-foot-4, 210 pounds, Kiel was ESPN's No. 3 quarterback and No. 52 overall player out of the recruiting class of 2012.
That is quality. And not simply American Athletic Conference quality.
No player ranked higher than him committed to a school currently in the conference. In fact, outside of Rutgers'
Darius Hamilton
(No. 69 overall in 2012) and Louisville's
James Quick
(No. 79 overall in 2013), no one in the top-100 from either the 2012 or 2013 class committed to a current conference school. And Hamilton and Quick will be in the Big Ten and ACC, respectively, by the time Kiel is finally eligible to take the field for the Bearcats, in 2014.
"Cincinnati was the best fit for me because the relationship I have with [quarterbacks] coach [Darin] Hinshaw is like nothing else. He is a great overall person and is someone I know I can get coached by," Kiel told ESPN's Joe Schad on Wednesday. "The group of guys I'm going to be around is second to none. I love where they are heading and the future is bright."
The Columbus, Ind., native will be roughly 90 minutes from home at his new destination. And though
Brendon Kay
and
Munchie Legaux
are slugging it out for the right to start this coming season, both will be gone by the time Kiel is eligible.
Cincinnati welcomed in three quarterback commits during this recruiting cycle, but it is unlikely that Tuberville would pursue such a high-profile transfer had he not envisioned big plans for him.
The coach's pro-style offense seemingly suits Kiel perfectly, and the success of recent Tuberville signal callers -- Texas Tech quarterbacks finished in the top-10 nationally in passing yards per game in each of Tuberville's three seasons there -- should serve as validation.
When Louisville and Rutgers announced that they were departing next year, Cincinnati looked like the class of remaining conference schools. Landing a high-profile prospect like Kiel only re-affirms that moving forward.
February, 11, 2013
2/11/13
2:00
PM ET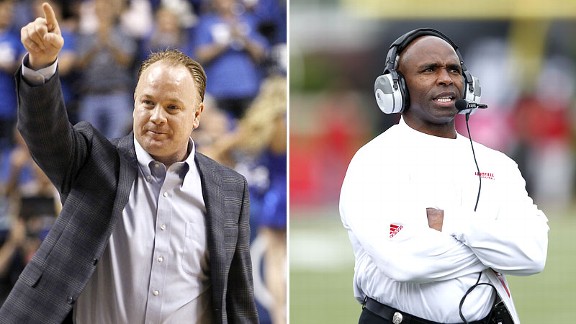 Getty ImagesLouisville's Charlie Strong, right, has had more competition for in-state recruits since Kentucky hired Mark Stoops.
Kentucky emerged with a
top-40 class

from ESPN RecruitingNation on signing day, besting in-state rival Louisville by seven spots. Does this mean the Cardinals' hold on the state is in jeopardy? SEC blogger Edward Aschoff and Big East blogger Andrea Adelson discuss.
Adelson:
So, Edward, Mark Stoops has done a bang-up job in his short time on the job and many believe he has what it takes to get the Wildcats back to respectability in short order. I, for one, was surprised he was able to pull in a better class than Louisville and Charlie Strong, who just earned a handsome payday for turning Louisville around himself in just three years. Strong is known as an unbelievable recruiter, doing a terrific job creating a pipeline into talent-rich Florida. He also got Kentucky's top prospect in the class of 2013, ESPN 150 wide receiver James Quick. So he's taking recruits from Florida and he's winning Kentucky and signed himself a pretty solid class of 17 -- even if the class rankings don't reflect the work they did this recruiting cycle. But seeing Kentucky up there in the ESPN rankings has to put a pit in the stomach of Louisville fans everywhere. Because as Louisville has risen, Kentucky has fallen miserably, a double dose of joy for Cards fans. Stoops, however, is no pushover. So now the big question: Does Louisville have to start worrying about Kentucky again?
Aschoff:
I'm not ready to crown Stoops as the next great recruiter, but if I'm at Louisville, I'm a little worried about what Stoops could do in and around the state of Kentucky. Sure, Strong got the state's top player, but he was supposed to. What Stoops did was bring in three of the state's top 10 players. Louisville grabbed two. It's not like Stoops blew Strong away in recruiting, but for such a short turnaround, what Stoops did was very impressive. He got wide receiver Ryan Timmons, an ESPN 300 member, to sign with Kentucky over Florida and Ohio State. AND he got ESPN 150 defensive end Jason Hatcher to flip from USC to Kentucky. Yes, he got a top player to pick Lexington over Hollywood! What was also impressive was that he signed 11 players from the state of Florida, a state in which Strong has made a very, uh, strong recruiting priority. Stoops' Florida background will help him compete more head-to-head with Strong even away from the Bluegrass State. Stoops puts a lot of emphasis on defense, and I think he's going to eat into Strong's recruiting on that side of the ball. What say you, Andrea?
Adelson:
Well, I think you bring up an excellent point, Edward -- both head coaches are defensive-minded coaches. That is a huge departure from the former head man at Kentucky, Joker Phillips, whose experience is on the offensive side of the ball. So, yes, I do agree that it is going to be interesting to see how they both try to wrangle defensive players into their respective programs and how they each recruit Florida. Louisville signed nine from the state last week -- in addition to the 32 already on the roster. But Louisville has major advantages right now. Its football facilities are better; its football stadium is better; its BCS history is better. Louisville has incredible staff stability right now, and given the $3.7 million Strong is set to make -- with a $5 million buyout to boot -- there is no reason to think he is going anywhere any time soon. Louisville is in way better position than Kentucky is for the long haul. But having said that, I don't think this rivalry is going to be a gimme for Louisville in the years to come. The recent history indicates that. No team has won more than four straight in the series since the rivalry was renewed in 1994. In fact, I think their game this year in Lexington may end up being the most difficult on the schedule for Louisville. I know it's looking way far ahead, but do you think there is a chance the Wildcats pull the upset?
Aschoff:
With the current roster Kentucky has, it'll be tough, so if the Wildcats are going to pull the upset this fall, those freshmen have to make an immediate impact. That means guys like Hatcher, Smith and Timmons have to take full advantage of all the offseason reps they get. The one thing Stoops has going for him is that he has a solid, veteran quarterback in
Maxwell Smith
coming back, and if running back
Josh Clemons
can get healthy, I think he could be one of the pleasant surprises in the SEC because he showed so much potential before his devastating knee injury in 2011. But guys have to stay healthy on offense. The defense does lose some key players, including ends
Collins Ukwu
and
Taylor Wyndham
and do-everything defensive back
Martavius Neloms
, but linebackers
Alvin Dupree
and
Miles Simpson
are back and so are defensive tackles
Mister Cobble
and
Donte Rumph
. So there's a base to build off of for Stoops, but, again, those freshmen have to develop quickly if the Cats are going to have a chance. If the offense can improve, I think the Wildcats will throw some surprises out there for everyone, not just Louisville in 2013.
February, 8, 2013
2/08/13
9:00
AM ET
Time to put a little bow on signing day coverage in the Big East. Who fared best? Worst? Read on to find out.
Biggest winner on signing day:
There weren't many Big East schools waiting on decisions from ESPN 150 talent on signing day itself, so the big winner has to be Rutgers, for simply finishing with the top recruiting class in the Big East. Again. Rutgers hoped to add a few more players Wednesday, but that did not happen. Still, the Scarlet Knights put together a solid class filled with solid prospects, including four-star quarterback
Chris Laviano
and cornerback
Nadir Barnwell
.
Best closer:
UConn came on strong in the final few weeks of recruiting, flipping Boston College quarterback commit
Tim Boyle
, one of the highest-rated players in the class. The Huskies also got a late commitment from three-star receiver
Brian Lemelle
, who had offers from many other BCS schools. Only one major question mark: Quarterback
Richard Lagow
, committed since June, has not signed with the Huskies yet.
Biggest surprise:
Cincinnati getting four-star tight end
Travis Johnson
. After Johnson decommitted from Miami, many believe he would end up staying close to home in Tampa and playing for USF. Ultimately, he wanted the opportunity to leave home and ended up with the Bearcats, which continued their recruiting push into Florida, signing 11 from the state.
Who flipped/biggest loss:
Louisville wanted to add two more to its class on signing day, but the Cardinals missed on both. ESPN 150 linebacker
Jermaine Grace
chose Miami over the Cards, and three-star linebacker
Lamar Robbins
stuck with his pledge to USF. Still, Louisville ended up with five four-star prospects, including two excellent receivers in
James Quick
and
Richard Benjamin
.
February, 7, 2013
2/07/13
9:00
AM ET
National signing day is in the books. Let's take a look at how some of next season's Big East schools fared. (Andrea Adelson will have Part 2 for you later in the day.)

CENTRAL FLORIDA
Needs filled:
Defensive linemen. The Knights brought in four defensive linemen, including a pair of top-50 defensive end prospects in four-star
Seyvon Lowry
(Jacksonville, Fla./First Coast) and three-star
Blake Keller
(Bradenton, Fla./Manatee).
Holes remaining:
Wide receiver. UCF did not sign a single receiver prospect this year, although it had landed four in the Class of 2012.

CINCINNATI
Needs filled:
Tight end. The Bearcats brought in three tight ends, including ESPN 300 four-star prospect
Travis Johnson
, their highest-rated pickup this year. Cincinnati had landed no tight ends in the Class of 2012.
Holes remaining:
Offensive linemen. Cincinnati signed two offensive linemen, one year after landing just three.

CONNECTICUT
Needs filled:
Tight end. The Huskies signed four tight ends after losing their top two (Ryan Griffin, John Delahunt) to graduation.
Holes remaining:
Defensive backs. UConn signed just two true DBs (one safety, one cornerback) a year after signing just three. The Huskies lose two starting corners (Blidi Wreh-Wilson, Dwayne Gratz) from this past season, too.

HOUSTON
Needs filled:
Defensive linemen. The Cougars signed four defensive linemen last year and added five more this year. You can never have too many bodies up front, especially when jumping to a new conference.
Holes remaining:
Running back. It's hard to find holes over a two-year recruiting period that netted 52 total new players, but just two from the Class of 2013 were running backs, one fewer than last year.

LOUISVILLE
Needs filled:
Wide receiver. The Cardinals' top two commits of this class are receivers: ESPN 150 prospect
James Quick
(Louisville, Ky./Trinity) and ESPN 300 recruit
Richard Benjamin
(Tampa, Fla./Tampa Bay Tech). They return their top four pass-catchers from this past season, too, with all having notched at least 40 receptions in 2012. (They also bring back quarterback
Teddy Bridgewater
, the reigning Big East offensive player of the year.)
Holes remaining:
Running back. Louisville did not land any running backs this year, and it signed just one in the Class of 2012.
February, 6, 2013
2/06/13
7:00
AM ET
ESPN RecruitingNation
has signing day covered. Follow ESPNU's coverage, chat with analysts and get breaking news on our
Signing Day Live
page beginning at 7:30 a.m. ET through 7 p.m. ET. For more on what to expect on signing day, check out the
Big East conference breakdown

.
Bold Prediction for the Big East:
The conference will continue its descent toward obscurity as fewer high-end prospects consider the Big East an attractive first option.
Cincinnati
Biggest need:
The Bearcats need help in the secondary, at receiver and on the defensive line, where they lost anchor Dan Giordano at end.
Biggest recruit:
Florida-bred quarterback
Tyler Cogswell
was recruited to play tight end for the Bearcats. Cincy landed him after Arkansas pulled its offer late.
Connecticut
Biggest need:
Seniors Jory Johnson and Sio Moore are gone from the corps of linebackers. Depth is also needed at running back.
Biggest recruit:
Outside linebacker
Jalen Stevens
is a steal for the Huskies, who went into SEC country and found a defensive playmaker who looked at schools from the South to the West.
Houston
Biggest need:
The Cougars were young last season at most spots but lose a lot up front on defense, including three of their top four tackles. And they want another quarterback.
Biggest recruit:
Joseph Glenn
has a typical Texas running back pedigree. He's productive, quick and he's got a burst that makes him a threat to score from anywhere on the field.
Louisville
Biggest need:
Star quarterback
Teddy Bridgewater
returns for his junior year, but the Cardinals must find an heir apparent. They need to restock at running back, too.
Biggest recruit:
A top athlete from one of the nation's best prep programs in Charlie Strong's backyard, receiver
James Quick
was a necessity for the Cardinals. He had offers from Alabama and Ohio State.
Memphis
Biggest need:
The Tigers, moving to the Big East from Conference USA, are looking to replenish the secondary and the offensive line, where they return only six players with experience.
Biggest recruit:
Quarterback
Brayden Scott
, a midterm signee, picked the Tigers over Arkansas, Missouri and Tennessee, among others. He has a chance to be the future in Memphis.
Rutgers
Biggest need:
The Scarlet Knights boasted plenty of experience at receiver and in the defensive backfield. Not next season.
Biggest recruit:
Athlete
Nadir Barnwell
possesses the skill set that Rutgers will need to stay ahead in the Big East. He's a difference-maker in the league's best recruiting class.
South Florida
Biggest need:
Under new coach Willie Taggart, the Bulls prioritized finding help at running back, in the secondary and at quarterback after the loss of top recruit
Asiantii Woulard
.
Biggest recruit:
Eric Mayes
' long list of offers illustrates his potential. As a defensive end, he may mark the Bulls' best athlete since
Jason Pierre-Paul
.
SMU
Biggest need:
Running back Zach Line leaves a big hole for the Mustangs as they shift from Conference USA. Help is also needed up front on defense.
Biggest recruit:
Running back
Traylon Shead
will play immediately out of junior college. He's big, runs downhill and signed in December.
Temple
Biggest need:
The Owls were young at receiver and on the offensive line last season but need depth in both areas. Lots of experience is gone from the secondary.
Biggest recruit:
Running back
Zaire Williams
showed excellent big-play ability in New Jersey and should compete right away for time at the next level.
UCF
Biggest need:
A Conference USA transfer, the Golden Knights want bodies on the defensive line and depth at quarterback.
Biggest recruit:
Defensive end
Seyvon Lowry
fills a need and sends a message that UCF can compete for prospects in the Big East and even occasionally beat an SEC team.