NCF Nation:

Jamie Collins
May, 13, 2013
5/13/13
5:30
PM ET
By now we've all heard the story of the running back/fullback from that South Division team
who switched over to defense
, became a hybrid linebacker and was one of the best in the Pac-12 at getting sacks and tackles for a loss.
UCLA's
Anthony Barr
, right?
No, the other one. ASU's
Carl Bradford
.
Oh, you haven't heard this one?
A top-tier fullback out of Norco, Calif., Bradford was recruited by then-coach Dennis Erickson to play defense. It was not a move he reluctantly accepted. It was an opportunity he jumped at.
[+] Enlarge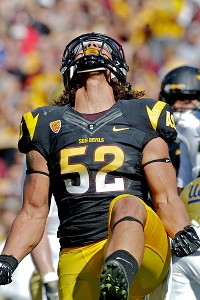 AP Photo/Matt YorkASU's Carl Bradford is looking to have another standout season as one of the conference's best outside linebackers/hybrid rush ends.
"It's not too different than being a fullback," Bradford said. "You see a hole and you attack it. It's the same thing as a linebacker. Still hitting. Still finding holes. But you need to have a little more of an edge. You have to have that chip and play angry. You have to love to hit, and I do."
On most teams, Bradford's numbers from 2012 wouldn't be an afterthought. He had 11.5 sacks and 20.5 tackles for a loss. But because his teammate, defensive tackle
Will Sutton
, was so dynamic last year (13 sacks, 23.5 TFLs), Bradford's contributions are often overshadowed. Sutton went on to win the Morris Trophy for the league's top defensive lineman and the Pac-12's Pat Tillman Defensive Player of the Year award, which is of course named in memory of the ASU great.
"That's amazing, isn't it?" noted head coach Todd Graham. "They are as prolific of a tandem as there is out there. He's a phenomenal player. Unblockable. A very special guy with All-American potential. Every day he and Will are talking about which of them is going to win Defensive Player of the Year."
However, Bradford enters the 2013 season with somber inspiration following the death of his father from a heart attack in March -- one week before the Sun Devils opened spring ball. No strangers to tragedy of late --
recall the murder
of running back
Marion Grice
's brother in December -- the Sun Devils have used those tragedies to form a unique bond.
"When Marion's brother passed away, everyone showered him with prayers and open arms," Bradford said. "We were always there for him and he knew what kind of teammates he had. That's the same way I felt when my father passed away. When I came back, all the love from my teammates and roommates -- all the support was amazing. To have teammates and coaches like that was really a blessing when times were hard and I appreciate it so much."
It's a part of the job that can be difficult, Graham admits. In times of tragedy, players look to their coaches for answers.
"We don't always have them," Graham said. "All we can do is be there for them, listen, and try to help them through tough times. We tell them to live each day to the fullest because you're not promised tomorrow. The key to our team is relationships and in times of tragedy those relationships are critical. That's how you form a close-knit team. We've been through a lot in a short time and I've seen the character of this team shine through."
That character will be tested early as the Sun Devils -- who are neck-and-neck with the Bruins as preseason favorites in the South Division -- play a ramped up schedule that includes four straight against Wisconsin, Stanford, USC and Notre Dame. It's an opportunity for ASU to make a huge splash on the national stage.
"I think we're mature and we have to be mature to handle a schedule like that," Bradford said. "It's going to take a lot of focus and a lot of film work. Our guys have come a long way since last year'. We'll be prepared."
Sutton and Bradford have trained their sites on the school (and NCAA) sack record of 24 in one season, held by Terrell Suggs. (
Note
: Suggs holds the official NCAA single-season record at 24, though
Derrick Thomas
had 27 in 1988, prior to the NCAA keeping defensive stats). It's not quite as dramatic as Mickey Mantle and Roger Maris racing to 61, but there's no question the two are pushing each other.
"We were joking that we might end up with 50 sacks between the two of us," Bradford said.
Bradford is graded on a different curve that Sutton because of the position he plays. While Sutton put up uncharacteristic stats for a defensive tackle, Bradford is just one of several outstanding outside linebackers/hybrid rush ends in the conference. From Bradford and Barr to Stanford's
Trent Murphy
and USC's
Morgan Breslin
, the league isn't lacking guys who can create havoc in the backfield. In 2012, there were only five FBS players who had 80-plus tackles, 10-plus sacks and 20-plus tackles for a loss: Jamie Collins (Southern Miss),
Jarvis Jones
(Georgia), Damontre Moore (Texas A&M), Barr and Bradford. Only the South Division pair return in 2013. No doubt, the race for the league's defensive player of the year will be hotly contested (not to mention many outstanding defensive linemen, defensive backs and safeties).
Last year was the first time since 1978 that ASU has had two players post 20 or more tackles for a loss and 10-plus sacks in the same season (Al Harris and Bob Kohrs). Only 10 FBS players who tallied 10 or more sacks in 2012 are back in 2013 -- and ASU has two of them. In fact, 51 FBS teams had fewer sacks than Sutton and Bradford combined (24.5).
"I truly don't know how they are going to scheme us," Bradford said. "We have weapons all around the board and all guys are attacking and all guys are playmakers. I feel bad for the offensive lines. They have a whole other thing coming their way this year."
December, 23, 2011
12/23/11
2:30
PM ET
You saw the preview and prediction. Now here are three keys for Nevada and Southern Miss heading into the Sheraton Hawaii Bowl on Saturday night at 8 p.m. on ESPN.
Nevada (7-5)

1. Block Jamie Collins and Cordarro Law.
For the Wolf Pack to have any success with their Pistol offense, they are going to have to take stock of these two players, who have been terrific at making plays behind the line of scrimmage. Southern Miss ranks No. 20 in rush defense, and Collins and Law are a big reason for that. Collins, who plays the hybrid end/linebacker role, really does a nice job shutting down the perimeter. He has 94 tackles this season, with a team-leading 19.5 tackles for loss (tied for No. 10 nationally) and 6.5 sacks. Law has 7.5 sacks, 17.5 tackles for loss and four forced fumbles.
2. Consistent defense.
One of the biggest reasons Nevada struggled late in the season was because of inconsistent play on defense, especially in the secondary. This group will be facing one of the most balanced teams it has played this season, so it has to be ready for equal doses of runs and passes, and has to be on the lookout for
Austin Davis
scrambling out of the pocket, too. It is a cliche to say Nevada has to play assignment-sound, but it totally fits the bill here.
3. Rishard Matthews advantage.
Matthews is the best, most consistent player the Wolf Pack have on offense, so it will be critical to get the ball to him in what appears to be a huge matchup advantage. Matthews leads the team with 91 receptions for 1,364 yards and eight touchdowns. He most likely will be paired against Deron Wilson, and has a huge size advantage on the cornerback (4 inches, 40 pounds).
Southern Miss (10-2)

1. Big plays in the pass game.
Davis has been terrific this season in leading Southern Miss, and he will have an opportunity to take advantage of the biggest area of weakness Nevada has on defense -- the secondary.
Ryan Balentine
and
Kelvin Bolden
each have more than 600 yards receiving and have been the most consistent threats in the pass game. The Golden Eagles also are effective at getting the ball to
Tracy Lampley
out of the backfield.
2. Block Brett Roy.
No question Nevada will try to get Davis off his rhythm by getting after him. Roy, a first-team WAC defensive tackle, had 10 sacks and 18.5 tackles for loss, and is the best player on the Wolf Pack front. Nevada has been solid at generating a pass rush this season, but the big problem facing Nevada is Davis' escapability and a solid offensive line that has only allowed 15 sacks all season.
3. Make Cody Fajardo win it.
Fajardo has shown flashes this season, but this defense has been excellent at putting major pressure on quarterbacks and forcing mistakes. Just ask
Case Keenum
, who had his worst game of the season against Southern Miss. Dan Disch has done a great job installing his 4-2-5 scheme, and Southern Miss has set a new FBS record with eight interception returns for touchdowns. You can bet this group will be hoping for a few more against the redshirt freshman quarterback.
December, 7, 2011
12/07/11
10:00
AM ET
SOUTHERN MISS GOLDEN EAGLES
Record
: 11-2, 6-2 C-USA
You gave Southern Miss a chance in the Conference USA championship game, right? Nobody outside Hattiesburg did. But the Golden Eagles pulled off one of the biggest upsets of the season, beating No. 6 Houston 49-28 to win its fifth league championship but first C-USA title game. It was an impressive defensive performance, one that featured the team's eighth interception return of the season to set a FBS record.

The win gave Southern Miss a school record 11 wins. The school had only two 10-win seasons over its first 100 years since the program began. This also is the program's 18th straight winning season, the fourth longest streak in the FBS behind Florida State, Florida and Virginia Tech. What is hard to believe is this team could have been undefeated, if not for losses against one team that finished .500 and another that had a losing record.
Offensive MVP:
Austin Davis
, QB. Davis has set just about every career quarterback record in school history and passed single-season marks against Houston for touchdown passes (28) and passing yards (3,331). It was the third time in his career Davis threw four touchdown passes in a game. He also added 332 yards rushing on the season and three touchdowns on the ground as Southern Miss went over 6,000 yards of total offense for the first time in school history.
Defensive MVP:
Cordarro Law, LB. Law had 17.5 tackles for loss and a team-high 7.5 sacks for the Golden Eagles, and he was unstoppable against Houston, with 2.5 tackles for loss, one sack and a hurry. Defensive back Marquese Wheaton deserves mention as well after registering three touchdowns on the season off two interceptions and one blocked field goal return.
Turning point:
A 48-28 win over East Carolina. The victory was the seventh in a row for the Golden Eagles after they dropped an early game against Marshall, and essentially allowed them to take control of the East Division. This game also featured two interceptions returned for a touchdown. Jamie Collins returned one 97 yards for a score, and Deron Wilson had one that went 79 yards as the Golden Eagles used their opportunistic defense to help them win.
What's next:
Southern Miss will head to its 10th straight bowl game, playing Nevada in the Sheraton Hawaii Bowl. But the Golden Eagles may have to start looking for a new coach. Larry Fedora is reportedly the choice at North Carolina after four seasons at Southern Miss. They will also lose Davis and Law, the backbone of their team this season, so there will be plenty of changes for 2012.