NCF Nation:

Jamil Douglas
June, 24, 2014
Jun 24
12:00
PM ET
Google "
Jamil Douglas
."
You'll see assorted stories about the Arizona State offensive line taking shape, a piece on Douglas growing into a leadership role, and even a story on why Douglas is "a freak" athlete. Put it all together and it tells the tale of a talented collegiate lineman with a bright NFL future.
Now, Google "Jamil Douglas Xbox," "Jamil Douglas laptop," or "Jamil Douglas arrested."
The Internet spits out a different narrative. Those stories are from 2010, when a couple of stupid freshmen made a stupid mistake. Douglas and former teammate Lee Adams were caught on video stealing an Xbox and laptops from another player's dorm room. Per some of the comments from those stories, public reaction was expectedly harsh.
"Kick them off the team," and "They should go to jail," were just a couple examples.
[+] Enlarge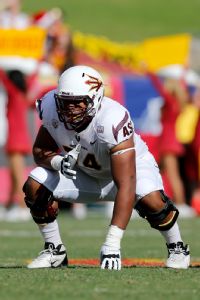 Ric Tapia/Icon SMIJamil Douglas will have a master's degree in liberal studies by the end of the 2014 season.
Douglas, who played a lesser role in the crime, was suspended while Adams was dismissed from the team by then-coach Dennis Erickson.
There was community service for Douglas after a reduced sentence, but no jail time. It was a hard road back to earning his spot on the team and the trust of his teammates.
Four years later, Douglas already has his degree in criminal justice, and he'll have a master's in liberal studies by the end of the 2014 season. He's been honored as a Pac-12 All-Academic performer, a second-team all-conference player, and next month, he'll be representing Arizona State as the face of the program at the league's media day in Los Angeles.
"Being young and being out on my own for the first time, it was a dumb mistake I made," Douglas said. "That being said, if you don't learn from your mistakes and make good from them, what's the point? I've learned a tremendous amount from it, and I've used it to turn around my career. I've used it as fuel to do better and to be a better person and I'm blessed that this coaching staff gave me a shot to prove myself to them."
If ever there was a poster boy for second chances and redemption, it's Douglas.
"It was a no-brainer for me," said head coach Todd Graham on his decision to bring Douglas to media day. "He's one of the most respected players in our program. … I told him when I came in that things happen and it's the adversities that define who you are and your character. It's what you do moving forward that counts. And he's done everything we've asked and more. He's one of the best young men I've ever coached."
Having started 27 consecutive games, Douglas is making the move from left guard to left tackle where he'll be asked to protect the blindside of quarterback
Taylor Kelly
. Don't think for a second that this is a smooth transition that requires minimal effort on the part of the 6-4, 302-pound Douglas. He'll have to prove himself all over again.
"At guard, everything is right in front of you; there is a D-tackle lined up in front of you, and it's you and him," Douglas explained. "At tackle, there is a lot more to see on the field. You have a speed rusher who is probably a freakish athlete. There are corners coming off the edge. It's a big transition. But I feel like I'm getting the hang of it."
[+] Enlarge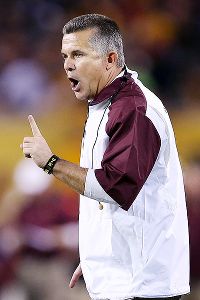 Christian Petersen/Getty ImagesTodd Graham said Jamil Douglas is one of the best young men he's coached.
Douglas thinks he's got a pretty good shot at an NFL gig next season at guard or tackle. His coaches think so too. If that doesn't work out -- or if it does and when it's over -- he'd like to work with inner-city children as either a counselor or probation officer. He feels like he's got some things to say about growing from mistakes. Especially since in the .com era, his skeletons are already online for all to see.
"Most people know. And if they don't, I'll tell them," Douglas said. "I was young. I made mistakes like everyone else has. Mine were just more scrutinized. But I won't run from them. I think it takes a big person to come back from something like that and be in the position I'm in now."
Graham agrees. That's why he wants Douglas to be the face of his program.
"When you look at his character, his work ethic and his leadership, for me it was no question," Graham said.
Naturally, Douglas is proud of what he's been able to do on the field. But it's his work in the classroom that makes him puff out his barrel chest just a little more. For him, performing at an all-academic level was an important step toward showing his coaches and teammates that he was serious about rehabilitating his image.
"I set a goal to graduate a year early and I was able to do that with my criminal justice degree," Douglas said. "Soon I'll have my master's. I wanted to make sure that I was serious about doing the things that a student-athlete is supposed to do in order to be successful."
He's also very open with the younger players about his mistakes so they aren't replicated.
"I didn't have someone to take me under their wing and show me how things go," he said. "That's not an excuse. But with these younger guys, I make it a point to teach them the right way to go about things.
"We can all learn from our mistakes."
February, 28, 2014
Feb 28
9:00
AM ET
On Thursday,
we looked at the Pac-12 North Division
. Today, we turn to the South:
ARIZONA

Spring start:
March 3
Spring game:
April 20
What to watch:
QB competition: Coach Rich Rodriguez has used first-year starters in his first two seasons at Arizona and will make it three-for-three in 2014. For the most part, things worked with both Matt Scott and more recently B.J. Denker, which should make Wildcats fans optimistic about what should be a wide-open competition.
Replacing Carey: As intriguing as the quarterback competition will be, the battle to replace all-time great Ka'Deem Carey at running back could be more important. None of the returning running backs had a carry last year, which led to this comment from Rodriguez: "Now it's a mystery. That's going to be one of the positions, like quarterback, that will be kind of open to see if we can get guys to get better."
Keep Austin healthy: After tearing his ACL last spring following a breakout season in which he caught 81 passes for 1,364 yards and 11 touchdowns, receiver Austin Hill has been given a clean bill of health. Said Rodriguez: "He is still wearing the knee brace but I think it is a little bit more precautionary. He is 100 percent doing everything. He's even a bit bigger and stronger so he should have a big spring. I know he's hungry to get out there, too."
ARIZONA STATE

Spring start:
March 18
Spring game:
April 19
What to watch:
OL changes: Auburn transfer Christian Westerman, a prototypical guard, could be the Sun Devils' best offensive lineman, which makes things interesting considering both starting guards -- Jamil Douglas and Vi Teofilo -- will be back next year. Douglas, a second-team All-Pac-12 selection, has worked at tackle in the past and could shift outside to replace first-team All-Pac-12 left tackle Evan Finkenberg.
Getting defensive: Coach Todd Graham's college roommate, Keith Patterson, has arrived as the defensive coordinator, but Graham will remain the play-caller and Chris Ball's title will still read co-defensive coordinator. Got all that? New coaching dynamics get sorted out in the spring, too.
Looking for replacements: On defense, ASU needs to replace seven starters, highlighted by DT Will Sutton, LB Carl Bradford and CBs Robert Nelson and Alden Darby. If ASU is to build off its impressive 2013 season, those holes need to be filled quickly. They'll benefit from a schedule that starts with Weber State, New Mexico, Colorado and a bye, but after that the Sun Devils have UCLA, USC and Stanford in a span of four weeks.
COLORADO

Spring start:
March 3
Spring game:
April 26
What to watch:
QB development: Sefo Liufau's development will be interesting if for nothing else than because the jump from Year 1 starter to Year 2 starter is always intriguing with quarterbacks. It's tempting to assume a big statistical jump is coming, but it's not always that simple (see: Hogan, Kevin; Mannion, Sean; Hundley, Brett). Liufau will need to get on the same page with his receivers as they combine to …
… Replace Paul Richardson: Look for Nelson Spruce, D.D Goodson and Tyler McCulloch to lead what will be a much more balanced receiving corps following Richardson's early departure for the NFL. Spruce was the Buffs' second-leading receiver last year, but Goodson, going into his second season at receiver, figures to make the biggest jump.
Rising expectations: It took MacIntyre three years to turn San Jose State into a winner, but there was a four-win improvement in the second year. He won't match that with the Buffs, but a two-win improvement gets Colorado bowl eligible. Colorado has a chance to match last year's win total (4) in the first five games next year: vs. Colorado State, at Massachusetts, Arizona State, Hawaii, at Cal. In fact, it's probably the internal expectation.
UCLA

Spring start:
April 1
Spring game:
April 26
What to watch:
Manage expectations: The Bruins are in new territory this offseason with expectations through the roof. They'll likely be a preseason top-10 team, which will drum up chatter about a potential national championship run. Likely message from coach Jim Mora: "Tune out the noise."
The #Hundley4Heisman campaign: It's a real thing and Mora threw his weight behind it when he tweeted the hashtag on Jan. 26 with a picture of the Heisman Trophy. Get used to reading "Heisman candidate" next to "Brett Hundley" a lot between now and September. At times, it might feel unavoidable.
Leading rusher? They're set at quarterback and bring a lot of talent back at both receiver and on the offensive line, but the running back situation isn't as clear. Hundley was the team's leading rusher in 2013, but someone needs to step up to take pressure off him and LB/RB Myles Jack. It's an important spring for both Jordan James and Paul Perkins, who had varying degrees of success last year.
USC

Spring start:
March 11
Spring game:
April 19
What to watch:
Under center? Cody Kessler is back, but coach Steve Sarkisian immediately made it known there would be an open competition for the quarterback job. Max Wittek is no longer around, but Kessler should get a serious challenge from redshirt freshman Max Browne. With a new offense to learn, spring will essentially serve as preparation period for the real competition during fall camp.
Catch your breath: The most noticeable change in USC during the first game will be how much faster it's playing offensively. Sarkisian installed a high-tempo offense at Washington last year and, pleased with the results, will continue to press the tempo with the Trojans. Goodbye, huddles.
Change it up: As is the case when new coaching staffs arrive, there will likely be a higher percentage of position changes than usual and a more fluid depth chart. It's hard to peg exactly where that'll occur with USC, but it'll be worth monitoring throughout the spring.
UTAH

Spring start:
March 18
Spring game:
April 26
What to watch:
Wilson's road back: Travis Wilson is expected to be the Utes' starting quarterback next season, but he'll be limited to non-contact drills during the spring. That's about the best news Wilson could have received following an early November discovery that he had an undiagnosed injury to an intracranial artery -- a condition that threatened his career. Oklahoma transfer Kendal Thompson will not join the team until after he graduates in May, but he'll be immediately eligible to play.
Revolving OC door: Dave Christensen moves in, Dennis Erickson moves over and Brian Johnson moves out. Kyle Whittingham introduced the Utes' seventh offensive coordinator is seven years in early January. Christensen believes in similar philosophies to what the Utes had under Erickson/Johnson, but the terminology will change and the tempo will increase.
Pressure building? Utah was used to winning big before it got to the Pac-12 in 2011. Whittingham lost just 20 games in his six full seasons as the school's head coach while a member of the Mountain West Conference. In the three years since, Utah's dropped 19 and qualified for just one bowl. No one should doubt Whittingham's ability as a coach -- he's a good one -- but the jump in competition has been difficult.
April, 9, 2012
4/09/12
7:00
PM ET
Todd Graham can throw all kinds of diagrams and playbooks and chalk talks at his players until their heads spin. But if they don't believe in what the Sun Devils are trying to do, then it doesn't really matter how much of the playbook they do or don't retain.
So more important than the Xs and Os, Graham is stressing the dos and don'ts of being in his program and the challenges that come from making a culture change. And after a few months on the job, he's pleased to report that, in his mind, Arizona State is headed in the right direction.
"The thing I'm most proud of is how they responded to such a drastic change," said Graham. "In terms of accountability -- we expect them to go to class every day, we check every class, we drug test every kid in the program. We're trying to install this structure and discipline and I'm proud of the way this team has responded to that and embraced that. The guys have bought in."
[+] Enlarge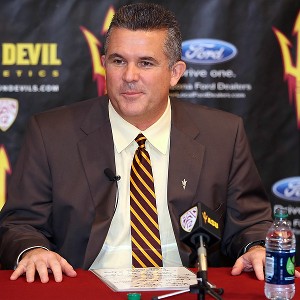 Christian Petersen/Getty ImagesNew ASU coach Todd Graham said his team has responded well to his direction this spring.
Before the start of the spring session, Arizona State's players were little more than images on film to Graham. He could read bios, track workouts and see what they did last season. But that didn't really give him a sense of what he had to work with as he and his staff are trying to install new systems on both sides of the ball. Now that he's seen them do some live work, he's starting to get a sense of the team's identity.
"Those first six practices, you know how it is when you are trying to change things up, you just want to beat your head against a wall," Graham said. "But on the seventh practice, I got the impression that they were finally getting it."
Graham said he's been impressed with the offensive line play -- which he thought was going to be a question mark heading into the spring. He was complimentary of returning starters
Evan Finkenberg
and
Andrew Sampson
, but also noted that
Brice Schwab
and
Jamil Douglas
"have really been impressive."
"I think the strength of our defense is the defensive line so those guys [on the offensive line] are playing against some pretty good competition," Graham said. "Every day those guys get a little better. That has been a real bright spot."
Graham didn't add much to what offensive coordinator
Mike Norvell said last week about the quarterback competition
, but he did single out the springs of running back
Cameron Marshall
, safety
Alden Darby
, cornerback
Osahon Irabor
, defensive tackle
Corey Adams
and wide receivers
Jamal Miles
and
Rashad Ross
.
"Miles has really started to master his craft," Graham said. "He's been very disciplined in his route running. Marshall is at the front of a stable that I think is going to be very good.
"The reality is that we still have a long way to go. But I've got confidence because I think this team is coming together because of each one of them buying in and working as a team. We are making great progress in developing that trust that it takes to be a family and a team and a team that wins. I remind them every day that we're going to be a team that wins championships and you can't do that without winning every day in everything that you do."