NCF Nation:

Jamil Merrell
August, 14, 2013
8/14/13
10:15
AM ET
By
Isabelle Khurshudyan
| Special to ESPN.com
Rutgers Scarlet Knights
Coach
: Kyle Flood (9-4 career, 9-4 at Rutgers)
2012 record
: 9-4
Key losses
: RB Jawan Jamison, CB Logan Ryan, LB Khaseem Greene
Key returnees
: QB
Gary Nova
, WR
Brandon Coleman
, OL
Kaleb Johnson
Newcomer to watch
: DL
Darius Hamilton
Biggest games in 2013
: Arkansas (Sept. 21), Louisville (Oct. 10)
[+] Enlarge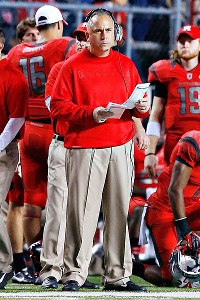 Jim O'Connor/US PresswireCoach Kyle Flood's 2013 challenge at Rutgers: replacing a significant loss of talent from last season's squad.
Biggest question mark heading into 2013
: Rutgers earned a share of the Big East title in Flood's first year, but is looking to replace 11 players either drafted or signed by NFL teams at the end of the year. This season will be Flood's first real test as a head coach. He leaned on the talent Tampa Bay Buccaneers coach Greg Schiano recruited while he was at Rutgers, but with his first full recruiting season as a head coach under his belt, Flood will have to replace last season's veteran team with players he's brought in and developed.
Forecast
: Offensively, Rutgers has an identity and experience with Nova, Coleman and an offensive line that returns two all-conference selections. The Scarlet Knights' defense is a different story. Leading the Big East in scoring defense and holding nine opponents to 15 points or fewer last season, the defense returns just four starters, especially missing the presence of Greene (136 tackles) and Ryan (94 tackles and four interceptions). Linebacker
Jamal Merrell
and defensive end
Jamil Merrell
will be called on to lead the defense as they ranked third on the team in tackles and second on the team in sacks, respectively. Defensive lineman
Isaac Holmes
returns from a season-ending injury he suffered against Arkansas to provide even more experience up front.
Though Nova will be without last year's 1,000-yard rusher Jawan Jamison, Flood expects him to improve on a season where he started every game, throwing 22 touchdown passes and 2,695 yards. Coleman, Nova's top target, tied the Big East lead with 10 touchdown receptions last season.
"I think any time your quarterback starts an entire season and has an opportunity not to just go through the winter program or spring practice, or your summer program, but all of those things in a calendar year, he has a chance to come out of it a significantly higher-level player," Flood said. "I think Gary has taken advantage of all those things. He's as anxious as we are to see him out on the field and see him perform."
Picked to finish third in the American Athletic, the Scarlet Knights will host Arkansas, a team they upset on the road last season. But Rutgers will have to steal at least one of its conference road games against Louisville and Central Florida if it wants to finish near the top of the league again.
January, 10, 2013
1/10/13
11:00
AM ET
It's time to unveil the Big East all-bowl team, honoring those players who had the best performances in the postseason.
OFFENSE
QB: Teddy Bridgewater, Louisville.
What more can I say about Bridgewater, who began his 2013 Heisman campaign with a big game against Florida in the Allstate Sugar Bowl? Bridgewater went 20-of-32 for two touchdowns in the decisive 33-23 win.
RB: Prince-Tyson Gulley, Syracuse.
Gulley was a running machine, busting free for a career-high 213 yards and three total touchdowns in a 38-14 win over West Virginia in the New Era Pinstripe Bowl.
RB: George Winn, Cincinnati.
Winn capped a great senior season, running for 130 yards and a touchdown in a 48-34 win over Duke in the Belk Bowl.
OT: Justin Pugh, Syracuse.
There is a reason Pugh has declared early for the NFL draft. He showed why he is one of the best tackles in the country in the win over West Virginia, helping pave the way for 369 yards rushing and protecting
Ryan Nassib
well.
OT: Alex Kupper, Louisville.
Those who have followed the Cardinals believe Kupper had one of the best performances of his career in the win over the Gators. For the first time in a four-game stretch, Louisville was able to get its run game going.
C: Mario Benavides, Louisville
. Benavides has been the best center in the Big East for several years, and he played well in the final game of his career.
OG: Austen Bujnoch, Cincinnati.
Bujnoch played with a foot injury after missing most of the bowl practices and had another great game as the Bearcats ran for 222 yards.
OG: Zack Chibane, Syracuse.
Chibane teamed with Pugh on the left side to open huge holes all day.
TE: Travis Kelce, Cincinnati.
Kelce capped his monster season with a monster game, catching five passes for a career-high 123 yards -- including the 83-yard game-winning touchdown catch with 44 seconds left.
WR: Anthony McClung, Cincinnati.
McClung had three catches for 110 yards and a 25-yard touchdown against Duke in the Belk Bowl in one of the best performances of his career.
WR: Devin Street, Pitt.
The Panthers had a dreadful day on offense, but Street was a bright spot with seven catches for 83 yards and a touchdown in a 38-17 loss to Ole Miss in the BBVA Compass Bowl.
DEFENSE
DL: Marcus Smith, Louisville.
Smith came through in a big way on the line in a dominating performance against Florida. His name does not show up often on the stat sheet, but he made his presence felt.
DL: Brandon Sharpe, Syracuse.
Sharpe was a big reason why
Geno Smith
was flustered all day long. Sharpe finished with four tackles, a sack and a forced fumble on the day.
DL: Jamil Merrell, Rutgers.
Merrell had a huge game in a 13-10 overtime loss to Virginia Tech, notching a career-high two sacks in the game as the Scarlet Knights held the Hokies to 196 yards of total offense.
LB: Siriki Diabate, Syracuse.
Diabate led the way with 10 tackles, three tackles for loss and half a sack, and he contributed to a safety early in the win over the Mountaineers.
LB: Greg Blair, Cincinnati.
Blair set a Cincinnati bowl record with a game-high 15 tackles. He forced and recovered a fumble early that changed the momentum against the Blue Devils.
LB: Preston Brown, Louisville.
Brown finished with 13 tackles -- 1.5 for loss -- and one pass breakup in the win over the Gators.
LB: Khaseem Greene, Rutgers.
Greene was a stalwart once again, finishing the loss to Virginia Tech with 11 tackles, half a sack and one forced fumble he recovered in the end zone -- the only Rutgers touchdown of the game.
CB: Terell Floyd, Louisville.
Floyd's 38-yard interception return for a touchdown on the opening play of the game set the tone for the Cardinals. It was Louisville's first defensive score of the season.
CB: Brandon Jones, Rutgers.
Jones set a career high and Rutgers single-game bowl record with two interceptions against the Hokies.
S: Jason Hendricks, Pitt.
Hendricks had a great game in a loss to the Rebels, with a whopping 17 tackles, two tackles for loss and an interception.
S: Calvin Pryor, Louisville
. Pryor had six tackles and registered his fifth forced fumble on the season when he recorded his first sack of the season in the third quarter.
SPECIAL TEAMS
P: Matt Yoklic, Pitt.
Yoklic had plenty of opportunities to punt in this game and made the most of them, leading all Big East postseason punters with a 48.3-yard average on six punts.
K: Tony Miliano, Cincinnati.
Miliano led all Big East kickers during postseason play with 12 points -- making both his field goal attempts and all six extra-point attempts against Duke.
March, 29, 2011
3/29/11
9:00
AM ET
Here is Part II of my conversation with Rutgers head coach Greg Schiano. You can read Part I
here
.
How has Chas Dodd been this offseason?

Greg Schiano:
Real good. He's a hard guy not to love. He's a gym rat, he's a guy who loves the game of football, and he has a great way about him. He relates to everybody -- the linemen, the running backs, the wideouts, the coaches. He's a happy kid, a fun guy to be around.
You talked last year at this time about Tom Savage's leadership skills. Does Dodd have the same attributes?

GS:
I can see it, no doubt. You could see it last year. He's a fiery sucker, now. He really loves playing the game. People kind of take his energy and use it. He's a pistol.
How about the depth at that position?

GS:
I think the freshmen will be critical -- Gary Nova and Mike Bimonte. They've been here a lot this spring already, just visiting with coaches. We practice in the morning now so they're not going to be missing school to come to spring practice. They'll be around us as much as we can get them around us.
Steve Shimko
is returning from rotator cuff surgery; I think he'll be OK, but I don't know. So those freshmen, whoever's the best will probably end up being the backup. We have a couple of walk-ons in the program who have a chance, but it definitely is lean. That's why those freshmen are critical.
You look at D.C. Jefferson, and physically he looks as good as any tight end you'll see. Where is he in his development?

[+] Enlarge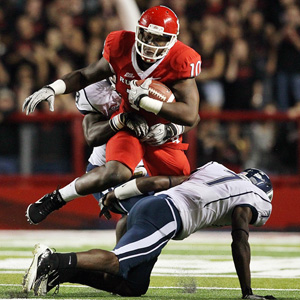 Jim McIsaac/Getty ImagesD.C. Jefferson could play an important role in Rutgers' offense this season.
GS:
You're right, physically, I don't know if there's a better physical guy in the country. Let's see what he does this spring. I think he really made some extraordinary blocks and extraordinary catches, and he missed some. He made some mistakes. It's a big year for him. He's got experience now under his belt. He and I have talked, and we really need him to become a key performer for us -- a clutch performer is probably a better way to say it -- and he's capable of it. And espcially in this offense, because the tight end is such a big part of it.
Let's move over to defensive line, where you lost three starters. Where do you see that group this spring?

GS:
We've still got Scott Vallone and Justin Francis, who have played a lot. But we're going to be young up there. Talented, maybe as talented as we've been, but young. We've got to harden them up and toughen them up this spring. Moving Manny Abreu to the defensive end will help us. He's an experienced player -- that will be a new position for him, but a lot of the things he did at [strongside] linebacker aren't very different than what we'll ask him to do at defensive end.
We're going to find out. You look at Michael Larrow, who's been in the program now for two years, he's physically exactly what you're looking for in that position. Guys like Kenneth Kirksey, Djwaney Mara, Jamil Merrell, Isaac Holmes, all those guys. It's their time. They need to step up. Vallone is there as a real leader. That's what we need, someone to take that thing and lead these guys, and I think he will.
What about linebacker, with Abreu gone from there?

GS:
Manny moves to defensive end and will be one of the better athletes up there. But at linebacker, his speed was just OK. So now you take a safety like Khaseem Greene who has very good speed and move him down to the [weakside] linebacker, and I think he's really going to bring something to the table there. Especially in our league. You know, it's interesting when you look at the schedule. You have some teams that will get into two-back and then some teams that will get into spread and then teams like Connecticut where you don't know what it's going to be. So it's going to be interesting. But I think, without a doubt, this defense is built on speed. I think we've helped ourselves by doing that, not only on the line and at linebacker, but making changes in the secondary as well.
Speaking of the secondary, you moved Jordan Thomas and Mason Robinson to cornerback. How do you see that spot shaking out?

GS:
We moved both to corner, we moved David Rowe into safety, and we moved over a guy I think is really talented in
Jawaun Wynn
-- a big, talented guy who was a wideout -- he'll be playing safety as well. We also redshirted a guy who I think was an exceptional recruit from DeMatha in Lorenzo Waters, he's got a chance to be really good. So it will be interesting to see because, again, there's great competition at this spot.
Speaking of redshirting, how tempting was it to play some of those young guys last year as the losses mounted?

GS:
You know what, last year was so weird with everything that happened here ... sometimes you'll take a shirt off a kid if you think he can really help us, but our issues were a lot more than a player. We had some serious issues. So I think that would have been foolish -- it wouldn't have made any difference.
How have the players moved past all that?

GS:
I think Eric [LeGrand's] situation was one where it's just, we're a close family here. Part of me is proud how much it affected us, because it showed how much our guys do care about each other. There wasn't a player or anything that was going to change that. Maybe if I had done a better job leading ... that's something I have thought about many times. But at the end of the day, it happened, and we're going to be there for Eric to help him, and we're going to put this thing back together and get back to playing football the way Rutgers is accustomed to playing it. I can't wait to do it. I really haven't been this excited to get back to practice in a long time.
How much will Eric be involved with you guys this spring?

GS:
He's still in Kessler [Rehab], and when he gets out, which I think is going to happen pretty soon, he'll have a busy schedule. He still has to go to rehab and do all that stuff, just now he'll have to drive up to the place all the time. But hopefully he'll be around. He took a class this semester online, and I fully expect him to come back to school here and get his degree. So, yeah, he's every bit as big a part of this family as he ever was, and I expect him to be around as much as he can possibly be around.
Looking at special teams, you have to replace your punter. Where does that stand?

GS:
We recruited Anthony DiPaula, and he started in January. One area we'll really emphasize this spring is punting and putting him under the gun, because where we stand right now, the plan is for him to be our punter. And that's a true freshman punter, so hold on to your hat, baby. With San San Te returning, we have returning long-snappers, returning holders, so I'm comfortable we'll be comfortable in all areas. And hopefully we'll get DiPaula to a point where he's comfortable. But again, until you go out and punt in front of 60,000 people, you haven't really experienced it. But he has a good way about him, so I'm confident in him.
Last year at this time, you talked about how young your roster was, and how the vast majority of your players were underclassmen. Looking at things now, do you think this is a group that can do some special things as it grows up?

GS:
I'm going to hold judgment on that. Are they over everything from last year? I hope they're not over it, but I hope they're dealing with it better. I think we're going to see where we are every step of the way. We only have 12 scholarship seniors on this team, so our bigger classes are our juniors, sophomores and freshmen. With our 12 scholarship seniors, we do have strong leaders and character guys there. But I think it's going to be a group effort. And you know what? Some of the best teams I've had kind of scratched and clawed and at the end of the day they'd look up and not be too bad. Hopefully, that will be us.