October, 13, 2010
10/13/10
10:59
AM ET
Missouri captain and cornerback Kevin Rutland has gotten plenty of compliments and kudos on campus and elsewhere in Columbia. That's because he is the head of a unit that leads the Big 12 in scoring defense and his 14 forced turnovers is tied for second in the conference.
"It's been special so far, and you take note of it and would like it to keep going," Rutland said. "But we take it with a grain of salt. We know things can change, but we know if we keep our play at the level it's been, we'll be just fine."
[+] Enlarge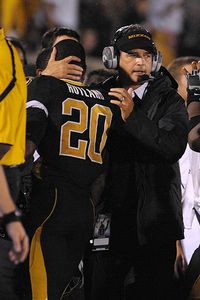 John Rieger/US PresswireMissouri coach Gary Pinkel has put his trust in cornerback Kevin Rutland and the Tigers defense.
He would know. Rutland played corner for a defense that ranked outside the top 100 in pass defense a year ago, frustrating fans with its penchant for giving up backbreaking big plays.
This season, limiting those big plays has been goal No. 1.
"That's always gotten us, whether it's the big pass play or big run play, and not that we haven't experienced those things because we have, but we're trying to keep those things to a minimum," he said.
There was a 93-yard touchdown run by San Diego State's
Ronnie Hillman
and a 42-yard run by Illinois running back
Mikel Leshoure
this year. None of those cost Missouri a game, unlike the 400-plus yards Baylor quarterback
Nick Florence
racked up in the Bears' lone conference win in 2009, highlighted by a 59-yard touchdown pass to
Kendall Wright
.
Missouri was never better this year than on Saturday when they shut out Colorado in a 26-0 win.
Rodney Stewart
's 22-yard run and a
Scotty McKnight
's 22-yard catch were the only sizeable chunks of yardage the defense gave up. Missouri is 5-0, thanks largely to its defense, and is headed to College Station for its first game outside the state this season.
"We're getting better each week and with a lot of the little things, attention to detail things that we need to do and we haven't arrived in any way, I'm not implying that, we've got some great tests ahead of us, including this week, but it seems like we're playing real well as a team, together, as a unit," said coach Gary Pinkel.
They've had to do it without a full squad. Suspensions and injuries have kept contributors at every level of the defense off the field. Star defensive end Aldon Smith, who had 11.5 sacks a year ago, is out with a broken fibula and is expected to miss Saturday's game against Texas A&M.
"I'll give some of the credit to experience and some of it to trust between coaches and players," Rutland said. "We go out there and we know what's expected of us. The coaches have enough faith in us and enough trust in us to get job done, whatever the call may be. Whether we're blitzing or we're in zone coverage or man coverage. The coaches have so much trust in us, from the secondary down on to D-line, that it's really opened up the playbook."
Rutland, a senior, has been one of the reasons why the coaches trust the unit. Rutland has adjusted to the team's more aggressive style under coordinator Dave Steckel and life as a team captain.
"My role is a lot more important than it's been," Rutland said. "When there's a time to step up and say something, I enjoy being that guy. That's the biggest thing, but even in practice or before a game or after the game, during the game, anything I can do. I like to go out there, make sure I'm doing my best and send a positive message with a great example to my teammates."
Texas A&M will be the toughest test yet for Missouri, and it won't get any easier. The Tigers host Oklahoma next week and travel to Lincoln for what could be a de facto Big 12 North championship game on Oct. 30. They will face the Huskers dynamic running game spearheaded by freshman quarterback
Taylor Martinez
.
So far a defense that returned nine starters from last year's team, but lost linebacker Sean Weatherspoon and defensive tackle Jaron Baston, has been as good or better than anyone might have expected.
"Players, athletes get better, if they're good athletes and they keep working hard to improve and get better. People say they have so many starters back, but if the starters aren't very good, it's not going to matter," Pinkel said. "We have many tests to go here, but very pleased with the progress so far."
May, 26, 2009
5/26/09
10:15
AM ET
Posted by ESPN.com's Tim Griffin
All questions aren't settled during the course of spring practice as teams still have much work to upgrade their weaknesses heading into the season.
Obviously, some will receive a boost from incoming freshmen who will arrive later. But here's how each team's biggest liability shakes out heading into the summer.
Baylor: The Bears are desperately looking for help at offensive tackle after losing No. 2 overall draft pick Jason Smith and Dan Gay as their starters. Former Canadian firefighter Danny Watkins has established himself at Smith's old position protecting Robert Griffin's blind side. And on the right side, junior Chris Griesenbeck and redshirt freshmen Cameron Kaufhold are competing for the starting job with Tyler Junior College's Phillip Blake and Blinn College's Marquis Franklin set the arrive later this summer.
Colorado: Wide receiver has been a question mark for the Buffaloes throughout Dan Hawkins' coaching tenure. The Buffaloes return four scholarship wide receivers and had a chance to work out several new players with Scotty McKnight injured during the spring. Josh Smith and Markques Simas are the top playmakers coming out of the spring. Non-scholarship players like Jason Espinoza and Ryan Maxwell emerged, but the Buffaloes definitely need a big upgrade at the position from their arriving freshman class.
Iowa State: The Cyclones will be facing a big hole at left tackle, where two-year starter Doug Dedrick departs. It could be filled by Matt Hulbert, who started two games last season when Dedrick was hurt. Or it could be massive 354-pound junior Hayworth Hicks or freshman Brayden Burris at the position. Whoever emerges will face a huge challenge in filling Dedrick's experience as he protects the blind side of the Iowa State quarterbacks.
Kansas: Coach Mark Mangino will be facing a few huge rebuilding job at linebacker, where the Jayhawks lose key contributors Joe Mortensen, Mike Rivera and James Holt from last season. Mangino is talking about using a two-linebacker set as his base defense with fifth-year senior Jake Schermer and senior Arist Wright getting the starting jobs leaving spring practice. Sophomore Steven Johnson and converted running back Angus Quigley were competing for playing time during the spring and another boost is expected when junior linebacker Justin Springer, who is recovering from a torn ACL last season, returns in the fall.
Kansas State: Carson Coffman appeared to have claimed the starting job at quarterback -- at least for a few weeks -- after a strong effort during the latter stages of spring practice. But Coffman's late binge has to be tempered considering he is playing against the weak Kansas State secondary. So it's fair to say there are some lingering questions at the position. Coffman apparently has beaten back the challenge of challengers Collin Klein, Joseph Kassanavoid, Trey Scott and Milton McPeek. But the arrival of South Florida transfer Grant Gregory and heralded junior-college transfer Daniel Thomas will mean more competition in the summer.
Missouri: The Tigers will be facing a challenge of replacing NFL first-round draft pick Evander "Ziggy" Hood at defensive tackle to play opposite nose tackle Jaron Baston. Redshirt sophomore Terrell Resonno appeared to have claimed the job out of the spring, with Dominique Hamilton, Chris Earnhardt and converted linebacker George White perhaps earning their way into the rotation.
Nebraska: After the graduation of top receivers Todd Peterson and Nate Swift from last season, the Cornhuskers need to fill both positions. Leading returning receiver Menelik Holt appears to have a hammerlock on one position, but Niles Paul lost a chance to take a big step forward after missing the spring after he was suspended for driving under the influence. Antonio Bell was the biggest surprise, but converted I-back Marcus Mendoza, Chris Brooks, Wes Cammack and Curenski Gilleylen all showed flashes during the spring.
Oklahoma: There was concern before spring practice, considering the Sooners were replacing four-fifths of their starting offensive line with only Trent Williams back from last season's starters. And it got worse when Bob Stoops called out the young replacements because of their lack of diligence in their preseason conditioning. Williams emerged at left tackle with Brian Simmons and Stephen Good at guards, redshirt freshman Ben Habern at center and either LSU transfer Jarvis Jones or Cory Brandon at right tackle. The depth took a hit when center Jason Hannan left early in training camp and sophomore guard Alex Williams chose to leave after spring practice. The group struggled against the Sooners' talented defensive line, allowing Sam Bradford to be touch-sacked twice in three possessions in the spring game and produced only 27 rushing yards in 52 carries.
Oklahoma State: The loss of veteran center David Washington produced a huge hole in the center of the Cowboys' interior line. Andrew Lewis returns to his natural position, leaving Oklahoma State needing two new starters at guard. Noah Franklin and Jonathan Rush have staked claims to the starting positions with Anthony Morgan and Nick Martinez getting repetitions inside. This group needs to improve if it hopes to equal the standards of previous seasons, when the Cowboys led the Big 12 in rushing each of the last three seasons.
Texas: The tight end was rarely used for the Longhorns after Blaine Irby dislocated his kneecap last season against Rice. He still wasn't ready to go during the spring as Greg Smith, Ahmard Howard, Ian Harris and D.J. Grant all got work. None of them emerged. And with Irby's return remaining iffy, it means the Longhorns again could reduce the use of the tight end and utilize four-receiver sets when they want to move the ball. Don't look for the Longhorns to use the tight end much unless this production improves.
Texas A&M: The Ag
gies were wracked with injuries during the spring as projected starters Lee Grimes, Kevin Matthews and Lucas Patterson were sidelined all spring as A&M was down to only nine healthy offensive linemen for some practices. It still doesn't excuse the lack of offensive production for A&M's starting unit, which produced only 9 yards rushing on 24 carries against Texas A&M's first-string defense. Coach Mike Sherman will be counting on immediate production from an impressive group of incoming freshman at fall practice, but it's fair to characterize the Aggies' offensive line as the team's biggest spring concern -- especially after allowing 39 sacks last season and ranking last in the conference in rushing yards per game.
Texas Tech: The loss of productive starters Daniel Charbonnet and Darcel McBath left a gaping hole at safety for the Red Raiders. Junior Franklin Mitchem earned the free safety position leaving spring practice and redshirt freshman Cody Davis emerged at strong safety.Jared Flannel , Brett Dewhurst and converted linebacker Julius Howard also got some snaps at safety. It will still be a challenge to combat the explosive Big 12 defenses with such an inexperienced group at the position.