NCF Nation:

Jarred Fayson
July, 23, 2010
7/23/10
9:00
AM ET
You asked (nicely) for it, and this time, you get what you want.
Remember colleague Bruce Feldman's annual "Freaks" list, which examined the
top workout warriors in college football

for 2010? Ohio State sophomore defender John "Sandman" Simon
made the rundown
, along with other weight-room stars from around the country.
Several of you loved Feldman's list so much that you wanted me to create a similar one just for the Big Ten. Thanks to help from sports information staffers and strength coaches from around the conference, I've compiled the following list.
I based my selections primarily on weight-room numbers and comments from Big Ten strength coaches.
Not every player submitted made the rundown, and
both Wisconsin and Iowa chose not to make any individual player nominations
. While I know guys like Iowa's Adrian Clayborn and Wisconsin's J.J. Watt do some serious damage in the weight room, I'd rather only list players who have their schools' support and whose schools provided weight-room data and/or comments from strength coaches.
Penn State
didn't provide weight-room statistics but singled out linebacker Michael Mauti, wide receiver
Derek Moye
and defensive tackle Devon Still for their weight-room performance.
Here are my selections, listed alphabetically by school:
[+] Enlarge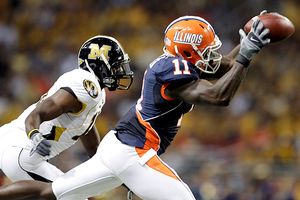 AP Photo/Jeff RobersonIllinois receiver Jarred Fayson has only four percent body fat.
Illinois WR Jarred Fayson
6-0, 215, Sr., Tampa, Fla.
Bench-presses 405 pounds, squats 500 pounds, power cleans 352 pounds

Runs the 40-yard dash in 4.4 seconds

Has just four percent body fat
Indiana LB Tyler Replogle
6-2, 238, Sr., Centerville, Ohio
Bench-presses 455 pounds, leg-presses 760 pounds

Has 33-inch vertical jump

Clocked at 4.2 seconds in the shuttle run
Michigan DT Mike Martin
6-2, 294, Jr., Redford, Mich.
Bench-presses 505 pounds, squats 700 pounds

Power cleans 430 pounds, hang cleans 475 pounds

Runs the 40-yard dash in 4.9 seconds

Strength coach Mike Barwis says: "Mike is an absolute warrior. He has a never quit attitude and is a natural born leader. He is one of the most impressive physical specimens I have ever seen."
Michigan C David Molk
6-2, 270, Jr., Lemont, Ill.
Bench-presses 490 pounds, squats 660 pounds

Power cleans 420 pounds, hang cleans 440 pounds

Runs the 40-yard dash in 4.9 seconds

Strength coach Mike Barwis says: "Dave is an outstanding worker and a natural athlete. He is one of the most naturally explosive linemen I have ever trained."
Michigan State LB Eric Gordon
6-0, 228, Jr., Traverse City, Mich.
Bench-presses 415 pounds

Squats 600 pounds

Best 40-yard dash time among Spartans linebackers at 4.52 seconds (Greg Jones clocks in at 4.55)
[+] Enlarge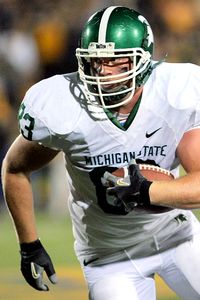 Dave Stephenson/Icon SMIMinnesota's Charlie Gantt has the fastest 40-yard dash time among Spartan tight ends.
Michigan State TE Charlie Gantt
6-5, 248, Jr., Farmington Hills, Mich.
Bench-presses 470 pounds

Squats 535 pounds

Has the top 40-yard dash time among Spartans tight ends at 4.72 seconds
Minnesota LB Mike Rallis
6-2, 210, So., Edina, Minn.
Has increased his bench press from 325 to 365 pounds during the last year

Power cleans 345 pounds and squats significantly more than 550 pounds

Strength coach Mark Hill says: "Mike's work ethic exemplifies a guy who wants to succeed. He comes into the weight room every day and shows that he wants to contribute to this team winning. He does everything he needs to do. Mike absolutely attacks his workouts every day."
Minnesota RB DeLeon Eskridge
5-11, 198, Jr., San Francisco
Has improved his squat from 250 pounds when he arrived at Minnesota to 375 pounds now

Increased his bench press from 300 pounds to 340 pounds during the last year

Has increased his power clean from 250 to more than 300 pounds as a Gopher

Strength coach Mark Hill says: "I've been very impressed by DeLeon's improvements. He was a 185-pound freshman who had to play, due to depth issues. He could have used a red-shirt year to get bigger and stronger. But to see where he's gone to achieve the strength, weight, speed, explosiveness and power needed to be a successful Big Ten back says a lot about his hard work."
Northwestern QB Dan Persa
6-1, 210, Jr., Bethlehem, Pa.
Bench-presses 385 pounds, squats 550 pounds and power cleans 330 pounds, all top marks for Wildcats quarterbacks

Soon will earn second consecutive "Top Cat" award as Northwestern's top weight-room performer

Strength coach Larry Lilja says: "Dan is off the charts. No one works harder in the weight room. For his size, I doubt there is any quarterback who can match his numbers."
[+] Enlarge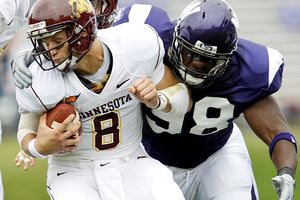 AP Photo/Nam Y. HuhCorbin Bryant, a 285-pound defensive tackle, has a 34-inch vertical jump.
Northwestern DT Corbin Bryant
6-4, 285, Sr., Chicago
Bench-presses 475 pounds, squats 600 pounds and power cleans 385 pounds

Has a 34-inch vertical jump

Strength coach Larry Lilja says: "He's one of our best workers and a true champion in the weight room."
Ohio State DL John Simon
6-2, 270, So., Youngstown, Ohio
Bench-pressed 450 and squatted 700 pounds as a high school senior

Can do 40 bench-press reps at 225 pounds

Runs the 40-yard dash in 4.8 seconds

Strength coach Jeff Uhlenhake says: "John Simon is the best total package workout guy I've ever been around, in college, in the pros, as a coach, anybody. He is amazing."
Purdue T Nick Mondek
6-5, 299, Jr., Naperville, Ill.
Former defensive lineman bench-presses 435 pounds, squats 605 pounds, power cleans 352 pounds

Has a 31-inch vertical jump

Runs the 40-yard dash in 4.82 seconds

Strength coach Jim Lathrop says: "Great worker who really has challenged himself. He has taken the position change and run with it. He is a leader in the weight room."
Purdue S Albert Evans
6-0, 206, Jr., Gary, Ind.
Bench-presses 355 pounds, squats 500 pounds

Power cleans 319 pounds

Strength coach Jim Lathrop says: "Albert has really improved and is establishing himself as a leader."
April, 27, 2010
4/27/10
11:00
AM ET
CHAMPAIGN, Ill. -- Illinois quarterback
Nathan Scheelhaase
first learned about Stefan LeFors in the same way most of us did.
When LeFors blew up as Louisville's quarterback and became a household name in 2004, Scheelhaase, then a middle schooler in Kansas City, followed his story.
"His senior year, ESPN did a special on him," Scheelhaase said. "He spoke sign language because his parents were deaf. I watched that and then I watched this guy and he's a little, 5-[foot-]10 nothing, 180, 185 pounds, and I think they were the No. 1 offense in the country that year."
Scheelhaase is once again watching LeFors, but for very different reasons. Illinois' offense is now under the direction of coordinator Paul Petrino, who served as Louisville's offensive coordinator during LeFors' record-setting run.
Petrino's offense can accommodate different types of quarterbacks --
Ryan Mallett
, an NFL style, rifle-armed, drop-back passer, excelled in the system last season at Arkansas -- but it's pretty easy to identify the paradigm for Scheelhaase, an elite athlete who, like LeFors, won't scare anyone with his size.
"He's a lot like Stefan," Petrino said. "Very similar players. He's faster than Stefan was, and he's a redshirt freshman. Stefan didn't play until his redshirt junior year. You just see things they do, the way [Scheelhaase] moves around on the play-action, a lot of the plays he does well were plays that Stefan does well, so a lot of that stuff really reminds you of him."
It's high praise for Scheelhaase, but Petrino has high expectations for the quarterback in 2010. Although Illinois hasn't formally named a starting quarterback -- Scheelhaase competed with
Jacob Charest
and Chandler Whitmer throughout spring practice -- it's fairly obvious that Scheelhaase is the man to beat entering the summer.
The 6-3, 195-pound redshirt freshman took most of the reps with the first-team offense this spring, and made several big plays with both his arm and his feet in four scrimmages.
"Nathan is a fiery guy; he's a really good leader," Petrino said. "He's just a great competitor, and he's going to do whatever it takes to win. He does a real good job running with the ball, making plays. He's worked hard to understand the passing game. He's got a nice, quick release, he knows where he's going with the ball and he's getting more accurate every day.
"If he can do that, we'll be in great shape."
Head coach Ron Zook saw the same fire from Scheelhaase (pronounced SHEEL-house) on the scout team last year, as the true freshman never backed down from the first-team defense. Senior wide receiver
Jarred Fayson
described Scheelhaase as "a bit before his time" in how he carries himself and his approach to the game.
"A competitive attitude is good to have every day, whether you're a fourth-year starter or you're just trying to get on the field for the first time," Scheelhaase said. "You want yourself to be perfect when you're doing things like that. You don't want to have a bad play, have a bad practice or anything because you want to compete with yourself, compete with others around you and on a bigger level, you want to be better than your opponents."
He admitted having "first-day jitters" at the start of spring ball, well aware of what was at stake following the graduation of
Juice Williams
, a four-year starter at quarterback. Scheelhaase knows he still must absorb more of Petrino's offense, but he built confidence throughout the spring and brings some versatility to the position.
And while he never shies away from competitive situations, he also doesn't get weighed down by Illinois' unsettled situation at quarterback.
"You're running with blinders on," he said.
And down the road, he hopes to catch up with LeFors.
"He's a fun guy to watch," Scheelhaase said. "He ran their offense well, ran it with confidence. If I can be in his ballpark, if anybody can be in his ballpark, it would be great because he was a great college quarterback."
February, 4, 2010
2/04/10
2:23
PM ET
Illinois Fighting Illini
The class
Recruits:
20 (19 high school seniors, one junior college player, three players enrolled early)
Top prospects:
Chandler Whitmer
gives the Illini another option at quarterback as the team tries to replace four-year starter Juice Williams. Wide receiver
Darius Millines
, a last-minute addition, bolsters the receiving corps, while safety
Earnest Thomas
will get a chance to play right away in the secondary.
Sleepers:
Linebacker
Mark Wilson
should help a group that regains the services of Martez Wilson this fall. Arguably the team's most intriguing prospect is junior college safety
Trulon Henry
, the younger brother of former Illinois star
Arrelious Benn
. Henry served nearly five years in prison for armed robbery but has turned his life around and should help in the secondary.
Needs met:
Time will tell if Illinois addressed its need in the secondary, as players like Henry and Thomas need to contribute right away. Losing safety
Corey Cooper
to Nebraska hurt, but embattled head coach Ron Zook and his new-look staff closed recruiting well with players like Millines and
Brandon Denmark
. The wide receiver position should once again be strong this season.
Analysis:
The class isn't drawing high marks, which puts pressure on the coaching staff to develop players for a make-or-break 2010 season. Illinois held onto Whitmer, which could be key, and finished strong after the class looked bleak in early December. If the defensive recruits can come in and contribute this fall, Illinois might be able to stabilize itself on that side of the ball.
Scouts Inc. grade:
C-minus
What Ron Zook said:
"The strengths are the linemen and obviously the receivers. If you go back and you look at who we lost, we filled in the positions. ... Hopefully, we're getting to a point where we don't have to continually count on freshmen playing. Although I think there will be some guys [in this class] who have a pretty good opportunity to do that."
"Darius [Millines] is an unbelievable athlete, he can run like a deer. He probably surprised a lot of people down there because he committed early to West Virginia. Doc Holliday really had a great relationship with him, and he's at Marshall now. I think he has a chance to be a special guy. Jarred Fayson said, 'Coach, he's one of us.' That makes me feel good."

"There's been a lot of negative recruiting going on, but that's part of it. People don't have to say anything. They just take the articles that are written and show them. You're defending your manhood, you're defending everything about you every time you go out there."
December, 16, 2009
12/16/09
11:13
AM ET
Before the season, I ranked Illinois receiver
Arrelious Benn
as the
Big Ten's best player
, using the criteria of past accomplishments and future potential.
[+] Enlarge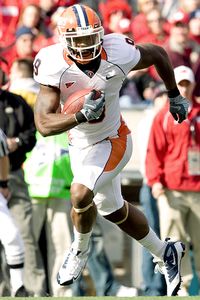 Jeff Hanisch/US PresswireArrelious Benn will end his college career with 159 catches for 2,221 yards and seven receiving TDs.
And while Benn didn't have the type of season that he hoped for and that most of us expected, his past achievements and, most important, his NFL potential led to
his decision to enter the NFL draft
. Benn will announce he's turning pro later today, sources tell ESPN's Joe Schad.
This was the decision we expected all along. The only question seemed whether Benn's subpar season, the prospect of playing in a more receiver-friendly offense in 2010 and the chance to play with his older brother would keep him in Champaign.
I can't fault Benn at all for making this move, especially with all the uncertainty surrounding the Illinois program right now. The NFL scouts I've spoken to love the guy, and despite this season, Benn still
projects extremely well

to the next level.
His departure shouldn't surprise Illinois one bit, though the wide receiver/tight end position looks rather thin heading into 2010, when new offensive coordinator Paul Petrino implements his system. Illinois likely will consider moving Terry Hawthorne back to receiver after a solid freshman year at cornerback.
Jarred Fayson
will have to take on a much bigger role next fall after battling injuries this season.
Best of luck to Rejus, a player I always enjoyed watching and getting to know these last few years.
September, 2, 2009
9/02/09
10:44
AM ET

Posted by ESPN.com's Adam Rittenberg
A sense of pride splashed over Ron Zook Monday as the Illinois head coach stood in the back of the offensive meeting room.
Zook watched as senior quarterback
Juice Williams
and offensive coordinator Mike Schultz reviewed practice tape. Schultz quizzed Williams on his every move, and Williams countered with the right responses.
| | |
| --- | --- |
| | |
| | Scott Boehm/Getty Images |
| | Juice Williams is looking forward to the Illini's matchup with Missouri on Saturday. |
"A lot of times Coach Schultz will say, 'Why did you go there?'" Zook recalled. "And as you hear [Williams] regurgitate the answer, it makes you feel good, a little pride that, 'Hey, here's a guy who's come an awful long way.' He's able to explain that this is why he went with the ball some particular place and why he did what he did with no hesitation.
"To me, that's a guy who has a pretty good grasp on what we're trying to do."
It's a good sign for a player who often draws mixed reviews. Everyone has an opinion on Juice Williams.
They admire his natural gifts and question his decision-making skills. They laud his mobility but rip his passing mechanics. Some remember his brilliance at Ohio State in 2007, when he convinced Zook to go for a fourth-and-1 in Illinois territory late in the fourth quarter, moved the chains and then ran out the clock to upset the top-ranked Buckeyes. Others recall the total offense records he set in three different stadiums last fall, including the Big House.
He has been called a catalyst and an underachiever.
But Williams has made it difficult to totally buy into him. Take last season, for example.
In Illinois' first seven ballgames, he passed for 16 touchdowns, ran for five scores and threw seven interceptions. In the final five games, he passes for six touchdowns, ran for none and tossed nine picks.
"That's just part of life and playing the position of quarterback," Williams said of the conflicting views on his play. "Everybody's going to have things to say. Some things are going to be positive, some will be negative. You've got to take the good with the bad and try to make the best out of it."
As Williams begins his final season Saturday against Missouri in St. Louis (ESPN, 3:40 p.m. ET), there's a growing sense that he'll finally put together all the pieces this fall. He's the Big Ten's most experienced quarterback, and he has the league's best wide receiving corps at his disposal.
Most importantly, a player who had no quarterbacks coach in high school and admits he was extremely raw when he arrived in Champaign has a much stronger hold on the position.
"Being a fourth-year senior, a guy who has been through this a few times, I'm probably more mentally prepared than ever before," Williams said. "That comes along with experience. The more mentally prepared you are, the better off you are in a game situation.
"I know what to expect for the most part, and we'll see what I can do come Saturday."
Williams will operate in more or less the same offense that led the Big Ten in passing (269.3 ypg) and ranked third in scoring (28.7 ppg) last fall. Rather than install a new scheme, Schultz adapted to what Illinois had used under previous coordinator Mike Locksley.
As Schultz learned the system, Williams was right there with him.
"It was my challenge to learn what they called everything," Schultz said. "They may call a four route a four route, and I might have called a four route a dry route. So we'd sit there and he'd tell me the terminology and how they called things. He helped me through that."
Zook has often said Williams took too much blame for Illinois' shortcomings last year, but the coach acknowledges that limiting turnovers is the top priority for the quarterback this fall. Illinois is deeper at both wide receiver and running back, with additions like wideout
Jarred Fayson
and the physical maturity of backs
Jason Ford
and
Mikel LeShoure
.
Schultz wants to make sure Williams uses all of his weapons and manages the game the right way.
"Managing the offense to me means getting the ball to the right people, being in the right place with the ball, getting into the right play," Schultz said. "That's basically what we've been trying to work on with Juice since I've been here, making sure we do a great job of managing the offense.
"There's no doubt we have some kids that we feel have a chance to be good performers, but for them to be good performers, we need to get them the ball in the right situations."
The Missouri game has brought a mixed bag for Williams. Last year, he set the total offense record at Edward Jones Dome with 461 yards, racking up 451 pass yards and five touchdowns. But Illinois lost, 52-42.
In 2007, Williams was knocked out of the game after completing 6 of 9 passes in another Illini defeat.
"Somehow, we have to come up with a victory this time," he said. "It's one of the more anticipated games of the year for our program. The atmosphere of the crowd is probably second to none, playing in a pro stadium, you've got half [Illinois] and half [Missouri] fans out there, the trash-talking goes on."
Missouri linebacker Sean Weatherspoon got an early start on the trash talking through his Twitter page. Not surprisingly, Williams was
Weatherspoon's target
.
"Squeeze the pulp out of Juice," Williams recalled. "That was very unique and original. It's what makes the game fun. You've got to have some trash-talking going on. I know, coming from him, it was nothing personal.
"I didn't take it as disrespectful at all. I found it kind of funny."
Having fun is a goal for Williams in his final season. He didn't have enough as an overmatched freshman, and last season brought more lows than highs.
But with an increased knowledge of the game, Williams expects to enjoy his final spin around the Big Ten.
"It's a lot easier to have fun with the game because you know what you're doing, you know what to expect," he said. "You have had some success in the past, and it's a whole lot easier to go out there and have fun and do what you love to do.
"I realized that the more I smile, the more I enjoy myself out there, the better I play."
August, 10, 2009
8/10/09
10:50
AM ET
Posted by ESPN.com's Adam Rittenberg
All 11 Big Ten camps will open by the end of the day, and it's time for your latest installment of the power rankings. There have been a few key transfers since the last rundown in May, but not much to really shake things up.
I've made a few changes to the league's midsection and bottom, but the top four remain in place. The hardest section was undoubtedly Nos. 7-9. Those teams look fairly interchangeable.
1. Ohio State -- As long as quarterback Terrelle Pryor and the offensive line continue to build off of a very solid spring, Ohio State's offense will be fine after a difficult 2008 season. Defensive ends Thaddeus Gibson, Lawrence Wilson and Cameron Heyward lead the league's best line, which anchors a defense that has ranked among the top 15 nationally in five of the last six seasons.
2. Penn State -- This is the year for Penn State to truly establish itself as the third Big Ten powerhouse. To do so, the Lions must show they can reload at wide receiver, offensive line and defensive back. Penn State has the star players and a favorable schedule with both Iowa and Ohio State at home. Quarterback Daryll Clark could lead the Lions back to Pasadena.
3. Iowa -- It's a close call between Iowa and Michigan State for No. 3, but the Hawkeyes get the nod as they return their starting quarterback and the league's best offensive line. Most will eliminate Iowa from the Big Ten title race because of a treacherous conference road schedule, but Kirk Ferentz's team can make a major statement by winning Sept. 26 in Happy Valley.
4. Michigan State -- Michigan State reminds me a lot of Penn State in 2008. The more I look at the Spartans' depth chart, the more I like their chances this fall. Big Ten preseason Player of the Year Greg Jones leads a defense that looks stacked in the secondary but a bit shaky up front. The big questions here are obvious, and if Michigan State solidifies its offensive backfield, look out.
5. Northwestern -- Another close call here between Northwestern and Illinois. The Wildcats should have their best defense in recent memory and loads of questions at the skill positions on offense. The Illini bring back arguably the Big Ten's most electric offense but look shaky at best on defense. In the end, the better defense wins out as All-America candidate Corey Wootton tries to lead Northwestern to another bowl game.
6. Illinois -- There's a lot to like on the offensive side, from the league's most experienced quarterback (Juice Williams) to arguably the league's best wide receiver (Arrelious Benn). The addition of Florida transfer Jarred Fayson should only improve a dynamic pass attack. Illinois must address its pass rush and its pass coverage on defense, and this needs to be the year linebacker Martez Wilson becomes a star.
7. Wisconsin -- The quarterback position once again could drive Badgers fans nuts this fall, but teams with solid line play usually do well in the Big Ten. Wisconsin's offensive line will create room for bruising sophomore running back John Clay, and the defensive line, which adds Central Michigan transfer J.J. Watt, had a terrific offseason. There are still some uncertainties in Madison, but a favorable schedule leads me to believe the record will improve.
8. Minnesota -- Can the Big Ten's most experienced team adjust to a host of offseason changes? If so, Minnesota will climb up the list and possibly make a major statement in the Big Ten. But this could easily be a better team that finishes with a worse record because of another set of new systems and a tough schedule. You've got to like the passing combo of quarterback Adam Weber and wideout Eric Decker.
9. Michigan -- Before you send the hate mail, hear me out. Until I see Michigan in a game, showing tangible improvement on offense and especially at quarterback, I can't put the Wolverines any higher. This is still a team that likely will be playing a true freshman quarterback and returns only five starters to a defense that has its third coordinator in as many seasons. Michigan should improve, but let's wait and see.
10. Purdue -- It could be a rough first season for head coach Danny Hope, but Purdue moves up a spot based on a solid group of running backs and a defense poised to make improvement from 2008. The Boilers have the right idea to emphasize the run game on offense, and if quarterback Joey Elliott elevates his play, this could be a decent team. The linebacker position concerns me, and Purdue's young defensive linemen need to grow up fast alongside standouts Mike Neal and Ryan Kerrigan.
11. Indiana -- Head coach Bill Lynch has seen positive changes from a team that backslid in 2008, and he believes experience and improved depth will help overcome the loss of Kellen Lewis. Lynch's confidence in quarterback Ben Chappell is admirable, but I need to see more from the junior and Indiana's young wideouts. If the Hoosiers don't make strides on defense this year, it probably will never happen. The personnel is there for an upgrade, but Indiana has a very troubling track record on that side of the ball.
July, 16, 2009
7/16/09
10:52
AM ET
Posted by ESPN.com's Adam Rittenberg
The touchdown thing bothers Arrelious Benn. The numbers just don't add up.
| | |
| --- | --- |
| | |
| | Chuck Rydlewski/Icon SMI |
| | Arrelious Benn has 121 receptions with the Fighting Illini, but only five for touchdowns. |
Few players have accomplished more than Benn has in two seasons at Illinois. He won Big Ten Freshman of the Year honors in 2007 and followed it up with first-team All-Big Ten honors last season. The Big Ten blog has given Benn some love as well, naming him as the league's top player. The 6-foot-2, 220-pound Benn led the league in receiving yards (1,055) at the end of the regular season and finished second overall. He tied for third in receptions (67) and finished fourth in all-purpose yards (139 yards per game). Benn has 121 receptions with the Fighting Illini, but oddly only five have gone for touchdowns. It's a stat that gnaws at him, and one he expects to increase this fall.
Benn spent some time this week talking touchdowns, his increased leadership role, Illinois' stacked receiving corps and his expectations for Illinois after a disappointing 5-7 season last fall.
When you looked back at last season, how did you grade yourself?
Arrelious Benn: When you look back on the season, you always feel you could have done better. I wouldn't say it's one overall thing. Everything I did, I feel as though I could have done better.
Was it just a matter of consistency? Some games it seemed like the passing attack really cranked up, and other times you couldn't get on the scoreboard?
AB: Yeah, we did horrible in the red zone. I don't know if that's on us or whatever, but we had a lot of opportunities to put up points and put ourselves in a good position, but we hurt ourselves because of turnovers and mistakes and penalties.
Has the touchdowns thing been a little annoying for you? You've got a ton of catches, a ton of yards and only five touchdowns in two years. Is that a number that needs to go up?

AB: Without a doubt. I'm not going to lie to you. As far as my concern about it, I'm not concerned. I'm just out here to do everything I need to do for the team so we can win. My individual success means nothing.
Has it been puzzling why you haven't gotten in the end zone more?
AB: Yeah, it's been puzzling. I catch the ball and I have to fight off half the defenders. It's going to be tough to get in the end zone when all the eyes are on you.
Do you expect to have the same treatment this year, a lot of double team? Or will it be harder to double team you with guys like Jarred [Fayson] joining the mix?
AB: In the beginning, I think I'll get double-teamed a lot, but as the season goes on, I'm going to get the one-on-one coverage and get open a lot. My touchdowns should go up. But as far as having Fayson in there, he's going to open a lot of things up for me.
A lot of you have mentioned Jarred even though he hasn't played a game for Illinois yet. What will he add to the group?
AB: He's going to add the same aspect I'm adding. He's going to come out and make big plays and be a playmaker. He's going to get a lot of attention.
How do you feel about the wide receivers group as a whole? A lot of guys are back to surround Juice [Williams].
AB: I feel real strongly about our guys. I don't look at us as receivers. I look at us as big, physical guys. In high school, my coach always told me, 'You're like a linebacker playing receiver. You have to have a defensive mentality playing receiver.' As far as the group of receivers we have, we have a lot of physical playmakers.
Posted by ESPN.com's Adam Rittenberg
There are some positions on the depth chart that make Big Ten coaches cringe. There are other spots that make them smile and nod their heads.
Let's take a look at several fully loaded positions in the Big Ten.
Ohio State's defensive line: There is talk the Buckeyes' front four could be the best since the 2002 national championship squad. Ohio State is stacked at defensive end with All-Big Ten candidate Thaddeus Gibson, Cameron Heyward and Lawrence Wilson, who can be effective if healthy. Tackle Doug Worthington brings a ton of experience to the interior line, and Dexter Larimore and Todd Denlinger add depth there.
Iowa's offensive line: This group is well on its way to restoring the tradition established during the early part of coach Kirk Ferentz's tenure. Iowa boasts the league's top tackles tandem in Bryan Bulaga and Kyle Calloway, and there are a host of experienced interior linemen. Julian Vandervelde developed nicely in 2008, and Andy Kuempel, Rafael Eubanks and Dan Doering all are solid options at guard. The emergence of oft-injured Dace Richardson this spring adds another body to the mix. Aside from the center spot, Iowa looks extremely solid up front.
Michigan State's secondary: Despite losing All-Big Ten safety Otis Wiley, Michigan State should be even stronger in the back half. Three starters return in the secondary, including corners Chris L. Rucker and Ross Weaver. Michigan State boasts depth with corners Jeremy Ware and Johnny Adams and safeties Kendell Davis-Clark and Marcus Hyde. And the breakout performance of the spring came from another safety, Trenton Robinson, who certainly will see playing time this season.
Penn State's linebackers: Linebacker U. is back in 2009. Penn State boasts one of the nation's top linebacker tandems in Sean Lee and Navorro Bowman, both of whom will contend for All-America honors. And it doesn't stop there, as sophomore Michael Mauti is poised for a big year on the outside. Penn State also boasts veteran depth with Josh Hull, Chris Colasanti and Bani Gbadyu.
Illinois' wide receivers: Juice Williams will have no shortage of options in the passing game this fall. All-America candidate Arrelious Benn leads the Big Ten's deepest receiving corps, which features Jeff Cumberland, Chris Duvalt, A.J. Jenkins, Cordale Scott and Jack Ramsey. Florida transfer Jarred Fayson worked his way into a starting spot this spring and will draw opposing defenders away from Benn.
Michigan's running backs: Whoever wins the starting quarterback job in Ann Arbor will have plenty of help in the backfield. Hopes are extremely high for senior Brandon Minor, who finished strong last season despite battling several injuries, including one to his right (ball-carrying) wrist. Backing up Minor will be Carlos Brown and Michael Shaw, both of whom will be more accustomed to Rich Rodriguez's offense. Bite-size back Vincent Smith emerged this spring to provide another option with breakaway speed.
Northwestern's secondary: One of the league's weakest units a few years ago has transformed into a major strength for the Wildcats. All four starters return from 2008, and safety Brad Phillips and cornerback Sherrick McManis are strong candidates for All-Big Ten honors. Safety Brendan Smith and cornerback Jordan Mabin both are natural playmakers, and Northwestern boasts depth in players like Brian Peters, Justan Vaughn and David Arnold.
Wisconsin's H-backs/tight ends: Travis Beckum's star-crossed senior season opened opportunities for other players in 2008, and the result is a multitude of options at tight end for 2009. Mackey Award candidate Garrett Graham leads the way at the H-back spot, and senior Mickey Turner and junior Lance Kendricks provide reliable options in the passing game.
May, 19, 2009
5/19/09
1:40
PM ET
Posted by ESPN.com's Adam Rittenberg
It's time to examine the names you need to know coming out of spring ball. Daryll Clark and Terrelle Pryor won't appear on this list because if you're a true Big Ten fan, you know who they are. But spring practice provided some clues about other potential stars throughout the league.
Memorize these names and you'll look good in front of your buddies this fall.
Jack Crawford, DE, Penn State -- It shouldn't be a surprise any more, but Penn State appears to have found yet another standout pass rusher in Crawford. The sophomore dazzled this spring and looks ready to take over Aaron Maybin's role on the edge.
Nick Toon, WR, Wisconsin -- The son of former Badgers great Al Toon made waves this spring at a critical position of need for Wisconsin. Toon has all the tools to be a top-end Big Ten wide receiver this fall.
MarQueis Gray, QB, Minnesota -- Believe the hype. That was the theme coming out of Minneapolis this spring as Gray took most of the snaps and showcased his impressive skill set. He'll back up Adam Weber but should see the field a lot.
Marvin McNutt, WR, Iowa -- McNutt might not win a starting job, but his talent won't go to waste. Iowa needs more playmakers to emerge at wide receiver, and McNutt, a converted quarterback, should enter the rotation after an impressive spring.
Stevie Brown, S/LB, Michigan -- I know, I know, Brown is a risky stock to buy because he's been on the All-Spring Team before. This year could be different, though, as Brown enters his final season and seemed to settle in nicely to a hybrid role in Greg Robinson's defense.
Brian Linthicum, TE, Michigan State -- The Spartans already had depth at tight end before Linthicum came along. But the Clemson transfer worked his way into the mix this spring and could be the No. 2 option behind Charlie Gantt.
Brian Rolle, LB, Ohio State -- The Buckeyes lose a lot of production at linebacker, but Rolle looks ready to fill the void. His speed stood out this spring, and he'll play a major role in the rotation.
Brandon Saine, RB, Ohio State -- The wait for big things from Saine could finally be over as the junior got through spring ball unscathed and looked very impressive. Saine has the dynamic qualities to change games and should complement Dan "Boom" Herron in the backfield this fall, if he stays healthy.
J.J. Watt, DE, Wisconsin -- Defensive coordinator Dave Doeren can't wait to get Watt on the field. A transfer from Central Michigan who began his college career as a tight end, Watt transformed his body and blossomed this spring. He can play either line spot for Wisconsin, which loses three multiyear starters up front.
Jarred Fayson, WR, Illinois -- The Florida transfer has yet to play a down in orange and blue, but he has already made an impression on his teammates, namely quarterback Juice Williams. Illinois is stacked at wide receiver, but Fayson likely earned a starting job with his play during the first chunk of spring ball.
May, 15, 2009
5/15/09
9:00
AM ET
Posted by ESPN.com's Adam Rittenberg
Spring practice provided more clues about the Big Ten in 2009, but not enough to cause a major shake-up of the power rankings. The league should improve at the quarterback spot, reload at running back and boast several top 50 defenses, but few position battles were definitively settled and a handful of teams lost key personnel.
| | |
| --- | --- |
| | |
| | AP Photo/Seth Perlman |
| | Quarterback Terrelle Pryor showed signs of improvement during Ohio State's spring practices. |
You won't see many changes from my last set of power rankings, though I do see more defined tiers developing in the league. I feel confident about Nos. 1-4 and the bottom two teams, while the middle remains muddled.
1. Ohio State -- Terrelle Pryor's emergence and the addition of Michigan transfer Justin Boren on the offensive line highlighted a successful spring that ended before more than 95,000 fans at Ohio Stadium. Pryor showed improved footwork and passing mechanics, and running backs Dan Herron and Brandon Saine both emerged as viable options. Add in one of the better defensive lines around, and the Buckeyes enter the summer in good shape. Several Big Ten squads lose sizable senior classes, but no one in the league reloads like the Buckeyes.
2. Penn State -- There's not much separating the Nittany Lions from Ohio State, but Penn State lost just a little bit more and seemed to struggle this spring in the secondary and along the offensive line. Penn State has more national award candidates than any Big Ten team, and if it fills a few gaps, it should be right back in the league title mix. The defensive front seven will be ferocious -- as long as linebacker Navorro Bowman doesn't face major penalties -- and the home schedule favors Joe Paterno's team.
3. Iowa -- It was a fairly quiet spring for the Hawkeyes, though quarterback Ricky Stanzi looks ready to take the next step in his development. Injuries prevented Iowa from settling on a successor to Shonn Greene, but Jewel Hampton remains the frontrunner. A defense led by linebacker Pat Angerer, cornerback Amari Spievey and end Adrian Clayborn should be among the nation's best, as long as the defensive tackle spots are filled.
4. Michigan State -- The Spartans are a much more solid No. 4 than they were at the beginning of the spring. Quarterback candidates Kirk Cousins and Keith Nichol both came along nicely in practice, and Michigan State likely would be fine with either one taking snaps Sept. 5. There are still some questions at running back and offensive line, but linebacker Greg Jones leads a defense that should be the team's strength this fall.
5. Illinois -- The Illini move up a spot thanks in large part to a dynamic offense that seems to be getting better. Quarterback Juice Williams will have the Big Ten's best receiving corps at his disposal, as Florida transfer Jarred Fayson joins a group led by All-America candidate Arrelious Benn. More importantly, the Illini should have better run-pass balance as sophomore backs Jason Ford and Mikel LeShoure both improved physically in their first full offseason. It's a dangerous bet to buy into Illinois' talent after last year, but this should be an improved team in 2009.
6. Northwestern -- Uneventful best describes Northwestern's spring, as the team practiced without its two best defenders (Corey Wootton and Brad Phillips) and remains unsettled at some of the skill positions. Projected starting quarterback Mike Kafka was so-so this spring and needs to prove himself more as a passer this summer. There were bright spots like running back Jeravin Matthews, linebacker Ben Johnson and an improved offensive line, but it was tough to get a great read on the Wildcats.
7. Minnesota -- Tim Brewster wanted more playmakers on offense and he found them this spring. Quarterback MarQueis Gray looks like the real deal and will earn some time behind Adam Weber, while Troy Stoudermire distinguished himself in the spring game. But there still are a lot of questions about the offensive line and the new offensive system, and Minnesota's secondary has a few question marks. This is a talented team that many see as a sleeper.
8. Wisconsin -- There were no answers at quarterback as Dustin Sherer and Curt Phillips will compete into the summer, but whoever takes snaps should have better weapons around him. Wide receiver Nick Toon had a stellar spring and provides a legitimate target alongside Mackey Award candidate Garrett Graham. There are questions with all three areas on defense, particularly linebacker. The competition in the secondary should be interesting to watch in preseason camp.
9. Michigan -- I'm tempted to move up the Wolverines after what appeared to be a solid spring, but until the games begin there are simply too many question marks. Can quarterback Tate Forcier maintain the composure he showed this spring in a game situation? How much has the offensive line improved? Will the defense settle in immediately with Greg Robinson's vision? The potential is certainly there to climb up the rankings, but there needs to be more evidence.
10. Indiana -- The post-spring departure of Kellen Lewis certainly stings, but I liked what I saw and heard from the Hoosiers this spring. Linebacker Matt Mayberry and defensive ends Greg Middleton and Jammie Kirlew seem to have brought a better attitude to a bottom-feeding defense, and Ben Chappell no longer has to look over his shoulder at quarterback. There are problems, without a doubt, namely trying to replace Lewis' playmaking ability. But Indiana might stay out of the cellar.
11. Purdue -- The Boilers had their bright spot
s in spring ball, more specifically the emergence of running back Ralph Bolden and improved play on both lines. But you can't underestimate Justin Siller's departure at quarterback. Purdue needed someone to really push Joey Elliott, and while Caleb TerBush might become that guy this summer, he's still learning the college game. There are too many unknowns right now to see Purdue reaching the middle of the league in Danny Hope's first season.
April, 6, 2009
4/06/09
12:30
PM ET
Posted by ESPN.com's Adam Rittenberg
Spring is in the air, even if there's snow on the ground outside my window.
"We're much further along offensively than I thought we would be at this point and time in the spring based on the amount of the inexperience we have at the quarterback position and the receiver position," he said.
March, 4, 2009
3/04/09
11:01
AM ET
Posted by ESPN.com's Adam Rittenberg
Most of the major transfer news in the Big Ten has centered on players leaving the league, particularly at the quarterback position. Three prominent signal-callers transferred from Big Ten schools -- Michigan's Steven Threet, Penn State's Pat Devlin and Iowa's Jake Christensen -- and Wisconsin announced Monday that reserve quarterback James Stallons was granted his release.
But there are several key additions to Big Ten teams who will become eligible this fall. Here's a look at five transfers from other FBS programs who could make a major impact in 2009.
| | |
| --- | --- |
| | |
| | Icon SMI |
| | Michigan transfer Justin Boren could step in and be the Buckeyes' top offensive lineman. |
Michigan State quarterback Keith Nichol (Oklahoma) -- It's hard to blame Nichol for transferring from Oklahoma, particularly with that Bradford guy ahead of him on the depth chart. He returns to his home state and will compete for the starting job alongside sophomore Kirk Cousins. A dual-threat quarterback who has drawn comparisons to former Spartans star Drew Stanton, Nichol brings a unique skill set to an offense that needs a spark without Javon Ringer.
Ohio State offensive lineman Justin Boren (Michigan) -- There's already talk that Boren will be Ohio State's top offensive lineman when he steps on the practice field this spring. He started all 13 games for Michigan as a sophomore in 2007 and looks like a lock for a starting guard spot with the Buckeyes. Boren will be a lightning rod for the rest of his career because he transferred from Michigan to Ohio State, but his ability merits attention as well.
Illinois wide receiver Jarred Fayson (Florida) -- Quarterback Juice Williams mentioned Fayson as an emerging team leader during the offseason, and the Florida transfer will enter the receiver rotation this fall. Illinois boasts a lot of talent at wide receiver, so Fayson will need to distinguish himself in spring ball. But the heralded high school recruit contributed as a receiver, runner and return man for Florida in 2006 and should find his way on the field.
Minnesota offensive lineman Matt Carufel (Notre Dame) -- Minnesota's offense is getting a makeover under coordinator Jedd Fisch and line coach Tim Davis, and Carufel should play a role this fall as the Gophers emphasize the power run again. Carufel started the first three games of 2007 at Notre Dame before deciding to transfer. The Gophers' struggles on the line should create plenty of competition during the spring and summer, and Carufel will be in the mix for a starting job.
Northwestern linebacker Aaron Nagel (Notre Dame) -- A traffic jam at linebacker last spring caused Nagel to leave Notre Dame for Northwestern, where he joins his brother Brett, a redshirt freshman fullback/tight end. The Wildcats lose two starting linebackers (Malcolm Arrington and Prince Kwateng), so Nagel will have the opportunity to earn significant playing time, which he wasn't getting with the Irish.
March, 4, 2009
3/04/09
9:00
AM ET
Posted by ESPN.com's Adam Rittenberg
Juice Williams enters 2009 as one of the Big Ten's most recognizable players, a proven quarterback in a league starved for them.
| | |
| --- | --- |
| | |
| | Chuck Rydlewski/Icon SMI |
| | Juice Williams was a second-team All-Big Ten selection last fall. |
Williams has experienced just about everything at Illinois: A 10-loss season as a raw, yet talented freshman, a thrilling Rose Bowl run as a sophomore and a very disappointing campaign as a junior last fall. Illinois led the Big Ten in passing and ranked second in total offense but struggled to a 5-7 finish. Williams, a second-team All-Big Ten selection last fall, wants to end his college career on a good note, and perhaps for the first time he has truly taken ownership of the team.
Earlier this week, Williams discussed his up-and-down 2008 season, his outlook for the future and his legacy at Illinois.
What's been the mood for you and the guys during offseason workouts after things didn't go the way you wanted them to last fall?
Juice Williams: The attitude of this year's team is completely different from what we had last year at this time. Obviously, we didn't end up the way we should have or what we thought we should have. But that's affected this team in such a positive way. [The struggles] may be one of the best things to happen to this team.
Guys now are realizing that if we don't come to play every week, we're not going to be successful. And in order to come out there and play like that, we have to train and prepare our bodies to play 12 games to the maximum potential. Guys have really taken on that role, and I think we'll be ready by the time the season comes around.
Do you think guys were taking things for granted a little bit last year, especially coming off a Rose Bowl run?
JW: I think it had some type of affect on it. Guys kind of slacked off a little bit. We didn't really have the same intensity in the offseason as we should have. But like I said, I think it was probably the best thing that happened to us, not going to a bowl game. Us bringing back so many seniors and so much experience for this year, it's going to really prepare this team in the right direction.