December, 30, 2013
12/30/13
9:00
AM ET
By
Matthew Ehalt
| ESPN.com
NEW YORK -- As the
Notre Dame
football team prepares to replace several key defensive starters and install a new defensive coordinator this offseason, former defensive coordinator Bob Diaco's words about filling those voids stand out to sophomore corner
KeiVarae Russell
.
"He [said it's] like it's baking the cake. Instead of putting the sugar you put the spice in," Russell said. "It's still going to turn out to be a cake. It's going to be a different taste of it."
Notre Dame's players and coach are expecting that cake will taste quite good next season.
[+] Enlarge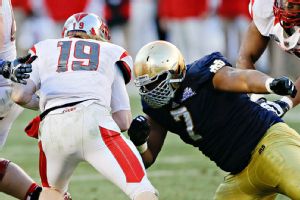 AP Photo/Frank Franklin IINotre Dame could lose defensive lineman Stephon Tuitt to the 2014 NFL draft.
As Notre Dame readies to bring in a new defensive coordinator and potentially replace six starters from Saturday's
29-16 win over Rutgers
in the New Era Pinstripe Bowl at Yankee Stadium in the Bronx, N.Y., the Fighting Irish are optimistic they won't miss a beat defensively next season.
Notre Dame coach Brian Kelly said the team has its new defensive coordinator in place,
reported to be Jets linebackers coach Brian VanGorder
, and an announcement will be coming soon as the contract had not been finalized as of Saturday. VanGorder will replace Diaco, who left prior to the bowl game to become the head coach at UConn.
"We're going to have a lot of really good players coming back, I feel really confident in that," Kelly said. "[I'm] really excited about the prospects next year defensively in the guys we got coming back."
Notre Dame's defense shined against Rutgers, forcing four interceptions and holding the Scarlet Knights to just 236 total yards. More than half of the starters from that game, though, might not be back next season. Defensive lineman
Kona Schwenke
, linebackers
Prince Shembo
,
Dan Fox
and
Carlo Calabrese
, and cornerback
Bennett Jackson
all started their final game for Notre Dame.
Junior defensive lineman
Stephon Tuitt
also started against Rutgers and could skip his final season and declare for the draft. If he does, he will join senior defensive tackle
Louis Nix III
, who did not play against Rutgers after undergoing season-ending surgery but signed with an agent to forgo his final year of eligibility.
"He'll now focus on making that decision. We've had a couple of conversations. He knows all the information," Kelly said of Tuitt. "My job is to provide him with all the information about the decisions that he's about to make. I'm pretty certain he'll make his decision here very, very soon."
As he looks to next season, Kelly likes the core group of defensive players, and believes the team will benefit if it's able to achieve more continuity. Notre Dame started 19 different players on defense this year, as freshman safety
Max Redfield
made his first career start in the Pinstripe Bowl.
Kelly specifically mentioned Russell, who had an interception against Rutgers, and sophomore linebacker
Jarron Jones
as two players the defense can build around next season. Russell is confident he can be a major player for the new defensive coordinator and be a cornerstone for the defense next season.
"I personally believe I'm going to be the best corner next year in the country," Russell said. "This game shows me the development I had from the start of last year and from the beginning of the year to where I've progressed. My man-to-man skills have gotten a lot better throughout the year. Sky's the limit for me. This shows I can really be the best corner in the country, it just takes a lot of work to do that, and this offseason I'm going to work on all my assets."
November, 23, 2013
11/23/13
10:40
PM ET
SOUTH BEND, Ind. —
Jarron Jones
walked to the corner of the Notre Dame Stadium interview room, the media members following him numbering in the dozens, all to hear the words of a guy who, before Saturday, had seven career tackles.
Jones had doubled that total in the minutes before his meeting with the press, tallying seven stops against BYU. He doubled his career blocked kick total, too, recording his second of the season. He had stepped in for an injured
Kona Schwenke
, who was stepping in for an injured Louis Nix, and he delivered a performance that at least momentarily quelled the fears of everyone surrounding the program about who could step in if (and likely when) Nix goes pro.
[+] Enlarge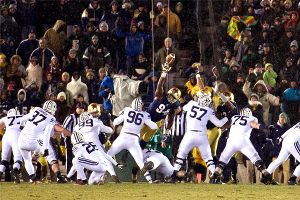 Matt Cashore/USA TODAY SportsJarron Jones had a breakout game filling in for the injured Louis Nix.
"Opportunity, right?" coach Brian Kelly said. "He got the opportunity, was the next man in situation.
"Jarron we felt like was coming on, and he played exceedingly well and really happy for him. But we thought this was something that when we recruited him that he was capable of, and he showed that today."
Yet as much as Jones' play represented the future, Senior Day at Notre Dame was still about the present. The Irish led from start-to-finish in their 23-13 win over BYU, something they had not done since a Week 1 victory over Temple, back when all of their goals were still in front of them. That was no longer the case after their last outing, a harrowing loss at Pitt two weeks ago, but elimination from a BCS-bowl chase seemingly had a reverse effect on this group, which took care of the Cougars by playing as complete of a game as it has all season long.
"When we go out on the field, we're going to compete, we're going to compete to win, we expect to win when we go out on the field — we're not going to lay down," said
Cam McDaniel
, perplexed by the idea that the Irish had little left to play for. "Anybody that says that these last two games are irrelevant, that's just a completely ignorant statement, because of what we put into this thing, all the blood, sweat and tears that go into this, everything behind the scenes.
"I mean, if you make comments like that, you don't understand what this football team -- what we stand for and what we want to do. We expect to win every time we go out on the football field, and we're going to compete our tails off."
The junior running back did his part, rushing for a career-best 117 yards on a day in which the Irish eclipsed the 200-yard rushing mark for just the third time this season -- despite losing center
Nick Martin
in the first quarter to a hyper-extended left knee, and despite a running loop of first-year starters at right guard in
Conor Hanratty
and
Steve Elmer
. The banged-up defense hunkered down when it mattered most. Notre Dame held a team that totaled 415 yards to just 13 points, thanks in large part to holding the Cougars to just one touchdown and three field goal attempts in four red zone trips.
And the Irish were not too shabby on special teams themselves, with
Kyle Brindza
aiding them offensively by going 3-for-3 on field goals, including a 51-yarder mid-way through the fourth quarter to make it a two-possession game.
"Yeah, we could be loose here and there during warmups and everything," Brindza said, "but this was probably the most locked-in week we've ever had in a while, even dating back to last year when we went to a BCS-bowl game."
The attitude came down from Kelly, who, despite probably wishing the program was beyond it at this point, demanded a sharper effort and focus across the board.
Yes, that means preaching the can't-start-winning-till-you-stop-losing mantra, again. And yes, that means keeping the locker room clean, still.
"The locker-room thing was a big one," two-time captain
Zack Martin
said. "… We prepared a lot of plays this week. If we didn't have 11 guys doing the right thing, we'd do it again. Just little things like that that tried to focus our guys a little more. But tonight we were playing for the seniors, and hats off to our younger guys for coming in and playing their butts off."
Chief among them was Jones, still feeling the effects of his field goal block, which came near the four-minute mark with BYU threatening to slice the deficit back to a single possession.
It was the redshirt freshman's first blocked kick since getting a hand on a Temple kick back in Week 1.
"It hurts," Jones said, looking at his left hand, still stinging from the contact in what Notre Dame said was its coldest home game (26 degrees) in 22 years.
"I'm not going to lie. The ball feels like eight-times harder when it's coming at your hand like that. The Temple game, that wasn't as bad as this one."
Left guard
Chris Watt
was more impressed with the rest of Jones' game.
"I just see [Dan] Fox, eight tackles, Jones -- I'm like,
TJ Jones
? I was like, 'Wow, seven,'" the redshirt senior laughed of Jarron Jones' breakout. "That's good for us, having younger guys stepping up in this program, especially going into next year."
Next year might look a little brighter after Saturday, but the Notre Dame is not ready to turn the page on this season just yet.
The Pinstripe Bowl figured to be there at the end for the Irish whether they went 7-5 or 9-3. Given two long weeks to ponder each scenario after stumbling in the Steel City, they came out and delivered their decision, a verdict validating this senior class' contributions in the process.
November, 4, 2013
11/04/13
9:00
AM ET
SOUTH BEND, Ind. -- As Brian Kelly was finishing up his postgame press conference Saturday, an unexpected visitor made an appearance during the penultimate question.
"Jaylon, we'll be done in a second," Kelly said to
Jaylon Smith
, who had entered prematurely. "I know it's your press conference, but I'll be done in a second, and we'll let you get going. Is that all right?"
"Sorry," Smith said to the room of reporters. "I'm new to everything."
Within 24 hours, it turned out the freshman linebacker would be a seasoned veteran by Notre Dame's defense's standards. The Irish are hurting on that side of the ball -- just trying to get by, in a sense, with this weekend's game at Pitt preceding a much-needed bye before a two-game stretch against BYU and at Stanford.
[+] Enlarge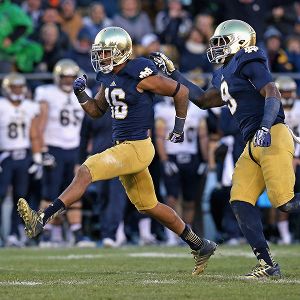 Jonathan Daniel/Getty ImagesSafety Eliar Hardy (left) is one of several Notre Dame reserves that were pressed into action due to injuries.
BCS dreams have essentially taken a backseat to figuring out just who is going to play and where, and how the remaining available guy will get ready for when their time comes.
"I think this is probably close to the pinnacle," Kelly said during Sunday's teleconference when asked if this defense has been hit as hard as any he's had in 23 years as a head coach. He added: "They don't give you any points for complaining about it. If they did, I'd complain every minute. So we just take care of it internally and get the next guy ready."
Ben Councell
, the man behind Smith most of the season at the dog linebacker spot,
was ruled out for the season Sunday after suffering a significant knee injury in the 38-34 win over Navy
. Smith and Councell, of course, waged a preseason battle for a starting spot only after senior
Danny Spond
, last season's starter, was forced to retire because of hemiplegic migraines. And the linebacking corp is less than a month removed from its other big hit, when
Jarrett Grace
broke his leg in the Oct. 5 Arizona State game, costing the Mike linebacker the rest of his redshirt sophomore season.
It only gets worse up front, where
Kona Schwenke
is lost for at least this Saturday's game at Pitt because of a high-ankle sprain suffered on the Midshipmen's final drive. And Schwenke was only starting these last two games in place of nose guard
Louis Nix III
, who at first was ruled to have a shoulder injury suffered in the USC game, and then knee tendinitis, and now tendinitis and a small meniscus tear, though the school says he will practice this week after undergoing an MRI Sunday. Before that, Schwenke filled in for end
Sheldon Day
, who missed most of a three-game stretch after leaving a Sept. 14 game against Purdue with a high ankle sprain, and then re-aggravated said ankle sprain against Navy.
And no, it is not a coincidence that most of these injuries have come during this two-game stretch against Air Force and Navy, teams that often cut-block.
"It's unfortunate," Kelly said. "It's the style of offense that the academies play. It is what it is."
Kelly said it will make sense to possibly avoid scheduling multiple option teams in a single season, but that is a bridge he will cross when he gets to it. For now, his next-man-in philosophy is being tested by, well, a lack of next-men-in.
He said he guards against that by putting those who saw 15 or fewer plays in a game through extra conditioning that following Monday, while reserves get roughly half the work of the starters during 11-on-11 and scout team work in a given week.
"I think that we're so close that you don't really think about it in terms of, Oh, I've never seen you out here," redshirt senior linebacker
Dan Fox
said. "We get a lot of guys in at practice, there's a lot of reps to go around, so next man in and next man in."
Underclassmen such as
Jarron Jones
,
Isaac Rochell
and
Romeo Okwara
have been thrust into more meaningful time than most could have reasonably expected entering the season, while names unfamiliar to all but the closest of program observers --
Tyler Stockton
,
Justin Utupo
and
Eilar Hardy
, to name a few -- saw extended action.
The last of those names, Hardy, helped set Smith up for the game-clinching tackle on Navy's
Shawn Lynch
during the visitors' final fourth-and-4 try. And he was only there because
Austin Collinsworth
suffered a neck strain that will require an MRI Monday.
Fellow safety
Elijah Shumate
, meanwhile, is expected to play against the Panthers after being sidelined the last three games with a hamstring injury, though Kelly had said the sophomore would play going into the Navy game, too.
There are also the knee injuries to left guard
Chris Watt
(PCL) and cat linebacker
Ishaq Williams
(ACL), both of whom left the Air Force game a week ago but only one of whom, Watt, could possibly return this week, depending on how quickly the redshirt senior can acclimate to the knee, which will not require surgery. Williams was in an immobilizer this week and could possibly return for the Nov. 23 BYU game.
The return of Watt would give Notre Dame four of its five starters back on the offensive line, as it lost right guard
Christian Lombard
for the season because of back surgery after the USC game. Still, the bruises have taken their biggest tolls on the other line, which during the spring and summer lost reserves
Chase Hounshell
(shoulder) and
Tony Springmann
(knee) for the season, in addition to seeing freshman signee
Eddie Vanderdoes
leave for UCLA.
All of it leaves the Irish, winners of four in a row, crawling to the finish line, every last piece of Kelly's three straight top-10 recruiting classes fitting into the plan for his push toward a second straight BCS-bowl berth.
"We are running out of next men. We're at that point where from a defensive standpoint, and particularly the defensive line, we're left with very few options," Kelly said, adding, "We'll figure something out. We'll get 11 guys out there. It's just not going to be one of those things where we're going to have the same group of guys out there all the time. As you know, we're going to have to find a way to stop a big, physical offensive line at Pittsburgh, and that is the thing that concerns you the most."
November, 2, 2012
11/02/12
5:00
PM ET
Howdy ...
Aj Latiolais from Lafayette, La., writes
: Just wondering if you know what freshman have chosen to be red-shirted. Kelly said there was a deadline to select players to redshirt and there were ages in mind for him. Figuring since we're past halfway in the season I was wondering if you heard anything. What is Tee Shepard's status? Any chance he might come back to nd? I can't really find any news about it and givin our DB situation it would be a great if he came back.
Matt Fortuna
: A.J., by my count, it looks like the redshirts from the Class of 2012 will be
Gunner Kiel
,
Jarron Jones
,
William Mahone
,
Mark Harrell
,
C.J. Prosise
,
John Turner
,
Scott Daly
and
Amir Carlisle
(who transferred from USC and was granted immediate eligibility before breaking an ankle in the spring). The Tee Shepard ship has sailed.
---
Stefano from Toronto writes
: TUNA!Long time listener, first time caller - love the blog.Of the three "gimme" games before SC, I'm fearful that this week will be the trap. The Irish have struggled to score points at home, and Pitt has a pretty experienced offense. Is there cause for concern?Keep up the good work!- Stefano
Matt Fortuna
: Funny stuff, Stefano. Yes, Pitt is the best opponent Notre Dame will face between now and the USC finale, though I don't see the Panthers giving themselves much of a chance to win if they don't establish some semblance of a run game early. That will be tough against the Irish's stout run defense, though it could help free some matchup problems on the outside with
Mike Shanahan
and
Devin Street
. All told, this opponent is a
much
better team than Boston College or Wake Forest, that's for sure. Notre Dame just needs to, as always, avoid turning the ball over and keep from making this a closer game than it should be.
---
Nate Carr from Anchorage, Alaska writes
: When do I have to start worrying about Diaco getting offered a head coaching job? He's done an amazing job with the defense and I'd hate to see him go.
Matt Fortuna
: A good problem to have, Nate. I'll be surprised if he doesn't get serious consideration for some head-coaching vacancies come winter, though I'm not going to speculate on potential openings that aren't, well, open just yet.
---
Brandon from Takoma Park, Md., writes
: Hey Matt, I'm always around on the game of the week chats and following this blog. I was hoping you could give a shoutout to a friend who is currently stationed overseas. He sketched this into his military helmet and it would be really awesome if you could, in one of your lunch links or something, give him a shout out
with the picture
.
Matt Fortuna
: Anything for our heroes, Brandon. Thanks for sharing.
March, 29, 2012
3/29/12
9:00
AM ET
Our breakdown of Notre Dame's 2012 roster continues today with the defensive side of the ball.
DEFENSIVE LINE
The players:
Aaron Lynch
,
Louis Nix
,
Stephon Tuitt
,
Kapron Lewis-Moore
,
Tony Springmann
,
Chase Hounshell
, Sheldon Day,
Tyler Stockton
,
Kona Schwenke
The incoming:
Jarron Jones
,
Romeo Okwara
[+] Enlarge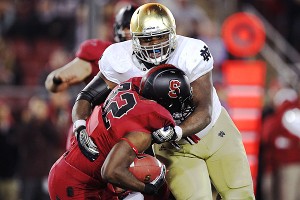 Ezra Shaw/Getty ImagesTackle Louis Nix is a key cog in what should be a strong, experienced defensive line for Notre Dame.
The breakdown:
Injuries forced all three current starters — Lynch, Nix and Tuitt — to play much more than expected last season, and none disappointed. They are all second-year players now, and their pass-rushing ability should have opposing offensive lines and quarterbacks on their heels. Lewis-Moore has been cleared for spring following a season-ending knee injury in 2011 but might not start, though he will likely see plenty of playing time as the line rotates. Hounshell (shoulder surgery) is not cleared yet, but he will likely see significant time this fall after playing as a true freshman last year as well.
LINEBACKERS
The players:
Danny Spond
,
Manti Te'o
,
Dan Fox
,
Prince Shembo
,
Kendall Moore
,
Ishaq Williams
,
Anthony Rabasa
,
Carlo Calabrese
,
Jarrett Grace
, Justin Utopo,
Connor Little
,
Ben Councell
,
Joe Schmidt
The incoming:
None
The breakdown:
As we said with
Tyler Eifert
yesterday, everyone knows what Te'o is capable of, as he likely would have been a first-round NFL draft pick had he left school following his junior year. Fox and Calabrese shared the other inside role last year, and their experience should prove valuable. Shembo has been working at the cat spot this spring, and up-and-coming talents like Williams and Spond figure to see extensive playing time.
SECONDARY
The players:
Bennett Jackson
,
Jamoris Slaughter
,
Zeke Motta
,
Lo Wood
,
Josh Atkinson
,
Austin Collinsworth
,
Dan McCarthy
,
Jalen Brown
,
Cam McDaniel
,
Eilar Hardy
,
Chris Salvi
,
Joe Romano
, Will Salvi,
Connor Cavalaris
,
Matthias Farley
,
Blake Breslau
The incoming:
Elijah Shumate
,
Nicky Baratti
,
C.J. Prosise
,
John Turner
The breakdown:
The loss of
Tee Shepard
really stings this group, which is down to four scholarship corners with a combined zero career starts. Jackson and Wood are in position to take over as the new starters, and playing time last season should help with the transition. At safety, Slaughter and Motta saw plenty of time the last two seasons, and Slaughter in particular has shown a nose for the ball and the capability of providing a leadership force that
Harrison Smith
is leaving behind. Collinsworth will likely also see plenty of snaps after playing last year.
February, 1, 2012
2/01/12
11:19
AM ET
John Turner
kicked things off for Notre Dame's 2012 recruiting class shortly after 7 a.m. today, becoming the first of what is expected to be 14 high schoolers to fax in his signed letter of intent.

The names trickled in after —
Romeo Okwara
,
Mark Harrell
,
Justin Ferguson
,
C.J. Prosise
,
Chris Brown
,
William Mahone
,
Scott Daly
,
Jarron Jones
,
Nicky Baratti
and
Elijah Shumate
.
Gunner Kiel
,
Tee Shepard
and
Sheldon Day
have already enrolled.
We'll speak to coach Brian Kelly in less than two hours, by which time the Irish hope their three verbal pledges from the West Coast --
Deontay Greenberry
,
Ronnie Stanley
and
KeiVarae Russell
-- make their new homes official.
February, 1, 2012
2/01/12
6:00
AM ET
Happy New Year?! Well, not quite. But it is national signing day, a chance for fans of every team to celebrate the promise of the future.

For Notre Dame, that future is brighter than most. The Irish are expected to sign the No. 9 recruiting class for the Class of 2012, according to ESPNU. And barring anything unforeseen, the class might just stand at 17 prospects when the day is done.
Brian Kelly will hold a news conference at 1 p.m. today, but until then, here's a recap of who you should expect to see in a Notre Dame uniform next season. (*indicates early enrollee already on campus)
OFFENSE
*Four-star QB
Gunner Kiel
(Columbus, Ind./Columbus East)
6'3", 215, No. 3 QB, No. 52 overall, 82 Scout Grade, Signed Jan. 17, 2012
Four-star WR
Justin Ferguson
(Pembroke Pikes, Fla./Flanagan)
6'1", 205, No. 14 WR, No. 85 overall, 81 Scout Grade, Committed May 2, 2011
Four-star OT
Jarron Jones
(Rochester, N.Y./Aquinas)
6'6", 295, No. 11 OT, No. 102 overall, 80 Scout Grade, Committed April 12, 2011
Four-star WR
Deontay Greenberry
(Fresno, Calif./Washington Union)
6'2", 185, No. 17 WR, No. 106 overall, 80 Scout Grade, Committed May 27, 2011
Four-star OT
Ronnie Stanley
(Las Vegas/Bishop Gorman)
6'6", 285, No. 34 OT, 79 Scout Grade, Committed Dec. 15, 2011
Four-star RB
William Mahone
(Youngstown, Ohio/Austintown Fitch)
5'10", 206, No. 16 RB, 79 Scout Grade, Committed Sept. 30, 2011
Four-star OT
Mark Harrell
(Charlotte, N.C./Charlotte Catholic)
6'5", 260, No. 41 OT, 79 Scout Grade, Committed May 19, 2011
Three-star RB
KeiVarae Russell
(Everett, Wash./Mariner)
6'0", 175, No. 26 RB, 79 Scout Grade, Committed Dec. 29, 2011
Three-star WR
Chris Brown
(Hanahan, S.C./Hanahan)
6'2", 170, No. 66 WR, 78 Scout Grade, Committed Sept. 18, 2011
Two-star LS
Scott Daly
(Downers Grove, Ill./Downers Grove South)
6'3", 228, No. 3 LS, 73 Scout Grade, Committed April 16, 2011
DEFENSE
*Four-star CB
Tee Shepard
(Fresno, Calif./Washington Union)
6'0", 180, No. 9 CB, No. 90 overall, 80 Scout Grade, Committed March 2, 2011
*Four-star DT
Sheldon Day
(Indianapolis/Warren Central)
6'2", 280, No. 14 DT, No. 143 overall, 80 Scout Grade, Committed Aug. 3, 2011
Four-star S
Elijah Shumate
(Ramsey, N.J./Don Bosco)
6'0", 205, No. 14 S, 80 Scout Grade, Committed Jan. 7, 2012
Three-star S
C.J. Prosise
(Woodberry Forest, Va./Woodberry Forest)
6'1", 190, No. 22 S, 79 Scout Grade, Committed May 27, 2011
Three-star DE
Romeo Okwara
(Charlotte, N.C./Ardrey Kell)
6'4", 223, No. 96 DE, 77 Scout Grade, Committed July 10, 2011
Three-star ATH
Nicky Baratti
(Spring, Texas/Klein Oak)
6'1", 190, No. 87 ATH, 77 Scout Grade, Committed April 16, 2011
Three-star S
John Turner
(Indianapolis/Cathedral)
6'0", 194, No. 62 S, 76 Scout Grade, Committed June 28, 2011
Note
:
Amir Carlisle
(Sunnyvale, Calif./Kings Academy) has also enrolled this spring after a semester at USC. He was a four-star recruit, ESPNU's No. 17 athlete, and the 114th-best player overall in the Class of 2011. The 5-foot-10, 180-pounder rushed for 118 yards on 19 carries and caught seven passes for 41 yards and a touchdown with the Trojans in 2011.