NCF Nation:

Jarvis Harrison
October, 17, 2014
Oct 17
11:00
AM ET
COLLEGE STATION, Texas -- Almost two years ago, Texas A&M walked into Alabama's Bryant-Denny Stadium with boundless confidence and impetus to make a statement.
The Aggies possessed college football's best player at the time and a 7-2 start to their debut SEC season but still lacked the signature win that would validate their first-season success in college football's biggest, baddest league.
After 60 intense minutes, the statement was made. The Aggies beat then-No. 1 Alabama 29-24 and officially announced their SEC arrival in Tuscaloosa.
[+] Enlarge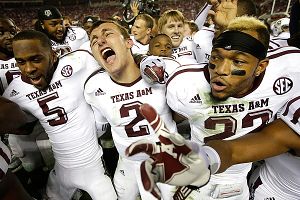 AP Photo/Dave MartinThe Aggies hope for a repeat performance of their 2012 matchup with Alabama, when Johnny Manziel & Co. beat the No. 1 team in the country.
"It just proved a point," said senior receiver
Malcome Kennedy
, who caught the Aggies' final touchdown that day. "It gave us so much confidence as a team and as a unit. We knew what we set out to do could be accomplished."
Saturday, for the first time since that seminal victory, the Aggies return to the scene of the crime. Both teams are vastly different and neither enters with the type of momentum they'd like to have: the Aggies have lost two straight; Alabama squeaked out a 14-13 win at Arkansas after a loss to Ole Miss the week prior.
For Texas A&M, the game is pivotal for reasons much different than 2012. By starting 25-8 in their first two-and-a-half seasons as SEC members, the Aggies no longer need validation. They've produced a Heisman Trophy winner and proved they can hold their own in the league, though they're still trying to move up the ladder to prove they can win at the highest level of this league, or more specifically, the SEC West.
The Aggies (5-2, 2-2 SEC) need this win to help a young team regain full confidence, as two convincing losses to Mississippi State and Ole Miss has provided a wake-up call to this group in the post-
Johnny Manziel
era.
"I think this is very big and important," sophomore linebacker
Jordan Mastrogiovanni
said. "These last couple weeks have been disappointing for us and the fans. We're trying to get back on track and prove to people that we're a really good team and these last couple weeks don't define who we are."
Kennedy, considered the vocal leader of the Aggies' offense, missed each of the losses with a separated shoulder but is expected back Saturday. Prior to Monday's practice, the veteran could sense some uncertainty among his teammates and decided to speak up to the team to help restore any shaken confidence.
"Just trying to stay positive," Kennedy said. "I just told them there will be a lot of outside voices trying to tell you how things go, but nobody knows how this team works best but us. We have to fix the problems we have, look at each other, look at ourselves and figure out what we have to do."
Texas A&M coach Kevin Sumlin isn't concerned about his team losing confidence based on its recent performances.
"Coming into this thing, nobody said this was going to be easy," Sumlin said. "This is a difficult league and there's no doubt, that based on the last two weeks against the type of opponents that we're playing, that we've got to coach better and we've got to play better. That's our expectation within the building, to win games. Confidence is something you don't gather overnight and I don't think you lose it overnight. It's something you build and that's who you are. I don't see that waning."
The team has a handful of veterans that saw significant time and have positive memories of 2012. Kennedy caught the Aggies' final touchdown, senior cornerback
Deshazor Everett
intercepted A.J. McCarron near the goal line to deny Alabama's final scoring chance. Senior safety
Howard Matthews
, junior cornerback
De'Vante Harris
and junior defensive end
Julien Obioha
are also among those who were a part of that program-changing night.
Offensively, tackle
Cedric Ogbuehi
, guard
Jarvis Harrison
and running back
Trey Williams
join Kennedy as players with experience in T-Town.
It's likely impossible for a victory this time around to have the kind of impact the 2012 one did. That one changed the national perception of Texas A&M's program, was a catalyst in Manziel's Heisman Trophy campaign and the Aggies reaped the benefits in recruiting as well. A win would be critical to this season though, to keep the Aggies from going on a three-game losing streak, restoring confidence in young players like sophomore quarterback
Kenny Hill
and perhaps serving as a springboard for a strong finish. The Aggies have an open date coming up followed by a nonconference game and three SEC contests in the final month.
Kennedy feels the veterans will draw on the images from their last time there. If they can recapture some of the magic from that blissful November night, it would be big for the current Aggies.
"Going to Alabama, having those positive memories from two years ago, I think the guys will walk into a more welcoming environment," Kennedy said. "I know there will be a lot of Aggies there. It'll be noisy, loud. I think that's when we play best, when it's loud and noisy."
October, 20, 2012
10/20/12
7:11
PM ET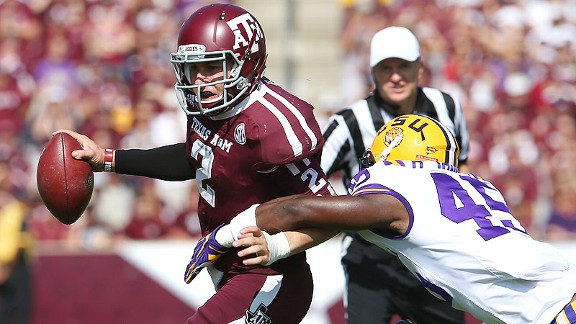 Ronald Martinez/Getty ImagesJohnny Manziel and Texas A&M hung tough, but LSU prevailed.
COLLEGE STATION, Texas -- Are they good enough?
That is a question that many fans, observers and pundits posed or tried to answer when Texas A&M initially announced it was moving to the Southeastern Conference.
Are the Aggies good enough to compete with the best the SEC -- college football's premier league -- has to offer? There were many skeptics and there still will be some after the No. 18 Aggies'
24-19 loss to No. 6 LSU
on Saturday at Kyle Field.
But if you watched closely, one thing became evident as the events unfolded in front of the 87,429 in the building. Not only are the Aggies good enough to compete with a top-10 team from the SEC, they're good enough to
beat
said team.
The Aggies lost for many reasons, some self-inflicted, some imposed by the Tigers. But it wasn't because they were outclassed or simply weren't good enough. The Aggies proved to be more than up to snuff against the physicality of one of the SEC's traditional powers, LSU, a two-time BCS champion since 2003.
Saturday was evidence that Texas A&M, by the looks of it, is ready to go toe-to-toe with the SEC's big boys. But it was also evidence that the Aggies have a long way to go.
"This one hurts a lot," senior center
Patrick Lewis
, a Louisiana native, said. "I know a lot of those guys on that team and it would have been real nice to get a win, not only for myself but for our team and for Kyle Field. It's a win that Texas A&M has needed for a real long time. But we've got to get over it. We have a lot of ball to play. We go on the road next week in another hostile environment. We're going to learn from the mistakes we made today and we're going to continue to get better."
The Aggies left points on the board when a chop block penalty on offensive lineman
Jarvis Harrison
and
Luke Joeckel
erased a throwback screen pass to
Ben Malena
that would have been a 34-yard first-quarter touchdown. That would have given Texas A&M a possible 13-0 lead fewer than 10 minutes into the game.
Instead, it had to settle for a field goal and it took until the 7:24 mark in the second quarter before the Aggies pushed the lead to double digits.
Redshirt freshman kicker
Taylor Bertolet
missed 2-of-4 field goals, one of which came from 33 yards in the fourth quarter after a 76-yard kickoff return by freshman
Trey Williams
. So after starting from the LSU 16-yard line and cutting into a 17-12 Tigers lead, the Aggies came away with no points.
"We left some points out there, obviously, with a couple missed field goals," Texas A&M coach Kevin Sumlin said. "Against a team like that, you want to score touchdowns in the red zone."
And Saturday was also a learning experience for redshirt freshman quarterback
Johnny Manziel
, who has dazzled onlookers with his ability to improvise and make plays with his legs and his right arm and appeared on the verge of taking college by storm.
The Kerrville (Texas) Tivy product still showed some of his signature playmaking ability, but LSU kept the young man dubbed "Johnny Football" from breaking the game open. The speed of the Tigers defense was able to run him down and prevent big ground gains (he finished with a season-low 27 yards on 17 carries) and when he tried to force passes while scrambling -- like the one
Tharold Simon
picked off with 3:20 to go in the game -- they made him pay.
Earlier this season when the Aggies defeated SMU, Manziel made one of many highlight-worthy plays when he was able to spin out of a sack, throw off one foot and complete a touchdown pass to
Kenric McNeal
. Against LSU, there was a moment where Manziel scrambled left, switch the ball to his left hand and threw it and was nearly intercepted by an LSU defender.
It was a learning experience for the young quarterback, who was appearing in just his seventh game.
"He learns from everything," Sumlin said. "He learns from every series. Every experience is a learning experience for him right now. This is game seven for him. It's a completely different environment. He's as hard on himself as we are as coaches. [Offensive coordinator] Kliff [Kingsbury's] doing a great job with him. We just have to keep getting better and he'll continue to do that."
Sumlin said the mistakes can be attributed to a combination of youth, lack of execution and the caliber of the Aggies opponent.
"Where we have to get over the hump is execution and being consistent," he said. "It's no different than what I've said from Game One. Against a very talented team the margin for error gets really, really slim. We made too many today."
It's clear that the Aggies aren't there yet, but potential for success against the SEC's elite is there if the mistakes made on Saturday are corrected.
"I think we're very close," Aggies senior receiver
Uzoma Nwachukwu
said. "We're a team that defensively, they're excited, they're jumping around, they're running to the ball. We have a great defense and offensively, the sky is the limit for us. We just have to focus down on the little things that make great things: turnovers, penalties and things like that. We have to harp on that and if we want to get to elite status, that's what we have to do."