March, 23, 2010
3/23/10
4:54
PM ET
PULLMAN, Wash. -- It's March and the madness is upon us with underdogs swaggering past more talented favorites with a self-regard that rejects those who would question their capabilities.
Which is why a Washington State football skeptic -- read: everybody, since the program has won a single Pac-10 game over the past two seasons -- might pause charitably this time of the year after listening to the Cougars talk about their belief that 2010 will become a transformative year of success.
[+] Enlarge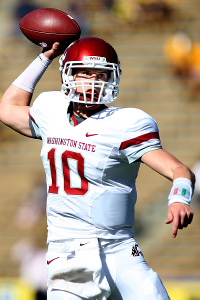 Jed Jacobsohn/Getty ImagesJeff Tuel threw for 789 yards and six touchdowns as a freshman last season.
"I think you're going to see a completely different team out there," defensive end Travis Long said. "Realistically, I think we can get to a bowl game. That's my goal. I think it's everyone's goal."
A bowl game? Really.
"We break on roses everyday because we want to get to that game," quarterback
Jeff Tuel
said. "We want to get to a bowl game. We know if we put it all together and do things right we can get there."
Tuel pauses. "We expect to win games."
Wait. Go back. Did he say "roses," as in "Rose Bowl?"
Hey, Arizona, Arizona State, California, Oregon State, Stanford, UCLA and Washington fans: You might want to stop yucking it up. The Cougars have been to two Rose Bowl since the 1997 season. How many has your team gone to during that span?
That said, come on, now: The Cougars can't really expect to go to a bowl game after a 1-11 season in which they ranked last in the Pac-10 in every major statistical category.
Well, in 2000, the Cougars completed a 4-7 season with a 51-3 beatdown defeat at home against rival Washington. The Cougs had won just 10 games over the three seasons since going to the Rose Bowl.
Ah, but they won 10 each of the next three seasons, finishing each ranked in the nation's top 10.
So there's precedent for the Cougs overcoming doubts and legitimately pursuing roses.
"Everyone knows we're going to be better," coach Paul Wulff said. "There's no doubt."
Well, coach, there are plenty of doubts.
"The players are embarrassed and I think they've got a chip on their shoulder," Wulff said. "They're out to prove people wrong."
January, 20, 2010
1/20/10
12:03
PM ET
Lots of extraordinary games to choose from, as well as many ways to ascribe greatness: the size of the stage, the competitiveness of the game and the overall strangeness.

And we made the executive decision not to make this a list of USC upset losses -- other than the biggest one of those.

10. Oregon 56, Arizona State 55 (2 OT), 2000: Many of you are drawing a blank, but the ones who saw this one are jumping out of their chairs and going, "Oh man. That one was nuts." Both teams scored 21 points in the fourth quarter. The teams combined for 1,228 yards, 663 of those for the Sun Devils. Ducks quarterback Joey Harrington threw six -- SIX! -- touchdown passes, including three in the fourth quarter, the last of which tied the score with 27 seconds left after the Sun Devils gave away a critical fumble. Arizona State freshman QB Jeff Krohn threw five TD passes, by the way. ASU lost the game when coach Bruce Snyder decided to fake the extra point and go for the two-point conversion in the second overtime. It failed, leaving fans in Tempe stunned.

9. Washington State 30, USC 27 (OT), 2002: Any of you Cougars fans able to muster the memory of kicker Drew Dunning's slide on his knees at Martin Stadium? Dunning sent the game into overtime with a 35-yard field goal and then made the game-winner from the same distance in a victory that was critical to the Cougars' run to the Rose Bowl. The game featured a brilliant quarterback duel between Carson Palmer and Jason Gesser -- Gesser passed for 315 yards, Palmer for 381 -- and a dominant performance from Cougars defensive tackle Rien Long, who went on to win the Outland Trophy. Between this game and the 2006 Rose Bowl, USC lost just once.

8. Oregon 44, Arizona 41 (2 OT), 2009: If Arizona had won this game, we now know the Wildcats would have played in their first Rose Bowl. The Wildcats led 24-14 early in the fourth quarter, but then the game went crazy. With red-clad Arizona fans encircling the field, Ducks quarterback Jeremiah Masoli tied the game in regulation with six seconds left with a touchdown pass to Ed Dickson. Masoli then won it in the second overtime with a 1-yard run. Masoli ran for three TDs and passed for three more.

7. Stanford 24, USC 23, 2007: Greatest upset in Pac-10 history? Maybe. Stanford was a 41-point underdog playing its backup quarterback at No. 2 USC, which had won 35 in a row at home. But Trojans quarterback John David Booty, who foolishly played -- and was allowed to play -- with an injured throwing hand, threw four interceptions, while Stanford's Tavita Pritchard led a clutch, game-winning drive, throwing a 10-yard touchdown pass to Mark Bradford on fourth-and-goal with 49 seconds remaining.

6. Oregon 37, Oregon State 33, 2009: It was the Civil War for the Roses, with the Ducks earning a berth in the Rose Bowl. While the return of Ducks running back LeGarrette Blount was significant -- he scored a critical touchdown -- the game belonged to redshirt freshman running back LaMichael James, who scored three touchdowns and rushed for 166 yards, and quarterback Jeremiah Masoli, who ran over Beavers safety Lance Mitchell to convert a fourth-and-3 play from the Beavers' 33 with 3:41 left, as Oregon ran out the final six minutes with its final drive.

5. California 31, Oregon 24, 2007: Sixth-ranked California, featuring a stellar performance from receiver DeSean Jackson, outlasted No. 11 Oregon in a game between two teams that would at one point rise to No. 2 during the season, though both ultimately crumbled. The game turned on a strange play as the Ducks were on the cusp of tying the score. With 22 seconds to go, Dennis Dixon found Cameron Colvin near the goal line, but Colvin fumbled trying to reach the ball into the end zone when he was hit by Marcus Ezeff. The loose ball went through the end zone and was ruled a touchback and possession for Cal.

4. Washington 33, Oregon State 30, 2000: It was the greatest game no one saw because of the late, West Coast kickoff at Husky Stadium. And at the time, its magnitude wasn't clear. The critical play of the back-and-forth affair happened when Washington defensive tackle Larry Tripplett caught Ken Simonton for a three-yard loss on second-and-1 from the Huskies 26-yard line with 42 seconds left. The Beavers panicked and mistakenly spiked the ball -- they had a timeout left -- and then Ryan Cesca missed a 46-yard field goal to tie. It was the Beavers' only loss of the season; they crushed Notre Dame in the Fiesta Bowl. They would have played Oklahoma for the national title if they had prevailed. And the win helped the Huskies win the Rose Bowl tiebreaker.

3. USC 23, California 17, 2004: No. 7 California had a first-and-goal on top-ranked USC's 9-yard line with under two minutes left. At that point, Cal quarterback Aaron Rodgers had completed 29 of 31 passes for 267 yards and a touchdown. But the Bears couldn't punch it in, with USC registering a sack and forcing three incompletions. It was the closest call of the season for the best team of the USC dynasty.

2. USC 34, Notre Dame 31, 2005: The infamous "Bush Push" game. No. 9 Notre Dame was about to knock off top-ranked rival USC and make Irish coach Charlie Weis a national sensation, but Matt Leinart led a drive for the ages in the waning moments as the Trojans prevailed, scoring the winning points when Leinart got a little extra help from Bush on his second effort on a quarterback sneak.

1. Texas 41, USC 38, 2006 Rose Bowl: Perhaps the great game in college football history, particularly considering that the stakes were a national title for two unbeaten teams and the field was packed with talent and future high draft choices. Vince Young almost single-handedly willed his team to the victory -- he ran for 200 yards and passed for 267 more -- and denied the Trojans a third consecutive national title. USC walked away with a laundry list of "what ifs," but the ultimate result was a 34-game winning streak coming to an end.
May, 15, 2009
5/15/09
2:30
PM ET
Posted by ESPN.com's Ted Miller
Happy Friday.
May, 1, 2009
5/01/09
2:30
PM ET
Posted by ESPN.com's Ted Miller
"Relax," said the night man. "We are programmed to receive. You can check-out any time you like, But you can never leave!"
November, 24, 2008
11/24/08
8:47
PM ET
Posted by ESPN.com's Ted Miller
There's a Rose Bowl elimination game (the Civil War), bowl elimination game (UCLA at Arizona State), a national rivalry game (Notre Dame at USC) and a beach trip for the celebrating Cougars (Washington State at Hawaii) this week to keep you entertained while you digest your turkey.
Friday
UCLA (4-6, 3-4) at Arizona State (4-6, 3-4): The loser becomes a loser -- record-wise -- and is out of the bowl hunt. The winner then will try to earn mediocrity -- record-wise -- and bowl eligibility vs. its rival on Dec. 6. UCLA and Arizona State have split their last four meetings, but the Bruins have won seven of 10 at Sun Devil Stadium, including their most recent visit in 2006. Last year, in the Rose Bowl, the No. 9-ranked Sun Devils improved to 9-1 with a 24-20 victory. Keegan Herring was the difference, rushing for 116 yards and a touchdown.
Saturday
Notre Dame (6-5) at USC (9-1): The nation needs this game to matter because it's a unique and special rivalry. Notre Dame coach Charlie Weis isn't keeping up his end of the bargain since the classic 2005 affair. The Irish are coming off a humiliating home loss to Syracuse. After the game, Irish fans pelted some of their players with snowballs. USC could use a quality Notre Dame team to bolster its national standing. Too bad. As it is, the Trojans need a blowout or they will face further skepticism from voters. Duplicating last year's 38-zip win in South Bend might do the trick. That was the most decisive Trojans victory in the 79-game series and their first shutout in South Bend since 1933. Mark Sanchez, making his second career start in place of John David Booty, threw four touchdown passes and USC rushed for 227 yards.
The Civil War
Oregon (8-3, 6-2) at Oregon State (8-3, 7-1): If Oregon State wins, it's going to the Rose Bowl for the first time in 44 years. If Oregon wins, the Beavers don't go to the Rose Bowl and likely end up in the Sun Bowl because the Holiday Bowl likely would prefer the Ducks. So, there's a lot at stake here in the biggest Civil War since 2000. This is the longest running football rivalry on the West Coast in terms of games played. The teams have met 111 times dating to 1894 and uninterrupted since 1945. The Ducks lead the series 55-46-10, but Oregon State won at Eugene last year -- 38-31 in double overtime -- snapping a 10-year run of the home team winning. The Beavers have won five in a row in Reser Stadium with the last Duck victory in Corvallis coming in 1996.
Washington State (2-10) at Hawaii (6-5): The Cougars would like to remind you that that last weekend they beat Washington 16-13 in double overtime. Oh, this game? Well, Washington State leads its all-time series with Hawaii 2-1, including a 22-14 win in 1999, the team's most recent meeting. In that game, quarterback Jason Gesser, who, unlike Kevin Lopina, never beat Washington -- which lost to the Cougars 16-13 last weekend in double overtime -- led WSU to 10 points in the final three minutes in his first collegiate start in his hometown of Honolulu. Gesser, of course, though he never beat Washington 16-13 in double overtime, went on to become the school's all-time passing leader before being eclipsed by Alex Brink, who was part of three victories over Washington, though never by a count of 16-13 in double overtime.
Arizona (6-5), California (7-4), Washington (0-11) - open dates.
Stanford (5-7) - season concluded.
September, 7, 2008
9/07/08
3:00
AM ET
Posted by ESPN.com's Ted Miller
TEMPE, Ariz. -- Arizona State quarterback Rudy Carpenter knows how to deliver the ball -- he's one of the nation's most accurate passers -- but the reason he's climbing the Pac-10's all-time passing record list is almost as much about his ability to take a hit.


He completed 27 of the 36 passes he threw in the 15th-ranked Sun Devils 41-17 victory over Stanford, rolling up 345 yards with three touchdowns.
And after just about every throw , a Cardinal defender plastered him to the turf.
He was sacked only twice, but two roughing the passer penalties showed that Stanford fully intended to try to bust Carpenter into little pieces by any means necessary.
"He is one of the best quarterbacks in the Pac-10 and in the nation," Cardinal linebacker Pat Maynor said. "He's a tough kid."
Added Stanford coach Jim Harbaugh: "Rudy was very impressive. I gained a lot of respect for him tonight. He took some hits. He was under pressure a lot, but he made some good throws and was very accurate."
Carpenter's lone mistake was second-quarter interception that led to a Stanford touchdown, which closed the gap to 13-10. Carpenter, sprinting to his left, uncharacteristically lobbed the ball into coverage and made things easy for Stanford cornerback Kris Evans.
"That was a terrible interception," Carpenter said.
It didn't take long for Carpenter to bounce back, though. With less than a minute before halftime, he parlayed good field position after the ensuing kickoff went out of bounds and a roughing the passer penalty into a touchdown drive, which he completed with a 45-yard scoring toss to Kerry Taylor.
"That was a huge play, scoring there just before half," ASU coach Dennis Erickson said. "That was probably the turning point of the game, without question."
Carpenter completed passes to nine different receivers, often flinging the ball just before a defender flattened him.
It's hard on Carpenter, but not so bad for his receivers.
"It seems kind of easy out there right now, knowing where Rudy is going to put the ball," Taylor said. "I know where the ball is going to be every time."
Carpenter said he wasn't unhappy with his protection. In fact, he saluted the entire offense working together to put away the bugaboo of the 55 sacks yielded a year ago.
"I think our offensive line did a great job of picking up pressure today," Carpenter said. "I think our receivers did an even better job recognizing blitz and coming open on their hot routes."
Carpenter, who has made 33 consecutive starts, has thrown for 733 yards in the first two games, which is the most passing yards a Sun Devils quarterback has compiled to start a season.
He now has 69 touchdown passes, ninth most in Pac-10 history. He also has 8,731 career passing yards, which ranks 14th on the conference's all-time list. Another 300-yard effort next week against UNLV and he will pass Sun Devils legend Jake Plummer and former Washington State star Jason Gesser.
He's put up big numbers because he's one of the nation's best passers. But he's also had to survive. It's hard to imagine many QBs across the country who have hit the turf more in their careers.
Particularly one who never stays down.
"He knows how to take a fall," Erickson said. "He's had to take a few. It's amazing how many times he gets hit and gets right back up and makes plays."