March, 23, 2011
3/23/11
10:40
AM ET
Scouts Inc. has come up with comprehensive draft boards for every position as we draw ever closer to the 2011 NFL draft (and, hopefully, a 2011 NFL season).
Let's start on the
offensive side of the ball
and take a look at where some Big East hopefuls are ranked. First, the skill positions:
Now, the offensive linemen/tight ends:
Now let's move to
the defensive side
and see where Scouts Inc. rates some Big East defenders:
Doug Hogue, LB, Syracuse: sixth round
These projections aren't gospel by any means, but they should give you a pretty good idea of how Big East hopefuls are being viewed right now.
December, 15, 2010
12/15/10
11:00
AM ET
After two straight Big East titles and BCS game appearances, Cincinnati came crashing down to earth with a 4-8 record in 2010.
Several factors conspired against the Bearcats in this disappointing season. There was the coaching transition, of course, as Butch Jones took over for Brian Kelly. There was a difficult early schedule that included games at Fresno State and NC State and versus Oklahoma, all of which Cincinnati lost. Injuries played a part, as starting receiver
Vidal Hazelton
went down in the opener with a torn ACL, and the team's most experienced cornerback (Dominique Battle) missed most of the year with a knee injury.
The Bearcats led the league in points scored and total offense but finished last in points allowed thanks to an undersized, inexperienced defense that gave up nearly 34 points per conference game. Unlike last season, when they could win shootouts late in the year because of their prolific offense, they continually ended their own drives with mistakes. Their abysmal minus-15 turnover margin was second-worst in the FBS.
[+] Enlarge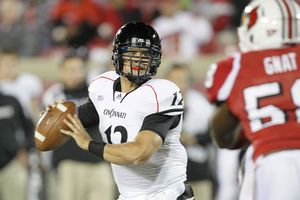 AP Photo/Ed ReinkeQuarterback Zach Collaros is part of a strong returning nucleus on offense for Cincinnati.
Intangibles were at play as well. Jones had to fight a sense of entitlement that stemmed from those two straight championships. Senior center Jason Kelce told the Cincinnati Enquirer earlier this month that the team lacked the hunger it had in previous years.
So what can Cincinnati do to get back to the postseason in 2011?
Jones has a strong nucleus returning. The team loses only six starting seniors, none of them on defense. Quarterback
Zach Collaros
, running back
Isaiah Pead
and receiver
D.J. Woods
are all among the best at their position in the Big East, so the offense should thrive again, especially with a year of Jones' system under their belts. The Bearcats will miss start wideout
Armon Binns
, but freshman
Anthony McClung
showed promise late in the year, and former star recruit Dyjuan Woods and junior college transfer
Kenbrell Thompkins
will become eligible.
The defense remains an issue, and this offseason will be crucial in the weight room for the Bearcats to add some bulk. Jones has to fill in some gaps through recruiting and may look to a junior college player or two to provide immediate help.
Next year's schedule will be slightly easier, with difficult games against Tennessee and NC State but highly winnable contests against Austin Peay, Akron and Miami of Ohio. For the first time in a few years, the Bearcats won't be picked among the favorites for the Big East. But they should improve enough to get back to a bowl in 2011.
October, 13, 2009
10/13/09
4:00
PM ET

Posted by ESPN.com's Brian Bennett
Cincinnati's offense is full of sound and fury. Heisman Trophy candidate
Tony Pike
, star receiver Mardy Gilyard and the rest of the skill players garner most of the attention.
| | |
| --- | --- |
| | |
| | Rich Kane/Icon SMI |
| | Cincinnati prefers nimble, athletic offensive linemen, and even 313-pound Jeff Linkenbach is light on his feet. |
Hardly anybody ever talks about the Bearcats' offensive line, though. And that might just be the biggest key to Bearcats' 5-0 start and 42 points-per-game average.
"We don't get a lot of notoriety, but that's kind of how we are," senior center Chris Jurek said. "We like not getting our names called. We create for everybody else."
Consider this stat: The offensive line has allowed just three sacks this year despite 188 pass attempts. That's one sack for every 63 passes. The Bearcats rank fourth in the FBS in fewest sacks allowed but have thrown the ball more times than the three teams in front of them.
Some of that stems from the fact that Pike is often in the shotgun, and head coach Brian Kelly's offense is designed to get rid of the ball quickly to receivers in the open field. Still, you shouldn't underestimate how much the offensive line has contributed to the most prolific attack in Kelly's three-year tenure at Cincinnati.
"The biggest change in our offensive structure has been the offensive line," Kelly said. "[Previous coach] Mark Dantonio did a great job of building his offense here, but the offensive linemen, quite frankly, didn't fit the same profile" as Kelly's offense.
"So Year 1 and Year 2 were really about getting our offensive linemen to fit our style. In Year 3, we're so much further along in their ability to play in space, to be more of a zone team than a gap team, a team that can put their linemen out and get out in screens and things of that nature."
Dantonio -- who's now at Michigan State -- liked a Big Ten-style line, with big, hulking guys who could plow holes for the power run game. Kelly has a high-tempo offense that often requires the linemen to run down the field and spring receivers free. That requires svelte, athletic players.
"It's been a pretty significant progression in terms of our body types and conditioning," Jurek said. "Coach's style is to get smaller guys who are more athletic and put good weight on them. That's one of the things I've seen here, and we've been able to do it with a high level of success."
Other than left tackle Jeff Linkenbach, no Cincinnati offensive lineman weighs more than 293 pounds. And even Linkenbach's 311 pounds don't sit heavily on his 6-foot-6 frame. Jurek, Linkenbach and left guard Jason Kelce all started on last year's Orange Bowl team. Alex Hoffman and Sam Griffin are first-year starters who have made the right side just as formidable.
The line will face its biggest test of the season on Thursday night at South Florida. The Bulls' defensive front four, Kelly said, "is as good as you're going to see. They can match up with any SEC or Big Ten teams." Defensive ends George Selvie and Jason Pierre-Paul have been terrorizing tackles, and the interior linemen are nearly as fast and aggressive. The Bulls' No. 1 goal is to get to Pike and disrupt his timing.
"I don't feel as if these guys have been challenged up front like we are going to do on Thursday," South Florida linebacker Kion Wilson said. "They haven't been hit and been physically abused yet. That's what we plan on going out there and doing."
"Their offensive line plays very well together," Selvie said. "But I think we can do a very good job against them. We've just got to be aggressive, let them know we're ready to play and that it's going to be a long day for them."
Kelly will surely design his game plan around quick throws and screens, rolling the pocket and other things to slow down that South Florida pass rush. The rest of the job will fall on the offensive linemen. If that group remains anonymous Thursday night, then you know they got the job done.
"It will be a tough challenge for us Thursday night," Jurek said, "but I think we'll be up for it."
November, 5, 2008
11/05/08
12:35
PM ET
Posted by ESPN.com's Brian Bennett

Pittsburgh: The Panthers made some personnel changes in their secondary after Rutgers ripped through it. Sophomore Elijah Fields saw a lot more playing time at Notre Dame, lining up occasionally at safety, nickel back and linebacker. Ricky Gary and Jovani Chappel split time at cornerback. Gary fell down on one touchdown pass, but overall Dave Wannstedt said he was pleased with their play. Notre Dame's Jimmy Clausen threw for 271 yards and three touchdowns.

West Virginia: The Mountaineers are looking for a few good men to help shore up their kickoff coverage. They rank last among 119 FBS teams by allowing 29.58 yards per return and are about to face the league's best kick returner in Cincinnati's Mardy Gilyard. Two members of the kick cover team -- safety Courtney Stuart and linebacker Archie Sims -- were injured in the UConn game. Head coach Bill Stewart handles special teams and said he would make some personnel changes this week.

Cincinnati: True freshman receiver D.J. Woods is starting to make a bigger impact. He had four catches for 67 yards against Rutgers, returned a punt 40 yards at UConn and made three key receptions in the South Florida win. Fellow slot receiver Marcus Barnett, the team's second-leading catcher a year ago, has only 21 receptions this year. Also for the Bearcats, center Chris Jurek was in a walking boot this week after suffering an ankle injury against South Florida. The team is hopeful he can play at West Virginia. If not, guard Jason Kelce could slide over and handle snapping duties.

Louisville: Senior George Bussey, an All Big-East left tackle, could be switching positions. The Cardinals moved Bussey to left guard on Saturday versus Syracuse to replace injured Mark Wetterer. Sophomore Greg Tomczyk played left tackle because he had fewer things to learn at that position. Wetterer's status is unclear for Saturday's game at Pitt. Other than Bussey and center Eric Wood, Louisville's offensive line has been spotty in recent games.

Syracuse: Wide receiver Dan Sheeran is expected back this week from the broken fibula he suffered in preseason camp. His return allows freshman Grant Mayes to switch from receiver to cornerback, a position he played until Sheeran's injury forced him to offense. The Orange secondary could be in trouble this week against Rutgers, as defensive backs Kevyn Scott and A.J. Brown were injured in the Louisville game. Coach Greg Robinson has declined to address their status so far this week.