NCF Nation:

Ja'Wuan James
September, 12, 2013
Sep 12
11:00
AM ET
Butch Jones has given a beleaguered Tennessee fan base reason to believe again.
There's a renewed energy surrounding the program. Recruiting is going like gangbusters, and the Vols have been crisp, disciplined and opportunistic in their first two games of the Jones era, including a 52-20 clubbing of Bobby Petrino and Western Kentucky last weekend.
After four losing seasons in the last five years, there are telltale signs that Tennessee may finally be wresting itself from football exile.
But this weekend may be more about survival for the Vols and simply coming out in one piece.
[+] Enlarge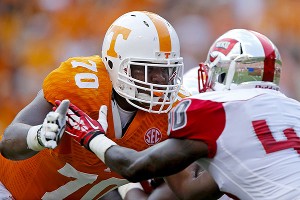 AP Photo/Wade PayneJu'Wuan James knows not many think Tennessee can upset No. 2 Oregon on Saturday and that's just fine with him and the rest of the Vols.
Their trip to No. 2-ranked Oregon is the start of one of the most brutal stretches in college football this season.
"All we know is we're the only people who think we're going to win," Tennessee senior offensive tackle
Ja'Wuan James
said. "That's all we need."
It would rank up there among the more shocking upset wins in Tennessee history. The Vols are nearly a four-touchdown underdog, but seem to be embracing the fact that nobody is giving them a chance.
"There's no pressure," Tennessee senior linebacker
Dontavis Sapp
said. "They're the No. 2 team in the country, but who cares? It's just a number."
The Vols have lost 16 straight games to nationally ranked foes and last won against a ranked opponent in 2009 (No. 21 South Carolina). Overall, they've lost 22 of their last 23 games against ranked teams going back to the beginning of Phillip Fulmer's final season in 2008.
It's been a long, hard fall on Rocky Top. But regardless of what happens this Saturday on the West Coast, there's real hope about the future.
"I think it can definitely shed some light on us and how we've progressed from maybe last year to this year," Tennessee junior quarterback
Justin Worley
said.
Simply slowing down Oregon will be a monumental task for the Vols, who forced seven turnovers last week against Western Kentucky. The Ducks have scored 125 points, racked up 57 first downs and totaled 1,329 yards (on just 140 plays) in their first two games.
Not only are they super productive, but they run their offense at the speed of light.
The Ducks have run one play every 17 seconds this season and have had at least seven touchdown drives that have lasted two minutes or less in each of their first two games.
"They're going to make their plays. That's what they do," Tennessee linebacker
Brent Brewer
said. "We just can't let one turn into several."
One of the things that has been so disheartening for Tennessee fans over the last few years is that the Vols have tended to wilt in tough situations or whenever they found themselves on the wrong end of a big play.
As much as anything, Jones wants to see how this team responds when things don't go well, not only this Saturday, but over the next several weeks.
After the trip to Oregon comes a trip to Florida, and Georgia, South Carolina and Alabama are also on the docket before the end of October.
"It's going to be a great challenge, but we'll find out more about where we're at," Jones said. "It is what it is, but we need to focus on preparation for this week and playing winning football.
"You look at the overall nature of our schedule this year. Like I told you, some people said it's the most difficult schedule in the history of college football, and that's why I keep talking about competing for ourselves, championship habits, focusing on the process and being able to stand and persevere and show great resiliency."
August, 8, 2013
Aug 8
9:00
AM ET
There's no substitute for talent, experience and depth on the offensive line. Great offensive lines have a way of making ordinary skill players look a lot better than they are.
The jury is still out on what kind of firepower Tennessee will have on offense this season after losing their top four pass-catchers from a year ago and their starting quarterback, but the Vols should be plenty stout up front. That's always a good place to start in this league, which leads us to our latest number as we count down the days to kickoff:
123
.
Butch Jones takes over a Tennessee program that has suffered through three straight losing seasons, and while there are glaring question marks at several different positions, the offensive line isn't one of them. In fact, it's hard to find a more experienced offensive line anywhere in college football entering the 2013 season. Four full-time starters return up front for the Vols, and all four are likely to play in the NFL. Counting everybody, Tennessee returns 123 career starts on its offensive line. Only Texas returns more. Senior right tackle Ja'Wuan James is the "old man" of the group. He's started in every game of his college career (37) since his true freshman season in 2010. Senior right guard Zach Fulton is right behind him with 28 starts, while senior center James Stone has 27 starts. Senior Alex Bullard, who started his career at Notre Dame, slides in for Dallas Thomas this season as the starter at left guard. Bullard has 14 career starts. Junior Antonio "Tiny" Richardson is the most talented of the bunch and returns at left tackle after starting in all 12 games last season. Richardson is a future first-rounder and will likely come out after this season. The Vols are still trying to build depth, although junior Marcus Jackson started in five games at left guard in 2011. Third-year sophomore Kyler Kerbyson would probably be the seventh man in the rotation. Tennessee led the SEC with only eight sacks allowed last season, which was 10 fewer than the next closest team. The challenge was becoming more physical in the running game, and the Vols are eager to prove that they can knock people off the ball as well as they can protect the passer. It's not going to be easy in Jones' first season. Simply making it to a bowl game would be a coup. If the Vols are going to get there, they'll do so with their big, talented (and experienced) offensive line clearing the way.
April, 5, 2013
Apr 5
3:34
PM ET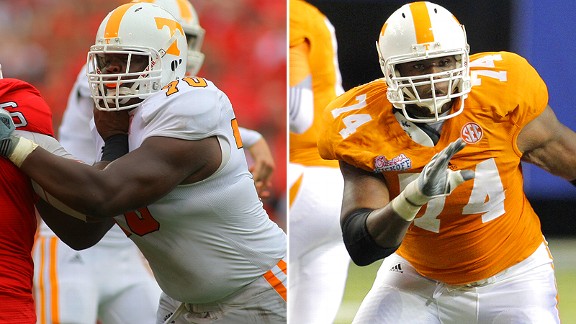 Icon SMI Ja'Wuan James and Antonio Richardson are arguably the best set of offensive tackles in college.
Lost in the fallout from Tennessee's third straight losing season a year ago was an offensive line that jelled and had few peers when the season ended.
It's an offensive line that pretty much returns intact in 2013 and will be flanked by a pair of tackles oozing with talent and poised to play for a long time in the NFL.
Ja'Wuan James
and
Antonio Richardson
are the Vols' "Pillars of Protection," and they form what is arguably the best returning tackle tandem in college football.
The 6-foot-6, 325-pound Richardson, who's known as "Tiny" around Rocky Top, doesn't think there's much argument to it -- and he's felt that way for a while.
"Even last year, I felt like we were the best tackle combo," Richardson said. "I know Texas A&M had the hype (with
Luke Joeckel
and
Jake Matthews
), but I really feel like me and Ja'Wuan can be two of the best tackles in the country. I just have that much confidence in us. And not just us, but I have a lot of confidence in my whole O-line as well."
Senior
Zach Fulton
returns at one of the guard spots and senior
James Stone
at center. Both figure to be in NFL training camps next year. The only starter lost was guard
Dallas Thomas
.
Alex Bullard
and
Marcus Jackson
are fighting for that spot this spring.
Richardson, who will be a junior, is a virtual lock to go in the first round of the NFL draft if he chooses to come out next year. James, a rising senior, looked into leaving early this year, but decided to stay. He might not be a lock to go in the first round, but it's difficult to see him lasting past the second or third round.
"Last year, I thought all the work we put in showed," said the 6-foot-6, 323-pound James. "We played a lot better, but there's definitely another level. This year, we want to put it all together, because when you don't win, it's sort of hollow.
"That's the legacy we want to leave, getting this program back to winning games."
James has been a starter at right tackle since the day he walked onto campus. He's started in 37 consecutive games. Richardson moved into the starting lineup last season at left tackle and more than held his own against some of the top pass-rushers in the league, namely Georgia's
Jarvis Jones
and South Carolina's
Jadeveon Clowney
.
As a unit, the Vols finished fifth nationally last season with only eight sacks allowed in 12 games. They also improved their rushing totals by an average of 70 yards per game.
But it was the one sack that Richardson gave up last season that has festered.
Tennessee was driving for the potential game-winning touchdown in the final minutes against South Carolina on the road. It was just the kind of win over a nationally ranked team that Tennessee desperately needed after losing their first four SEC games.
[+] Enlarge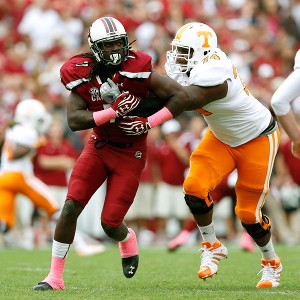 Joe Robbins/Getty ImagesAntonio Richardson, right, is looking forward to his next opportunity to square off with Jadeveon Clowney.
Clowney had been quiet all day. But with a little more than a minute to play, Clowney shot past Richardson on the outside and blasted Tennessee quarterback
Tyler Bray
from behind, forcing a fumble that the Gamecocks recovered to seal their 38-35 win.
Richardson has rewound that one play over and over again in his mind, and every time he does, it only drives him harder.
"The thing is, Jadeveon Clowney is a great player, and I have the utmost respect for him,"Richardson said. "He's the best defensive player in the country, maybe even the Heisman winner. But that last play has stayed in my head. It was everything I did, a technique flaw by me, and he took advantage.
"ESPN and all the media are going to magnify it. That's all they see. They don't see everything else that was done in that game. I'm just working on being 100 percent so I can show everybody that I am the elite left tackle in this conference."
He has Clowney's vote.
"He's one of the best I've faced, him and (Michigan's
Taylor Lewan
)," Clowney said. "What makes him so good is that he never quits and has an attitude about himself that he wants to be great. He came out the first play of the game and said, 'I don't want nobody but Clowney.' I told him that I liked that about him."
Richardson has been limited this spring after having his knee scoped during the offseason. He's down to 325 pounds and wants to play a little lighter next season, especially with the Vols going to a faster-paced offense under first-year coach Butch Jones.
"We're going to be moving pretty fast," said Richardson, who only has 16 percent body fat. "The other thing for me is knowing what I'm seeing out there on the field on every play, being more of a student of the game. Not only for myself, but so I can help the younger guys out there."
With a new quarterback and a new group of receivers, the burden next season will fall on Tennessee's offensive line more than ever.
James, who's playing for his third different offensive line coach at Tennessee, wouldn't have it any other way.
"Everybody says we got questions at receiver and questions at quarterback," James said. "As an offensive line, we put it on our shoulders to lead the team and help bring everybody else up. It always starts up front. That's never going to change.
"If we play the way we're capable of, there's no telling how far we can go."
Don Mahoney, who came with Jones from Cincinnati to coach Tennessee's offensive line, loves the talent he inherited. But there are a few intangibles about this group that he loves just as much.
"Without a doubt, they're blessed with some physical talent, but when they make a mistake, they know what that mistake was," Mahoney said. "We're blessed with guys who have talent and are smart, and they also have an edge to them. In their minds, they haven't proven anything because they haven't won enough."
Richardson is careful not to get too ahead of himself, but he doesn't need a calendar to know when he gets another shot at Clowney.
"It's one game at a time," Richardson said, his voice trailing off. "But believe me. When it's time to go up against Jadeveon Clowney, I'll be mentally and physically ready."
August, 29, 2012
8/29/12
11:10
AM ET
Tennessee's offensive linemen don't need any refresher courses. They know the numbers by heart.
A year ago, there were only four FBS teams that were worse at running the football than the Vols, who finished 116
th
nationally in rushing offense with an average of 90.1 yards per game.
Even worse, they managed just 2.76 yards per carry, which was good enough to finish ahead of only Memphis and Miami (Ohio) nationally.
Part of the problem was that Tennessee never fully committed to running the football. When quarterback
Tyler Bray
was healthy, the Vols were content with throwing the ball all over the place.
[+] Enlarge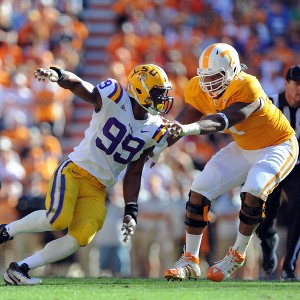 Cal Sport Media via AP ImagesDallas Thomas, 71, and the Tennessee offensive linemen plan to be much more physical this season.
There were also limitations at running back. The thumb injury to Bray in the fifth game was another factor and made the Vols much easier to defend, but much of the blame for their ineptitude on the ground was placed squarely on the offensive line.
"The tough times are over, but we learned from those tough times," said senior
Dallas Thomas
, who's sliding inside to left guard this season to make room for promising 6-foot-6, 328-pound sophomore
Antonio Richardson
at left tackle.
"This is something everybody on the offensive line has been talking about, coming out and showing everybody what we're really about. We want to be the type of line that can run the ball on anybody. Like I said, we got those growing pains out of the way, and it's time to roll."
For most of the past two seasons, the Vols were simply trying to survive up front. Right tackle Ja'Wuan James, right guard
Zach Fulton
and center
James Stone
were all thrown into the fire as true freshmen. Thomas has also been starting since he was a sophomore.
Nobody ever doubted this group's talent. Out of high school, they were all big-time recruits, and they're all on the radar of NFL scouts. They all weigh 300-plus pounds and are equally athletic. Richardson said he, James, Fulton and Thomas can all dunk a basketball, although Richardson proudly takes credit for being the most explosive dunker of the bunch.
"We know we've got everything it takes to be a dominant offensive line," said Richardson, who's known as "Tiny" to his teammates. "You can't be dominant unless you're physical, and that's an element of our game that we've been working on since the spring.
"There's just a different swagger with us, and you can see it in the way guys are walking around and see it in guys' eyes. The offensive line put that chip on our shoulder this spring, and we haven't let up. I believe it's going to pay big dividends this fall in running the ball, and it starts Friday night."
The Vols open the season Friday against NC State in the Chick-fil-A Kickoff Game at the Georgia Dome.
Saying it's a pivotal game for Tennessee coach Derek Dooley and the program is akin to saying that knowing how to play "Rocky Top" is important for the Pride of the Southland Band.
On the heels of back-to-back losing seasons, this is a game that could send Dooley on his way to a breakthrough season in his third year on the job, but it's also a game that could go a long way toward sending him packing if the Vols stumble in Atlanta.
So much of Tennessee's fortunes in 2012 will ride on its offensive line and whether or not the Vols can generate a running game, which is exactly the way the guys up front want it.
After all, they were excellent in pass protection last season and allowed just 18 sacks in 12 games, tying for second in the SEC. But when you can't make third-and-short and can't get the tough yards, nobody remembers how few sacks you allowed.
"We want the team to depend on us. We want to be the ones who get the wheels on this bus rolling," said Thomas, part of a Tennessee offensive line that now has 106 combined career starts.
It's no coincidence that the six straight national champions from the SEC have all averaged at least 160 rushing yards per game. In fact, the past five national champions have averaged 214 or more yards per game on the ground.
The Vols' offensive linemen aren't predicting they'll go from 90 yards to 200 yards per game, but they are predicting a more consistent running game and a more explosive running game to go along with a passing game that should be plenty potent even without dismissed All-SEC receiver Da'Rick Rogers.
Junior running back
Rajion Neal
has looked like the complete package during preseason camp, and another big change has been first-year offensive line coach Sam Pittman. His personality and approach to the game have seemed to be a better fit for this group.
"The guys just feel like they can relate to him," Richardson said. "You can walk up to his office and talk to him about anything outside of football, and he also has a way of getting onto you and making you better, but he doesn't put too much pressure on you."
Pittman, who was with Butch Davis for five seasons at North Carolina, said he's simply been himself.
"When you're honest with them and don't lie to them and let them know you care about them, I think anybody can get the most out of the players," Pittman said. "That's all I've done, and it seems to have worked out well."
Pittman is as eager as anyone to see how it all shakes out Friday in Atlanta.
"I'd be lying to you if I said it hasn't gone well this preseason," Pittman said. "That being said, we haven't played anybody yet. But they're willing, and they're athletic. If you're physical and athletic, then you've got a chance to be pretty good.
"We're athletic, and we'll see Friday if we're willing to play physical or not. I think we will, but we have 12 regular-season games to test that."
June, 17, 2011
6/17/11
9:30
AM ET
The big uglies up front on the offensive side are our focus today. There are some quality veterans out there, but teams all across the league are looking to replace some quality linemen in the trenches.
Here's how we see the league stacking up:
[+] Enlarge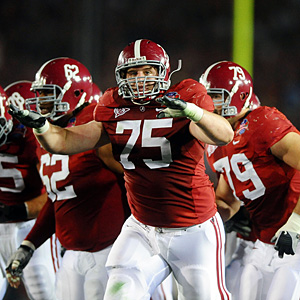 Mark J. Rebilas/US PresswireBarrett Jones has been one of the mainstays of Alabama's offensive line the past two seasons.
1. Alabama:
Four of Alabama's five linemen from a year ago return, making this one of the team's strongest units. The returners have combined for more than 70 starts at Alabama. Barrett Jones is the star of the show. The junior has been the Tide's starting right guard each of the past two seasons, but took reps at left tackle and could be asked to move. William Vlachos is back at center and could be the best at his position in the league. Fellow starters D.J. Flucker and Chance Warmack are back and took reps at left tackle this spring.
2. Ole Miss:
The Rebels' offense isn't getting much respect this offseason, but its offensive line returns All-SEC candidates in tackles Bradley Sowell and Bobby Massie. Seven of Ole Miss' linemen started two or more games each on the offensive line in 2010. Last season, the Rebels were first in the league in sacks allowed, giving up just 14. Alex Washington should stay at left guard after starting eight games there and A.J. Hawkins will likely get the nod at center after playing eight games there as well. Arkansas transfer Matt Hall will compete for time at center.
3. LSU:
Joseph Barksdale might be gone, but the Tigers have a very talented group of linemen returning. Tackle Alex Hurst seems primed to be a star in the league and senior Josh Dworaczky is arguably the Tigers' top lineman with 25 career starts. Patrick Lonergan is solid at center, while T-Bob Hebert is valuable at both center and guard. Sophomore Chris Faulk has the tough assignment of replacing Barksdale, but made quite the impression on his coaches this spring.
4. Kentucky:
The Wildcats return four starters on their line. Right guard Larry Warford headlines the group after gaining second-team All-SEC honors a year ago. Kentucky also returns two-year starter Stuart Hines at left guard and Matt Smith at center, who was solid in his first year there. Left tackle Chandler Burden missed spring practice, but is expected back by fall practice. Finding a suitable right tackle is the next step for Kentucky.
5. Tennessee:
This group could be one of the most impressive units for the Volunteers this season. It's deeper and more experienced in Derek Dooley's second year and he was very pleased with its performance this spring. Junior Dallas Thomas is solid at left tackle, and sophomore Ja'Wuan James really came on strong in his first year and is one of the top linemen in the SEC. James Stone also returns at center. The surprise of the group was true freshman Marcus Jackson, who held down the left guard spot for most of the spring.
6. Mississippi State:
The Bulldogs must replace All-American left tackle Derek Sherrod, but most of the line is somewhat on point. Center Quentin Saulsberry will anchor the line and is versatile enough to play just about every position on the line. Left guard Gabe Jackson and right tackle Addison Lawrence return and the Bulldogs will have junior Tobias Smith lining up at right guard. Blaine Clausell and James Carmon, who moved from defensive tackle, will compete at left tackle.
7. Georgia:
This was supposed to be one of the strongest offensive line units in the league, but the Bulldogs lost tackle Trinton Sturdivant to a season-ending knee injury this spring and fellow tackle A.J. Harmon transferred. Georgia's most-reliable options are Cordy Glenn, who moved from guard to left tackle and Ben Jones at center. Kenarious Gates is at left guard, but he's athletic enough to play tackle if needed. Former defensive lineman Justin Anderson will start off at right tackle. Right guard is the next area of business and the depth all around is a problem.
8. South Carolina:
The Gamecocks have questions here, but there is talent across the line. Rokevious Watkins is one of the most talented guards in the league and he'll be assisted by returning starter at center T.J. Johnson. Senior Kyle Nunn has made strides at left tackle and redshirt freshman A.J. Cann took over duties at left guard this spring. Still, the younger linemen will be counted on to contribute this fall.
9. Arkansas:
The Razorbacks must replace three starters on the offensive line. Center Travis Swanson and left guard Alvin Bailey are the only returning starters. Just a sophomore, Bailey impressed his coaches last season and will be one of the top linemen in the league this fall. After that, the Hogs will have to turn to youth for help. True freshman Brey Cook could be thrust into the starting role at right tackle, while sophomore Anthony Oden could get the job at left tackle.
10. Florida:
Florida's offensive line struggled throughout the 2010 season -- and that was with a senior-laden group. This fall, the Gators will start over with a ton of inexperience. Right guard Jon Halapio and right tackle Xavier Nixon are the only returning starters. Halapio struggled at times last season and Nixon battled injuries. Florida's line spent most of the spring in the infirmary, so little is known about the overall talent. Freshman Chaz Green left spring as the starter at left tackle, Jonotthan Harrison will battle former Notre Dame lineman Dan Wenger at center. He transferred in after spring, but has health concerns.
11. Auburn:
The Tigers will go from having one of the top offensive line groups in the country to having a major work in progress in 2011. Senior Brandon Mosley is the lone returning starter, and while he was solid on Auburn's line last season, he came from junior college as a defensive end/tight end. The good news is that tackle A.J. Greene should be fine this fall after sustaining a season-ending leg injury last year. The rest of Auburn's linemen are very young and inexperienced. Don't expect many redshirts from this group.
12. Vanderbilt:
The Commodores might return all five starters, but this unit had trouble keeping things together last year. The offense needs this group to improve mightily. Wesley Johnson is Vanderbilt's best option, despite only being a sophomore at left tackle. There will be size on the right side, with 300-plus pounders Kyle Fischer and Ryan Seymour over there. Simply put, this unit has the experience, but it requires a lot of improvement.
June, 7, 2011
6/07/11
9:27
AM ET
One of the most telling indicators going into a season is offensive line experience.
A year ago, Auburn's five projected starters up front had 108 career starts, which was second in the SEC. That veteran offensive line was a huge key in the Tigers winning the national championship.
Then again, offensive line experience doesn't guarantee anything, either. Georgia went into last season with a combined 127 career starts among its five offensive linemen. The Bulldogs returned four players with more than 20 career starts in the offensive line, but wound up suffering through their first losing season since 1996.
As we look ahead to the 2011 season -- and thanks to
Phil Steele for doing the legwork
-- Alabama leads the way in the SEC with 90 career starts returning on its offensive line.
The SEC doesn't have any teams in the top 20 nationally when it comes to offensive line experience. Alabama is tied for No. 23 with Utah State. Senior center William Vlachos and junior guard Barrett Jones, who's expected to shift to left tackle, have combined for 52 of those 90 starts for the Crimson Tide.
Here's a look at where the SEC offensive lines rank nationally in career starts entering the 2011 season:
T-No. 23: Alabama (90)
T-28: Georgia (86)
T-37: Mississippi State (80)
T-41: LSU (78)
T-43: Kentucky (77)
T-43: Ole Miss (77)
T-56: South Carolina (70)
T-60: Vanderbilt (68)
T-89: Tennessee (50)
T-94: Arkansas (49)
T-111: Florida (27)
No. 118: Auburn (15)
A few things of note about the guys up front this coming season in the SEC:
Kentucky returns perhaps the best guard tandem in the league in senior Stuart Hines and junior Larry Warford.
Alabama's Barrett Jones is the best overall offensive lineman in the league, but will likely be playing a new position. Jones is expected to move from right guard to left tackle.
There's no shortage of talented centers in the SEC. Seven are on the 2011 Rimington Trophy spring watch list -- Ole Miss' A.J. Hawkins, South Carolina's T.J. Johnson, Georgia's Ben Jones, LSU's P.J. Lonergan, Kentucky's Matt Smith, Arkansas' Travis Swanson and Alabama's William Vlachos.
Tennessee has three players returning -- tackle Ja'Wuan James, guard Zach Fulton and center James Stone -- who combined for 26 starts last season as true freshmen.
September, 17, 2010
9/17/10
11:35
AM ET
The rage this season in college football has been the young guys, the fresh faces, the stars of the future.
My colleague at ESPN.com, Ivan Maisel, wrote about the
youth movement
this week, and Bruce Feldman of ESPN The Magazine selected the
10 most exciting young stars
(freshmen or sophomores) in college football.
Making Feldman's list from the SEC were South Carolina running back
Marcus Lattimore
at No. 3 and Alabama running back
Trent Richardson
at No. 6.
If I were picking the SEC's most exciting and/or promising young stars two weeks into the season, here's what my top 10 list would look like. I only considered players who'd been on campus for two years or less, which rules out third-year sophomores:
1. Trent Richardson, RB, Alabama:
Simply, he's the best first- or second-year player in the league with an equal blend of explosion and power that all the great running backs have. If he were getting the ball 20 times a game, he'd be a 1,600-yard rusher.
2. Marcus Lattimore, RB, South Carolina:
" … driving and running with those big thighs. My God, a freshman!" OK, maybe it is a little early for the Herschel Walker comparisons, but it's hard to find a better SEC debut for a true freshman running back than what we saw from Lattimore last week against Georgia.
3. Russell Shepard, WR, LSU:
He's touched the ball 16 times in the Tigers' first two games and has three touchdowns, two of those touchdown runs of 30 yards or longer. When you get him the ball in space, few players in this league are any more dynamic.
4. Alshon Jeffery, WR, South Carolina:
While he might not be quite as fast as
Julio Jones
, Jeffery is even bigger at 6-4 and nearly 230 pounds and is a tackle-breaking machine when he catches it. He's averaging 104.5 receiving yards per game, which ranks him second among the SEC leaders.
5. Ja'Wuan James, OT, Tennessee:
It's still early, but the 6-7, 313-pound true freshman is the best young offensive line prospect in the league. He's been a starter at right tackle basically from the time he walked onto campus and is the kind player you build an entire offensive line around.
6. Stephon Gilmore, CB, South Carolina:
Even though he's yet to put up big numbers, Gilmore has already established himself as one of the elite cornerbacks in the SEC. He's also going to get a few more chances in the Wildcat package at quarterback, and here's betting he breaks a punt return for a touchdown, too.
7. Dre Kirkpatrick, CB, Alabama:
Physically, the 6-3, 190-pound Kirkpatrick is exactly what you're looking for in a cornerback. He also has the speed, ball skills and confidence to go with that size. It's hard to imagine him not being the next great corner at Alabama.
8. Mike Dyer, RB, Auburn:
We might see the Tigers fully unleash Dyer against Clemson on Saturday. We've seen the prized true freshman in doses the first two games, and his talent is obvious. Dyer has carried it 23 times and averaged 6.2 yards per carry. He's only going to get better the more he gets the football.
9. Sam Montgomery, DE, LSU:
He was the guy they couldn't quit talking about on the Bayou during spring practice, and the redshirt freshman has delivered so far this season. He has two sacks in his first two games and is a blur when it comes to getting to the quarterback.
10. Jon Bostic, LB, Florida:
There's a ton of young talent on this Florida defense, and Bostic is right there at the top. The Gators' sophomore middle linebacker is second on the team with 11 tackles and also has an interception through two games. He was the leading freshman tackler on the team a year ago.
Five more to watch the rest of this season, in alphabetical order:
Chad Bumphis, WR, Mississippi State
Sharrif Floyd, DT, Florida
Jelani Jenkins, LB, Florida
Byran Jones, DT, Arkansas
Aaron Murray, QB, Georgia
TOP 25 SCOREBOARD
Saturday, 12/21
Monday, 12/23
Tuesday, 12/24
Thursday, 12/26
Friday, 12/27
Saturday, 12/28
Monday, 12/30
Tuesday, 12/31
Wednesday, 1/1
Thursday, 1/2
Friday, 1/3
Saturday, 1/4
Sunday, 1/5
Monday, 1/6