August, 18, 2014
8/18/14
10:30
AM ET
»
More team previews:
ACC
|
Big 12
|
Big Ten
|
Pac-12
|
SEC
Previewing the 2014 season for the
Syracuse Orange
:
Key returners:
QB
Terrel Hunt
, RB
Prince-Tyson Gulley
, WR
Ashton Broyld
, LT
Sean Hickey
, LG
Rob Trudo
, DT
Eric Crume
, LB
Dyshawn Davis
, LB
Cameron Lynch
, CB
Brandon Reddish
, S
Durell Eskridge
Key losses:
RB
Jerome Smith
, C
Macky MacPherson
, LB
Marquis Spruill
, DT
Jay Bromley
, CB Ri'Shard Anderson, S Jeremi Wilkes
Most Important 2014 games:
Sept. 27 vs. Notre Dame (in East Rutherford, New Jersey), Oct. 3 vs. Louisville, Nov. 8 vs. Duke, Nov. 22 at Pitt, Nov. 29 at Boston College
Projected win percentage (from ESPN Stats & Information):
51 percent
Over/under Vegas odds:
5.5
[+] Enlarge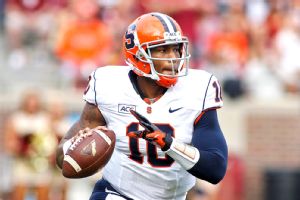 AP Photo/Phil SearsTerrel Hunt passed for 1,638 yards and 10 touchdowns last season. He added another 500 yards rushing with seven touchdowns on the ground.
Instant impact newcomer:
John Miller
best fits this bill, as he is a junior college transfer who saw just limited time last season, his first with the Orange. Now the former Los Angeles Harbor College player looks to build off a spring that saw him emerge as one of the team's most improved players and as a leader on offense. Miller is the front-runner to start at center for Syracuse and should allow others around him to stay in their natural positions.
High point from 2013:
Terrel Hunt hit
Josh Parris
for an 8-yard touchdown pass with six seconds left in the regular-season finale to top rival Boston College 34-31 and earn win No. 6. This was a major boost for Syracuse, which ended up beating Minnesota in the Texas Bowl to finish 7-6 in Year 1 of both the Scott Shafer and the ACC eras. It might have been a watershed moment for Hunt, too, as he enters 2014 looking to take the next step as a leader of this offense.
Low point from 2013:
Losing big to heavyweights Florida State and Clemson is one thing. But a 56-0 loss at Georgia Tech, a team that went just 7-6 and enters 2014 with major questions, is pretty much inexcusable. It stands out even more considering the Orange entered the game coming off a win at NC State and won two straight contests right after the Atlanta trip. (It also stands out after Shafer made his thoughts known about Atlanta winters, and
after the Twitterverse replied as the Twitterverse is wont to do
.)
Best-case scenario for 2014:
Hunt evolves as a passer and as a runner, orchestrating an offense that has made it known it would like to push the tempo in 2014. Unlike last year, the Orange enter the season knowing who their No. 1 quarterback is, and that proves beneficial as they race out to an early 3-0 start. The front seven steps up and Syracuse is able to steal a win during a tough three-game stretch against Notre Dame, Louisville and Florida State, emerging on the other end ready to tackle a final month that concludes with road contests at former Big East foes Pitt and BC. Syracuse improves in Shafer's second season, hitting his goal of at least eight wins, and the future looks bright for a program looking to emerge as a legitimate No. 3 team in a top-heavy Atlantic division behind FSU and Clemson.
Worst-case scenario for 2014:
Hunt struggles to command the offense with more responsibility, the defense can't seem to make up for the loss of Bromley up front and the Orange get eaten alive by a tough schedule. A trip to Wake Forest provides a reprieve during a five-game stretch that features the aforementioned teams above plus Clemson on the other end. No matter, though, as a physically beaten team staggers into the final month with only NC State as a winnable game. Syracuse wins four games, its worst season since Doug Marrone's inaugural 2009 campaign.
They said it:
"I was happy with the way we finished the season. I thought both Terrel [Hunt] and the wide receivers did a nice job finishing up with the victory over Minnesota in the Texas Bowl, but we need to take it to the next level to get to the next level. We're always going to really work hard to run the football. I believe in running the football, I believe in stopping the run. I think that's where it starts with our philosophy. But in this day and age, you've got to be able to open it up, and we put the onus on our passing game, our wide receivers, to take their game up." -- Shafer, on the passing game becoming more explosive
July, 29, 2013
7/29/13
3:30
PM ET
Syracuse defensive tackle
Jay Bromley
goes into his third year as a starter as the most proven player the Orange have on the defensive line.
[+] Enlarge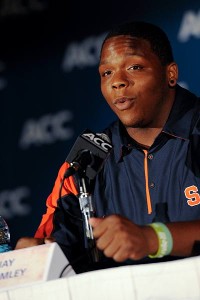 Sam Sharpe/USA TODAY SportsSyracuse defensive tackle Jay Bromley has multiple sources of motivation, one being that he's always "been under the radar."
Yet Bromley feels he has not proven enough.
Last season, Bromley says he never was fully 100 percent. An ankle injury forced him to miss all of fall camp. Then midway through the season, he hurt his other ankle and knee. Bromley played through the injuries and appeared in every game, notching 39 tackles, including 2.5 sacks and 5.5 tackles for loss.
But he knows he can do so much more.
That is why Bromley is extra motivated going into this season. Now fully healthy, Bromley wants to show the players in his new league what he can do, while also making a bigger name for himself.
"I've always been under the radar," Bromley said. "I never had a scholarship offer, so when I don't have things it's nothing to me. I never had it. So it's like when I do pop up and you see me, you're going to know who I am. I know my teammates respect me. I know I'm going to work hard to make sure the rest of the world respects me."
Bromley said he made it through last season thanks to his mental toughness, and knowing his team needed him. When the season ended, he submitted his name to the NFL draft advisory board but did not get the answers he wanted.
So he re-dedicated himself this offseason.
"Do I feel like I can play at the next level? Yes, I feel like I could play at the next level if I had left last year," Bromley said. "But I need to be better to better prepare myself so I can put me, myself, my family in a better position for me to do that."
What did he specifically work on to get better?
"Everything," Bromley said. "Nothing is shiny enough for me not to polish it, my hands, my footwork, my pad level, getting off blocks -- everything needs to be improved for me to make a big enough impression for me to be as high as I want to be."
That, of course, is the first round.
"If you think any lower, then why are you thinking?" he said. "When the cards fall where they may, if you drop any lower but shoot for the moon. If you miss, you're still among some stars."
November, 2, 2012
11/02/12
9:59
AM ET
Time for my choice as the Big East player to transform tomorrow with a big performance in Week 10.
How about Cincinnati running back/all-purpose player
Ralph David Abernathy IV
?

You have heard me talk all week about the huge matchup between the Syracuse run defense and the Cincinnati run offense. While
George Winn
has done an excellent job as the featured back, coach Butch Jones said this week the plan is to get Abernathy more involved in the run game against the Orange.
Abernathy ranks No. 2 in the Big East in all-purpose yardage with 145.1 yards per game. But the most carries he has had in a game is 10, set last week against Louisville. Winn had 26 carries in that game, and is averaging about 18 carries per game. That is more than double what Abernathy is averaging.
"We are going to be seeing more of him this week and we've challenged him this week in pass protection," Jones said. "He will be seen more as an every down running back this week in terms of pass protection. We have done a great job of being able to play to his talents, get him the ball, create space for him and we are going to challenge him this week to be more of a running back, not just a runner and specialty player."
Abernathy and Winn are different players, so they could definitely be used to complement each other. And Abernathy can be effective in the passing game as well.
"You'll see both of them but also you'll see Ralph Abernathy, we are going to move him out on the perimeter of our offense, so you'll see him lined up at our X or Z position and that is the great thing when we talk about the intangibles of a great football player is knowledge is power," Jones said. "He knows our entire offense and knows every single position spot, he even knows the tight end position, knows everything from the running back position so we have the luxury now of being able to really move him around from our X position to our Z position to the running back position. He will be seen more in that regard but he'll split carries with George Winn."
Also note that Syracuse might be without starting defensive tackle
Jay Bromley
, who will be a game-time decision Saturday. That would be a big blow for a Syracuse front that faces a huge challenge this weekend.
October, 19, 2012
10/19/12
11:00
AM ET
UConn coach Paul Pasqualoni probably figured he fielded every question about Syracuse last year, when he played his former team for the first time.
But the queries came en mass once again this week, now that Pasqualoni is actually returning to Syracuse for the first time since he was fired in 2004. Pasqualoni, always good for a quip, did not want to buy much into the story line journalists were trying to feed him, saying bluntly, "This is business. We're not going up to Central New York to pick apples and ride on the hay wagon. My focus and all I can see is getting ready to play this game."
As he should. His Huskies (3-4, 0-2) are struggling on offense right now, and will be facing a suddenly resurgent Syracuse defense in a nationally televised game Friday night. The seat has grown warm for both Pasqualoni, now in his second year with the Huskies, and fourth-year Syracuse coach Doug Marrone over the last several weeks.
They have similar issues to work through in this game. For starters, neither team is very good at holding on to the football. UConn has a turnover ratio of minus-7. That would be significantly worse had its defense not taken the ball away nine times. The Huskies lead the Big East with 16 giveaways.
Syracuse, meanwhile, is at minus-10 in the turnover department and has had a difficult time creating turnovers of its own, with only five on the season. That was evident last week against Rutgers, a game in which the Orange (2-4, 1-1) turned the ball over four times and did not get a takeaway. Marrone has repeatedly said his message to his team is to take care of the football. But that message seems to fall on deaf ears each week.
"I'm not going to lie to you. My frustration level is extremely high because it's really what's hurting this team," Marrone said this week. "It doesn't give you a chance. Since I've been here, we have 24 losses, we're minus-30 in turnover margin. In 19 wins, plus-12. I don't think it's rocket science.
"It's on everyone, not just one player. We have to have a heightened intensity to make sure we protect that football, schematically put them in positions where things are clean for them. Defensively, we have to create some turnovers, special teams can't have a turnover. All three phase have to help in that category. It's a team category and for our team here, that's been the problem. People talk about scheme, people talk about players, people talk about coaches. Those are the most telling numbers of this football team. When we can correct that, we'll win a whole lot more than we lose. I believe that."
Though Marrone has not gotten as many takeaways as he would like, the defense is playing better overall. Syracuse has held its last two opponents under 100 total yards rushing, and made sure Rutgers running back
Jawan Jamison
failed to rush for 100 yards for the first time this season. In the last three games, Syracuse is giving up an average of 72.7 yards on the ground and 15 points on defense (Rutgers had a special teams score), with five offensive touchdowns.
"We give other teams credit for beating us, but we feel we've left a lot on the table," Syracuse defensive tackle
Jay Bromley
said in a phone interview. "Whether it's not picking up ball, not catching picks, not getting sacks. We need to focus on getting better at all those things."
April, 12, 2011
4/12/11
8:56
PM ET
SYRACUSE, N.Y. -- Some observations after attending Syracuse's 13th practice of the spring on Tuesday (if there are any typos, it's because I spilled Dinosaur Bar-B-Que sauce on my keyboard):


With the spring game on tap Saturday, the Orange did quite a bit of scrimmage work in a somewhat-abbreviated practice. The defense had the upper hand at last weekend's scrimmage and kept that going on Tuesday. The offense did well in some short-yardage work, but the defense dominated in goal-line and two-minute drills. That's notable, given that the offense returns far more starters than its relatively young counterparts on the other side of the ball. Doug Marrone said the offense had "some lingering bad taste" from Saturday's performance.
Of course, the offense might have had a better day if Marcus Sales had caught a ball that deflected off his hands on fourth-and-10 from about midfield in the two-minute work. Sales said afterward that he would have caught that in a game. And the best news, at least for the offense, is that he was able to get behind the defense in such an obvious passing situation.
Sales looked good the rest of the practice and seems to be carrying over his big Pinstripe Bowl performance. The receivers have a little more depth with him, Alec Lemon and Van Chew, who isn't fully healthy yet. Jarrod West looks like he can be a solid possession receiver. Dorian Graham is fast but still has trouble catching the ball.
You don't hear much anymore about a quarterback competition. Ryan Nassib is the obvious starter and showed some nice skill in a couple of play-action bootleg passes to tight end Nick Provo. Nassib probably isn't going to wow you, but he's solid and there's no one really pushing him for playing time right now. Charley Loeb wold be the backup if the season started today.
Antwon Bailey showed some nice moves as Syracuse really focused on running the ball during most of the scrimmage portions. He got around the corner a couple of times and flashed good shiftiness between the tackles. I have questioned whether or not the 5-foot-8 Bailey could hold up as an every-down back, but hey, Noel Devine and Dion Lewis have done it in this league. Prince-Tyson Gulley is also coming on. He had maybe the play of the day by the offense when he juked Jeremi Wilkes out of his shoes on a pitch play.
True freshman Dyshawn Davis is currently running first-string at linebacker. Coach Dan Conley spent time giving Davis a lot of extra instruction. Syracuse could be awfully young at linebacker with Davis and true sophomore Marquis Spruill in the middle. Senior Dan Vaughan is trying to hold on to a starting job at the other spot and would give the Orange some experience.
The other big question mark on defense is at the interior line spots. Cory Boatman (256 pounds) and Jay Bromley (273) were manning that position with the first unit on Tuesday. While they had success against a veteran line, they are still undersized for those spots. Marrone said the defensive tackle position probably would be filled by committee this season.
Overall thoughts: The Orange are well-stocked on the offensive line, at defensive end and at safety and will have a veteran quarterback and some potential playmakers at running back. They will need the young guys at linebacker and defensive tackle to really come on, and for the passing game to improve over last year. But it's not unrealistic to consider them a Big East contender in 2011.