NCF Nation:

Jaydon Mickens
April, 24, 2014
Apr 24
4:00
PM ET
SEATTLE -- There's no part of football that Washington wide receiver
Jaydon Mickens
doesn't love.
The grind of practice?
Love it.
The weightlifting when you can't feel your legs?
Love it.
The 5 a.m. wake ups?
Love it.
OK, what about the ice baths?
Ohhhhh.
"The ice baths? I don't know about that one," Mickens said. "That might be one niche in my happiness. Actually, no. When you get out, it's the happiest moment ever because you're feeling so good to get out."
Mickens has been an optimist since he started playing football. Even when he was an offensive lineman (it only lasted two days) or a running back all through Pop Warner, or making the move to wide receiver in high school, he always believed it was for the best.
And through all those changes and years, he always had one goal in mind: There would be no one on the field who would have more fun than he would.
"The stadium changes, the venue changes but it's the same sport -- like Pop Warner," Mickens said. "It's all fun."
On his Pop Warner team in California, the Inglewood Seminoles, it was easy to always have fun. Everyone always played and he was close on and off the field with coach Jamar Applewhite.
[+] Enlarge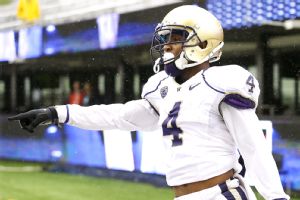 AP Photo/Ted S. WarrenJaydon Mickens made 65 receptions and scored five touchdowns last season for Washington.
Inglewood was never the safest place, and through the years there was plenty that Mickens saw and heard about that wasn't fun. But football? Football was always fun.
Applewhite would use Mickens as his speedometer for the Seminoles. Anytime he put Mickens on the field, players would speed up their games to keep up with him. They'd also increase their energy to keep up with Mickens, and Applewhite saw guys enjoy the game more when they played with Mickens.
Every spring they'd attend USC's spring game together, and Mickens would tell Applewhite how someday he'd play for the Trojans.
"Just wait," Mickens would tell his coach. "I'll be out there."
They'd leave and Mickens and his teammates would go back to Applewhite's house, where they'd play video games. Mickens would tell Applewhite, his Pop Warner teammates, a stranger -- really anyone who would listen -- how someday he'd be in that football video game.
"Just wait," Mickens would say. "No. 4 will be out there."
But those were all goals for down the road. Happiness on the field, on the other hand, was the one that was constant throughout his entire career. He never had to wait to have fun playing the sport he loved.
"He has always loved it, been fanatical about it," Applewhite said. "He loves playing football. That's all he ever talked about."
Eventually, USC came calling, but Mickens had readjusted what he wanted in a college and committed to Washington. And yes, that video game dream happened, too. Applewhite will never forget the phone call he received last spring when Mickens called screaming that he was playing "UW No. 4" in "NCAA Football 14."
As a freshman, Mickens appeared in all 13 games but only averaged 1.5 catches per game.
He could feel that it was taking him a bit longer to catch up to the size of Division I football and at 5-foot-11, he wasn't the biggest guy out there. There were established receivers in front of him on the depth chart. But he was a former track guy, and he had that speed to get him his looks every now and then. But he wanted to be consistent. Playing was fun, but contributing was even better.
In his second year under Steve Sarkisian, he really started to develop. He started 12 games and had his biggest game of the season against Boise State. He tore apart Chris Petersen's Broncos secondary with nine catches for 109 yards.
In his third year with the Huskies, he had plans to really come into his own. But then Sarkisian left for Mickens' former dream school and a new guy -- the guy he had his best game against -- came in and completely changed the Washington program.
"

Guys like that are fun to coach. Jaydon is at the top of the list with that type of energy and spark and spunk and all that good stuff.

"

-- Washington coach Chris Petersen, on WR Jaydon Mickens
The coaching staff was new. The program was different. Players questioned whether they wanted to buy in to what Petersen was selling. Some considered transferring, others didn't.
But Mickens wanted to look at this as optimistically as possible. So he considered it to be professional training. This experience, like so many others, would help him if he makes it to the NFL. Coaches move around on a coaching carousel there, and if he couldn't handle it now, how would he be able to handle it then?
And he listened to Petersen preach about discipline, accountability and integrity. He thought if he bought into those ideals, maybe football could be even more fun because there'd be more of a purpose.
And he went through his first spring with Petersen, coming into his own without any kind of a hitch despite the coaching turnover. Mickens became a guy for Petersen like he was for Applewhite -- a constant, positive force on the field.
"Guys like that are fun to coach," Petersen said. "Jaydon is at the top of the list with that type of energy and spark and spunk and all that good stuff. Football practice is hard, and it can be grinding and boring and those types of things, so you need those personalities to bring some freshness and some fun to practice."
It has been all fun for Mickens and Petersen.
And that's when it strikes him, when he's thinking about Petersen and his previous stop, Boise State.
"Getting hit -- that's not something I like, especially getting hit when you're not looking," Mickens said. "My freshman year against Boise State I got my head knocked off. That was a 'Welcome!' to college football and I was very much so welcomed. I did not appreciate it that day."
So getting hit then? That's not fun?
"Maybe," Mickens paused. "Maybe."
October, 28, 2012
10/28/12
4:02
AM ET
It has to be unsettling for Steve Sarkisian, Justin Wilcox,
Bishop Sankey
and everyone else who rocks the purple and gold. Each game day they wake up and hope
that
team shows up; the one that is resilient, tough-minded, physical and plays with a bit of nastiness. But inconsistencies throughout Washington's 4-4 season have left all of the above questioning exactly which team would show up each week.
Eight games into the season, the personality of the 2012
Washington Huskies
is yet to be defined.
"The personality is we've been schizophrenic," said Wilcox, Washington's defensive coordinator. "Consistency on our part has to improve. We have to continue to find the reasons why. But that's something that's shown up every week. Speaking from our side of the ball, we've played better against certain styles of teams. But at the end of the day it's confidence in your technique and scheme and abilities."
Saturday night at CenturyLink Field --
that
team showed up; the one that punches first and asks questions later; the one that dictates and isn't dictated to. And for the second time this year the Huskies knocked off a top-10 team by topping the No. 7
Oregon State Beavers
20-17
-- prompting another field-storming from the fan base. In fact, it was one month ago to the day that the Huskies stunned No. 8 Stanford 17-13.
But that game also marked the last time they had picked up a victory. A three-game skid followed, including losses to ranked Oregon and USC and blowout loss last week at Arizona. On the south side of .500 and needing to inspire his team, Sarkisian got back to some basics in practice last week with some physical hitting drills usually reserved for fall camp.
"We needed [a victory] for our own well-being," he said. "It wasn't so much about the record, it was for what's inside of us. Pride is a powerful thing. You earn pride. It's not given. We earned it tonight."
Moving forward, slowly but surely, Sarkisian said his team's identity is starting to take shape. And Saturday night was a big step forward.
[+] Enlarge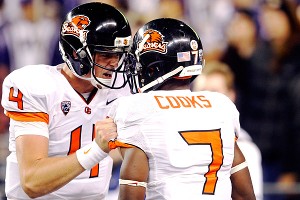 Joe Nicholson/US PresswireSean Mannion started OSU's comeback with a TD to Brandin Cooks, but his four picks were killer.
"I don't doubt our toughness," he said. "What I'm figuring out week after week is the maturity level. Which of our young players is growing up each week? A guy like
Jaydon Mickens
made a couple of plays and started to grow up. I've seen
Kendyl Taylor
start to grow up. Each week I feel like we're getting one more guy and one more guy. That's all going to help shape our personality. Until then, we're going to continue to be a blue-collar, lunch-pail, hard-hat kind of team. And that's OK. You can win that way. It just makes it a little harder."
And Saturday wasn't easy. Sankey rushed for 92 yards and a pair of touchdowns against one of the top rushing defenses in the country while the defense intercepted Oregon State quarterback
Sean Mannion
four times.
"I feel like we have our own personality," Sankey said. "We're continuing to develop that. This past week we had to get down to the nitty-gritty. We're making strides each day, each week. This past week was a big week for us in getting back to the basics -- working hard and hitting. It paid off tonight."
When points were at a premium, the Huskies held a 10-0 advantage at halftime following a 45-yard field goal from
Travis Coons
and a 1-yard touchdown run from Sankey. It was the first time this year that Oregon State (6-1, 4-1 Pac-12) had been blanked in the first half.
"We couldn't get anything going in the first half and we turned the ball over, so it was a two-fold problem," Oregon State coach Mike Riley said. "Then we moved the ball [in the second half] and we still turned it over."
This was Mannion's first game back since having minor knee surgery three weeks ago. And he didn't look good, completing 18 of 34 passes for 221 yards with one touchdown and four picks. Prior to this game, he had four interceptions for the season.
"I think [turnovers] probably will be the thing we regret the most," Riley said. "Having the ball with some opportunities and turning the ball back to them when we had scoring opportunities. As you can see in a game like that, even if one of those opportunities, if one or two would have turned into field goals, it makes a big difference."
It didn't help, either, that
Markus Wheaton
was knocked out of the game after taking a hard hit in the second quarter. Fellow receiver
Brandin Cooks
turned in another sensational performance, catching nine balls for 123 yards with a score.
Mannion was eventually replaced in the fourth quarter by
Cody Vaz
-- who had led the Beavers to a pair of victories during Mannion's rehabilitation. Vaz sparked the offense with a seven-play, 76-yard drive that ended with a 29-yard touchdown pass to
Connor Hamlett
that tied the game at 17-17.
But the Huskies moved the ball to the Oregon State 12 and Coons converted a 30-yard field goal with 1:20 left in the game.
Washington's offensive struggles also continued. The Huskies were outgained 427-293 in total yards. Quarterback
Keith Price
was 18-of-30 for 194 yards with an interception. But winning the turnover battle by a 4-to-1 margin helps.
"At the end of the day, I don't know how pretty it was," Sarkisian said. "We had some penalties and things; that's a good football team, obviously, in Oregon State. I was proud of the character our guys possessed, their ability to preserve with the game could have really started swaying in Oregon State's favor when they notched it up at 10-10. But our defense continually came up with stops."
With four consecutive games coming up against unranked teams, it stands to reason that the Huskies could probably end the year on a five-game win streak.
But then again, no one really knows for sure.
September, 2, 2012
9/02/12
2:21
AM ET
SEATTLE -- Washington's defense forced three turnovers that led to two touchdowns, helping the Huskies hold off San Diego State
21-12 Saturday
at CenturyLink Field.


It was over when:
With 4:50 left in the game, San Diego State went for it on fourth-and-6 from the 8-yard line. Quarterback
Ryan Katz
's pass fell incomplete, giving the ball back to the Huskies.
Game ball goes to:
Will Shamburger
. The junior safety returned a fumble 44 yards for a touchdown -- Washington's only second-half score -- in the third quarter that gave the Huskies a 21-6 lead.
Stat of the game:
Zero. After scoring two touchdowns in the first quarter, Washington's offense was held scoreless the final three, putting pressure on its defense, which turned in a touchdown and helped the Huskies hang on.
What it means:
Despite a strong start in the first quarter, the Huskies still have a lot of work to do if they plan on competing with LSU next week. While it is clear
Austin Seferian-Jenkins
and
Kasen Williams
have taken the next step as sophomores -- they combined for 15 catches for 157 yards and a touchdown -- the offense struggled for the better part of three quarters.
What we learned:
The Huskies aren't afraid to play their freshman. Safety
Shaq Thompson
tallied his first tackle on the first play from scrimmage, and finished with two. Receivers
Jaydon Mickens
(two catches, 16 yards and three kick returns for 47 yards) and
Kendyl Taylor
(one catch, 6 yards) also contributed, while running back
Erich Wilson II
had two carries for 22 yards.
Who we should see more of:
Running back
Bishop Sankey
. Not only did the sophomore play well, rushing for 66 yards and a touchdown on 22 carries, but junior
Jesse Callier
suffered a right knee injury in the first quarter and didn't return.