January, 23, 2012
1/23/12
9:00
AM ET
National signing day is inching ever closer, so it is time to take a look at the biggest recruiting needs for every team in the Big East.
Cincinnati

Defensive line.
Cincinnati loses a host of seniors from this position, including Co-Defensive Player of the Year
Derek Wolfe
,
John Hughes
,
Monte Taylor
, and
Rob Trigg
. Factor in the key contributors for 2012 will be seniors in
Dan Giordano
,
Brandon Mills
and
Walter Stewart
and it is time to reload at this position.
Receiver.
There is some promising young talent on the roster, but several guys are going to be leaving in the next few years. The Bearcats really need a guy who can stretch the field and make some big plays to join
Anthony McClung
and
Alex Chisum
.
Secondary.
The Bearcats are going to take a hit at this position after 2012, losing a ton of seniors-to-be, including Cam Cheatham,
Drew Frey
,
Dominique Battle
and
Reuben Johnson
. Senior safety
Wesley Richardson
is already gone. The lone four-star commitment the Bearcats have is from a safety, Marcus Foster.
UConn

Quarterback.
This need has been addressed in this recruiting cycle, with junior college transfer Chandler Whitmer and Casey Cochran already enrolled in school.
Tight end.
With the impending departure of
Ryan Griffin
and
John Delahunt
, the Huskies could use another young player to be groomed to take over. Tight end is a critical part of the UConn offense.
Offensive line.
UConn is losing its two best linemen in
Moe Petrus
and
Mike Ryan
. Of the 16 linemen currently listed on the roster, seven are juniors or seniors. Linemen generally take a redshirt season, so it never hurts to sign more to be able to restock.
Louisville

Linebacker.
The Cardinals are losing
Dexter Heyman
and have a lot of juniors and seniors on their roster at this position. It is no surprise, then, that three of the top players coming in are linebackers -- Keith Brown and James Burgess are already enrolled; four-star recruit Nick Dawson has given a commitment.
Offensive line.
Louisville has young players here, but not much depth, as evidenced this season when several true freshmen were forced to play much earlier than anticipated. It never hurts to build depth here, and the Cardinals have gotten a huge commit from four-star guard Abraham Garcia out of Miami.
Running back.
This was an area the Cardinals struggled in this season, having to move quarterback
Dominique Brown
to the position.
Victor Anderson
is gone, and this team could really used another back to carry the load.
Pitt

Quarterback.
This one is pretty self explanatory if you watched
Tino Sunseri
play.
Mark Myers
and
Trey Anderson
are also on the roster, but the Panthers are in definite need here -- which is why so many fans are looking forward to commit Chad Voytik coming to town.
Linebacker.
This has been an area of inconsistency for the Panthers, who lose their best player in
Max Gruder
. There are some young players with talent in
Todd Thomas
and
Ejuan Price
, but this position could definitely use an upgrade.
Receiver.
The play of the offense was disappointing this season, and that includes the receivers. Pitt could use some players to stretch the field.
Ronald Jones
was a start this season. But when you consider that
Cameron Saddler
,
Mike Shanahan
and
Devin Street
will all be upperclassmen in 2012, this is a definite area of need.
Rutgers

Receiver.
Mohamed Sanu
is gone, and
Mark Harrison
is a senior to be. There is plenty of young talent, but there is a reason Rutgers has commitments from four athletes. This gives the Scarlet Knights the flexibility to try them at receiver or running back, another area of need.
Running back.
Once
Savon Huggins
got hurt this year, Rutgers had
Jawan Jamison
and
Jeremy Deering
at running back and that was about it. Depth has to be developed here.
Offensive line.
Strides have absolutely been made at this position, but coach Greg Schiano likes to reiterate that the Scarlet Knights aren't going to pull themselves out of the hole they were in overnight. They need another solid draft class at this position to keep building.
USF

Secondary.
Injuries and inconsistent play this season showed the Bulls really lacked some depth and need some immediate help in this area, which is why they signed junior college cornerbacks Fidel Montgomery and
Josh Brown
. One of their top four-star commitments is cornerback Chris Bivins.
Quarterback.
Beyond
B.J. Daniels
, a senior in 2012, the Bulls have
Bobby Eveld
and
Matt Floyd
as the two heirs to take over. Eveld has been less than impressive, and we don't know much about Floyd. The Bulls would be served to get another quarterback in as they prepare for the future.
Running back.
Darrell Scott
is gone, and the Bulls are really in need of a game breaker at this position.
Demetris Murray
is going to be a senior, and nobody else really has stepped up at the position. Depth has to be built here, because USF goes into spring practice with four running backs on the roster.
Syracuse

Defensive line.
The Orange are losing
Chandler Jones
and
Mikhail Marinovich
and could really used some difference-makers up front who can help get after the quarterback. Depth is an issue here. One of their big commitments so far has been defensive end Josh Manley out of Georgia.
Secondary.
This was one of the weakest parts of the team and now the Orange lose
Phillip Thomas
and Kevyn Scott, and there was a lack of depth when injuries hit this position in 2011. Brooklyn prep safety Wayne Morgan would be a huge get to add to this unit.
Receiver.
Alec Lemon
is a senior,
Van Chew
is gone and who knows what happens with
Marcus Sales
. The bottom line is the Orange are in major need of a game-changer to turn 15-yard passes into 40-yard receptions.
West Virginia

Quarterback.
Geno Smith
is a rising senior and after him it is crickets in the form of one player behind him in
Paul Millard
. So consider this need majorly filled with Ford Childress, ranked No. 139 on the ESPNU 150.
Offensive line.
The most inconsistent part of the team in 2011, West Virginia has a major need here. The Mountaineers struggled so badly here they started converted defensive lineman
Curtis Feigt
late in the season.
Don Barclay
is gone, and
Joe Madsen
,
Jeff Braun
and
Josh Jenkins
are all upperclassmen.
Defensive line.
Julian Miller
,
Josh Taylor
and
Bruce Irvin
are gone, and there are depth concerns here. West Virginia has four commitments from defensive linemen already.
July, 13, 2011
7/13/11
3:17
PM ET
West Virginia starting left guard Josh Jenkins is out for the season after undergoing surgery on his left knee, the school announced Wednesday.

Jenkins sprained his MCL in the spring game and underwent an extensive rehab program. But following rehab, team doctors felt his kneecap was still unstable, so he underwent surgery on July 5. Jenkins is eligible for a medical hardship waiver and should be back for his senior season in 2012.

Trainer David Kerns said in a statement the surgery was done to "help better track his patella for normal function. Jenkins will remain in a leg brace for six weeks, then will regain strength and slowly regain any residual lost motion due to the immobilization period.

"At the appropriate time, he will begin the back-to-run/play-progression, which all totaled will be six months from surgery until fully healed and strong enough to play football. He should be fully participatory for winter training and then spring football."

This is a big blow for West Virginia. Jenkins, a two-year starter, has been one of its most solid contributors and one of its most experienced players returning. But there was always uncertainty about whether he would be able to play this season. On the post-spring depth chart, coach Dana Holgorsen listed Jeff Braun at left guard. Braun moves over from right tackle, where he started every game last season. Redshirt freshman Quinton Spain would be in the No. 1 spot at right tackle.
June, 27, 2011
6/27/11
9:00
AM ET
Now by popular demand, we begin ranking the positions across the Big East. I know I am a little late to the party on this one, but better late than never, right? I asked on Twitter for suggestions on which position to start with today. There was no consensus. But I did like one suggestion: to work our way up from the line.
So first up is the offensive line. To make these rankings, I considered returning starters, accolades for returning starters, position switches and depth. The truth is, this is not an area of strength for the league as a whole. Most teams have depth concerns and questions at one or more positions.
[+] Enlarge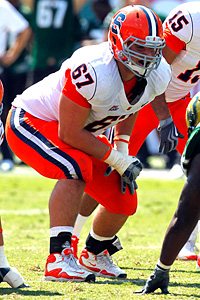 Cliff Welch/Icon SMI Justin Pugh earned all-conference honors last season as a freshman.
1. Syracuse.
The Orange have four returning starters, including two seniors. You have Justin Pugh, who made second-team All-Big East last year as a freshman. You have a more mature and experienced unit than the one last year, which had to replace four starters. There also is depth to have a nice eight-man rotation. The concern is at center, where Macky MacPherson is undersized. Actually, when you look at the entire group, it is undersized. Andrew Tiller is the only one who tips the scales at more than 300 pounds.
2. West Virginia.
The offensive line was an area of strength under Rich Rodriguez, but has struggled the past few years. It was hard to get a gauge on this unit in the spring, with both starting tackles Jeff Braun and Don Barclay out because of injuries. Starting guard Josh Jenkins also got hurt and is still not 100 percent. But the potential is there for this group to be significantly improved.
3. UConn.
The strength of this unit is at tackle and center, where the Huskies return first-team All-Big East selection Mike Ryan (20 career starts) and Adam Masters (18 career starts). Moe Petrus, a second-team all-conference pick, has 39 career starts. Their experience should help along the guards -- nobody on the roster has started a game at the position. The good news is that Gary Bardzak does have starting experience, but it came at center.
4. Pittsburgh.
The Panthers made so many position shifts during the spring that it is hard tell how this unit is going to shape up come fall. Chris Jacobson moving to center was one of the biggest moves, and Pittsburgh hopes it pays off with more stability there. Jacobson and starting tackles Jordan Gibbs and Lucas Nix have a combined 49 career starts, but Pitt has to make up for losing first-team Big East selection Jason Pinkston.
5. USF.
The Bulls are going to be young on the offensive line this season after losing first-team All-Big East center Sampson Genus, along with tackles Jamar Bass and Jake Sims (second team All-Big East). Chaz Hine and Jeremiah Warren are a solid tandem at guard, and Mark Popek at left tackle and Kevin McCaskill at center do have playing experience. But at right tackle, USF plans to go with redshirt freshman Quinterrius Eatmon. He does have loads of potential, but there will be a learning curve. Depth also is an issue, and the Bulls could have true freshmen in the rotation.
6. Cincinnati.
The Bearcats had their share of problems last season, ranking second-to-last in the Big East in sacks allowed (31). This year, they have to replace three starters on the offensive line with unproven players. Senior right tackle Alex Hoffman has taken on some leadership responsibility with the loss of Jason Kelce, but players like Austen Bujnoch, Andre Cureton, Sean Hooey and Evan Davis are going to have to step up. Depth could also be an issue here.
7. Louisville.
The Cardinals return just one starter in center Mario Benavides, who has been hampered with a knee injury. Ryan Kessling and Alex Kupper have playing experience, but most everybody else is pretty unproven, and that makes for one of the biggest question areas on the team headed into the fall.
8. Rutgers.
The Scarlet Knights own the bottom spot until the season starts and we can see how much this unit has improved. It is a well-known fact that they finished last in sacks allowed and were one of the worst rushing teams in the country last season for that reason. They suffered a blow when junior college transfer Dallas Hendrikson went down with a season-ending injury in the spring, but coach Greg Schiano said he saw plenty of improvement from this group. They certainly will have more experience, but how much better will they be?
June, 13, 2011
6/13/11
9:00
AM ET
Let us all hope West Virginia is the last school to ever employ a coach-in-waiting.
The Mountaineers are just the latest team to see the situation fail miserably. About the only people who thought it was a good idea to hire Dana Holgorsen to learn under Bill Stewart for a year were Oliver Luck and the West Virginia administration. But after the events of the past few weeks, Luck has been second-guessed to death. He probably is going to second-guess himself, too, after his quote at the late Friday news conference announcing Stewart was out and Holgorsen was in, a year earlier than planned.
[+] Enlarge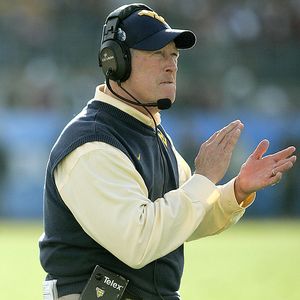 AP Photo/Steve CannonAfter 10 seasons at West Virginia -- the last three as head coach -- Bill Stewart is leaving the program a year earlier than planned.
"At the time I thought it made a lot of sense and was a good management practice. With hindsight, folks could certainly disagree. I will take some time to think about it myself and decide if I made mistakes and, if I did, I will be the first one to acknowledge that I did.

At the time I thought it made some sense. I had an agreement from both coaches that they liked the idea and were willing to work with us on the concept, but hindsight is always 20/20 as we know."
When has a coach-in-waiting worked? When the departing coach has picked his successor or has his own time line for when he wants to step down. There were easy transitions at Wisconsin, Oregon, Kentucky and Purdue. The Boilermakers are the only team of that group that has yet to make a bowl game under their new head coach.
But the situation turned ugly at Maryland, Florida State and now West Virginia. Even Will Muschamp realized he had no idea when Mack Brown would step down at Texas; so he bolted from his coach-in-waiting designation to take the head job at Florida last December. What happened at Florida State is reminiscent of what happened at West Virginia.
You have a coach who's not quite ready to go, a large part of the fan base eager to see him retire, his replacement standing next to him as offensive coordinator and tensions flaring on the coaching staff. At FSU, there were Bowden loyalists on staff and Jimbo Fisher loyalists on staff, and rumors swirled about infighting and no sense of direction in the final few seasons when it seemed the situation was untenable.
After what happened at Florida State in 2009, it seemed obvious the coach-in-waiting idea was a bad one. But that did not stop Luck, who believed it would help Holgorsen ease into the job if he learned from a veteran coach. The idea is a sound one if it existed in a vacuum. But there are egos and feelings involved in any personnel decision.
Luck said there was nothing concrete that pointed to Stewart being the source of allegations that smeared Holgorsen in recent weeks, but it was obvious the situation was untenable. Players admitted as much this weekend.
Offensive tackle Jeff Braun said, "Coach Stewart said himself that these past six months were tough and it would be tough for anybody to have a dream job in your hometown basically and to know that in the back of your mind this is going to be it for you. It's tough. I think everything fell into place the way it should have at this point. We got rid of any problems and I think for the program itself, it's going to help us move forward."
Cornerback Keith Tandy said, "
It relieves the tension a little bit
, I guess. With Coach Stew and Coach Holgorsen both around, it was hard to figure out who to listen to and who was in charge. Now it's more clear-cut and we can get back to work."
We can all say that West Virginia should have never made the decision to designate a coach-in-waiting. But what is important now is that the situation has been resolved before marring the actual football season. Hopefully the rest of the college football world has made a note: "Never again."
June, 11, 2011
6/11/11
3:49
PM ET
West Virginia offensive tackle Jeff Braun spoke for many of his teammates when he said Saturday afternoon that there was an incredible sense of relief around the program, one day after
Dana Holgorsen took over as head coach.

The rumor, speculation and innuendo of the past week were not lost on the players, many of whom took to Twitter to voice their frustration. They saw their school and football program being portrayed negatively, and there was nothing they could do about it. But now that Bill Stewart has resigned and coach-in-waiting Holgorsen is in, everyone can finally move on to the business of trying to win a Big East championship.
Stewart and Holgorsen each addressed players who were in Morgantown on Saturday morning. Braun said Stewart had a smile on his face and thanked his players for giving him the opportunity to coach them.
"Coach Stewart said himself that these past six months were tough and it would be tough for anybody to have a dream job in your hometown basically and to know that in the back of your mind this is going to be it for you," Braun said in a telephone interview. "It's tough. I think everything fell into place the way it should have at this point. We got rid of any problems and I think for the program itself, it's going to help us move forward."
Stewart recruited Braun, so he had mixed emotions about the move. "He's one heck of a man," Braun said. "He teaches you how to walk the daily walk as he used to say." But Braun agreed the decision for Stewart to leave was the right one.
Players found out Friday when athletic director Oliver Luck sent everyone a text message. Braun said players had been going about their daily workouts as normal throughout the turbulent past few weeks, though they did discuss the turmoil surrounding their program in the locker room.
"We knew in the end our athletic department would take care of everything and we, as players, are the ones who are going to have to play," Braun said. "No matter how great (Holgorsen's) offense, we still have to play and still have to execute. We're the ones who are going to produce a Big East championship. It's going to have to come through us."
May, 20, 2009
5/20/09
10:32
AM ET
Posted by ESPN.com's Brian Bennett
Some players we knew about before the spring and were anxious to watch perform. And then there are guys who were way off the radar but made us pay attention. Here are five guys in the Big East who came from out of nowhere and made it somewhere:
• Evan Landi, South Florida: B.J. Daniels got most of the hype as Matt Grothe's understudy at quarterback. Heck, Jim Leavitt wasn't even sure he wanted Landi two years ago on the recruiting trail. But given a chance to shine this spring, Landi wowed everyone with his work at quarterback and receiver, forcing his way into some fall playing time somewhere.
• Danny Milligan, Cincinnati: How's this for a spring game stat line: Milligan caught three passes for 83 yards and a touchdown -- and kicked three field goals. You don't see that every day. The 5-foot-9, 170-pound redshirt freshman doesn't look like a prototypical football player, but he finds ways to get things done.
• Collin McCafferty, Cincinnati: The Bearcats get two players on this list because they have so many new faces and because they've done such a good job developing lesser-known talent. McCafferty, a redshirt junior linebacker, had a nice spring and worked his way into the mix for the fall.
• Marcus Easley, Connecticut: Easley made four starts last year but remained a mostly unknown walk-on receiver. That changed when he made 10 catches for 169 yards in the Huskies' spring game. Was that a one-day wonder? Coach Randy Edsall said Easley made a lot of progress this spring, and the senior will be on scholarship this fall.
• Jeff Braun, West Virginia: The redshirt freshman played defensive line late into his high school career but appears to have won the job at left guard for the Mountaineers after entering the spring as a backup.