September, 17, 2012
9/17/12
3:47
PM ET
As soon as
Jeff Driskel
kneeled down in the victory formation inside Neyland Stadium Saturday, you could see an enormous weight just fall off of Will Muschamp's shoulders.
His body drenched, shirt untucked and hair tangled, Muschamp couldn't find enough people to hug, as the clock ticked down to zero and Florida grabbed its eighth straight victory over rival Tennessee with a 37-20 rout on Rocky Top.
[+] Enlarge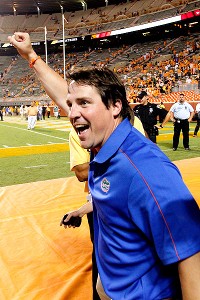 John Sommers II/Getty ImagesFlorida's win over rival Tennessee on Saturday was a huge win for Will Muschamp's squad.
Muschamp had been counted out -- by his own fans no less -- and fielded a team that entered the season with so many questions and so much uncertainty. But for the second straight week, he was the one raising his fists victoriously. He was the one emphatically signing his school's fight song after the game.
He was the one with the tougher team.
Think about that last sentence for a second. That's not something you could say about Florida since Tim Tebow barreled his way through opponents for the orange-and-blue. For the past two seasons, the Gators have looked more mushy than mighty. Even Muschamp called his team soft after that ugly 21-7 loss to Florida State to conclude the 2011 regular season.
But the 2012 Gators actually have some bite, and have become true contenders in the SEC East.
Sure, it's only been three games, but unlike the last two seasons, the Gators have improved each week. They went from stumbling through a 27-14 win against overmatched Bowling Green to pulling off back-to-back, come-from-behind victories in hostile environments on the road.
After trailing at halftime against the Texas A&M and Tennessee, the Gators combined to outscore both teams 37-6. Against Tennessee, the Gators out-gained the Vols 379-120, including gaining 227 yards in the third and allowing just five in the fourth, in the second half.
New strength coach Jeff Dillman is the mastermind behind the Gators increased toughness and stamina, while the Gators' swelling confidence and their mental edge have come from players buying into Muschamp's plan and following through when the criticism piled up.
Now, this team is creeping up the East ladder. It has a quality quarterback in Driskel, who has grown up in front of the SEC's eyes, has a
real
downhill running back in
Mike Gillislee
, who leads the SEC in rushing, the defense has been nearly unbeatable in the second half, and this squad has attitude.
Last year, the Gators rarely showed much toughness in pressure situations. This year, the Gators own pressure situations. You can question the overall talent Tennessee and Texas A&M have, but there's no denying that Florida has shown more in the intangibles department than either Georgia or South Carolina through the first three weeks.
Georgia is still a more complete team overall, while South Carolina's defense could give Florida's offense fits, especially up front, but to count the Gators out of the East race is just silly.
The Bulldogs haven't beaten Florida twice in a row since winning three straight from 1987-89, while South Carolina doesn't know if starting quarterback
Connor Shaw
can even make it through the rest of the season with his fractured shoulder. Those factors right there play in Florida's favor at this point.
So what about the SEC in general?
Well, that might be a bit of a stretch right now. The Gators have been good, but they still have a ways to go before getting close to Alabama or LSU's level. They just aren't built like either team, and likely won't get close in 2012.
We'll find out just how far -- or close -- Florida is on Oct. 6, when the Tigers head to the Swamp.
For now, though, Florida is slowly starting to play the kind of ball you expect from the Gators. They aren't pushovers and they aren't soft.
And they're only getting better.
May, 17, 2012
5/17/12
2:30
PM ET
ALPHARETTA, Ga. -- When Florida defensive tackle
Leon Orr
violated the terms of his deferred prosecution agreement for his misdemeanor marijuana possession charge by
being cited
for knowingly driving with a suspended license on Monday, he became the ninth Florida player arrested and the 11th overall arrest during Will Muschamp's short coaching tenure.
Though Orr wasn't taken into custody, his citation did count as an official arrest.
With that, there's a growing perception that Florida has an off-field discipline problem. The numbers are hard to ignore, but Muschamp isn't convinced there's a problem. He acknowledges the run-ins that have taken place since he officially took over for Urban Meyer in January of 2011, but insists that perception isn't his reality.
While he wouldn't comment on Orr's situation, he did say that increased media outlets have placed the microscope closer to college athletes.
[+] Enlarge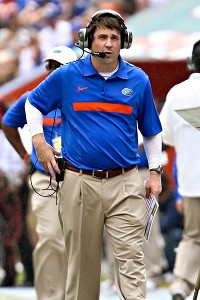 Rob Foldy/Icon SMIWill Muschamp insists discipline in his program is better now than it was when he first arrived.
"When you're dealing with young people, it's an ongoing educational process, especially in this day and age," Muschamp told ESPN.com shortly before he greeted the Atlanta Gator Club at The Metropolitan Club in Alpharetta Wednesday. "I'm not taking a shot at anyone in the media. It's your job to report and more things are being reported now than 15, 12, eight, five years ago. There's more social media outlets now where there's more information. There's a lot of misinformation out there, too."
Of the 11 arrests, only three have occurred during this calendar year, while five occurred during Muschamp's first spring.
You can see a summary of the arrests
here
.
The overall number is high for less than two years, but it's obvious the off-field incidents have steadily decreased and Muschamp said there's "no question" the discipline is better now than it was when he first arrived ... and he's right.
It hasn't been an overnight transformation, but the improvement is there. Muschamp took over a team that experienced 32 arrests during Meyer's six-year tenure and feels things are turning around. He especially sees it in the fact that during his first five months on the job he had five arrests on his hands. Since September, he's had three.
"At the end of the day, our players understand that there are consequences for their actions," Muschamp said. "They understand there's a certain accountability within the program. It's not a right to play at Florida, it's a privilege."
Though not all punishments have been made public, action has been taken by Muschamp. Star cornerback Janoris Jenkins was dismissed after his two marijuana-related arrests, while former linebacker Dee Finley didn't play against Tennessee last year following his arrest for driving with a suspended license and resisting arrest without violence. He later transferred to North Alabama last October.
Tight end
A.C. Leonard
, who was arrested for battery in February, was suspended for part of spring and Muschamp has said there will be further suspension this fall, meaning he could miss multiple games.
Three of the nine players arrested are no longer with the program.
With spring practice over with, Muschamp said the concerns of the offseason are on his mind. Players have less strict class schedules and more time on their hands. More time away from the coaches can be a dangerous time for programs.
Muschamp is putting the team in the hands of the players and strength coach Jeff Dillman. Muschamp said he isn't relying on a select group of players to lead the team, but expects everyone to hold each other accountable for workouts, off-field behavior and classroom work ethic. Muschamp said reports from Dillman have been positive.
Muschamp also said off-field issues haven't affected recruiting. He said conversations concerning that have gone over well with recruits and their parents and he's been able to promote Florida and its players well.
"We've got the right guys in our locker room," he said. "Are they all deacons in the church? No, but we've got a good locker room. I know one thing: My two young boys love being in the locker room."
April, 7, 2012
4/07/12
7:04
PM ET
GAINESVILLE, Fla. -- Four members of the media were chosen to be guest coaches and allowed to go behind the scenes of Florida's Orange and Blue Debut on Saturday. Brady Ackerman of Sun Sports, Pat Dooley of the Gainesville Sun, Andy Staples of SI.com and yours truly were granted access to join the Gators as they prepared for their spring game. We experienced the sights and sounds of the closest thing to a game day for a major college football program; this is what I saw ...
8:00 a.m.:
I arrive at Ben Hill Griffin Stadium with a Starbucks Doubleshot and a Snickers Marathon energy bar to start the day. The sun is up and there's a breeze in the air. It's almost the perfect setting to start a long day of running around Florida's football facility.
8:30:
We meet with coach Will Muschamp in his spacious office inside the stadium for a casual 15 minutes to talk shop. There are some laughs and some talk about the team, and he warns us that a poor performance by one of the two teams -- Orange or Blue -- will be followed by having the blame placed on the two media members coaching that side. Ackerman and I are placed on the Blue Team, while Dooley and Staples are assigned to the Orange Team.
9:05:
A true breakfast of champions. We walk over to one of the dinning halls across from the stadium. The first thing you notice is that the dining area couldn't be big enough to house all these football players, but somehow, it is. The Gators pile in and begin the feast. The basics are there: pancakes, bacon, eggs and grits. And at the end of the buffet line, steaks and grilled chicken breasts sat there ready to be devoured ... and they were. After sipping on some fine, freshly squeezed orange juice, we media members tried to blend in and snag some grub before the carnivores went back for seconds. Linebacker
Jelani Jenkins
stacked steaks on chicken, while fullback
Hunter Joyer
went with pretty much everything he could lay eyes on and added some pasta. The fruit was barely touched. I tried to mimic the players, throwing protein and starch together for a yummy, relatively healthy cornucopia of deliciousness. Grilled chicken and pancakes really do work.
[+] Enlarge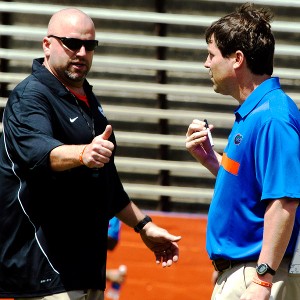 AP Photo/Phil SandlinStrength coach Jeff Dillman gives head coach Will Muschamp, right, a thumbs-up during Florida's spring game in April.
9:35:
After stuffing our faces, we head back over to the stadium and toward the locker room. We stand around as players, coaches, recruits and staff members wandered the halls. TV screens that surround a massive gator head in the middle of the room show highlights from the 2011 season, mixed with music videos featuring LMFAO, Will.i.am and Drake. Every player touches the gator before he runs out onto the field before games.
9:37:
Running backs coach Brian White, defensive coordinator Dan Quinn and offensive line coach Tim Davis gig us about coaching. We're asked what our game plan is, and we basically say not getting in the way. Dooley tells Quinn to blitz every down and I tell Davis that he should be glad I'm on his team because my PlayStation skills are unmatched. He laughs, realizing I'd be in over my head if this were real.
10:05:
After walking back and forth for a good 10 minutes, rising senior defensive tackle
Omar Hunter
embraces Quinn and yells "Last time, baby," signaling that his Gators career is coming to an end.
10:20:
We leave the locker room to go on the Gator Walk. Last year, the team bussed. This year, it walked, so we walked. The team is dressed in orange shirts and blue shorts -- nothing too flashy. Wide receiver
Quinton Dunbar
awkwardly raps the words to some song, while the freshmen converse about doing this for the first time.
10:26:
I finally hit the official start of the Gator Walk. It's spring break for Alachua County school districts, so the crowd is a little thin, but it's lively. Still, with the smaller crowd there to greet the Gators, kicker
Caleb Sturgis
utters this gem: "This is what happens when you go 7-6." Defensive lineman
Sharrif Floyd
looks at me and says that the Gator Walk never gets old, then counts the number of hugs he gave with the exact number of "a lot."
10:40:
As the team piles into the locker room, the offense stays on the field for a mini walk-through. Offensive coordinator Brent Pease goes over Xs and Os and formations ... lots of formations. He's pulling, pushing and quizzing guys along the way and even puts on player on the spot with a heap of questions about a certain play and formation. Luckily for the player, he passed Pease's test.
10:49:
The offense huddles up, with rising sophomore quarterback
Jeff Driskel
pushing to the middle, before breaking and heading to the locker room.
11:55:
After a lot of waiting and people watching, we finally head into the locker room with the players an hour before kickoff. Led by new strength coach Jeff Dillman, the players are going through dynamic stretching, with Dillman leading like a drill instructor with short, loud commands. Players isolate their cores, thoroughly stretch their legs and their backs; Dillman is very technical and very loud. "We're gonna have a great day today!" he yells. "Build that rage! One minute till we prime that engine!"