August, 23, 2010
8/23/10
12:39
PM ET
Sometimes athletes don't want to answer tough questions. Other times they are eager to embrace them. This is one of those times.
California quarterback
Kevin Riley
knew the question about rival Stanford was coming. He'd surely already read stories about a
changing of the guard in the Bay Area
. He probably was aware that
more than a few columnists
and fans had questioned whether his coach, Jeff Tedford, was capable of prodding the Bears into
taking the next step from merely good to elite
.
[+] Enlarge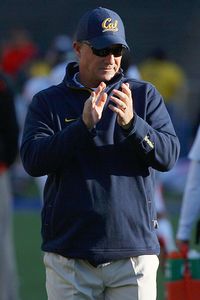 Jed Jacobsohn/Getty ImagesJeff Tedford is still seeking that elusive Rose Bowl berth.
Changing of the guard? My tookus, said Riley.
"It's disrespect," said Riley with just a hint of edge in his voice. "We beat them last year, and our offense whupped up their defense pretty good. We beat them last year when they were at their highest point of their game."
That's not an unfair assessment. Cal was widely considered one of the nation's most disappointing teams last season when it visited No. 14 Stanford, which was in the middle of the Rose Bowl race. All the Bears did was roll up 477 yards in a 34-28 win.
It was Cal's seventh victory in eight Big Games under Tedford. Both teams finished 8-5. Both landed top-25 recruiting classes. Still, the perception persists that Cal has plateaued and Stanford is rising.
Part of that is because Cardinal coach Jim Harbaugh resembles Tedford, circa 2004. Just as Tedford took a program that had bottomed out, led it back to respectability and became a hot-shot coach, so has Harbaugh. The Cardinal had suffered through seven consecutive losing seasons, including two with Harbaugh, until breaking through in 2009. And Harbaugh, often colorfully, doesn't try to tamp down newly high expectations on the Farm, saying "our goal is to win the conference championship" not "sustain success."
"We're not sustaining a gosh darn thing," he said, waking up reporters at Pac-10 media day. "We despise the word sustain. We despise the word satisfaction."
(Another question: Will Harbaugh remain satisfied at Stanford? Tedford turned away a number of suitors -- the Chicago Bears, the
Washington Huskies
-- before signing a big contract -- $2.8 million annually -- and deciding to remain in Berkeley).
Meanwhile, Tedford has been reviewing all aspects of his operation, trying to find a way to advance his program from a team that wins seven, eight or nine games to one that goes to the school's first Rose Bowl in 51 years. He hired a new offensive coordinator last season (Andy Ludwig) and, this offseason, a new defensive coordinator (Clancy Pendergast) and special-teams coordinator (Jeff Genyk).
Tedford has talked about loosening up and making sure football remains fun for his players. He's talked about better managing the effects external expectations can have on his team.
[+] Enlarge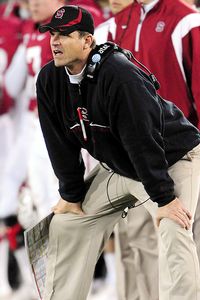 Kyle Terada/US PresswireJim Harbaugh has his sights on a conference championship.
"I do not want to get into a situation where if we do stub our toe then the whole world caves in," he said.
That said, even though Cal won seven or more games only four times from 1978-2001, the expectations, in general, figure to remain high. The early Tedford years seemed to promise Rose Bowls, so the Old Blues feel as if a promise hasn't been kept. And Tedford and Riley are well aware of this.
"It used to be eight or nine wins was a good season," Tedford said. "People were satisfied with that. But that is not good enough anymore. We have to get over that hump. We have a burning desire to go to the Rose Bowl."
Said Riley, "Cal has been waiting a long time for a Rose Bowl. Since I've been here, that's my goal, and it still is. You go out and win eight games? Standards are higher than that for Cal now. Our fans want to see more."
While Cal has fallen short of high preseason expectations in recent seasons, it also has seemed to play better when it wasn't picked at the top of the conference and perched toward the top of the preseason polls. So being picked seventh in the preseason media poll -- three spots behind Stanford -- and unranked nationally are perhaps good things.
Stanford cornerback Richard Sherman is a fifth-year senior. He suffered through the bad times at Stanford. And he suffered through last season's humbling Big Game defeat. He's hardly ready to claim that the Bay Area balance of power has shifted.
"In every rivalry it's even -- it's zero-zero and records don't matter, rankings don't matter," he said. "It's who can go out there and impose their will on the other. You don't go out there feeling like an overdog or an underdog. You just want to beat Cal."
It's possible this year's Big Game might be for high stakes in the conference pecking order. It's almost certain it will have high stakes in the Bay Area.
March, 16, 2010
3/16/10
6:39
PM ET
California started spring practices last week looking to put a disappointing 2009 season behind it.
The Bears, you might recall, jumped to a 3-0 start and rose to No. 6 in the country before being humiliated in back-to-back games against Oregon and USC. Combined score: 72-6.
[+] Enlarge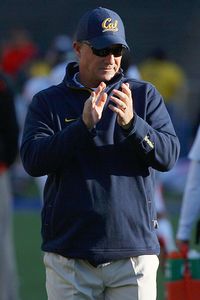 Jed Jacobsohn/Getty ImagesCoach Jeff Tedford takes responsibility for the Bears' lackluster finish last season.
Then they rallied to win five of six, including an upset win at Stanford in the Big Game. Redemption and recovery? Not really.
Two weeks later, the Bears got bombed 42-10 in a surprising season-finale at Washington and looked flat in a loss to Utah in the Poinsettia Bowl.
Suffice it to say, the Bears were hard to figure, other than they were consistently unpredictable.
So we decided to check in with coach Jeff Tedford and see what his plan was as he enters his eighth season in Berkeley.
Before we look forward to spring practices, let's look back. Every coach reflects on the season that's past. I'm guessing 2009 was frustrating for you. What went wrong?
Jeff Tedford
: Obviously, we hit a tough stretch with two tough teams, Oregon and USC, early. That was hard. I felt like we bounced back pretty well and beat Arizona and Stanford. But then we just didn't finish up. We were pretty banged up down the stretch but didn't finish up as strong as we needed to. We had a chance to win 10 games and came away with only eight wins. Consistency is a key -- to make sure we're more consistent. Depth is also something we need to build so that when the injury bug does hit us that we are able to still compete.
Did we overrate your 2009 team? Were there shortcomings that preseason analysis missed?
JT
: Yeah. I think people should wait for rankings until mid-season or so to see where we're going. You can never figure it out. I don't know if you missed something. We didn't have the playmakers -- we needed to be a little bit better at receiver. But with Jahvid [Best] and Shane [Vereen] at running back and you had your quarterback [
Kevin Riley
] coming back, you felt pretty good about that. We had a veteran secondary coming back that really, quite honestly, didn't play up to their capabilities, so we need to improve there. I think when the injury thing started hitting us, we didn't have the depth to snap out of that.
You've been pretty honest about self-analysis in the past: Anything you wish you'd done differently? And any changes in the way you do things going forward?
JT
: I don't look back at last season and think there was anything we could have done differently. I do take responsibility for us not finishing as strong as we should have. But I'm not one to make a lot of excuses. I'd just rather give the other team credit and put it on my shoulders for not getting it done. We're always going to look at things, though. At how we practice -- maybe we could be fresher for the games. Things like that you always have to take a look at. If there is anything I can do differently, I definitely want to do it. As I look back on it, there's nothing that's glaring that sticks out. It's about making plays. As for preparation, everybody has a big thing about us playing on the road and our struggles on the road. We were 4-2 last year, and they said, 'Did you do anything differently on the road?' We didn't. We did the exact same thing. We were just able to win the games. We have two new coordinators [defensive coordinator Clancy Pendergast and special-teams coordinator Jeff Genyk]. Special teams was a key last year -- a lack of success with special teams and with field position. That I think was a major factor for us. We need to improve that. We were 111th in pass defense, so that hurt as well. Those are the two obvious things that stick out where we need to improve.
I talked to quarterback Kevin Riley the other day and he told me that he sensed that some guys were a little content early in the season with how good they were, thinking they'd arrived. He said that you seemed to be emphasizing competition everywhere during the offseason to confront that. Fair to say?
JT
: Yeah, it is. That's where I have to take a good strong look at myself, making sure that we continue to keep everything very competitive and make sure we're always grinding on what we're doing. I may have given us a little too much credit last year for things. But I'm going to make sure that everybody knows that we're going to play tougher. We're going to compete harder. A couple of things happened for the first time in [seven] years. There were a couple of games when we got blown out. So you have to look in the mirror and say, 'Why did that happen?' I don't think anybody gave up but we didn't compete hard enough, for whatever reason. We've got to change our mindset, obviously, because those games were not good. And then this is the first time in [four] years that we've ended the season with a loss. We'd won, I think, [four] bowl games in a row. The feeling going into this offseason was quite a bit different. Say we would have beaten Utah and ended up 9-4. Would it have put a little Band-Aid on the Washington game? Well, maybe it's a blessing in disguise and forces our mindset to be a little bit different.
Let's talk present. So here we go again: Where does Riley stand and how safe is he as your starting quarterback?
JT
: He stands as the guy taking the first reps right now but he's not safe at all, just like other positions. He's got to compete and be more consistent. The games that Kevin played well, we were successful. The games that we didn't play well, it was not just him. Everybody wants to point at the quarterback, but he's got to have things around him be successful as well. But you go back and look at it, some of those games we missed critical plays. I expect Kevin to be better this year, given the experience. But also we're going to take a very strong look at
Beau Sweeney
and
Brock Mansion
in the competition part of it.
Tomorrow
:
Talking defense, young players who need to step up and flying under the radar
.