August, 13, 2014
Aug 13
9:00
AM ET
BATON ROUGE, La. –
La'el Collins
took a risk in returning for one more season at LSU. That much is certain. But the senior offensive tackle believes that the potential payoff outweighs the chance he took by remaining in college.
Yes, returning will help him graduate from college. And yes, he'll have one more chance to help the Tigers compete for championships. But perhaps the biggest payoff would be if he manages to improve his NFL draft stock from possible first-round pick to surefire first-round pick.
"It was a lot of things in my game that I feel like I could get better at," Collins said. "I had so much more room to grow as a left tackle in this league, so why would I want to enter the draft and know I didn't reach my full potential in this league first?
[+] Enlarge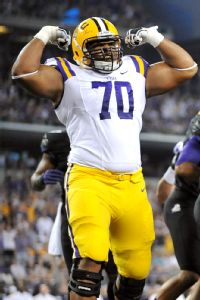 Patrick Green/Icon SMILa'el Collins is returning to LSU to show the NFL he's the total package.
"So I wanted to come back and work on those things -- just being more consistent, just working on technique things and just coming out here and really just giving my all in practice. Practicing like it's a game and putting myself through that so when it's game time, I'm ready."
That's a unique attitude anywhere in college football, and especially at LSU, which has seen 18 players with eligibility remaining opt to enter the draft in the last two years.
It's a sport-wide problem, however, as a staggering number of underclassmen enter the draft only to discover too late that they weren't ready for the pros. Many of them, such as LSU defensive lineman and early draft entrant
Anthony Johnson
, aren't even among the 256 picks in the seven-round draft.
That would not have been Collins' fate, but when it was time to make a decision, he heeded LSU coach Les Miles' call not to give an NFL team a bargain. Collins said he received a mix of first- and second-round draft grades from the NFL Draft Advisory Board, which helps underclassmen understand how NFL teams view their readiness to play in the league, but he felt he could do better.
He believes a second season starting at left tackle, unquestionably a premium salary position in the NFL, is well worth the injury risk that accompanies another college season -- and Collins has impressed his coaches in many ways since making that decision.
"I think leadership is evident in La'el Collins, a guy that's really not eligible to wear 18 [a jersey number handed to a team leader each season, but offensive linemen can't wear such a low number], a guy that really turned down what was certain wealth at some level to get his degree, play championship ball here and put himself in position to move his draft status up," Miles said. "So that kind of guy is a leader in every huddle that we break."
Collins' leadership came up again and again as one of his strengths, as he steadies an offense that could be heavy on freshmen at the skill positions.
"La'el Collins is a man and a great leader," offensive coordinator Cam Cameron said. "I've been so impressed with him. He chose to come back and he did it for all the right reasons and he's never looked back and he's becoming a great, great leader. He's impressive and I think that's rubbing off on the other guys and he's setting high expectations for this offense."
Now about that draft stock.
Collins worked relentlessly since the end of his All-SEC junior season, improving his physique and working on the technical aspects of his position in order to become a more consistent blocker. New offensive line coach Jeff Grimes has noticed a difference in Collins even since they first worked together in spring practice.
[+] Enlarge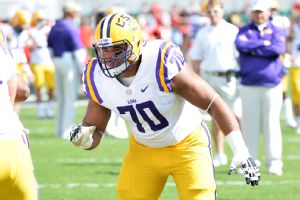 Scott Clarke/ESPN ImagesLa'el Collins is putting in the work to be even better than he was in an All-SEC junior season.
"The first thing I would say about La'el is he has improved as much if not more than anybody on the line since I've been here, which I think is quite a statement given his experience and success that he's had," Grimes said. "So he is really working to get better. The other thing I can say is he's really stepped up his leadership, which is important for a guy in his position, important for our team because he definitely has a strong voice in the locker room. Guys will follow him."
From a technical perspective, Grimes said the keys for Collins are to play with sound technique and stay under control.
"I think the things that he's had to do is just really refine his footwork and his hat placement and realize he's an aggressive kid, and sometimes the most aggressive kids are the ones that may get a little out of control just wanting to whack somebody on the line of scrimmage," Grimes said. "He's had to realize that sometimes you have to start the block right in order to finish the play with the defender on his back."
It's a cliché, but Collins knows improving at those little things can add up -- perhaps literally if a strong senior season results in a lucrative NFL contract. He feels he has something to prove, and that's a big reason why he's still a Tiger.
"You have to have the technique and that's something that I feel like I have to be more consistent on," Collins said. "That's things that I really feel like I need to really put myself in it and work and come out and practice each and every day and make sure I take the correct steps, make sure I get my hat on the right side, make sure I get my hands in the right place.
"Those little things right there can carry me from now to however long I play football in my life. I just felt like I needed to work on those things."
August, 11, 2014
Aug 11
11:50
AM ET
BATON ROUGE, La. -- Maybe he doesn't want to give away anything to Wisconsin, maybe it truly is a tight battle -- and maybe it's both -- but LSU offensive coordinator Cam Cameron said the quarterback race between
Anthony Jennings
and
Brandon Harris
is too close to call.
[+] Enlarge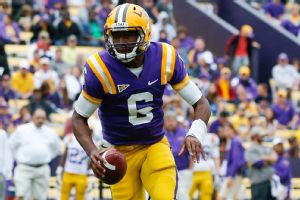 Derick E. Hingle/USA TODAY SportsFreshman Brandon Harris made a heck of a first impression during LSU's spring game.
"The competition is so stiff every day in practice," Cameron said. "You can improve in two, two and a half hours like you wouldn't believe because the pressure you're under here every day. I've seen as much improvement in our quarterbacks this week as I've ever seen in a group of quarterbacks in that small a timeframe.
"And that has nothing to do with me as it does with the attitude of the guys, No. 1, but the amount of pressure John [Chavis, LSU's defensive coordinator] and his defense put on them. Any flaw a guy has is going to get exposed and get exposed in the first 30 minutes of practice."
LSU's assistant coaches, quarterbacks and freshmen spoke with reporters on Sunday for the first and possibly only time this preseason, so Jennings, Harris and Cameron were among the day's busiest participants.
Head coach Les Miles said he is not rushing yet to name a starter between sophomore Jennings and freshman Harris as he wants to allow a competitive environment to thrive.
"I think the naming of a starter will be when one separates himself from the other. And when it's a real advantage to name him as a starter because he needs to recognize as does the team that this is where we're going," Miles said. "We're not there."
[+] Enlarge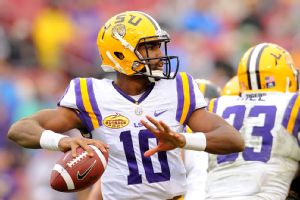 Steve Mitchell/USA TODAY SportsCan sophomore Anthony Jennings secure the starting quarterback job out of preseason training?
Also the Tigers' quarterbacks coach, Cameron agreed with that philosophy. The longer true competition exists, the better off Jennings and Harris will be, he said.
"My job is to make this decision as tough on Les as possible," Cameron said. "What do you mean by that? Well, we've got two guys that we feel confident we can win with -- if not three, if not four. We're not coaching one guy more than the other hoping he's the guy."
Cameron might even find roles for both quarterbacks to fill.
He's best remembered for leading the game-winning touchdown drive against Arkansas after replacing injured Zach Mettenberger last season, but Jennings played in nine games -- including contests against TCU, Florida, Ole Miss, Texas A&M and his first start in the bowl win against Iowa -- in 2013.
Using him in spot duty made more sense because the dual-threat Jennings possesses a different skill set from Mettenberger, a prototypical dropback passer. However, Jennings and Harris are much more similar players.
Regardless, Cameron expressed confidence that whoever wins the competition will be ready to be successful once the opener against Wisconsin arrives on Aug. 30.
"I would say this confidently: we're going to have more than one quality starter here at LSU," Cameron said. "That's what we're charged with and we'll get that done."
Linebacker rotation?:
Defensive coordinator John Chavis has rarely enjoyed the luxury that a deep group of linebackers might provide this season. Beyond starters
Kwon Alexander
,
D.J. Welter
and
Lamar Louis
, Chavis' position group runs two and three deep with quality players across the board -- and that might help not only on defense, but on special teams.
"If they're ready to play, we're going to play them. There's no question about that," Chavis said. "They're not any different than anybody else on our field. In an ideal situation, you'd like to have six starting linebackers and then they all could go play special teams and we could rest them on defense. Unfortunately we haven't been that way with depth.
"Is this a year that we can reach that? We're closer than we've been in the past."
In addition to players such as
Deion Jones
,
Duke Riley
and
Ronnie Feist
, Chavis has talented sophomore
Kendell Beckwith
trying to surpass Welter as the starting middle linebacker and one of the Tigers' top 2014 signees,
Clifton Garrett
, behind them.
It might be difficult to juggle, as there are only so many snaps to go around between the three linebacker spots. But Chavis seems confident that everyone who deserves to play will be on the field in some capacity.
"If you can go two deep and you don't have a drop-off, then that just makes your special teams even better," Chavis said.
No decisions on return men:
Speaking of special teams, coach Bradley Dale Peveto said he is considering six candidates for the punt return and kickoff return jobs, but wasn't ready to identify them yet.
Tre'Davious White
and
Travin Dural
are among the players known to be working at punt returner and
Terrence Magee
is among the kickoff return men.
"We had four great days in evaluating a lot of our team, got it down to six guys at each spot," Peveto said. "I don't really want to talk about that yet because we've got a great competition going on, but I'm going to tell you we've got enough. We've got some really good guys, some really talented young men who might compete for those positions."
Miles said earlier that
Trent Domingue
has taken over as the Tigers' kickoff specialist.
Right guard competition:
Offensive line coach Jeff Grimes chuckled when asked how the right guard competition is shaking out.
"It's still shaking," Grimes said. "We'll let it go until somebody lays claim to it."
Seniors
Fehoko Fanaika
and
Evan Washington
have battled for the starting job at right guard, the lone spot where the Tigers lost a starting offensive lineman from 2013.
August, 25, 2012
8/25/12
7:40
PM ET
The last thing Auburn needed this close to next Saturday's season opener against Clemson was an off-the-field incident.

Moreover, one of the last players Auburn could afford to lose was sophomore center
Reese Dismukes
, who was a freshman All-American last season and the closest to a sure thing on Auburn's inexperienced offensive line.
As fate would have it, Auburn will be without Dismukes next Saturday when it faces Clemson in the Chick-fil-A Kickoff game in Atlanta.
Auburn coach Gene Chizik suspended Dismukes
on Saturday following Dismukes' arrest early Saturday morning on a charge of public intoxication.
Chizik's statement didn't specify how long Dismukes would be suspended, but it will at least be for the opener. Auburn plays at Mississippi State the second week of the season.
That Chizik would suspend such a key player for such a key game over a relatively minor charge tells you all you need to know about where Chizik's tolerance level is for off-the-field nonsense. He's obviously sending a message to his team for the long term. After all, it hasn't been the rosiest of offseasons for the Tigers.
Props to Chizik for taking a strong stand. It takes guts to put your best offensive lineman on the bench for an opener as pivotal as this one. Then again, Clemson will be in the same boat. All-America receiver
Sammy Watkins
will miss the first two games following his drug-related arrest in May.
The loss of Dismukes presents a couple of different problems for Auburn, which was already lacking experience on its offensive line. Dismukes started all 13 games at center last season, and his backup, sophomore
Tunde Fariyike
, has never started in a game. That means Auburn could have as many as three or four offensive linemen making their first career starts against Clemson. Three freshmen are in the rotation -- redshirt freshman
Greg Robinson
at left tackle, true freshman
Avery Young
at right tackle and true freshman
Alex Kozan
at guard.
There's also a chance that Auburn offensive line coach Jeff Grimes could do some shuffling. Senior guard
John Sullen
and Kozan could be possibilities at center, and if Sullen does makes the move to center, redshirt freshman
Christian Westerman
would then move up the depth chart at guard.
However it shakes out, Auburn is going to open the season with a handful of guys seeing their first meaningful action in the offensive line.
The other thing to consider is that sophomore
Kiehl Frazier
will be making his first start at quarterback, which is unnerving enough. Now, he's going to be taking snaps from somebody other than the starting center and the center he worked the most with this preseason.
That's never an ideal combination -- a first-time starter at quarterback and a new center.
September, 12, 2011
9/12/11
3:33
PM ET
Friday, the night before Auburn's game with Mississippi State, offensive line coach Jeff Grimes left the Tigers with a bible verse to ponder before Saturday's slugfest.
[+] Enlarge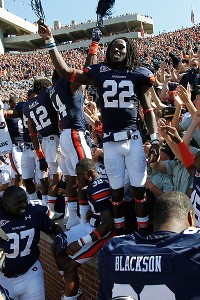 AP Photo/Dave MartinDefensive back T'Sharvan Bell, 22, celebrates with teammates after the Tigers' 41-34 win against Mississippi State.
Grimes reminded the young Tigers of 1 Timothy 4:12, which addresses youth and not allowing it to be a deterrent. Grimes instructed his players to embrace their youth and overcome their inexperience with smarts and instinct.
Auburn used that tactic, and while it endured a back-and-forth shootout with the Mississippi State, the Tigers prevailed with a last-second goal-line stop that sent Jordan-Hare Stadium into a frenzy and Auburn to 2-0 on the season.
The Tigers know they are young and they know that they've squeaked by in the first two games, winning by a combined nine points, but they also know they're winners, leading sophomore defensive end Nosa Eguae to say that this youth talk is overrated because the heart of this team is overwhelmingly strong. There are veteran attitudes inside these young bodies.
Eguae went as far to say that since his arrival in 2009, he hasn't seen a team strive to improve like this one has -- and last season's squad won it all in perfect fashion.
He saw it on the faces of his teammates after Saturday's win. Players were second-guessing plays, criticizing routes they took to the ball and trying to figure out better ways to get open or block. That, beyond the wins, is what really impresses one of Auburn's top leaders.
"I see guys that just want to get better," said Eguae, who was third on the team with nine tackles and had two quarterback hurries Saturday. "I haven't seen it in my two years here, guys that are all on the same page of getting better."
Auburn opened the Mississippi State game with seven underclassmen starting on defense. That youth definitely showed with the 531 yards of offense and the 27 points the Tigers surrendered. But when it came to being more physical and having the endurance to last four quarters, the young cats did it.
"We played with a big chip on our shoulder," said sophomore safety Demetruce McNeal, who returned a
Chris Relf
pass for a touchdown Saturday. "We came out to get some things off our chests and show that we can still do it. Even after everybody we lost from last year, we've got heart. We're going to bring everything we've got to the table -- every week. We're just going to ball out and show everybody that we're Auburn and we can still do it."
But can this young group keep up the act of taking games down to the wire? It's only inevitable that this approach catches up with it, no matter the energy it possesses, and Auburn coach Gene Chizik didn't deny that.
He knows his team is playing with fire, but he also knows that no matter the average age of his players, he sees a group figuring out ways to win. It might not be the most favorable style of winning, but the Tigers will battle and that says a lot about the youth of this team.
"They are young, but they want to be good," Chizik said.
"Are we a great football team right now? No. Not even close. But the identity of the team is starting to form week by week because they will fight. They will not look at the scoreboard, and that's been one of the trademarks that we've really tried to instill in these guys that we are not looking for the scoreboard until it says 0:00, because everything else in-between does not matter."
February, 27, 2009
2/27/09
1:15
PM ET
Posted by ESPN.com's Chris Low
Taking a stroll around the SEC to see what else is out there:
January, 21, 2009
1/21/09
12:15
PM ET
Posted by ESPN.com's Tim Griffin
Here are some links to keep you informed about doings around the Big 12. Enjoy.
January, 19, 2009
1/19/09
12:49
PM ET
Posted by ESPN.com's Tim Griffin
Who says it's the offseason? There's always news aplenty in the Big 12.