August, 25, 2012
8/25/12
7:40
PM ET
The last thing Auburn needed this close to next Saturday's season opener against Clemson was an off-the-field incident.

Moreover, one of the last players Auburn could afford to lose was sophomore center
Reese Dismukes
, who was a freshman All-American last season and the closest to a sure thing on Auburn's inexperienced offensive line.
As fate would have it, Auburn will be without Dismukes next Saturday when it faces Clemson in the Chick-fil-A Kickoff game in Atlanta.
Auburn coach Gene Chizik suspended Dismukes
on Saturday following Dismukes' arrest early Saturday morning on a charge of public intoxication.
Chizik's statement didn't specify how long Dismukes would be suspended, but it will at least be for the opener. Auburn plays at Mississippi State the second week of the season.
That Chizik would suspend such a key player for such a key game over a relatively minor charge tells you all you need to know about where Chizik's tolerance level is for off-the-field nonsense. He's obviously sending a message to his team for the long term. After all, it hasn't been the rosiest of offseasons for the Tigers.
Props to Chizik for taking a strong stand. It takes guts to put your best offensive lineman on the bench for an opener as pivotal as this one. Then again, Clemson will be in the same boat. All-America receiver
Sammy Watkins
will miss the first two games following his drug-related arrest in May.
The loss of Dismukes presents a couple of different problems for Auburn, which was already lacking experience on its offensive line. Dismukes started all 13 games at center last season, and his backup, sophomore
Tunde Fariyike
, has never started in a game. That means Auburn could have as many as three or four offensive linemen making their first career starts against Clemson. Three freshmen are in the rotation -- redshirt freshman
Greg Robinson
at left tackle, true freshman
Avery Young
at right tackle and true freshman
Alex Kozan
at guard.
There's also a chance that Auburn offensive line coach Jeff Grimes could do some shuffling. Senior guard
John Sullen
and Kozan could be possibilities at center, and if Sullen does makes the move to center, redshirt freshman
Christian Westerman
would then move up the depth chart at guard.
However it shakes out, Auburn is going to open the season with a handful of guys seeing their first meaningful action in the offensive line.
The other thing to consider is that sophomore
Kiehl Frazier
will be making his first start at quarterback, which is unnerving enough. Now, he's going to be taking snaps from somebody other than the starting center and the center he worked the most with this preseason.
That's never an ideal combination -- a first-time starter at quarterback and a new center.
September, 12, 2011
9/12/11
3:33
PM ET
Friday, the night before Auburn's game with Mississippi State, offensive line coach Jeff Grimes left the Tigers with a bible verse to ponder before Saturday's slugfest.
[+] Enlarge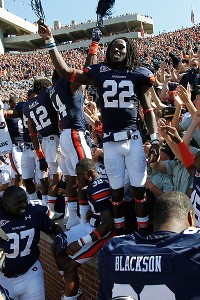 AP Photo/Dave MartinDefensive back T'Sharvan Bell, 22, celebrates with teammates after the Tigers' 41-34 win against Mississippi State.
Grimes reminded the young Tigers of 1 Timothy 4:12, which addresses youth and not allowing it to be a deterrent. Grimes instructed his players to embrace their youth and overcome their inexperience with smarts and instinct.
Auburn used that tactic, and while it endured a back-and-forth shootout with the Mississippi State, the Tigers prevailed with a last-second goal-line stop that sent Jordan-Hare Stadium into a frenzy and Auburn to 2-0 on the season.
The Tigers know they are young and they know that they've squeaked by in the first two games, winning by a combined nine points, but they also know they're winners, leading sophomore defensive end Nosa Eguae to say that this youth talk is overrated because the heart of this team is overwhelmingly strong. There are veteran attitudes inside these young bodies.
Eguae went as far to say that since his arrival in 2009, he hasn't seen a team strive to improve like this one has -- and last season's squad won it all in perfect fashion.
He saw it on the faces of his teammates after Saturday's win. Players were second-guessing plays, criticizing routes they took to the ball and trying to figure out better ways to get open or block. That, beyond the wins, is what really impresses one of Auburn's top leaders.
"I see guys that just want to get better," said Eguae, who was third on the team with nine tackles and had two quarterback hurries Saturday. "I haven't seen it in my two years here, guys that are all on the same page of getting better."
Auburn opened the Mississippi State game with seven underclassmen starting on defense. That youth definitely showed with the 531 yards of offense and the 27 points the Tigers surrendered. But when it came to being more physical and having the endurance to last four quarters, the young cats did it.
"We played with a big chip on our shoulder," said sophomore safety Demetruce McNeal, who returned a
Chris Relf
pass for a touchdown Saturday. "We came out to get some things off our chests and show that we can still do it. Even after everybody we lost from last year, we've got heart. We're going to bring everything we've got to the table -- every week. We're just going to ball out and show everybody that we're Auburn and we can still do it."
But can this young group keep up the act of taking games down to the wire? It's only inevitable that this approach catches up with it, no matter the energy it possesses, and Auburn coach Gene Chizik didn't deny that.
He knows his team is playing with fire, but he also knows that no matter the average age of his players, he sees a group figuring out ways to win. It might not be the most favorable style of winning, but the Tigers will battle and that says a lot about the youth of this team.
"They are young, but they want to be good," Chizik said.
"Are we a great football team right now? No. Not even close. But the identity of the team is starting to form week by week because they will fight. They will not look at the scoreboard, and that's been one of the trademarks that we've really tried to instill in these guys that we are not looking for the scoreboard until it says 0:00, because everything else in-between does not matter."
February, 27, 2009
2/27/09
1:15
PM ET
Posted by ESPN.com's Chris Low
Taking a stroll around the SEC to see what else is out there:
January, 21, 2009
1/21/09
12:15
PM ET
Posted by ESPN.com's Tim Griffin
Here are some links to keep you informed about doings around the Big 12. Enjoy.
January, 19, 2009
1/19/09
12:49
PM ET
Posted by ESPN.com's Tim Griffin
Who says it's the offseason? There's always news aplenty in the Big 12.
TOP 25 SCOREBOARD
Saturday, 12/21
Monday, 12/23
Tuesday, 12/24
Thursday, 12/26
Friday, 12/27
Saturday, 12/28
Monday, 12/30
Tuesday, 12/31
Wednesday, 1/1
Thursday, 1/2
Friday, 1/3
Saturday, 1/4
Sunday, 1/5
Monday, 1/6