NCF Nation:

Jeff Hecklinski
May, 20, 2013
5/20/13
9:00
AM ET
Ohio State already had started paying more competitive salaries for assistant coaches before Urban Meyer arrived in November 2011.
But when Meyer and athletic director Gene Smith sat down to discuss staff pay, Smith soon realized he needed to do more.
"I think Michigan had stepped up with their coordinators," Smith recalled last week during Big Ten spring meetings in Chicago. "So we were already going to that before Urban Meyer came, but we bumped it up a little more. Any time there's change, you have that opportunity."
[+] Enlarge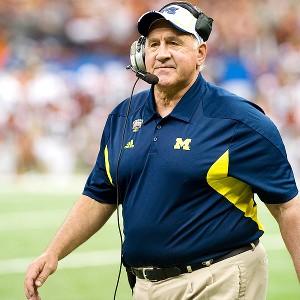 Lon Horwedel/Icon SMIMichigan DC Greg Mattison ranks as the highest-paid assistant coach in the Big Ten for the 2013 season.
"Everyone's always focused on head coaches' salaries," Smith continued. "That's always the thing. But really when you look at the changes, it's really been assistants' salaries across the country -- not just in the SEC, but the Big 12, Pac-12, all across the country."
The Big Ten is part of the change, too, as the league is allocating more money toward football assistants than ever before. The Detroit Free Press has an
excellent look at Big Ten assistants' salaries
, complete with a
database
that includes 10 of the 12 current members (Northwestern doesn't submit salaries as a private institution, and Penn State doesn't have to because of state laws).
The Free Press found that eight of the 10 schools are paying more for assistants in 2013 than they did in 2012 (only Indiana and Illinois are not). There are some significant total increases, such as Wisconsin (up $558,000), Nebraska (up $518,500), Purdue ($400,000) and Minnesota ($355,000). Staff pay had been an issue at Wisconsin, which lost six assistant coaches following the 2012 Rose Bowl, and at Purdue, which paid less for its staff during the Danny Hope era than any Big Ten school.
The total trend among the 10 schools is an increase of $1,720,852.24 for 2013.
Ohio State and Michigan remain No. 1 and No. 2 in Big Ten staff salary, as the Buckeyes allocate $3.416 million and the Wolverines allocate $2.805 million. Nebraska and Wisconsin make the biggest moves in the league for 2013, as the Huskers rise from sixth to third and the Badgers rise from seventh to fourth.
Illinois, which replaced five assistants from the 2012 team, including co-offensive coordinators Chris Beatty and Billy Gonzales, dropped from third in staff pay ($2.314 million) to eighth ($2.065 million).
The database shows that nearly every Big Ten assistant with "coordinator" in his title -- whether he's the sole coordinator or a co-coordinator -- will earn north of $300,000 for 2013. Only 18 assistants listed will make less than $200,000 in 2013 -- 15 work for Minnesota, Illinois, Purdue and Indiana.
Some notes:
Although Wisconsin paid former offensive coordinator Paul Chryst good coin, the school has increased its commitment for Gary Andersen's staff, not only with the coordinators but with some coveted position coaches like running backs coach Thomas Hammock ($300,000).

All of Nebraska's assistants are earning $200,000 or more for 2013, but there's a huge drop-off between Beck and the next highest-paid assistant (defensive coordinator John Papuchis at $310,000).

Michigan State has a similar drop off between Narduzzi and co-offensive coordinators Dave Warner ($270,000) and Jim Bollman ($260,000). Warner will be the primary offensive play-caller and has been on Mark Dantonio's staff since 2006, while Bollman is a newcomer.

Although Michigan is paying top dollar for its coordinators, the school gets its assistants for a relative bargain. Receivers coach/recruiting coordinator Jeff Hecklinski will earn $225,000 in 2013, while the others all will earn $205,000. Ohio State, meanwhile, pays all but one of its assistants $286,000 or more.

The Big Ten's three lowest-paid assistants all are in their first years: Illinois wide receivers coach Mike Bellamy ($125,000) and Purdue linebackers coach Marcus Freeman and running backs coach Jafar Williams (both at $120,000).

Although schools like Illinois, Wisconsin and Iowa ($325,000) pay their coordinators the exact same amount, others have slight differences in salary. Purdue's Shoop makes $5,000 more than defensive coordinator Greg Hudson. Minnesota defensive coordinator Tracy Claeys ($340,000) makes $5,000 more than offensive coordinator Matt Limegrover. Wonder if that leads to any underlying jealousy?

Most Big Ten schools have assistant salaries in round numbers, but there are some interesting totals from Indiana, which pays co-offensive coordinators Seth Littrell and Kevin Johns $255,500.04 and new recruiting coordinator/assistant defensive line coach James Patton $173,740.08. Never know when that change can come in handy.
The Big Ten still lacks some of the OMG totals seen in the SEC -- LSU is
paying new offensive coordinator Cam Cameron $3.4 million
in the next three years -- but the overall trend puts the league more on par with what we're seeing nationally.
April, 26, 2013
4/26/13
2:58
PM ET
Remember two years ago, when Michigan created a lot of big plays by having
Denard Robinson
basically throw a jump ball that his receivers would somehow go up and grab? Well, by the looks of things, that might become a staple of the offense in the future. Only those receivers won't have to jump too high.
The Wolverines' strategy when it comes to recruiting receivers these days could be summed up in three words: super size me. On Thursday, Detroit wideout
Maurice Ways
became the latest player to commit to Brady Hoke. Ways is 6-foot-3.

He joins current Class of 2014 commits
Drake Harris
, a 6-foot-4 receiver, and
Ian Bunting
, a tight end who's been listed as tall as 6-foot-7. Meanwhile, Michigan's celebrated 2013 class included three skyscraper receivers: 6-foot-4
Jaron Dukes
, 6-foot-3
Csont'e York
and 6-foot-2
Da'Mario Jones
. They'll join current redshirt freshman
Jehu Chesson
(6-foot-3) and sophomore
Amara Darboh
(6-2) in Ann Arbor.
There's no secret to what's going on here. Michigan is moving on from its spread offense days and diving full bore back into the pro style system. Offensive coordinator Al Borges wants rangy, lanky athletes on the outside, both for the mismatches they create and their ability to block for the running game.
The Wolverines got great production out of the 6-2 Junior Hemingway the last two years, but their top returning receiver this year is
Jeremy Gallon
, who's only 5-foot-8. Gallon is an excellent player, but future Michigan receivers will likely look less like him and more like former great Braylon Edwards (6-3). Unlike the days of Rich Rodriguez's spread, the Wolverines appear to be valuing size over speed.
"Speed is overrated," receivers coach Jeff Hecklinski told reporters in February. "All of our guys, if you watch them on high-school film, they have great hands, they adjust to the ball, they track the ball very well in the air and they go up and they catch it. We can judge that on film, so let's get the best hand-eye coordination guys, guys that can catch the football, let's bring them in here and let's develop them in other areas."
Michigan's chief rival, and the other Big Ten team that's been cleaning up on the recruiting trail of late, is taking a different approach. Sure, Ohio State coach Urban Meyer wants guys with great hand-eye coordinator and catching ability, too. But he really wants blazing speed for his system. Just look at the receivers the Buckeyes landed in the 2013 class: Jalin Marshall (5-11), Dontre Wilson (5-10), James Clark (5-11) and
Corey Smith
(6-1). Receiver seems to be one position where Michigan and Ohio State are not in direct competition for the same players.
It will be interesting to see what kind of matchup problems the Wolverines' height at receiver poses for Big Ten defenses. Just take a look at the listed sizes of some of the top cornerbacks in the league the past two seasons:
Michigan State's
Johnny Adams
: 5-11
Purdue's
Ricardo Allen
: 5-9
Michigan State's
Darqueze Dennard
: 5-11
Ohio State's
Bradley Roby
: 5-11
Iowa's
Micah Hyde
: 6-1
Nebraska's Alfonzo Dennard: 5-10
Iowa's Shaun Prater: 5-11
Size, of course, doesn't always matter. There's also leverage, separation, route running, catching ability and several other factors that go into being great receivers. Former Michigan stars Desmond Howard (5-10) and Anthony Carter (5-11) did just fine without towering over people.
But Michigan is clearly taking its receiver position to new, um, heights. It will be fun to see how the strategy pays off in the near future.
February, 27, 2013
2/27/13
9:00
AM ET
It was just a coincidence that our Big Ten
postseason Top 25 player rankings
wrapped up the same week when players were showing off their skills at the NFL combine.
But the convergence of the two raised one pressing question: Where are all the star Big Ten wide receivers?
Only one Big Ten product was invited to the NFL combine to work out as a wide receiver, and that was Michigan's
Denard Robinson
. He, of course, spent almost all of his career at quarterback, finishing with three catches during his four years as a Wolverine. Maybe he'll turn into a productive receiver at the next level, but he doesn't really count.
[+] Enlarge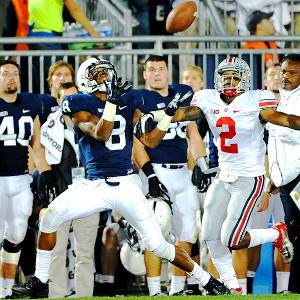 Rich Barnes/US PresswirePenn State's Allen Robinson was the lone wideout from the Big Ten to reach the 1,000-yard mark in receiving yards last season.
Meanwhile, our Big Ten player rankings contained only one receiver: Penn State's
Allen Robinson
, who
checked in at No. 11.
That shouldn't come as a surprise to those who watched the league this year. While Robinson had a huge breakout year with 1,018 receiving yards and 11 touchdowns, no other Big Ten player ranked among the top 71 FBS performers in
receiving yards per game
, the top 58 in
total receiving yards
or the top 50 in
receptions per game
.
In some ways, it was a transitional year for Big Ten receivers. The 2011 season saw four players top 1,000 receiving yards and two others go for at least 925. The NFL drafted six Big Ten receivers last April, including Illinois' A.J. Jenkins in the first round. Iowa's Marvin McNutt and Michigan State's B.J. Cunningham finished their careers as the most productive pass-catchers in school history.
So 2012 was just a blip after a bumper crop, right? Maybe, maybe not. While players from the 2011 group still have time to develop, none of them made much of an impact in the pros last year. Jenkins didn't catch a single pass for the San Francisco 49ers. McNutt spent most of the year on the Philadelphia Eagles' practice squad. The Miami Dolphins cut Cunningham a few months after drafting him. Michigan State's Keshawn Martin had the most successful rookie year of the bunch, catching 10 passes for 85 yards and a score for the Houston Texans. But we weren't exactly witnessing the second coming of Lee Evans, David Boston, Terry Glenn, Plaxico Burress or Braylon Edwards. Not yet anyway.
There are some promising young talents at receiver in the Big Ten. Robinson and Nebraska's
Kenny Bell
are both entering their junior years and could break most of their school records by the time they're finished. Indiana has a terrific trio in
Cody Latimer
,
Shane Wynn
and
Kofi Hughes
. Wisconsin's
Jared Abbrederis
has a chance to end his career with more than 3,000 yards despite arriving as a walk-on.
League wideouts were also no doubt hampered at least in part by a lack of prolific pocket passers in the conference. The two top quarterbacks in our rankings were Ohio State's
Braxton Miller
and Nebraska's
Taylor Martinez
, who are more athletes right now than precision throwers. Michigan's receivers were nearly invisible until
Devin Gardner
took over for Denard Robinson. And Allen Robinson was able to put up big numbers thanks in large measure to the pro-style passing offense Bill O'Brien installed at Penn State.
Still, while the Big Ten is never going to be the Big 12 when it comes to producing eye-popping passing stats, the league appears to be trailing other conferences in developing superstar receivers. That's a little troubling at a time when football at every level is becoming more and more reliant on the passing game.
Ohio State coach Urban Meyer talked about his program's lack of difference-makers at receiver last year, so it was good to see the Buckeyes land what ESPN.com ranked as the
top receiver/athlete haul in the 2013 signing class
. Recruits like
Dontre Wilson
,
Jalin Marshall
and
Corey Smith
could make an immediate impact. It was also encouraging to see Michigan, which has a great tradition at the position, bring in some big-bodied receivers in this class (though it was a bit odd to hear Wolverines receivers coach Jeff Hecklinski say "
speed is overrated"
for wideouts).
Michigan, Nebraska and Minnesota saw what a difference having stud receivers can make in their bowl games. Unfortunately, those star wideouts were on the other sideline. To beat the best teams in the country, it's essential that Big Ten teams recruit and develop standout players at the receiver position.
May, 22, 2012
5/22/12
10:30
AM ET
Every good conference boasts some coaching villains, and the Big Ten has several men who fill the role. No one will confuse the Big Ten with the SEC, where all 12 coaches have voodoo dolls of one other and dart boards with their opponents' heads as the bull's-eyes. But let's not forget the Big Ten produced Woody and Bo, two men who certainly played the villain when they set foot on opposing soil. The Big Ten may never see Woody versus Bo, Part II, but you get 12 Type A personalities competing for championships in a high-stakes sport, and it's going to get heated.
Last month, we asked you to weigh in on the
most disliked Big Ten coach
. Not surprisingly, the three highest vote-getters also earned our nod for their villainous traits. Remember, this is all in fun, and it's important to note that it's hard to be a coaching villain if you don't win a lot of games or tick off multiple fan bases.
Let's take a look.
Bret Bielema, Wisconsin (six seasons, 60-19 overall and at Wisconsin)

Any coach who plays college ball, has his team's logo tattooed on his leg, and then ends up coaching a major rival is predisposed to be a villain. Bielema, a former Iowa defensive lineman, still sports the Tigerhawk stamp on his leg, but he's very much a Badger these days. While Bielema might not be a favorite son in Iowa, he has ticked off others around the league a little more.
In 2010, Bielema ignited a flap with Minnesota when he called for a 2-point conversion attempt with Wisconsin ahead by 25 points in the fourth quarter. Minnesota coach Tim Brewster confronted Bielema after the game and later said Bielema made "a poor decision for a head football coach." Bielema claimed he was following the coaches' card of when to go for two or not, but given tension with Brewster and the Wisconsin-Minnesota rivalry, few bought his explanation. The Wisconsin coach didn't help his rep a few weeks later when the Badgers' record-setting offense put up 83 points against Indiana, although the sportsmanship complaints seemed hollow as Indiana totally packed it in that day.
Then came national signing day in February, when Bielema at a news conference referred to "illegal" recruiting tactics by new Ohio State coach Urban Meyer. Many incorrectly interpreted Bielema's comments as sour grapes about losing a recruit (Kyle Dodson) to Meyer, but Bielema didn't publicly specify what he meant or why he contacted Meyer to discuss the situation. The allegations didn't sit well with Meyer or Ohio State athletic director Gene Smith, although the situation put to rest the ridiculous belief about a "gentleman's agreement" among Big Ten coaches.
Bielema is relatively young, highly successful and never short on confidence. He's very media savvy and knows how to get his message across. He may fill the villain role for several fan bases, but he's the one going to Pasadena every year.
Urban Meyer, Ohio State (first season, 104-23 overall in 10 seasons)

Meyer hasn't coached a single game as Ohio State's head man, but he still received the most votes as the league's most disliked coach. Unlike the others in the Big Ten villain mix, Meyer sparks ire in other parts of the country, particularly in a little place they call Gator Country.
He left Florida after the 2010 season -- after nearly stepping away the previous year -- citing health concerns and a desire to spend more time with his family. Some saw him taking the Ohio State job, undoubtedly another pressure cooker, just a year after leaving Florida, as disingenuous. More Florida fallout arrived this spring in a
Sporting News story
that showed Meyer as the overseer and enabler of a mess in Gainesville.
Meyer's Big Ten villainy stems mostly from his immediate success on the recruiting trail after being hired in late November. In two months he put together the Big Ten's top-rated recruiting class, which included several players who had flipped from other programs to the Buckeyes. His surge drew comments from Bielema and Michigan State defensive coordinator Pat Narduzzi, and the perception that Meyer has rocked the boat in the Big Ten remains very much alive.
Although Meyer and Michigan coach Brady Hoke have been cordial to this point -- they have the same agent, Trace Armstrong -- it's only a matter of time before things get spicy. Ohio State set off a mini blaze by displaying a
sign in the football complex
comparing its players' academic majors with those of Michigan's.
Buckle up.
Mark Dantonio, Michigan State (five seasons, 44-22 at MSU, 62-39 in eight seasons overall)

The seemingly permanent scowl. The deep, borderline monotone voice. The willingness to stick up for players who make mistakes and fuel rivalries. In many ways, Dantonio looks and sounds more like a villain than any of his Big Ten coaching brethren. Warm and fuzzy he is not, and while he has a unique sense of humor and can be charming, he comes off serious, intense and, some would say, confrontational.
Dantonio has made some notable statements about archrival Michigan in his five seasons in East Lansing. Who can forget his "pride comes before the fall" response to Mike Hart after the 2007 Michigan State-Michigan game? After last season's personal-foul fest against Michigan, a game Michigan State won 28-14, Dantonio drew criticism for not suspending defensive end
William Gholston
, who had punched a Wolverines player and twisted the helmet of another (the Big Ten later suspended Gholston for a game). In January, he
interrupted Michigan assistant Jeff Hecklinski
during a presentation to state high school coaches. And this spring, he set off some fireworks by
telling Brian Bennett
, "We're laying in the weeds. We've beat Michigan the last four years. So where's the threat?"
Some Michigan fans still dismiss Michigan State as not a real rival, but Dantonio has certainly gotten under the skin of Wolverines backers, especially because he keeps beating the Maize and Blue.
Dantonio also was looped into the Meyer/Bielema flap in February, although his general comments about recruiting were misinterpreted by a reporter.
The hyper intense Dantonio has some villain in him. And if he keeps winning at Michigan State, the image will continue to grow.
February, 3, 2012
2/03/12
1:15
PM ET
Urban Meyer has been receiving a lot of accolades for his recruiting work at Ohio State. But don't forget the hard work his assistants did in compiling one of the best classes in the country.

ESPN.com has named Buckeyes assistant Mike Vrabel as its 2012 Big Ten
recruiter of the year
.
"Vrabel moved from linebackers coach to defensive line coach with the hire of Urban Meyer. And in the process the two-year assistant helped secure one of the nation's best defensive line classes. Five-star prospect Noah Spence was the biggest signing in the class, but four-star prospects Adolphus Washington, Se'Von Pittman and Jamal Marcus give the Buckeyes four of the nation's top 16 players at the defensive end position. Vrabel deserves much of the credit for that."
It's an impressive achievement for the former New England Patriots star linebacker, who only became a college coach last summer following his retirement from the NFL. Vrabel should have a lot of fun coaching up the talent on that Ohio State defensive line.
Other recruiters who earned honorable mention in the ESPN.com evaluation were Nebraska's John Garrison, Northwestern's Randy Bates, Michigan's Jeff Hecklinski and Michigan State's Mark Staten.
January, 19, 2011
1/19/11
8:00
AM ET
My apologies for not posting last night -- was out and about -- but Michigan coach Brady Hoke announced the hiring of seven assistant coaches, including both coordinators.
We already knew Hoke was bringing offensive coordinator Al Borges with him from San Diego State. The big move came Tuesday night as
Hoke named Greg Mattison as his defensive coordinator
. Mattison most recently served as Baltimore Ravens defensive coordinator and returns to Michigan, where he served as a Wolverines assistant with Hoke in the 1990s. Mattison coached Michigan's defensive line from 1992-96 and served as the team's defensive coordinator in the final two seasons.
Like Hoke,
Mattison still has a strong bond with the Michigan program
.
[+] Enlarge

AP Photo/Rob CarrGreg Mattison has been the Baltimore Ravens defensive coordinator the past two seasons. He'll take the same job at Michigan.

"He has loved Michigan since working there earlier in his career," Ravens coach John Harbaugh said in a statement. "We will miss him because he's a great coach, but also an even better person. The students there are the lucky ones. Not only will he teach them football to the highest level, he will influence them to be the best persons they can be. Greg is one of the good people you are fortunate to meet in your life. We are disappointed that he will not be coaching our defense, but we know that he is following a true love by returning to the Wolverines."
The thing that jumps out about Mattison is his experience:
14 years as a defensive coordinator (12 in college, the past two with the Ravens)

served as co-defensive coordinator and D-line coach at Florida from 2005-07, helping the Gators win a national title in 2006

has held positions at three different Big Ten schools -- Michigan, Northwestern and Illinois -- in addition to spending eight seasons on Notre Dame's staff
Mattison has seen just about everything in his career and faced all sorts of challenges. He encounters a difficult one at Michigan, which comes off of the worst defensive stretch in team history.
The Wolverines ranked 110th nationally in total defense this year and finished 108th, 77th and 84th nationally in points allowed in the past three seasons. Youth and lack of depth certainly played roles, but Michigan also had players who simply didn't improve, and that falls on the coaching staff.
It will take more than a good scheme to get Michigan on track. Mattison and his defensive staff must get back to the basics (tackling, alignment, angles to the ball). They inherit some good pieces like nose tackle Mike Martin, defensive end Craig Roh and cornerback Troy Woolfolk, but their real work takes place with the younger players to build depth.
I like the Mattison hire. Michigan needed a coach with loads of experience and a promising track record. He'll command respect from the players, and he understands the difficult task at hand.
In addition to Mattison and Borges, Hoke announced the following staff additions:
Dan Ferrigno (tight ends and special teams coordinator)

Darrell Funk (offensive line)

Jeff Hecklinski (receivers)

Mark Smith (linebackers)

Fred Jackson is the lone assistant retained from Rich Rodriguez's staff and will continue to coach running backs

Aaron Wellman takes over as head strength and conditioning coach
Aside from Mattison and Jackson, all the staff members are holdovers from Hoke's staff at San Diego State.