NCF Nation:

Jeff Lindquist
July, 25, 2014
Jul 25
11:00
AM ET
That's a wrap. Media days have come and gone, and we are officially in full football mode.
The big news from Day 2 was that
Washington Huskies
quarterback
Cyler Miles
will be suspended
for the first game of the season when the Huskies face the
Hawaii Warriors
on Aug. 30.
What does this mean for the Huskies in the short term? Nothing. As my colleague Ted Miller
tweeted
, a certain member of the Pac-12 blog could probably start at quarterback against Hawaii and win (though Ted is giving said member more credit than he deserves). Either
Jeff Lindquist
or
Troy Williams
will be fine.
But it hurts Miles' development in the sense that you are only guaranteed 12 (or 13, in the case of the Huskies this season) opportunities a season to improve, to learn, to develop. And when you lose one of those opportunities, you can't get it back.
We're confident that Miles (whom we all can assume would have won the starting job anyway) would have loved the opportunity to get that first touchdown throw out of the way, that first hit, that first good read and bad read. He'll likely get that shot a week later against Eastern Washington -- a team that gave
Oregon State
fits last season. Not saying the Huskies will share the same fate as the Beavers, but the Pac-12 blog would like its starter to at least have had a game under his belt.
On the flip side, it does give the Huskies a chance to get some valuable playing time for another quarterback. Miles already has some game experience. Last season he completed 37 of 61 passes for 418 yards and four touchdowns with two interceptions. He also rushed 23 times for 200 yards.
So I guess it depends on whether you view the glass as half empty or half full. But for coach Chris Petersen, it's a glass he'd much rather have not had to drink from in his first year with the team.
Hundley stereotyped?
An
interesting read
from Stewart Mandel of Fox Sports on
UCLA Bruins
quarterback
Brett Hundley
. Coach Jim Mora doesn't want Hundley to fall prey to the stereotype that African-American quarterbacks are just runners.
Here's what Mora told Mandel:
"People have a tendency at times to see an African-American quarterback and say, 'Oh, he's a runner.' I hate that stereotype and I always have," said Mora. "I coached Michael Vick and my belief [is] that we stereotype those guys started with him. I don't want that to happen with Brett, and I'm going to make sure that it doesn't, because it shouldn't. The guy's a passer."
Hundley doesn't want to get pigeonholed, either. Here's a story the blog
did on him back in April
, for which he talked about training with several NFL quarterbacks in the hopes of becoming a "complete" player.
He knows the Heisman hype is coming, telling the Pac-12 blog earlier Thursday, "There's nothing I can really do to stop other people from talking about it. I'm just going to do the best I can to block it out and focus on wins."
Is it boring? Yeah. Is it plain? Yeah. But considering some of the questionable off-the-field résumés of some recent Heisman winners, maybe we could all do with a little boring and plain off the field and center our focus on what happens on it.
Stanford-SJSU Take 2
Following up on a link
we brought you yesterday
, about San Jose State coach Ron Caragher addressing the possibility of the
Stanford Cardinal
and the
San Jose State Spartans
reuniting at Levi's Stadium, Stanford coach David Shaw says he's on board.
Shaw told Jon Wilner of the San Jose Mercury News
, "I never wanted to stop the series. I hope we get back to it."
For the Bay Area, for the schools and for the fans, we can all agree we'd like to see the game reinstated.
Injury notes
Some injury updates that came out of media days:
Oregon State's
Isaac Seumalo
should be available early in the season,
according to Gina Mizell of the Oregonian
.
Christian Caple reported that Washington defensive lineman
Jaimie Bryant
has taken a medical retirement
.
Jon Wilner of the San Jose Mercury News first reported that wide receiver
Ty Montgomery
might be inactive for Week 1
against UC Davis.
July, 24, 2014
Jul 24
9:15
PM ET
HOLLYWOOD, Calif. -- It isn't surprising that quarterback news led Day 2 of Pac-12 media days. This is, after all, the Conference of Quarterbacks, and this bumper crop of 10 returning starters might be the Pac-12's best-ever collection gathered behind center.
Yet it was the impending absence of the 11th quarterback, the
Washington Huskies
' expected starter
Cyler Miles
, that provided the top headline, as Huskies coach Chris Petersen announced that Miles would be suspended for the season-opener at Hawaii. Miles, of course, was involved in a notorious pair of altercations after the Super Bowl. Those incidents were notorious because it seems positively buffoonish that Miles and receiver
Damore'ea Stringfellow
thought it justifiable, as
Denver Broncos
fans, to have thin skin that particular evening in the city of Seattle.
[+] Enlarge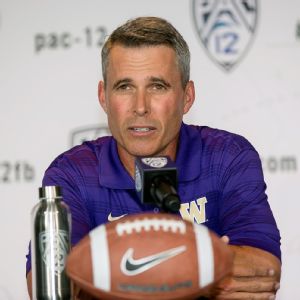 AP PhotoChris Petersen said that quarterback Cyler Miles, Washington's expected starter, would be suspended for the first game of the season.
What were they thinking amid the
Seattle Seahawks
revelers? We don't know, as neither has explained himself, and Petersen didn't even try to guess Thursday -- "We're dealing with the dumbest age group in America," he volunteered. Even the most sympathetic sorts struggled to make sense of it.
"I wasn't there so I don't know what happened," Huskies offensive tackle
Ben Riva
said. "Obviously, he was probably the one Bronco fan walking around Seattle that night. I think someone tried to rip his jersey off, and he got in a fight. If it were 20 years ago, probably no one would have heard about it. But this day and age, he got in trouble. It was kind of out of character for him. He's not the kind of guy who goes looking for something like that. He's responded well to it and he's ready to put it behind him."
Stringfellow, charged with two counts of fourth-degree assault and one count of malicious mischief, opted to transfer. Miles, who was never charged with a crime, was suspended for all of spring practices. Petersen said Miles has done enough, however, to earn his way back into the quarterback competition with sophomore
Jeff Lindquist
and redshirt freshman
Troy Williams
. He could win the starting job in the preseason, only then whoever comes in second will call the signals at Hawaii.
This, by the way, will have little effect on Petersen's debut game, as the Huskies will be double-digit favorites whoever plays quarterback. But it did provide some richer meat upon which the Pac-12 media could get its first taste of the coach. Without Miles' and Stringfellow's brain cramps, reporters would have focused their efforts on revisiting Petersen's leap from Boise State to the Pac-12, one of the biggest stories of the offseason, yet one that has become a bit ripe on the vine.
Petersen, who often ends up within shouting distance of Nick Saban and Urban Meyer on lists of the nation's best coaches, seemed perfectly comfortable explaining himself and his thinking vis-a-vis Miles, while not providing reporters too many details. It will surprise no one that a coach who won two BCS bowl games at Boise State was not overwhelmed by the larger stage afforded Pac-12 coaches -- even faced with the prickly topic of his quarterback having some embarrassing off-field trouble.
"I would say the fact he didn't have one day of spring football probably sent a pretty strong message to him," said Petersen, who was speaking for the first time about Miles since his reinstatement. "I think he will be a better person, a better teammate, a better everything after going through it. Guys make mistakes. Most important thing is to learn from it going forward."
This won't qualify as a great relief to Huskies fans, who already had a pretty good idea that Miles would be back in the quarterback mix after he wasn't charged. It does provide a comforting clarity. Miles has flashed plenty of potential, playing well when coming off the bench against the
UCLA Bruins
and winning at the
Oregon State Beavers
in his lone start replacing Keith Price.
Though the Huskies are not among the 10 teams with a returning starting quarterback, they have enough coming back at other spots, starting with a veteran offensive line, to hint that Petersen's first year should be at least interesting.
"Quarterbacks are great, but what would a quarterback do without an offensive line?" Riva said. "We've got all five offensive line starters back. So that's our bread and butter this year."
Petersen operates as another plot thickener for the conference. After listing the impressive returning talent at quarterback, observers next note the top-to-bottom depth of the conference. Then they see the coaches, whose Q-ratings seem to be at all-time highs. Day 2 of Pac-12 Media Days featured Petersen, Todd Graham, Jim Mora, David Shaw, Mike Riley and Mike MacIntyre. That's a crew with a lot to recommend it.
Further, there's the intertwined trio of Petersen, Mora and Steve Sarkisian, who inevitably will be compared going forward. Sarkisian bolted Washington for USC. Mora turned down overtures from Washington, his alma mater, to remain at UCLA. Petersen was the home run hire who helped Huskies fans quickly recover from that rejection.
Mora and Sarkisian are battling for Los Angeles bragging rights, which tends to get bitter. There will be plenty of commentary on whether Sarkisian or Petersen has better met or exceeded -- or fallen short -- of expectations. Mora already has a national title contender. Sarkisian and Petersen are expected to build ones, too.
Yes, Huskies fans expect to return to the national title discussion under Petersen. While it's been more than a decade since such talk seemed anything but laughable, Petersen is widely viewed as that sort of extreme difference-maker.
Now if he can only find a quarterback, preferably one who will behave as well as throw touchdown passes.
March, 5, 2013
3/05/13
1:00
PM ET
Call them seeming contradictions if you will, but Washington begins spring practices Tuesday with two mixed messages.
Senior Keith Price is the Huskies' starting quarterback. Unless he isn't.

There is a lot of enthusiasm surrounding the Huskies' potential in 2013. And general frustration with the program.
[+] Enlarge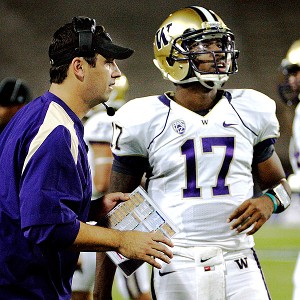 AP Photo/Wily LowCoach Steve Sarkisian says Keith Price is the Huskies' starting quarterback in 2013 -- unless he loses it to four players trying to oust him.
With 20 starters back, including a handful of seeming budding stars, the Huskies have the look of a top-25 team that could make some noise in the rugged Pac-12 North Division after three consecutive 7-win seasons, campaigns that have progressively soured fans pining for the proverbial "next step."
This, coach Steve Sarkisian acknowledges.
"I don't see why we wouldn't be in a position to compete for a division championship," he said.
Sarkisian also acknowledged the Huskies' offensive struggles in 2012. While an equal share of the blame should go to poor offensive line play, which was aggravated by injury issues, the easy guy to point the finger at is Price, whose play decidedly regressed after a strong debut season in 2011.
Price went from a darkhorse Heisman Trophy contender to eighth in the Pac-12 in passing efficiency, trailing three first-year starters and California's oft-criticized
Zach Maynard
. The Huskies averaged just 24 points per game, down nine from the 2011 season.
"We need to get our offensive numbers back to where they were two years ago," Sarkisian said.
And that starts with Price. Unless it doesn't.
"Keith Price is our starting quarterback -- the goal is to get Keith Price back to playing the way he was two years ago," Sarkisian said. "But there are four guys behind him who are going to be chomping at the bit to get an opportunity to make this thing into a competition that either is going to push Keith to be better than he's been or, ultimately, try to surpass him."
So this is Price's job. Unless... "As I've said to Keith," Sarkisian said, "we're not going to be stubborn enough that if we think another guy is playing better that guy won't get that opportunity to beat him out."
Those four guys trying to raise an eyebrow at Price's expense: Redshirt freshmen
Cyler Miles
,
Jeff Lindquist
, sophomore
Derrick Brown
and true freshman Troy Williams.
The bottom line meaning behind Sarkisian's statements is fairly straightforward: 1. He wants Price to win the job; 2. But he wants the Huskies to win as many games as possible in a critical season for him and the program; 3. He's going to play the guy who gives him the best chance for No. 2.
The quarterbacks will be working with a new position coach, Marques Tuiasosopo, whose name immediately evokes pleasant memories for Huskies fans. He quarterbacked the program to a No. 3 final ranking after the 2000 season, the Huskies' last Rose Bowl victory. A former dual-threat player, he's got an NFL pedigree, an easy-going style and a natural follow-me-to-the-gold! ability to lead. He also will allow Sarkisian to be more big-picture with the offense.
If the Huskies get the Price of 2011 -- or someone else who can produce a top-10 in the nation passing efficiency rating -- there are a lot of toys to play with, starting with RB
Bishop Sankey
, WR
Kasen Williams
and TE
Austin Seferian-Jenkins
. A young offensive line that got pushed around in 2012 should be much better, and the (eventual) return of former starters
Colin Tanigawa
and
Erik Kohler
will provide another boost.
The dramatic improvement of the defense in Year 1 under coordinator Justin Wilcox also suggests strong reasons for optimism.
Of course, the program has been glutted with optimism the past few seasons. Seven wins were a revelation in 2010. Not so much in 2012, particularly when the Huskies blew their final two games, most notably a shocking fourth-quarter collapse against Washington State, something that Cougars fans never, ever, ever bring up these days.
Sarkisian, as is his wont, can find a silver lining even there.
"I don't think that taste is going to go anywhere for awhile, which is OK," he said. "We lost two games that we should have won. The end result is we are sitting here talking about a 7-6 football team when we could have been here talking about a 9-4 football team. But I don't know if that's all bad. If we would have finished 9-4 and found a way to finish those last two games, I don't know what January or February would have been like for us as a football team. We may have still been hungry and I would like to think so and striving for more. We might have grown a bit complacent. What I do know is there is zero complacency in our locker room right now."
That lack of complacency must start with Price. He needs to regain his mojo. The same could be said for Sarkisian.
Washington will open a remodeled Husky Stadium this fall, a facility that will immediately rank among the nation's best. That will add to the anticipation of a special season, one that Huskies fans have turned purple -- appropriately -- holding their collective breath anticipating.
Said Sarkisian of Price, "We've been through a lot together and we've got one chapter left that we want to make a great ending."
September, 27, 2012
9/27/12
12:00
PM ET
For the record, just so we're all clear, Steve Sarkisian isn't satisfied.
But the Washington coach, who is now in the fourth year of his Pacific Northwest reclamation project, is confident he has the Huskies moving in the right direction.
"Inevitably, I know when I look at our roster, we've got a good football team on paper," Sarkisian said. "The challenge, when you've got a young football team like we have, is to play like that good football team all the time. That's something that we're going to have to work through. Not only throughout this season, but as we continue to move forward. When I look at our roster, I think we've got a good football team. And I think it's just a matter of time for us to really turn the corner."
Since taking over the once ill-fated squad, which went 0-12 in Tyrone Willingham's final season, Sarkisian has been turning corners much more frequently. It started with a five-win season in 2009, which included a competitive loss to LSU and a shocking 16-13 win over No. 3 USC. It was followed up by back-to-back bowl appearances and a victory in the 2010 Holiday Bowl.
"I knew what I wanted us to look like from the first day we took the field and what I wanted us to look like as we moved forward," he said. "For the most part, we've done that. There have been times when we haven't been that way. But for the most part, we have.
[+] Enlarge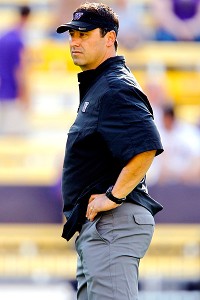 Derick E. Hingle/US PRESSWIRESteve Sarkisian's focus is on Saturday's game with Boise State, not the one next August.
"I made the statement at my opening press conference, I didn't think it would take us very long. Year 2, we're Holiday Bowl champs and Year 3 we're at the Alamo Bowl going toe-to-toe with the No. 10 team in the country. So I don't think that it has taken very long. Now we need to continually take the next steps in the right direction so that we can continue to grow."
Tonight's matchup against No. 8 Stanford should be a good measuring stick. So will next week against Oregon, the week after that against USC, the week after that against Arizona, the week after that against Oregon State, etc., etc.
The Huskies knew they had one of the toughest undertakings in college football in the first half of the season. And with the rise of the Wildcats and Beavers, the challenge becomes that much stiffer. It's the kind of schedule that, with a few wins, could catapult the Huskies into the rankings and make them once again relevant in the national picture -- something they haven't been in about a decade.
It's also the kind of schedule that could stagnate the momentum Sarkisian has generated in the first three years of his tenure. Most seemed pleased with five wins in '09 and a bowl win in '10. With four straight wins to close out the year -- including a revenge win over Nebraska in the Holiday Bowl -- the Huskies appeared to be trending up. But another seven-win season last year was marred by what players described as one of the worst defenses in school history, prompting massive overhauls on the defensive side of the ball.
Fair or not (usually it's not), coaching is a what-have-you-done-for-me-lately business. At some point -- probably in the near future -- seven wins aren't going to cut it anymore. Sarkisian knows it.
"I love our fans," he said. "That's what makes our fans great. They want us to be great. And that's why we were brought here. What I do know is this is a process. We've accomplished some really good things in three seasons. We're off to a pretty good start in year No. 4. We'll find out about ourselves in the next few weeks."
He's also hit the recruiting the recruiting trail hard and heavy -- putting up the proverbial fence and snagging top local players such as
Austin Seferian-Jenkins
,
Kasen Williams
and
Jeff Lindquist
. Since 2010, all of Washington's classes have been ranked in the top 25 nationally by ESPN, and the 2013 class currently ranks 20th.
"One of the real challenges for us, as we continue to move forward and our young players continue to develop, is the depth factor is evident," Sarkisian said. "That we have enough depth to endure the injuries when they occur. Those are the signs of a really good program. When a player goes down, the next guy that steps in, there isn't that drastic drop-off. I think we've really worked toward that direction. We're seeing a lot of that right now. That's the sign of the really good teams. Those teams where if someone goes out, sometimes the backup is better. And as all of these recruiting classes start coming together, that's what I want to be able to see. I don't want to see such a big discrepancy between our first-team unit and our second-team unit. We're starting to see that, but it has to continually get better."
The clock isn't exactly running out. But there's no more honeymoon, either. When renovations are completed on Husky Stadium and the team returns to its home field next year, it will be the start of Sarkisian's fifth season. Gigantic leaps forward will be preferable to baby steps.
"You look at conference records over the past three seasons and I think we have the fourth-best record in the conference behind the obvious ones of Oregon, SC and Stanford," he said. "From where we started to where we are, I feel good about the growth we've made."