NCF Nation:

Jeff Uhlenhake
July, 23, 2010
7/23/10
9:00
AM ET
You asked (nicely) for it, and this time, you get what you want.
Remember colleague Bruce Feldman's annual "Freaks" list, which examined the
top workout warriors in college football

for 2010? Ohio State sophomore defender John "Sandman" Simon
made the rundown
, along with other weight-room stars from around the country.
Several of you loved Feldman's list so much that you wanted me to create a similar one just for the Big Ten. Thanks to help from sports information staffers and strength coaches from around the conference, I've compiled the following list.
I based my selections primarily on weight-room numbers and comments from Big Ten strength coaches.
Not every player submitted made the rundown, and
both Wisconsin and Iowa chose not to make any individual player nominations
. While I know guys like Iowa's Adrian Clayborn and Wisconsin's J.J. Watt do some serious damage in the weight room, I'd rather only list players who have their schools' support and whose schools provided weight-room data and/or comments from strength coaches.
Penn State
didn't provide weight-room statistics but singled out linebacker Michael Mauti, wide receiver
Derek Moye
and defensive tackle Devon Still for their weight-room performance.
Here are my selections, listed alphabetically by school:
[+] Enlarge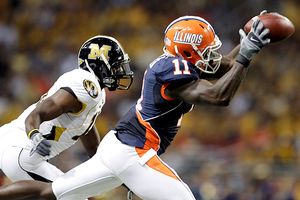 AP Photo/Jeff RobersonIllinois receiver Jarred Fayson has only four percent body fat.
Illinois WR Jarred Fayson
6-0, 215, Sr., Tampa, Fla.
Bench-presses 405 pounds, squats 500 pounds, power cleans 352 pounds

Runs the 40-yard dash in 4.4 seconds

Has just four percent body fat
Indiana LB Tyler Replogle
6-2, 238, Sr., Centerville, Ohio
Bench-presses 455 pounds, leg-presses 760 pounds

Has 33-inch vertical jump

Clocked at 4.2 seconds in the shuttle run
Michigan DT Mike Martin
6-2, 294, Jr., Redford, Mich.
Bench-presses 505 pounds, squats 700 pounds

Power cleans 430 pounds, hang cleans 475 pounds

Runs the 40-yard dash in 4.9 seconds

Strength coach Mike Barwis says: "Mike is an absolute warrior. He has a never quit attitude and is a natural born leader. He is one of the most impressive physical specimens I have ever seen."
Michigan C David Molk
6-2, 270, Jr., Lemont, Ill.
Bench-presses 490 pounds, squats 660 pounds

Power cleans 420 pounds, hang cleans 440 pounds

Runs the 40-yard dash in 4.9 seconds

Strength coach Mike Barwis says: "Dave is an outstanding worker and a natural athlete. He is one of the most naturally explosive linemen I have ever trained."
Michigan State LB Eric Gordon
6-0, 228, Jr., Traverse City, Mich.
Bench-presses 415 pounds

Squats 600 pounds

Best 40-yard dash time among Spartans linebackers at 4.52 seconds (Greg Jones clocks in at 4.55)
[+] Enlarge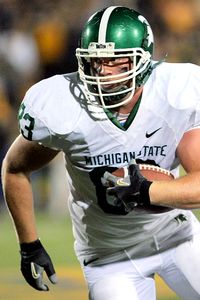 Dave Stephenson/Icon SMIMinnesota's Charlie Gantt has the fastest 40-yard dash time among Spartan tight ends.
Michigan State TE Charlie Gantt
6-5, 248, Jr., Farmington Hills, Mich.
Bench-presses 470 pounds

Squats 535 pounds

Has the top 40-yard dash time among Spartans tight ends at 4.72 seconds
Minnesota LB Mike Rallis
6-2, 210, So., Edina, Minn.
Has increased his bench press from 325 to 365 pounds during the last year

Power cleans 345 pounds and squats significantly more than 550 pounds

Strength coach Mark Hill says: "Mike's work ethic exemplifies a guy who wants to succeed. He comes into the weight room every day and shows that he wants to contribute to this team winning. He does everything he needs to do. Mike absolutely attacks his workouts every day."
Minnesota RB DeLeon Eskridge
5-11, 198, Jr., San Francisco
Has improved his squat from 250 pounds when he arrived at Minnesota to 375 pounds now

Increased his bench press from 300 pounds to 340 pounds during the last year

Has increased his power clean from 250 to more than 300 pounds as a Gopher

Strength coach Mark Hill says: "I've been very impressed by DeLeon's improvements. He was a 185-pound freshman who had to play, due to depth issues. He could have used a red-shirt year to get bigger and stronger. But to see where he's gone to achieve the strength, weight, speed, explosiveness and power needed to be a successful Big Ten back says a lot about his hard work."
Northwestern QB Dan Persa
6-1, 210, Jr., Bethlehem, Pa.
Bench-presses 385 pounds, squats 550 pounds and power cleans 330 pounds, all top marks for Wildcats quarterbacks

Soon will earn second consecutive "Top Cat" award as Northwestern's top weight-room performer

Strength coach Larry Lilja says: "Dan is off the charts. No one works harder in the weight room. For his size, I doubt there is any quarterback who can match his numbers."
[+] Enlarge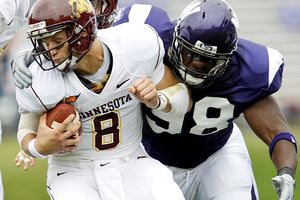 AP Photo/Nam Y. HuhCorbin Bryant, a 285-pound defensive tackle, has a 34-inch vertical jump.
Northwestern DT Corbin Bryant
6-4, 285, Sr., Chicago
Bench-presses 475 pounds, squats 600 pounds and power cleans 385 pounds

Has a 34-inch vertical jump

Strength coach Larry Lilja says: "He's one of our best workers and a true champion in the weight room."
Ohio State DL John Simon
6-2, 270, So., Youngstown, Ohio
Bench-pressed 450 and squatted 700 pounds as a high school senior

Can do 40 bench-press reps at 225 pounds

Runs the 40-yard dash in 4.8 seconds

Strength coach Jeff Uhlenhake says: "John Simon is the best total package workout guy I've ever been around, in college, in the pros, as a coach, anybody. He is amazing."
Purdue T Nick Mondek
6-5, 299, Jr., Naperville, Ill.
Former defensive lineman bench-presses 435 pounds, squats 605 pounds, power cleans 352 pounds

Has a 31-inch vertical jump

Runs the 40-yard dash in 4.82 seconds

Strength coach Jim Lathrop says: "Great worker who really has challenged himself. He has taken the position change and run with it. He is a leader in the weight room."
Purdue S Albert Evans
6-0, 206, Jr., Gary, Ind.
Bench-presses 355 pounds, squats 500 pounds

Power cleans 319 pounds

Strength coach Jim Lathrop says: "Albert has really improved and is establishing himself as a leader."
June, 25, 2010
6/25/10
9:00
AM ET
A training session at Ohio State's weight room is like a day at the beach for John Simon.
Well, sort of.
When Simon, a budding star on Ohio State's defensive line, enters the 8,000-square foot weight room at the Woody Hayes Athletic Center, his first stop is typically the sand pit. Simon will sprint through the sand, sometimes with a heavy tire harnessed to his waist. He'll work on drills tailored to defensive linemen, trying to get that all important burst when the ball is snapped.
The sand pit in Columbus will never be confused for Manhattan Beach, but Simon doesn't mind.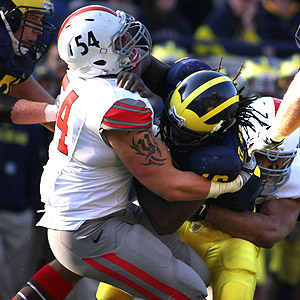 D. Jay Talbott/Icon SMIOSU strength coordinator Jeff Uhlenhake has called John Simon the "best total package workout guy" he's coached.
"That's about the closest I could get," he said, "coming from Youngstown [Ohio]."
Simon got a lot closer this winter as he and his Ohio State teammates made their way to California for the Rose Bowl. If Simon keeps it up in the weight room and on the field, he and the Buckeyes likely will be making a few more trips to the coast.
The 6-foot-2, 270-pound Simon appeared in 12 games as a true freshman in 2009, showing flashes with four tackles for loss, 1.5 sacks, a forced fumble and a pass knockdown. He's competing for a starting spot at left end or left tackle in 2010, and he's already earning respect from veteran defenders like linebacker Brian Rolle.
"If somebody's going to try to outwork him, they'll going to have to work really hard," Rolle said in April. "And he's going to outwork that effort. He's going to be a guy who will be a star here the next couple of years."
Simon's reputation stems largely from his work in the weight room. He came to Ohio State with solid credentials, including a max bench-press of 450 and a max squat of 700 as a high schooler, and has impressed coaches and teammates with his approach to workouts and training. Ohio State strength coordinator Jeff Uhlenhake calls Simon the "best total package workout guy" he's coached.
Although Simon is only a true sophomore, few in Columbus will be surprised to see him appear on colleague Bruce Feldman's list of Workout Warriors.
"I enjoy being in the weight room," Simon said. "I'm in there every day. Our whole team's like that."
Simon typically works out in the morning with his teammates and then returns in the afternoon to lift or run in the sand pit.
Despite his lofty high school bench and squat totals, Simon hasn't tried to max out yet in college, citing the need to stay healthy for the Big Ten grind. Instead, he works on his explosion by doing chain bench or band squats and improves his stamina by pulling sleds.
"I like a lot of endurance things because the games in college are very long," Simon said. "The sand pit, I really enjoy, just to get that extra quickness where the sand slows you down a little bit and builds up your legs."
Simon heads to the sand pit at least three times per week during the offseason. He hopes it pays off this fall as Ohio State aims for a national title.
"Just running in the sand, it slows you down so much," he said. "And then when you get on regular grass or turf and you're in your spikes, you feel that much faster. I see a big difference."
Is it too early to give Simon a nickname? He might need to start a full season for the Buckeyes to one, but here's an early suggestion.
The Sandman.