November, 23, 2012
11/23/12
7:08
PM ET
West Virginia's defense has been deservedly maligned all season long, and a pair of drive-extending penalties on a possible game-winning drive showed some reason why.


Inside the 10-yard line, though,
Darwin Cook
made the day's biggest play that erased the earlier penalties, forcing a
Jeff Woody
fumble that trickled into the hands of
Karl Joseph
.
It wasn't easy and certainly wasn't pretty, but the stop helped West Virginia (6-5, 3-5 Big 12) hold off Iowa State (6-6, 3-6) at Jack Trice Stadium, 31-24. A 75-yard catch-and-run from
Tavon Austin
, capped by a two-point conversion, gave the game its final margin.
The Cyclones' freshman quarterback
Sam Richardson
provided a strong effort in his first career start. He took over for
Steele Jantz
and
Jared Barnett
in a breakout game against Kansas a week ago and accounted for five touchdowns. Today, he completed 13 of 31 passes for 162 yards and three scores, while also rushing for 119 yards on 18 carries.
Once again, though, Austin's late heroics stole the show. He was contained for much of the game, but returned a punt for a touchdown to take the lead before it was called back because of a flag. Then, his 75-yard touchdown finished the job. He finished with 64 yards on 13 carries, and caught six passes for a game-high 99 yards.
Stedman Bailey
also caught seven passes for 82 yards and a touchdown, his 21st of the season. That's more than Biletnikoff Award winner Justin Blackmon had in either of his two award-winning seasons. Texas Tech's Michael Crabtree grabbed 22 scores in his 2007 Biletnikoff season, but Bailey will have one more game this year at home against Kansas next week.
Shawne Alston
finally re-emerged after a frustrating thigh bruise that sidelined him for five games, rushing for a season-high 130 yards and a touchdown on 19 carries.
West Virginia's five-game losing streak is officially over, and the Big 12 now has eight bowl-eligible teams. West Virginia would have liked it to be much prettier, but a disappointing season will still be prolonged with a trip to a bowl game.
Might West Virginia slip to the Pinstripe Bowl and see old rival Pittsburgh in Yankee Stadium? That'd be a whole lot of fun.
Winning in Ames is getting tougher and tougher these days, but the Mountaineers did it to grab a sixth win that surely feels fantastic. When you've lost your last five games and haven't won since Oct. 6, any win feels great, no matter what it takes to get it.
Dana Holgorsen & Co. can surely attest to that.
November, 2, 2012
11/02/12
6:51
PM ET
Thanks for all the emails this week.
Here's where you can reach me
if you've got more to say. Let's get to this week's mail!
Jeremy in Junction City, Kan., writes:
Hey Ubbs, I got a quick question for you, and i really hope its a good enough question for you to answer, what is your view or thoughts about if Oregon cannot beat there ranked opponents as convincingly as k state has beat there's (like if they only won by 3 points as an example, and if there not in the top 15 either) do you possibly see some eye-voters changing their minds? Thanks Ubbs, or shal; I say "Ubbtimus Prime". -Jeremy-
DU:
It's definitely possible, but Oregon will definitely have better wins down the stretch. It could get a big win on Saturday against USC, and if that happens, there's no way the Wildcats get the jump this week. The computers love K-State, and the Wildcats have the edge in the schedule department. Voters tend to look at the most recent results, and if Oregon State still has one loss when it faces Oregon and the Ducks win that game by 10, I doubt many voters will remember how badly K-State beat Texas Tech and West Virginia. If Tech and WVU win games down the stretch and get back into the top 10, it's definitely possible, but I'm not betting on it.
Still, it should be enough for K-State to hang on to the spot ahead of Oregon in the BCS. For my money, Notre Dame will be a much bigger problem, right or not.
---
Daniel Otto in Lincoln, Neb., writes:
If you were a K-State fan who would you be rooting for in the Ala/LSU game?
DU:
This one is all too simple, Daniel. All this bunk about a one-loss SEC team getting to the national title game ahead of an undefeated Oregon, K-State or Notre Dame? That's just insanity. It could happen to Louisville, but the idea that Bama or LSU could get in ahead of those other three is just silly.
That said, you most certainly want all the undefeated teams to lose. That means you need to be cheering hard for LSU. Additionally, if LSU wins, the SEC would all of a sudden be all but out of the national title race. If Bama or LSU is going to get back in, two of the three undefeated teams would need to lose down the stretch.
So, K-State fans, no doubt: Fire up your "Geaux Tigers" chants for Saturday night during the game against Oklahoma State.
---
Cyclones in Everywhere writes:
Thank You
Jake Knott
. You mean so much to all of Cyclone Nation. You will never be forgotten.
DU:
Absolutely. I saluted Knott in my Friday Four Downs today, but you can't say enough about the guy. I see you,
Collin Klein
. For my money, though, Knott is the toughest player in the Big 12 and one of the toughest we've seen in a long time. He's Iowa State through and through and played through so many injuries, including popping his shoulder back into place twice against Baylor last year and playing all game. The guy was unstoppable.
My favorite Knott story, though, is when he broke his arm earlier in his career during spring practice. He broke it one day, had the surgery the next morning and that afternoon, he had his mom drive him out to practice before he'd even gone home.
Not only was he tough, but he truly loved his teammates and being a Cyclone. Knott was the absolute best of what we see in college football.
---
Kevin Vondemkamp in Rosa Linda, Calif., writes:
David, Love the Aurthur Brown / Predator reference :)How does he compare stat wise against the ND LB Heisman hopeful...is he that far off?Kevin
Scott in Manhattan, Kan. writes:
Explain something to me Ubbs, why is manti te'o getting so much love for Heisman contention?Is he really that much better than
Arthur Brown
, or
Jarvis Jones
?If he is then why do major draft boards have Jarvis being drafted before te'o?It's just media bias at it's finest. If ESPN wants to plug a defensive player for a Heisman contender they should actually give props to the best defender in the nation Jarvis Jones.
DU:
I hear you, Scott, and I agree that Jarvis Jones is the best player of the three, but he also missed a pair of games and was slowed in one. That's enough to take you out of what's a tough, tough race.
As for Brown and Te'o, you can't compare defensive numbers across the board, but here's a look:
Arthur Brown:
60 tackles (35 solo)
6 tackles for loss
One sack
Two interceptions, one returned for a touchdown
Three pass breakups
Manti Te'o:
80 tackles (39 solo)
4.5 tackles for loss
one sack
Five interceptions
Three pass breakups
One fumble recovery
So, statistically, there you have it. Te'o obviously has the big plays in the passing game which I think have earned him the most recognition, but he's also been in on the mix in a lot more tackles. Twenty is a ton.
---
Pete in Frisco, Texas, writes:
You stated that the Crabtree catch against Texas to win the game a few years ago was the best play in Big 12 football history. I think it was an awesome play, but disagree on the best in the history of the conference. While Crabtree's catch was to win a conference game, Sirr Parker from A&M caught a pass in the 98 Big 12 Championship game to win the Conference Title. That catch was in overtime and knocked Kansas State from the national championship discussion. Wouldn't you agree that would be the best play in Big 12 football history to decide a Conference champion on the last play of an OT game?
DU:
It's definitely close, Pete. When you talk about the best plays in Big 12 history, those two are up there. Vince Young's fourth-down scramble to win the title in 2005 is on the list, too, but I don't know if you can really count that as a Big 12 play, considering it was in a bowl game. Still, those three are sort of the league's triumvirate.
I give the edge to Harrell and Crabtree, though, because of a) the risk. It was a tie game. Throwing that ball was a huge risk, but Crabtree made the catch and slipped out of Chykie Brown's tackle instead of going out of bounds like just about every other player might have. Additionally, what a risky play call. How many coaches besides Mike Leach throw a ball to the opposite sidelines with so little time left and no timeouts?
Additionally, beating Texas -- and that Texas team especially -- was something special. Kansas State was a great team, but everybody in the Big 12 knows there's a little something extra these days when you beat Texas or Oklahoma. Texas Tech did it at home in one of the most hyped games in school history, and did it to stay undefeated and keep its national title hopes alive. That game made people take Tech seriously as a title contender (even though Oklahoma unraveled it shortly after).
Parker's catch and run was awesome, but if he gets tackled instead of getting into the end zone, the odds are still high that A&M wins that game. Parker's play is exciting and much more memorable than, say, Iowa State's
Jeff Woody
scoring from a couple yards out on a zone-read to beat Oklahoma State last year.
No question: Parker and Young's plays challenge Harrell-to-Crabtree, but the skill, risk and scene give that play the edge for me.
January, 26, 2012
1/26/12
9:00
AM ET
We're continuing our look at the postseason rankings for each position in the Big 12. Here's a look back at
where the running backs ranked in the preseason
.
In this position, unlike quarterback, depth is a major, major factor in these rankings.
1. Texas A&M
The Aggies had the two most talented backs, and despite injuries to both, proved it through an otherwise frustrating 2011.
Christine Michael
suffered a torn ACL, but still managed 899 yards on just 149 carries.
Cyrus Gray
injured his shoulder late in the season, but secured his second consecutive 1,000-yard season and ranked third in the Big 12, despite carrying the ball just 198 times. This duo should have easily surpassed 1,000 yards, but even when they were injured,
Ben Malena
played well in the final two games.
[+] Enlarge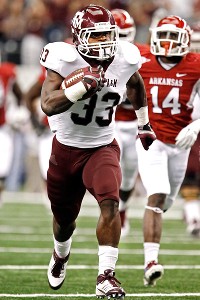 AP Photo/Brandon WadeChristine Michael averaged 6 yards per carry before a torn ACL ended his season.
2. Missouri
Mizzou dealt with injuries, too, first to
Kendial Lawrence
and
De'Vion Moore
. Cue
Henry Josey
. Josey became the best back in the Big 12 this year before suffering a major knee injury that included torn ligaments. He may not be back in 2012. His 1,168 yards were third most in the Big 12, despite carrying the ball just 145 times. Lawrence finished 12th with 566 yards.
3. Oklahoma State
Joseph Randle
stole the show this year, rushing for 24 scores and ranking second in the Big 12 with 1,216 yards. Only
Collin Klein
ran for more touchdowns and
Terrance Ganaway
was the only player with more yardage. Still,
Jeremy Smith
had averaged more than 7 yards a carry, and he'd be able to start for anyone else in the league.
Herschel Sims
showed promise, too, with 242 yards on 31 carries.
4. Baylor
Ganaway led the Big 12 in rushing with huge performances late in the season, including a 200-yard, five-touchdown game in his final outing as a college athlete in the Alamo Bowl. He averaged more than 6 yards on his 250 carries and had 330 more yards than any other back in the league.
Jarred Salubi
added 331 yards, too.
5. Texas
Texas'
Malcolm Brown
and
Joe Bergeron
were banged-up late in the season, but Fozzy Whittaker played well until suffering a torn ACL against Missouri, too. Scatback
D.J. Monroe
was effective in the passing game as well. Four running backs topped 300 yards and Brown led the team with 742 yards, despite missing three games and having his carries limited early in the season.
6. Oklahoma
Oklahoma got great contributions from walk-on
Dominique Whaley
early on, and he proved to be the team's most effective runner and best runner between the tackles. He fractured his ankle in midseason, and finished with just 627 yards to lead the team.
Roy Finch
emerged late in the seasons after a quiet first half and added 605 yards.
7. Kansas
KU's
James Sims
led the team in rushing again with 727 yards.
Darrian Miller
was excellent, too, with 559 yards, though he was dismissed after the season. Freshmen
Tony Pierson
and
Brandon Bourbon
have plenty of promise, both averaging more than 5.5 yards a carry in 2011. The bad news: All their carries were limited by an awful defense that limited KU's chances to run the ball.
8. Kansas State
K-State's rushing attack centered around Klein, but
John Hubert
, a slippery back from Waco, Texas, had a good year. Hubert was seventh in the Big 12 with 970 yards. Bryce Brown offered basically nothing to K-State, and beyond Klein and Hubert, the Wildcats were pretty thin. Additionally, without Klein, would Hubert have duplicated his success?
9. Texas Tech
An awful knee injury derailed
Eric Stephens
' likely 1,000-yard season, and the rest of Texas Tech's backfield got banged-up, too. Stephens will probably return in 2012 from his dislocated knee, and finished with 565 yards, 17th in the Big 12.
Aaron Crawford
and
DeAndre Washington
both topped 300 yards.
10. Iowa State
ISU lost
Shontrelle Johnson
for the season early on, but
James White
filled in well. He finished with 743 yards, which ranked ninth in the Big 12.
Jeff Woody
had 380 yards and provided quality carries late, including the game-winning touchdown against Oklahoma State.
December, 30, 2011
12/30/11
7:01
PM ET
The Big East ended the Big 12's perfect record in bowls by way of the
27-13 Rutgers win
over Iowa State in the New Era Pinstripe Bowl, played Friday inside Yankee Stadium.
Iowa State fought late, but it's a solid win for the Scarlet Knights, playing only about an hour away from their campus.


How the game was won:
Rutgers climbed out of an early 6-0 hole with a 17-point second quarter to take control of the game. The Scarlet Knights used a powerful running game to dominate Iowa State's front seven, while Iowa State's offense sputtered for much of the final three quarters.
Turning point:
Iowa State made it interesting with a 20-yard touchdown run by
Jeff Woody
to cut the lead to 20-13, and the Cyclones got the ball back. But after a punt,
Chas Dodd
hit 6-foot-6
Brandon Coleman
for an 86-yard touchdown with 5:47 to play. That basically wrapped this one up. Matching up 5-foot-7 Jeremy Reeves against Coleman? Not a great idea.
The Cyclones had a drive reach the red zone, but a fourth-down pass to
Darius Reynolds
in the end zone fell incomplete.
Stat of the game:
This one was the antithesis of a thrilling nightcap Thursday, won by Baylor over Washington, 67-56. These two teams combined to convert just four of 26 third downs. So many punts. So few first downs.
Stat of the game 2:
Rutgers won the turnover battle 3-0.
Player of the game:
Jawan Jamison
, RB, Rutgers. The Scarlet Knights averaged just 91.5 yards per game on the ground entering today's game. Only five teams in college football were worse, but Jamison's diminutive size (5-foot-8, 198 pounds) didn't prevent him from bruising the ISU defense and running hard for 134 yards and two touchdowns on 27 carries. He had topped that production only once all season, with a 200-yard game in a win over Cincinnati. He and the Rutgers' running game took control in the second half.
Best call:
Iowa State got off to a nice start with a gutsy move from coach Paul Rhoads. He faked a field goal on fourth-and-2 from Rutgers' 31-yard line on his second possession of the game. Holder
Brett Bueker
narrowly got the first down, and extended the drive by taking the snap and running straight ahead. It swung momentum, but after a sack, Iowa State had to settle for a field goal just 3 yards closer, which gave it a 6-0 lead. The Cyclones didn't score again until Woody's touchdown.
Second guessing:
Rhoads' reluctance/refusal to put
Jared Barnett
back in the game after benching him for
Steele Jantz
. Jantz had a few nice runs to spark the offense when he came in, but he didn't help the offense convert very many third downs and wasn't much of an improvement over Barnett, who struggled early, completing just two of seven passes for 23 yards. Jantz's passes sailed on him for much of the night, while Barnett most often threw passes at receivers' shoelaces. Not a sharp day for the ISU quarterbacks. Barnett was a bit gimpy when he left the game in the first half, but if he was capable of playing, why not give him another shot in the second half?
Jantz finished 15-of-31 for 197 yards and two interceptions.
Well wishes:
Big East defensive player of the year Khaseem Greene announced his plans to stay at Rutgers another year, rather than enter the NFL draft. The junior linebacker went down with an ugly right leg injury late in the fourth quarter, though, after a hit on Jantz. It didn't look good, and he was attended to by trainers on the field for several minutes, while in obvious pain. His teammates came on the field to encourage Greene before he left on a cart with his right leg in an air cast.
What it means:
This wasn't the way Iowa State offensive coordinator Tom Herman wanted to go out. He'll leave Iowa State to join Urban Meyer's staff as his offensive coordinator and playcaller at Ohio State next season. Cyclones coach Paul Rhoads was denied his second bowl win in three years, but Rutgers coach Greg Schiano won his fifth consecutive bowl game.
Jantz also failed to recapture his fourth-quarter magic from early in the season. He quarterbacked the Cyclones to three fourth-quarter comebacks against Northern Iowa, Iowa and UConn, but the effort wasn't enough in this one.
Record performance:
In the first half, Rutgers junior receiver
Mohamed Sanu
snatched the school record for receptions. He finished his season with 210 career catches, breaking running back Brian Leonard's record.
December, 6, 2011
12/06/11
9:00
AM ET
The Big 12's not so simple anymore.
Maybe it's unfair, but conferences are most often judged by their top teams. Glance at Oklahoma and Texas, the two teams that won every Big 12 title since 2003, and you'll see a combined eight losses in 2011.
The Longhorns improved from 5-7 to 7-5. Oklahoma? A 2010 Big 12 title bled into a national title chase in 2011 that ended with a third loss in its regular season finale, and a particularly embarrassing one, too.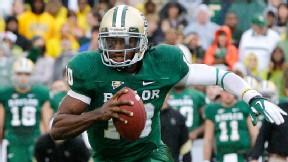 AP Photo/Tony GutierrezRobert Griffin III's star turn got Baylor nine wins -- and himself an invitation to the Heisman ceremony.
Outright Big 12 champion
stomped the Sooners in Stillwater
, ending the Longhorns and Sooners' Red River Reign over the league. This year's second-place finisher, Kansas State, had been the last team not the Longhorns or Sooners to win the Big 12. Since that title in 2003, it's been all Texas and Oklahoma.
The league ain't what it used to be, in lots of good and bad ways. The newfound parity is a good sign.
Texas A&M and Missouri leaving for the SEC? A profoundly bad sign.
Texas A&M and Missouri's combined 0-6 record against Oklahoma, Oklahoma State and Kansas State? Another good sign.
TCU and West Virginia (
probably
) join the Big 12 next season, and will find a league that looks much different than it did even two years ago.
Texas' ascent still looks in-progress, and until the Longhorns find a quarterback, can't reasonably count on having any real shot at a Big 12 title. Oklahoma will be strapped for experience next season without
Ryan Broyles
and three of its best defenders. It will only get more difficult if
Landry Jones
, projected as a top-10 pick, leaves early for the NFL.
Oklahoma State broke the proverbial glass ceiling this year in resounding fashion, challenging the idea that 2011 was a "down year" in the Big 12. Oklahoma was a disappointment. Texas A&M tanked. The Longhorns were still too young and lacked enough offense.
But there's a reason why, even without a team in the national championship game for the second consecutive year, this was far from a down year for the Big 12. You just have to look a little harder.
Oklahoma State surpassed last year's 10-win regular season with 11 this year, the most in school history. Kansas State is one of the nation's biggest surprises, and was robbed of a spot in the BCS by the Hokie-loving Sugar Bowl. Baylor? All the Bears did was win more Big 12 games (5) than any year before, and put themselves in position for the program's first Heisman winner ever.
Injuries morphed Oklahoma from great to just good, but this year, the Big 12's identity was much deeper than "How did Texas and Oklahoma do?"
The league went 27-3 in nonconference play, winning the eternal love of the BCS computers and landing eight teams in bowl games, despite switching to a nine-game conference schedule. In other words, every team replaced a likely nonconference win with a Big 12 opponent. The league, top to bottom, still put together an outstanding season. That .900 percentage was the best nonconference winning percentage of any league since the SEC in 1997.
Two of those losses, by the way, came from Texas A&M and Missouri, who will be gone to the SEC after this season.
The Big 12 missed out on the national title race, but it wasn't down this year. It was way, way up. You just had to look a little harder to tell.
Time to look back on the season that was:
Offensive MVP:
Robert Griffin III, QB, Baylor
Griffin might be the nation's offensive MVP, so why would it be any different here? The Heisman finalist (and likely favorite) helped carry the Bears to a 9-3 season and broke the NCAA record for pass-efficiency rating, at 192.31. He racked up 3,998 yards, 36 touchdowns and six interceptions on 267-of-369 passing.
Defensive MVP: Frank Alexander, DE, Oklahoma
Alexander played through a painful shoulder injury in Bedlam, and suffered a knee injury in the game, but he was outstanding throughout the season as the biggest wrecking ball on defense of anyone in the Big 12. He's got all the physical measurables, using his speed, flexibility and quickness at 6-foot-4, 255 pounds to lead the Big 12 with 8.5 sacks and 18 tackles for loss.
Newcomer(s) of the year: Arthur Brown, LB, Kansas State and Nigel Malone, CB, Kansas State
I couldn't decide between these two. Both helped completely revitalize a K-State defense that struggled last year. Brown transferred to K-State from Miami and Malone arrived via the City College of San Francisco. Brown was arguably the Big 12's surest tackler, ranking ninth in the league with 95 stops, including 7.5 for loss, two sacks and his first pick was a game-changer against Baylor to help K-State get the victory. He was the first player all season to intercept RG3, and one of just six all season. Malone, meanwhile, snatched seven picks, two more than any player in the Big 12. He also broke up nine passes and made 57 tackles (46 solo).
[+] Enlarge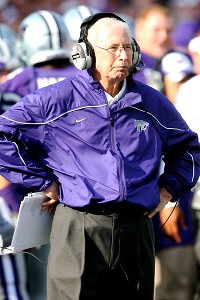 Scott Sewell/US PRESSWIREBill Snyder molded Kansas State's crew of unknowns into the Big 12's biggest surprise.
Coach of the Year: Bill Snyder, Kansas State
Easy pick here. The numbers say it all. Kansas State was loaded with unknowns. Lots of first-year players, especially on defense (see above), and one of his most hyped players, running back
Bryce Brown
, left the team at midseason. He also had a former receiver at quarterback,
Collin Klein
, who became one of the nation's most valuable players. The big man took a beating, but ran for 1,099 yards and a Big 12-best 26 touchdowns. The Wildcats were picked to finish eighth in the Big 12, and don't exude talent as much as most other Big 12 teams do. They nearly won the Big 12, though, and finished
eighth in the BCS standings
.
Biggest Surprise: Iowa State 37, Oklahoma State 31 in 2OT on Nov. 18.
This one had the biggest impact, too. The Cowboys were 28-point favorites and raced to a 24-7 third-quarter lead. They didn't score again until overtime. Iowa State rallied to tie the game, and the usually reliable Quinn Sharp missed what could have been a game-winning 37-yard field goal with just over a minute to play. After
Brandon Weeden
threw an interception in the second overtime, Iowa State pounded the running game and
Jeff Woody
crossed the goal line to win the game, put Iowa State into a second bowl game in three years, and knocked Oklahoma State out of the national title chase. The morning of the game, Oklahoma State learned that women's basketball coach Kurt Budke and assistant Miranda Serna had been killed in a plane crash. After the gam, the Cowboys were left trying to stomach a painful, shocking loss on the field, where the stands at Jack Trice Stadium had emptied for an epic field rush.
Biggest Disappointment: Texas A&M
No question about this one. Texas A&M was a Big 12 contender and had the talent to possibly win a national title. The mental makeup, though, didn't exactly reek of toughness. The Aggies were favored in 11 games and led by double digits in all 11 of those games. They lost six, including five losses with double-digit halftime leads. They saved the most painful loss for last. Hated rival Texas, a catalyst for the move to the SEC, erased a 10-0 and 16-7 halftime lead to beat the Aggies 27-25 on a last-second field goal after a late two-minute drill. Less than a week later, Texas A&M fired coach Mike Sherman and is looking for his replacement before moving to the SEC next season.
Best Game: Kansas State 53, Texas A&M 50 in 4OT on Nov. 12
This might be the best game in Big 12 history. With just 6:38 to play, Kansas State trailed, 31-21. Klein hit
Chris Harper
for a 53-yard score to get the Wildcats within reach, and K-State forced overtime on a 44-yard kick by Anthony Cantele with just 2:12 to play. The two teams traded touchdowns in the first and third overtimes, sandwiched around field goals in the second overtime. In the third, though? Texas A&M elected to kick a 20-yard field goal on 4th-and-1 at the K-State 3-yard line. Kansas State answered with all running plays and drew a pass-interference penalty before Klein pushed the pile for a 1-yard touchdown to win the game.
December, 3, 2011
12/03/11
5:26
PM ET
How else would they get their 10th win?
Kansas State's been all about on-field drama this season, and in the season finale, provided even more.


John Hubert
stiffarmed a defender into the turf and stumbled into the end zone for a 26-yard score that provided the
30-23 final margin
with 3:29 to play.
Iowa State back
Jeff Woody
fumbled in Kansas State territory on a fourth-and-2 with just more than a minute to play to give the Wildcats another dramatic victory.
Iowa State had four fourth-quarter comebacks of their own, but was denied a fifth.
For Kansas State, it got its first big win of the season via a last-second goal-line stand against Miami. That followed a win over Eastern Kentucky that required a late touchdown after trailing in the fourth quarter.
A late interception off
Robert Griffin III
and a third-down conversion against Missouri sealed wins over Baylor and the Tigers.
K-State erased a second-half deficit against Texas Tech and beat Texas A&M in four overtimes. A late Texas rally was stuffed by the Wildcats, who declared themselves "Texas State Champions" after beating the Longhorns for a sixth time in eight tries since Texas joined the Big 8 to form the Big 12.
Now, a Wildcats team picked to finish better than just two Big 12 teams is better than all but two, Oklahoma and Oklahoma State.
If Oklahoma wins on Saturday night, the 10-2 Wildcats would win a share of the Big 12 title, their first since 2003. Positively amazing.
Workhorse Daniel Thomas left for the NFL. He's been replaced by one even better: quarterback
Collin Klein
. Klein ran for 86 yards and a score and threw for 158 more with a touchdown.
Despite pouring rainstorms that delayed the game two hours, Kansas State's run-heavy offense didn't have a turnover. It committed two penalties.
It won in dramatic fashion late.
What else should we expect?
December, 3, 2011
12/03/11
4:28
PM ET
What an unbelievable stretch for Iowa State running back
Jeff Woody
. In the first 18 games of his career, he had 254 rushing yards.
In the past five games including Saturday, he's got 281 yards and three very big touchdowns.
He's had 11 carries for 63 yards and two touchdowns so far today, the latest helping
tie Kansas State at 20
late in the third quarter. Iowa State's threatening to ruin the final game of the season at Bill Snyder Family Stadium.
Woody's scored four total touchdowns in the past five games, but his second clinched Iowa State's mammoth upset against Oklahoma State that helped the Cyclones reach bowl eligibility.
His second today has injected a whole lot of drama into this one.
Should be a fun fourth quarter.
November, 19, 2011
11/19/11
12:09
AM ET
No other word for that than unbelievable.
Oklahoma State goes down in double overtime to Iowa State
37-31
.
National championship hopes: Over, barring more madness.


Brandon Weeden
Heisman hopes: Dashed.
The field at Jack Trice Stadium in Ames, Iowa: Rushed.
Last month, it was Oklahoma losing to Texas Tech as a four-touchdown favorite. Friday night, it was No. 2 Oklahoma State, squashing a good bit of the hype surrounding a season-ending Bedlam matchup in Stillwater on Dec. 3.
A crushing day for Oklahoma State got worse. Four lives were lost on Thursday night in
a plane crash
, including OSU women's basketball coach Kurt Budke and assistant Miranda Serna. Armed with that news, it's easy to see that this was just a football game.
It still hurts for the Cowboys, though, and a historic season — they were 10-0 for the first time in school history — meets an unceremonious end.
Don't show up one week in college football, and you can lose. Oklahoma State led 24-7 in the third quarter and didn't score the rest of regulation. Weeden threw for 476 yards and three touchdowns, but three interceptions were too much to overcome. The third was the most costly, a ball tipped by Jake Knott and intercepted by Ter'Ran Benton in the second overtime, setting up the game-winning run from
Jeff Woody
.
Oklahoma State made mistakes but had its chances. Quinn Sharp missed a late field goal. Iowa State hung around and struck when the time was right.
Fans from Oregon and Alabama say thank you. A one-loss team will play for the national title.
Paired with that, Iowa State made a little history of its own. For the second time in three seasons, Iowa State is bowling. It took a win over the nation's No. 2 team — the first in 19 tries for Iowa State football — to do it, and the Cyclones get another benchmark triumph under Paul Rhoads.
There was the victory over Nebraska in 2009; in 2010, a win over Texas and a near-miss against the Huskers. This year, it was a rivalry win over Iowa and now this game.
"It continues to move us forward," Rhoads said. "They continue to add credibility to what we're teaching."
Now, he'll get a chance to teach it a little longer.
Iowa State's season gets extended by a month.
Oklahoma State's? Almost certainly shortened by one painful, painful week.
June, 21, 2011
6/21/11
10:00
AM ET
Here's the next in our look at the Big 12 rankings by position: Running backs.
Last year's class was one of the best in recent history, but this year's class? Unassuming to begin the season. There are a few possible stars looming, but very, very little talent returning.
Cyrus Gray
ranked seventh in rushing yards last year (thanks to an insane finish), but he's the only player returning to the Big 12 from the conferences' top 10 rushers in 2010.
That's nuts.
The Aggies are the only team with a truly elite backfield tandem, though I could see Oklahoma and/or Oklahoma State joining that group by the end of the year.
The rest of the league? Every team has at least a couple of players to get excited about, and teams 5-10 are all pretty close. No one is really understaffed at the position, but obviously, they're fit to be ranked.
Here's where I have them:
1. Texas A&M
[+] Enlarge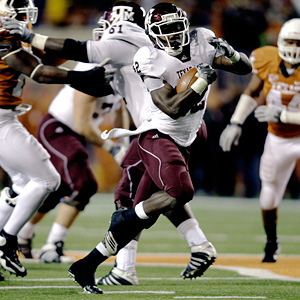 AP Photo/Eric GayCyrus Gray had at least 100 yards rushing in each of A&M's final seven games last season.
I wouldn't have been surprised if Cyrus Gray and
Christine Michael
were the Big 12's top leading returning rushers this year, but a midseason injury from Michael prevented it from happening. Regardless, his return gives Texas A&M by far the best tandem in the Big 12, and arguably the best in the country. When
Mister Jones
isn't cranking the Counting Crows on his stereo, he's a pretty good reserve, alongside
Ben Malena
, who
impressed me on my visit to College Station this spring
.
2. Oklahoma
Oklahoma will try and replace do-everything forever (or whatever) back DeMarco Murray with a platoon likely led by shifty Florida native
Roy Finch
. True freshman
Brandon Williams
made a big impact in spring camp, and
Brennan Clay
will likely earn a few touches, too. Health concerns raise questions about a pair of other OU backs' knees (
Jermie Calhoun
,
Jonathan Miller
), but walk-on
Dominique Whaley
led the team in rushing in the spring game
.
3. Oklahoma State
The Cowboys have a great pair in sophomores
Joseph Randle
and
Jeremy Smith
, and a nice set of backs to spell them if needed, too.
Kye Staley
, once a top-flight recruit, returned this spring after quitting the team following a severe knee injury, and might earn a few touches this spring. Also, Abilene, Texas, native and 2011 ESPNU 150 signee Herschel Sims arrives this fall and may jockey for time and the opportunity to shed a redshirt.
4. Missouri
What the Tigers lack in a truly elite back, they have in depth. Missouri has four backs who are all capable of being very good in the Big 12, even though neither of the four topped 600 yards a year ago. A big reason for that was none of the four got more than 100 carries, but with the carries they did get, every back averaged more than five yards per carry. The platoon approach works for Missouri, but senior
De'Vion Moore
and junior
Kendial Lawrence
will lead the way with sophomores
Henry Josey
and
Marcus Murphy
not far behind.
5. Kansas
[+] Enlarge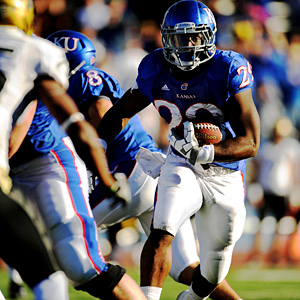 John Rieger/US PRESSWIREJames Sims is the No. 2 returning rusher in the Big 12 this season.
Running back will be a strength for Kansas next year, who might have found a second back this spring that perfectly complements power runner
James Sims
, a rising sophomore who racked up 742 yards last year after not playing in the opener. Believe it or not, he's the Big 12's No. 2 returning rusher, behind A&M's Gray. Darrian Miller burst onto the scene this spring, and figures to be a big part of the team in the fall. I see him being the Jayhawks' biggest home-run threat. DeShaun Sands and
Brandon Bourbon
offer even more depth at the position.
6. Texas Tech
The Red Raiders lose backfield constant Baron Batch, but have a good group lined up for 2011. Tommy Tuberville's effort to establish a more efficient running game is a realistic possibility with
Eric Stephens
as the likely feature back, and
Aaron Crawford
,
Ben McRoy
and
Harrison Jeffers
in the mix. True freshman Ronnie Daniels' strong spring likely earned him some time, too, rather than a redshirt.
7. Baylor
Baylor loses a 1,200-yard rusher in Jay Finley, and figures to use a thunder-and-lightning approach with 6-foot, 240-pound bowling ball
Terrance Ganaway
and shifty, 5-foot-9, 205-pound
Jarred Salubi
.
Glasco Martin
, a more balanced back, may earn a few carries, too. Regardless of who has the ball, life is good for Baylor backs, who get a bit more room from defenses that are forced to respect
Robert Griffin III
's legs.
8. Kansas State
The Wildcats' top two rushers, including two-time league rushing champ Daniel Thomas, are gone. Hopes are high for Wichita native and former blue-chip back
Bryce Brown
, but he's still entrenched in a position battle with
John Hubert
and
Robert Rose
heading into fall camp.
9. Texas
Texas brings back a pair of seniors in Fozzy Whittaker and
Cody Johnson
, but if the Longhorns are going to climb up this ladder by year's end (and they might) it's likely to be on the back of hyped incoming freshman
Malcolm Brown
, who is on campus and set to begin fall camp.
D.J. Monroe
might be the fastest player in the Big 12, but he'll have to master the nuances of pass blocking to get more than a few touches every game.
Jeremy Hills
can offer some depth at the position, too, after Tre Newton was forced to quit the game because of concussions.
10. Iowa State
Shontrelle Johnson
showed some flash last year, but he still brings just 35 career carries into his 2011 effort to replace
Alexander Robinson
.
Jeff Woody
and
James White
offer a bit more depth, too. Florida native DeVondrick Nealy might get into the mix if he can put together a strong fall camp.
June, 9, 2010
6/09/10
10:00
AM ET
You heard about Oklahoma's
Landry Jones
and his backup earlier this morning, but here are the most irreplaceable players for the rest of the conference.
Robert Griffin III, QB, Baylor:
This one's pretty simple. Griffin means more to his team than any player in the conference. The 2008 Big 12 Newcomer of the Year helped the Bears win their 2009 season opener at Wake Forest before a season-ending knee injury in the third game. He'll come back for 2010 still a sophomore. But his injury last season now means his backup,
Nick Florence
, is surprisingly experienced.
Alexander Robinson, RB, Iowa State:
Robinson rushed for 1,195 yards in 2009 and is by far the Cyclones' best player. His yards per carry average is almost 1.5 yards higher than his backup last season. This year, the battle for No. 2 is ongoing, with
Beau Blankenship
and freshmen
James White
and
Jeff Woody
trying to earn any spare carries not soaked up by Robinson.
Nate Solder, OT, Colorado:
This season will be Solder's third as starting left tackle, the key position on the offensive line. He's proven to be one of college football's premier linemen, but his durability and experience have meant very little playing time for backup Ryan Dannewitz, a redshirt freshman.
Jake Laptad, DE, Kansas:
Laptad is a force in the backfield and racked up 6.5 sacks and 12 tackles for loss last season. His backup is junior college transfer Quintin Woods, but with just four career tackles, there's a clear dropoff in both production and talent.
Blaine Gabbert, QB, Missouri:
In just his second year as starter, Gabbert could be poised for a big jump like his predecessor, Chase Daniel. The Tigers earned a North title in Daniel's second season and No. 1 ranking after the regular season. But Gabbert needs to stay healthy. His backup is former walk-on
Jimmy Costello
, who's never played a meaningful snap, but behind him are a group of untested freshmen with potential in
Ashton Glaser
,
James Franklin
and Gabbert's younger brother,
Tyler Gabbert
.
Eric Hagg, S/LB, Nebraska:
The central figure of the Huskers' Peso defensive scheme (Hey!
Remember that
?) gives the Husker defense the teeth that helped them nearly upset Texas and blow out Arizona. His backup is Austin Cassidy, who has plenty of on-field experience after appearing in all 13 games last season. Like Hagg, Cassidy has the ideal size for the position at 6-foot-1 and 210 pounds, and notched nine tackles as a sophomore in 2009.
Markelle Martin, S, Oklahoma State:
Martin's sophomore season was overshadowed by big-hitting senior Lucien Antoine, but he'll be one of the team's leaders as a junior in 2010. He's the team's leading returning tackler, and should join Orie Lemon and Ugo Chinasa as the anchors of a defense replacing its four leading tacklers from 2009. His backup, Mathies Long, played in the last six games of 2009, but has just three career tackles.
Sam Acho DE, Texas:
The better known of Texas' Acho brothers, he played in 24 games before taking over as starter last season. He notched 63 tackles and four fumble recoveries, tied for most in college football. He was also a semifinalist for the Lott Trophy. But at Texas, there's always a pretty narrow gap between starter and backup. Acho's backup should be either Russell Carter
or
Alex Okafor, who will also play behind opposite defensive end Eddie Jones. Carter played in nine games last season and notched five tackles. Okafor played in all 14 games last season and tallied 22 tackles.
Jerrod Johnson, QB, Texas A&M:
No backup will be able to reproduce Johnson's impressive numbers from 2009 (38 touchdowns, 4,085 total yards). But Johnson's backup
Ryan Tannehill
does have plenty of experience--at a different position. He got plenty of reps this spring with Johnson sidelined from live action after minor shoulder surgery, but he's the team's active leader in receiving, with 1,418 career yards. He's thrown just nine passes in two seasons with the Aggies.
Colby Whitlock, DT, Texas:
Should assume the role of nose tackle in Tech's new 3-4 scheme under coach Tommy Tuberville and defensive coordinator James Willis. Though it's a new position, Whitlock's experience will be tough to replace. Of his 46 tackles in 2009, 8.5 came behind the line of scrimmage. His backup is a mountain of a man, Myles Wade. The 6-foot-2, 340-pound junior college transfer made just two tackles in limited action last season, but he still has two years of eligibility left, and could plug plenty of holes in the middle of the defense after Whitlock graduates.
April, 15, 2010
4/15/10
4:00
PM ET
AMES, Iowa --
Alexander Robinson
walks and speaks softly.
"I'm not the type of teammate that's going to get in your face and yell at you and scold you and tell you 'this is wrong, that's wrong,'" Robinson said. "What I'm going to try to do is go out there and try to work hard every day and lead by example."
[+] Enlarge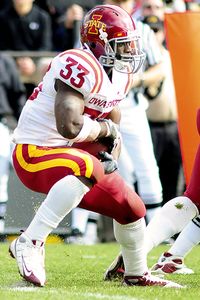 Icon SMIIowa State's Alexander Robinson rushed for 1,195 yards as a junior.
Robinson saves his intensity for the field and opposing linebackers. He rushed for 1,195 yards for the Cyclones as a junior last season, but Iowa State coach Paul Rhoads needs him to to step outside his comfort zone this spring and during his senior season.
"He's automatically a leader because of his production and his credibility with his teammates," Rhoads said. "So they'll look to him for that. He's got to provide verbalization to his teammates to give them that leadership."
Rhoads knows part of that is leading by example, a quality that comes natural to his running back. Even if he has to change how that example looks. Robinson's natural running style out of pads makes him look like what Rhoads called a "strider," and can sometimes give off the appearance that he isn't running full-speed during conditioning.
"I talked to him and said, 'this stuff is about quickness,'" Rhoads said. "You've got to show you're expending yourself [during workouts]. Out on the field, it's precision."
On the field, Robinson's progression has been rapid entering his final season, even since the Cyclones' bowl win over Minnesota. Rhoads has seen Robinson grow significantly quicker and faster, and with his experience last year, his vision and feel for finding holes in the defense could pay off next season.
"You combine that vision with the improved quickness, you've got quicker cuts, sharper lines," Rhoads said. "And it's hands on him instead of bodies on him."
One of the reasons for Robinson's breakout year was understanding how his talents fit into Rhoads' system.
"There are certain aiming points in the line we want, by doing that, he helps the O-line. It took him a little bit to understand that," Rhoads said.
This spring, he's passed on what he's learned to a clustered group of running backs behind him, including
Beau Blankenship
,
Jeff Woody
and
James White
.
"He's not going to make too many mental errors," White said. "If there's something I don't know, I'll ask A-Rob instead of Coach and he'll tell me."