NCF Nation:

Jeffrey Whitaker
May, 13, 2014
May 13
1:00
PM ET
AUBURN, Ala. – When
Gabe Wright
looks at
Auburn
's defensive line, he sees a lot of potential and something really special.
The Tigers' senior defensive lineman sees talent spilling out and the experience needed to create even more of a presence than the one this line had during Auburn's 2013 BCS title game run.
"As far as ability-wise, this D-line could go down as, if not the best, one of the best in the SEC and NCAA," Wright told ESPN.com in April.
Wright doesn't mince his words. He's serious about the potential from a defensive line that could play five seniors, line up three rising sophomores or play all defensive tackles. He's that confident about the players around him.
[+] Enlarge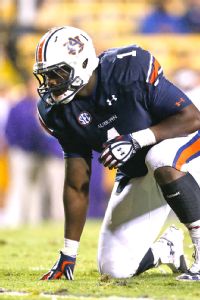 Derick E. Hingle/USA TODAY SportsMontravius Adams displays "unbelievable" talent on Auburn's defensive line.
Last year, Auburn's defensive line was very much a work in progress to start the season. The line grew with every week and produced a first-round draft pick in end
Dee Ford
, who was second in the SEC with 14.5 tackles for loss and 10.5 sacks last year. Freshmen
Carl Lawson
,
Elijah Daniel
and
Montravius Adams
matured quickly.
Really, when people think about and dissect Auburn's defensive line, they mostly come back to those blossoming youngsters who will all play even bigger roles up front this fall. As last season wore on, those three went from role players to rotational players.
"They have a better understanding," Auburn coach Gus Malzahn told ESPN.com in April. "Their heads aren't spinning like they were [last season]. They have a better understanding of the defense than their roles."
And while the sophomores-to-be, who were all
ESPN 300
prospects in the
2013 recruiting class
, will have a lot more on their respective plates this fall, they certainly won't be alone to shoulder all the responsibility.
Ford is gone, but there's leadership from Wright and fellow seniors
Angelo Blackson
,
LaDarius Owens
and
Ben Bradley
, who combined for 18.5 tackles for loss and seven sacks last year. They'll also benefit from the return of senior
Jeffrey Whitaker
, who missed all of last season with a knee injury.
All that leadership was crucial to the group's success this spring as the line found itself short on defensive ends because of graduation and injuries.
Owens, who Wright classifies as "freakish," broke his foot a week before spring practice began, and Daniel pulled his groin 20 minutes into the first spring practice. Because of that, defensive coordinator Ellis Johnson and defensive line coach Rodney Garner had to move Wright and Adams to end for the sake of numbers.
The moves were good and bad for the Tigers. On one hand, Johnson said he'd like to use heavier fronts at times this fall, so Wright and Adams needed some work outside. But it took away valuable time those two could have used inside this spring, as both will still mainly be tackles this fall. Johnson didn't like having to play guys outside longer out of necessity while taking away from the main looks Auburn will run this fall.
Still, watching Adams cross-train caught Johnson's eye. Johnson already knew Adams was an athlete because he played tackle, end, running back, tight end and punted in high school. But Johnson said he saw some pursuit plays from Adams that were "unbelievable," and he's excited about Adams' second-year capabilities.
"He's so athletic for his size, he can do about anything," Johnson said with a laugh.
Another youngster to grab Johnson's attention was Lawson, who could be his most talented lineman. Lawson was second on the team with four sacks last year and evolved more this spring, Johnson said.
What really impressed Johnson about Lawson was his thirst for being more well-rounded this spring, tossing the "rookie flash" to be an "every-down player."
"A good spring in our system and he'll learn all the special things that it'll take to be a complete player," Johnson said. "He did some great things for us last year but had little mistakes here and there just from a lack of experience."
Johnson didn't get all the work he wanted out of his line this spring, but he's excited. He likes the foundation and the crop of blue-chip players coming in, headlined by junior college tackle
DaVonte Lambert
. Johnson doesn't have a Dee Ford to throw out there right now, but he sees flashes of something special.
What was a major question entering last season should be a bright spot for the Tigers in 2014.
"Let's just face it: We have so many packages, so many guys who can hit you where it hurts," Wright said. "We have ends who can make the quarterback step up and tackles who can push the pocket and rush the passer.
"Will I say that the talent level could be as good as Dee's? Yes, I'll absolutely say that."
October, 6, 2011
10/06/11
3:49
PM ET
Auburn has been the SEC's version of Dracula, really going back to last season.
There's just no killing these Tigers, even when they appear to be at their most vulnerable state.
And if you get them in a close game, forget about it.
That's when they're at their best, or in keeping with the Dracula theme, when they're the most dangerous.
[+] Enlarge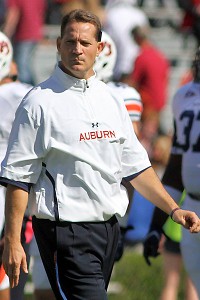 Joshua S. Kelly/US Presswire"The bottom line is that our kids do believe in the fourth quarter, when the games are tight, that it's our game," Gene Chizik said.
If you go all the way back to the Outback Bowl to end Gene Chizik's first season at Auburn, the Tigers have won 11 straight games that were decided by eight points or less. Six of those games were decided by three points or less, including the 16-13 win over South Carolina last week in Columbia.
By now, it's become a habit and one that has permeated itself throughout the program.
When a game is waiting to be won in the fourth quarter, the Tigers are there to pounce on it the way the Lord of the Undead would one of his helpless victims.
"If you're going to be able to do that, you've got to have some roots, a background of being able to do that," Chizik said of the Tigers' penchant for winning close games. "It's got to start somewhere. It started for us last year, maybe even the year before in a couple of different games.
"The bottom line is that our kids do believe in the fourth quarter, when the games are tight, that it's our game. We've certainly been able to look back in the past and reflect back on how we've been able to do that, and that helps us. When you've done it as many times as we have, you can say that when that game gets close in the fourth quarter, that it's our game."
Auburn, which reappeared this week in the Top 25 polls at No. 15, travels to No. 10-ranked Arkansas on Saturday in what Chizik says will be the Tigers' biggest challenge to date.
There really hasn't been anything spectacular about this Auburn team this season other than the fact that it keeps on winning.
The Tigers (4-1, 2-0) have won 19 of their last 20 games. That's despite being on the ropes in the opener against Utah State and surviving thanks to an onside kick in the final minutes.
That next week, Auburn stopped Mississippi State quarterback
Chris Relf
on the one-inch line as time expired, and then came the only loss since the end of the 2009 season in Week 3 to a Clemson team that's now ranked in the top 10 nationally.
Following a ho-hum win over Florida Atlantic, Auburn held on to beat the Gamecocks on the road last week with Mike Dyer carrying the ball 41 times and the defense turning in its best performance of the season.
Now, it's on to Arkansas in the second leg of a grueling four-game stretch that will make or break the Tigers' season. Florida comes to the Plains on Oct. 15, and then Auburn pays a visit to LSU on Oct. 22.
Since the preseason, the Auburn players have been hearing about how this was supposed to be a transition season and how the Tigers were going to take their lumps with so many first-year starters.
In a lot of ways, that kind of talk has fueled their run, and it doesn't matter that 27 of the 44 players on Auburn's two-deep are sophomores or younger.
"This is Auburn, and the way we look at it is that tradition never graduates," sophomore defensive tackle Jeffrey Whitaker said. "Yeah, we lost a lot of good players, but we didn't lose our edge, and we didn't lose our belief that we're going to go out and win football games.
"That's something we're never going to lose."
Sort of like a close game.
September, 30, 2011
9/30/11
3:00
PM ET
The first three weeks were one big nightmare defensively for Auburn.
The Tigers bounced back last week against outmanned Florida Atlantic with a stronger defensive effort, but should get a much better feel for just how much they've improved on Saturday against No. 10 South Carolina.
[+] Enlarge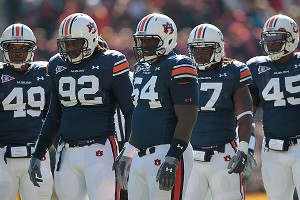 AP Photo/Dave MartinDefensive tackle Jeffrey Whitaker, 54, says Auburn is improving defensively.
Auburn sophomore defensive tackle Jeffrey Whitaker is the subject of our Q & A this week, and he weighs in on the state of that Auburn defense as well as what the Tigers need to do to slow down South Carolina running back
Marcus Lattimore
:
How much better defensively did you get last week, not only in the game against Florida Atlantic, but in practice?
Jeffrey Whitaker:
We got a lot better, no question. Everything was better. We were running to the ball, finishing tackles, playing our keys and doing everything we should have been doing all season.
Did practice resemble preseason camp last week?
JW:
It was more about details and getting back to basics. There was more tackling, but it wasn't like we went crazy and were tackling in every period. It was more about doing things the right way.
How much was your pride hurt defensively after that Clemson game?
JW:
It hurts after any loss, and we hadn't had that feeling in a long time. It's something we're not used to around here. But at the end of the day, when you watch the film, you see that it was only a couple of stops here and there and we would have been all right. It's one of those deals where we're a young group, and we learned from it and will keep moving forward.
How has your season gone to this point?
JW:
It's gone well. I'm a lot better overall, but still have room for improvement. My deal now is making more plays and making more plays that make a difference. That's all of us in the D-line.
Looking ahead to South Carolina, what's paramount if you're going to keep running back Marcus Lattimore from having a big game?
JW:
To attack and swarm. Marcus is a good friend of mine, but we better be ready to attack and swarm. When you go against great players like that, you know he's going to win some deals, but you've got to keep going at him 100 percent and try and make his day as difficult as you can.
How did you guys become friends?
JW:
We were recruited together and played in the Army All-American Bowl together and built a little relationship there. It's not a relationship where we talk every day, but we keep in touch and make sure we keep up with how each other is doing.
Is Lattimore the best running back you've seen in college football this year?
JW:
So far, through four games, I haven't seen anybody better.
Other than his obvious talent, what makes Lattimore such a great player?
JW:
Marcus Lattimore is one of the hardest workers I've ever met, and he's a humble kid. Good things happen to good people, especially when you work hard, so I've got nothing but respect for him. Like I said, when you go to tackle him, you better go in 100 percent and let the chips fall where they fall.
The South Carolina game is the start of a grueling four-game stretch for Auburn, a stretch that also includes away games at Arkansas and LSU and a home game with Florida. How ready are you guys for that gauntlet?
JW:
With a year under my belt in this league, you know it's a fight every weekend. You can't overlook anybody, and you better not look down your schedule, either. You've got to look at what's in front of you, and right now, South Carolina's in front of us, and we've got to find a way to go to Columbia and win this game.
Auburn had won 17 games in a row prior to that Clemson loss two weeks ago. Now, you guys are out of the Top 25, and there isn't much talk nationally about the Tigers. Do you like flying under the radar like that?
JW:
You sort of like being the underdog. But at the same time, you like to have respect. I'm not sure a lot of people respect us right now, and that's a problem. The way you fix that is winning. Auburn is a blue-collar school, so it's not all about hype. You go work hard and fight for your respect. That's what Auburn is all about.
June, 20, 2011
6/20/11
9:55
AM ET
Today we look at the big uglies that cause all the mayhem in the trenches. The SEC consistently spits out nasty defensive linemen and this year has more of an athletic feel.
Here's how the teams stacked up:
1. South Carolina:
The Gamecocks return a defensive line that would make any offensive line shutter. Plus, incoming freshman Jadeveon Clowney comes in as the top high school player in the country and could be one of the best ends in the league this fall. Devin Taylor leads the group at end and was second on the team with 7.5 sacks as a sophomore. Helping on the outside is Melvin Ingram, who plays inside on passing downs, and led South Carolina with nine sacks a year ago. Senior Travian Robertson, who came off injury to get four sacks last year, is solid in the middle as well.
[+] Enlarge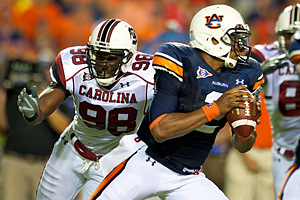 Dale Zanine/US PresswireDevin Taylor made a habit of harassing quarterbacks last season.
2. Arkansas:
The Razorbacks might have the best pass-rushing group Arkansas has seen in a while. Things revolve around defensive end Jake Bequette, who was one of the more unheralded players in the league last year, despite having seven sacks. On the other side of the line is Tenarius Wright, who will make up the second part of a formidable outside duo in Fayetteville with his speed and athleticism. In the middle, there are plenty of options. Byran Jones and DeQuinta Jones missed spring due to injury, but will be back this fall and there's a wealth of depth behind them. Junior college transfer Robert Thomas might be the best and most athletic option in the middle is primed to break out.
3. LSU:
There are some questions about the experience the Tigers bring back, but no one will question the talent and athleticism in Baton Rouge. Sam Montgomery is back at defensive end, after suffering a serious knee injury. He hasn't played much, but the coaches believe he's got what it takes to be a top end in this league. Kendrick Adams started 11 games last year at end, while Lavar Edwards filled in for Montgomery. Ego Ferguson redshirted last year, but should get a ton of playing time in the middle this fall. He is already one of the most athletic tackles in the SEC. Don't forget about five-star early enrollee Anthony Johnson, who made very strong impressions on his coaches this spring and will be in the rotation inside.
4. Florida:
This unit was criticized for lacking toughness last season, but will be full of that and even more athleticism in 2011. Jaye Howard is returning from spring ankle surgery and is already considered a top defensive tackle prospect in next year's NFL draft. Alongside him are youngsters Sharrif Floyd and Dominique Easley. Floyd was the most consistent of the much-ballyhooed freshman class last fall, while Easley struggled with attitude problems. Easley has rebounded and both excelled this spring. Omar Hunter is finally healthy and will share time with Floyd at noseguard and senior William Green will occupy an end spot. This group is even better when Ronald Powell lines up at end in the 4-3.
5. Alabama:
On paper, there are a few questions with this group, but it's hard to drop Alabama very far on this list. The 3-4 scheme will have senior Josh Chapman at noseguard. Chapman started 12 games in the middle last fall, totaling 31 tackles, including 3.5 for loss. Damion Square will compete for time on the outside, and since returning from his ACL injury, he's gained a lot more playing confidence and could be a budding star in the league. Junior college transfers Quinton Dial and Jesse Williams will compete for time on the line as well, while sophomore Ed Stinson will stay at end after starting last season at Jack linebacker.
6. Mississippi State:
The Bulldogs have arguably the top returning tackle tandem in the SEC. Fletcher Cox and Josh Boyd are the behemoths in the middle who combined for 53 tackles, 13 for loss and five sacks last year. Finding any sort of inside running game against Mississippi State will be extremely tough. Developing a pass-rusher is the next step for the Bulldogs' staff. Sean Ferguson occupies one side, but the other is still up for grabs. Trevor Stigers and Shane McCardell battled for the spot this spring, but neither has really pushed ahead.
7. Georgia:
There is a lot of talent in Athens, but there could be a lot of movement on the line. JUCO transfer John Jenkins is the big -- and we mean big -- name up front and he's yet to play a down in the SEC. He arrives with a ton of hype, but is perfect at noseguard in Todd Grantham's 3-4. DeAngelo Tyson moves to his natural position outside after playing noseguard last year. Kwame Geathers played in the middle this spring, but could be usurped for Jenkins this fall and move outside. Abry Jones is still maturing after moving to end and recording 34 tackles including 3.5 for loss last season and had a 16-tackle performance against Georgia Tech.
8. Auburn:
The Tigers must replace three starters this season. Inside, Auburn is talented but inexperienced with Kenneth Carter and Jeffrey Whitaker having 13 combined tackles from a year ago. There's less concern on the outside with lone returning starter Nosa Eguae on one side and sophomore Corey Lemonier on the other. Eguae might have more experience with 11 starts, but Lemonier appears to be more athletic and should be near the top of the defensive end pool this year. After that, the Tigers are young across the board.
9. Tennessee:
The Volunteers' line will grow with senior Malik Jackson running things in the middle. He had 48 tackles and five sacks a year ago and some think he'll be even better this fall. A lot will also be expected from incoming JUCO transfer Maurice Couch. He's pretty athletic at 6-foot-4, 327 pounds and he'll be greatly needed, considering the dismissal of Montori Hughes. Jacques Smith has All-SEC potential and will hold one of the end spots. After that, Tennessee has some young, but encouragingly talented bodies at each position.
10. Ole Miss:
Some of the best news of the spring coming out of Oxford was the return of Kentrell Lockett at defensive end. Lockett was granted an extra year of eligibility by the NCAA and will not only be the Rebels' top lineman but possibly their best defensive player. After that, the questions roll in with four tackles gone and youth coming in. Tackle Justin Smith has yet to really emerge as the All-SEC talent he was expected to be and Ole Miss is smaller up front. JUCO transfer Gilbert Pena could add some size in the middle. Gerald Rivers returns to get time at end, but has played in just 15 career games in two years.
11. Vanderbilt:
This was supposed to be a strength for the Commodores last year until injuries hit. Still, Vanderbilt returns three starters. Experience is there, but this unit has to continue to improve, especially in the pass-rushing department where the Commodores had just 20 sacks in 2010. Rob Lohr led Vanderbilt with four sacks a year ago and had 35 tackles. T.J. Greenstone is coming off of injury and will line up inside. Tim Fugger was one of the Commodores' most consistent players at end, playing in every game and registering three sacks and four forced fumbles.
12. Kentucky:
End Collins Ukwu and tackle Luke McDermott return with the most experience on Kentucky's line. Ukwu improved not only on the field but in the weight room this spring and is expected to be a more consistent pass-rusher. McDermott is a walk-on currently ahead of Donte Rumph, who has the talent to be one of Kentucky's top defenders, but has yet to fully buy in to the program. The coaches are also waiting for tackle Mister Cobble to finally break out of his funk and be a regular contributor. The rest of Kentucky's linemen have some developing to do and are inexperienced.
March, 28, 2011
3/28/11
9:14
AM ET
AUBURN, Ala. -- Gene Chizik didn't flinch when the masses were howling back in December 2008 about Auburn hiring somebody with a 5-19 career head-coaching record.
He had a plan.
Fresh off Auburn's first national championship since 1957, Chizik isn't flinching now, either, when he looks at his 2011 roster and sees 35 names missing -- including those of the reigning Heisman Trophy winner and Lombardi Award winner -- from the team that captured the crystal trophy out in the Arizona desert in January.
You see, he still has the same plan.
[+] Enlarge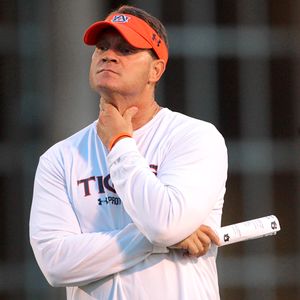 AP Photo/Dave MartinGene Chizik had a plan for Auburn's program when he became coach and being the reigning champs does not change the plan.
"My whole thing since I got here was that I wanted to make sure we dig deep and build a foundation so we can do this for a long time," Chizik said. "That's been our goal since we got here. We haven't changed. We haven't changed course, and we're not going to.
"We know we have to rebuild some numbers, but our expectation here is to go back out and again compete for championships. Just like I said two years ago, I can't put a timetable on any of that. I have no idea. But that's what our goal will be again down the road, and we feel confident we will do that."
Given what's he's accomplished in a little more than two years on the Plains, who's doubting him?
The Tigers followed up their national title by reeling in the nation's No. 3 signing class in February, according to ESPN Recruiting. That's after pulling in a class that was ranked No. 4 nationally in 2010.
"You ride around here and see, 'Auburn, 2010 national champions.' That's big," sophomore defensive end Nosa Eguae said. "It's something that hasn't happened around here a lot, but we're trying to go out there and do it again.
"We want to win championships, not just a championship."
If the Tigers are going to make another run, they will have to do it with one of the SEC's most inexperienced teams next season.
Freshmen and sophomores will dominate the two-deep, and it's going to be critical that the 2010 signing class live up to its billing.
Guys like defensive end Corey Lemonier, defensive end Craig Sanders, defensive tackle Jeffrey Whitaker, linebacker Jake Holland, receiver
Trovon Reed
, offensive guard Ed Christian and running back Mike Dyer need to make this their team.
Several players from the 2010 class showed flashes of brilliance a year ago. In fact, Dyer was the offensive star in the 22-19 win over Oregon in the BCS National Championship Game.
This coming season, it's imperative that they become the backbone of this team if the Tigers are going to keep their elite status in the SEC.
"It's our time," Whitaker said. "Those other guys showed us the way. We got a taste of it and like the way it tastes. We know what everybody is saying about us, that all of our good players are gone. We hear it every day from our coaches. They scream it out on the practice field, pushing us and motivating us.
"The thing is that we did lose a lot of great players, but we still have a lot of great players here. People just haven't seen them."
Chizik isn't downplaying the challenge that awaits the Tigers this coming season.
He's also not conceding anything.
After all, it's not like Auburn was everybody's choice to win a national championship this time a year ago.
Still, losing a player the caliber of Cam Newton is ominous enough when you look at everything he did for Auburn. But four of the five starters in what was the best offensive line in the league are also gone, not to mention the Tigers' most productive receiver the last two years --
Darvin Adams
.
Defensively, Eguae is the only returning starter up front, while cornerback T'Sharvan Bell and converted safety Neiko Thorpe are the only other two defensive starters from the BCS National Championship Game who are back.
"We're going to have to have a lot of young guys step to the plate," Chizik said. "A lot of our young guys are going to have to grow up fast, and that's just the way that it is, starting with our offensive line all the way back to our secondary. I also think it's going to be important that they experience some success and understand what it's like to be successful early, especially with our schedule."
The Tigers face road trips to Clemson, South Carolina, Arkansas and LSU during the first eight weeks of the season and also have home games against Mississippi State and Florida during that stretch.
Whereas six of the Tigers' first eight games were at home last season, there won't be many opportunities to catch their breath in 2011.
"It's not that we won't have talent. We just won't have experience," said Chizik, who also expects several true freshmen to play key roles next season. "Experience is a huge part of the puzzle. I don't want to use the word 'rebuild.' That's not what I'm saying. What I'm saying is that we're going to have to have some guys mature, and they're going to need some success early."