June, 14, 2013
6/14/13
9:00
AM ET
Big Ten bloggers Adam Rittenberg and Brian Bennett will occasionally give their takes on a burning question facing the league. We'll both have strong opinions, but not necessarily the same view. We'll let you decide which blogger is right.
We're in the process of projecting the Big Ten's statistical leaders for the 2013 season. After forecasting the league's top rusher,
today's Take Two topic
is: Who will lead the Big Ten in passing this year?
Take 1: Adam Rittenberg
The Big Ten hasn't been loaded with premier passers and loses its only 3,000-yard performer from 2012 in Penn State's Matt McGloin. Although the league's next three top passers return, two of them, Indiana's
Cameron Coffman
and Michigan State's
Andrew Maxwell
, are fighting to retain their starting jobs for the season. Although there's no shortage of quarterbacks with starting experience or significant playing time around the league, few have shown the ability to consistently put up big passing totals.
[+] Enlarge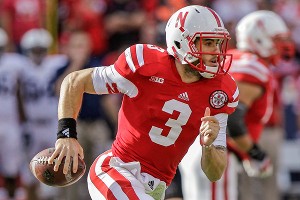 AP Photo/Nati HarnikNebraska's Taylor Martinez passed for 2,871 yards and 23 touchdowns last season.
My pick comes down to three quarterbacks: Michigan's
Devin Gardner
, Nebraska's
Taylor Martinez
and Ohio State's
Braxton Miller
. If I knew Indiana's or Penn State's starting quarterback, I might include them in the race because of those teams' strength at wide receiver and tight end. But that's too risky right now. Gardner started just five games for Michigan, but averaged 243.8 pass yards in those contests. His numbers could go up as Michigan moves away from the spread and into a pro-style system. Gardner had a strong spring, and Michigan wants to keep him in the pocket more often than not. Miller also should up bigger passing totals as he enters his second year in Ohio State's offense and should have more help at the wide receiver spot. He's such a talented runner, but the Buckeyes don't want to take too many chances with his health, and the coaches see good potential for his growth as a passer.
Gardner and Miller are solid choices, but I'm going with Martinez here. His passing numbers soared from 2011 to 2012, as he completed nearly 6 percent more passes, nearly 800 more yards and threw 10 more touchdowns. He's fully comfortable with the offense under coordinator Tim Beck and should enter the season at 100 percent, health-wise. Nebraska also returns top wide receivers
Kenny Bell
,
Quincy Enunwa
and
Jamal Turner
. The Huskers need some help at tight end but have recruited well at tight end and have warmed up more and more to the pass under Beck. Martinez will finish his career with every significant Nebraska passing record, and he'll also top the Big Ten's passing yards chart as a senior.
Take 2: Brian Bennett
If I were confident Indiana would go with one quarterback all season, my pick would be the Hoosiers' starter. Don't forget that Coffman is the leading returning passer in the league (in terms of yards per game), or that IU led the conference in passing yards this season. But I suspect Kevin Wilson will end up juggling quarterbacks and using some combination of Coffman,
Nate Sudfeld
and
Tre Roberson
. Can I say my choice is Cam Roberfeld?
I guess not. So I'll go with the next best option: Michigan's Devin Gardner. As Adam mentioned, Gardner posted big passing numbers last year after taking over for Denard Robinson down the stretch, and that was without a lot of practice during the year at quarterback (he split time there and at receiver). By all accounts, Gardner has had a fantastic offseason, and Al Borges must be foaming at the mouth at the prospect of finally unleashing a true pro-style offense.
Gardner's five-game numbers last year project to more than 3,000 yards passing over a full 13-game season. I don't know if he'll get all the way there, and losing veteran receiver Roy Roundtree doesn't help. But he's still got big-play man
Jeremy Gallon
to target, as well as promising young receivers
Amara Darboh
and
Jehu Chesson
, plus talented tight end
Devin Funchess
. Gardner completed 59.5 percent of his passes last year, a rate I expect to go way up with a full offseason as the starting quarterback under his belt. Michigan will look to run the ball a lot as well. But the Wolverines won't have to accommodate the talents of Robinson, and Gardner won't run as much as Nebraska's Martinez.
Plus, Michigan doesn't have any other experienced options, so Gardner will likely take just about every snap. That makes him a safe pick to lead the league in passing yards.
April, 26, 2013
4/26/13
2:58
PM ET
Remember two years ago, when Michigan created a lot of big plays by having
Denard Robinson
basically throw a jump ball that his receivers would somehow go up and grab? Well, by the looks of things, that might become a staple of the offense in the future. Only those receivers won't have to jump too high.
The Wolverines' strategy when it comes to recruiting receivers these days could be summed up in three words: super size me. On Thursday, Detroit wideout
Maurice Ways
became the latest player to commit to Brady Hoke. Ways is 6-foot-3.

He joins current Class of 2014 commits
Drake Harris
, a 6-foot-4 receiver, and
Ian Bunting
, a tight end who's been listed as tall as 6-foot-7. Meanwhile, Michigan's celebrated 2013 class included three skyscraper receivers: 6-foot-4
Jaron Dukes
, 6-foot-3
Csont'e York
and 6-foot-2
Da'Mario Jones
. They'll join current redshirt freshman
Jehu Chesson
(6-foot-3) and sophomore
Amara Darboh
(6-2) in Ann Arbor.
There's no secret to what's going on here. Michigan is moving on from its spread offense days and diving full bore back into the pro style system. Offensive coordinator Al Borges wants rangy, lanky athletes on the outside, both for the mismatches they create and their ability to block for the running game.
The Wolverines got great production out of the 6-2 Junior Hemingway the last two years, but their top returning receiver this year is
Jeremy Gallon
, who's only 5-foot-8. Gallon is an excellent player, but future Michigan receivers will likely look less like him and more like former great Braylon Edwards (6-3). Unlike the days of Rich Rodriguez's spread, the Wolverines appear to be valuing size over speed.
"Speed is overrated," receivers coach Jeff Hecklinski told reporters in February. "All of our guys, if you watch them on high-school film, they have great hands, they adjust to the ball, they track the ball very well in the air and they go up and they catch it. We can judge that on film, so let's get the best hand-eye coordination guys, guys that can catch the football, let's bring them in here and let's develop them in other areas."
Michigan's chief rival, and the other Big Ten team that's been cleaning up on the recruiting trail of late, is taking a different approach. Sure, Ohio State coach Urban Meyer wants guys with great hand-eye coordinator and catching ability, too. But he really wants blazing speed for his system. Just look at the receivers the Buckeyes landed in the 2013 class: Jalin Marshall (5-11), Dontre Wilson (5-10), James Clark (5-11) and
Corey Smith
(6-1). Receiver seems to be one position where Michigan and Ohio State are not in direct competition for the same players.
It will be interesting to see what kind of matchup problems the Wolverines' height at receiver poses for Big Ten defenses. Just take a look at the listed sizes of some of the top cornerbacks in the league the past two seasons:
Michigan State's
Johnny Adams
: 5-11
Purdue's
Ricardo Allen
: 5-9
Michigan State's
Darqueze Dennard
: 5-11
Ohio State's
Bradley Roby
: 5-11
Iowa's
Micah Hyde
: 6-1
Nebraska's Alfonzo Dennard: 5-10
Iowa's Shaun Prater: 5-11
Size, of course, doesn't always matter. There's also leverage, separation, route running, catching ability and several other factors that go into being great receivers. Former Michigan stars Desmond Howard (5-10) and Anthony Carter (5-11) did just fine without towering over people.
But Michigan is clearly taking its receiver position to new, um, heights. It will be fun to see how the strategy pays off in the near future.
March, 13, 2013
3/13/13
9:00
AM ET
Michigan begins spring practice on Saturday with both some question marks and some major returning talent. Brady Hoke says of his team: "We're very young. But these guys have a lot of fight to them." There will also be a lot of fighting for starting jobs, beginning in a few days. I recently caught up with the third-year Wolverines coach for his thoughts on the approach of spring ball:
What are the main things you're looking for this spring?
Brady Hoke:
Well, you know, we've got a lot of open spaces. Some guys graduated, some guys aren't with the program anymore and we've got a lot of young guys. I think we only have 11 starters back on both sides of the ball, so there's going to be a lot of great competition, which is exciting. I think the leadership of our seniors, they've done a nice job of holding everybody accountable. But when you get out there with the pads on, it's a little different than just running around in shorts.
[+] Enlarge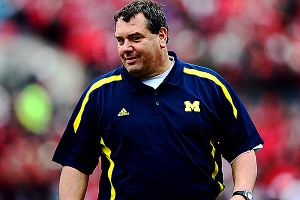 Andrew Weber/USA TODAY SportsWith only 11 returning starters, Michigan coach Brady Hoke said he's excited about the competition this spring.
Some of that competition will be on the offensive line, where you've got three open jobs on the interior. How do you see those battles right now?
BH:
Well, I think the interior of both lines, there's going to be a lot of competition. We've got to find a center, and that's between [
Jack] Miller
and [
Graham] Glasgow
, and
Joey Burzynski
will try to figure that out a little bit, too. At the guard positions,
Ben Braden
is going to move down inside and start out at the left guard, but he'll have a lot of competition because Burzynski is back and so is
Blake Bars
.
Kyle Kalis
will move into the right side, and it will be interesting again with [
Kyle] Bosch
and some of the guys who have been here a little bit. I think it will be a really good competition at all three of those inside positions.
Having
Taylor [Lewan
] back is huge. I think it's great for him and great for Michigan.
Mike Schofield
has had a really good winter. He had some real bright spots during the course of last season, and I think his development is going to be something special.
You mentioned the defensive line, where you also lost a couple of veterans. How does that shape up?
BH
: I think inside, we get
Jibreel Black
for another year and
Quinton Washington
. But once you get through that, there are a lot of young guys ...
Willie Henry
,
Ondre Pipkins
,
Ryan Glasgow
,
Richard Ash
and
Chris Wormley
are all guys who can either play the inside tackle or the strongside end. We'll find out the guys who are competitive.
Tommy Strobel
is another guy we think had a real good winter, and
Keith Heitzman
. So it's going to be fun to see them compete.
Does having so many young guys in key spots on the line make you nervous? Or do you have a lot of confidence in them because you recruited most of them?
BH:
I think it makes you nervous if you think you may have recruited the wrong guys. But we like the work ethic. We like how they've come in to learn and with a lot of enthusiasm. I think there's some competitiveness that we need to keep pushing as a program. You know, we lost five games on the road. We've played pretty well at home but we've got to do better on the road and that's a mindset, a mentality that you have to compete through everything, on every down.
Devin Gardner goes into spring practice as your starting quarterback. How has he developed as a leader?
BH:
I have been really excited about the progress he's made. I'm seeing that maturity that it takes and the leadership it takes and the competitiveness it takes to be the quarterback at Michigan. I think that's a real big part of how he's grown, and I think he's done a nice job with it. I'm liking the direction he's going, and hopefully he can just keep going and keep growing.
What about your running back position this spring, with Fitz Toussaint hurt and Derrick Green not there yet?
BH:
You know, Fitz has come along pretty well. I don't think he'll do a lot of contact or anything like that, but I think he'll be cleared for a lot more drill work. That's gone real well. We've moved [
Dennis] Norfleet
back to running back and we're going to give him an opportunity. Dennis, he's a smaller guy, but he's a very competitive, very tough young man.
Drake Johnson
is a guy we redshirted a year ago, and we really liked the way he competed in scout situations. In the bowl practices, we did some scrimmages and gave him a lot of carries, and we're very excited about what he has to offer.
Thomas Rawls
is coming back, and I think he learned a lot last year about the vision he needs to play with, and I like how he's competed through the [winter]. And
Justice Hayes
is a guy who gives you a little bit different look because of how he can get on the perimeter. He did some things in a couple of games last year, but now I think he'll have a big stage to prove himself more this spring. And he's a bigger guy now, he's 190-something pounds, so he's a little bigger.
[+] Enlarge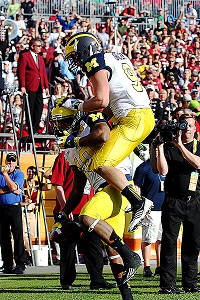 Kim Klement/USA TODAY SportsMichigan coach Brady Hoke said that he's pleased by more than just the on-field success of WRs Drew Dileo and Jeremy Gallon.
You have Jeremy Gallon back at receiver, but you lost Roy Roundtree. You sounded excited about some of the younger guys there during bowl prep. Is spring their time to step up now?
BH:
Yeah, I think so. First of all, I think the leadership with Gallon and
Drew Dileo
, they've done a really nice job being leaders at that position. They're not big guys, but they have a real spirit for the game and really do a nice job of working and leading. We have
Amara Darboh
, who played a little last year, and
Jehu Chesson
, who we redshirted a year ago. And I think
Jeremy Jackson
has had a very good winter; we're very excited about some of the progress he's made.
Joe Reynolds
is a guy who walked on here, and he's done a very nice job. And
Bo Dever
, his dad played here and he walked on. I think that during the course of the spring, we'll be in pretty good shape there. I think as we keep going, we'll keep improving at that position.
Linebacker was a strength for you last year and looks to be so again. Do you see some good competition there this spring, particularly at the weakside spot?
BH:
Yeah, I think with
Desmond Morgan
and
James Ross
, there's going to be great competition.
Joe Bolden
and
Royce Jenkins-Stone
and
Mike Jones
are all guys who are very competitive, and I think the three young guys coming in are going to be guys who will give us a lot of good competition and a lot of good depth.
Kaleb Ringer
is coming back from injury, so we'll see what he can give us. At the sam linebacker,
Jake [Ryan
] is coming back, and we really like what
Cam Gordon
has done during the winter. So I think we feel a little stronger at that position.
How do you replace what Jordan Kovacs gave you in the secondary?
BH:
I don't know if you ever replace that kind of leadership, but I really think
Thomas Gordon
, he's played a lot of football here, and it's time for him to demonstrate the leadership. And he's doing that. Because of the number of snaps and everything he's done, he's really fallen into his own a little bit.
Courtney Avery
has played a lot of football, and whether he's a corner a nickel or wherever, he's got to give us great leadership and great reps.
Blake Countess
is getting healthier; he'll do some things during the spring.
Josh Furman
, I think, has come on.
We've got to see where
Terry Richardson
is and where
Marvin Robinson
is. Both those guys have played a number of snaps. We've got
Raymon Taylor
back, who I think started every game for us last year, we're excited about his development.
Dymonte Thomas
is a guy who's going to compete, and he'll pressure some guys.
Jarrod Wilson
is another guy who played some last year for us. Ross Douglas is here early.
Jeremy Clark
is a 6-foot-4, 210-pound safety we redshirted a year ago, and it's going to be a big spring for him to make some moves.
So I think we may have more personnel back there. And even more in the fall when
Channing Stribling
gets in, and
Reon Dawson
gets in and
Jourdan Lewis
. I think it's going to add something to our secondary.
Finally, what has your message been to the team this offseason after last year's 8-5 season?
BH:
Well, our message has been, we haven't met the expectations at Michigan. That's something that as a football community… that we really feel that we have to do a much better job in all areas, from the coaching aspect of it, from learning and playing with the competitiveness we want to have, from every player at every position playing with the intensity we want to play with. It's about having a mindset and a mentality of how we want to play the game. We make no excuses, but at the same time, we know we have a lot we can do to play better football.
January, 31, 2012
1/31/12
1:10
PM ET
The Super Bowl is Sunday, but the super bowl of recruiting arrives on Wednesday. So on the eve of national signing day, we thought we'd check in with some of ESPN.com's top recruiting experts to get a feel for what's going on in the Big Ten.
Our esteemed panel included senior national recruiting analyst Tom Luginbill, Midwest recruiting writer Jared Shanker and Scouts Inc. recruiting coordinator Craig Haubert. This is Part I of our discussion; look for Part II later on today.
Topic 1: What impact has the arrival of Urban Meyer had on the league and in general when it comes to recruiting?
Tom Luginbill:
"It's been fairly significant. If there's one thing Urban Meyer understands and has been able to do, it's that you build a championship team from the inside out. Whether it was at Florida or now at Ohio State, if you notice who essentially all his first commitments were, they were all on the defensive line and offensive line. So he understands that, if they're going to compete for a national championship, the gap has to be closed in the defensive front seven. That's the difference between what's happened in the SEC and everywhere else. So I think that's where he's made his biggest impact."
Craig Haubert:
"What Urban Meyer has been able to come and do down the stretch has been huge. I knew when he took over, they would get better as a class, but I didn't really think when this happened, they'd have a chance to crack the Top 25. They're still in a position to possibly land some guys.
Davonte Neal
, the No. 1 athlete, could be headed there.
Stefon Diggs
and
Jordan Diamond
are also in the mix there." [Diggs and Neal are both post-signing day announcements].
"If you look at this class, it's all in the trenches, really. And our philosophy is there's always an increased value to upper-tier linemen because they're harder to find.
Noah Spence
obviously is huge, he's a five-star, but so is
Adolphus Washington
. The other thing that stands out to me about Ohio State is he's been plucking guys from other Big Ten schools.
[Se'Von] Pittman
was a Michigan State kid.
Joey O'Connor
had decommitted before he got him, but he was a Penn State kid. Same thing with
Tommy Schutt
.
Armani Reeves
. So his upper part of his class, a lot of them have come from other Big Ten schools."
Jared Shanker:
"He's exceeded my expectations. He's obviously a great recruiter. At the same time, I wouldn't call it walking into a perfect situation, but with what was going on at Penn State, I think he's taken five recruits from Penn State, so there were opportunities for him to come in and flip some guys. Noah Spence was a Penn State lean. He had O'Connor and Tommy Schutt, two other ESPNU 150 guys who were committed to Penn State.
Camren Williams
and
Armani Reeves
, two other guys at Penn State. Obviously, he's one of the best recruiters in the game. He also had some good fortune in being able to come in at a time when things were shaky at a rival school and pick up some of their commitments. Se'Von Pittman, the other ESPNU 150 guy, he was really looking for a reason to get to Ohio State."
Topic 2: How good is Michigan's class, and has the Wolverines' momentum slowed down in the last several weeks?

CH:
"They came out fast. We've always had them in that 5-to-7 type range. People might get frustrated that it's getting near signing day, when there's a lot of buzz and things going on, and they're not doing much, but to be fair to them, what they did has allowed them to maintain in the same area where they've been for most of the recruiting process. The thing that sticks out to me about this class is a lot of people kind of scoffed when Brady Hoke got hired and he said, 'I'm a Michigan man.' But he's been true to that. They've done very well in state. A lot of their key players are Michigan guys, led by
Terry Richardson
. So he's brought a little bit of that Michigan man feel, and there seems to be an excitement among recruits."

TL: "
Michigan was rolling before Meyer got the job, and they were teetering on maybe swinging
Bri'onte Dunn
, the running back, and Ohio State was able to keep him in the fold. Is Michigan in competition with Ohio State for some players? Yes. But Michigan right now is more focused on revamping the roster to the mold that Brady Hoke wants. They need more size up front, some size at the linebacking positions and some size at the skill spots. And I think they've done that in all three areas. [The lack of recent commitments] is a reflection of numbers and how much room they have. With the Big Ten's hard cap, they don't have a ton of wiggle room. If anything, the winning on the field and the sustained excellence helped solidify that the class would stay intact."
JS:
"I don't know if I'd say they've lost momentum. They really were hoping to get Josh Garnett, who ended up going to Stanford. Their class filled up so quickly, and they only had about four or five spots left midway through the season. They're hoping to get some of the guys who are closer to signing day. They're in good position to get Jordan Diamond. I think he's No. 94 overall. So it seems like they've maybe fallen off, but they were at 21 or 22 commitments by the time the season started. They really had their run of success in the spring and summer. I'm sure they would have liked to maintain that a little bit and gotten some of those final targets like Garnett, but they're also able to get the two receivers, [Amara] Darboh and [Jehu] Chesson, right after the season ended. So they've still been able to pick up some guys along the way."
Topic 3: How has Penn State fared given all the turmoil surrounding the program and the flurry of decommitments?
JS:
"My thinking for them was, if they could have just held on to their 14 commitments, that would be the main thing. They were obviously going to get some more commitments, but they weren't going to be the top-caliber guys. If they could hold onto the 14 and add those sleeper guys who have a chance to be something at the next level, that was my expectation for them. I like that they got
Akeel Lynch
, the running back. I think he could be a good player. They're probably a little disappointed that it looks like they're going to miss out on
[Skyler] Mornhinweg
and the two Massachusetts guys in Reeves and Williams."
TL:
"I think to this point, Bill O'Brien has done a good job. But a lot of credit needs to go to that previous staff. Outside of the guys they lost to Ohio State, through all of this, they're still siting here with 18 verbal commitments. If you think about it, that's astounding. And I would say that the top third of them, athletically, can compete for a conference championship. Of course, you don't know all the intangibles and all that, but based on pure player level, this is a pretty strong class. It certainly isn't anywhere near where people would have expected it to be. ... But just to have bodies in this class, in my opinion, is a positive. [O'Brien] won't be judged on this class. He will be given a long leash, and in my opinion, it was made very clear with the timetable the administration set with this hire that the 2012 class is not the priority. If it had been, they would have hired a guy in December."